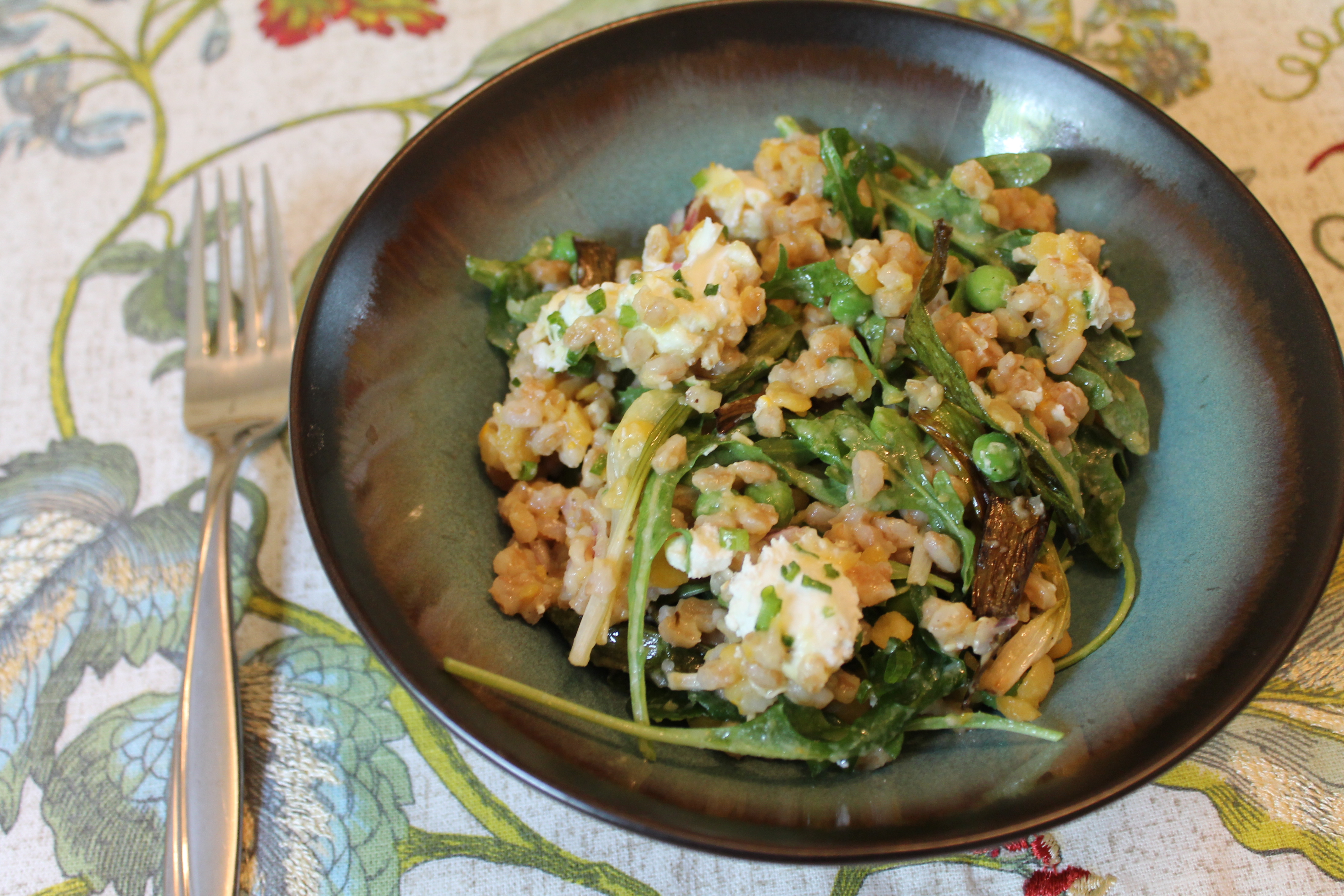 Oh my.
Quick! Go buy some farro! You have to make this meal immediately.
It's full of springy goodness. Green peas and split peas, roasted scallions, and spring greens. Plus goat cheese! You can never go wrong with goat cheese.
This meal was part of my regular lunches with Sarah. But I would just as happily eat it for dinner! I would eat it here or there. I would eat it anywhere.
If you've never had farro, you should definitely try it. It's one of the ancient grains (as is quinoa), related to wheat, and it's chewy and nutty and wonderful. I don't know whether ancient grains quite live up to the hype, but you know what? I like grain salads an awful lot, and I like whole grains and awful lot, so even if these ancient grains don't have magical powers, I am sticking with them!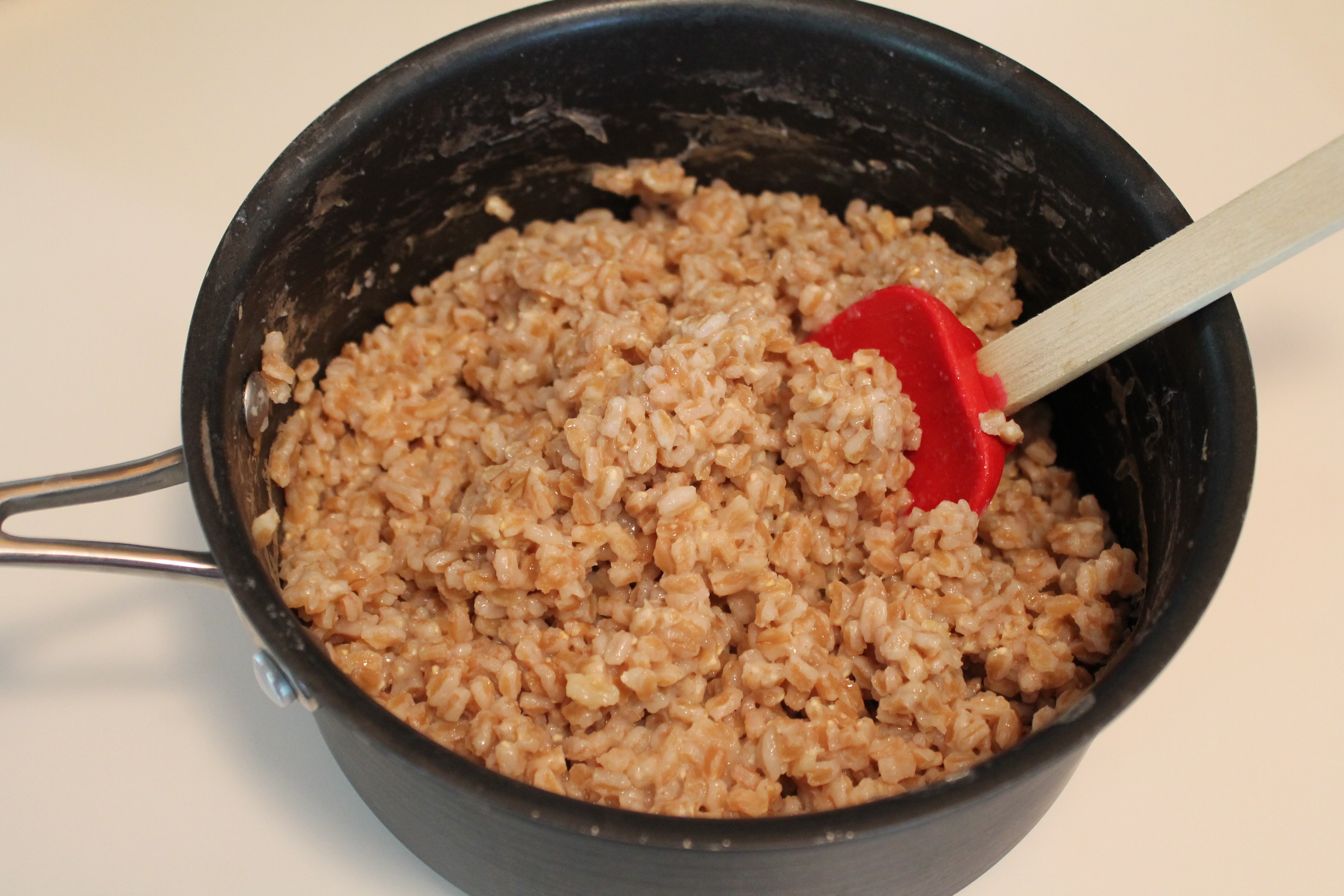 Cook the farro just the way you would cook rice, in simmering water over low heat. When all the water has been absorbed, remove the farro from the heat.
Do the same for the split peas!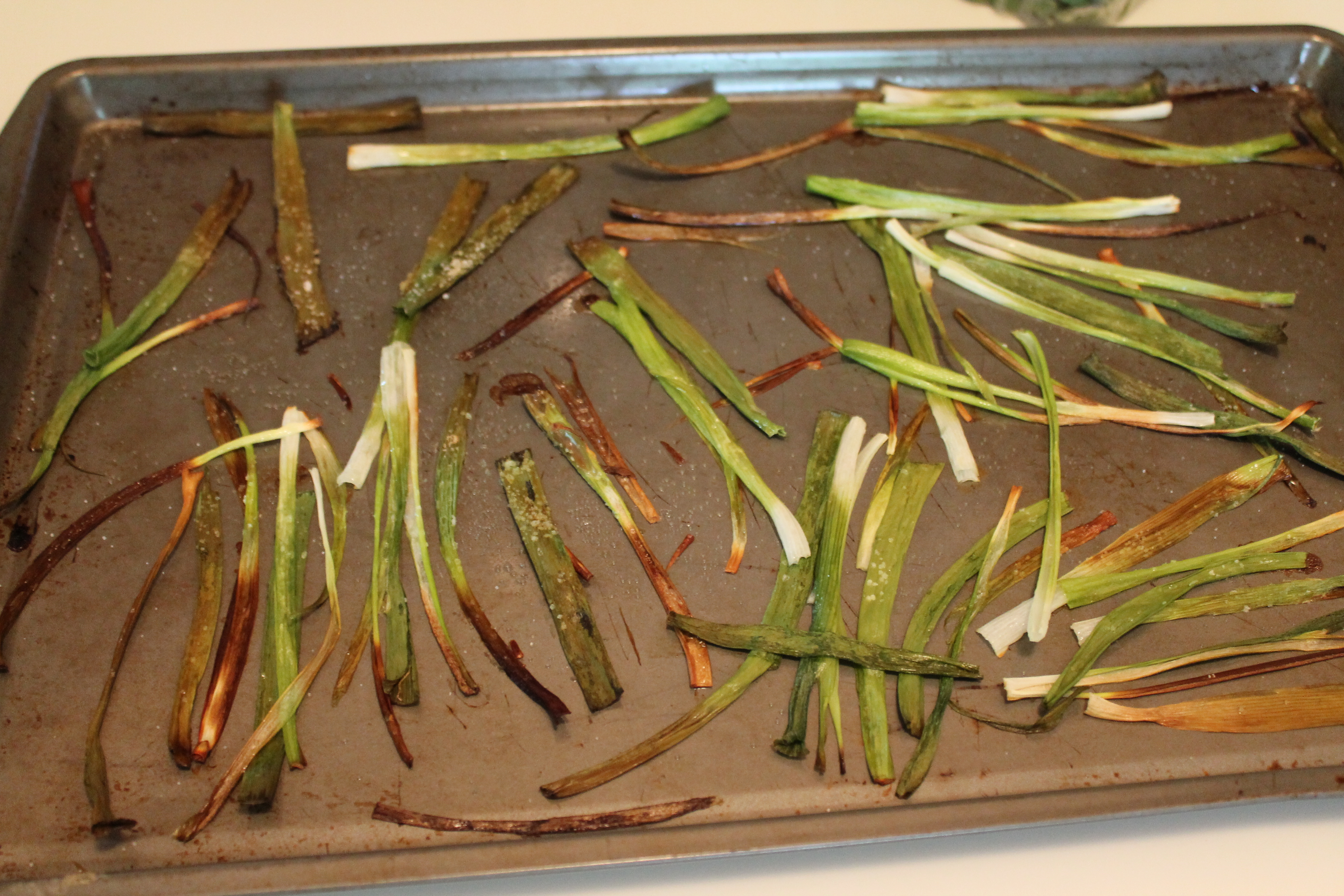 Meanwhile, trim just the roots off the bottom of the scallions (leave the white bulb behind). Cut the green ends off the scallions…they should be about 4″ or 5″ long, trimmed. Then slice them in half lengthwise.
Toss the sliced scallions in a little oil and salt, then set on a cookie sheet and roast for 20 minutes at 350°. They will get a little brown and crispy. Yum!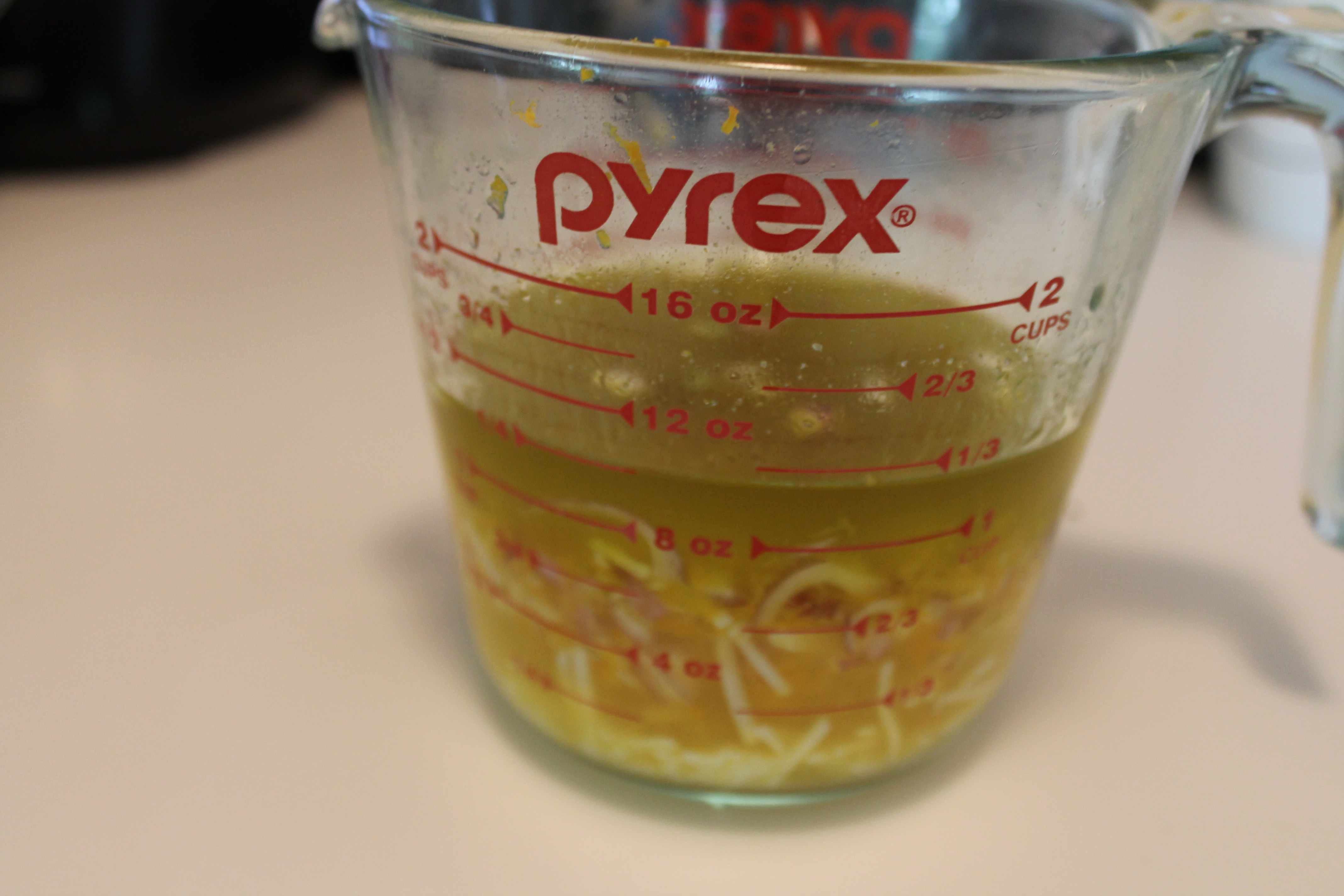 And while the scallions roast and the farro and split peas cook, quickly blanch the green peas. And make the citrus-parmesan dressing! Just whisk all the dressing ingredients together in a small bowl and set it aside.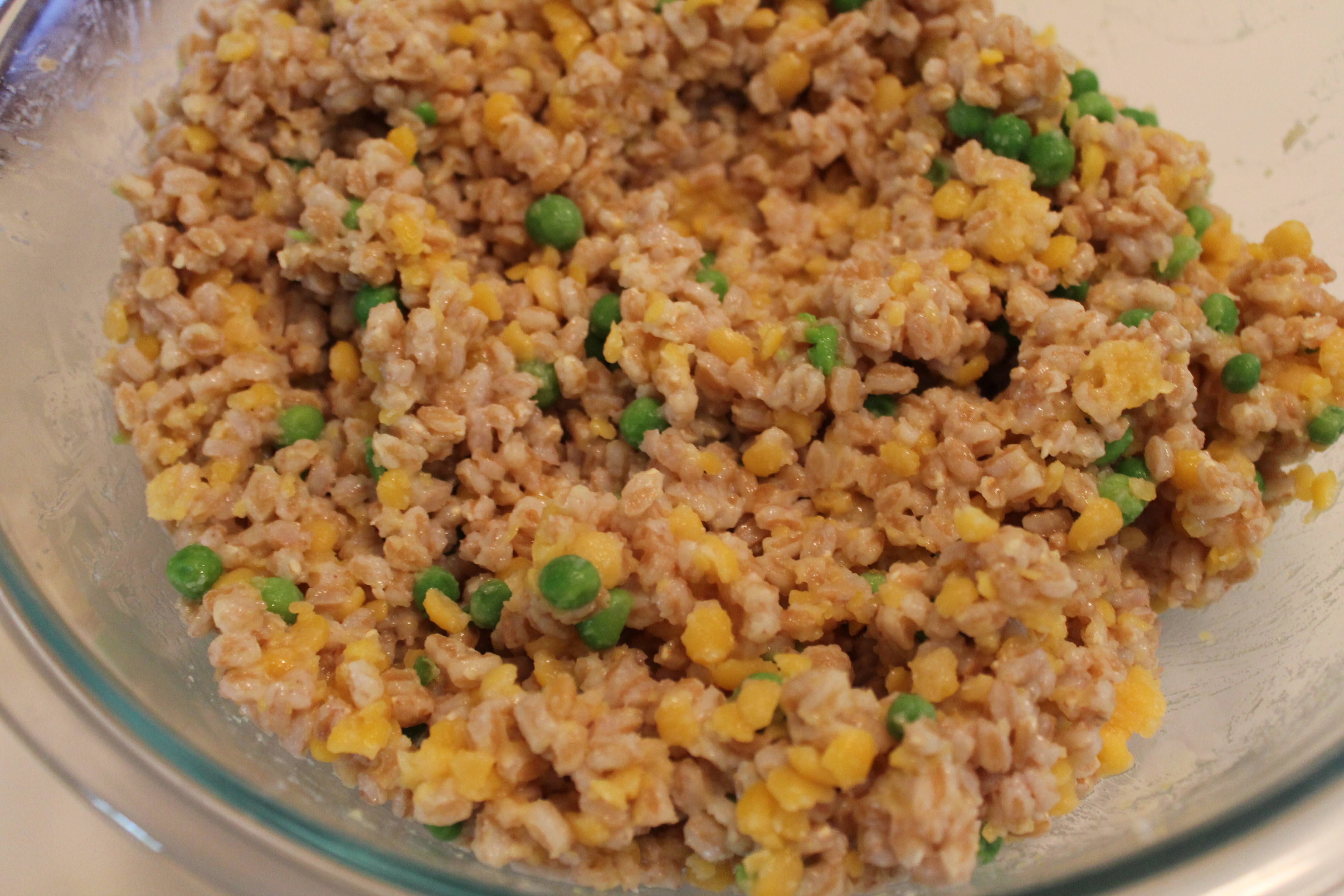 When everything is done cooking, toss the farro with the peas and split peas. Stir in the dressing. Don't forget to season with salt and pepper!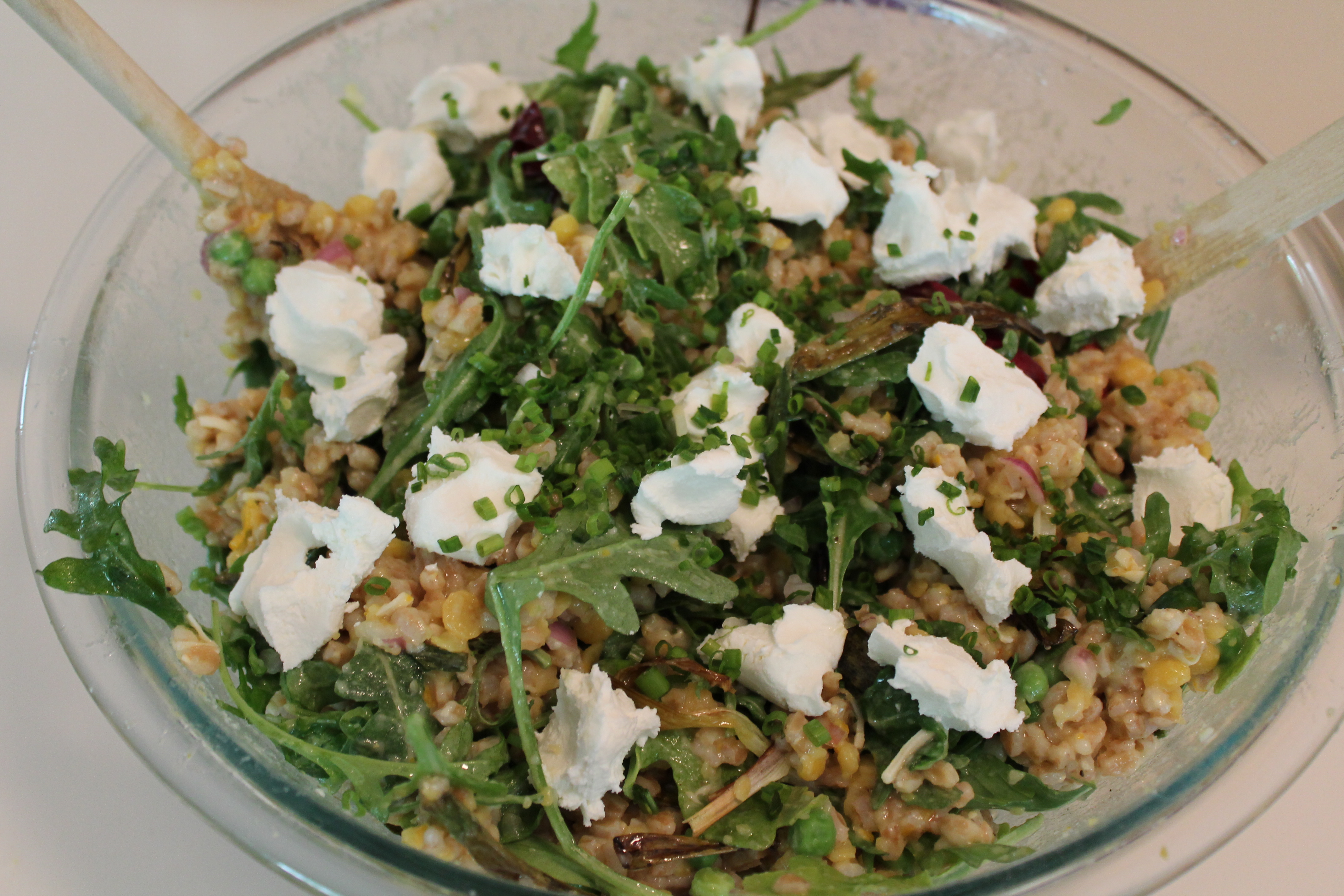 Add the greens (we went with arugula), roasted spring onions, goat cheese, and chives. And voilà! Farro salad.
Citrusy Farro with Peas and Spring Onions
lightly adapted from 101 Cookbooks
serves 4–6
Salad Ingredients:
2 cups dry farro
9 cups water, divided
¾ cup dry yellow split peas
2 bunches spring onions (about 15), trimmed to 4ʺ long
1 tbsp. olive oil
salt
1 cup frozen peas
4 large handfuls arugula or spring mix
8 oz. soft goat cheese, crumbled
¼ cup chopped chives
Dressing Ingredients:
zest and juice of 1 orange
1 medium shallot, chopped
⅓ cup shredded parmesan
1 tbsp. white wine vinegar
½ cup olive oil
salt
Directions:
Preheat oven to 350°.
Rinse the farro thoroughly. Transfer to a large pot with 6 cups of water. Cook over medium-low heat for 30–40 minutes, stirring occasionally, until the farro has absorbed all the water.
Meanwhile, bring the remaining 3 cups of water to a boil in a large saucepan, add yellow split peas, and cook for 20–30 minutes, or until tender. Drain, salt to taste, and set aside.
And finally, while the farro and split peas cook, slice the spring onions in half lengthwise. Toss with olive oil and salt. Transfer to a baking sheet and roast in the oven for 20 minutes, until browned and slightly crispy.
Blanch the peas in a pot of lightly salted water. Drain.
When the farro and peas are cooked, toss together in a very large bowl.
Whisk together all the ingredients for the dressing. Pour into the farro salad and toss well.
Add in the arugula, goat cheese, chives, and roasted onions. Toss to coat. Season to taste with salt.
Enjoy!
One year ago: Green Onion Potato Salad
Two years ago: Greek Caponata