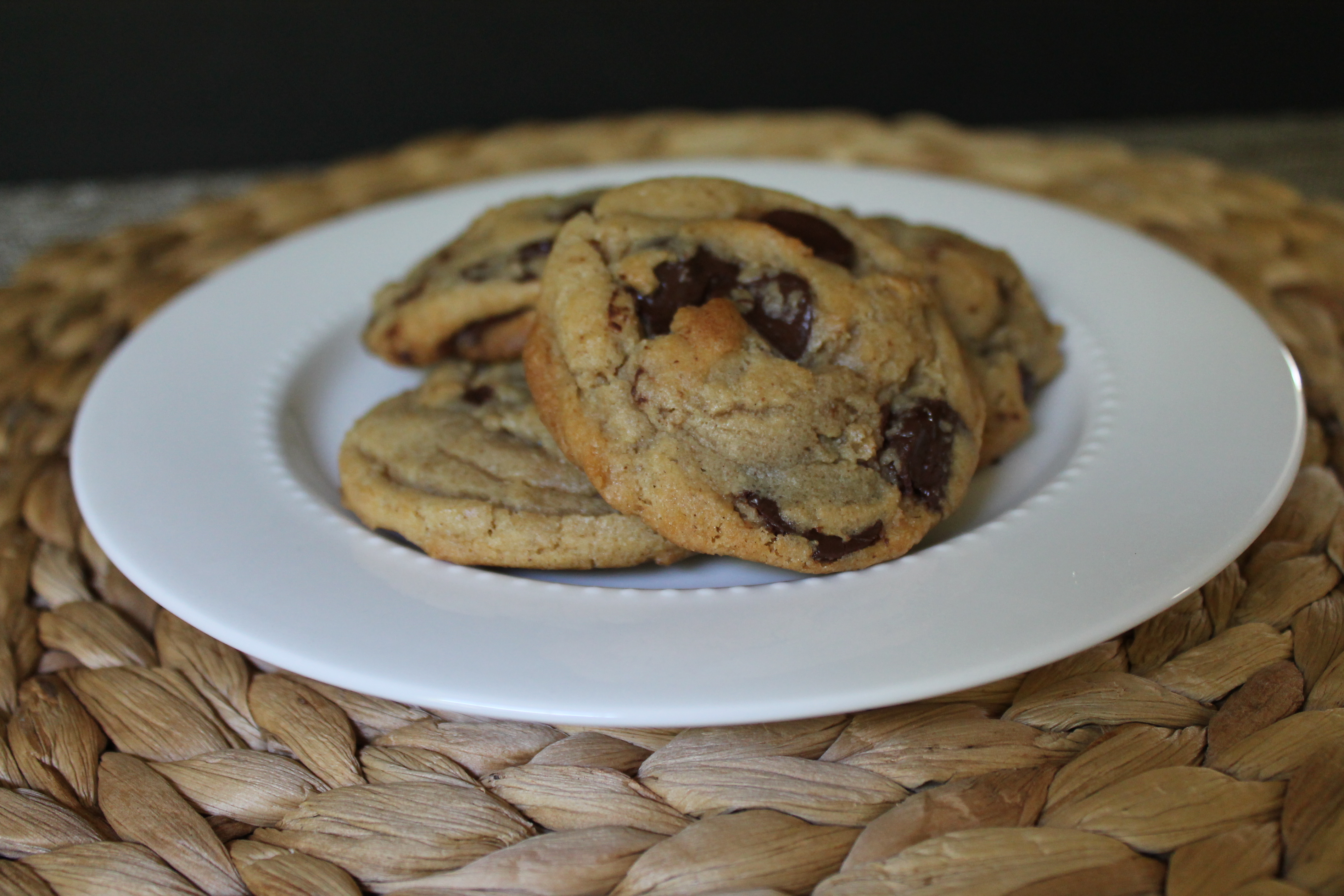 Once upon a time I thought there must be a holy grail of chocolate chip cookie recipes out there somewhere. I thought that when I found the perfect one, it would fulfill all of my chocolate chip cookie needs, forever and ever.
What a foolish idea!
There must be about a million ways to make a fantastic chocolate chip cookie, each one more delightful than the last. I thought I had hit pay dirt a few years ago when I made cookies with brown butter for the first time, but holy moly, let's go crazy and add bourbon, shall we?
This cookie is rich and buttery, accented by a slightly tangy caramel flavor left by the bourbon as it baked off. It's full of dark, bittersweet chocolate chunks that melt in the oven and stay melty until you eat every last crumb.
You will not be able to eat just one of these!
I can't wait to make them again…and I highly suggest you go buy some bourbon and whip up a batch as soon as possible!
These cookies aren't for the faint of heart (by which I mean, I thought I was going to faint when I realized there were two separate occasions when you have to wait and let something chill). But you probably already knew that…because bourbon. I promise they are worth the extra effort, so just square your shoulders and let's get to it!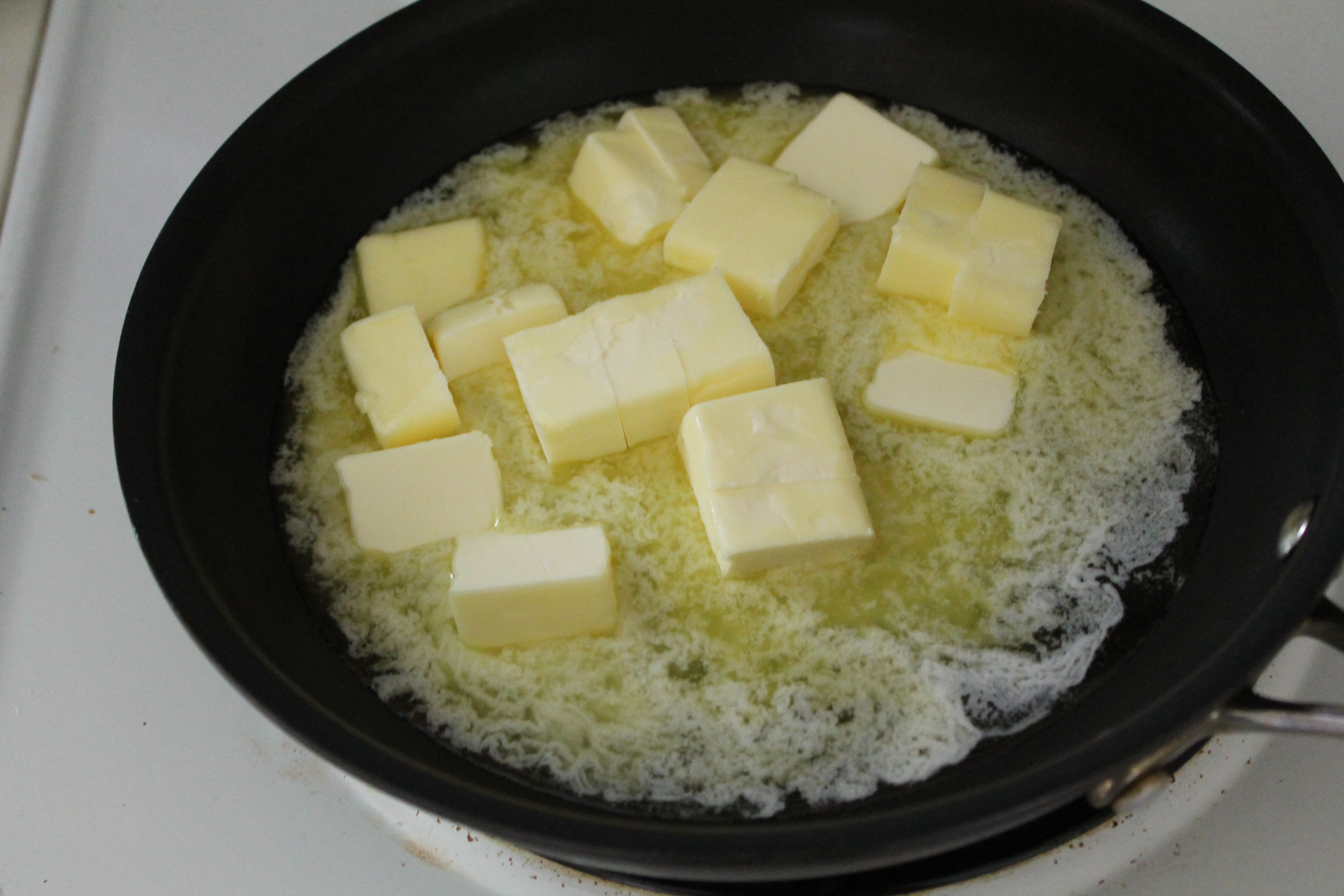 Brown your butter. Okay, this isn't too hard…just let it melt and stir it frequently to prevent it scorching on the bottom. Keep a close eye, because once it finally starts to brown, it will go really fast!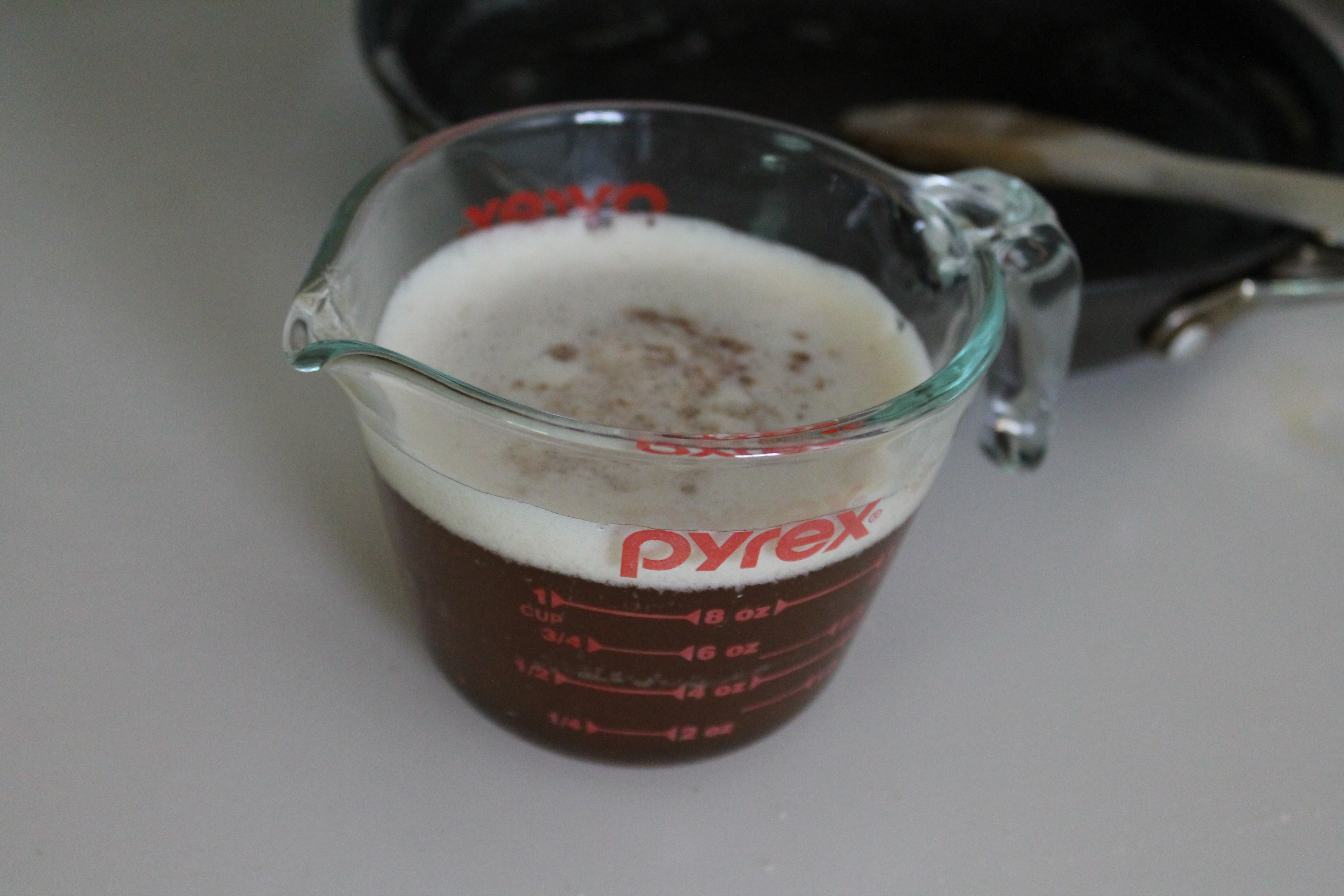 Transfer your beautifully brown butter to a glass bowl or measuring cup. Stick it in the fridge to come back to room temperature. Or, if you are super impatient like me, stick it in the freezer! I stirred every 10 minutes, just to make sure it wouldn't turn into a frozen rock of brown butter and totally ruin my quickie chilling scheme, and my butter was cool to the touch (still liquidy) after 30 minutes.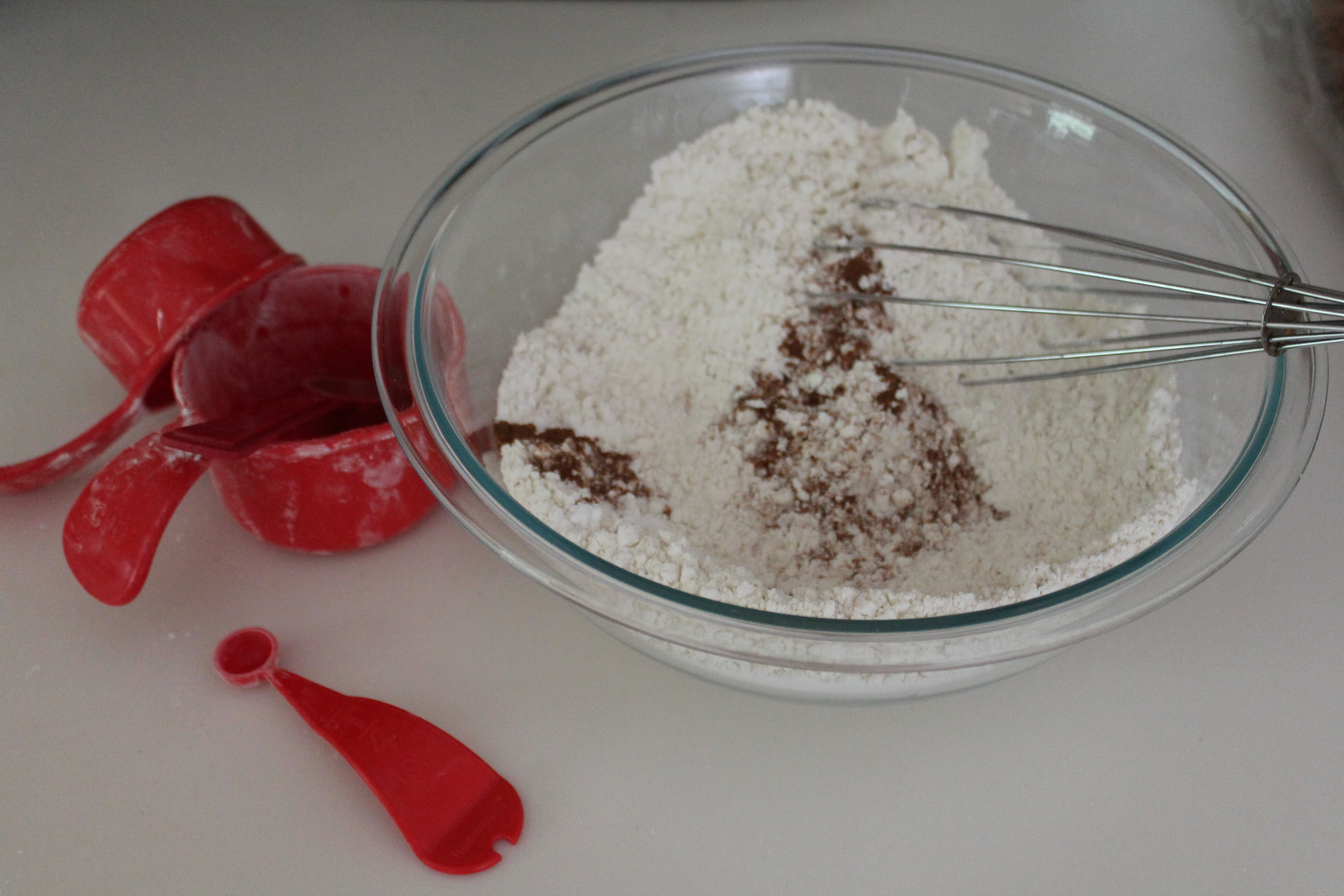 In the meantime, you can grab all your other ingredients. Set your eggs out to come to room temperature (somewhat). Mix together all the dry ingredients! Measure out your sugars!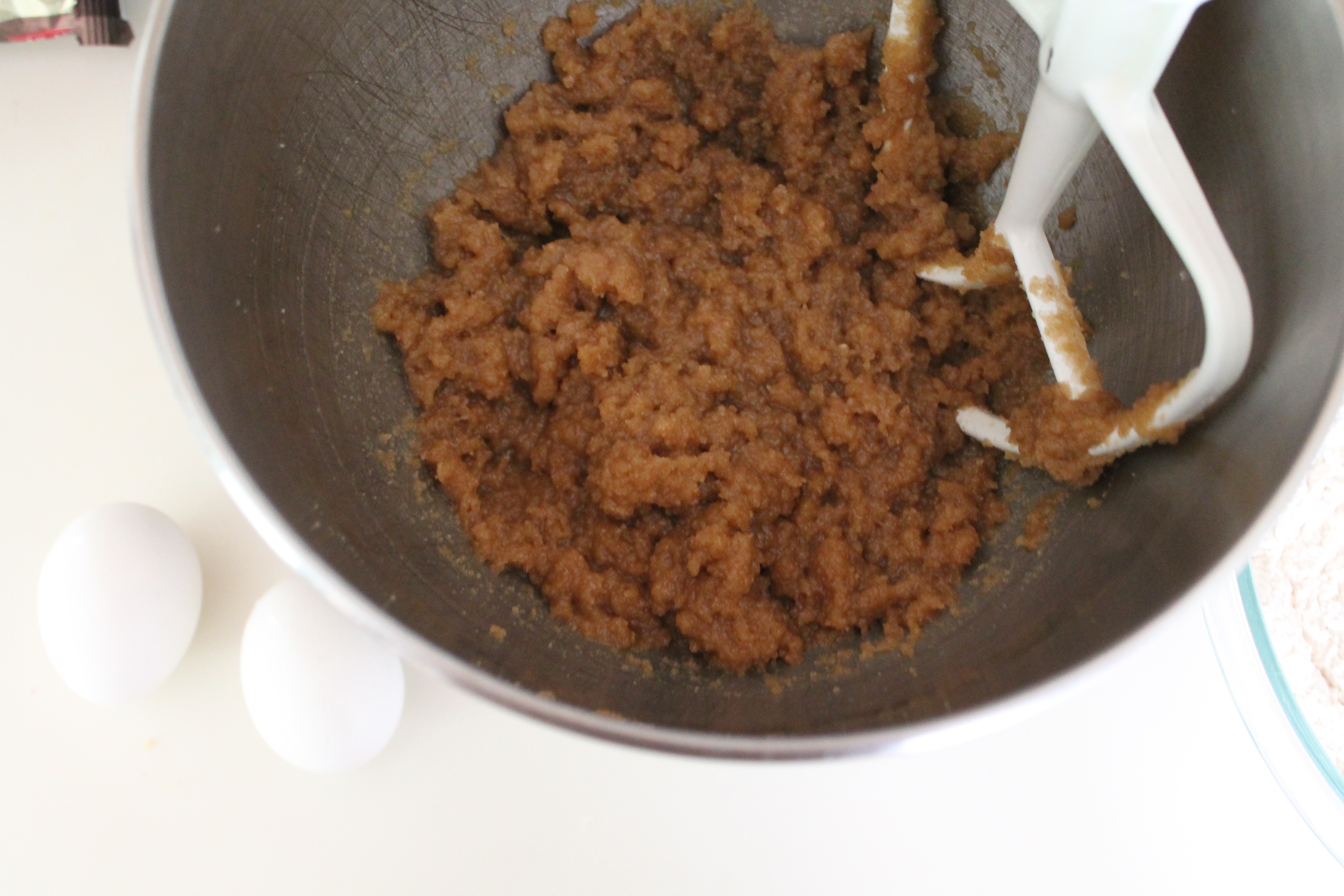 When the butter is cool, mix it into the sugars. You might have a wet-looking sugar mess, but don't worry…it will become a spoon-licccccccccking (er, don't eat too much dough. Bourbon…) delicious dough soon!
Add the vanilla and the eggs, one at a time, mixing and scraping the bowl after each addition.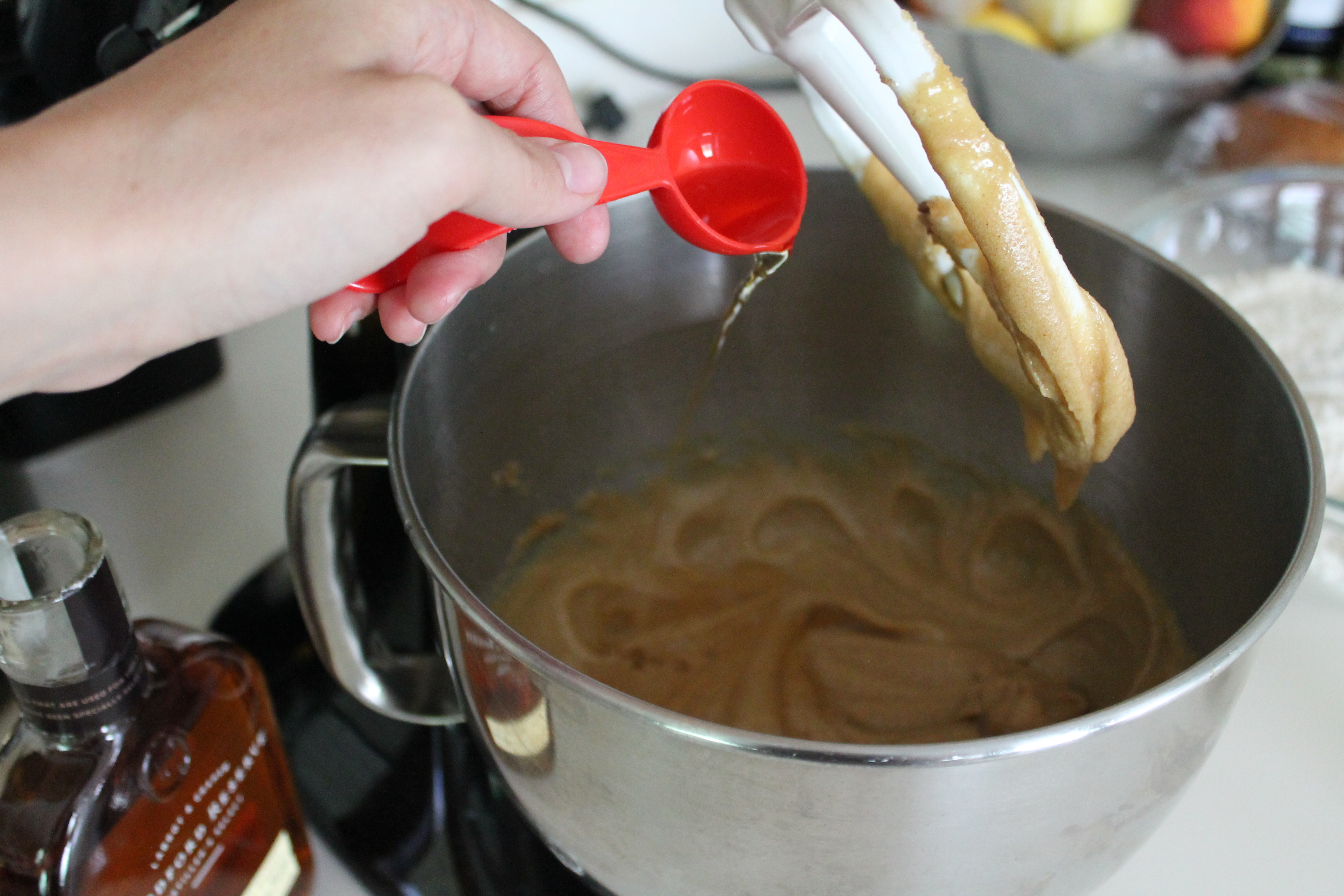 Add in the bourbon. You know you want to!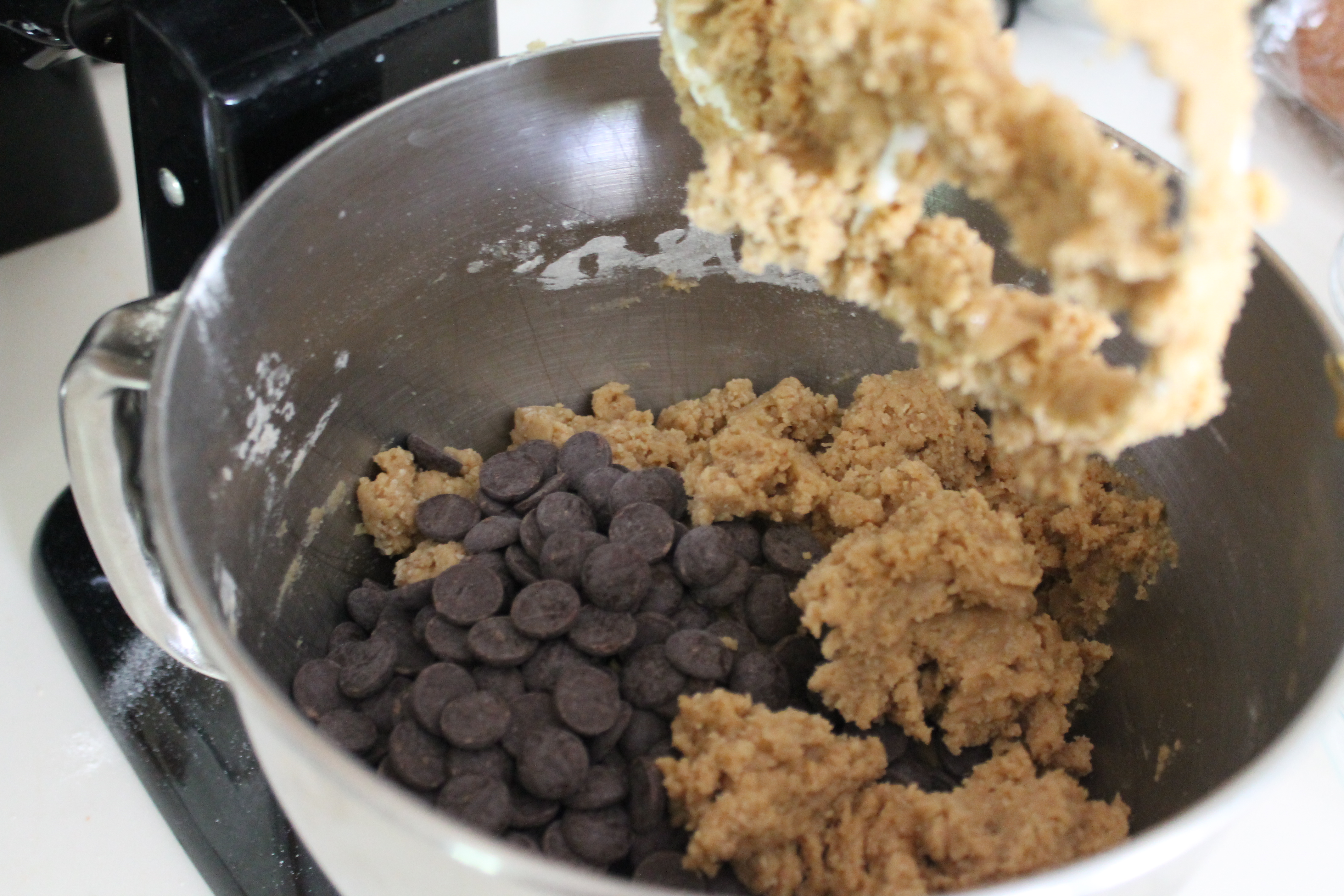 Now stir in the flour mixture you prepared while the butter was chilling. Oh, yum.
Add in about a million chocolate chunks. *Drool* I used Ghirardelli 60% chocolate pieces, which are larger and flatter than chocolate chips, and conveniently come in a 10 oz. bag…exactly the amount needed in this recipe! They were just delicious in these cookies. The darkness of the chocolate complemented the slight caramelly flavor of the bourbon after it baked off; the chips stayed soft and melty for days. Or at least overnight…which is as long as these cookies lasted.
Now—be still my heart—we have to chill the dough for an hour. An HOUR!? Oh the humanity. But seriously, do it. If you don't chill this dough, the high butter content (plus the fact that you melted it and blended it in while still liquid) will cause serious harm to your cookies. I am talking flat cookies that run into each other and burn around the edges, while never setting well enough in the center to even get them off the cookie sheets. Not good.
Your dough needs to be cold. The scooped balls of dough need to be cold going into the oven, too, so don't think that once you've chilled the dough, you can just let it sit on the counter while you bake subsequent batches. Be kind. Stick it back in the fridge between batches!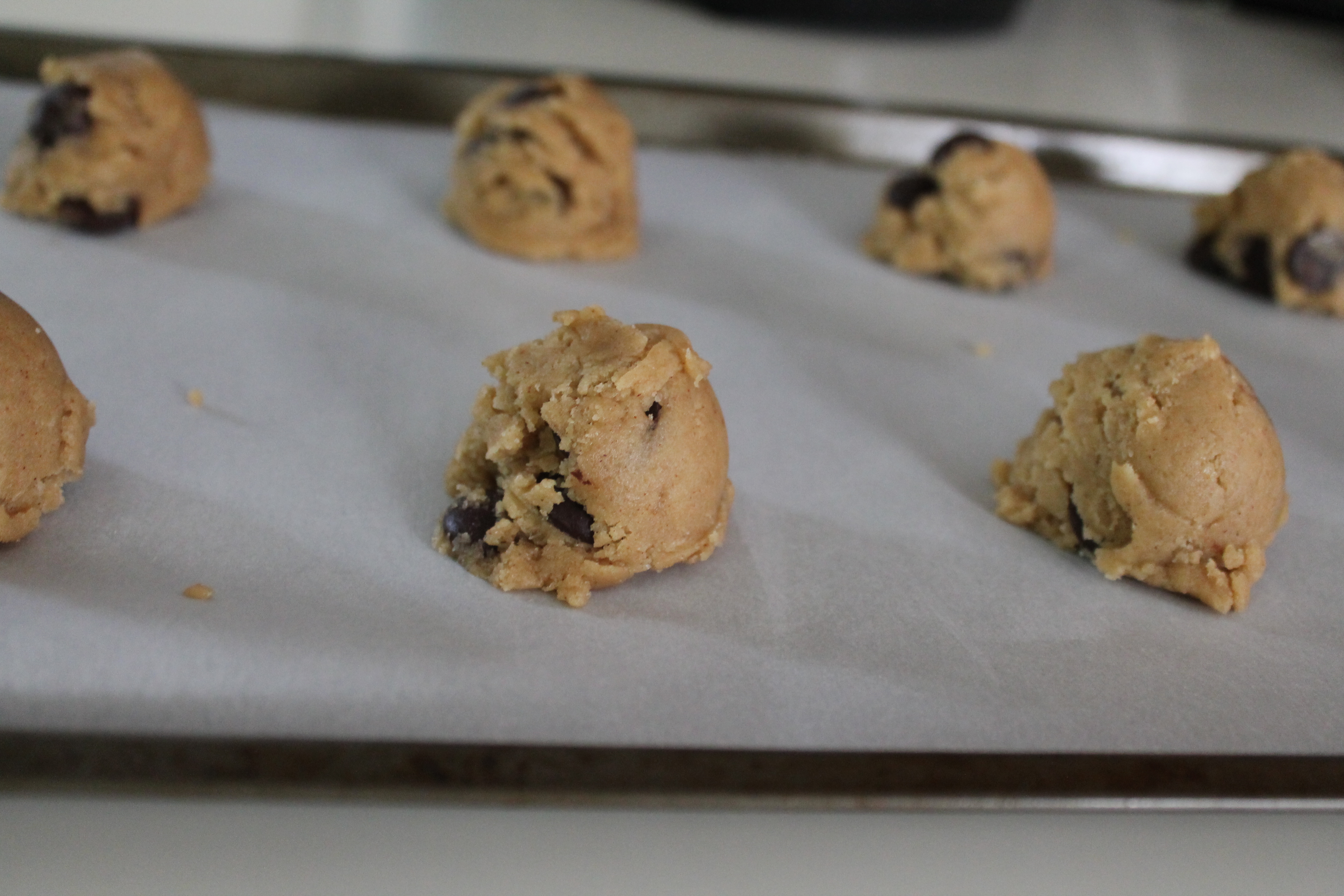 Scoop very large balls of dough onto a Silpat or parchment-lined cookie sheet. I used a 1½ tbsp. scoop, which was perfect! Keep them about 2″ apart from each other. If your dough is cold, they won't spread too much, but they are pretty huge cookies, so give them room!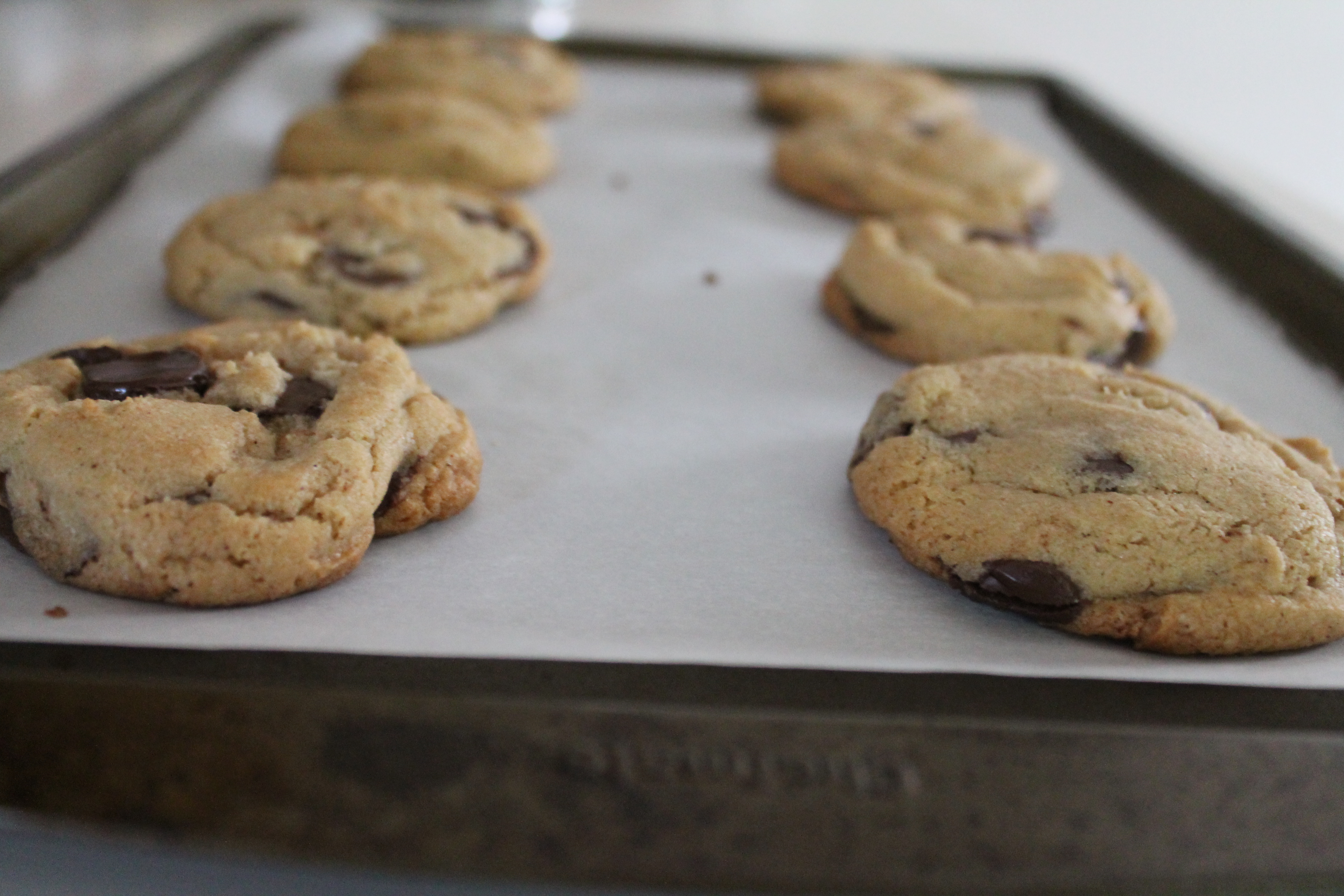 Bake for 10–12 minutes at 350°. They will come out of the oven domed and still looking a bit soft. That's exactly what you want! My perfect time was 10 minutes, but every oven is a little different!
After the cookies rest for 3 minutes or so on the cookie sheet, remove them to finish cooling on a wire rack. That is, if you can resist them… I found that they were amazing warm and equally amazing cool! As they cool, the gooey centers set a little and become almost fudgy.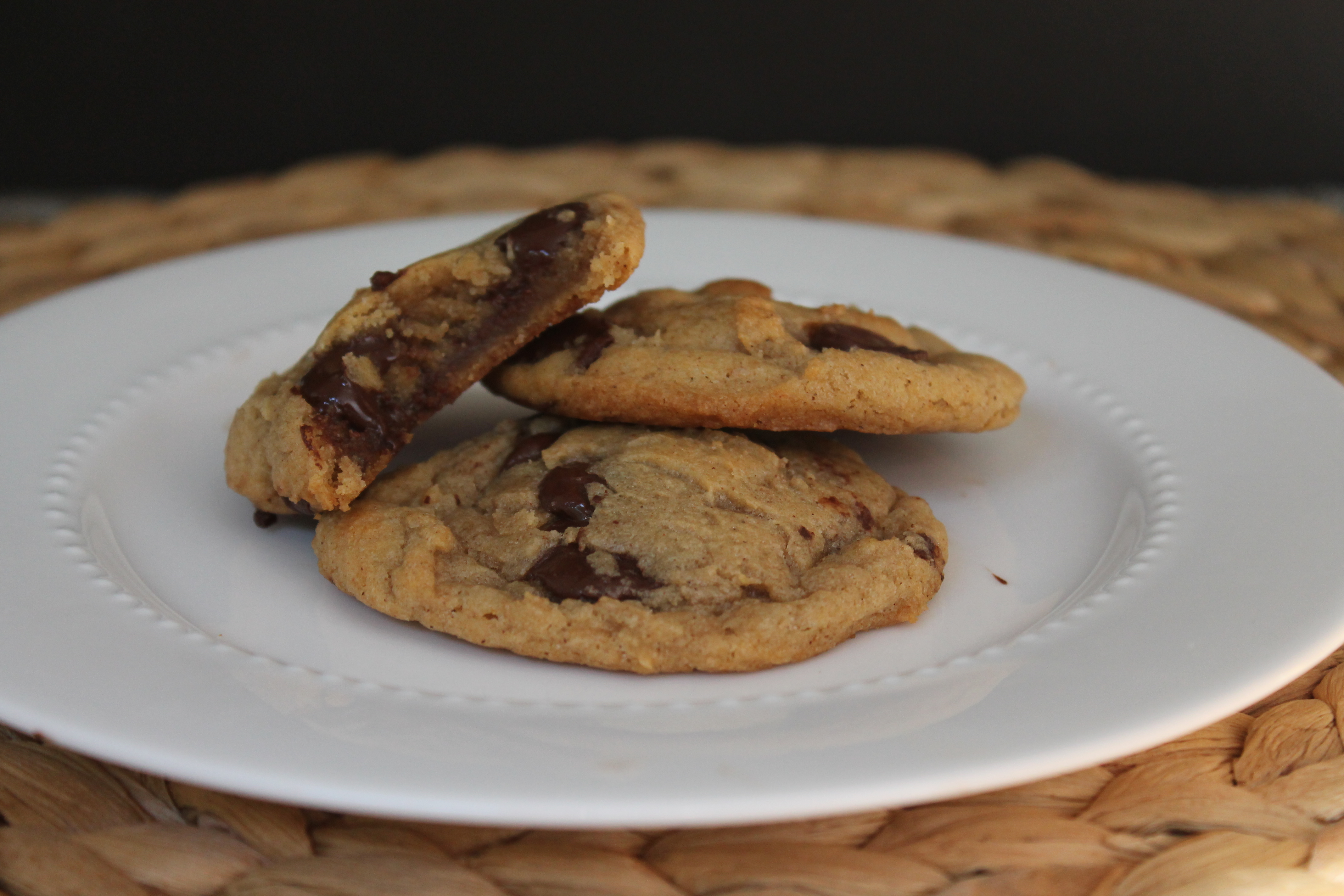 Serve with a tall glass of milk—these babies are rich!
Bourbon Brown Butter Chocolate Chip Cookies
lightly adapted from Bakergirl
makes about 3½ dozen
Ingredients:
1¼ cup (2½ sticks) unsalted butter
3½ cups flour
1¼ tsp. baking soda
1½ tsp. baking powder
1 tsp. salt
½ tsp. cinnamon
1½ cups light brown sugar
¾ cup granulated sugar
2 tsp. vanilla extract
2 eggs, room temperature
2 tbsp. bourbon
10 oz. bittersweet chocolate pieces (Ghirardelli)
Directions:
First, brown the butter by melting it in a medium saucepan over medium heat, whisking constantly. The butter will begin to bubble and foam, then it will quickly turn golden brown. Immediately remove from heat and pour the browned butter into a small bowl. Chill in the refrigerator until cool to the touch.
In a large bowl whisk together the flour, baking soda, baking powder, salt, and cinnamon. Set aside.
When the butter is cooled, blend it together with the brown sugar and granulated sugar until smooth and creamy. Mix in the vanilla extract. Add the eggs one at a time, beating well after each addition. Finally, stir in the bourbon.
Add the flour mixture to the butter mixture, mixing until just combined. Stir in the chocolate pieces.
Refrigerate dough for at least 1 hour or up to 2 days. Don't skip this step! Because the butter was in liquid state when incorporated, it's important to chill the dough to prevent the cookies from spreading and baking up flat, thin, and crispy.
When the dough has chilled, preheat the oven to 350°. Line two baking sheets with Silpats or parchment paper.
Scoop dough into golfball-size balls, about 1½ tbsp. each. Set 2–3″ apart on the prepared baking sheets.
Bake for 10-12 minutes. Cookies should be domed and barely browned around the edges, but not completely set.
Allow to cool a few minutes on the baking sheet before transferring to a wire rack to cool completely.
Enjoy!
One year ago: Black Bean Burgers
Two years ago: Sweet Cream Ice Cream