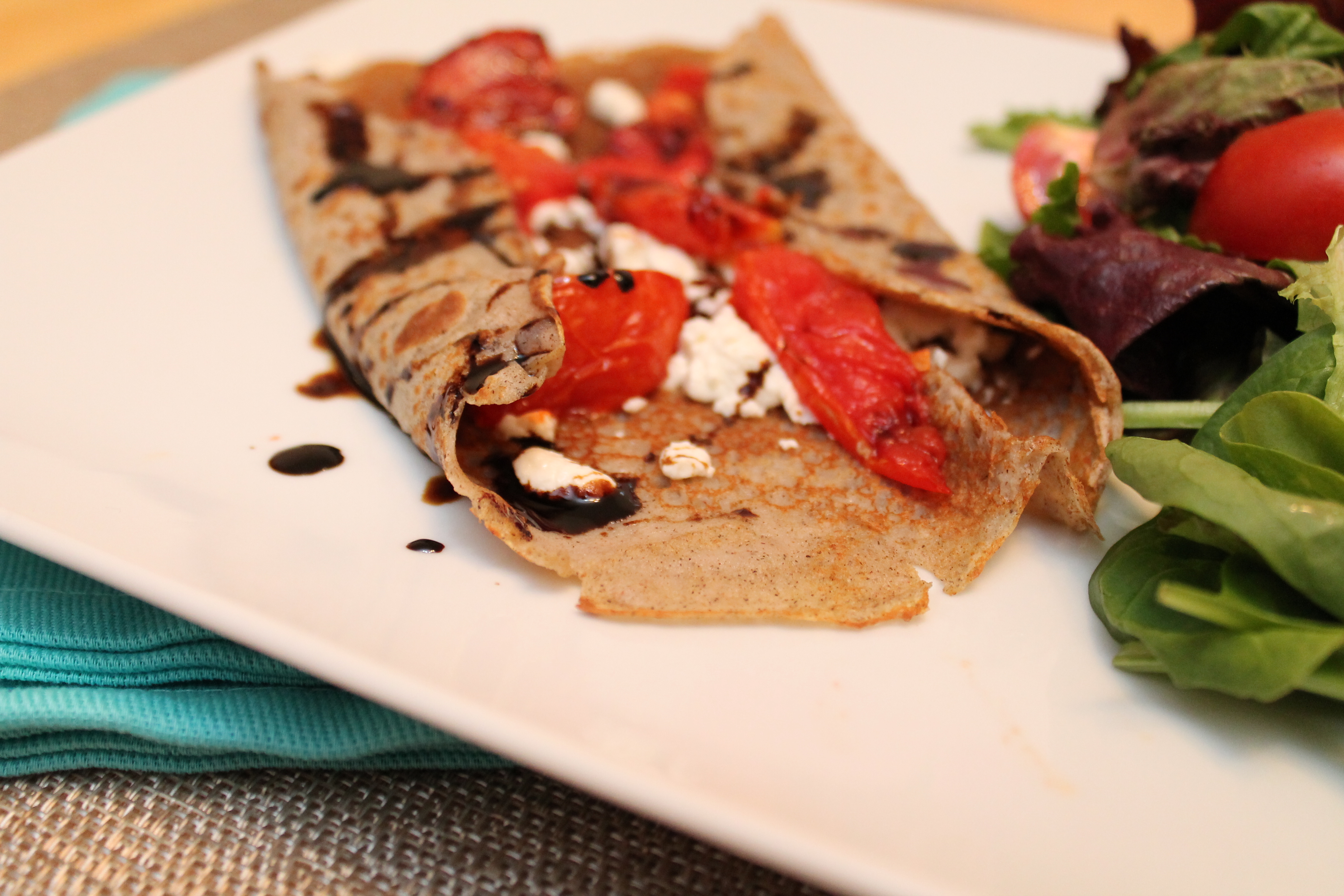 A few weeks ago, we went to Montreal with several of my husband's siblings.
Traveling with a baby is…interesting. We had fun, but I am not too eager to fly with Jake again soon (and sorry to everyone who suffered from burst eardrums when my cheerful, angelic child turned into a velociraptor). One of the other weird things about traveling with a baby is that sightseeing time is cut in half…since we had to keep going back to the hotel for naps.
But even though I missed a few museums and bike rides, you probably won't be surprised to learn that I did not miss out on delicious food. Specifically, food from the famed Montreal dessert restaurant, Juliette et Chocolat.
Holy moly. We went there three times. I wish I were still there right now.
Oddly enough, although I fully intend to try my hand at several of their desserts, the first thing I am recreating is one of their savory specials, the tomato galette.
You may be scratching your head in confusion right now, since I obviously made a crêpe in the picture above. But I learned from Clotilde of Chocolate and Zucchini that in France, savory crêpes are often made with buckwheat and called galettes! I struggled with whether or not to make a pie-style galette here at home, since that lines up better with my expectations of the word galette, but eventually I decided to go the more authentic French route. My main consideration, honestly, was the tomatoes. I have had a lot of trouble with soggy veggies on pizzas and galettes this summer (CSA veg is so fresh that it seems to release a lot more liquid when heated), and it would have broken my heart to waste good CSA produce! I knew that roasting the tomatoes separately would be the best thing for the dish as a whole, which meant screwing up my courage and making crêpes for the first time.
Um…by the way…crêpes are probably the easiest thing in the world. If you're worried about not having the right kind of pan, then don't— you can always make slightly smaller crêpes!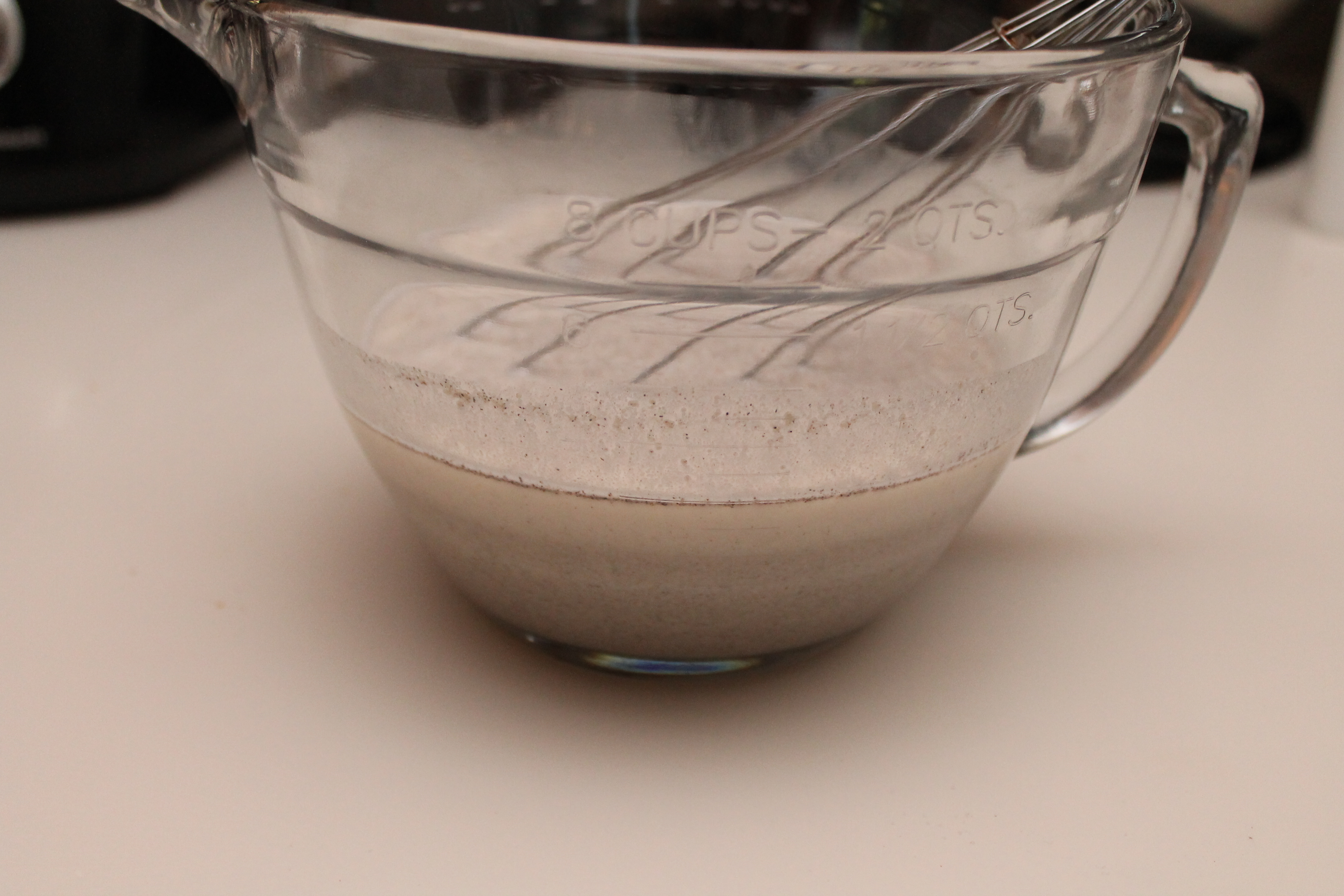 Okay, the crêpe batter needs to chill, so we will start with that. If you have a food processor, pulse the buckwheat flour, all-purpose flour, and egg until it looks a little crumby. Transfer to a large bowl and whisk in the milk and water. (You could also do this by hand, but it will just take a little longer.)
Cover the bowl with a tight-fitting lid or plastic wrap and chill for at least 2 hours, or overnight.
Now let's prep the balsamic glaze! This is so easy…just stir together balsamic vinegar and a smidge of maple syrup (hey!…we are reproducing a Canadian dish, after all) in a small saucepan. Heat to a low boil, then reduce heat to medium. Stir every 5 minutes until the mixture becomes thick and syrupy. This took me about 17 minutes, total. Be careful not to burn it or overcook it! If you heat it to the point where it looks thick and sticky, it will harden as it cools. Never fear, you can also add a little water so it will come back to a pourable consistency.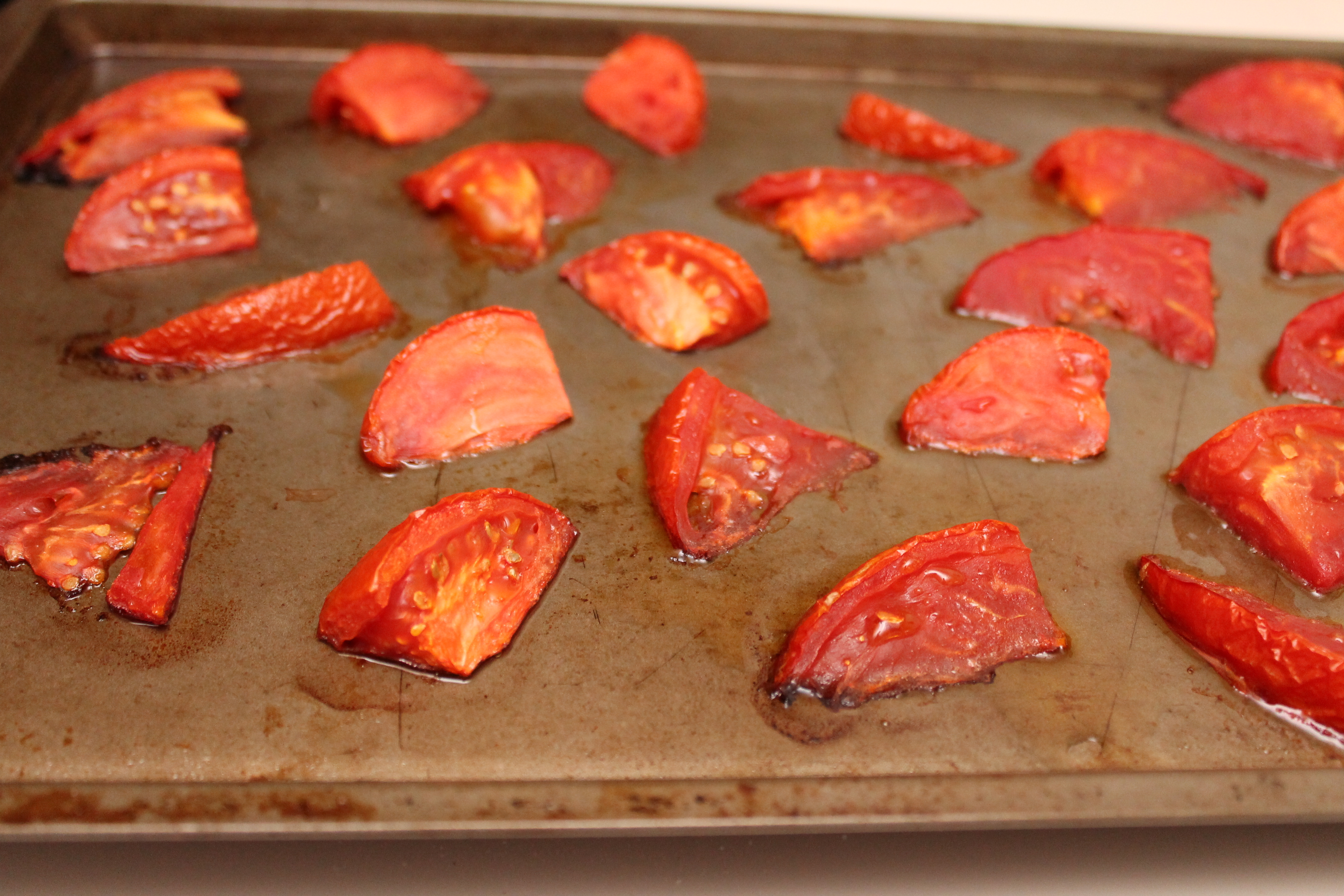 Last prep business! We need to lightly roast our tomatoes. I actually made my crêpes in small batches, so I only roasted 2 tomatoes at a time. But you should need about 1 small-medium tomato per crêpe. Slice the tomatoes into wedges and set them on a paper towel. Very lightly salt. Let the slices sit for 10 minutes to release some of their liquid, then blot gently with another paper towel.
Transfer to a baking sheet and very lightly drizzle with olive oil. Roast for 15 minutes at 400°, until soft and slightly shriveled, bursting with tomatoey awesomeness.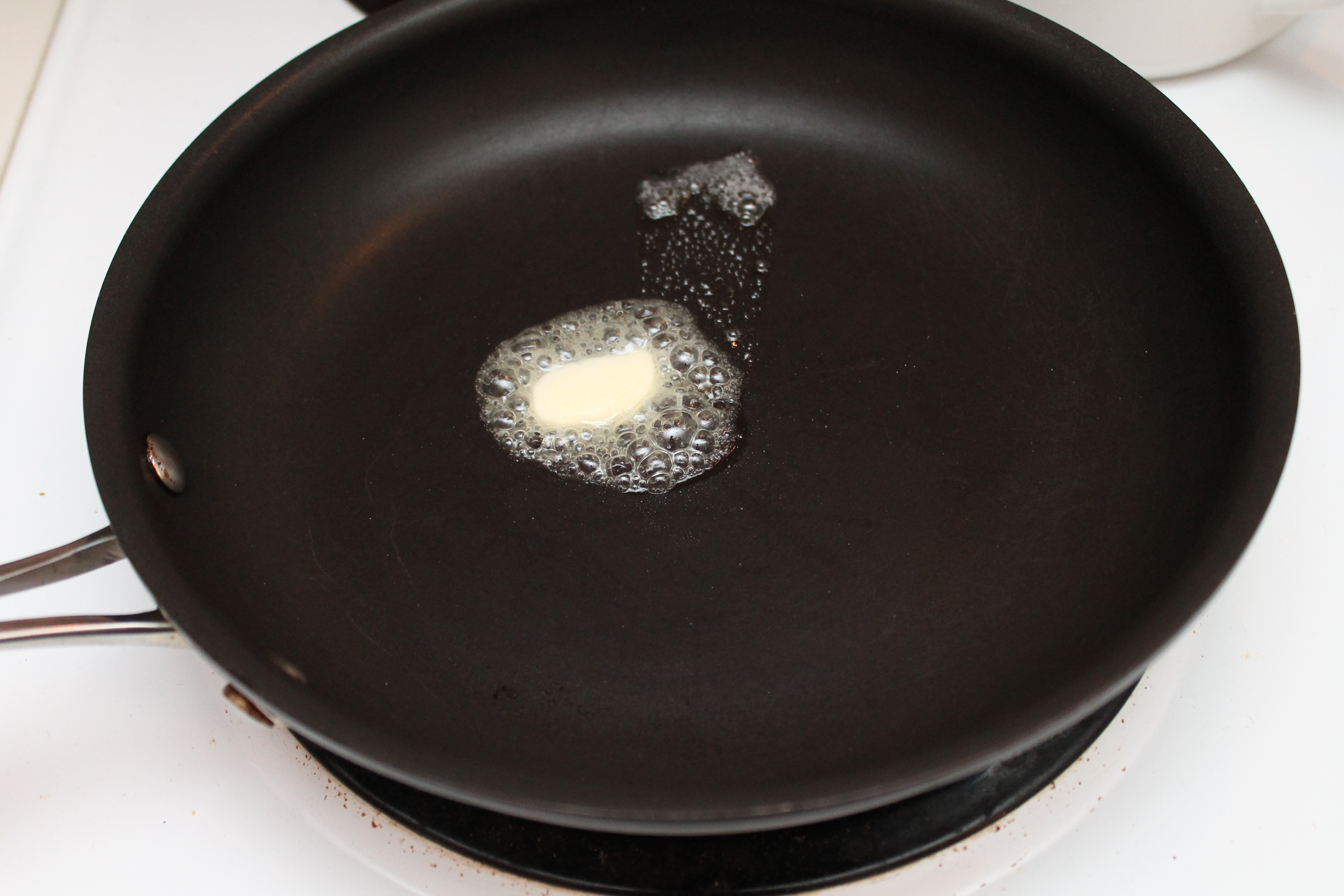 Now. Let's make some crêpes! Pull the batter out of the oven and give it a whisk.
Heat the largest nonstick skillet you have over high heat. When it's nice and hot, reduce the heat to medium and drop in a sliver of butter. Swirl the butter around in the pan, then grab a paper towel and carefully use it to spread the butter evenly in the pan.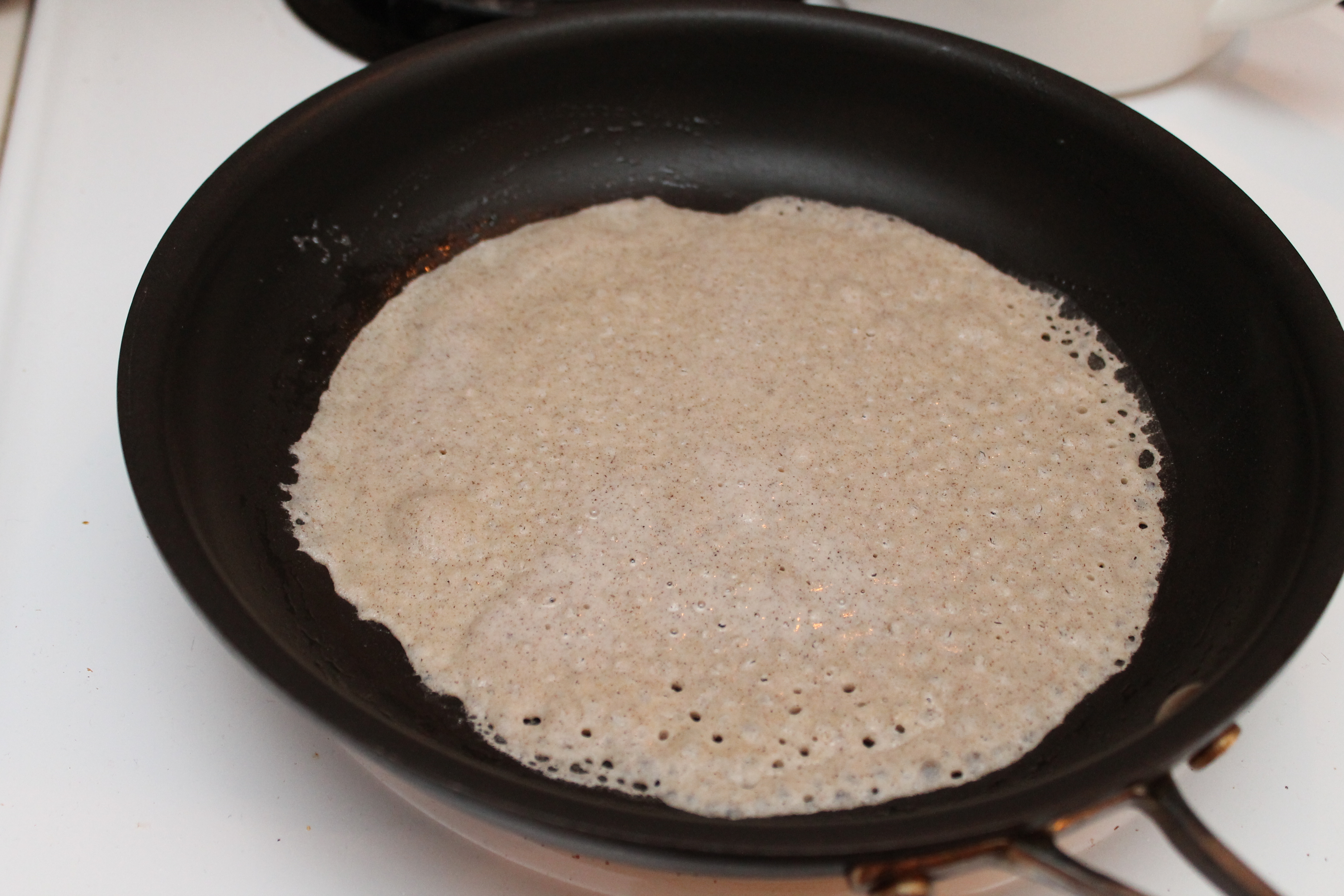 Using a ladle or a ¼-cup measure, scoop some batter into the bottom of the pan. Tilt the pan until the batter evenly covers the bottom of the pan. Let it cook for a minute or two, checking the bottom with a spatula to see whether it's cooked. Once the bottom is lightly browned, carefully flip the crepe.
Top with crumbled chèvre (I think I used about 1 oz. for a 9″-wide crêpe) and continue cooking for another minute or so.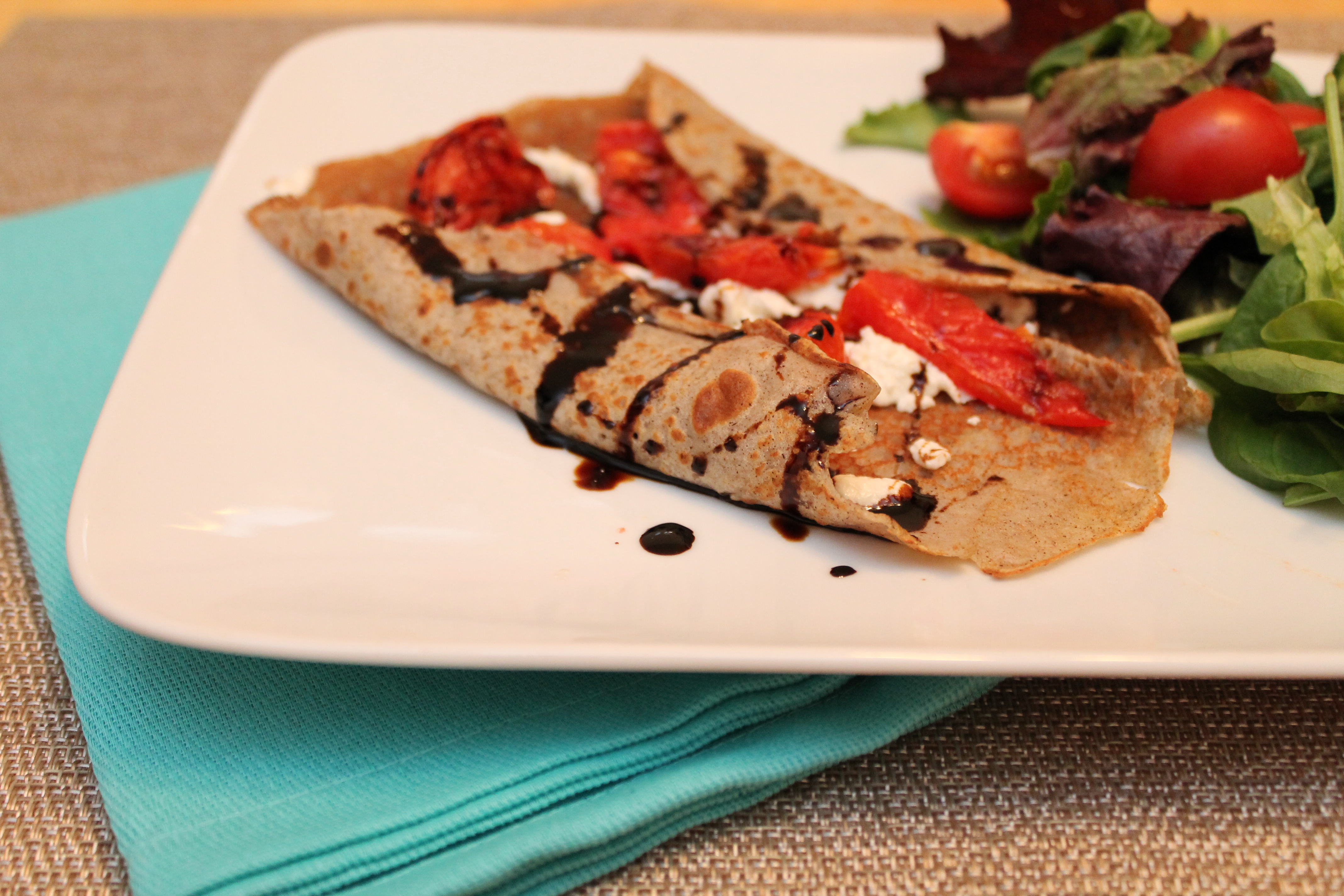 Slide the crêpe out onto a plate and immediately top with roasted tomatoes. Fold the edges up so that it looks a bit like a flattened taco (um…sorry to the French for the awkward comparison). Drizzle with balsamic glaze.
If you are making several crêpes rather than serving immediately, then do not top with cheese on the stovetop. Instead, cook the crêpe through and transfer it to a plate, flat. Layer parchment paper between each crêpe, and store in a warm oven until ready to serve. Fill the crêpes just before serving.
Roasted Tomato Buckwheat Galettes
inspired by Juliette et Chocolat
crepes lightly adapted from Chocolate and Zucchini
makes 10 small or 6 medium
Ingredients:
1 cup minus 2 tbsp. (250 grams) buckwheat flour
3 tbsp. (25 grams) flour
1 egg
¼ tsp. sea salt
1 cup milk
1 cup water
1 cup balsamic vinegar
1½ tsp. 100% real maple syrup
6–8 medium tomatoes
salt
olive oil
butter
10 oz. chèvre
Directions:
Pulse the buckwheat flour, flour, salt, and egg in a food processor until mealy. Transfer to a large bowl and whisk in the milk and water. Cover tightly and refrigerate at least 2 hours, or overnight.
Meanwhile, heat the balsamic vinegar and maple syrup over medium-high heat, stirring every 5 minutes, until reduced by at least half and thick enough to coat the back of a spoon, about 20 minutes total.
Preheat oven to 400°.
Core the tomatoes and cut into wedges. Set the wedges on a paper towel and salt lightly. Let the tomatoes sweat for 10 minutes, then blot with another paper towel.
Transfer the tomatoes to a nonstick cookie sheet. Very lightly drizzle with olive oil, and season with salt and black pepper if desired.
Roast the tomatoes 15–20 minutes, until soft and slightly shriveled. Immediately remove them from the baking sheet so they don't sit in their own juices.
When the batter is sufficiently chilled, make the crêpes. Heat a large skillet over high heat. Very lightly butter (or oil) the skillet, wiping away any excess with a towel. Lower the heat to medium. Pour ¼ cup batter into the pan and tilt the pan until the batter is evenly distributed in a thin layer at the bottom of the pan.
When the bottom of the crêpe is lightly browned, after 1–2 minutes, carefully flip with a large spatula. Crumble 1 oz. chèvre over the crêpe. Let the bottom of the crêpe brown and the cheese melt slightly.
Transfer the crêpe to a plate and top with roasted tomatoes. Fold up the edges and drizzle lightly with balsamic glaze.
Repeat with the remaining batter and filling ingredients.
Enjoy!
One year ago: Black Bean Burgers
Two years ago: Chocolate Mousse Buttercream