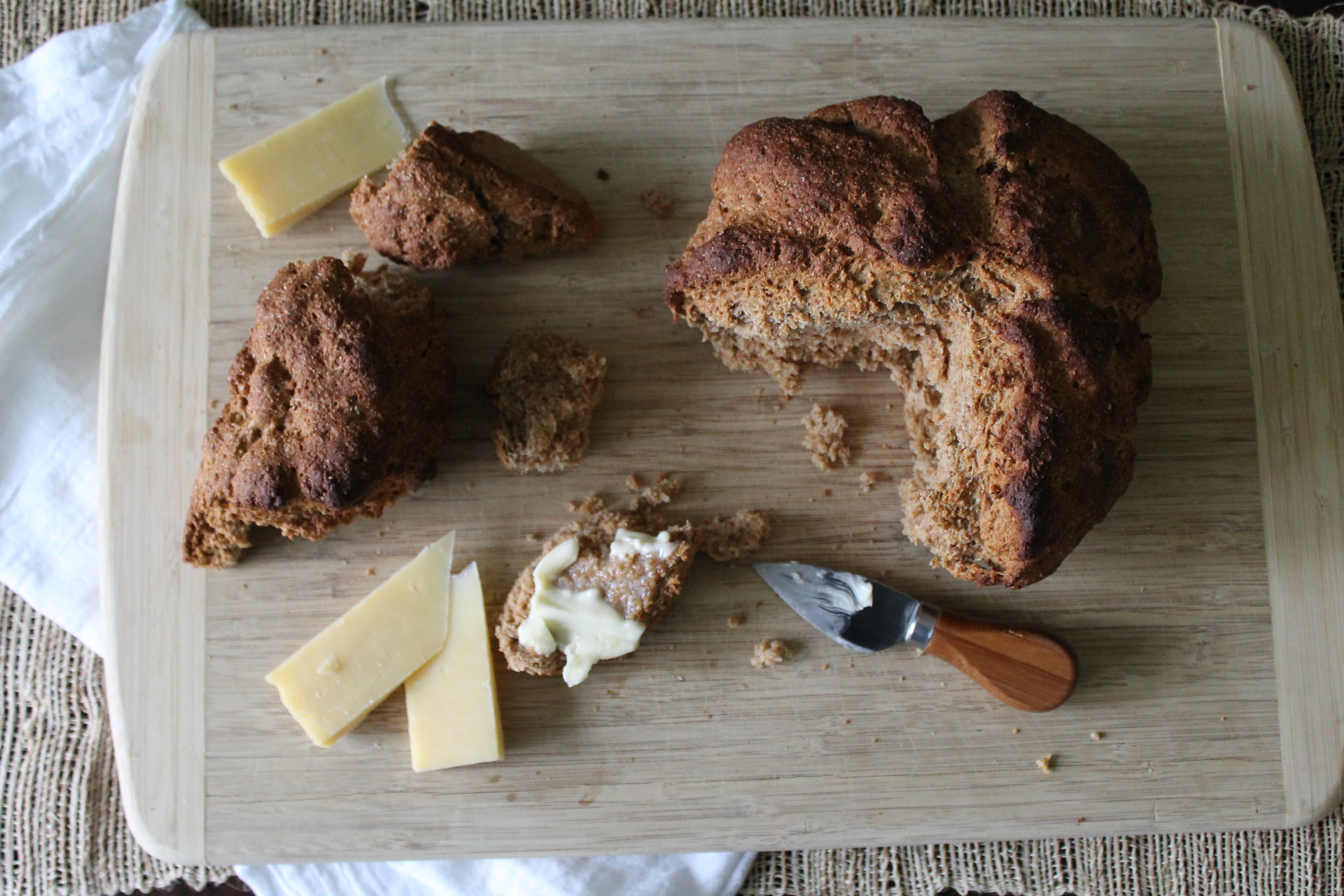 It's almost St. Patrick's Day! My husband is Irish, so this is really a day I can't overlook. Of course, he always wants just one thing in celebration of his heritage: corned beef and cabbage. (Actually, he wants that all year long.)
Since I don't eat meat, I struggled a bit with figuring out how to celebrate Ireland on the blog. I really wanted to make soda bread, but Dave's idea of soda bread is dry and unpalatable. I decided to go for it anyway, just to prove him wrong.
So here we are. I searched the interwebs for a recipe that would impress him. I considered white or dark bread, dried fruits or plain, seeds or no seeds…I even pondered totally untraditional offerings, such as minced herbs and browned butter.
Then it suddenly occurred to me that I have a fantastic cookbook by a revered Irish chef, Darina Allen (and thanks to my brother-in-law, for giving it)! She is all about history and tradition, but at the same time she is willing to update the classics to reflect modern access and changing tastes. I figured that her recipe for soda bread was the best place to start!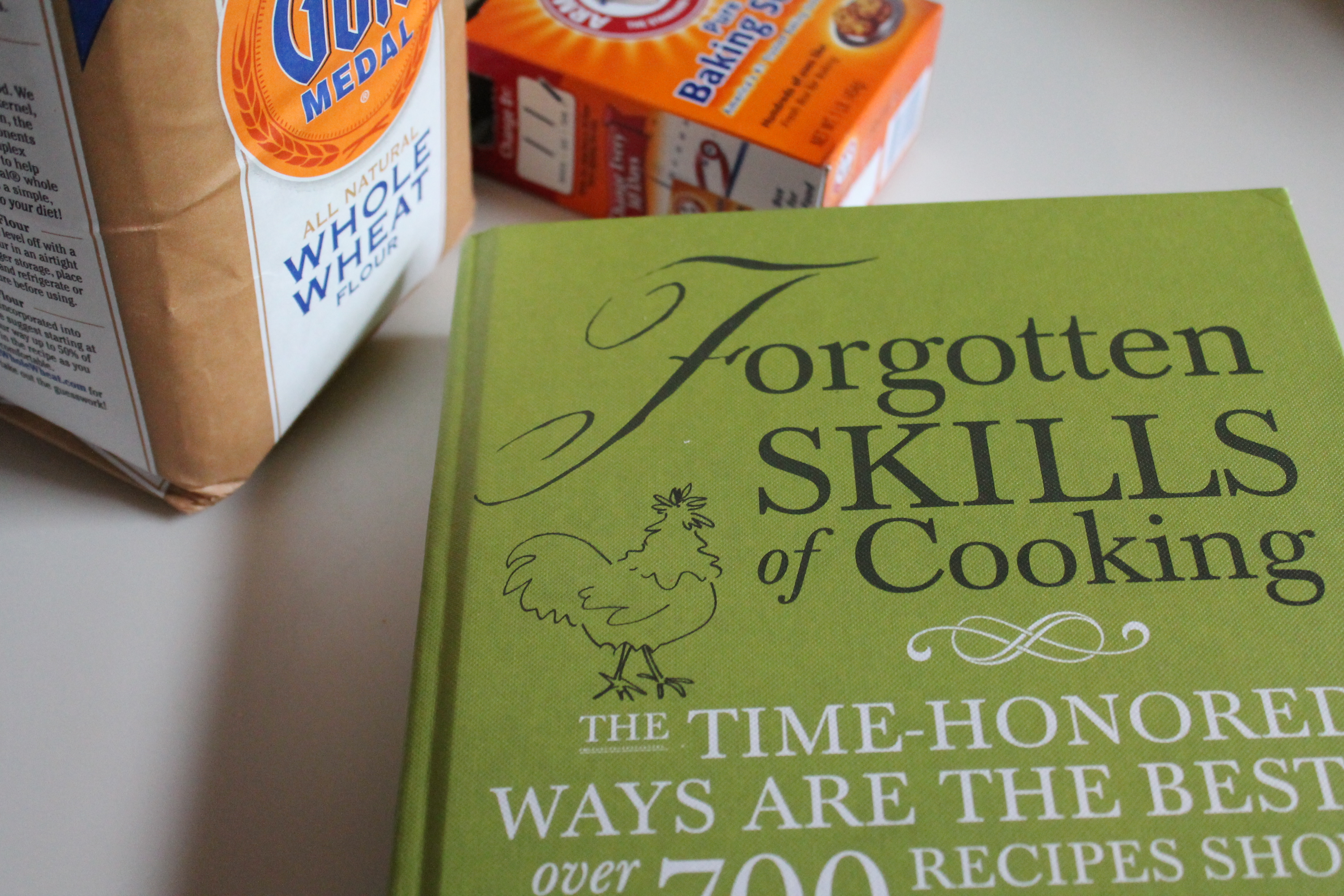 I loved reading Allen's notes on the soda bread of her childhood, as well as discovering how soda bread came to be what it is in Ireland. I won't include all that here, except to say that I chose to make her "beginner's" recipe because she wrote that brown (whole wheat) flour was typically less expensive in Ireland than white flour, and so brown bread was less of a luxury. I thought my husband would enjoy that particular tidbit…and also, I had all but run out of white flour, so this was my best option on another level, too. Work with what you have!
Okay, moment of honesty. Soda bread isn't my favorite bread in the world. The flavor tends to be a bit flat, and the texture is quite dense. This bread came out exactly that way (which is to say, exactly the way it was supposed to!)—and I thought it was quite pleasant with butter and a nice hunk of Dubliner cheese. It would probably also be excellent with jam, or even as part of a spicy sandwich! I think it was a total success. But if you've never had soda bread before, I just want you to go into this experience with reasonable expectations. This is the most basic of soda breads, invented out of necessity to feed a hungry people. So enjoy it!
Soda bread is actually a quickbread. And, like all quickbreads, it comes together without fuss or muss!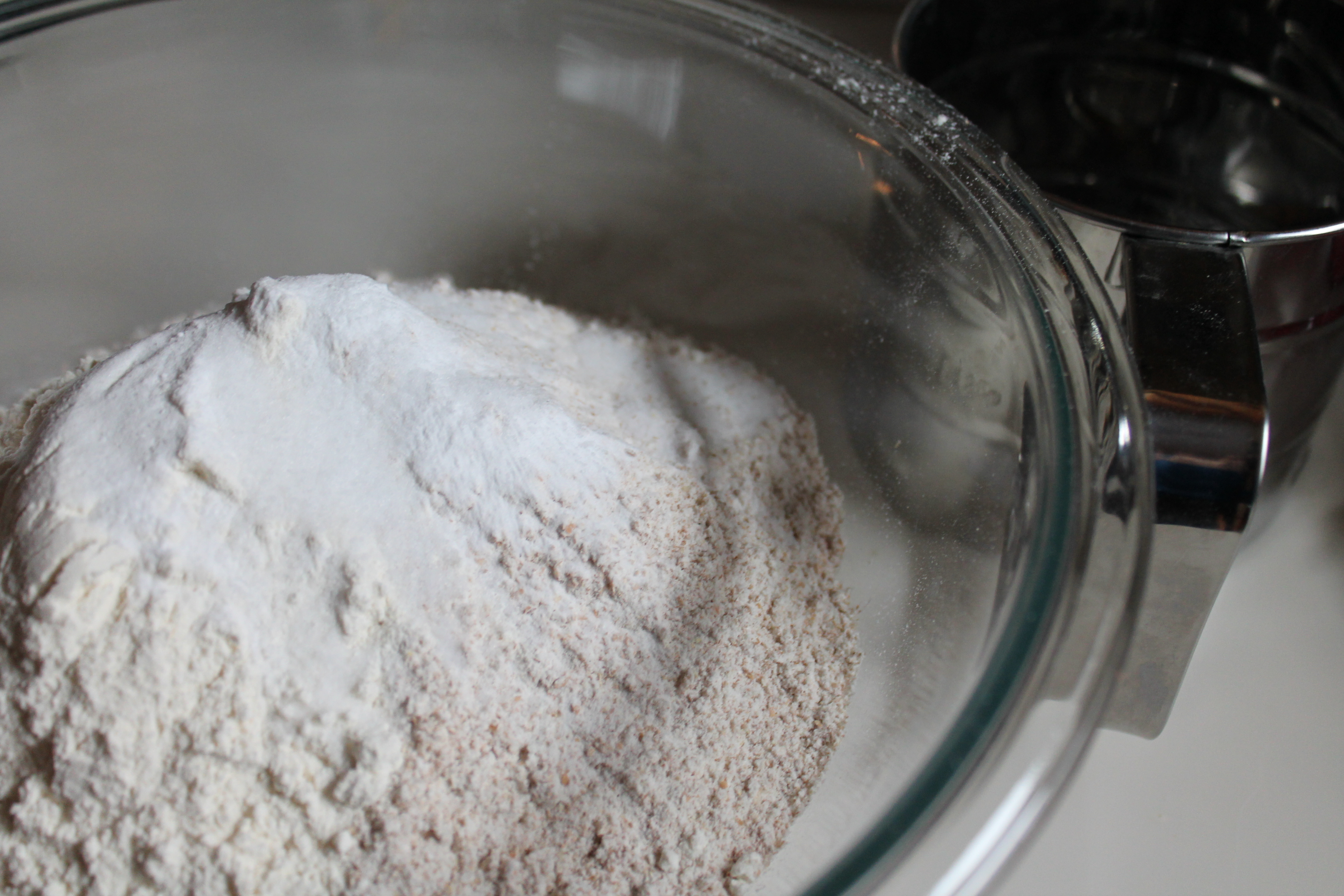 Whisk together all the dry ingredients (side note: thanks to my Irish father-in-law for the hand-milled whole wheat flour that went into this bread!). Darina Allen says to sift the baking soda, which I did. I am guessing this allows it to distribute more evenly and thus better leaven the bread.
Whisk an egg and mix it together with the buttermilk, oil, and honey. (I actually used molasses, which I found in the back of my cupboard, and which struck me as being somewhat more Irish in the moment than honey. I might have preferred honey, though.)
Pour the wet ingredients into a well in the dry ingredients. Stir them together. Do try not to overwork the dough, as this will make the bread even tougher than it naturally is. However, the dough should turn out rather loose. If yours is stiff, as mine was, then you will need to add more buttermilk. I added about 2 tbsp. more, but I think I will go even further next time. Darina says that the dough should be soft and not too sticky, and if it is not wet enough then the bread will be very heavy instead of airy. After all, steam is also a leavener!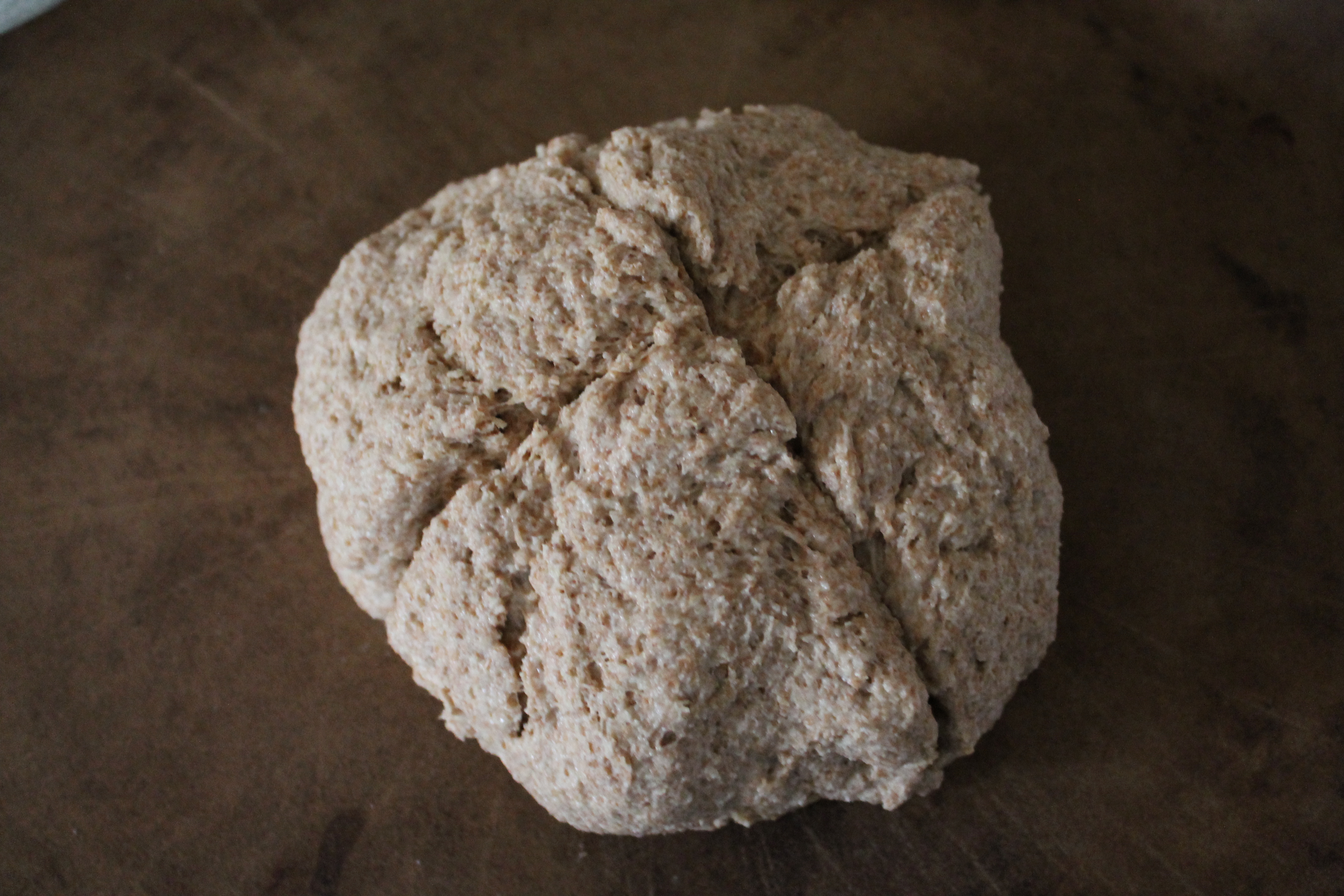 Now pat the dough into a ball and deposit it on a baking stone or sheet. Score a large cross on the dough, going all the way down the sides with the knife as you cut. Apparently, in Irish folklore, this lets the fairies out and/or wards off the devil. But if that's not for you, I still recommend cutting the bread, which will allow it to expand and heat more evenly while baking.
Put the bread in the oven and bake for 15 minutes at 450°. Lower the temperature to 400° and continue baking another 30–45 minutes, until the top is browned and the bottom of the bread sounds hollow when you knock on it.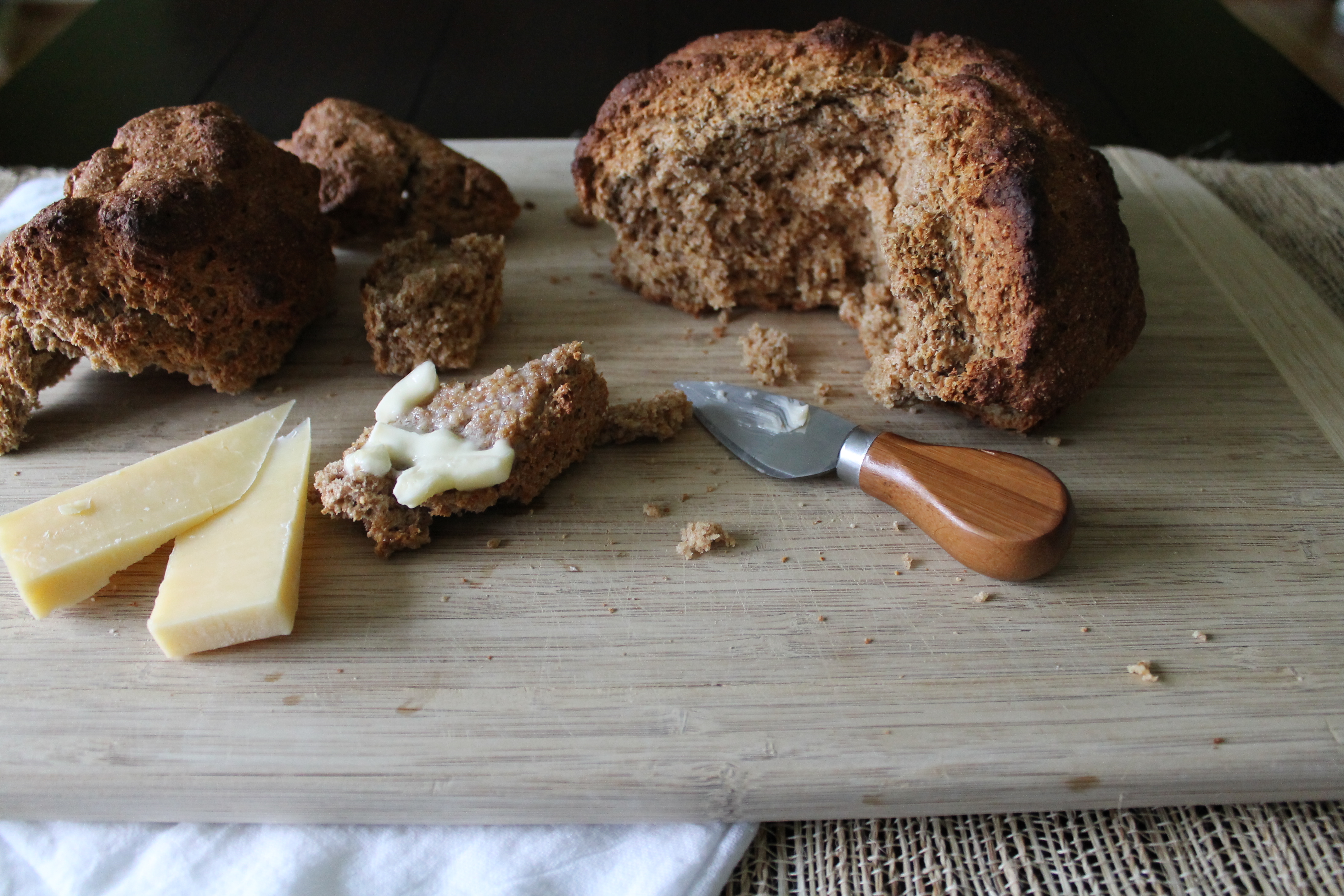 Serve with your favorite condiments or cheeses! Soda bread is best on the day it's baked.
Irish Brown Soda Bread
lightly adapted from Forgotten Skills of Cooking
makes 1 large round/serves 8
Ingredients:
3⅓ cups whole wheat flour
⅔ cup all-purpose flour
1 tsp. salt
1 tsp. baking soda, sifted
1 egg
1 tbsp. vegetable oil
1–2 tsp. honey or molasses
1¾ cups low-fat buttermilk, well shaken, plus extra as needed
Directions:
Preheat oven to 450°.
Whisk all the dry ingredients together in a large bowl.
Lightly beat the egg, then add it to the oil, honey, and buttermilk and mix well.
Make a well in the center of the dry ingredients and pour in all the liquid. Mix well, adding more buttermilk if necessary: the mixture should be soft and slightly sloppy, but not too wet.
Form the dough into a wide ball and set it on a baking stone or heavy duty, nonstick baking sheet. With a sharp knife, cut a deep cross on the surface of the bread (sides as well as top).
Bake for 15 minutes, then lower the oven to 400°. Continue baking for 30–45 minutes. Tap on the bottom of the bread; if it is cooked through, it will sound hollow.
Let the bread rest for 10 minutes before breaking apart or slicing.
Enjoy!
One year ago: Cheddar Bay Biscuits
Two years ago: Crustless Mini Quiches