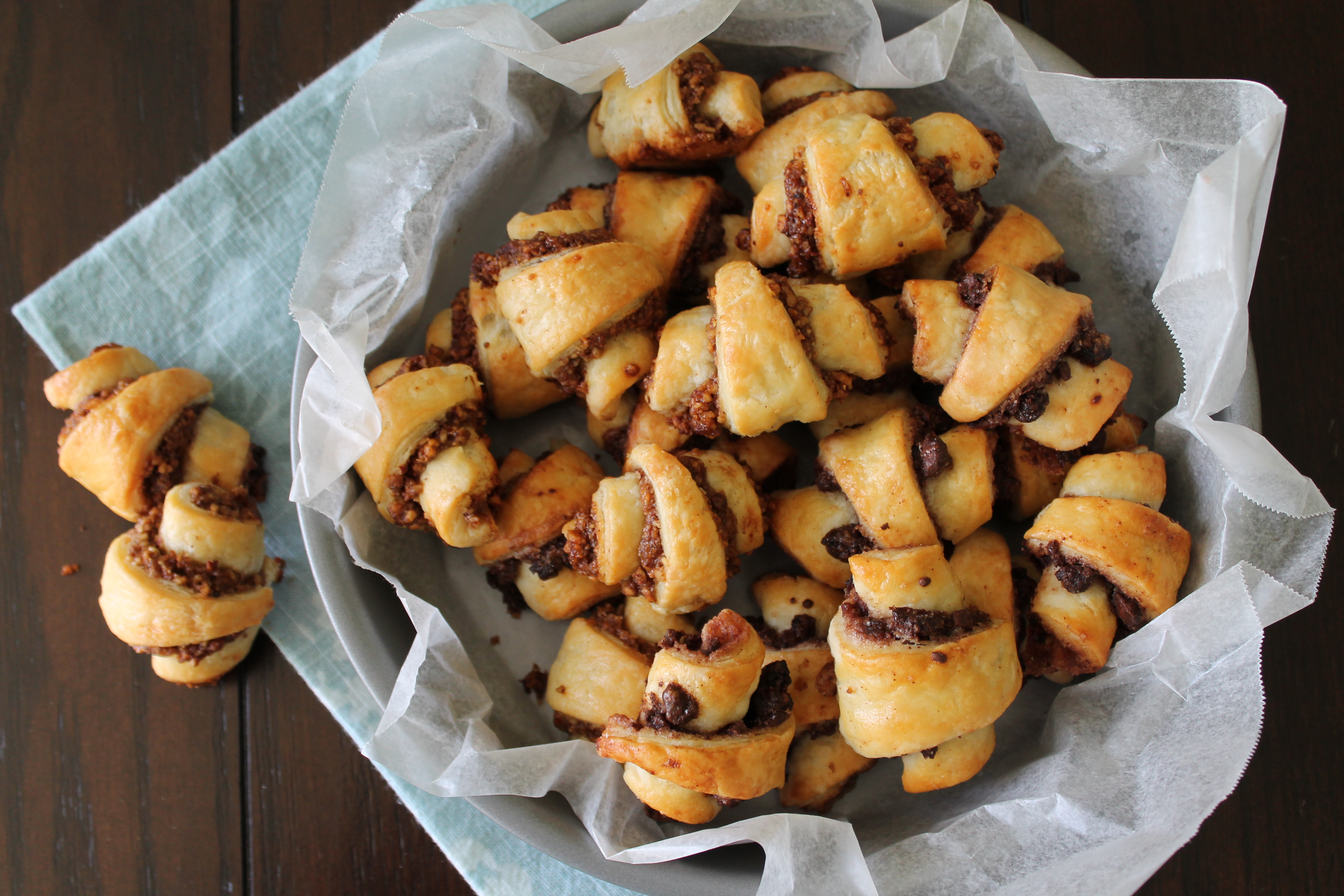 You guys, I have had it all wrong!
For years, ever since first setting eyes on rugelach on my honeymoon in Germany, I believed that these cookies were always stuffed with dried fruits or poppyseeds.
Apparently…rugelach can be chocolate! Or nutty! Or, really, any flavor you please.
So, many thanks to C Mom Cook, my Secret Recipe Club blog of the month, for showing me the truth of these amazing cookies. I so enjoyed Shelley's blog, in part because she is a Daring Baker! I was very briefly a Daring Baker until it became clear to me that I didn't have enough time to be quite so daring. But Shelley is baking up beautiful breads and cakes and pastries, which I just  love reading about and drooling over.
Rugelach are a traditional Jewish cookie that look impressively like filled croissants. They require a small amount of persistence, but are actually quite simple to make! I filled half of mine with a chocolate-cinnamon-date mixture (to die for) and the other half with a honey-nut mixture (almost like baklava). And then I couldn't stop eating them. So delicious!
You could make a version of these cookies with pie crust (especially leftover pie crust from, say….Pie Day!), or you can make a fresh batch of dough using cream cheese!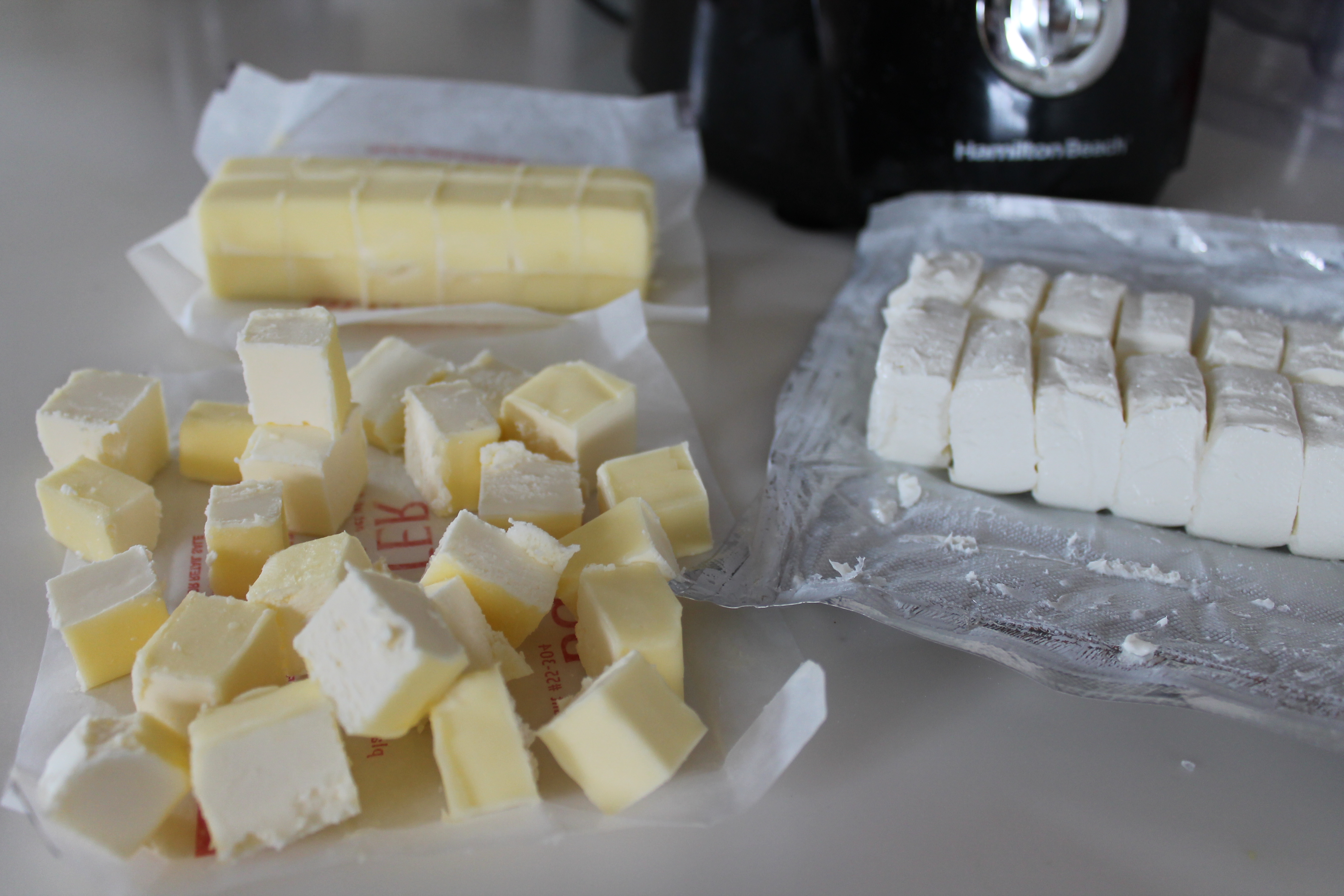 I had never made a cream cheese crust before, and I was more than a little dubious, to be honest. I love all-butter pastry, and I never, ever use the food processor to help it come together because larger chunks of butter are what make butter pastry flaky! But I went for it anyway, and the pastry was fantastic! It required absolutely zero effort, and still puffed into flaky layers in the oven. Hooray!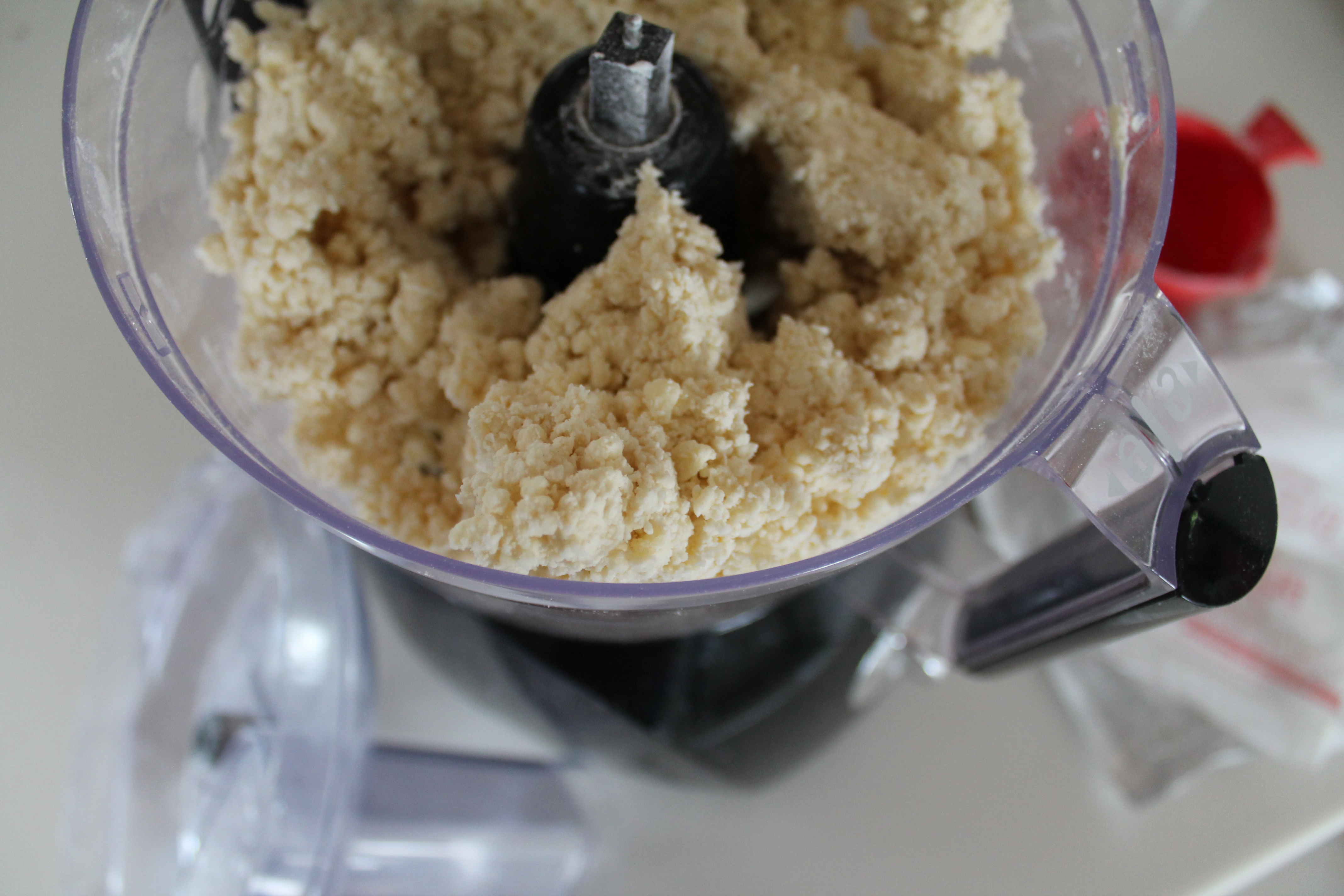 Just whiz all the ingredients in the food processor until it forms large clumps.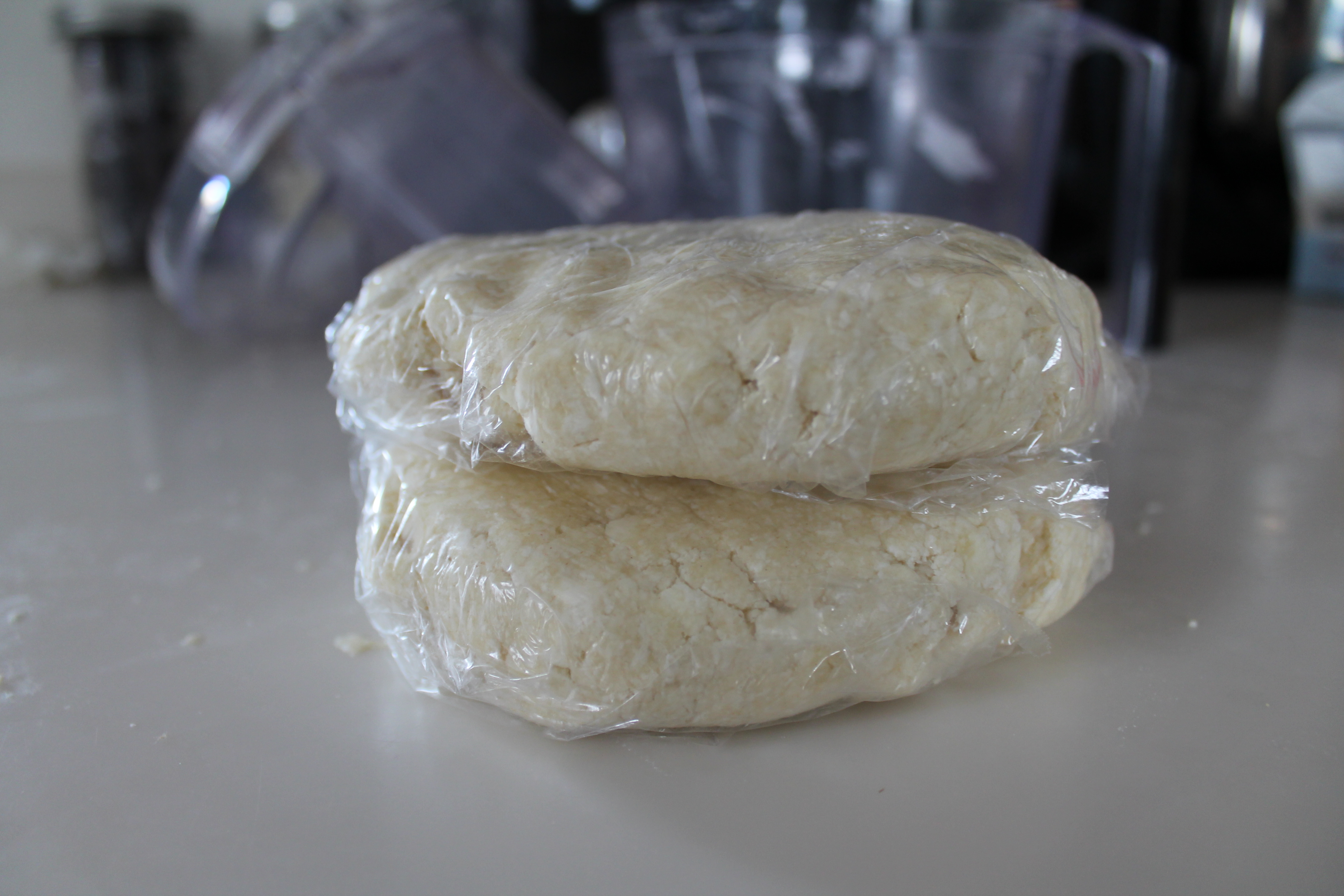 Then separate into two chunks, flatten into discs, and chill in the fridge at least 1 hour.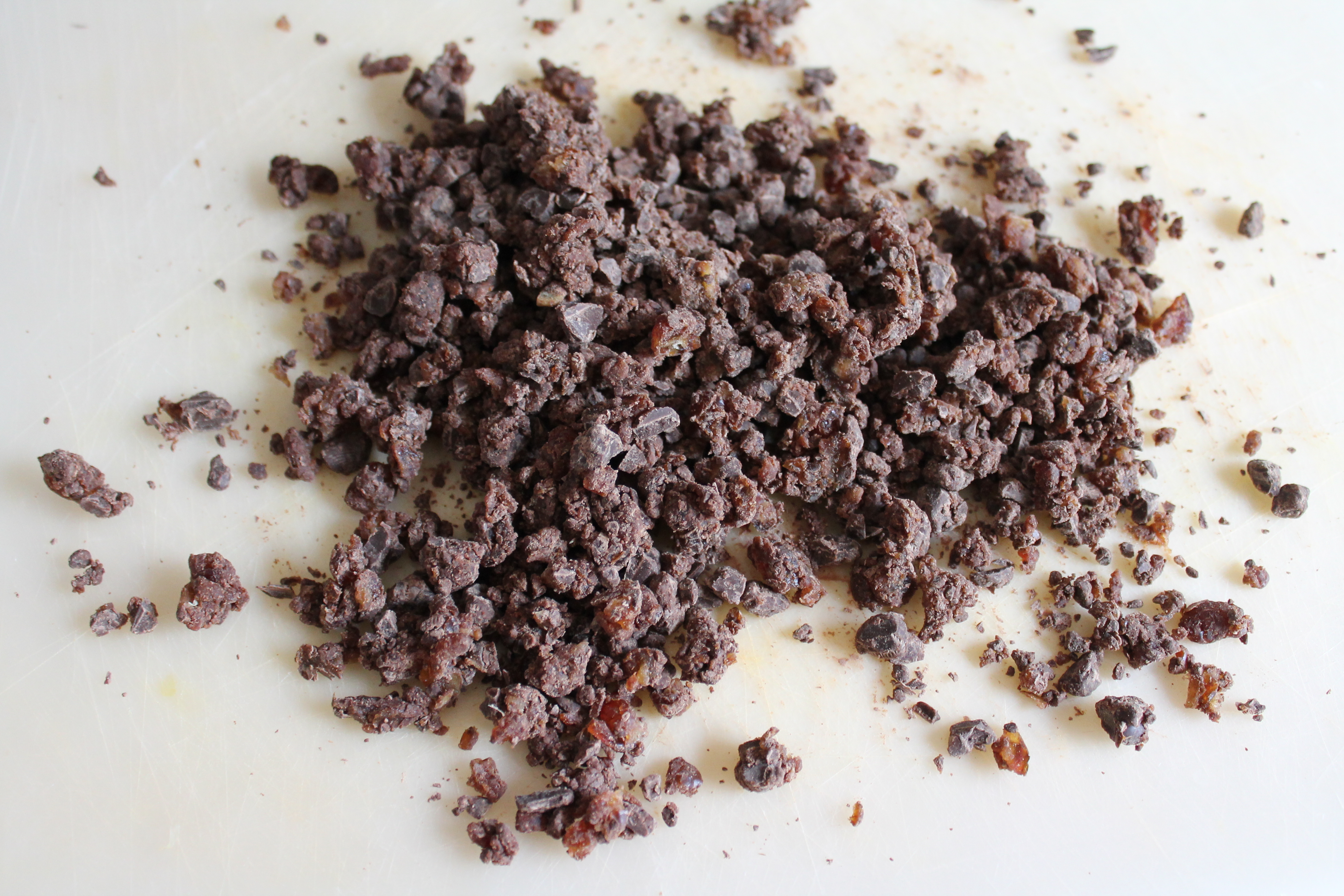 Now comes the persistence part I mentioned earlier. We have to make fillings and roll out the dough. You can really go as simple as you please; these cookies would still be great if you just abandoned a proper filling and sprinkled the pastry with cinnamon and sugar. But if you want to do something amazing…
Grab a few dates (or your favorite dried fruits) and a bunch of chocolate chips. Chop them up as finely as you possibly can. I did try to use the food processor for this, but it just didn't work well, so I ended up chopping by hand. I could have (and maybe should have) gone smaller for easier rolling, but I was too eager to get these cookies in the oven.
In a separate bowl, mix together sugar, cinnamon, and cocoa powder.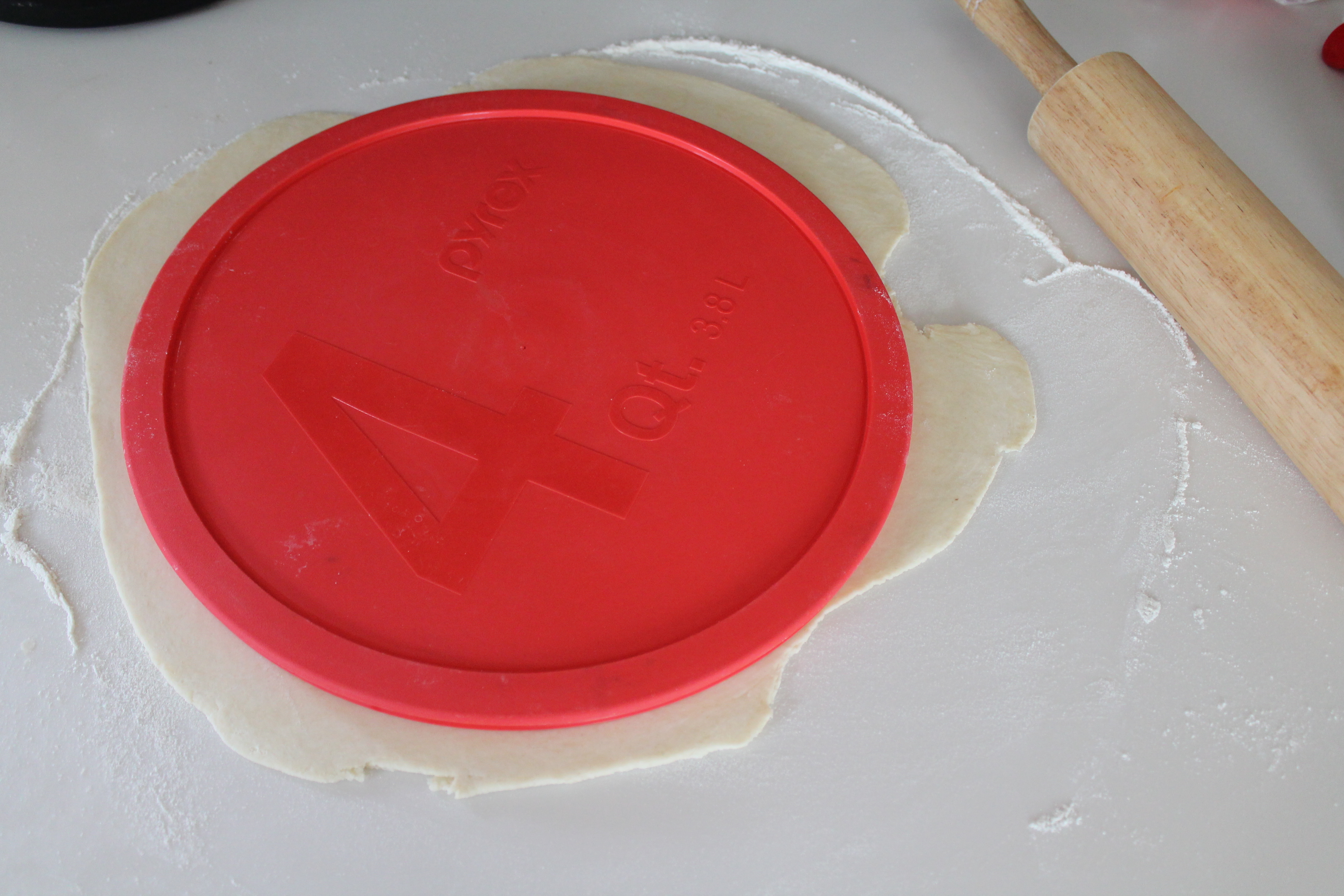 Roll out the first of the two pastry discs into a large circle. I cut mine into a 14″ round, which is totally not necessary, but does help ensure that all the cookies end up about the same size. (Of course, the extra pastry will also become rugelach…)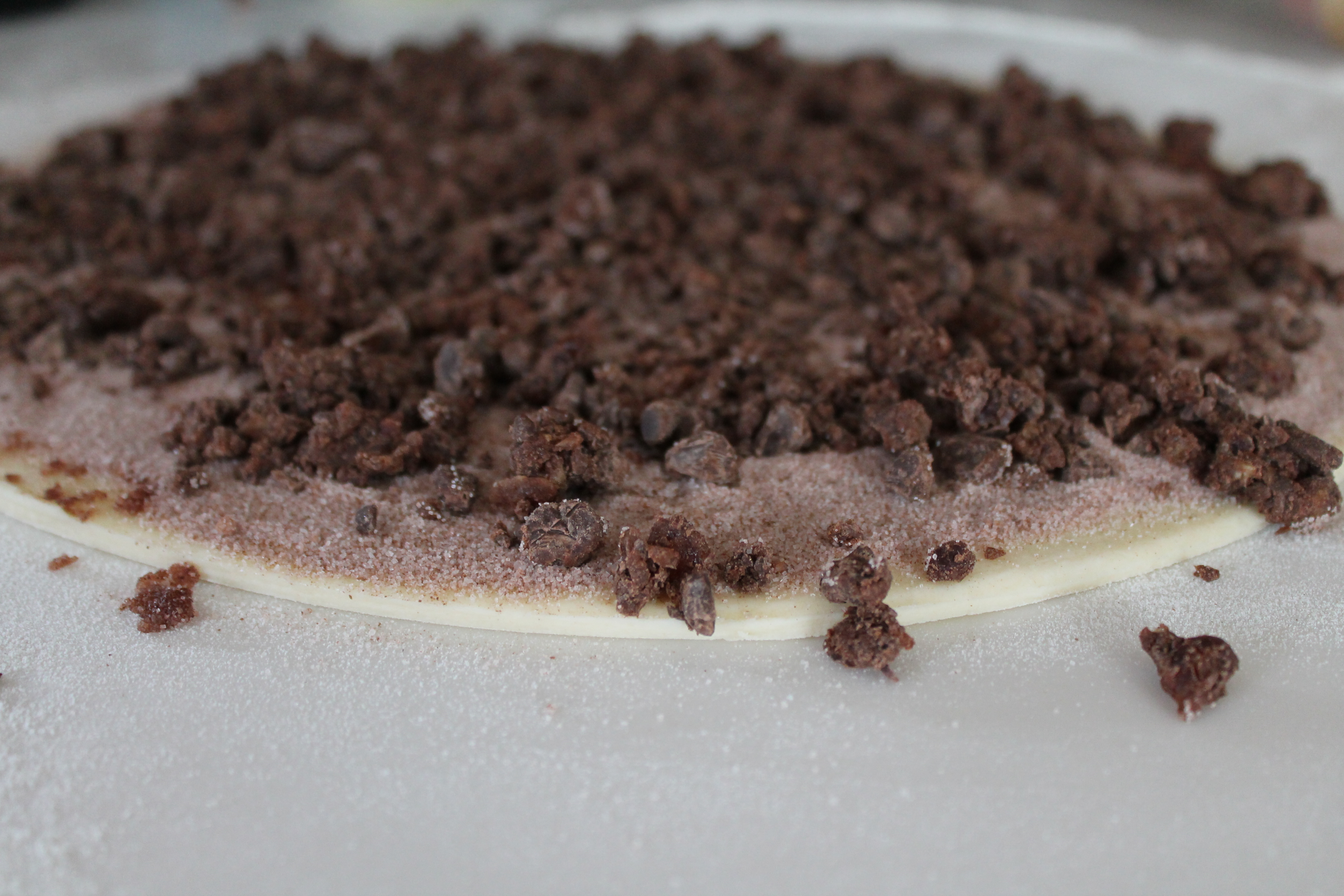 Brush the crust with melted butter and sprinkle with the cocoa-sugar mixture. I didn't quite use all of mine (maybe about 2 tbsp. left in the bowl), because it felt like it was really piling on. Now, sprinkle the chopped dates and chocolate all over the top (again, I had some left over; if you rolled out your crust larger to begin with, you may be able to use the entire batch of fillings in one fell swoop).
Press down with your hands to help adhere the fillings to the crust. Of course, this is a coarse filling, so there will still be loose pieces!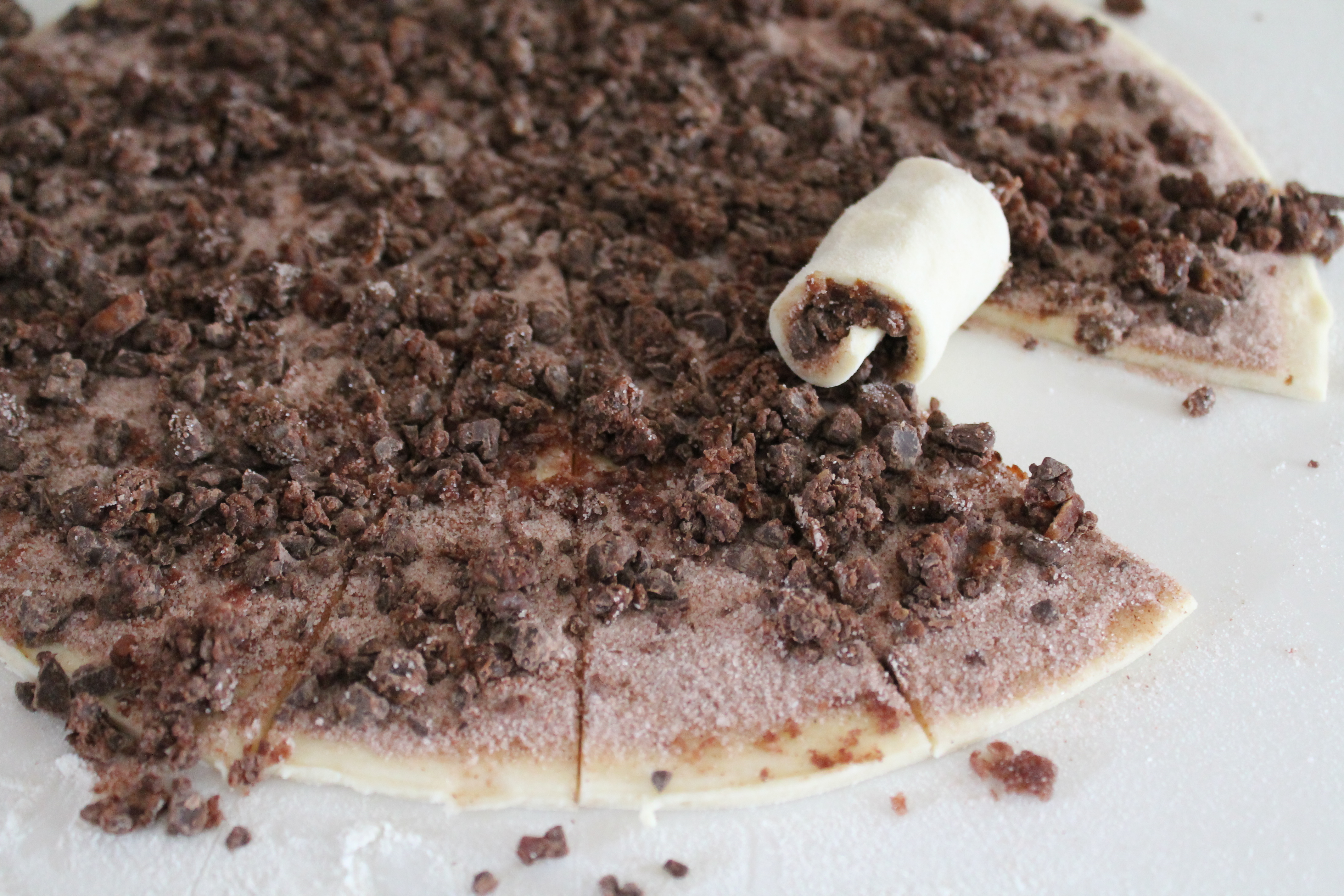 Now grab a pizza wheel or pastry cutter. As evenly as possible, cut the pastry into quarters, aiming directly through the center of the circle. Cut each quarter in half, and then each eighth in half again. Halves are pretty easy to cut! But if your brain is exploding from all that math, then just count your wedges and make sure there are 16. Any more and the cookies will be narrow but fat (this just makes the pretty layers less visible); any fewer and the cookies will be enormous and may not bake properly.
Now, carefully, starting from the outer edge of the circle, roll one of the wedges in toward the center. Some of the fillings may fall out, but you can either tuck them as you roll or stuff them back in afterwards.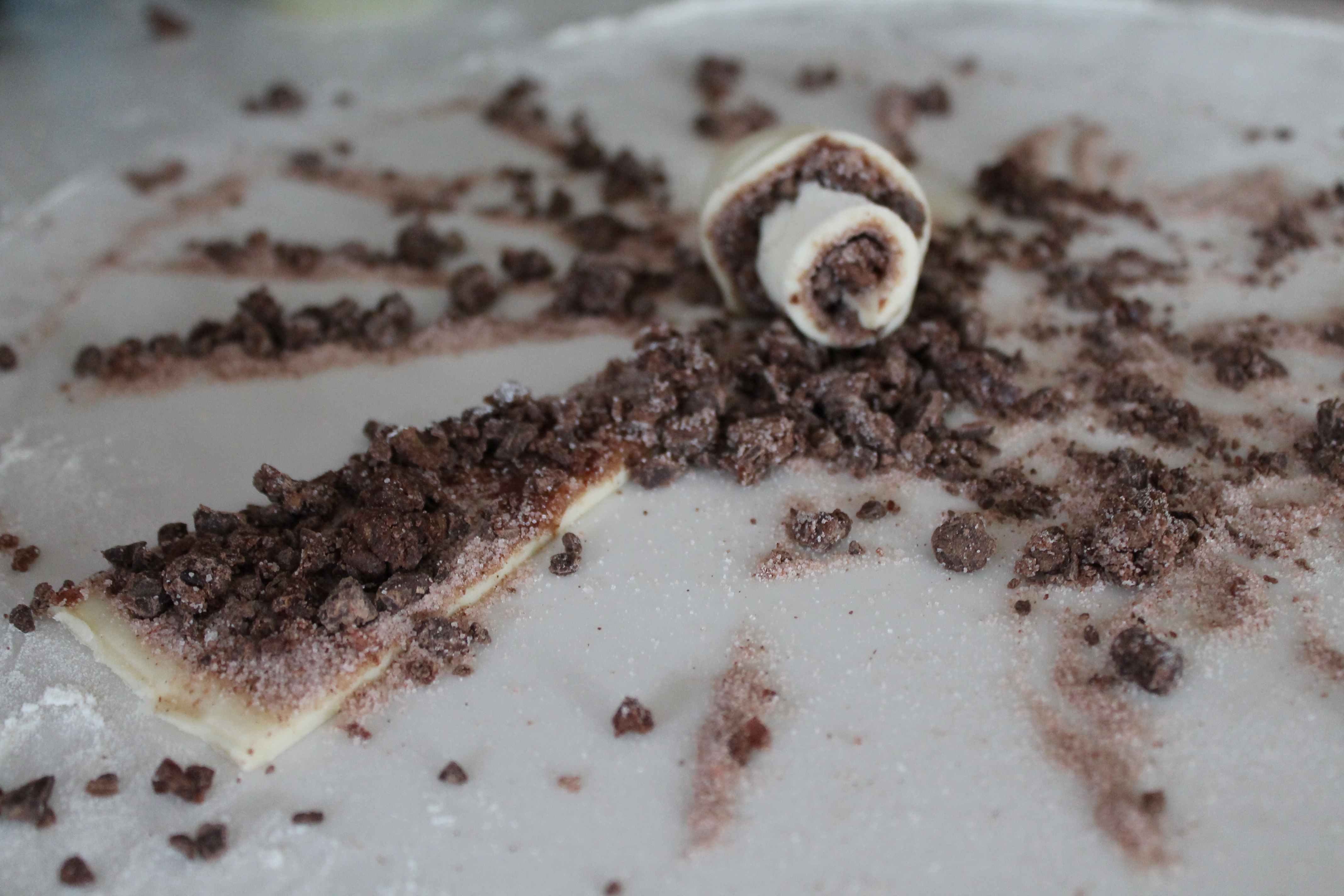 Transfer the cookie to a parchment- or Silpat-lined cookie sheet, making sure the the tail is on the bottom.
Repeat with the remaining wedges.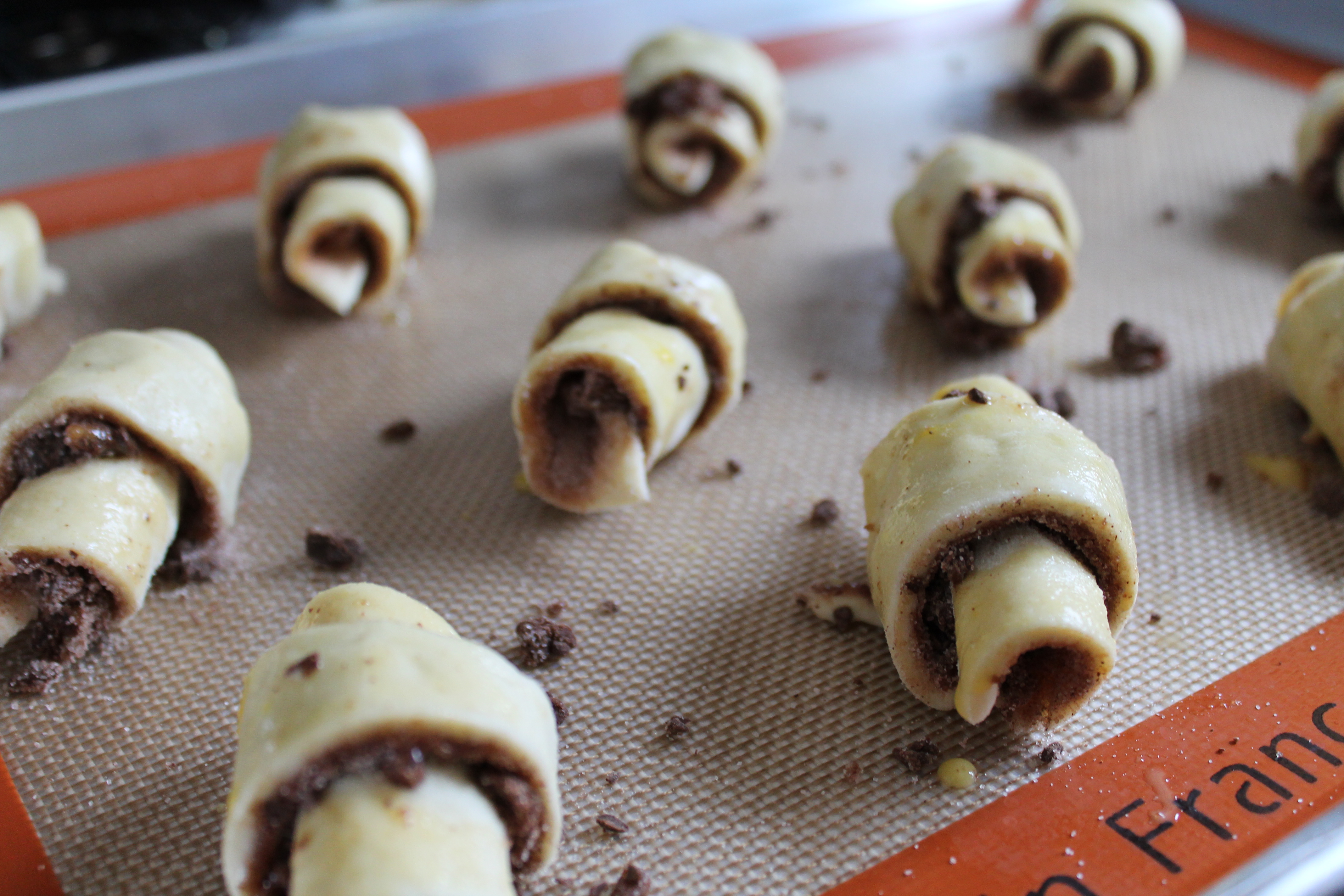 Now make a quick egg wash by whisking together 1 egg and 1 tbsp. water. Carefully brush the egg wash over the cookies—try to get the whole surface of the cookie coated in a very thin layer of egg, so they will brown beautifully in the oven. (You can totally skip this step if you are so inclined; the egg wash doesn't affect baking or flavor, just color of the baked cookies.)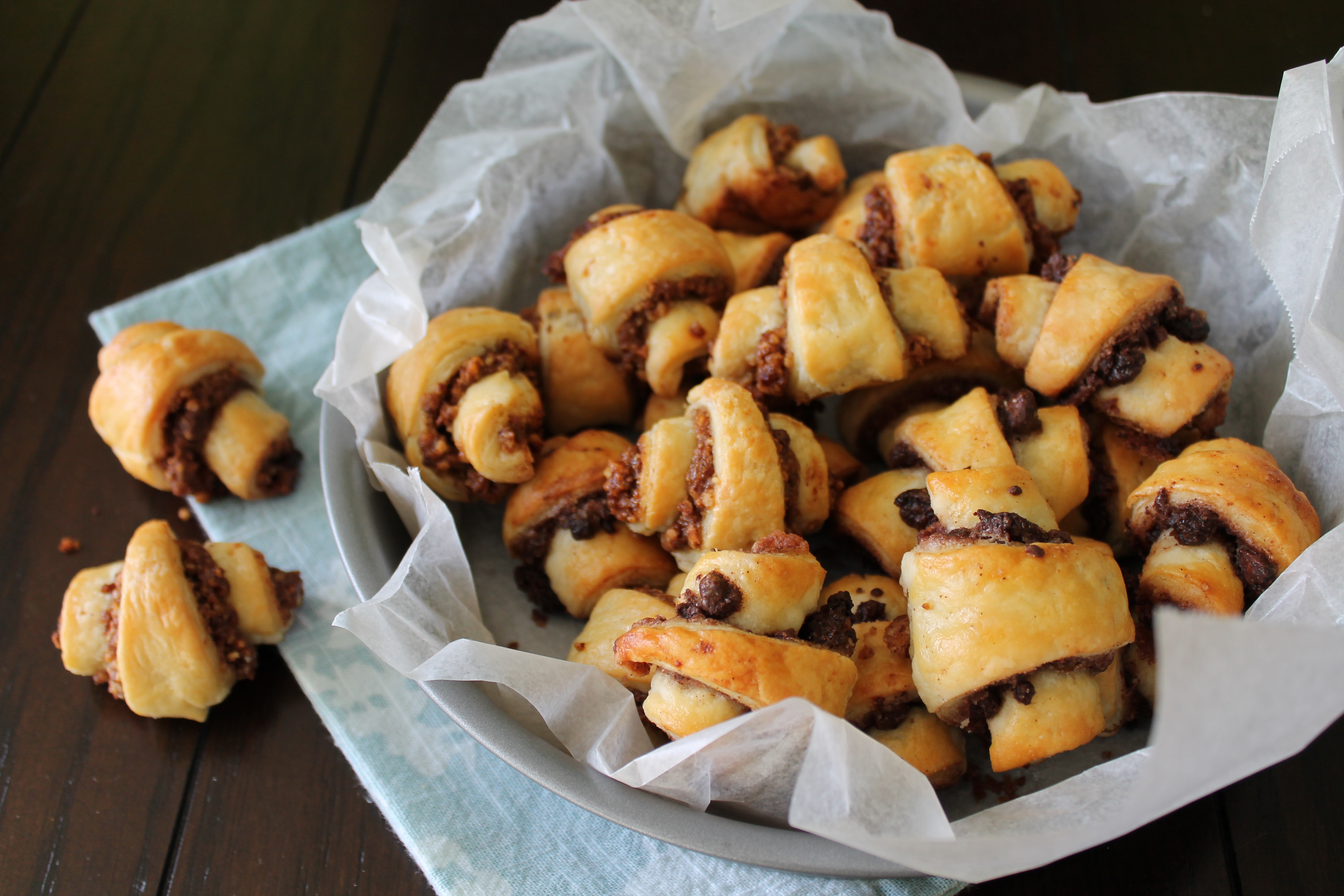 Bake for about 20 minutes at 375°. Cool the cookies on a wire rack.
I made a toasted nut filling for the second batch of pastry dough, and with the leftover dough, I combined the extra nuts and chocolate and made a small batch of chocolate-nut rugelach as well. All three flavors were amazing (but you can certainly look around for other flavors if these don't strike your fancy…Dorie has a great recipe that features jam and dried fruits in addition to chocolate, or you could go German-style with a citrusy poppyseed spread).
These rugelach were flaky and flavorful, and I just can't wait to make them again!
Rugelach
adapted from C Mom Cook
nut filling adapted from The Kitchn
makes about 4 dozen
Pastry Ingredients:
2 cups flour
pinch of salt
1 cup unsalted butter, cubed
1 cup (8 oz.) cream cheese, cubed
egg wash (1 egg + 1 tbsp. water, well whisked)
Chocolate Filling* Ingredients:
½ cup semisweet chocolate chips
5 Medjool dates, pitted (or other dried fruits)
½ cup sugar
1½ tsp. cocoa powder
¾ tsp. cinnamon
2 tbsp. butter, melted
Nut Filling* Ingredients:
½ cup hazelnuts, toasted
1½ cup pecans, toasted
¼ cup butter, melted
¼ cup honey
¼ cup brown sugar
1 tsp. vanilla extract
Directions:
Pulse the flour and salt in the food processor to aerate. Add the butter and cream cheese and process until a coarse, chunky dough forms. Knead the dough 2–3 times to combine, then divide in half. Shape each half into a disc and wrap in plastic wrap. Chill in the refrigerator for 1–2 hours.
Preheat the oven to 375°.
Roll out one disc of dough to a large circle. Optionally, trim the circle to remove any rough edges and ensure that each cookie will be evenly sized.
Prepare the first filling. Chop up the chocolate and dates as finely as possible. Mix together the sugar, cinnamon, and cocoa powder.
Brush the first pastry round with melted butter. Sprinkle with the cocoa mixture and top with the chopped chocolate and dates. Press down lightly.
Cut the circle into quarters, then cut each quarter into 4 wedges (16 wedges total). Roll each wedge up into a crescent, starting from the outer edge and rolling toward the center. Tuck the fillings under the pastry while rolling to ensure it does not all migrate toward the center of the circle.
Transfer the rolls to a parchment- or Silpat-lined cookie sheet, seam side down. Brush the cookies lightly with the egg wash.
Bake for 17–22 minutes, or until gently puffed, set, and golden brown.
Repeat with the remaining disc of pastry. For the nut filling, process the nuts in a food processor until fine, but do not allow them to become nut butter. Stir the nuts, butter, honey, sugar, and vanilla together. Spread evenly over the pastry. Cut and roll the pastry, as before, and brush with the egg wash. Bake until golden.
*Note: Each filling is enough for half the batch of cookies. Double the amounts to make only chocolate or only nut rugelach.
Enjoy!
One year ago: Baby Guinness Cupcakes
Two years ago: Black Bottom Cupcakes