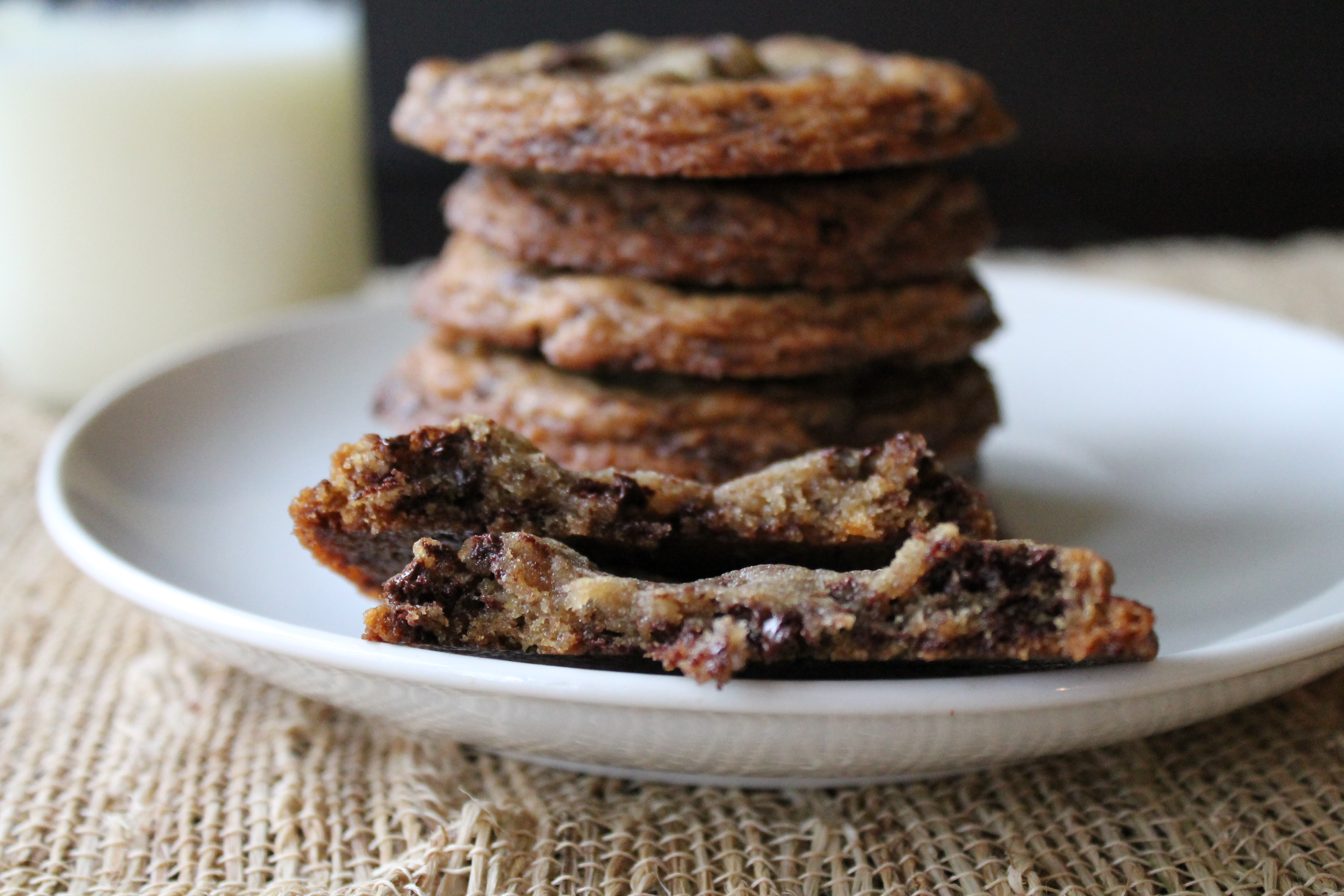 Today is National Chocolate Chip Day!
As you may or may not know, I have been searching high and low for the absolute best chocolate chip cookie recipe in the whole wide world. I have baked and eaten my fair share of delicious cookies in my life, but I honestly had come to believe that there was no such thing as a perfect chocolate chip cookie.
You guys…I was wrong!
I mean sure, brown butter is fantastic, and oatmeal cookies deserve a special place in our hearts. Nuts are fine, bourbon is tasty, and a little tinge of espresso powder can't go wrong.
But seriously. These are the best chocolate chip cookies ever. Why are they so perfect, you ask? Well. They are crisp on the edges and soft in the center (something for everyone!). They are absolutely full of chocolate—two kinds! And they are huge!
But nevermind that. You should just make them for yourself. And trust me when I say that these cookies are addictive. I mean, despite the best of intentions you may find yourself sneaking an extra cookie three or four times. Don't say you weren't warned.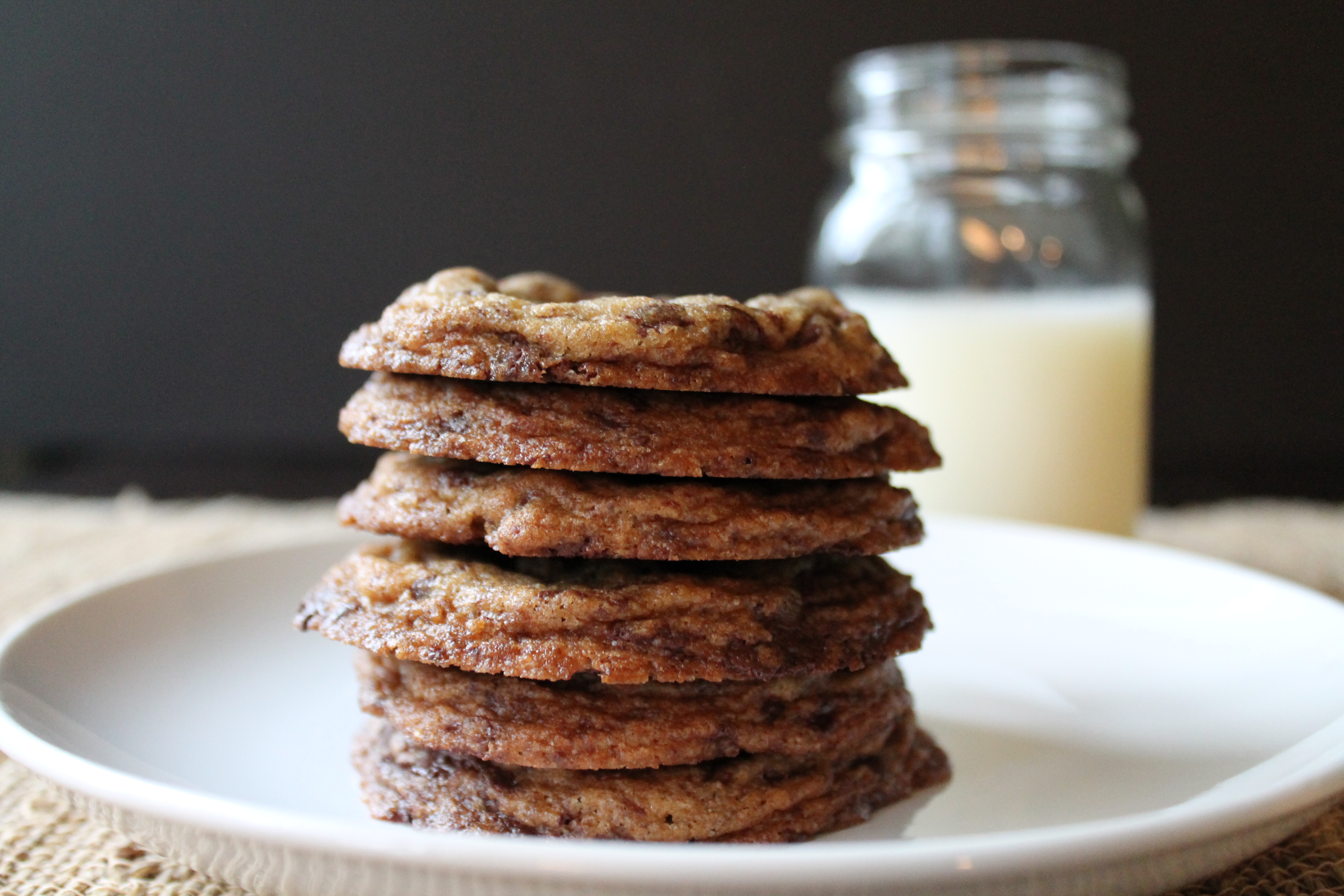 Okay, now that I've suckered you in, I should probably also warn you that you have to chill the dough for these cookies. A long time. It's horribly annoying. But there is a good reason—it prevents the cookies from spreading so far while baking that you end up with a big tray of lumpy cookie mush. So…maybe start the batter in the evening and bake them the next morning! That way you won't be tempted to sneak a few spoonfuls. Or skip the chill time altogether. (But if you do eat some cookie dough, I won't judge you. That would be hypocrisy…)
We start the cookies with room temperature butter. This takes a little planning, because you have to remember to take the butter out of the fridge an hour or so before you get started on making the cookie dough. Butter can hang out quite a while on the counter, so you could set it out way in advance…or, if you forget, you could warm it in short spurts in the microwave. I really do recommend trying to let it come to room temp without the microwave, though, because the microwave never warms butter evenly. No matter how careful you are, you will always end up with some softer and some firmer spots. I also found that the microwave method produced cookies that spread more than when I let the butter thaw on its own.
Cream the butter and sugars for 3–5 minutes in a mixer bowl, until it becomes smooth and silky. Make sure you scrape the bowl at least once to incorporate any butter clinging to the sides.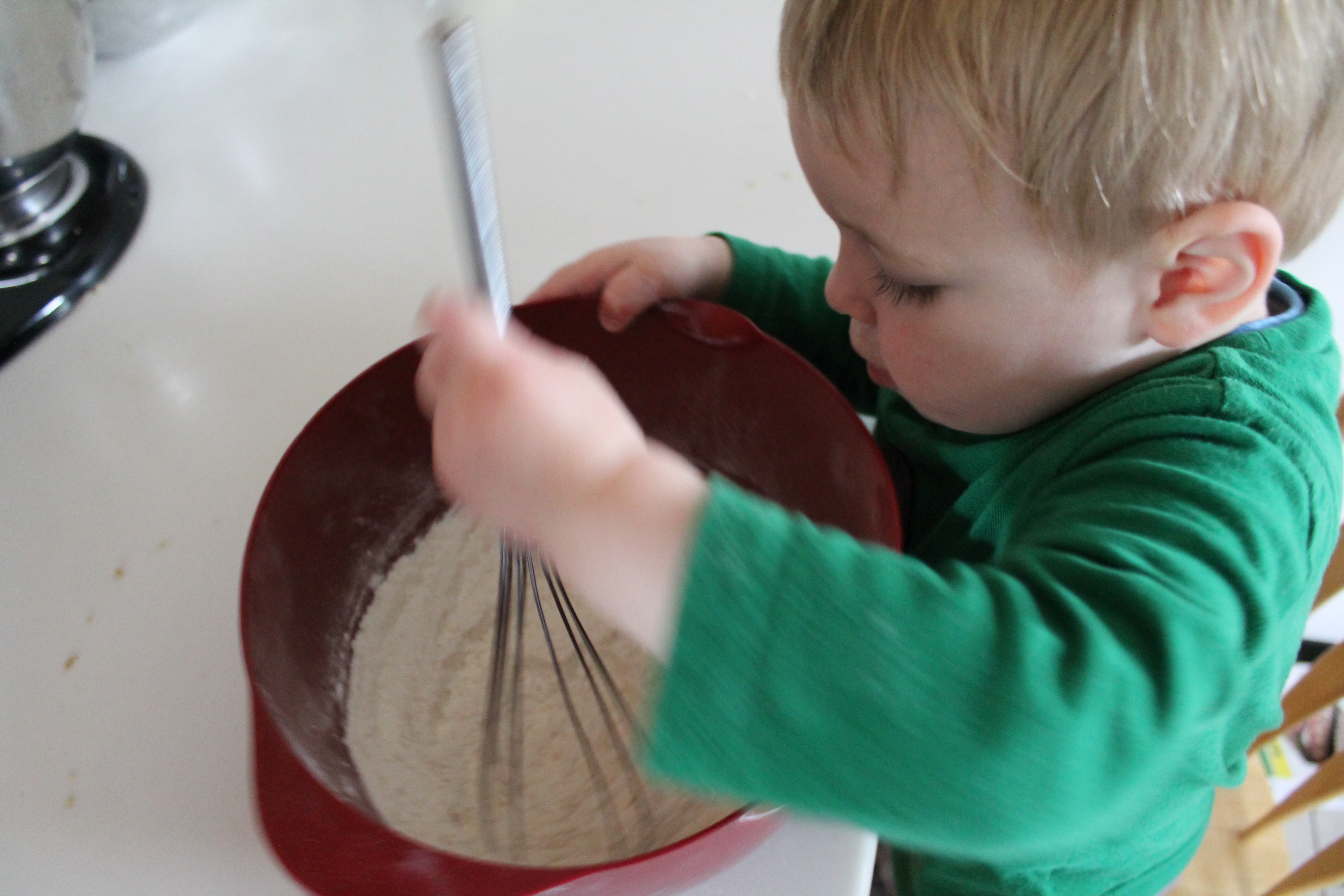 Meanwhile, you can whisk together the flour, salt, and baking soda. I had a little helper! My first foray into baking with a toddler—and it went very well, until I covered the bowl of chocolate-speckled dough and stuck it in the fridge. That did not make my little helper happy at all.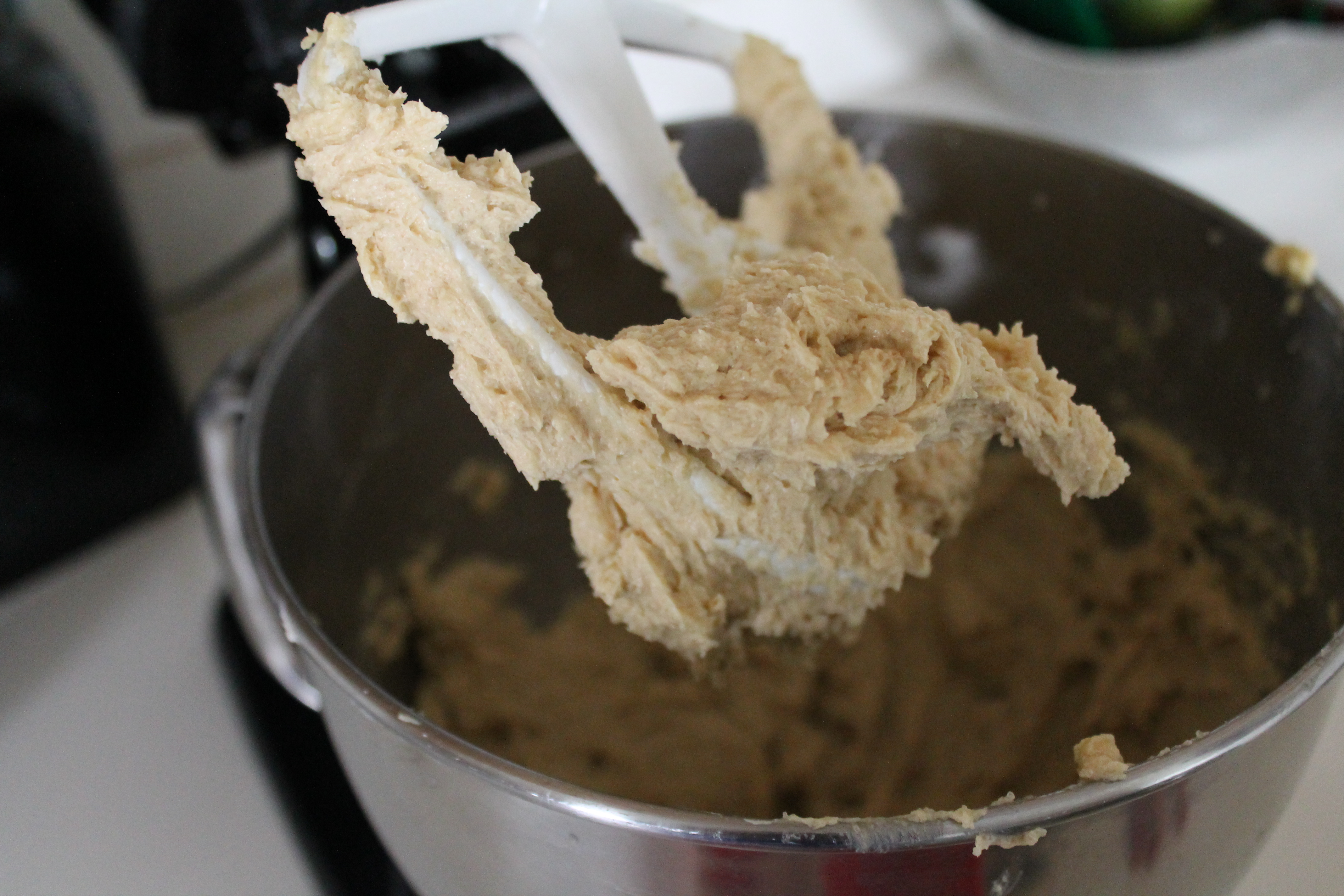 Add the eggs one at a time, again scraping the bowl to make sure everything is evenly incorporated. Add the vanilla and beat for 5 seconds.
Now stir in half of the flour mixture with the mixer on low for 15 seconds, until the batter is not striped with white powder. Add in the rest of the flour and stir until incorporated.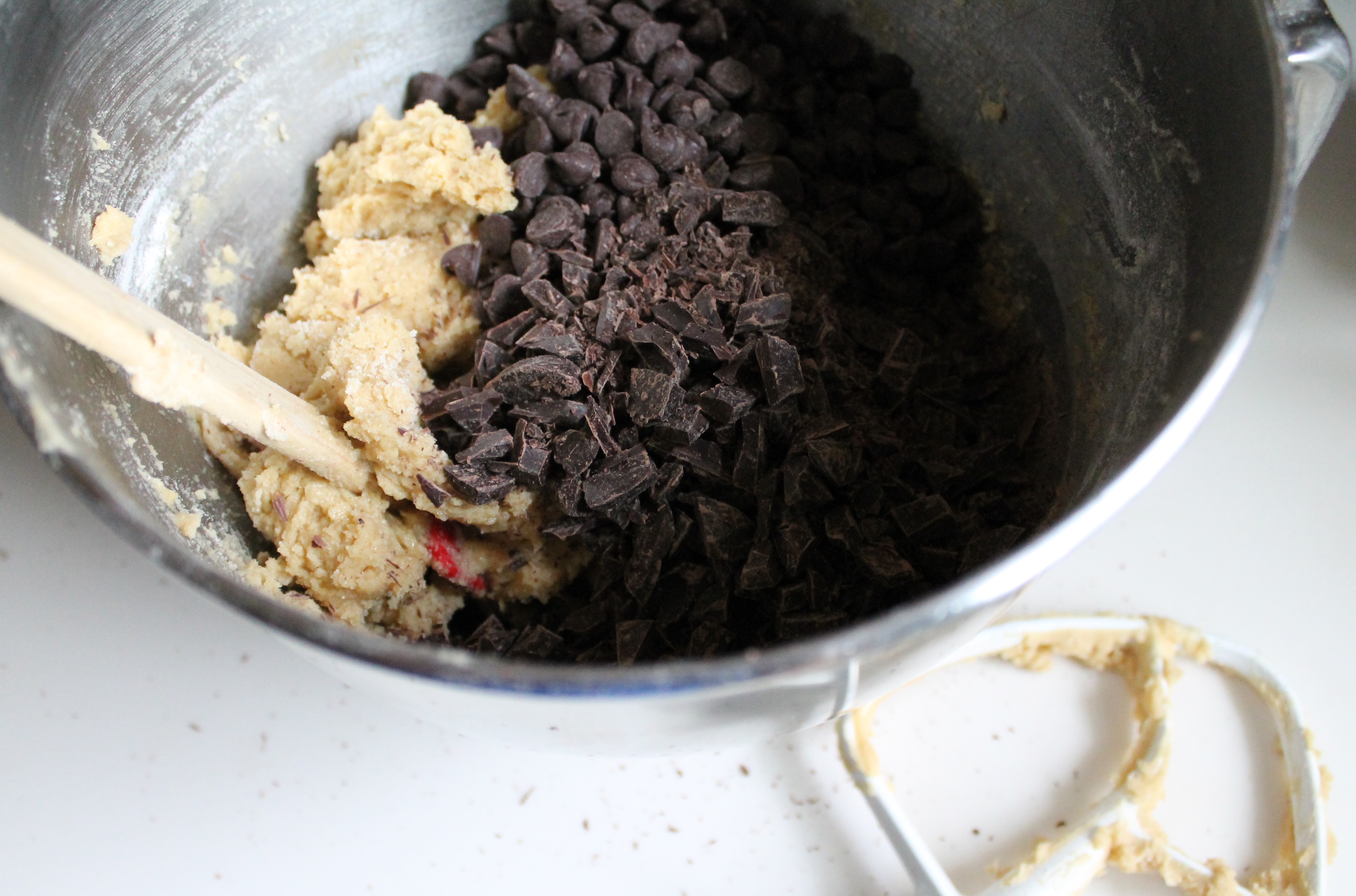 Here comes the fun part! More chocolate than you ever dreamed could go into a single cookie recipe. When I first made these cookies, I didn't have enough semisweet chips, so I decided to chop up some bittersweet Valrhona chocolate medallions to make up the difference. This turned out to be the BEST DECISION EVER, one which I have incorporated into the recipe for all time because it made amazing cookies. Basically, by chopping the bittersweet chocolate, we end up with tons of tiny chocolate shards that fleck the dough and give a much deeper chocolate flavor, as well as some larger chunks that melt and make every bite so chocolatey you can hardly stand it. Until the next bite.
I love the semisweet and bittersweet chocolate together, too, because it gives the cookies more depth of flavor!
You don't have to use Valrhona chocolate. (For that matter, you could just stick with an equivalent amount of semisweet chips. But I really think you would be missing out!) Any bittersweet chocolate, between 60-70% cocoa solids, would be fine as long as you chop it up a bit!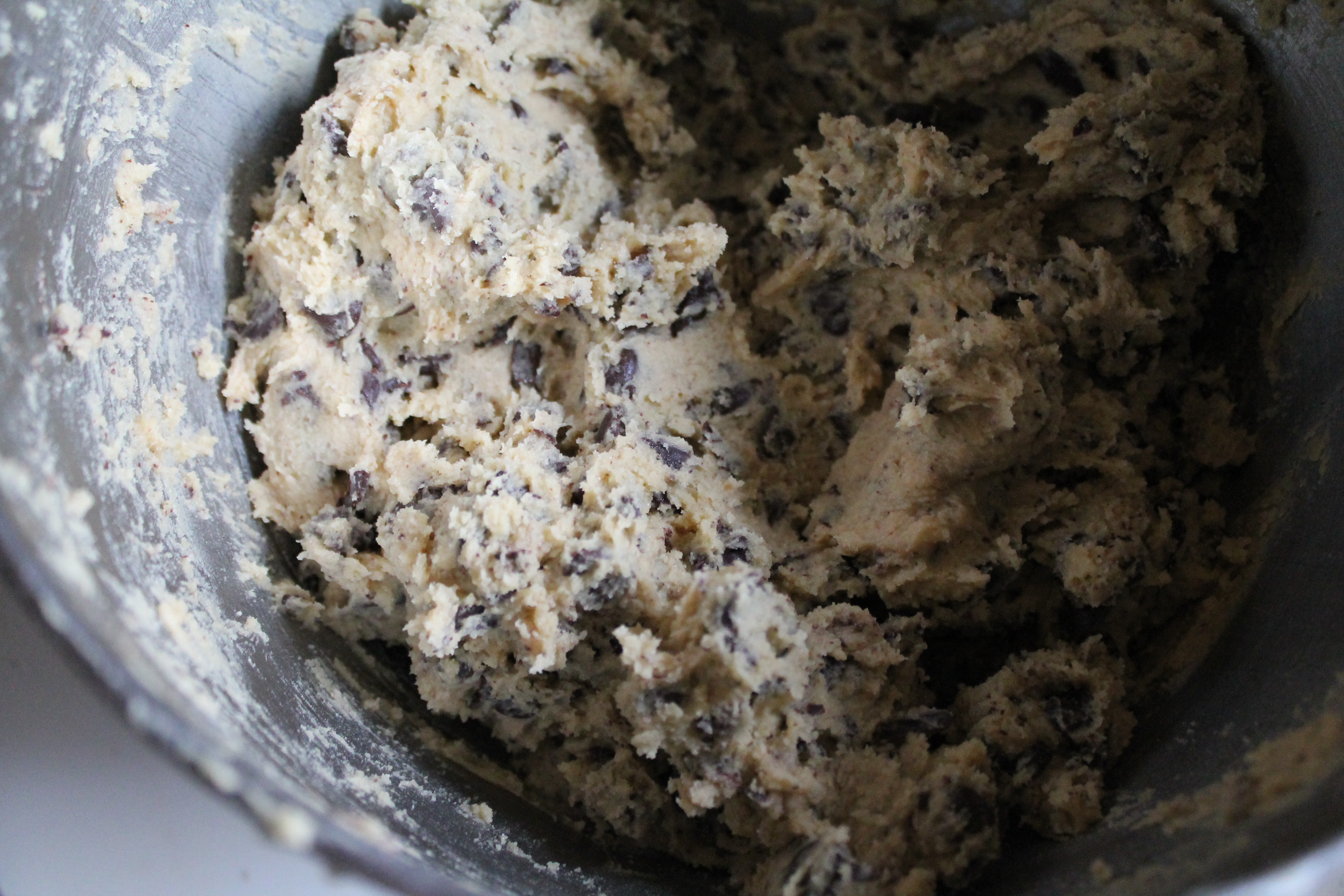 Stir the freshly chopped bittersweet chocolate and the semisweet chips into the dough. Resist the urge to gobble down half of the dough on the spot.
Tightly cover the bowl with plastic wrap and stick it in the fridge. The dough needs to chill a minimum of 3 hours. 6 hours is better. Or, you can chill for up to 5 days, baking off small amounts when you get a hankering for fresh cookies.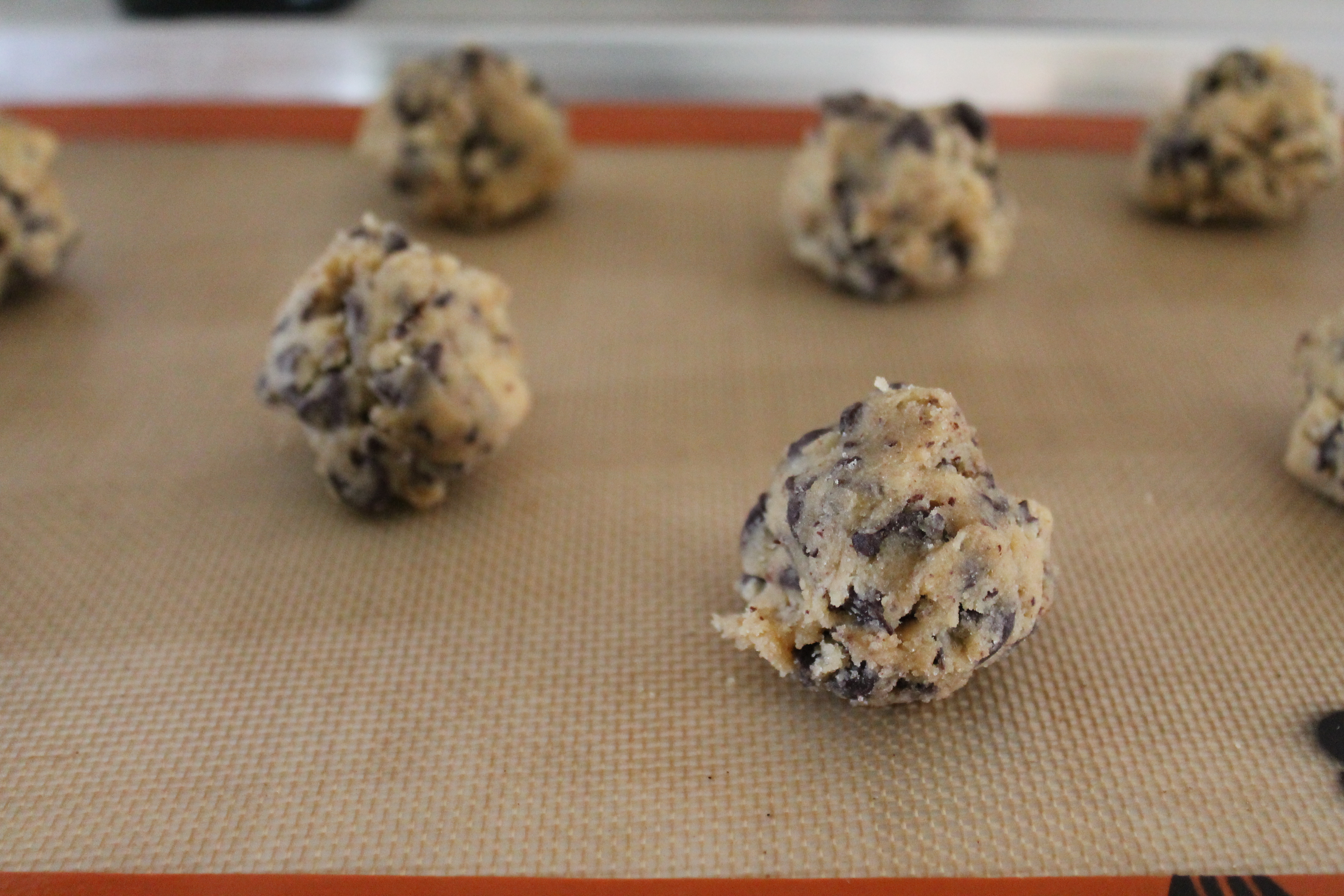 When the dough is sufficiently chilled, heat the oven to 375°. Line 2 large baking sheets with Silpats or parchment paper.
Scoop large balls of dough, about 2 tbsp. each, onto the cookie sheet, leaving at least 3″ between cookies (I put 8 cookies on each sheet). If you want to, you can roll them into little balls, but this is not necessary (and it does start to get a little sticky as the dough warms up). Return the extra dough to the fridge so it doesn't get too soft!
Bake the cookies for 10–12 minutes (I found that 11 was perfection). Let them cool for 5–10 minutes on the cookie sheet before removing to a wire rack.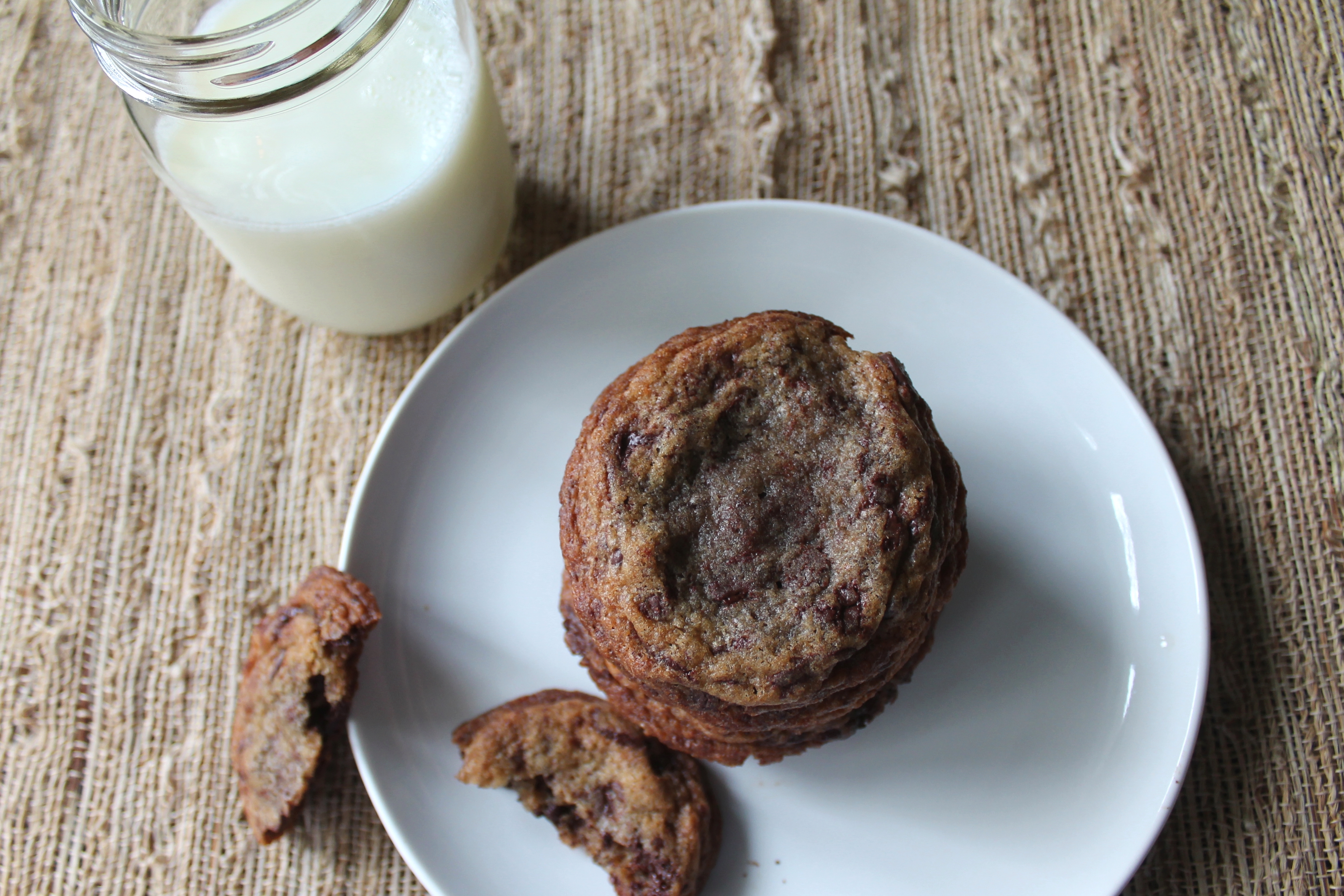 Serve with milk. A chocolate chip's best friend. Happy Chocolate Chip Day!
Truly Addictive Chocolate Chip Cookies
lightly adapted from Baked: New Frontiers in Baking
makes about 3 dozen
Ingredients:
1 cup unsalted butter, room temperature
1 cup light brown sugar
½ cup sugar
2 eggs
2 tsp. pure vanilla extract
2 cups flour
1 tsp. salt
1 tsp. baking soda
10 oz. (1⅓ cups) semisweet chocolate chips
6 oz. bittersweet (60%-70%) chocolate, chopped (about 1 cup chopped)
Directions:
Beat the butter and sugars in a mixer bowl until smooth and creamy, about 3 minutes. Add the eggs one at a time, beating until completely incorporated, scraping the sides of the bowl as necessary. Add the vanilla and beat for 5 seconds more.
In a separate bowl, whisk together the flour, salt, and baking soda.
Add half of the flour mixture to the cookie batter and mix for 15 seconds. Add the remaining flour and stir until just incorporated.
Using a wooden spoon, stir in the chocolate chips and chopped chocolate.
Cover the bowl tightly and chill in the fridge for at least 3 (but ideally 6) hours. This helps prevent spreading while baking.
When ready to bake, heat the oven to 375°. Line two baking sheets with Silpats or parchment paper.
Scoop the cookies into heaping 1½ tbsp. balls. Arrange on the cookie sheet at least 3ʺ apart.
Bake for 10–12 minutes, until browned around the edges but still pale and soft in the centers.
Return extra dough to the fridge between batches!
Allow cookies to cool on the baking sheet 5–10 minutes before removing to a wire rack.
Store in an airtight container for up to 3 days.
Enjoy!
One year ago: Spicy Black Bean Pita Pockets
Two years ago: Vegetable Khorma
Three years ago: Cereal Muffins