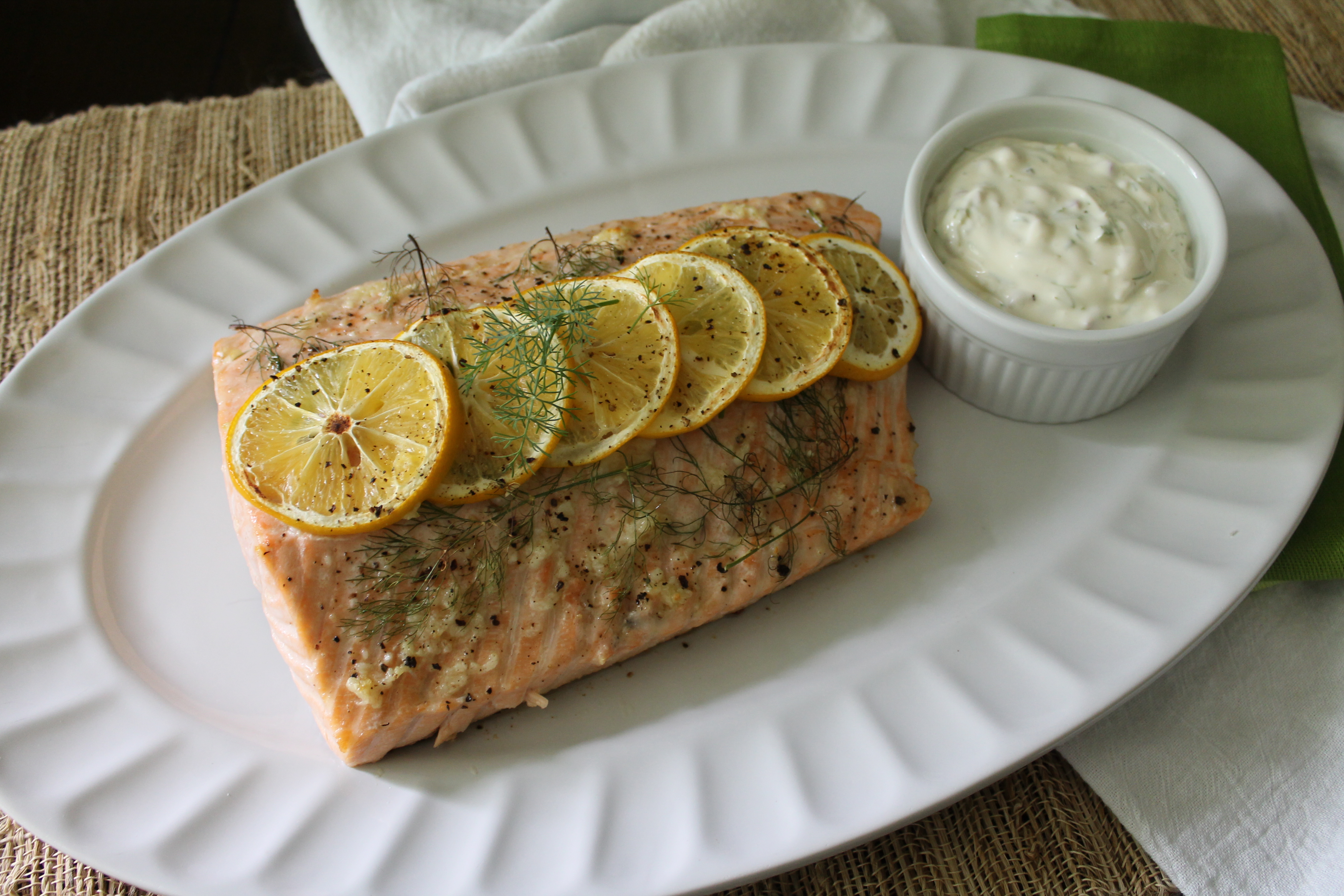 A few weeks ago, Sarah told me that she had a dill plant that was threatening to take over the world, and asked if we could possibly put it to good use?
Um, YES!
I must admit that I've never really liked dill. (I think I have admitted that before.) It just reminds me of pickles, which I hate. But this is what Sarah and I are all about: trying new things, and re-trying old things, and generally just eating awesome foods. Plus, I love that she and I are both trying to grow a food garden this summer! I am all in favor of eating what we grow!
Dill goes great with fish and eggs and veggies, so we tracked down some delicious salmon recipes and tinkered a bit and came up with something amazing. Something that actually made me think, "I wish there were more dill in this!"
And the world stopped spinning for just a second.
Roasting fish is possibly the easiest thing in the whole world. Roasting this fish made my kitchen smell like a Red Lobster. Yum, garlic.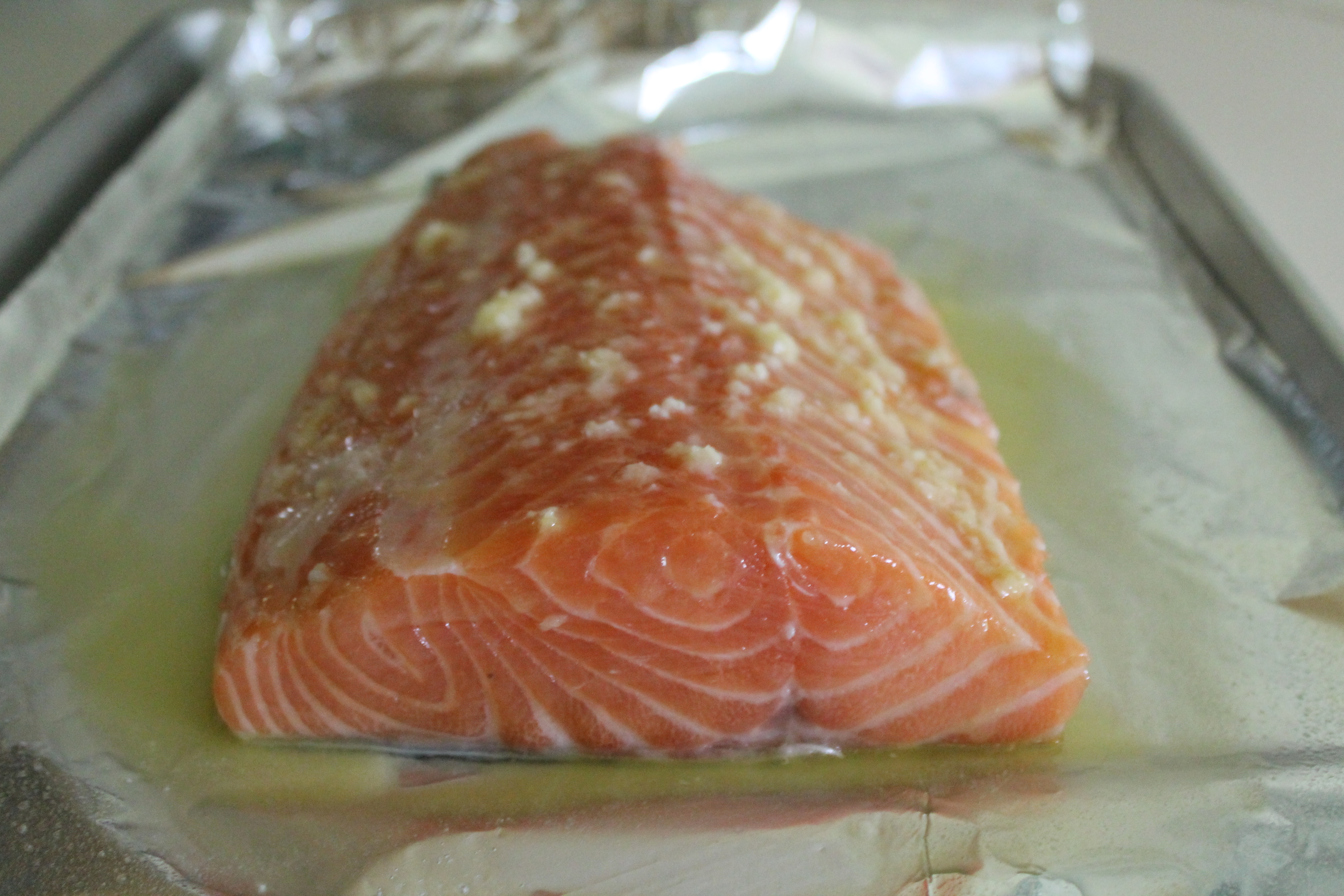 Simply brush a large flank of salmon liberally with butter and distribute freshly minced/pressed garlic over the top. Sarah brushed the garlic on, so that it wouldn't end up clumped all in one place.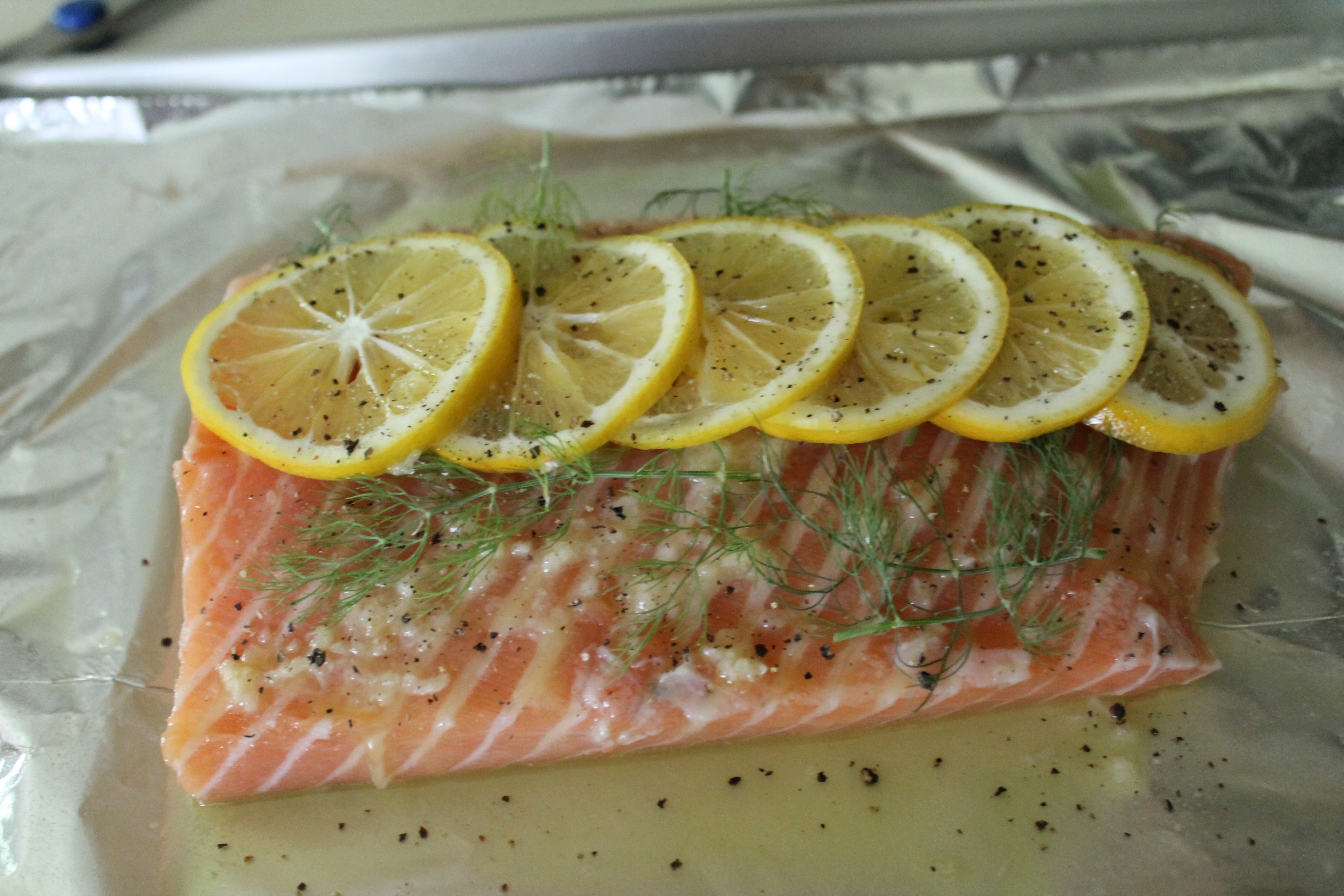 Then, lay several fronds of dill over the fish, followed if you please by thinly sliced lemon (PRETTY!) and a generous sprinkle of sea salt and freshly ground black pepper.
Then stuff that swimmer in the oven! Our fish, which Sarah found at her favorite market, was very, very thick. Generally, for your fish to reach medium doneness, you should roast it about 10 minutes per inch of thickness…so if you, like us, have a 1½+″ thick flank of salmon, you will want to roast about 15 minutes before you start checking it.
(We ignored that advice, as Sarah likes her fish to be on the rare side; ours came out after 10 minutes, and I put my piece back in the oven to cook longer after we cut a serving for her. Keep in mind that with fish, it is generally better to go slightly under than slightly over, as the fish will be very dry and hard if overcooked.)
Fish is cooked safely when it is able to hold its shape and flake easily. It doesn't have to be completely opaque in the center unless you prefer it that way, and it should flake easily rather than crumbling or resisting; I like my fish to still be a bit darker toward the very center, more of a medium cook, but Sarah prefers hers rare to medium rare.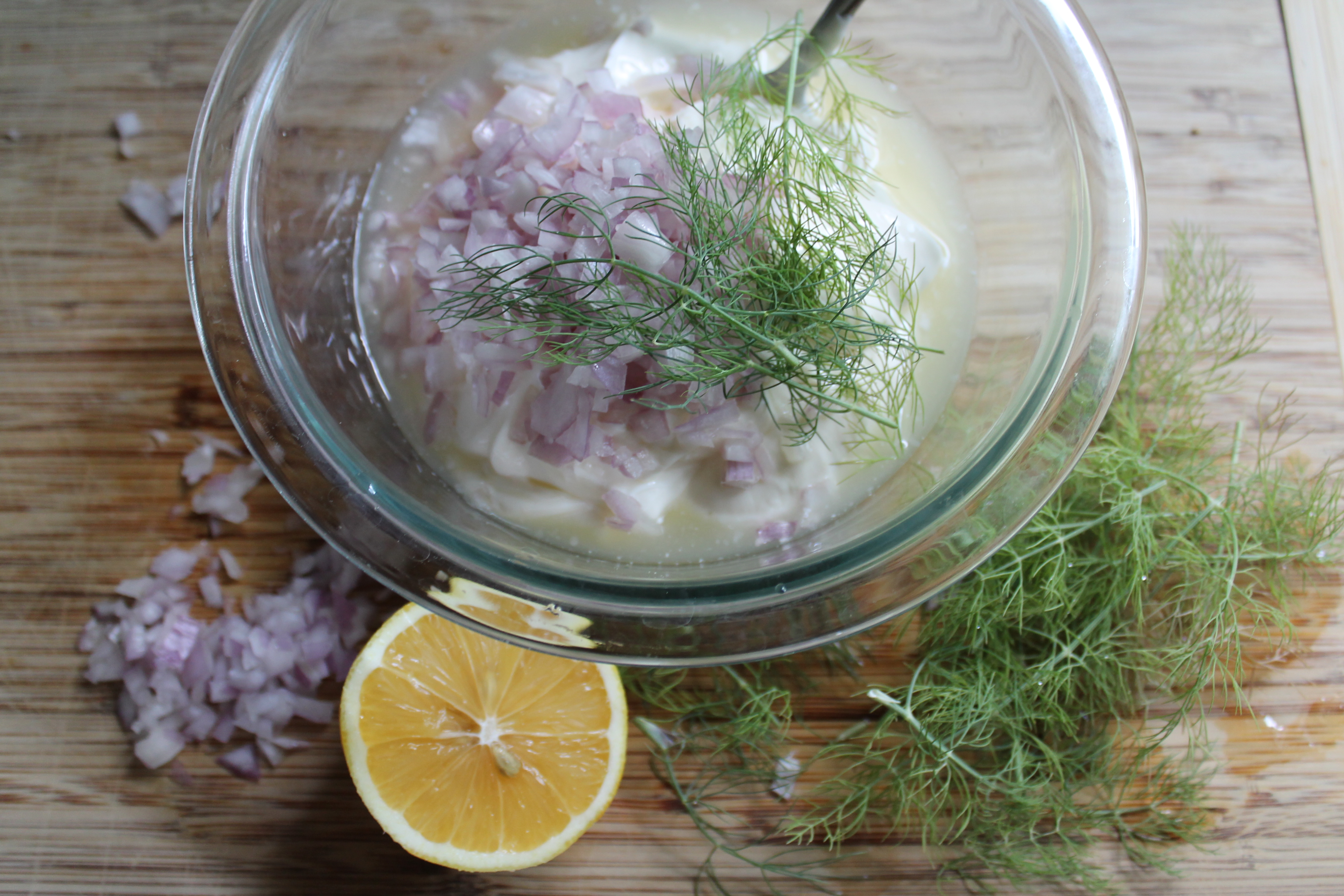 While the fish roasts, chop a shallot and another huge handful of dill (basically as much as you have!—aim for at least ¼ cup chopped) and stir it into a sauce with some sour cream, horseradish, lemon juice, and seasonings. Taste and adjust as needed. A very Russian flair!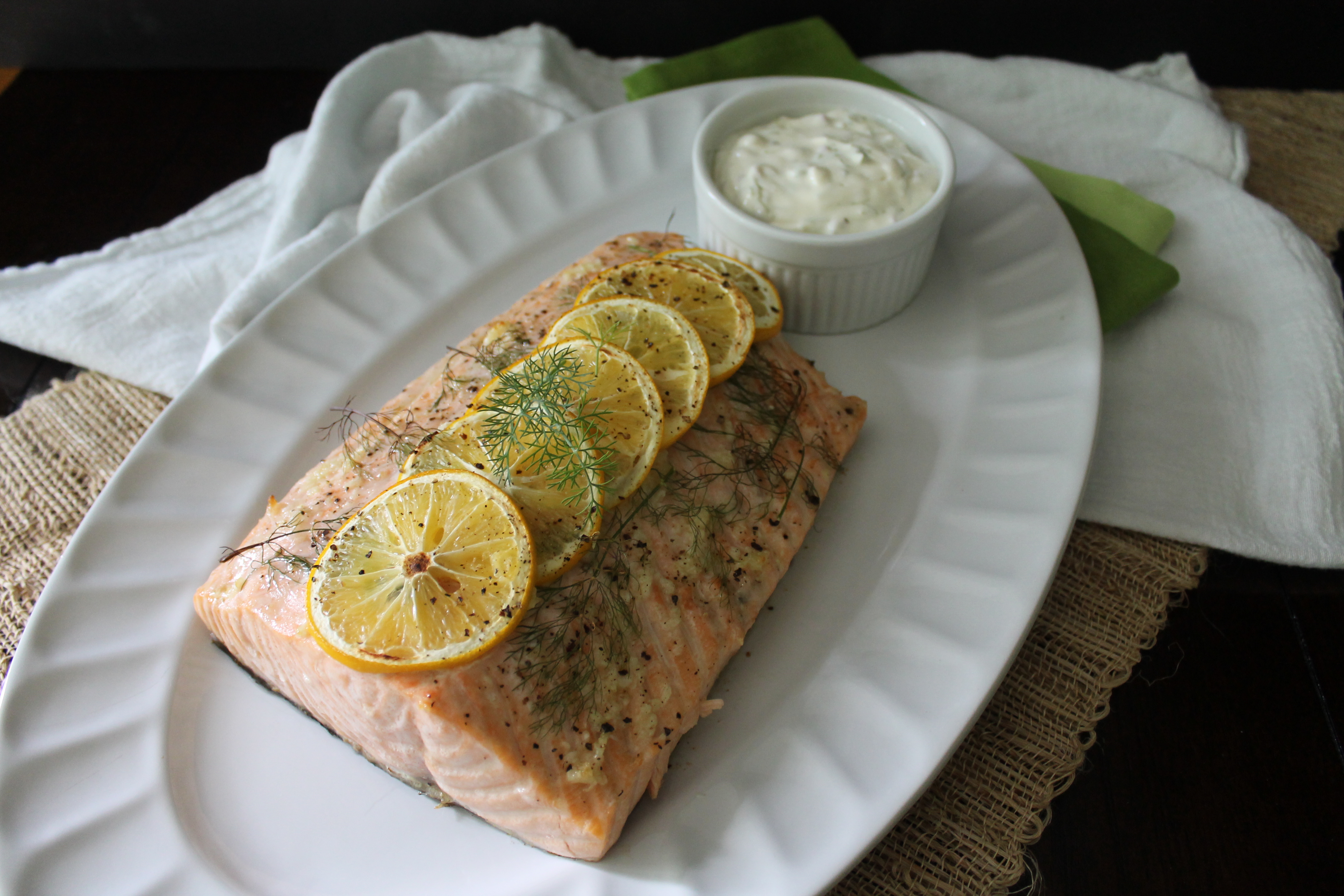 Serve the fish with the dilly sour cream sauce over top.
Roasted Salmon with Dilly Cream Sauce
adapted from Food Network and For the Love of Cooking
serves 4
Ingredients:
1½ lb. salmon flank
1 tbsp. butter, melted
1 large clove garlic, minced
2 bunches dill, divided
2 lemons, divided
sea salt and fresh ground black pepper
12 oz. sour cream
1 shallot, chopped
3 tbsp. prepared horseradish
pinch of crushed red pepper
Directions:
Preheat the oven to 450°. Line a baking sheet with tin foil and lightly coat with cooking spray.
Lay the fish on the lined baking sheet, skin side down. Combine the butter and garlic then brush evenly over the top of the fish. Season to taste with salt and pepper.
Roughly chop the dill and sprinkle about one-third of the dill over the fish, reserving the rest. Thinly slice 1 lemon and layer it down the center of the fish.
Bake 10 minutes, or until the salmon flakes easily with a fork at the thickest point.
Meanwhile, stir together the sour cream, shallot, horseradish, crushed red pepper, remaining dill, and the juice of half of the remaining lemon. Season with salt and pepper. Taste, and adjust lemon and seasonings as needed.
Allow the salmon to cool for 3 minutes, then slice into 4 portions with a very sharp knife. Serve topped with the dill cream sauce.
Enjoy!
One year ago: Swiss Chard and Caramelized Onion Pizza
Two years ago: Chocolate Truffle Ice Cream
Three years ago: Caprice Grilled Veggies