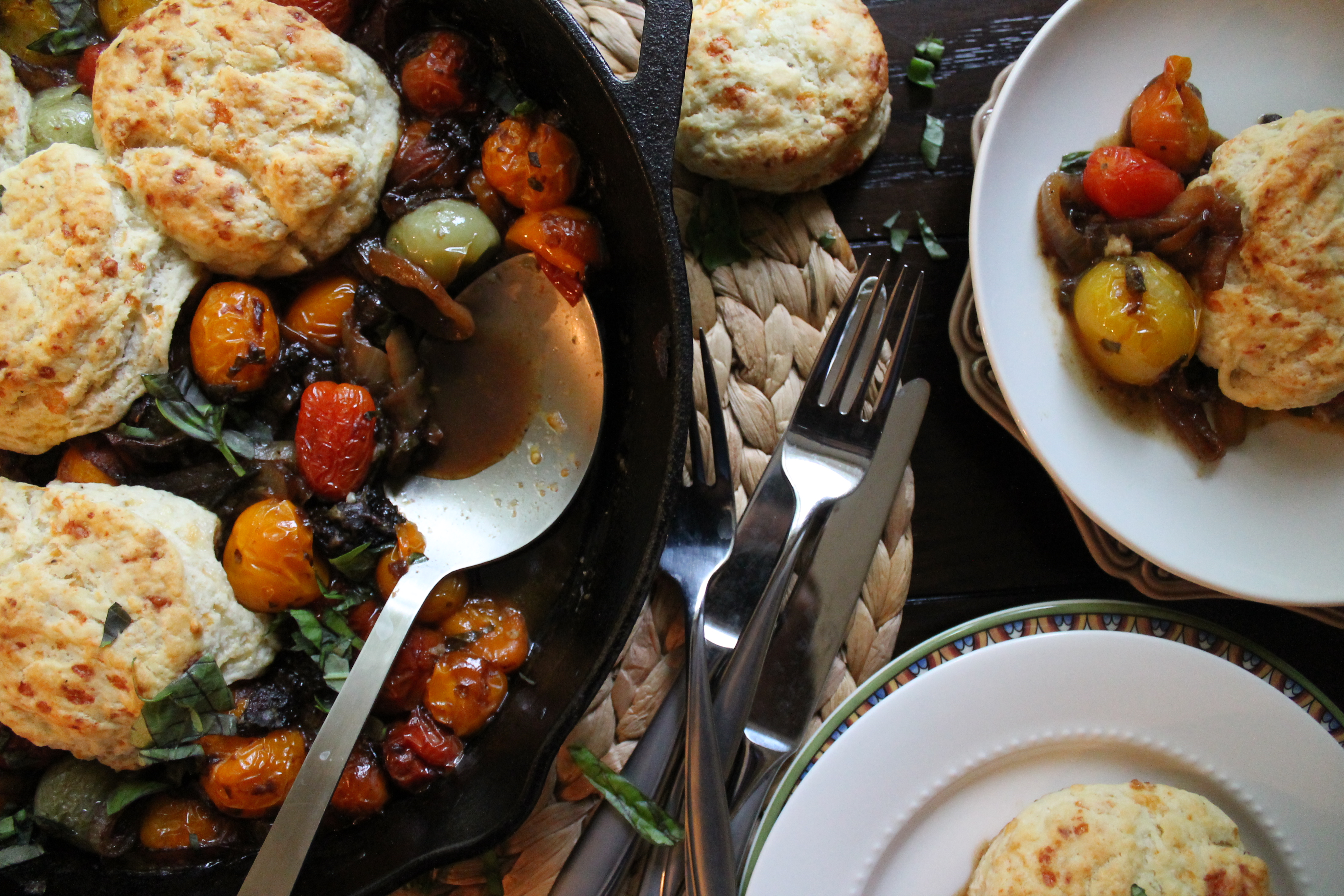 I am not going to wax poetic today about beautiful cherry tomatoes or caramelized onions or intensely cheesy biscuits.
I am just going to tell you to go make this tomato cobbler immediately.
Very hearty. Very flavorful. Very simple. Go!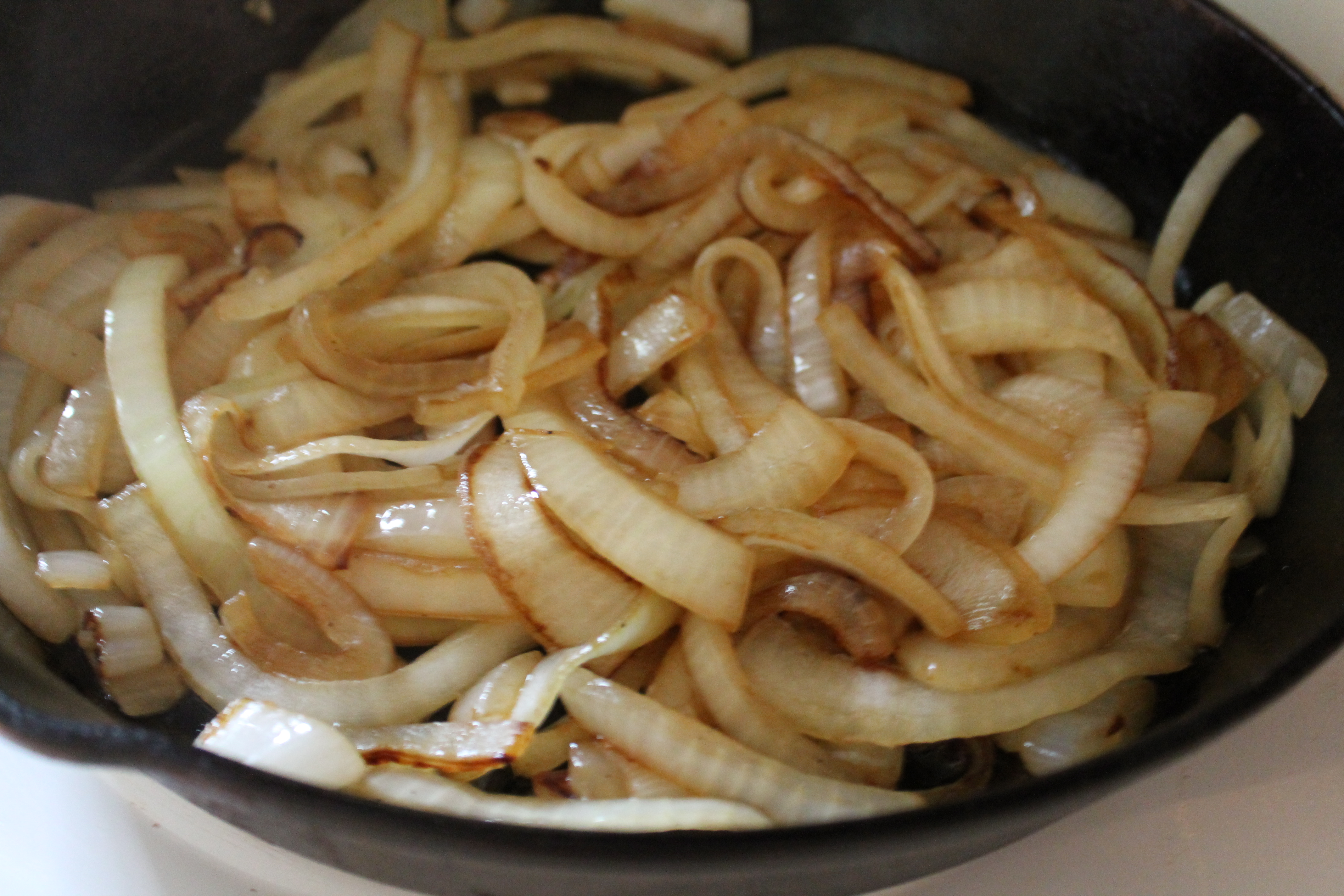 So…we begin by thinly slicing 2 onions in half moons. I have used white onions and red onions and even shallots to make this meal, and no matter what it just comes out beautifully!
Drop a chunk of unsalted butter in a large skillet and let it melt over medium heat. Add the onions and cook, stirring occasionally, for 10-15 minutes, until they are very soft and beginning to caramelize (brown without scorching). Add the balsamic vinegar and cook another 5 minutes, to allow the bite of the vinegar to sweeten along with the onions.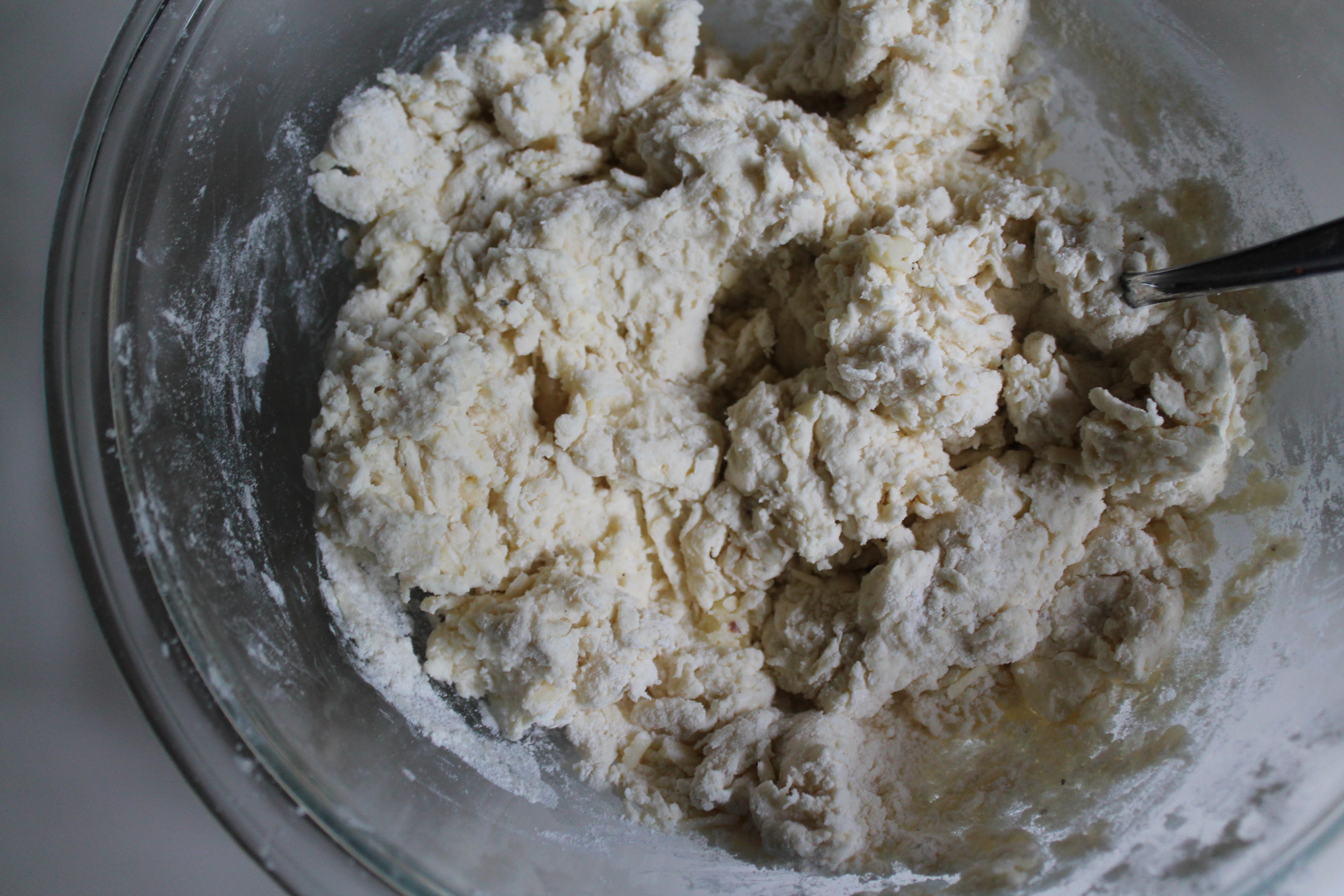 Meanwhile, mix together the ingredients for the biscuits! This is very easy, and really the biscuits are very forgiving. Start by whisking the flour, baking powder, salt, and pepper together. Then cut in the butter. I know, I know, this is the part where I normally lose people. But I swear, cutting in butter really isn't that traumatic! In fact, if you must, you could use your food processor (as long as you cut the butter into small cubes to start, and pulse only a few times so you don't overdo it). My favorite method for cutting butter into biscuits or scones is actually to grate the cold butter with my salad shooter, and then cutting in is a breeze, done in about 1 minute!
With your fingers, mix in the shredded cheese. I cannot recommend Gruyère enough here, but other aged Swiss or French hard cheeses (Emmenthaler, Comté) would also be grand. You could use a totally different cheese if you are bent on it, but the Gruyère-caramelized onion-tomato combination is heavenly.
Now pour in the buttermilk and stir with a fork until it comes together. The dough will be fairly sticky. If you would like to make cut-out biscuits, it will definitely require about 1 hour of refrigeration, but I have decided that I prefer the speedier drop biscuit route.
Set the biscuit dough aside.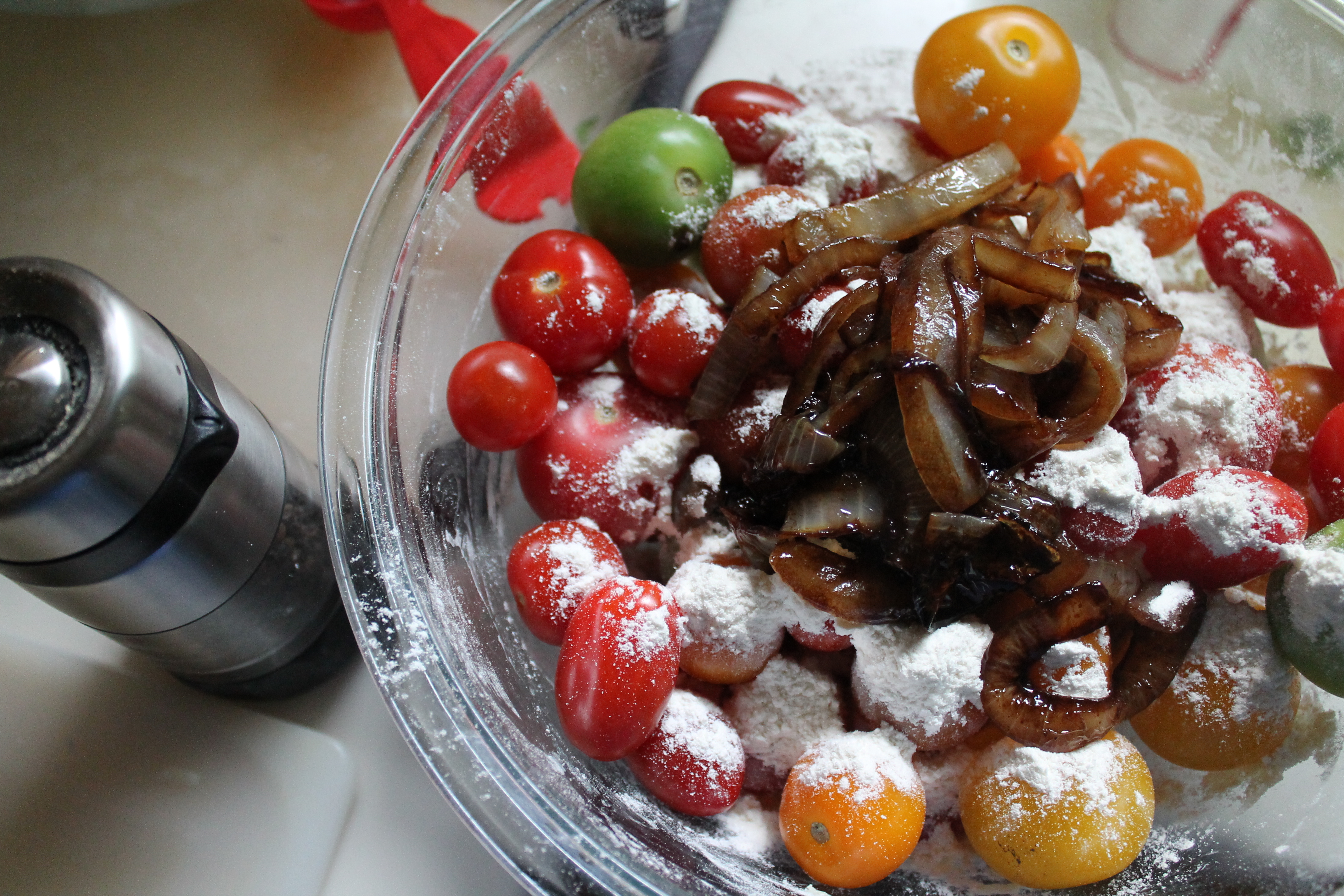 Now that the onions are beautifully caramelized, add minced garlic and cook another minute, just to blend the flavors. Combine the onions in a large bowl with whole cherry tomatoes (if you buy them at the farmer's market, you will likely find beautiful, multicolored pints to use!), flour, salt, pepper, and crushed red pepper. Toss to mix well.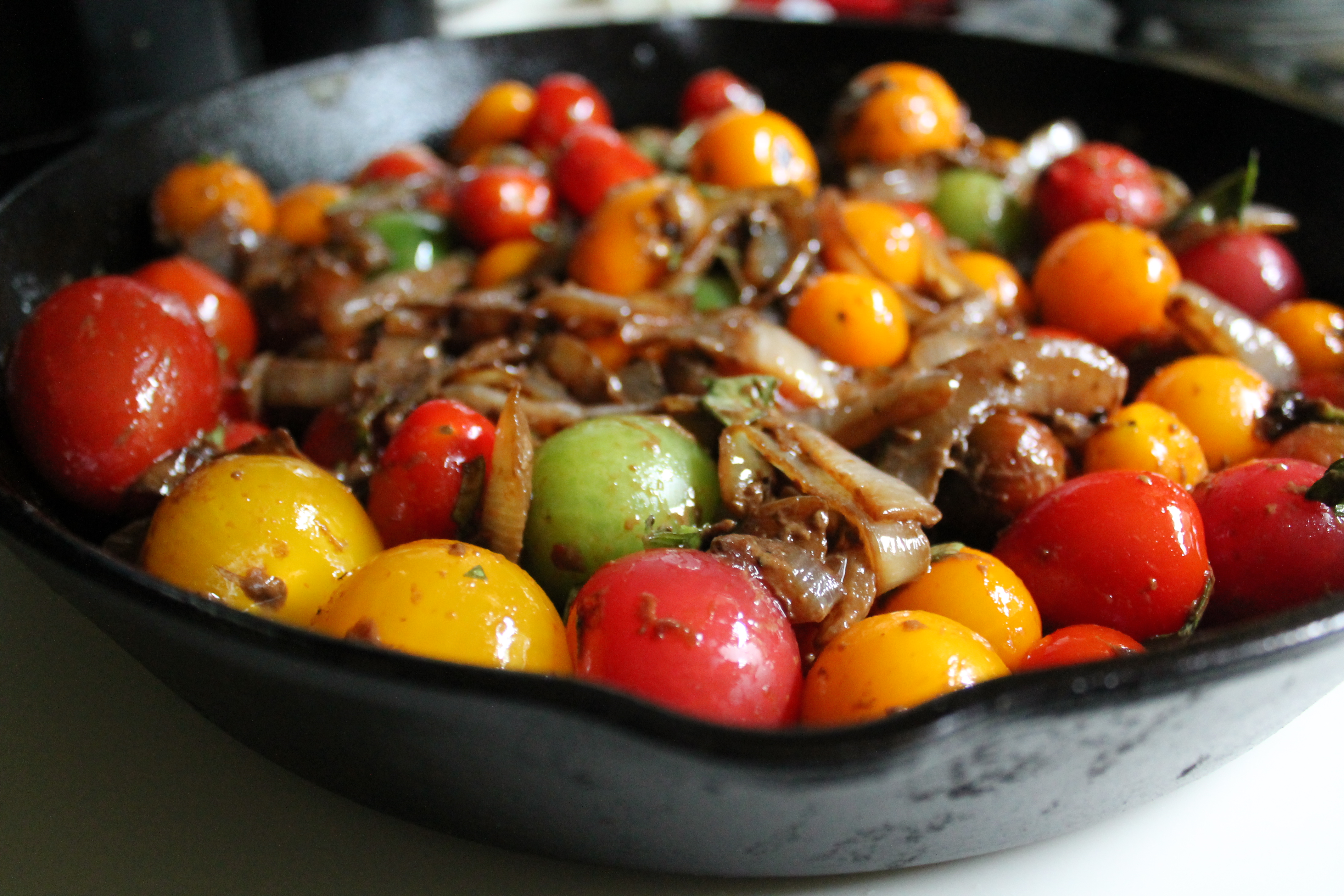 Dump the tomato-onion mixture in the bottom of a large baking dish. In the photos, as you can see, Sarah and I originally used my cast iron pan. But I seriously do not recommend this: the cobbler part can get pretty juicy as the tomatoes burst in the oven, and my cast iron pan needed quite a bit of re-seasoning after this. Not only that, but the flavors caked into your cast iron pan may not interact favorably with the delicate tomatoes, turning them bitter instead of bursting sweet.
Since taking the photos, I have been using a 2½qt. stoneware dish to make the cobbler, with much success. Any Pyrex baking dish would also do just fine!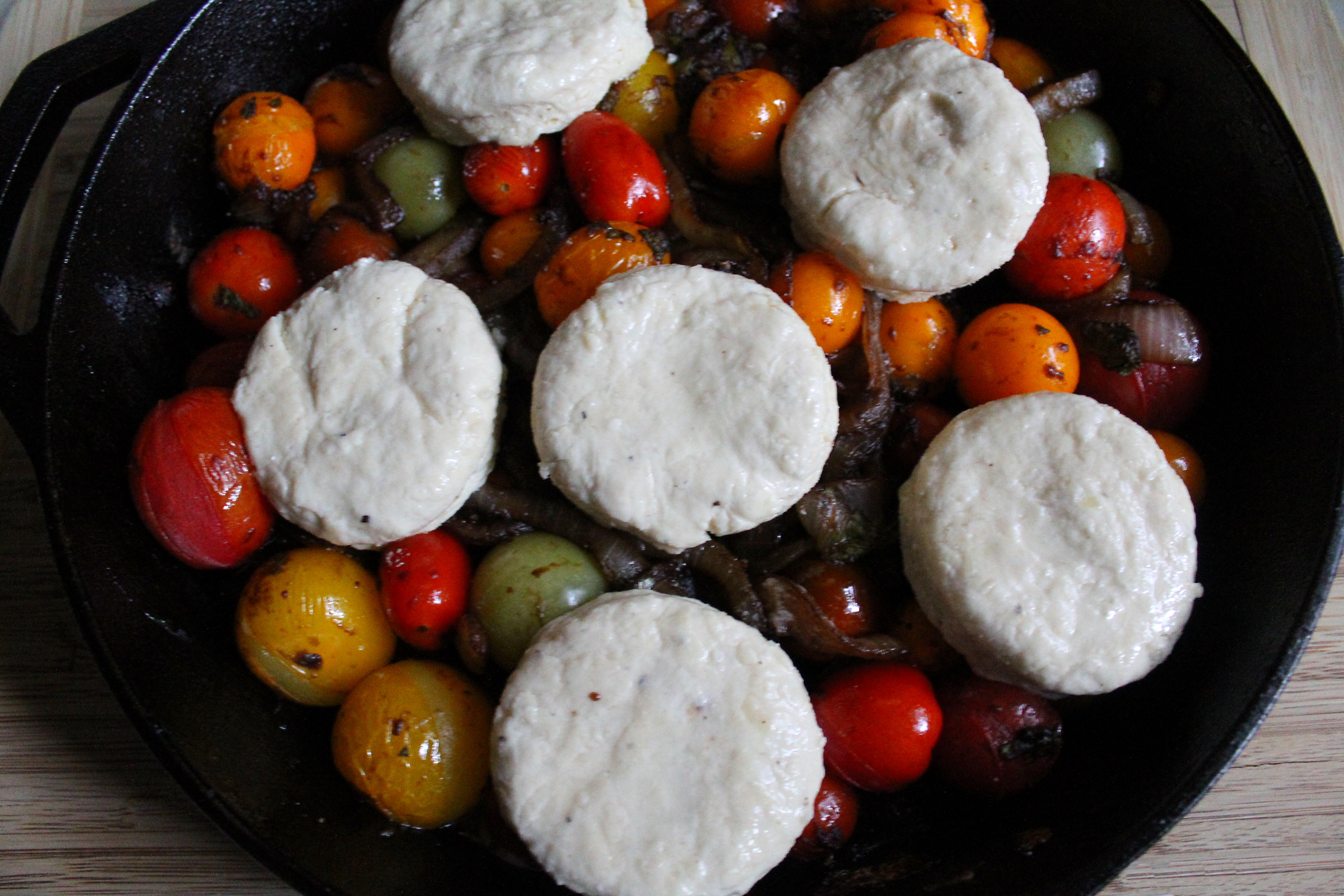 Scoop the biscuit dough in large clumps and drop onto the tomato mixture in a circle. (Or, of course, pat into a 2″ thick layer and cut into circles with a biscuit cutter, whichever you prefer!) If you like, brush the tops of the biscuits with a dab of extra buttermilk to help them brown.
Now bake for 40 minutes, or until the biscuits are browned on top and cooked through. (They will be quite saturated with juices toward the bottom, but that's part of the charm of a cobbler, right?)
Sprinkle with slivered or torn fresh basil and serve warm.
Tomato Cobbler with Gruyère Biscuits
adapted from Martha Stewart
serves 6
Biscuit Ingredients:
2 cups flour
2 tsp. baking powder
sea salt and fresh ground black pepper
½ cup cold unsalted butter, cubed
3 oz. Gruyere, shredded
1 cup buttermilk, plus extra
Filling Ingredients:
3 tbsp. unsalted butter
2 large onions, thinly sliced in half-moons
2 tbsp. balsamic vinegar
3–4 medium cloves garlic, minced
2 lbs. cherry tomatoes
3 tbsp. flour
¼ tsp. crushed red pepper
sea salt and fresh ground black pepper
15 fresh basil leaves, slivered
Directions:
Preheat oven to 375°.
In a large bowl, whisk together flour, baking powder, salt, and pepper. Cut the butter cubes into the flour until the pieces are about pea-size and well incorporated. Toss in the shredded cheese.
Make a well in the center of the dry ingredients and pour in the buttermilk. Toss with a fork until the liquid and dry ingredients are completely incorporated. The dough will be sticky. Set aside to chill in the refrigerator.
Melt the butter in a large skillet over medium heat. Add the onions and cook for 15 minutes, stirring occasionally, until soft and caramelized. Add the balsamic and cook 5 minutes more. Add the garlic and cook 1 minute more, then remove from heat.
In a large bowl, toss the cherry tomatoes, flour, crushed red pepper, and caramelized onions. Season to taste with salt and pepper. Transfer to a 2½qt. baking dish.
Remove the biscuit dough from the refrigerator and drop in large clumps over the tomato mixture. Brush the biscuits with extra buttermilk.
Bake for 40 minutes, or until the biscuits are cooked through and the cobbler filling is hot and bubbly.
Allow to cool for 10–15 minutes, then sprinkle the top with fresh basil and serve.
Enjoy!
One year ago: Tomato Egg Cups
Two years ago: Fleur de Sel Caramel Chocolate Cookies
Three years ago: Pan-Seared Citrus Salmon