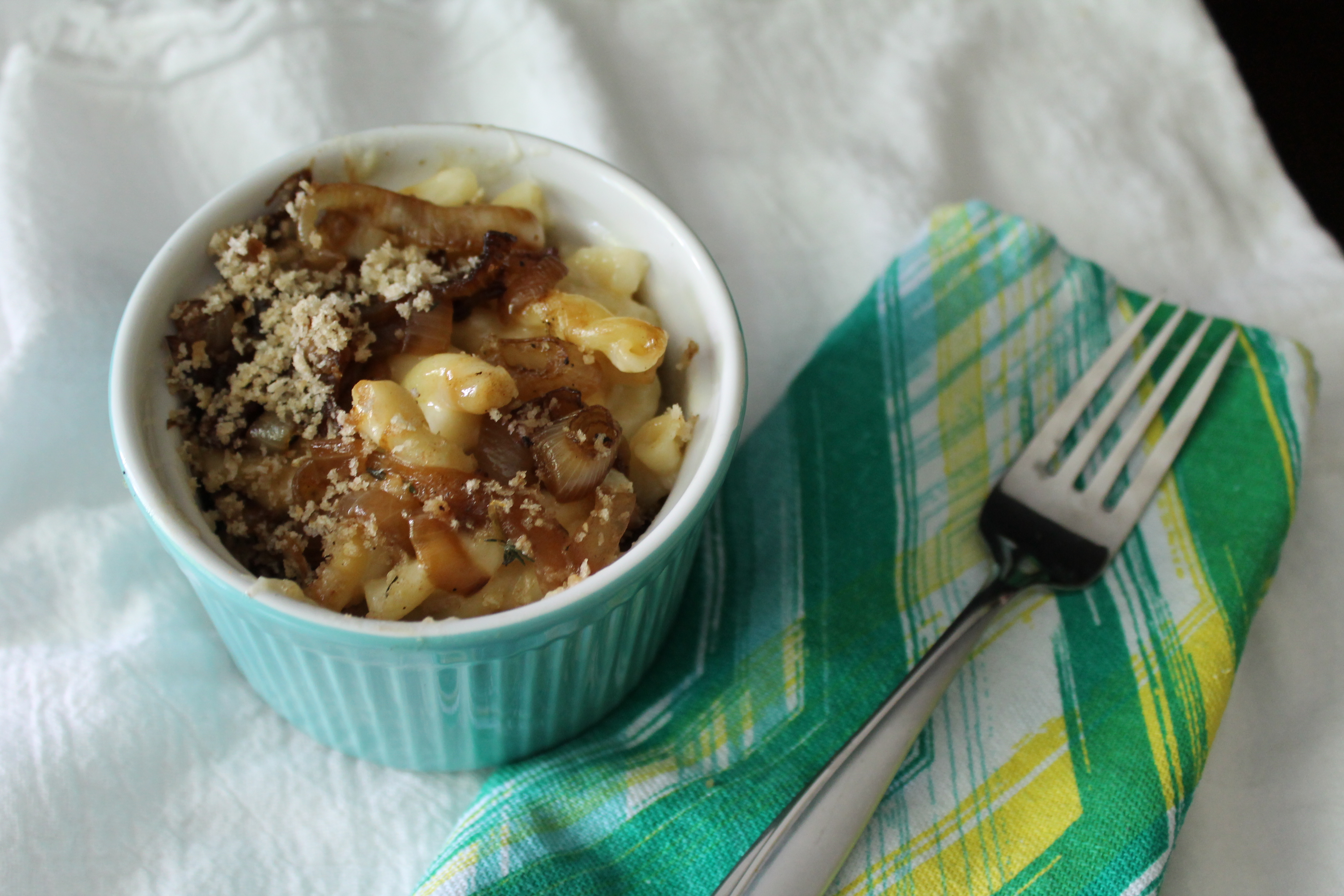 The weather is finally cool. Every time I look out the window, I can see a light drizzle of leaves falling from the maple in my front yard.
It's FALL!!
Which, of course, means it's finally time for heartier, creamier food. It's time for mac and cheese.
And what could be better than topping our platter of cheesy pasta with darkly caramelized onions and crunchy breadcrumbs? Nothing, I think.
This mac and cheese was laid back and simple…although it certainly does take some time!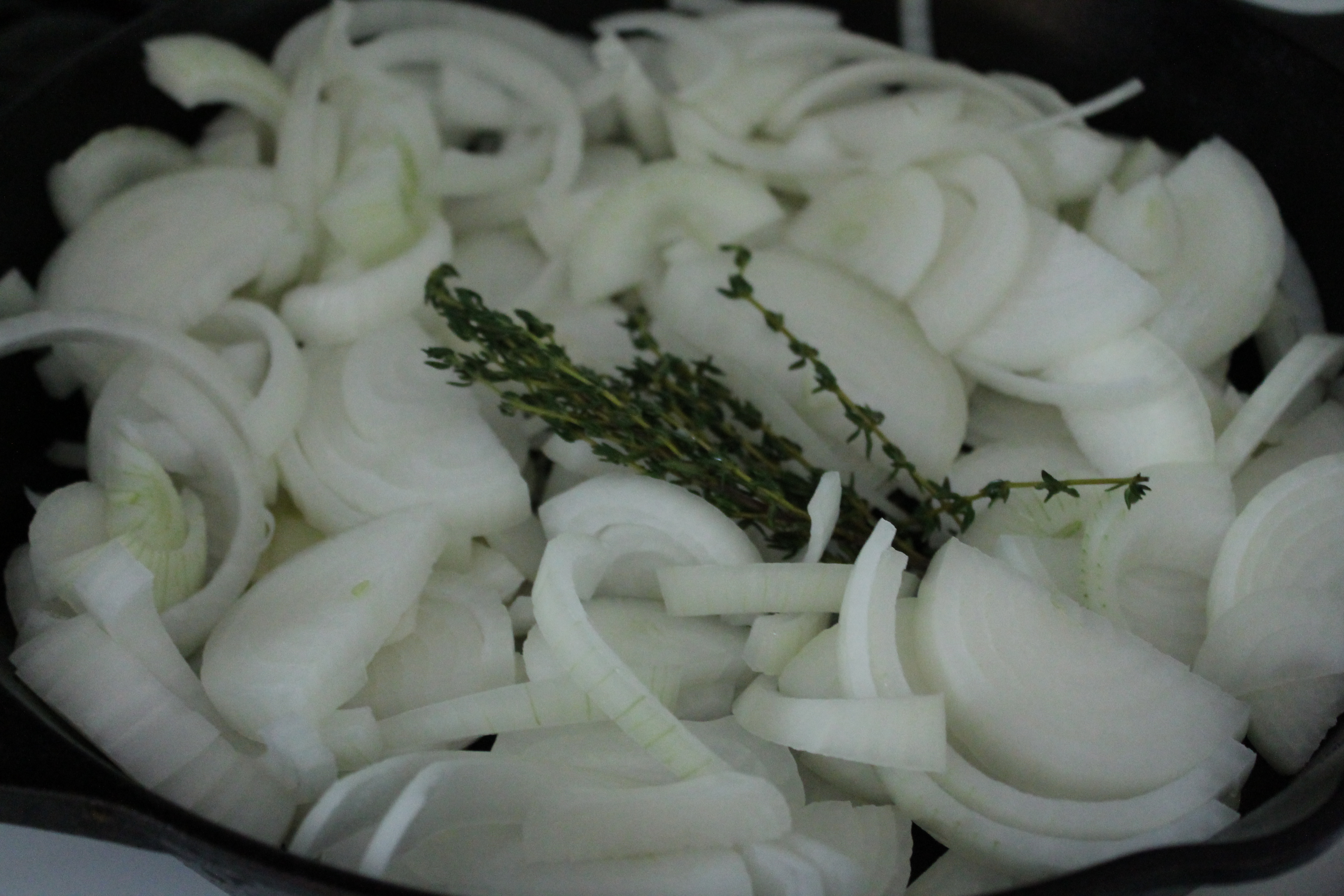 Start with the onions for the topping, because caramelization is a low and slow process. Thinly slice several white onions and toss them into a large, ideally cast-iron skillet with butter, olive oil, and a sprig or two of  fresh thyme.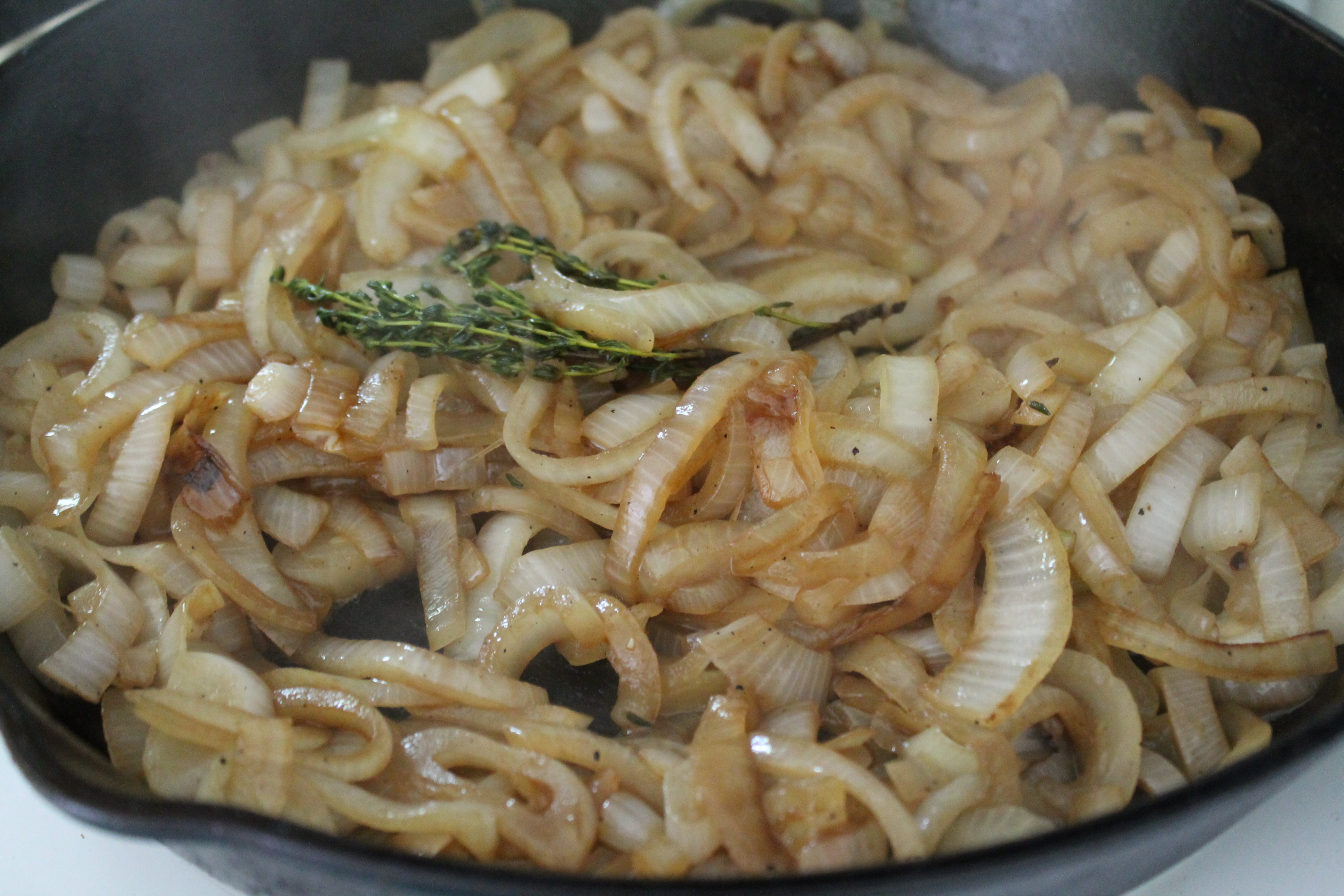 Let the onions cook, stirring occasionally, until they are a light brown, about 15 minutes. Please note that this is not the same as allowing the onions to get a cooked brown crust on the bottom edges…they should first turn translucent, then slowly and evenly start to darken over medium-low heat.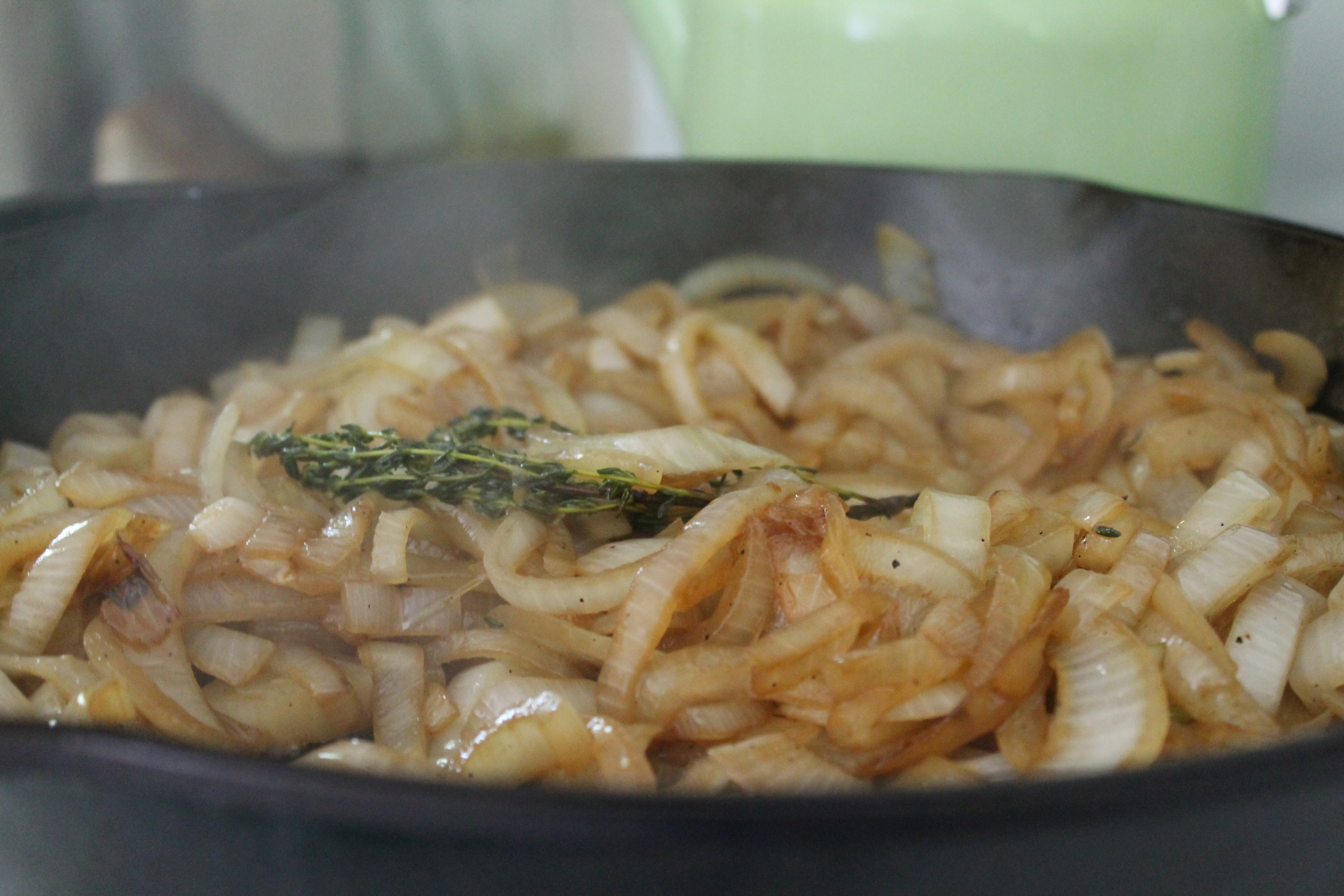 Now add a splash of wine and season with salt. Cook another 15 minutes or so, until they are richly brown and smell so amazing you kind of want to gobble up a few slippery onions on the spot. Set them aside to cool.
Meanwhile, time to make a béchamel (white cheese sauce) and cook the pasta! Sarah and I used gemelli pasta, which is great for pasta casseroles in which the pasta gets cooked twice. Because it is a densely twisted pasta, it maintains its structure through the boiling and the baking, thus preventing your amazing mac and cheese from becoming mush.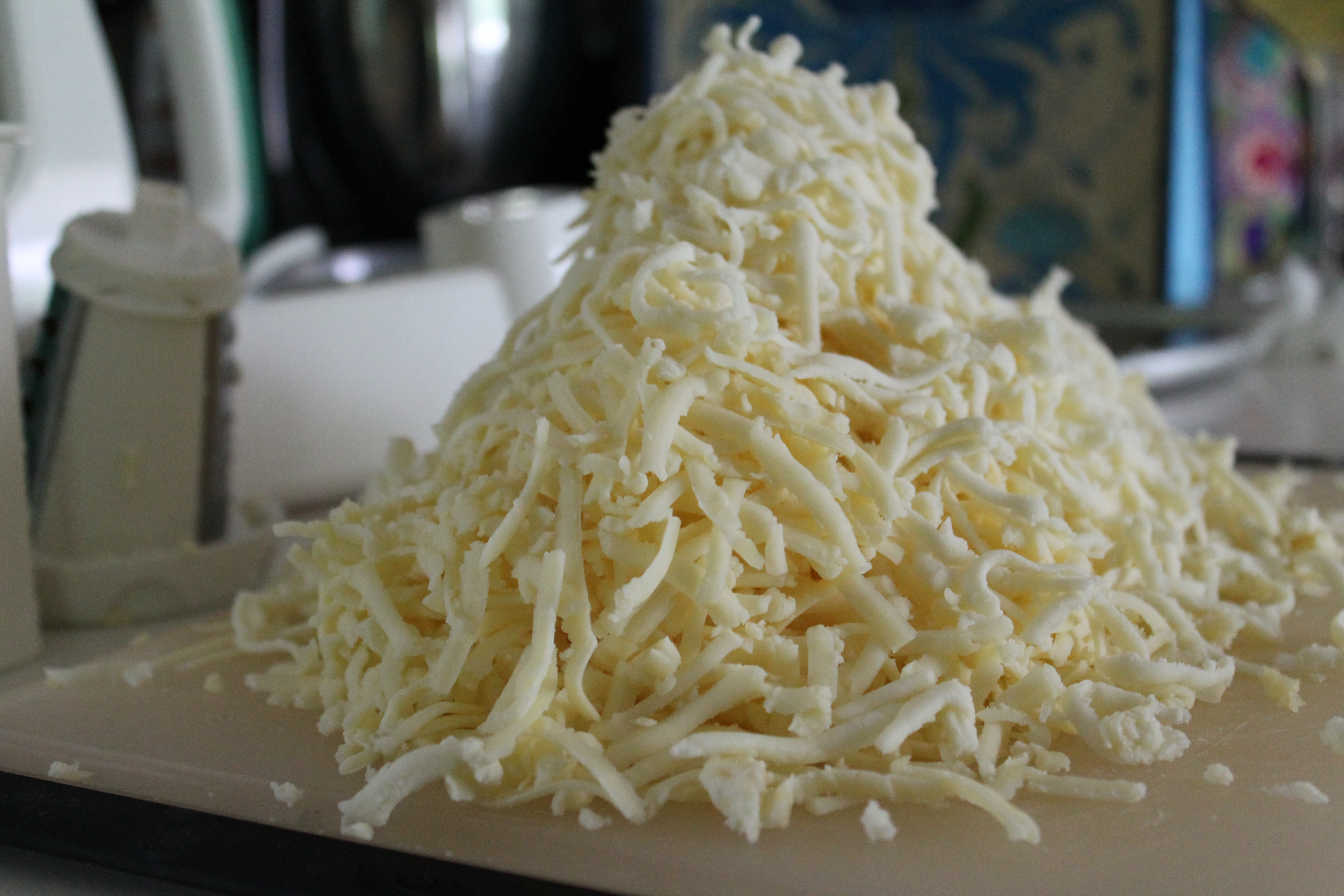 Béchamel is super easy to make. First, grate a small mountain of cheese. For this recipe, we used aged white cheddar, Gruyère, and mozzarella. It's best to have the cheeses grated and mixed ahead of time, that way when the white sauce gets nice and hot, you will be all ready to stir it right in.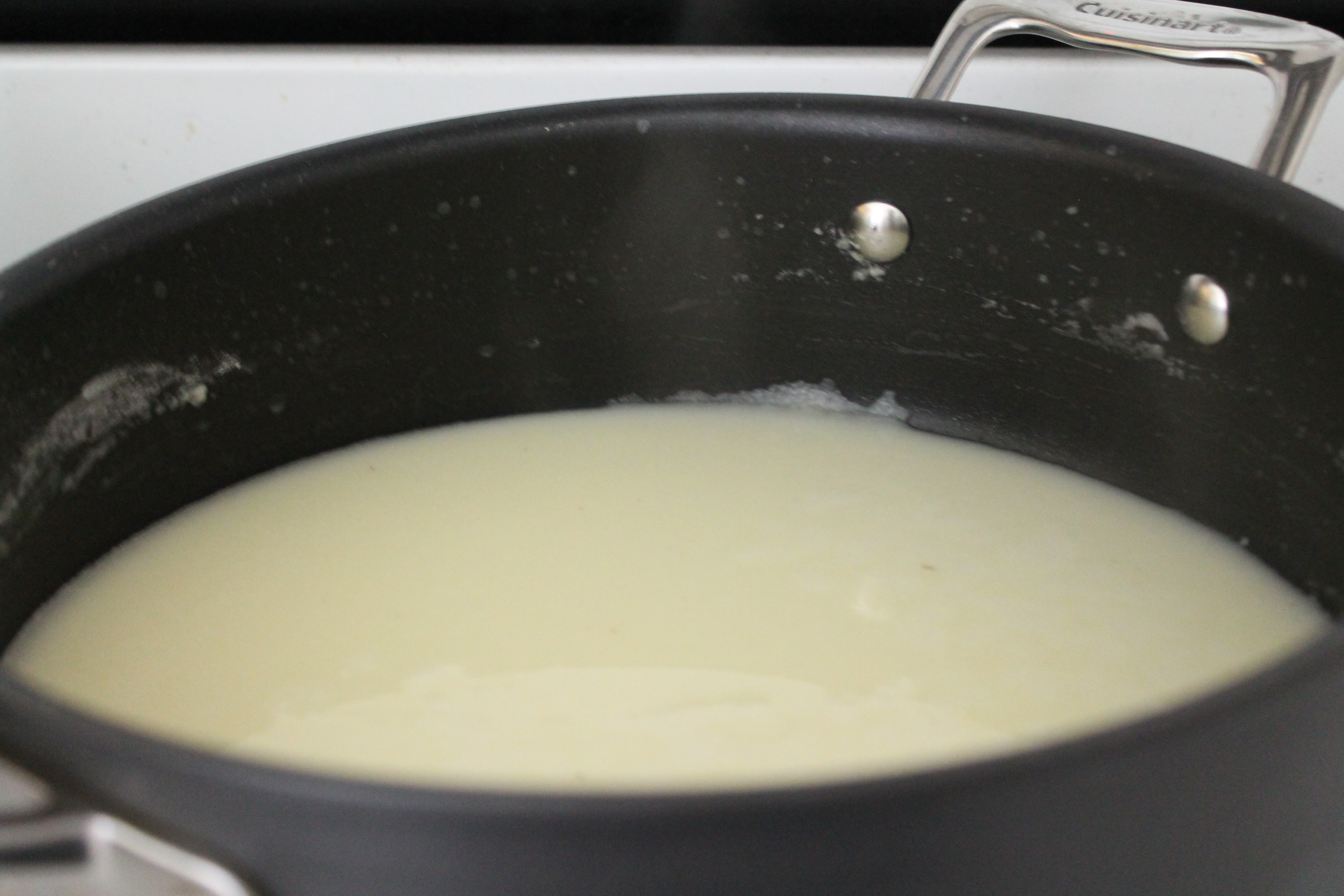 So. We start with a roux, which is a butter-flour mixture. Melt the butter in a large saucepan until it just begins to bubble. Slowly add the flour, whisking constantly until it forms a loose paste.
Now pour in the milk very slowly. Make sure each addition gets well incorporated before you continue pouring, meaning that the texture of the mixture in the pan should never appear lumpy or separated for more than a second or two after each new drizzle of liquid. Eventually, the roux will be loose enough that you can pour the milk faster.
Whisk the béchamel constantly over medium heat until it thickens enough that you can see the whisk lines clearly in the sauce.
Whisk in the cheese (and some minced garlic!) about a handful at a time. Remove the pan from the heat and season the sauce with salt, pepper, and the quintessential mac and cheese ingredient: nutmeg. I love fresh nutmeg, but pre-ground is fine, too!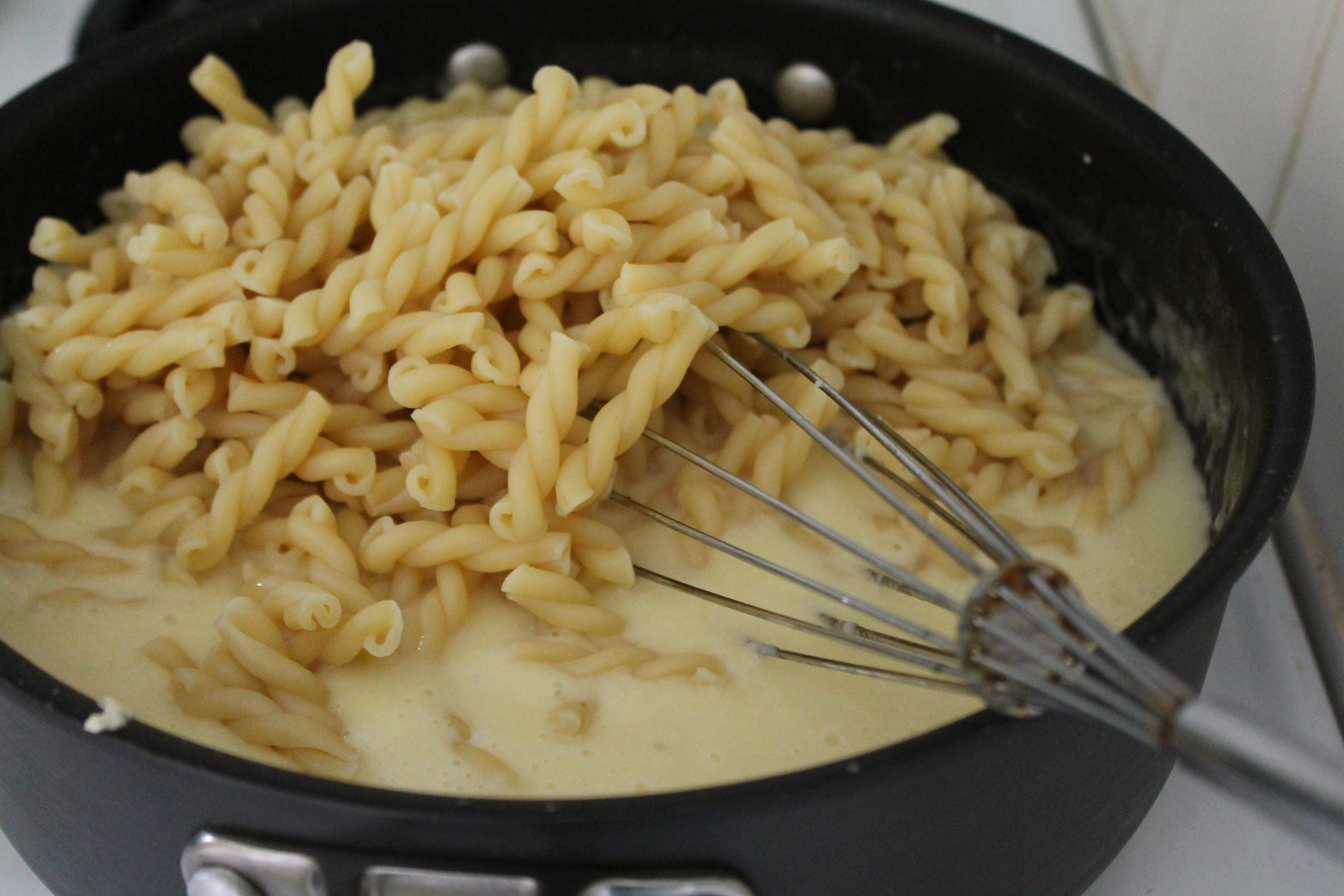 The pasta should be cooked to al dente. Seriously, don't overcook it in the boiling stage, because it will continue to cook in the oven. Drain the pasta and mix it into the cheese sauce. There is a lot of béchamel, so the pasta should swim in the sauce a little. But who doesn't like a saucy mac and cheese?
Now, pour the cheesy pasta into a large, lightly buttered baking dish.
Top with the caramelized onions. (Don't forget to remove the thyme stem!)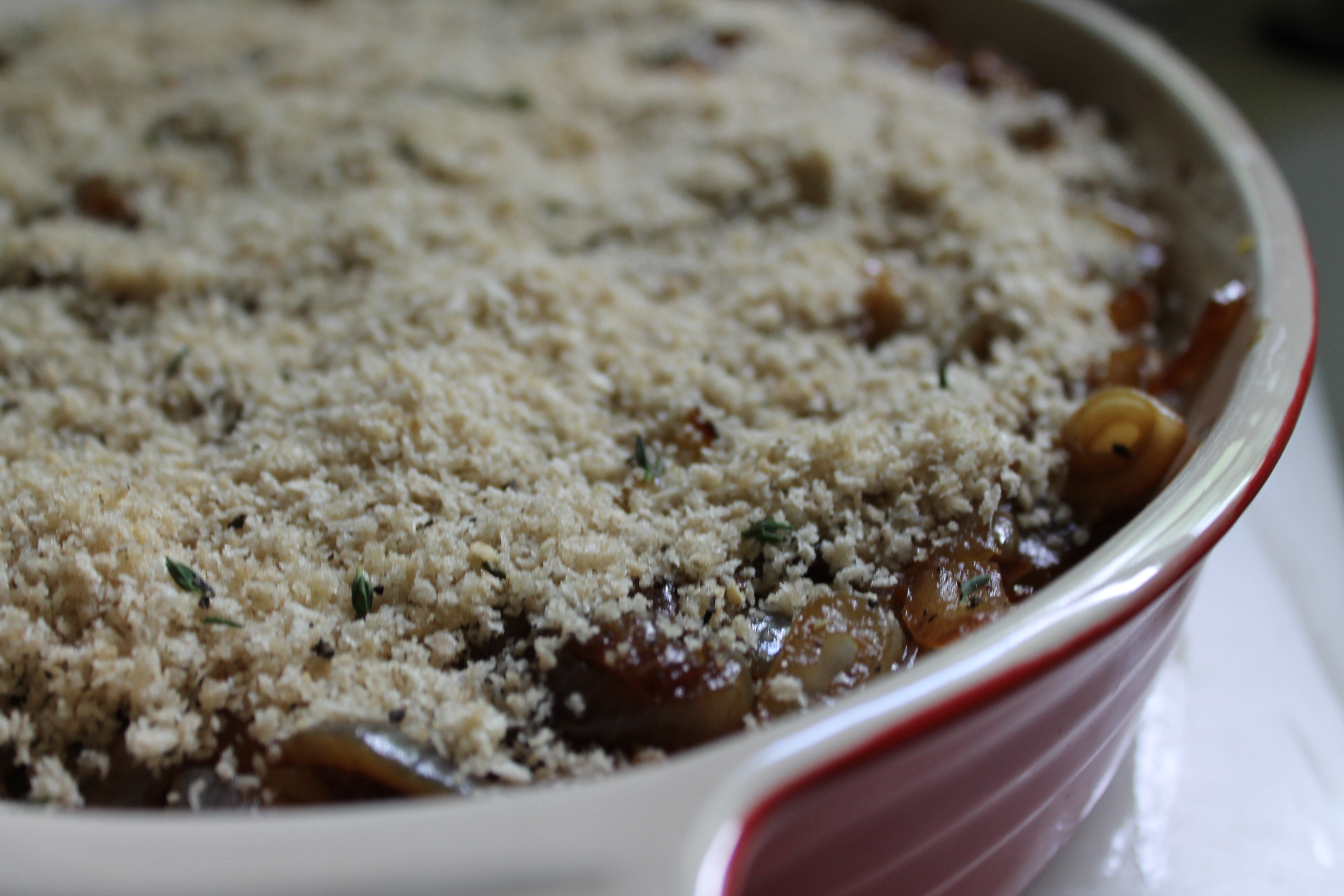 In a separate bowl, work a little butter, minced fresh thyme, salt, and pepper into some panko crumbs with your fingers. You could also add some grated parmesan if you like! When the mixture is even and slightly moist, sprinkle it over the caramelized onions.
Bake the mac and cheese casserole for 20 minutes at 350°, until the top is browned and the cheese is bubbling.
Try to contain yourself. I know it looks and smells amazing!
French Onion Mac and Cheese
adapted from Savory Simple
serves 4–6
Ingredients:
4 medium yellow onions, sliced into thin half-moons
6 tbsp. butter, divided
1 tbsp. olive oil
2 sprigs fresh thyme
2 tbsp. dry white wine
½ tsp. salt, divided, plus extra
14 oz. gemelli or other short pasta
3 tbsp. flour
2 cups whole milk
12 oz. Gruyère, shredded
6 oz. aged white cheddar, shredded
4 oz. mozzarella, shredded
2 cloves garlic, minced
¼ tsp. fresh grated nutmeg
⅛ tsp. black pepper, plus extra
1 cup panko or other breadcrumbs
½ tsp. minced fresh thyme
Directions:
Heat 2 tbsp. butter and the olive oil in a heavy bottomed skillet over medium-high heat. Add sliced onions and thyme sprigs. Sauté about 5 minutes, stirring occasionally, until translucent, then reduce heat to medium-low.
Continue to cook about 15 minutes, stirring occasionally, or until the onions are light brown. Deglaze the pan with white wine and season onions with ¼ tsp. salt. Continue to caramelize the onions until they are deeply browned, 15–20 more minutes. Remove thyme stems and set onions aside.
Meanwhile, cook the pasta 2 minutes less than package directions recommend. Rinse in cold water and set aside.
Preheat oven to 350°.
In a medium sauce pan, melt 3 tbsp. butter. Add flour, whisking constantly until a paste forms. Whisking constantly, drizzle in the milk. Bring the béchamel to a boil and cook until the sauce thickens.
Mix in garlic and cheeses with a rubber spatula or wooden spoon. When all the cheese has melted and the sauce is smooth, remove from heat and stir in remaining ¼ tsp. salt, black pepper, and nutmeg.
Fold in the cooked pasta, then pour into a large, lightly buttered casserole dish. Top with caramelized onions.
Combine panko and remaining 1 tbsp. butter in a medium bowl. Work butter into crumbs with fingers, then toss with minced thyme and a pinch of salt and pepper. Sprinkle breadcrumbs evenly over the caramelized onions.
Bake the mac and cheese for 20 minutes, until the top has browned and the cheese is bubbling.
Enjoy!
One year ago: Curly Kale Salad
Two years ago: Broccoli Cheddar Soup
Three years ago: Oatmeal Butterscotch Chip Cookies