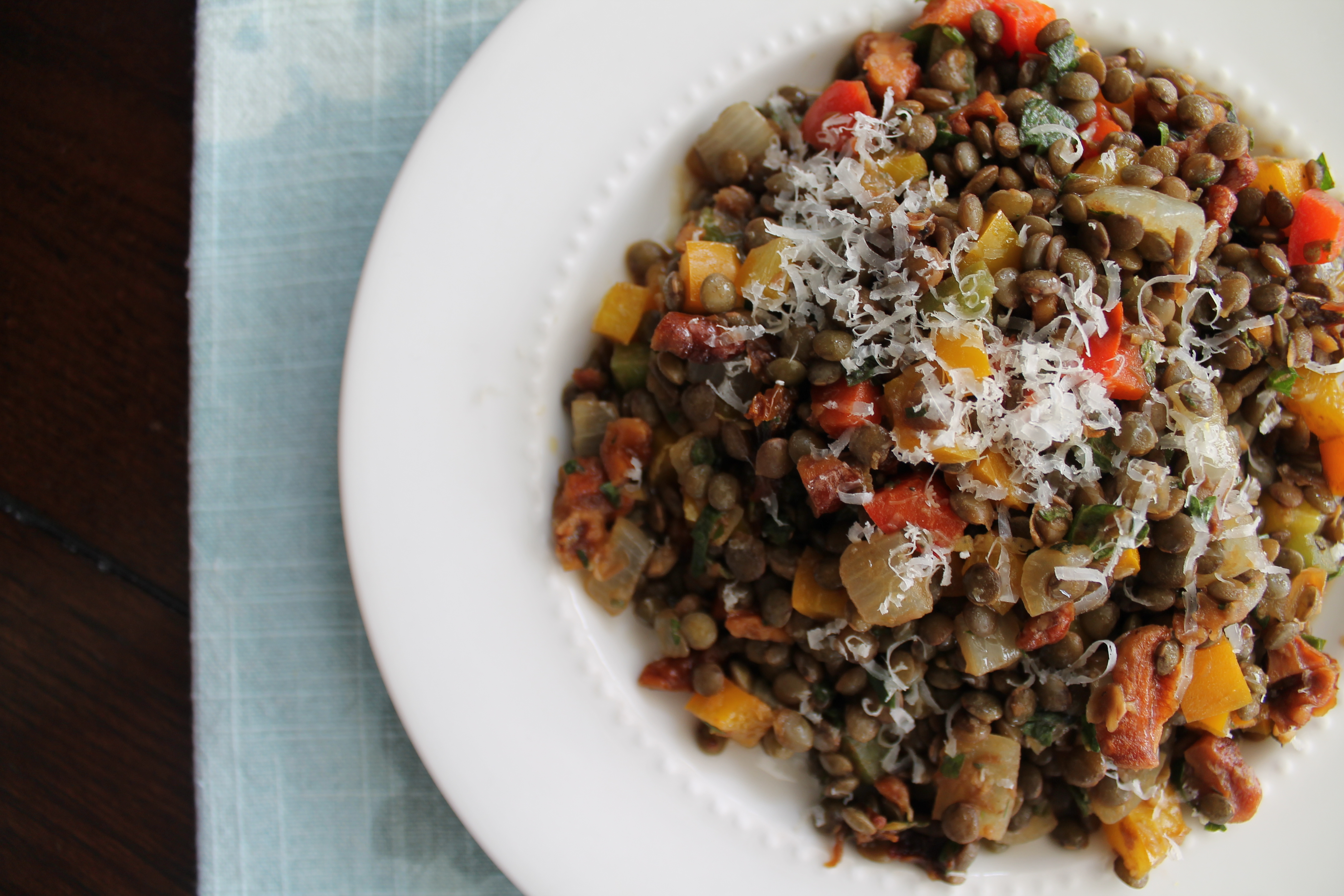 For the last several weeks, we have been scraping by in our house with random odds and ends and leftovers. I have taken to looking into my fridge around 6:00 and hurriedly cobbling together something for dinner…or else calling Dominos.
As I am now well into my third trimester with a toddler who seems to grow in energy and volume every day (not to mention the fact that we are potty training and this basically means I spend my entire life chasing him around and trying to sit him on the toilet), I think this is a totally acceptable status. I am just not that excited about foods that require actual planning ahead, things that follow recipes and can be photographed.
And even though I have a bunch of recipes stored up to share with you, things cooked during random spurts of energy and culinary creativity, I am just having such a hard time sitting down in front of my computer to write about them. My enthusiasm for naps and decorating the nursery just outweighs my enthusiasm for food right now.
Thankfully, Sarah of Well Dined came to my rescue recently with this amazing lentil salad! She suggested a day and a time and then graciously bought all of the ingredients that weren't already in my pantry and showed up at my house to cook. Thank God for friends!
This salad is yummy! And healthy. (It totally counteracts all that ice cream I have been eating.) And the best part? It makes absolutely a ton of food, so you won't have to cook for at least two more days!
Let's make this short and sweet. There is actually a lot of prep, but three sets of hands make light work! (That's right, Jake was our sous chef! Although he was actually chopping his plastic vegetables, and in fact declared that he was making chili…so I'm not sure his help counts.)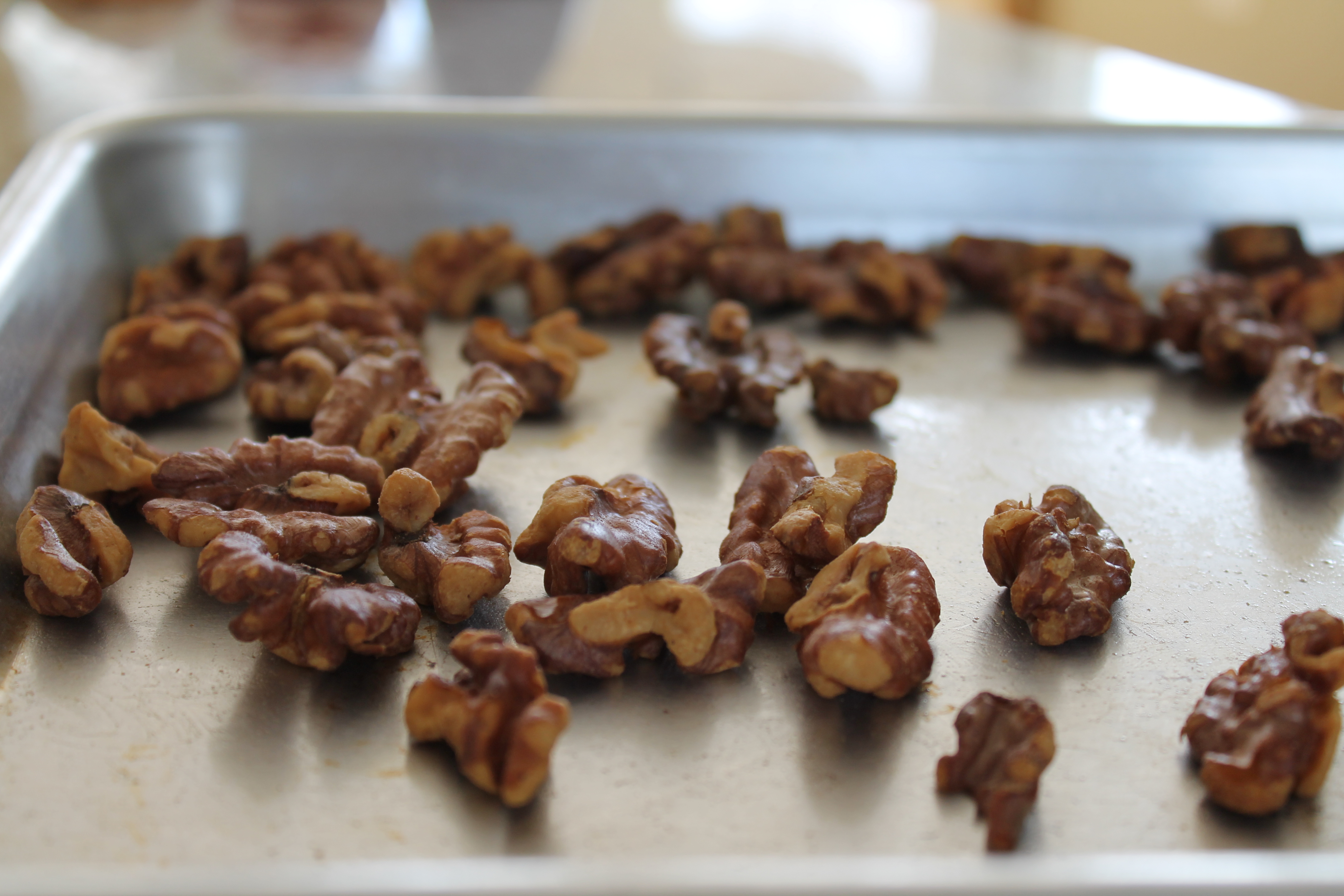 Toast some walnuts on a cookie sheet in the oven, and soak some sun-dried tomatoes (actual dry ones if you can find them, not the kind already soaked in oil) in boiling water to soften them.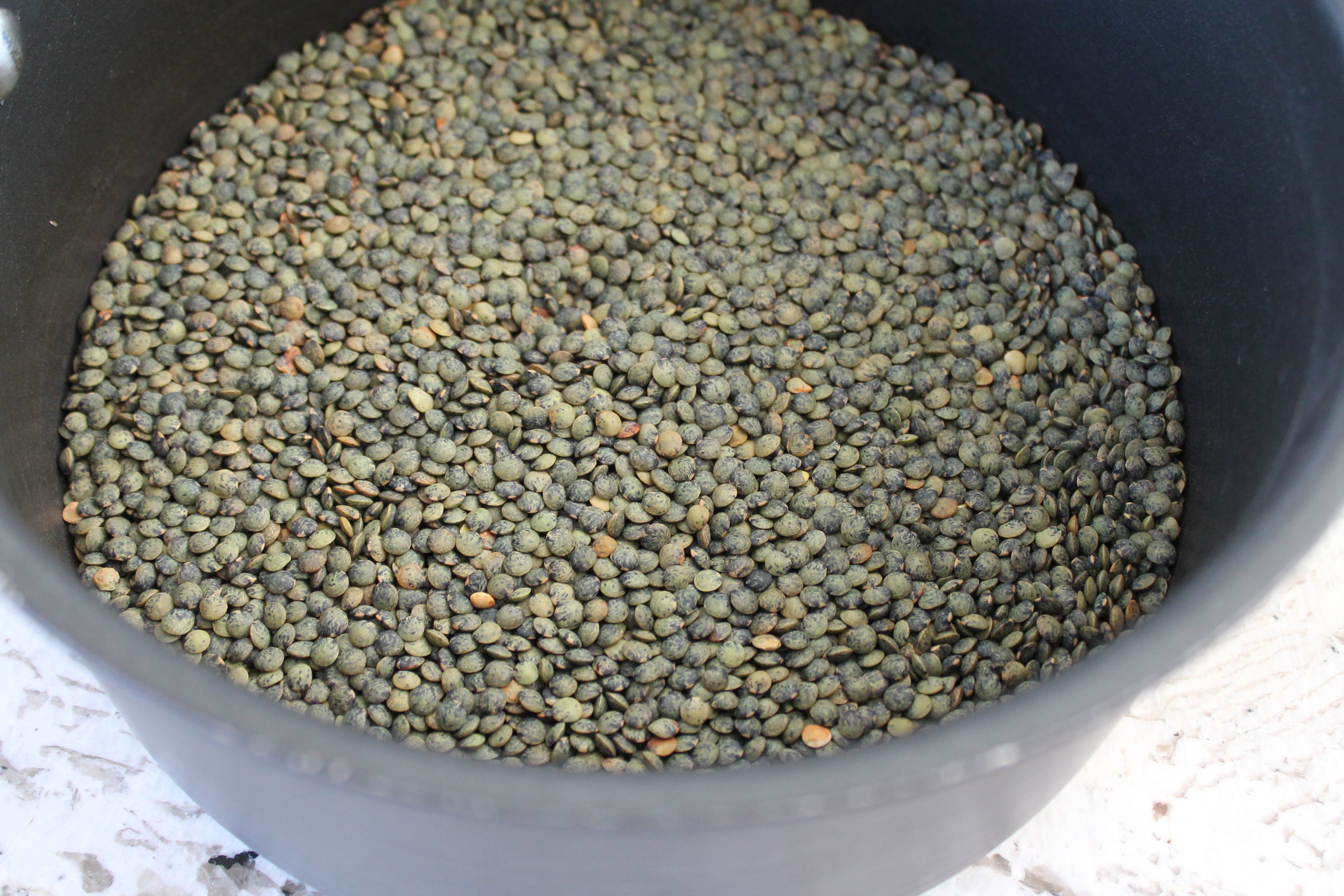 Combine the lentils with veggie stock in a large pot and bring to a boil. Reduce the heat and simmer the lentils for 20–30 minutes, or until they are tender but not mushy.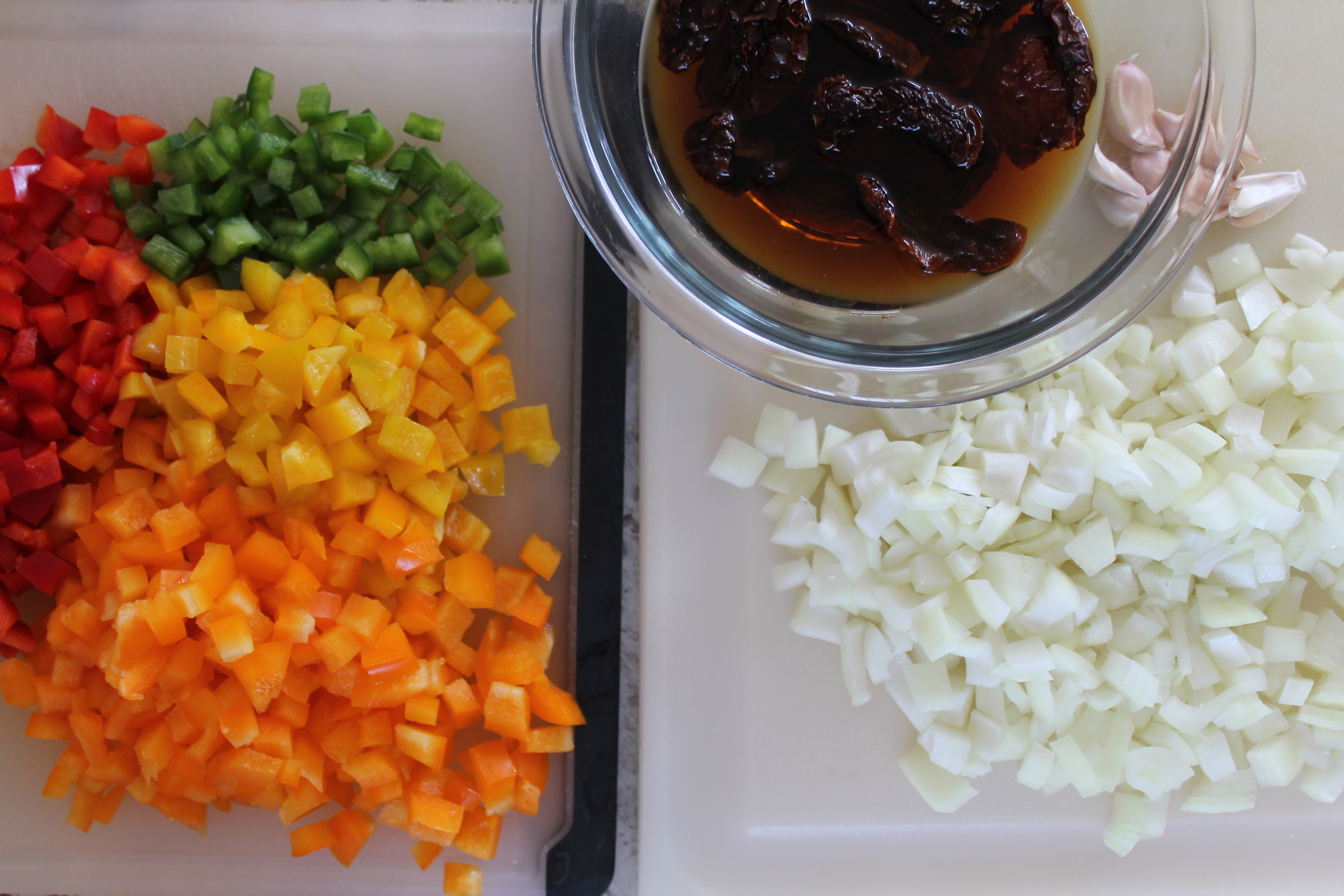 Meanwhile, dice up all of the onion and bell peppers.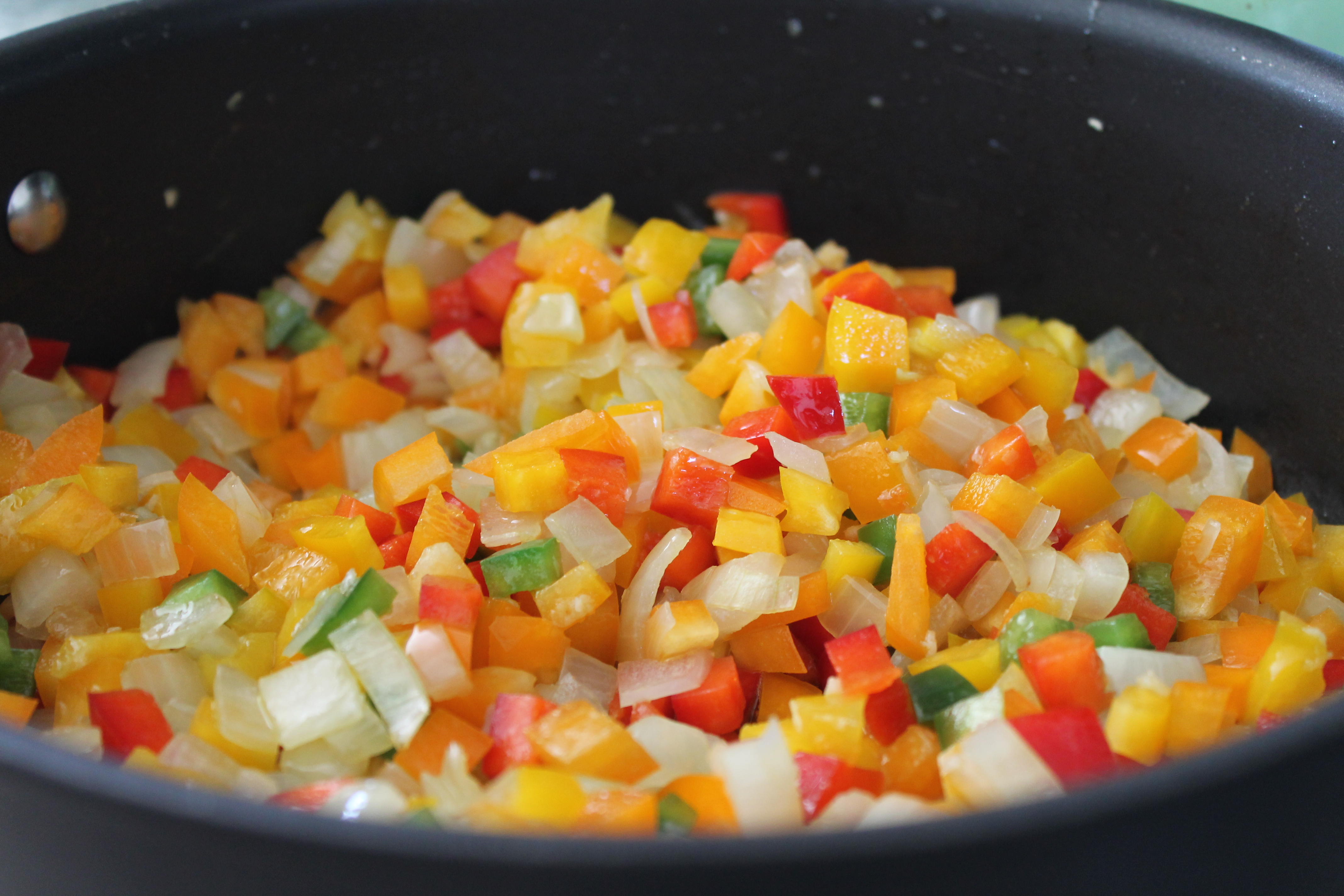 Heat olive oil in a large skillet. Add the onion, bell pepper, and minced garlic to the pan and sauté until the onion becomes translucent.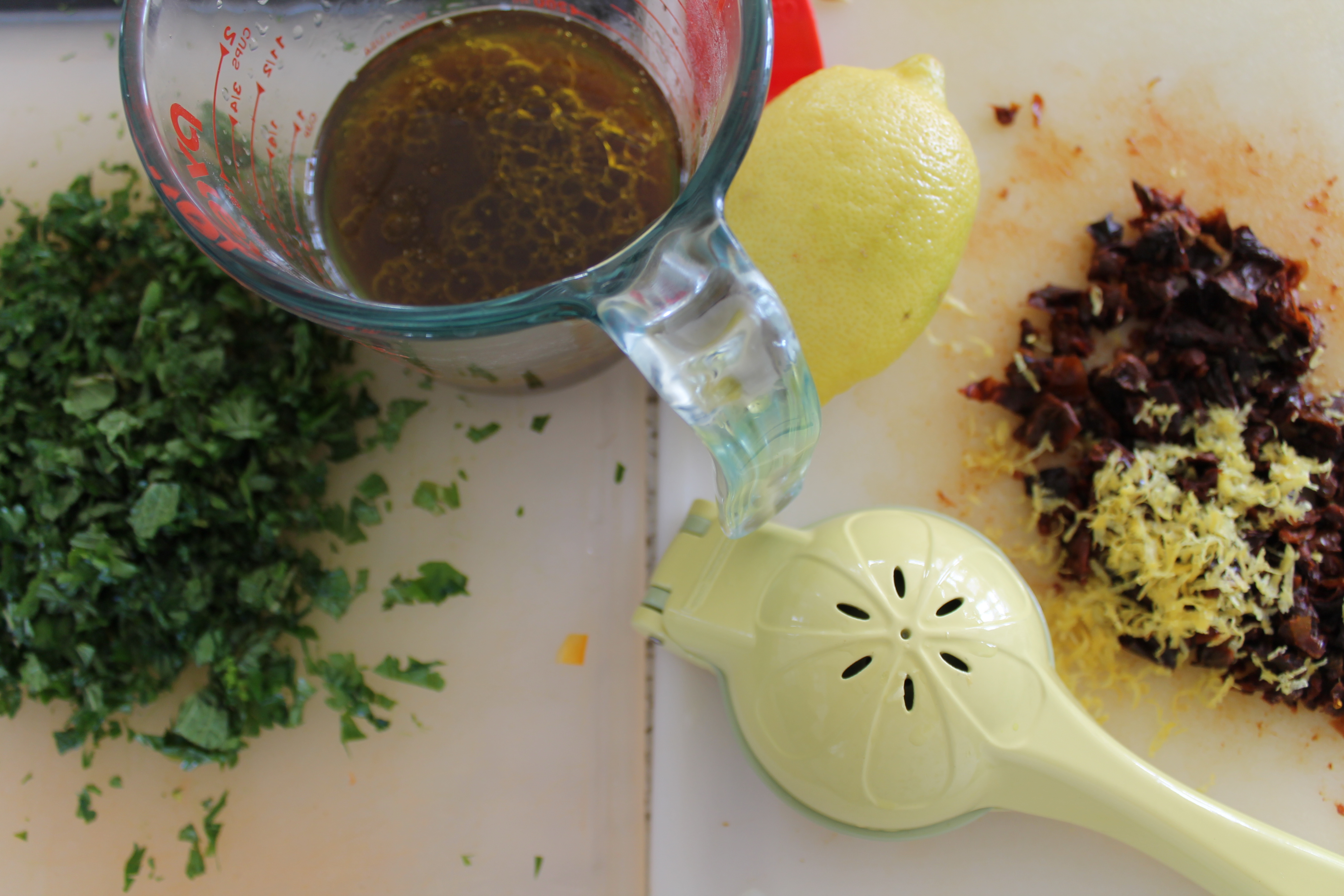 Scoop the sun-dried tomatoes out of the hot liquid and chop them as finely as possible. Chop the walnuts into bite-size pieces.
Chop up a huge handful of fresh mint and parsley and zest a lemon.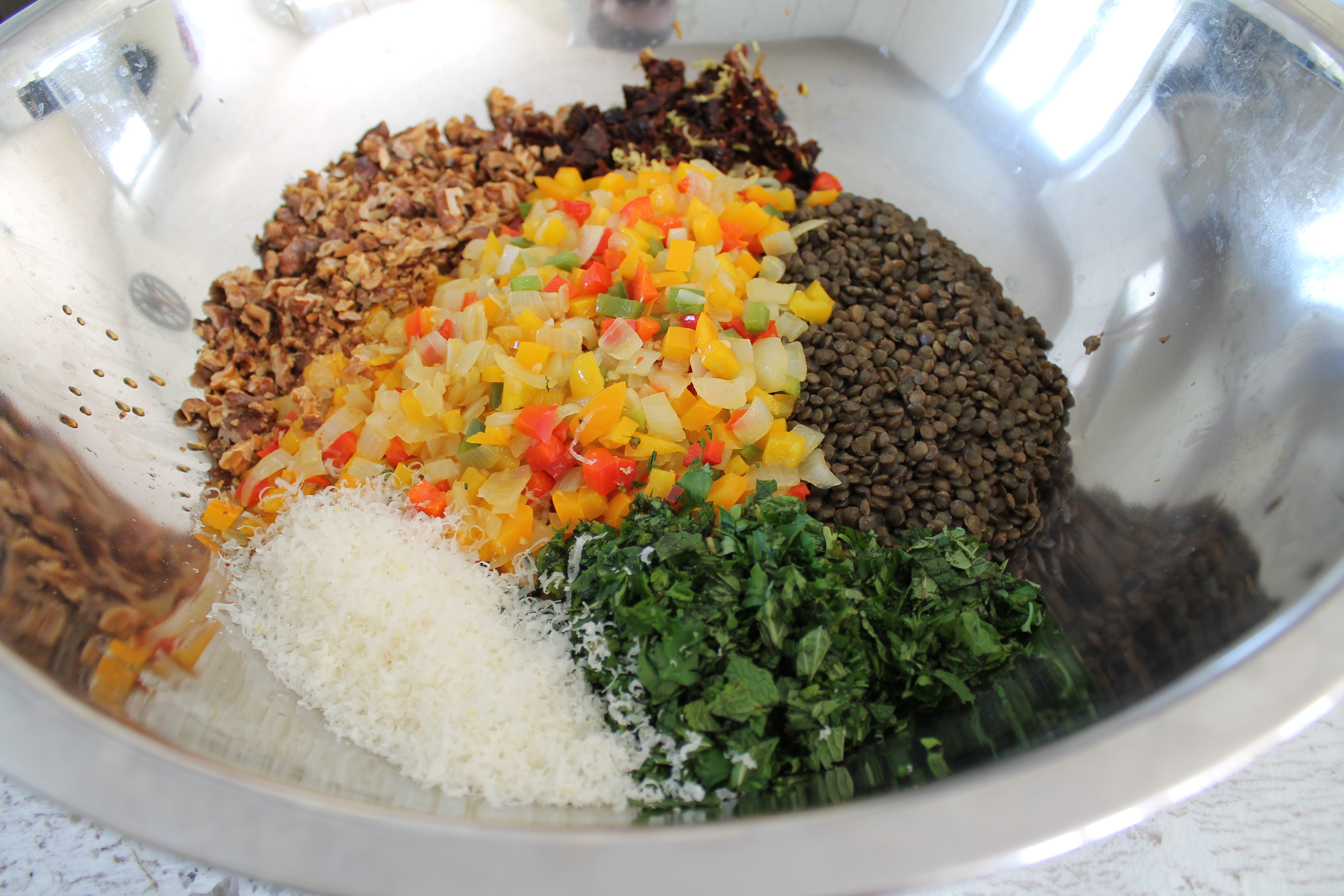 Combine the cooked lentils, sautéed veggies, chopped tomatoes and walnuts, fresh herbs, lemon zest, and parmesan cheese. You can skip the parmesan to keep this dish vegan…or if the only parmesan you have comes out of the green can. Yuck. Toss all the ingredients together.
In a separate bowl, whisk together some of the leftover steeping liquid from the tomatoes, lemon juice, olive oil, and pomegranate molasses. Pomegranate molasses is weird stuff, but it works some kind of crazy magic in this salad! We actually added a little bit extra because we enjoyed the tangy kick.
Stir the dressing into the lentils. Season with salt and pepper. And, of course, garnish with extra cheese. Because we can!
Lentil Salad with Walnuts and Herbs
from the Kitchn
serves 6–8
Ingredients:
1 lb. (about 2¼ cups) dry green French lentils
4 cups vegetable stock
½ cup dry-packed sun-dried tomatoes
1 large yellow onion, diced
3 bell peppers (multicolored), diced
4 large cloves garlic, minced
½ cup olive oil, divided
1 cup walnuts, toasted and chopped
1 cup fresh flat-leaf parsley, roughly chopped
1 cup fresh mint leaves, roughly chopped
1½ oz. parmesan, divided
zest and juice of 1 lemon
2 tbsp. pomegranate molasses
2 tsp. kosher salt, or to taste
fresh ground black pepper
Directions:
Rinse the lentils well. Combine the lentils and vegetable stock in a saucepan and bring to a boil. Lower the heat, then cover the pot and cook for 25–30 minutes, or until the lentils are tender but not bursting apart. Remove them from the heat.
Meanwhile, steep the sun-dried tomatoes in ½ cup boiling water. When they are softened, remove them from the liquid, reserving the liquid, and finely dice them and set them aside.
Heat ¼ cup olive oil in a large sauté pan over medium heat. Add the onion, bell peppers, and garlic. Cook for 4–6 minutes, or until the onion just turns translucent but the bell peppers are still crisp.
Transfer the bell pepper mixture to a large bowl with the cooked lentils, chopped tomatoes, walnuts, herbs, lemon zest, and 1 oz. of the parmesan. Toss to combine.
In a separate bowl, whisk together the remaining ¼ cup olive oil, ¼ cup of the reserved tomato steeping liquid, lemon juice, and pomegranate molasses. Toss this dressing with the lentils. Taste for seasoning, and stir in salt and pepper.
Transfer the lentil salad to a serving dish and grate the remaining parmesan over top.
Enjoy!
One year ago: Saag Paneer
Two years ago: Baked Oatmeal
Three years ago: Farro Broccoli Salad