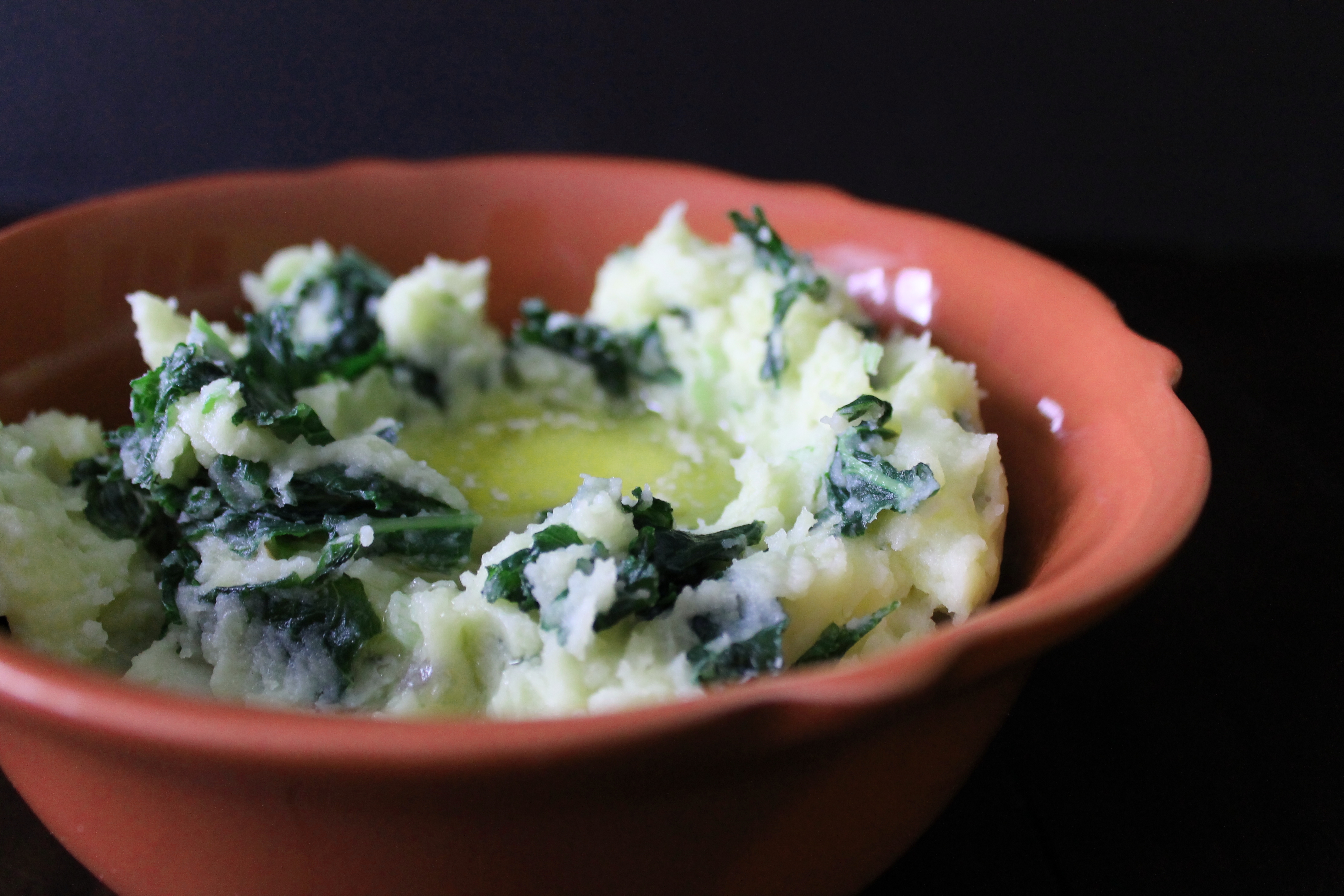 It's almost St. Patrick's Day! So I made you colcannon.
Normally, I am not a huge fan of potatoes, but I definitely must make an exception for colcannon. This was incredibly easy to make, and with the addition of leafy greens I actually felt like I was giving my body something nutritious along with all that starch and butter. Mmmm.
Apparently I unwittingly made a more "traditional" version of colcannon (which is one of the many Irish variations on mashed potatoes) when I decided that kale was a better choice than cabbage.
At least, that's what Darina Allen tells me.
I had never seen colcannon with anything other than green cabbage mixed in, but when I stumbled across a recipe that used kale, I knew it was the one for me. Later, after gobbling down a huge mountain of buttery mashed potatoes speckled with dark green kale, I looked up colcannon in my Irish cooking bible and discovered that I had not, as I feared, completely abandoned the spirit of the Irish dish.
So. Happy St. Patty's day! Make some potatoes. Make them with kale. Your mouth and your stomach will thank you.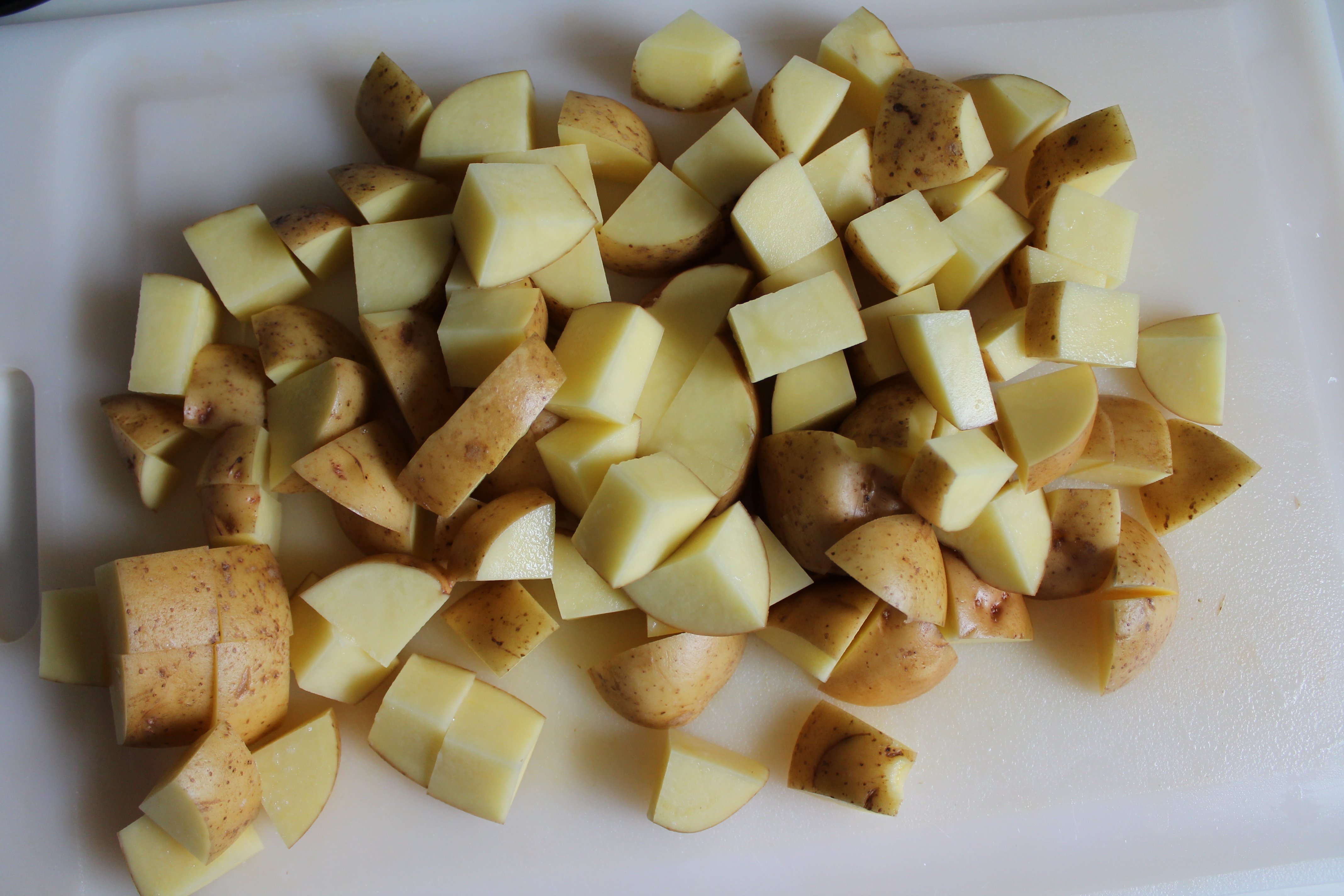 Start by chopping your potatoes into large chunks. I used Yukon golds (which, again, I thought were untraditional, but Darina Allen lists them as her first choice. Crazy world) because they have a buttery, rich flavor all on their own. I chose not to peel mine because the potato skins are full of fiber and nutrients.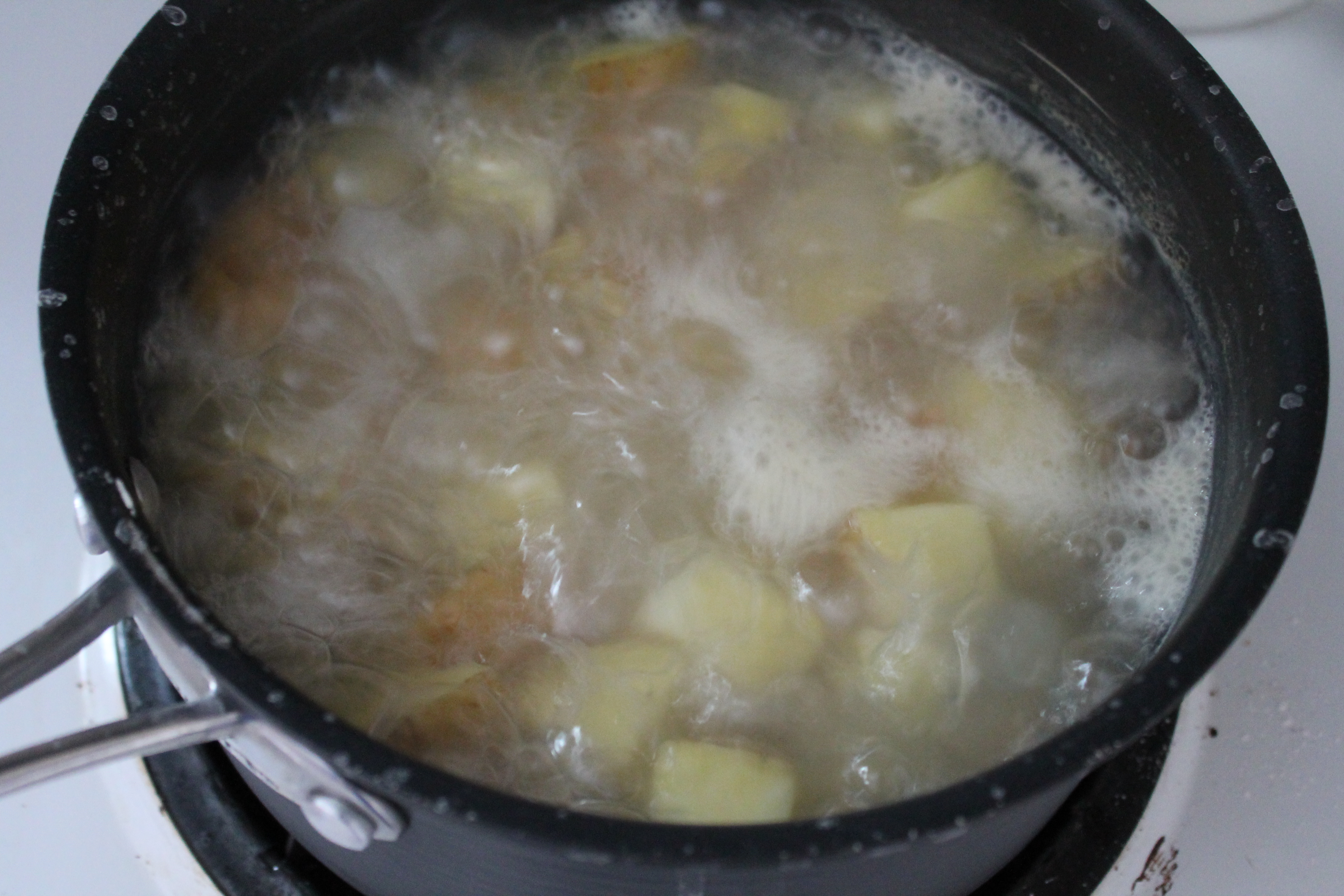 Boil the chopped potatoes for 15 minutes, or until fork tender. Drain into a colander.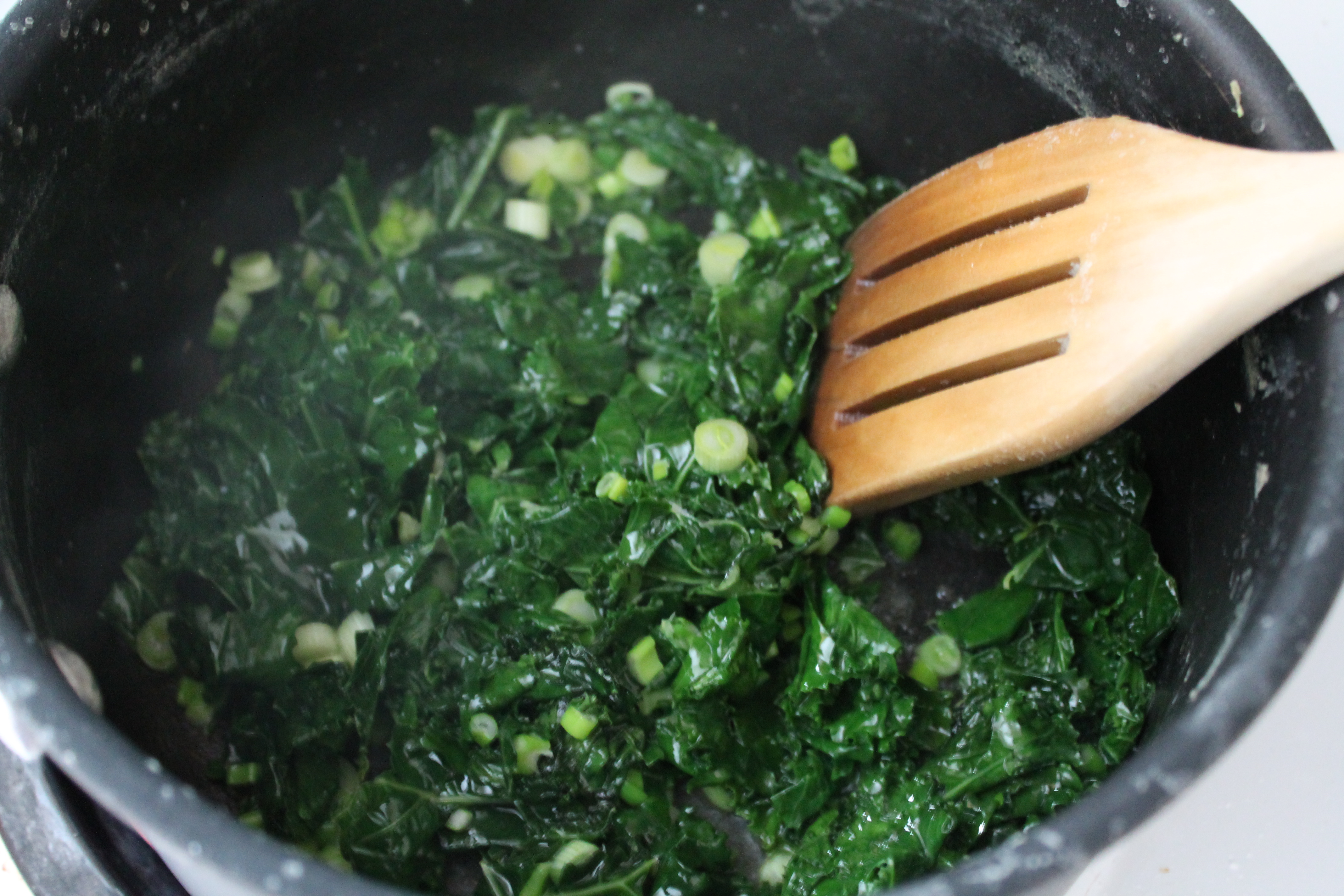 Immediately heat butter in the same pan. Add in the chopped kale greens and cook for 3–4 minutes, until they are wilted and beginning to darken. Toss in a bunch of chopped scallions.
Apparently, scallions are more common in a different Irish potato dish called champ. So maybe we are making sort of a champ-cannon here…
When the green onions are nice and fragrant, pour in the cream or milk. I actually used half cream, half milk. I did kind of want to go for richness…but as I started pouring the cream I also started to think of my arteries…so half-and-half it was. You can use whatever you'd like, but my colcannon was luscious and that's all there is to say.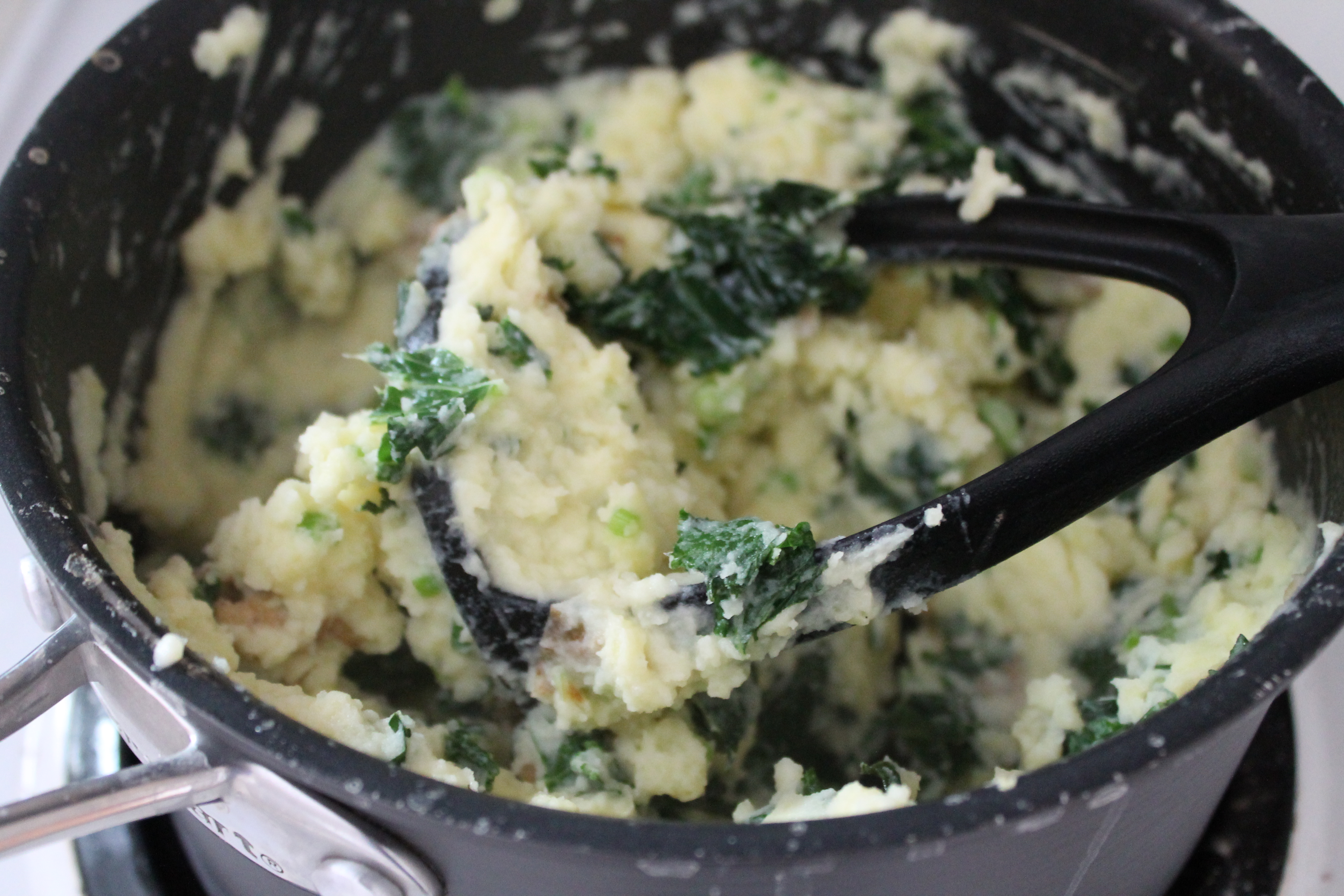 Add the potatoes back in and immediately begin mashing them in the hot pan, stirring around to get the kale mixed in and keep the potatoes warm. Taste and adjust salt if needed—though I found that the potatoes were plenty salty enough from the salted boiling water.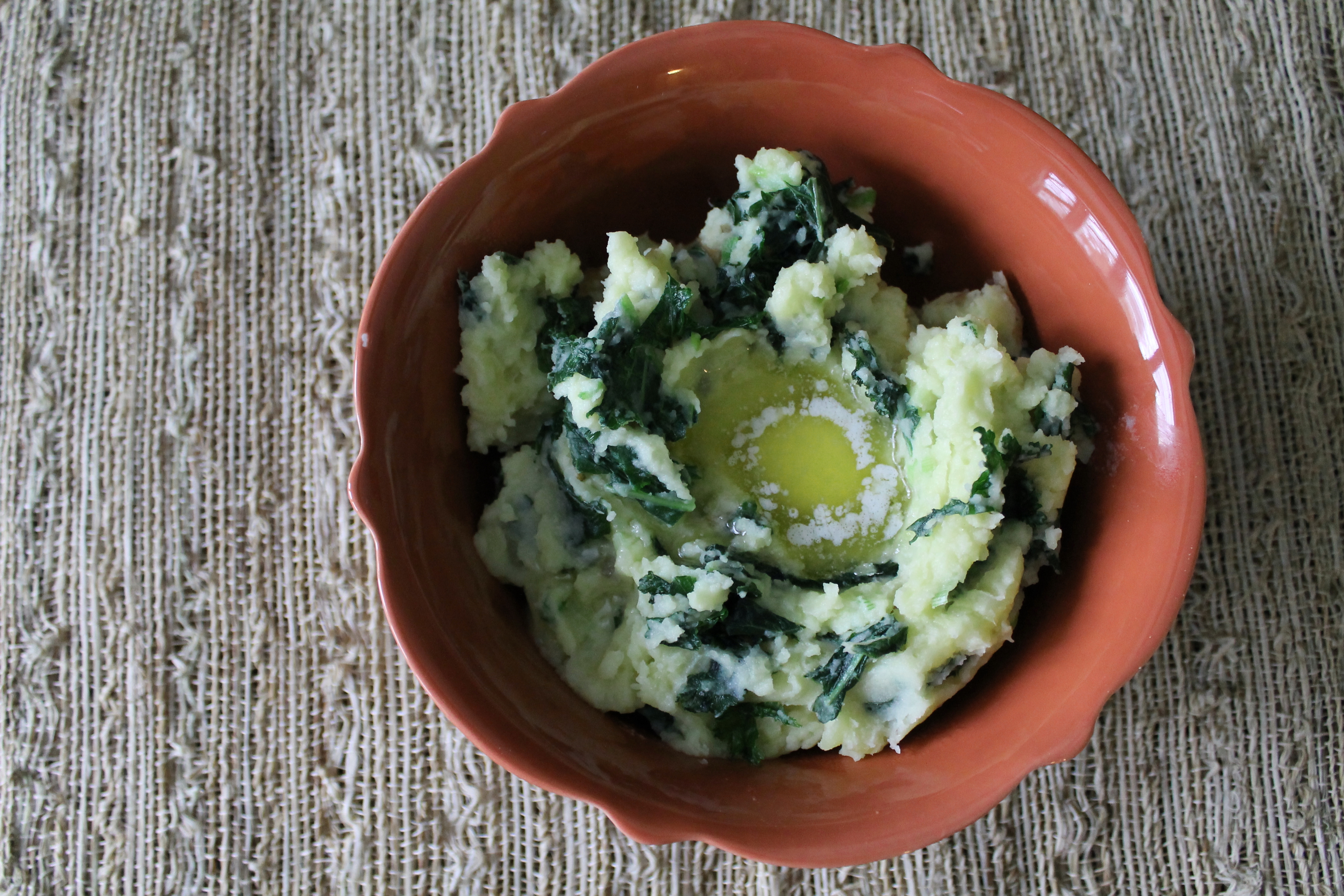 Serve these hot, with a "knob" of melted butter in the center. Yum. Yum yum yum.
Colcannon
lightly adapted from Simply Recipes
serves 6
Ingredients:
2 lbs. Yukon gold potatoes (about 5), cut into chunks
scant 2 tbsp. salt, plus extra to taste
4 tbsp. unsalted butter
4 oz. chopped kale greens (about 3 heaping cups)
3 scallions, chopped
½ cup heavy cream, half-and-half, or milk
salted butter, for serving
Directions:
Put the potatoes in a medium pot. Cover with 1″ cold water. Add the salt and bring to a boil. Boil until the potatoes are fork tender (15–20 minutes). Drain in a colander.
In the same pot, over medium-high heat, melt the butter. When the pot is hot and the butter is beginning to brown, add the kale and cook, stirring often, for 3–4 minutes. When the kale is wilted and slightly darkened, add the scallions and cook 1 minute more.
Pour in the cream, mix well, and add the potatoes. Reduce the heat to medium. Use a potato masher and mash the potatoes, mixing them up with the kale. Add salt to taste.
Serve hot, with a chunk of salted butter pressed into a well in the center of the potatoes to melt.
Enjoy!
One year ago: Rugelach
Two years ago: Baby Guinness Cupcakes
Three years ago: Black Bottom Cupcakes