Can you believe it has been FOUR YEARS since Smells Like Brownies was born? Four years of delicious treats and meals (and some disasters), four years of learning to take food photos and learning new tricks in the kitchen. Time flies.
Now, as many of you may know, I am eagerly awaiting the arrival of our little daughter! As I am waddling around after my 2-year-old ball of energy, praying that the baby will stop kicking me in the kidneys, I have started to picture what life may look like with an infant in our lives.
(Mostly it looks like chaos. That is realistic, right?)
I remember life after Jake arrived with some trepidation. It was wonderful and scary at the same time, and it totally turned my world upside down. There was no such thing as "getting ready in the morning," because time all blurred together into one enormously long day in which every two hours I had to feed a baby, regardless of silly things like my own sleep rhythms.
So…here we go again! But, of course, now I have a toddler who expects me to maintain his regular schedule and probably won't think it's cute if I delay his breakfast until noon.
Enter overnight oats.
I am fairly confident that overnight oats are going to save my life after this baby comes. Not only are they super healthy (whole grains! raw food! protein! omega-3s!), but after what are sure to be some tired, sleep-deprived nights, I will be able to "make breakfast" simply by opening a container! What could be better?
I am counting on these oats to give me energy during a time of day (and life…) when I find it so challenging to eat right. Normally I pour myself a bowl of cereal and don't think too much about all the important food groups I am neglecting. And sure, I don't like fruit…so these oats aren't quite as well-rounded as they might be if I also added some fresh, seasonal berries. But! They taste light and fresh, which is great for Spring, and the chia seeds pack a powerful nutritional punch alongside the protein in yogurt and nuts. (And can we squint our eyes and call chocolate an anti-oxidant? Because I think I deserve chocolate in my breakfast, I really do.)
I wanted to create a breakfast version of my current favorite treat: Chobani "Almond Coco Loco" yogurt. Sweet coconut-infused Greek yogurt with honey-roasted almonds and chocolate chunks. Yum.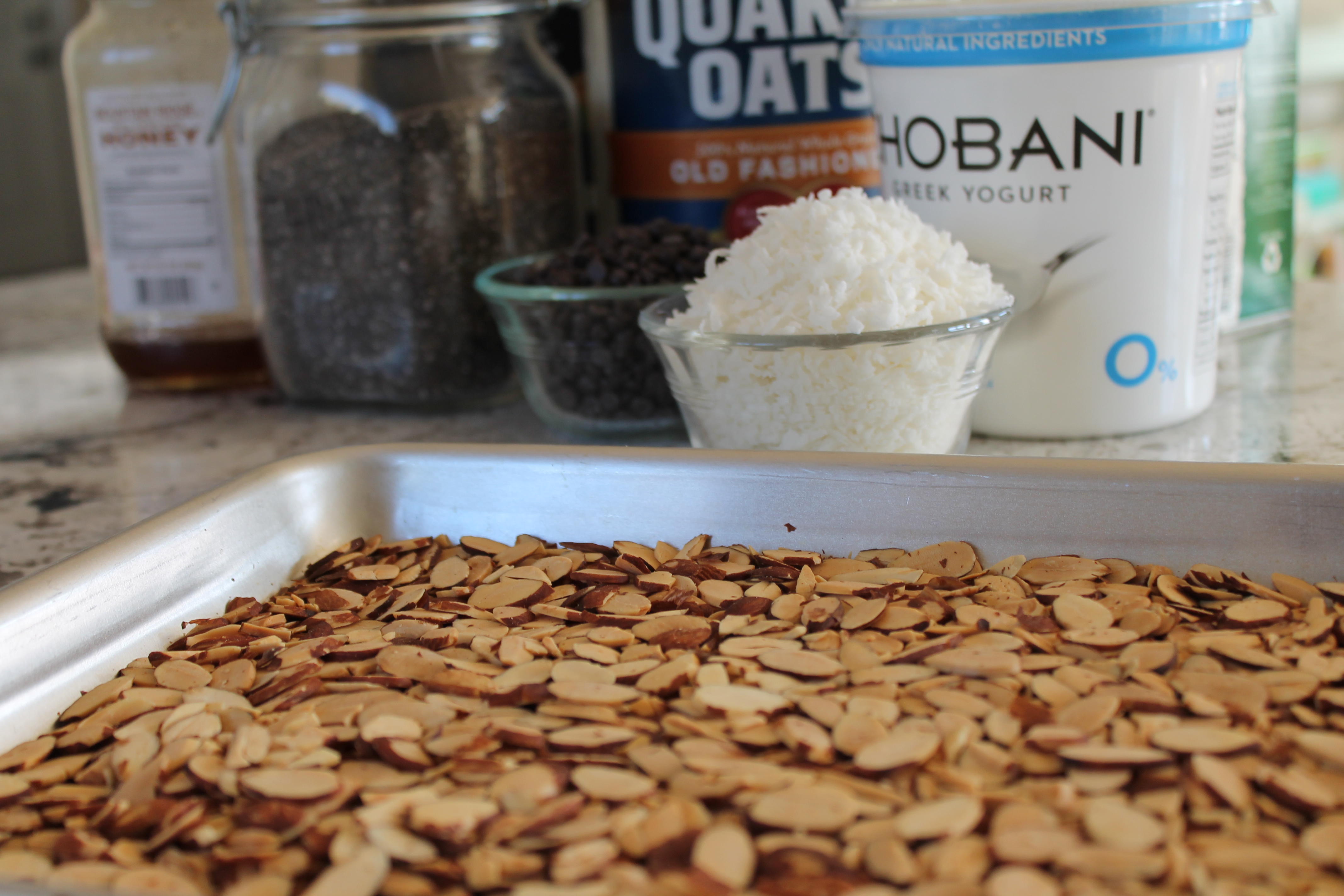 So I started with some sliced almonds. I dry-roasted them in the oven, shaking the pan every 4 minutes, and then when they started to turn brown and crisp, I stirred them with honey, a bit of brown sugar, and salt.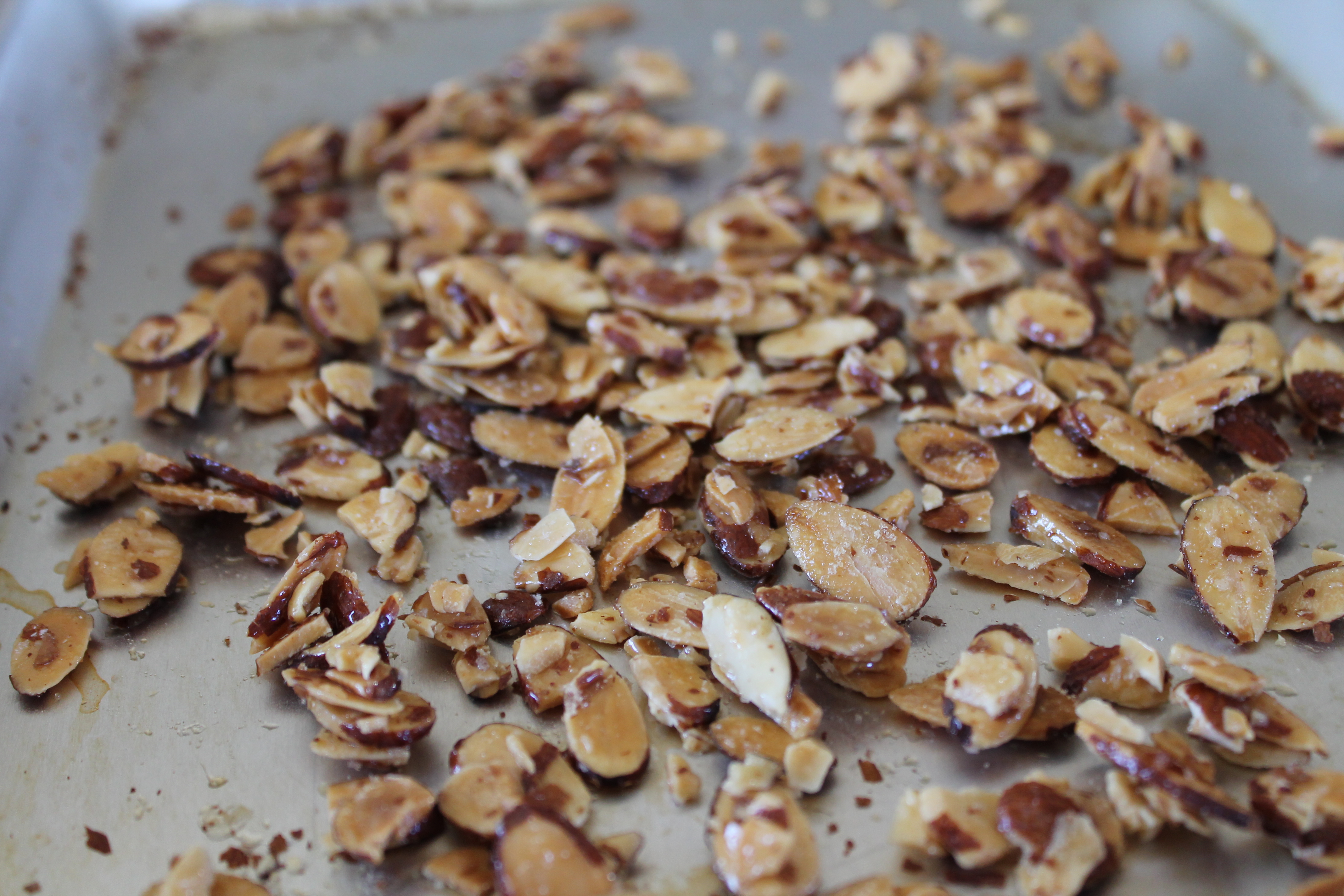 Back into the oven to roast briefly! This helped to set the honey so I could cool the nuts, break them apart, and keep them nice and crunchy. Adding texture to oatmeal is what takes it from blech to yum, am I right?
Next, all I had to do was mix together the rolled oats, chia seeds, and liquids.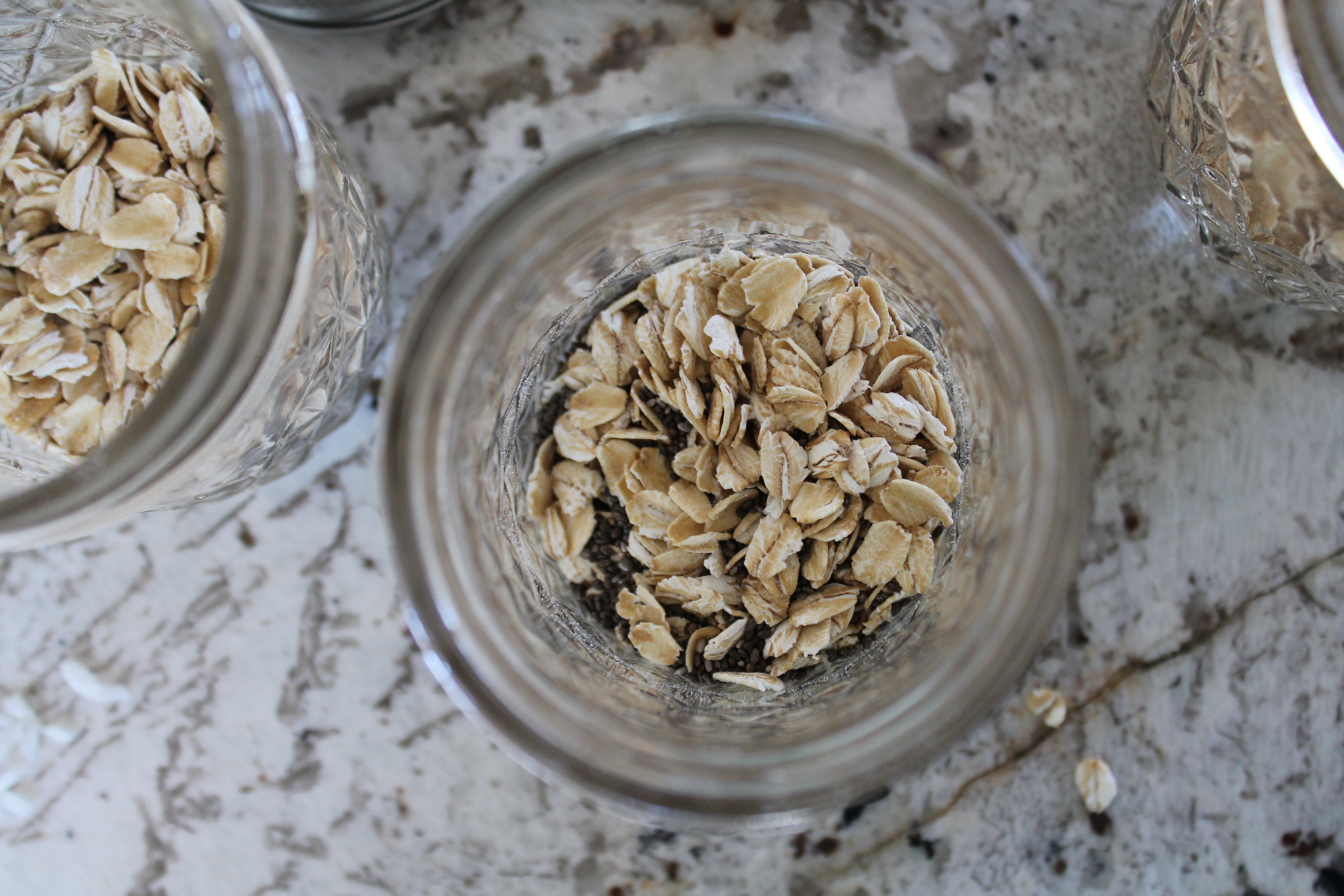 In order to make these oats really a time saver, I made several jars at once. Of course, you can use any container and make as many or as few as you like! The oats will soak up the liquid and keep perfectly in the fridge for several days.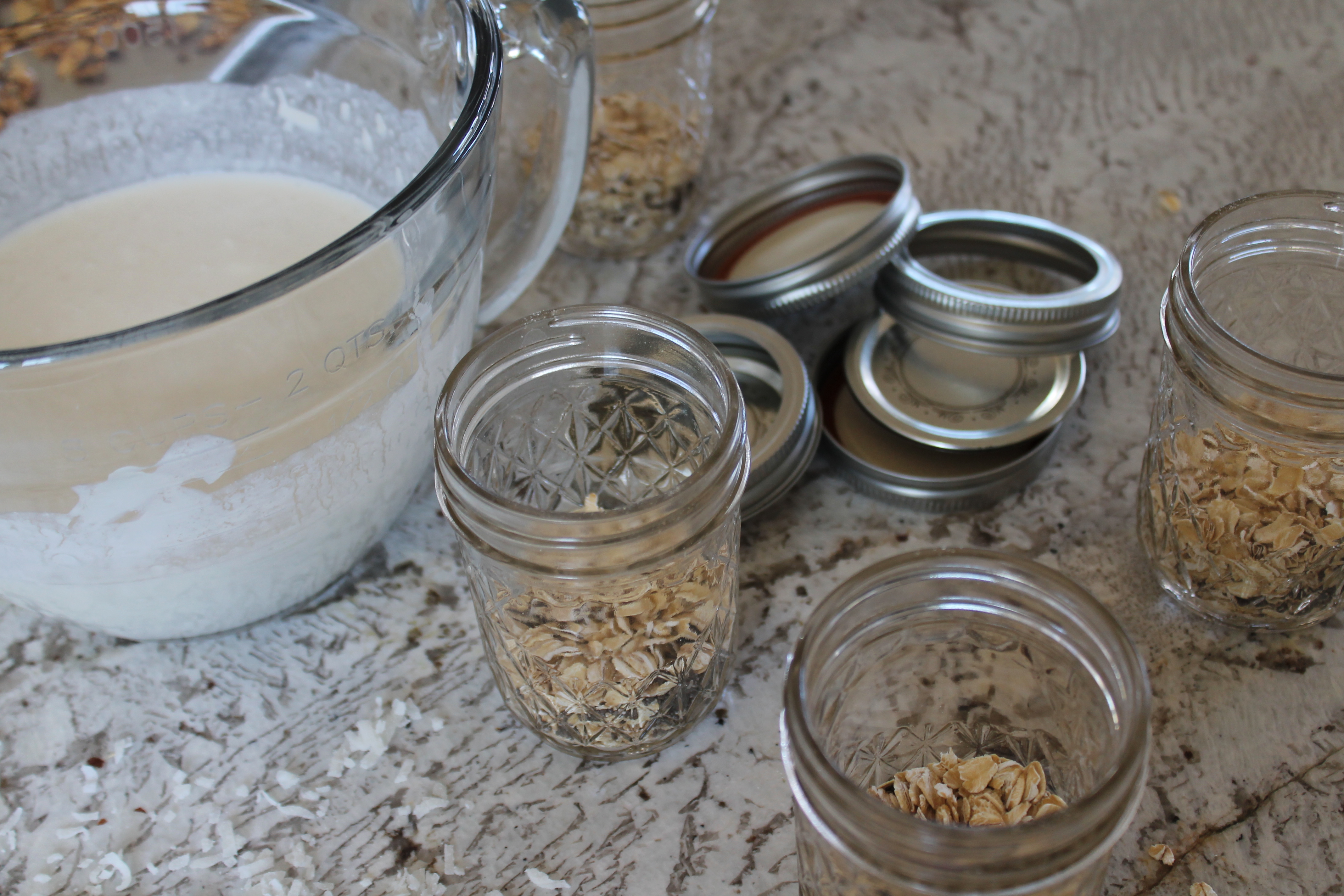 Stir together Greek yogurt (I used plain, but vanilla or even coconut yogurt would work! Or, to make this breakfast vegan, use vanilla Greek style coconut milk yogurt), coconut milk (I highly recommend you use the coconut milk found in the dairy section of the grocery store, rather than a can of coconut milk because the texture and flavor will be better; I only had unsweetened SO Delicious coconut milk on hand, but sweetened or vanilla would have been better), and shredded coconut. Next time I would toast the coconut slightly—not enough to brown it, just enough to dry it out and concentrate the flavor a little.
It's really vital to taste this mixture, because it will flavor your entire breakfast. After mixing the plain yogurt, unsweetened coconut milk, and coconut together, I tasted and concluded that liquid was too tangy and bitter without any sweetening at all, so I added some brown sugar. I also added a small splash of vanilla, because I love coconut and vanilla together. Whatever you do, just make sure you enjoy the flavor of the yogurt mixture, or else you will not enjoy your breakfast the next morning!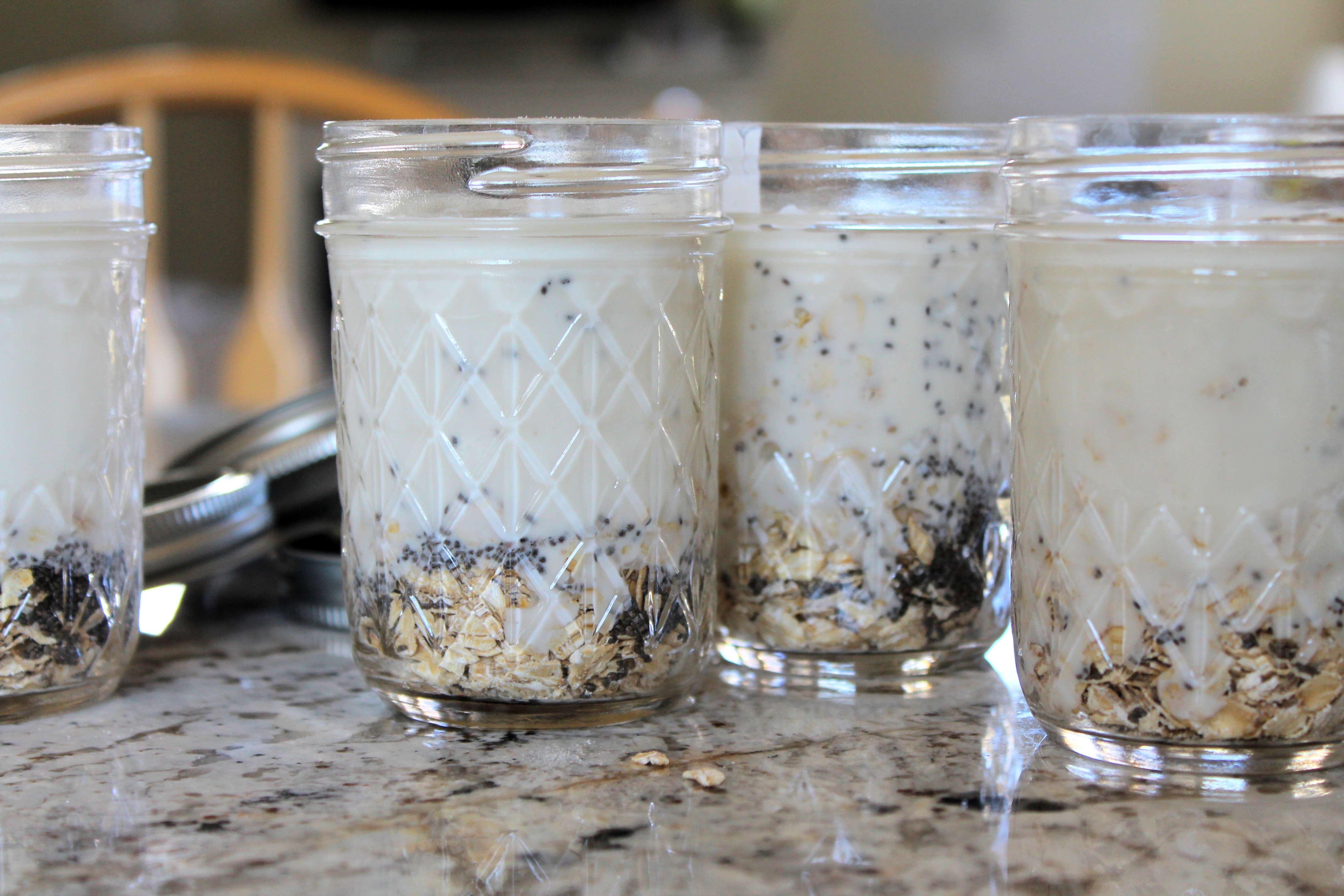 Pour the yogurt-milk mixture over the oats and chia seeds and stir. You must stir this mixture, otherwise you will end up with a half-soft, half-raw breakfast.
Soak the oats overnight (or for at least 4 hours) in the fridge.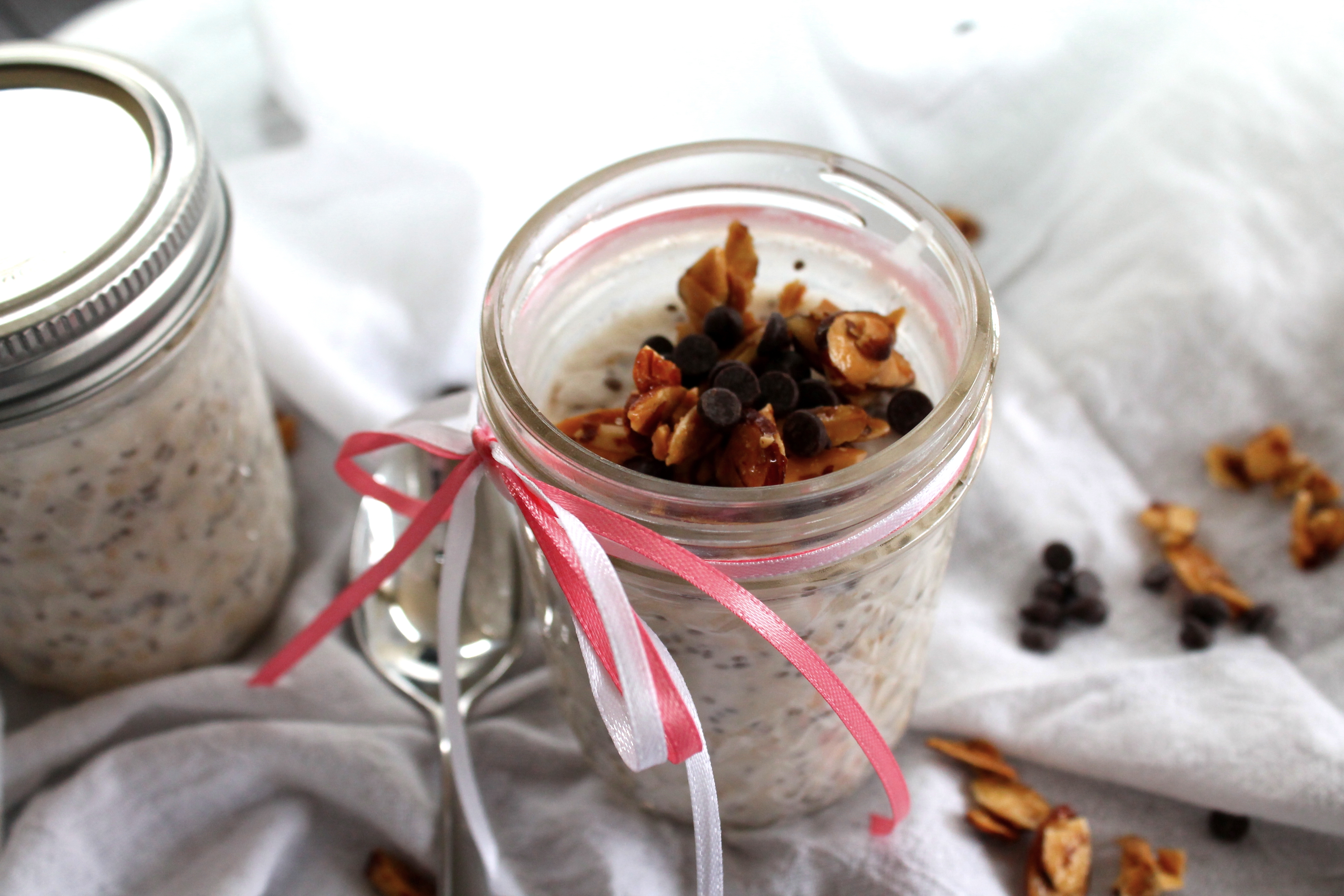 When you are ready to eat, toss some of the honeyed almonds and a spoonful of mini chocolate chips (you could go vegan with these, too! or you could go low-sugar and use toasted cacao nibs) on top, along with an extra drizzle of honey if you really like a sweet breakfast, and enjoy!
Overnight Oats with Coconut, Honey Almonds, and Chocolate
based on Well Dined
individual serving
Ingredients:
¼ cup rolled oats
1½ tsp. chia seeds
¼ cup Greek yogurt (plain, vanilla, or coconut)
⅓ cup coconut milk beverage (SO Delicious original or vanilla)
2 tbsp. sweetened shredded coconut, lightly toasted
pinch of brown sugar (optional)
2 drops vanilla extract (optional)
2 tbsp. honey almonds, recipe follows
1 tbsp. mini chocolate chips
drizzle of raw honey (optional)
Directions:
Combine the oats and chia seeds in a pint-size jar or other resealable container.
In a bowl, whisk together the yogurt, coconut milk, and coconut. Taste and add brown sugar or vanilla if desired.
Stir the yogurt mixture into the oats. Seal the container and chill in the fridge at least 4 hours or up to 3 days.
When ready to serve, top with honey almonds and mini chocolate chips.
Honey Almonds
a Melissa original
makes ½ cup
Ingredients:
½ cup raw sliced almonds
1 tbsp. raw honey
1½ tsp. brown sugar
¼ tsp. kosher salt
Directions:
Heat the oven to 350°. Spread the almonds on a small, rimmed baking sheet.
Roast the almonds for 16 minutes, tossing them in the pan every 4 minutes, until they are lightly golden brown.
Stir the hot nuts together with honey, sugar, and salt.
Spread the honeyed nuts out on the cookie sheet and bake another 2–4 minutes. Cool completely, then break apart and store in an airtight container.
Enjoy!