I can remember the first time my mother ever added chocolate chips to pancake batter. It was basically the best thing that ever happened to Sunday morning breakfast, as far as I was concerned!
In the intervening years, I have eaten more than my fair share of chocolate chip pancakes, and my conclusion is that nothing competes with homemade! Homemade pancakes land on my plate when they are just warm enough to melt the whipped cream, of which there is never a shortage (I will try not to judge you if you are crazy enough to put maple syrup on chocolate pancakes, but I am all about the sweet cream), and the pancakes are always just chocolatey enough to satisfy my sweet tooth without sending me into a sugar coma. Basically perfection.
Pancakes have been one of my major cravings during this pregnancy, so it seemed fitting to share a delicious pancake recipe with you during the final days before my little daughter is born!
I recently stumbled across a new pancake recipe that absolutely begged for the addition of chocolate chips! Of course, it's easy to add chocolate chips to any standard pancake recipe, but some batters are thin enough that the chips sink to the bottom of the bowl and don't distribute evenly across all the pancakes. My mom's solution to this was to sprinkle chocolate chips on the pancakes after pouring them onto the griddle—and that's always what I have done, as well!
But this pancake batter is so thick, thanks to a huge amount of baking powder, that the chips actually can stay suspended in the batter after you mix them in! I love these pancakes because they are not heavy, they are barely sweet, and they never brown too much while they are cooking. Not only that, but they rely on ingredients I always have in the pantry and fridge!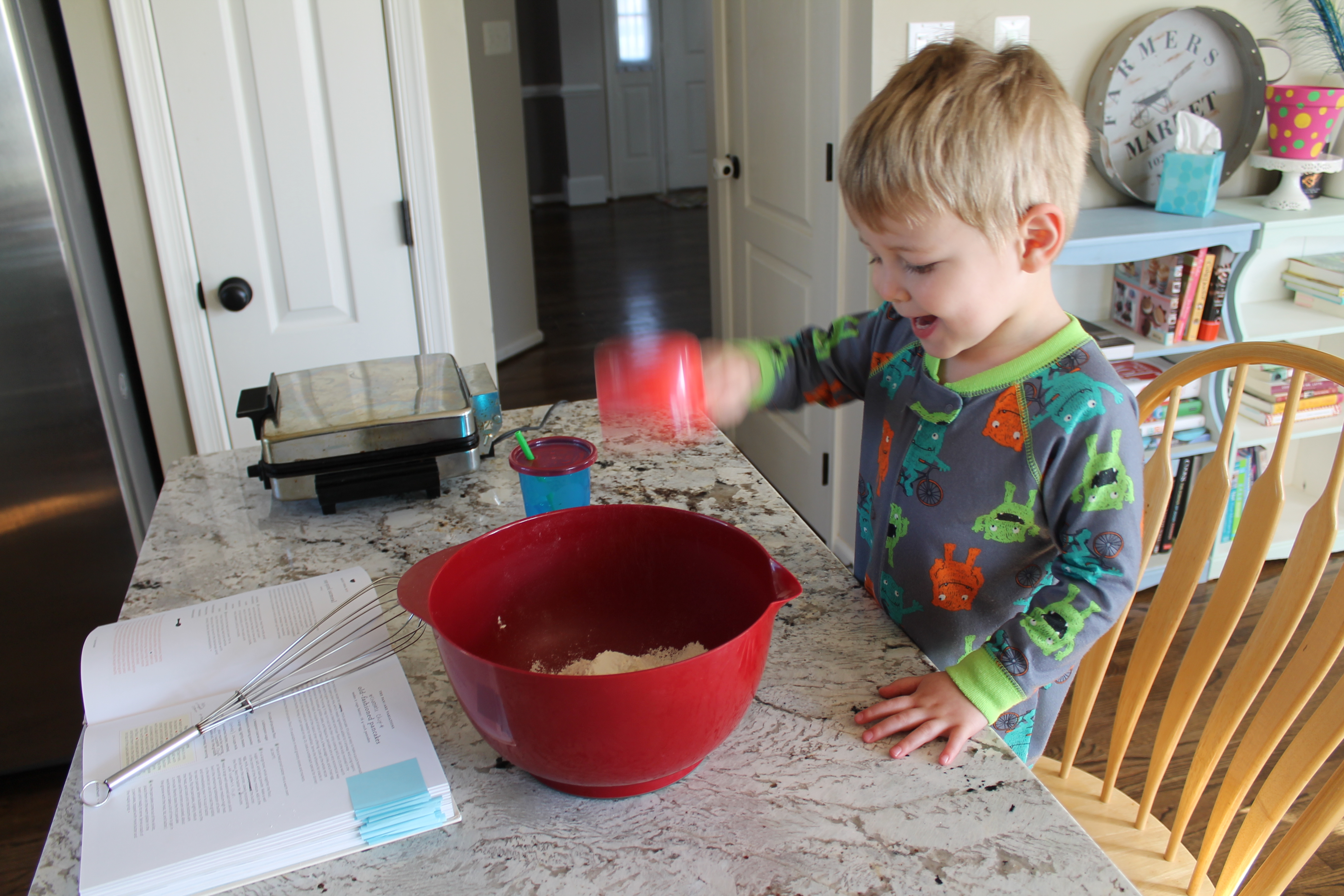 Jake basically made these pancakes for me. They are that easy. (But no, I didn't let him do the griddle work.)
Whisk together the flour, sugar, salt, and baking powder. This is a huge amount of baking powder, but the extra leavening is what produces such a thick, fluffy batter.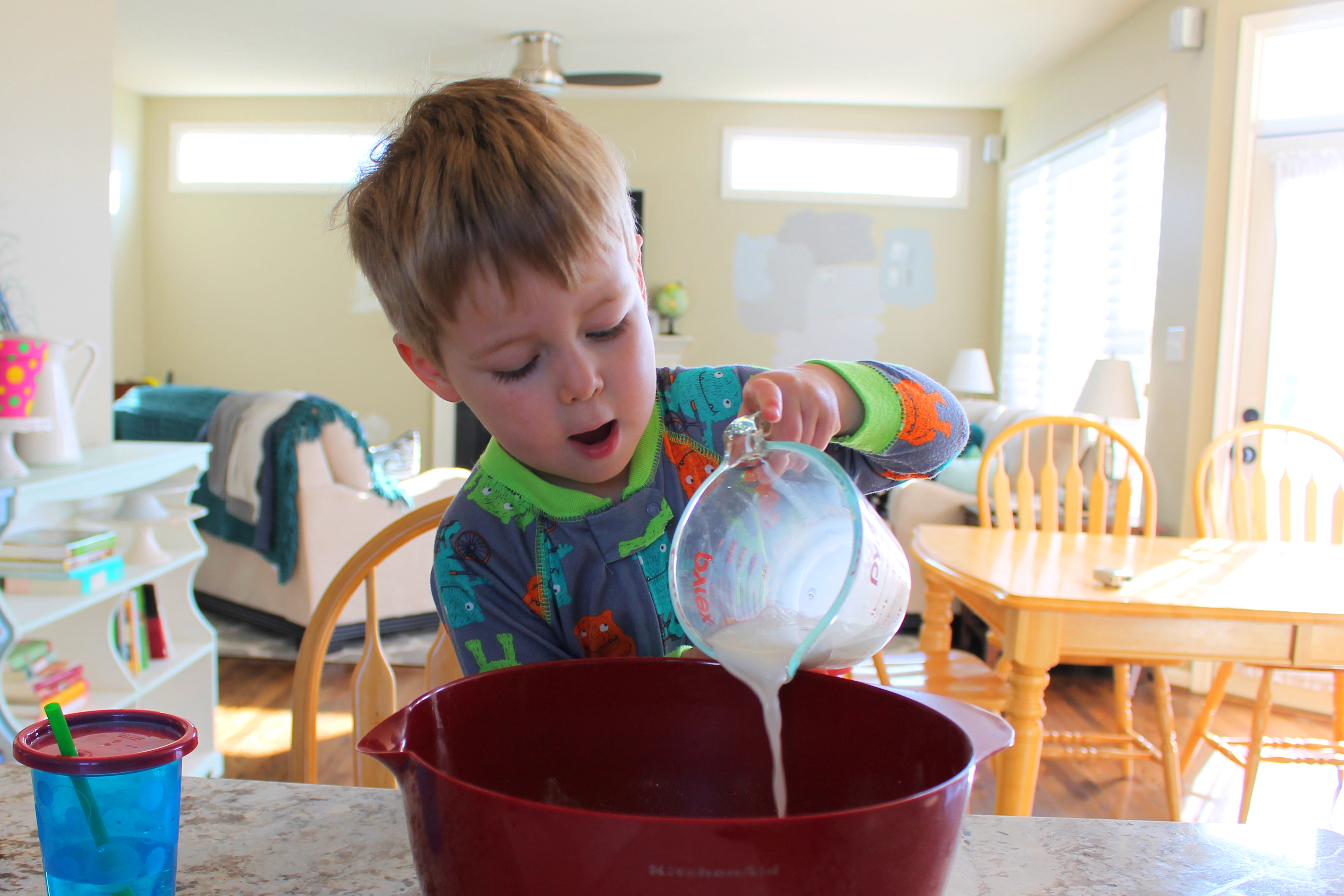 Add the egg, milk, and melted butter. I used whole milk because I had it on hand for baking purposes, but I imagine low-fat milk would also work just fine.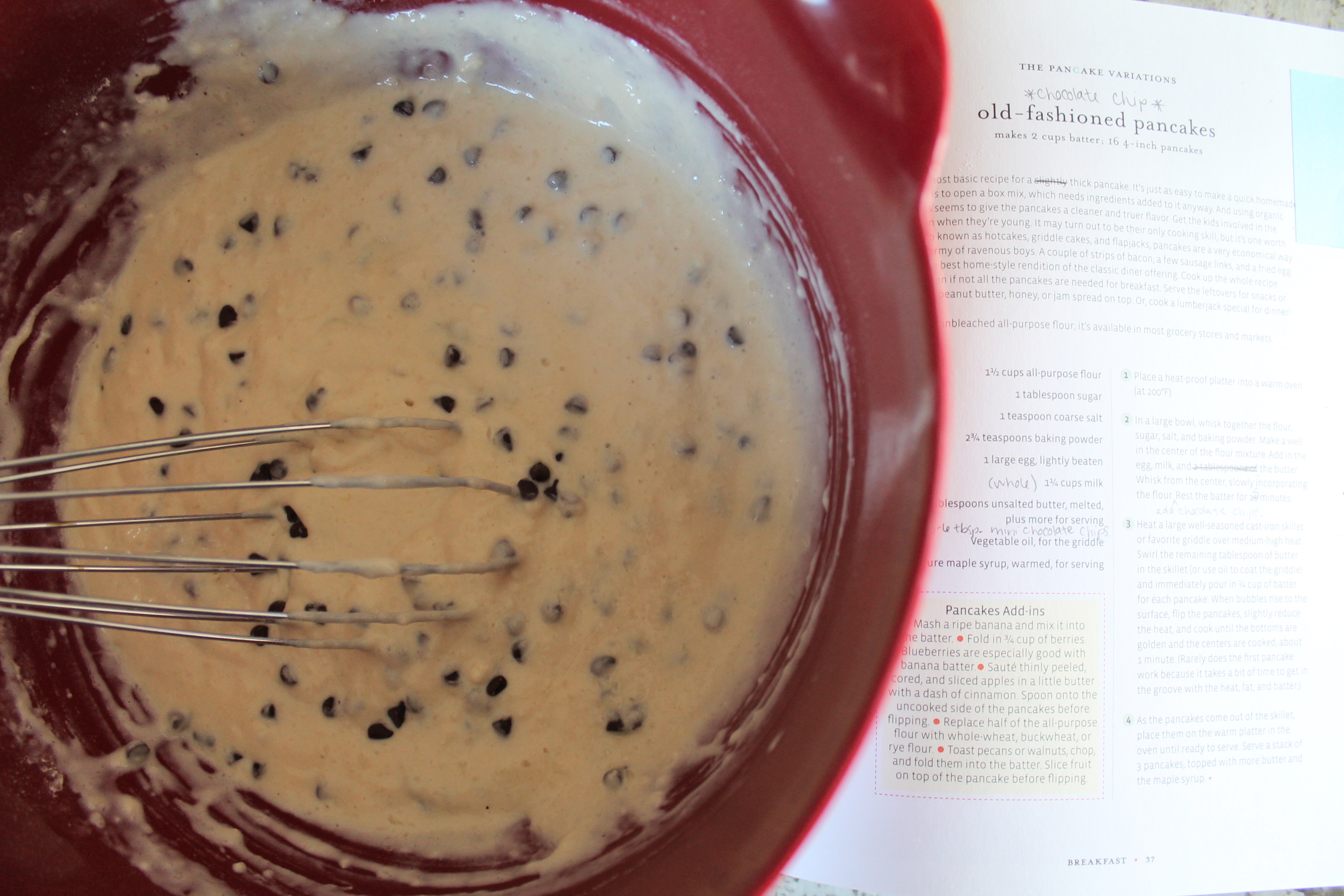 Whisk until the batter is nearly smooth, then stir in the chocolate chips. I highly recommend mini chocolate chips for pancakes, because they distribute through the batter better and they are small enough to melt while the pancakes cook. Regular-size chocolate chips can work, too, of course, but I think the minis are worth it!
Let the batter sit for a minute or two to continue thickening as the baking powder activates.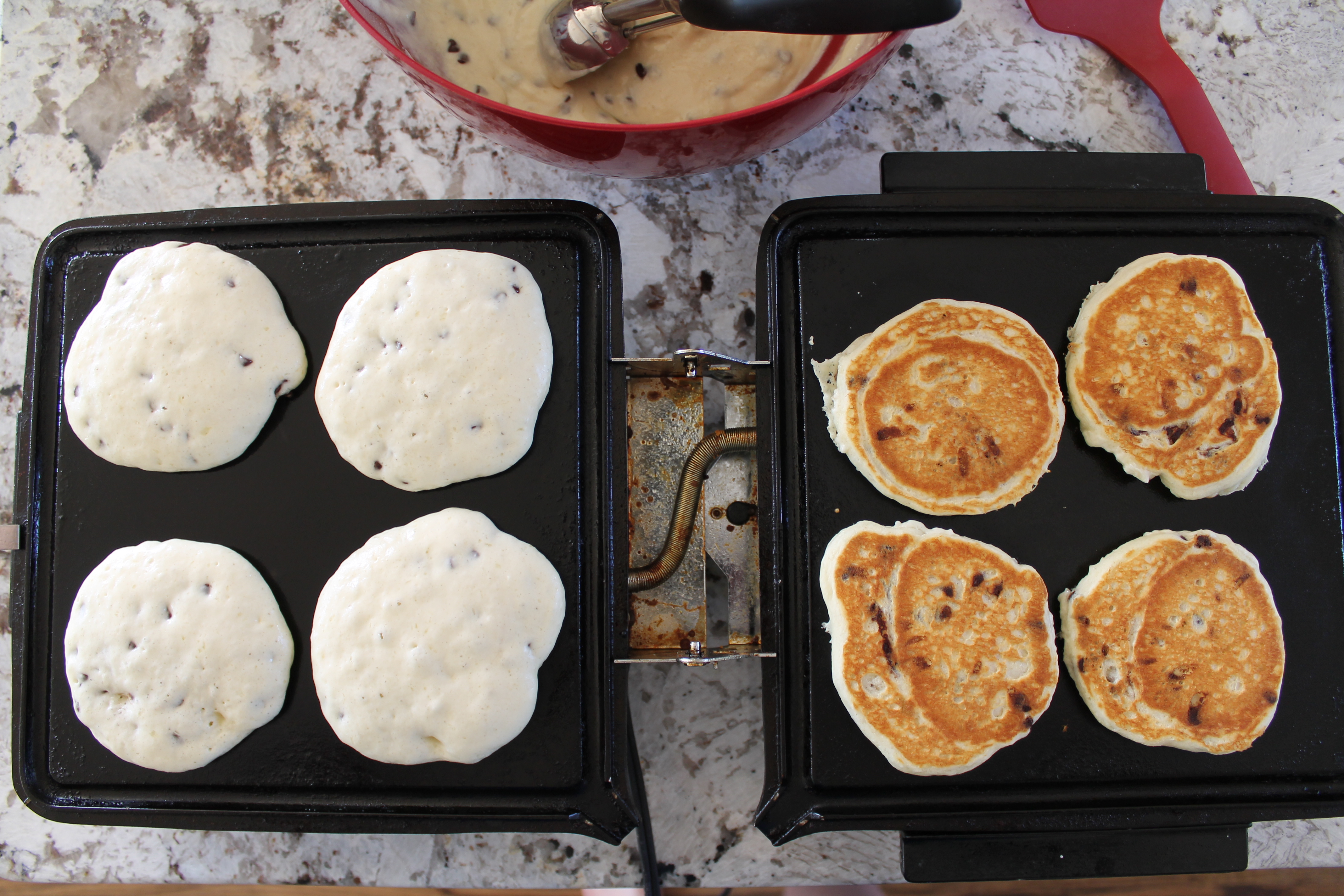 Scoop the batter onto a hot griddle and gently spread them into 4″ circles. Try not to stir the batter too much, or it will pop all those lovely little bubbles that made the pancakes so fluffy.
Cook the pancakes for 2–3 minutes, or until the edges start to look rounded and dry. The tops of these pancakes won't bubble too much, but they should rise slightly and stop looking wet. Flip the pancakes (the bottoms should be golden) and cook another 2 minutes.
Set the pancakes on a large serving plate and cover with foil while you cook the rest. I usually get 18–20 small pancakes from this recipe, which is more than enough to serve our (current) family of 3!
While the pancakes cook, whip some cream! In my opinion, there is nothing better for chocolate chip pancakes than whipped cream. And certainly, if you are concerned about sugar intake, whipped cream is much better than maple syrup! I whip 1 cup of heavy cream to very soft peaks, then add 1 tbsp. sugar and whip until very stiff. Stiffer really is better in this case, even though it's a little less pretty, because the pancakes will be warm and softer whipped cream would quickly become runny against the heat of the pancakes.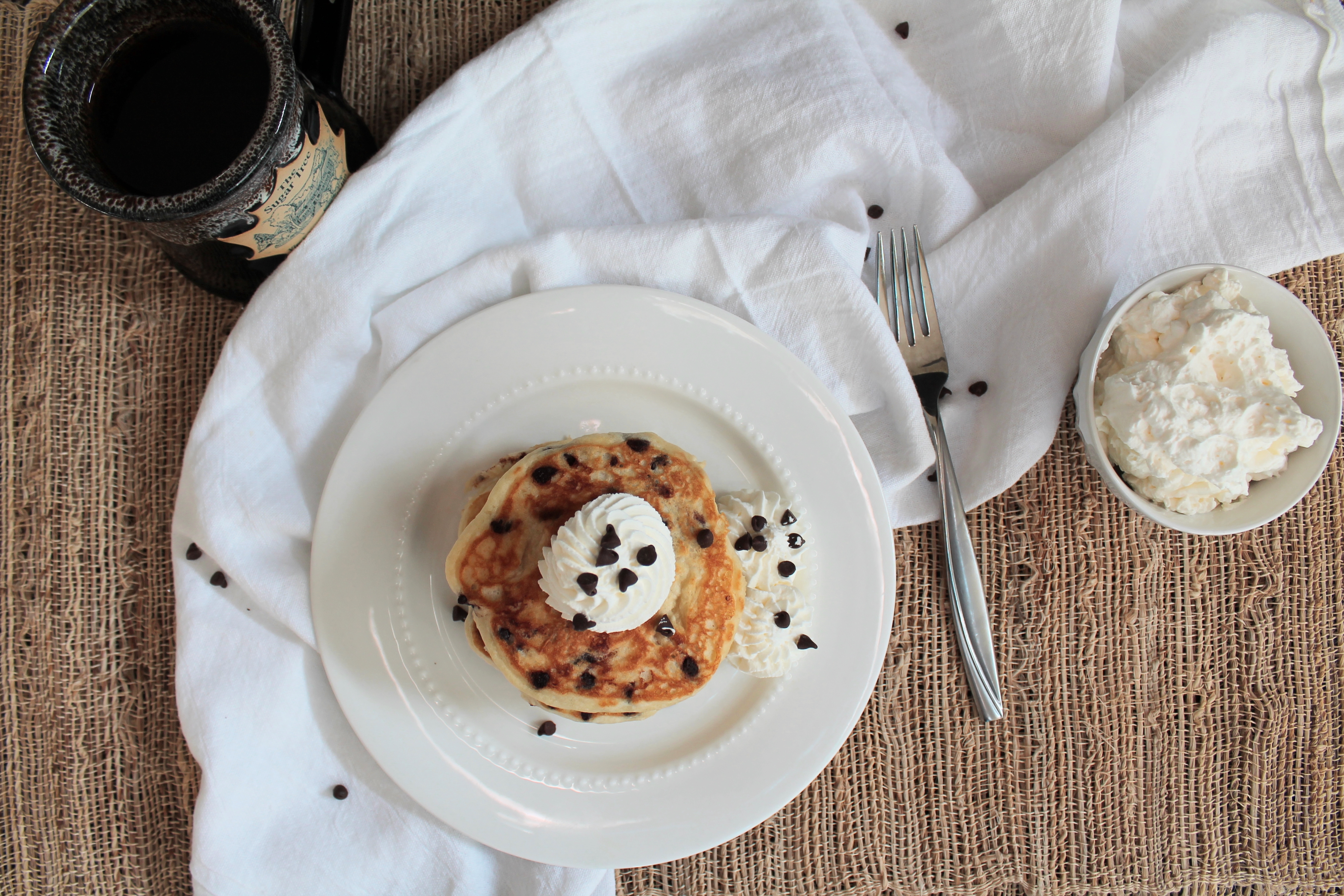 Serve the pancakes immediately after they are all cooked, with mugs of steaming coffee and large dollops of fresh whipped cream! Breakfast is delightful.
Fluffy Chocolate Chip Pancakes
adapted from Mad Hungry
makes about 18 small/serves 4
Ingredients:
1½ cups flour
1 tbsp. sugar
1 tsp. coarse kosher salt (or ¾ tsp. table salt)
scant 1 tbsp. baking powder
1 egg, lightly beaten
1¼ cups whole milk
3 tbsp. unsalted butter, melted
6 tbsp. mini chocolate chips, plus extra
fresh whipped cream, for serving
Directions:
Begin heating a pancake griddle or large skillet over high heat.
Whisk together the dry ingredients.
Make a small well in the center of the dry ingredients and add the egg, milk, and butter. Whisk until just combined, then add the chocolate chips and whisk to distribute evenly.
Let the batter sit for 2 minutes, then scoop using a cookie scoop onto the hot griddle. Spread into 4″ circles.
Cook the pancakes for 2–3 minutes per side, or until browned and cooked completely through.
Serve with fresh whipped cream and a sprinkle of extra chocolate chips, if desired.
Enjoy!