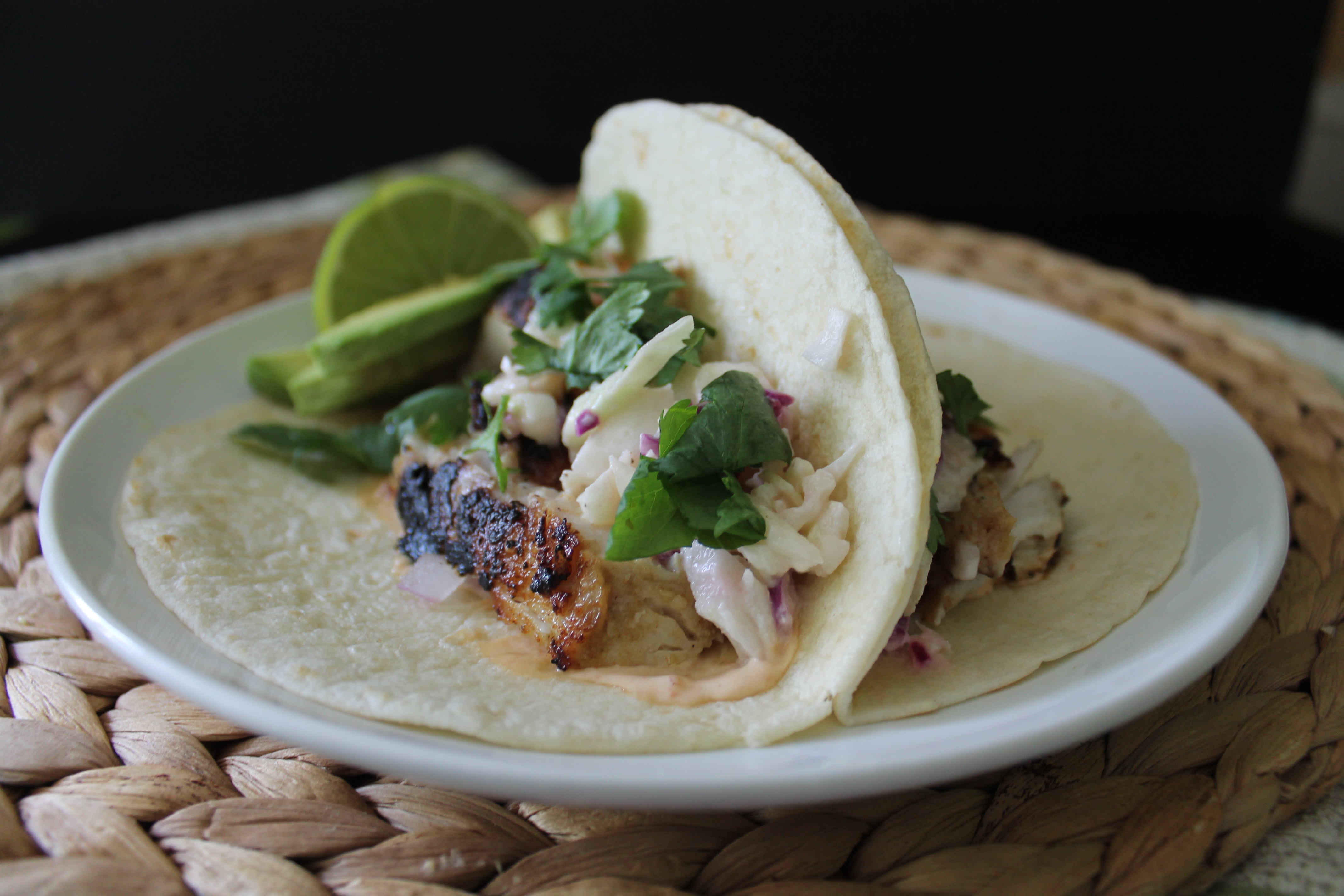 I have long been on a quest for the perfect fish taco to make at home: something spicy and tangy and crunchy and earthy that makes me lick my fingers and go back for more. And let me tell you, I have really had some fish taco failures at home—there are so many different recipes to be found, so many marinades and toppings, so many ideas about what makes a good taco! And the truth is that the basic, classic ingredients that make up a fish taco, white fish and coleslaw, can be quite bland.
I am forever ordering fish tacos in restaurants so I can examine them and make mental notes. (Note to self: do not drop an enormous chunk of fried fish inside a tortilla, top it with three shreds of cabbage, and call it a taco. Yuck.)
But Sarah and I were determined to get it right! I think this recipe is a winner, a taco I would make again and again. The coleslaw is sharp and limey, the chipotle mayo adds just the right amount of heat, and the fish is flaky and well seasoned. Taco heaven!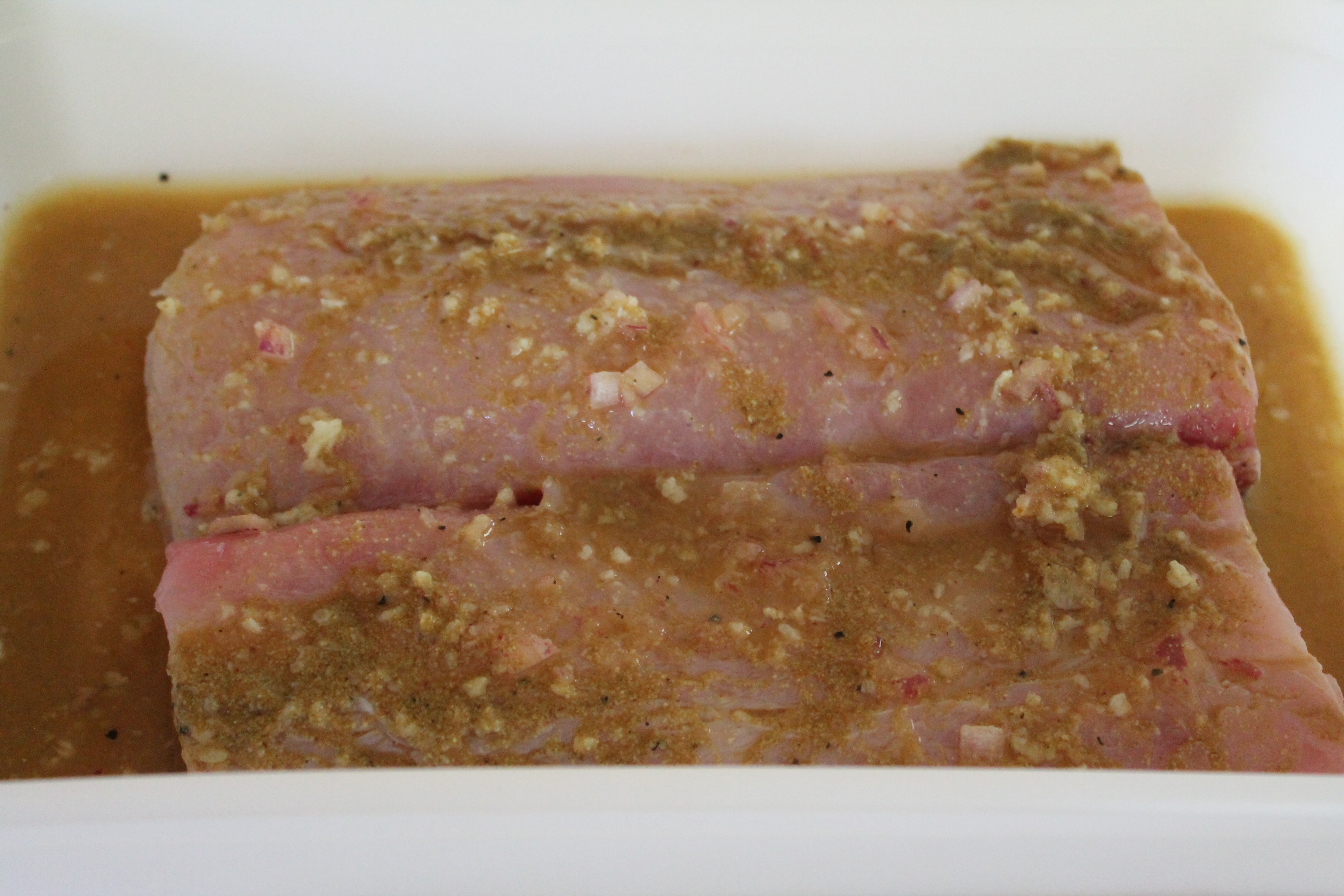 We started by marinating the mahi-mahi. Mahi-mahi is a perfect fish for tacos because it is a larger fish and therefore the flanks are thicker. This is good for cooking because you can get a nice char without totally murdering the fish—but really any mild white fish would work in this recipe! Sarah got the idea for making a spiced tequila-lime marinade, and I think it was absolute perfection.
Before you ask, we did puzzle over what to suggest as a substitute for tequila and we came up dry. (Haha.) Honestly, if you don't have tequila on hand, I would suggest rubbing the fish, top and bottom, with the spices and onion, then sprinkling with the lime juice on both sides before cooking. There simply is no replacement for tequila!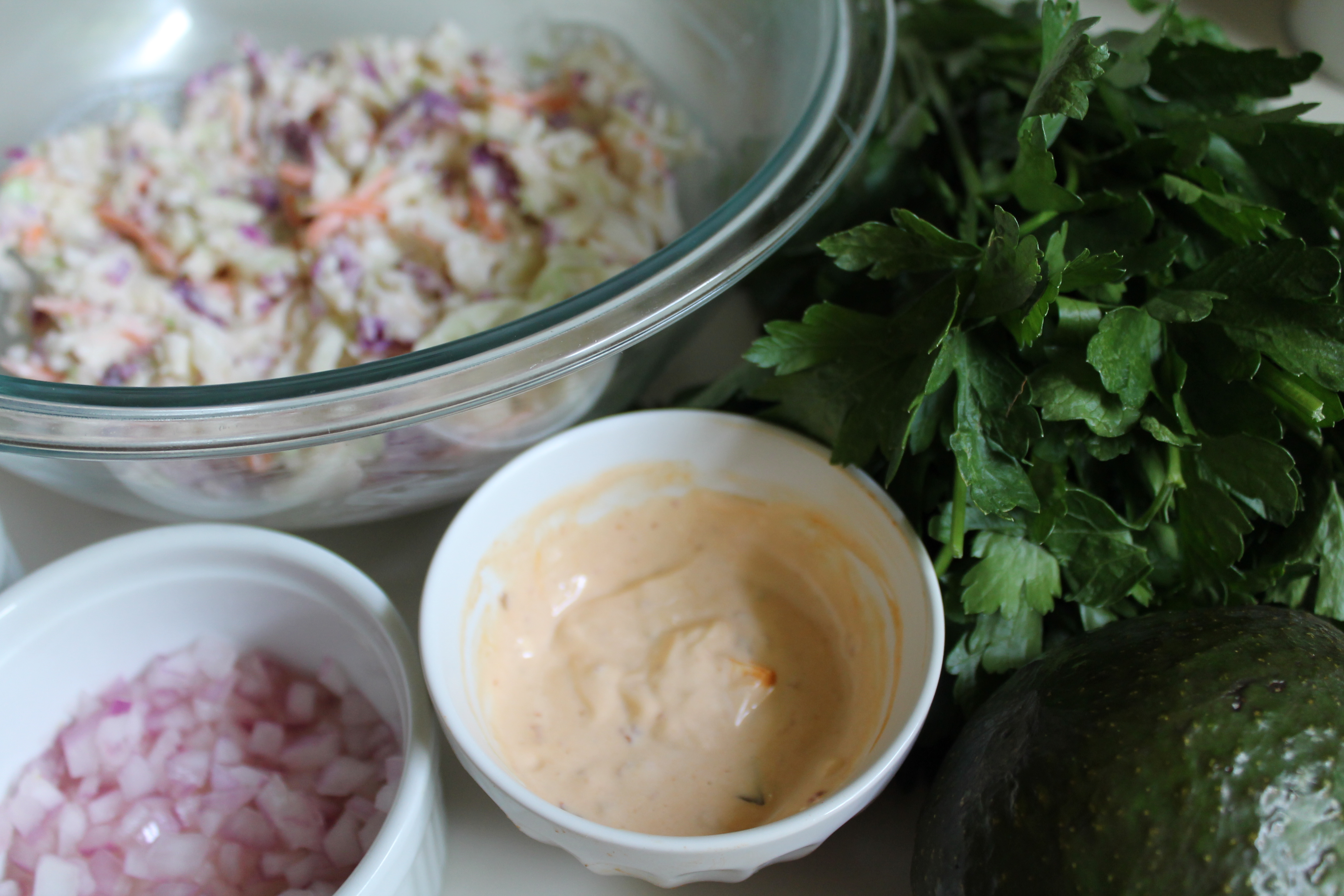 While the fish marinates, prepare the coleslaw. We had pre-shredded cabbage and carrots, but ideally you would thinly slice a cabbage for this coleslaw, so that the coleslaw can be long and sleek inside the taco. You can use almost any variety of cabbage you like here. Stir the cabbage together with sour cream and the juice of one lime. You could also add cilantro directly into the coleslaw, but I find that sometimes fresh herbs become a bit slimy and brown when they sit in a dressing for too long, so I added cilantro to my taco separately. Season with salt and black pepper. Set aside for the flavors to blend.
Stir together a quick chipotle mayo (as you may imagine, mayonnaise and a minced chipotle pepper with a spoonful of adobo will do the trick!) and thinly slice an avocado.
And, of course, the wonderful thing about tacos is that you can use any condiments that you'd like: Sarah also added some queso fresco and some pickled red onion to hers!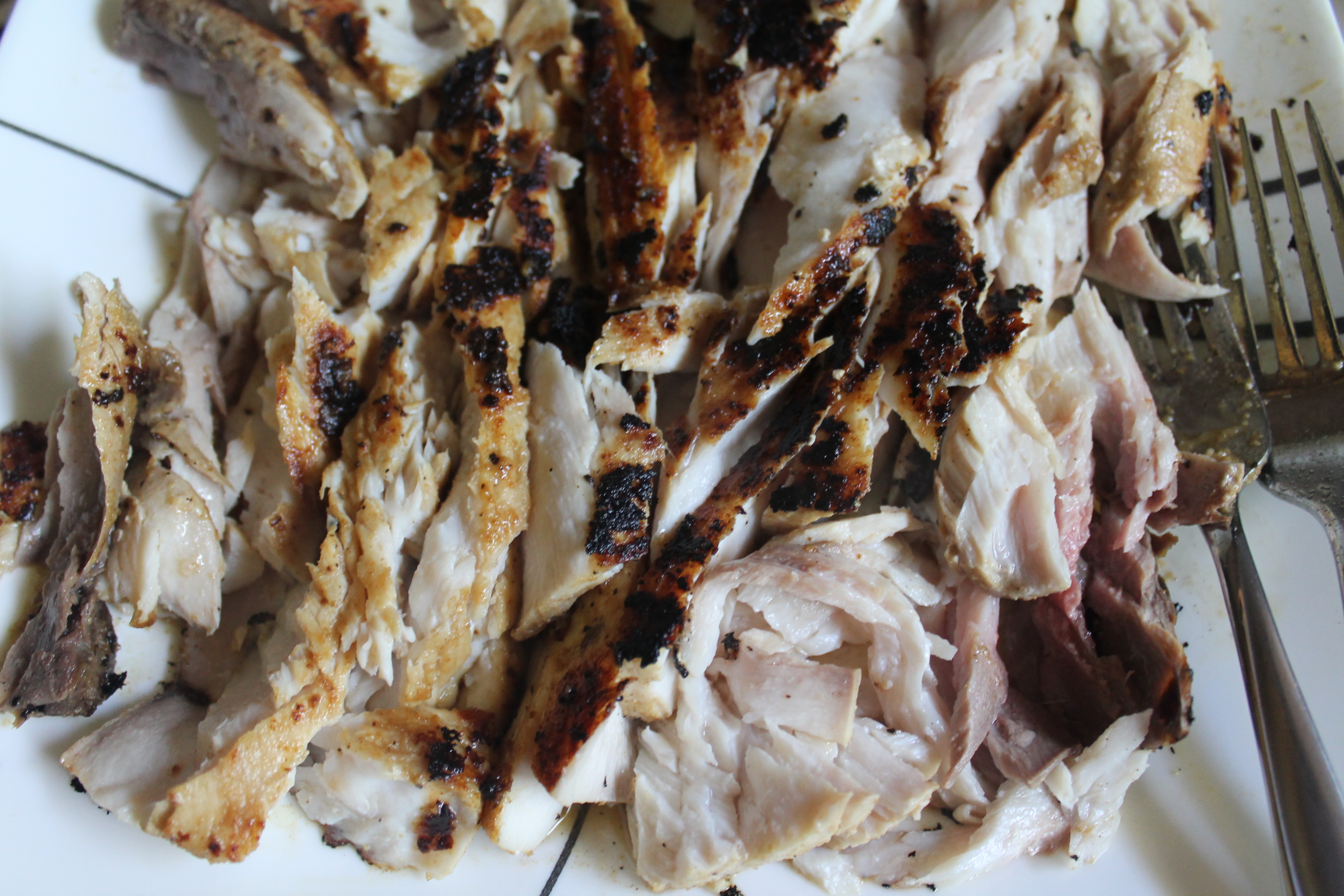 Grill or sauté the fish about 3 minutes on each side over very high heat. A little blackening is a good thing for a taco! (If your fish flank is very thin, adjust the time down a little to avoid overcooking it.) Remove the fish from the heat and set it aside to rest for a few minutes. Using forks, pull the mahi-mahi into flakes.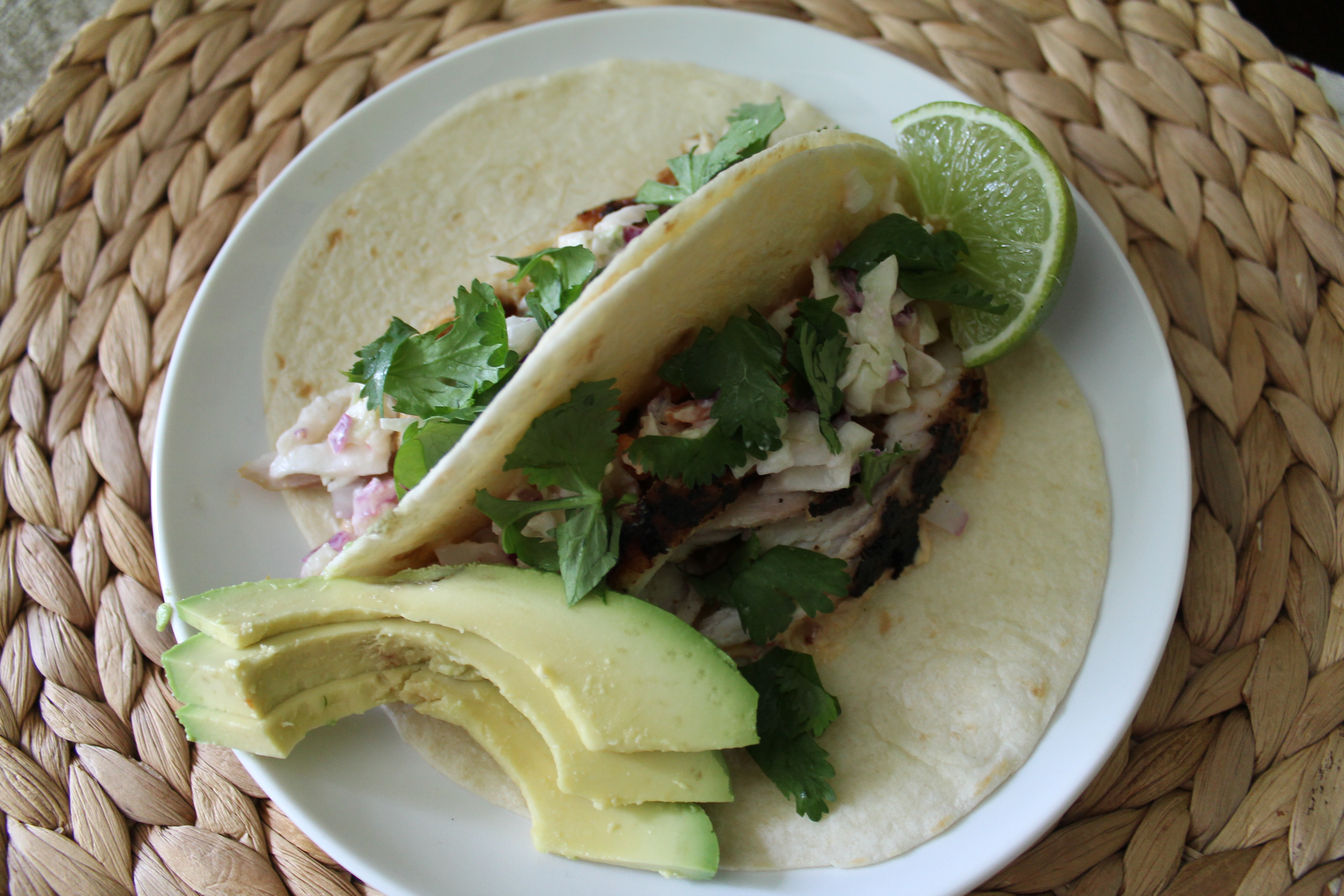 Time to assemble tacos!
Warm some small tortillas in a dry sauté pan. Fill them simply and not too full: a stripe of chipotle mayo, about a quarter cup of flaked fish, a spoonful of coleslaw, and some cilantro. Garnish with a few slices of avocado and a generous drizzle of lime juice. Yum!
Fish Tacos with Chipotle Mayo and Coleslaw
a Smells Like Brownies/Well Dined collaboration
marinade adapted from Guy Fieri
serves 4
Ingredients:
3 tbsp. tequila
3 tsp. cumin
2 large cloves garlic, minced
1 tbsp. grated red onion
2–3 limes, divided
kosher salt and fresh ground black pepper
1½ lb. flank mahi-mahi, skinned
1¾ cups thinly slivered or shredded cabbage
¼ cup shredded carrot
⅓ cup sour cream
2 heaping tbsp. mayonnaise
½ chipotle pepper in adobo, minced, plus 1–2 tsp. adobo sauce
8 small white tortillas
¼ cup chopped fresh cilantro
1 ripe avocado, sliced
Directions:
Mix together the tequila, cumin, garlic, red onion, and juice of one lime. Season the marinate to taste with salt and pepper.
Set the mahi-mahi in a wide, shallow container and pour the marinade over top. Marinate on the counter for at least 20 minutes, turning the flank over halfway. (Or marinate in a resealable plastic bag in the refrigerator for up to 3 hours—any longer and the acidity of the marinade may start to cure the fish.)
While the fish marinates, combine the shredded cabbage, carrot, sour cream, and juice of 1 more lime. Taste and season as desired with salt and pepper. Set aside for flavors to brighten. Toss the coleslaw again just before dishing onto the tacos.
Stir together the mayonnaise and chipotle pepper plus adobo and set aside.
Heat a grill or sauté pan over high heat. When hot, remove the fish flank from the marinade and place carefully on the hot surface, top side down. Let the fish cook about 3 minutes, then carefully turn over. Don't worry if the flank breaks, just turn all the pieces to ensure they cook through.
When the fish is cooked, remove it from the heat and let it rest 2–3 minutes. Using forks, gently pull the flank apart into its natural flakes.
Warm the tortillas in a dry pan over medium heat so they will become pliable. (If you don't have a tortilla warmer to store the hot tortillas, a good makeshift warmer is simply a plate and several layers of foil: place a layer of foil in between each tortilla so they stay hot and don't stick together.)
Assemble the tacos with a stripe of chipotle mayo, fish, coleslaw, and additional toppings such as cilantro and avocado slices. Drizzle with extra fresh lime juice.
Enjoy!