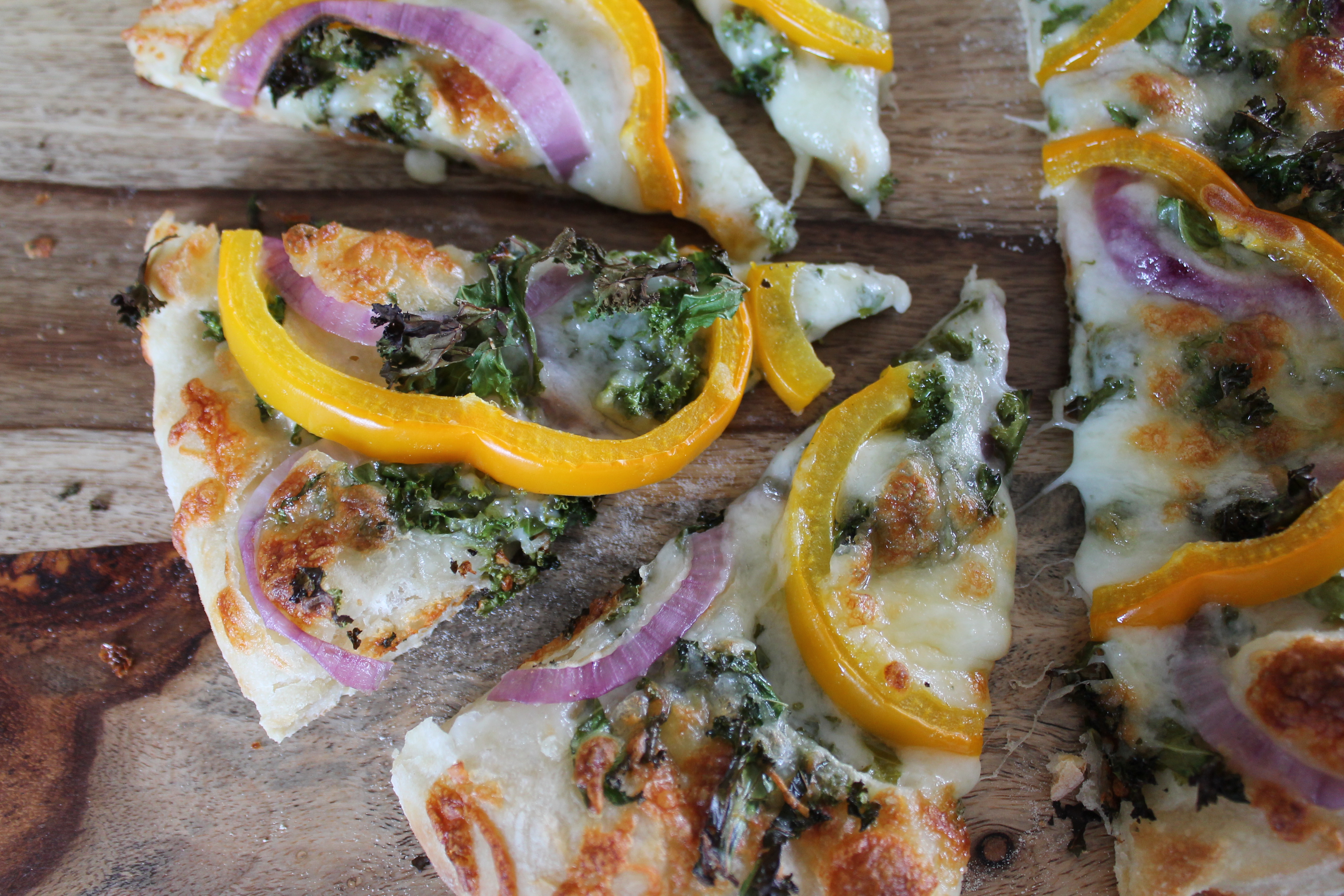 Recently, I had quite a shock: apparently, my husband likes kale.
What?!
When did this happen, and how did I not know about it?
In other news…this pizza is delicious (and healthy, to boot)! Since there is no sauce, it is a breeze to put together. I love how the kale crisps up in the oven and adds a rich, savory note to the melty cheese and the sliced peppers and onions.
P.S., my (apparently kale-loving) husband said he preferring this pizza over the kale-free, saucy version I made to serve with it. Will wonders never cease?
This pizza is seriously easy. I am going to recommend basic amounts, but please modify these based on the size of your crust! I was working with a small pizza, about 10″ in diameter, so bulk up on cheese and veggies if you made/bought a larger crust!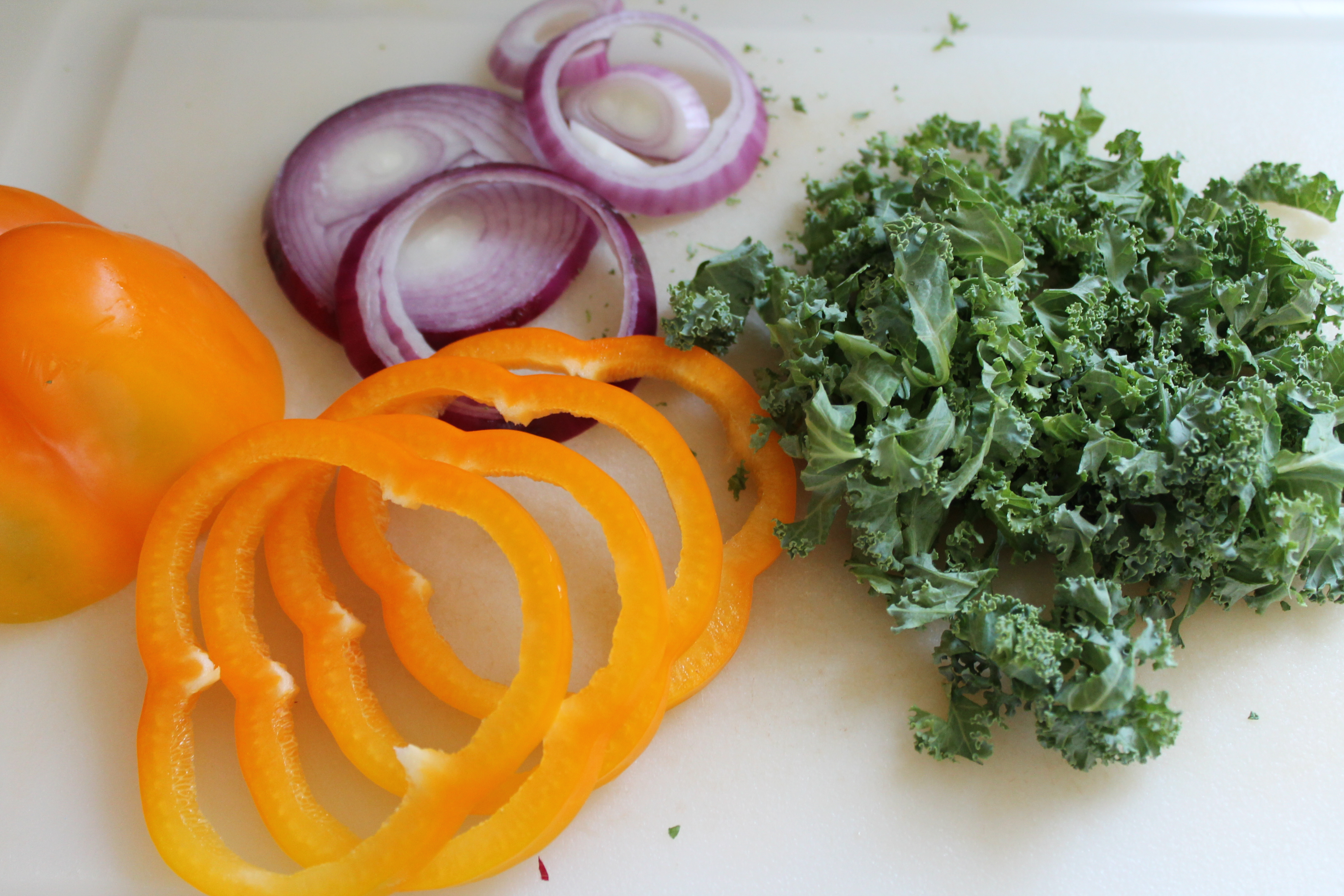 Remove the ribs and thinly slice 2 leaves of curly kale. I like to pretend I am slicing my kale in ribbons, even though you can't generally get curly kale to cooperate fully with a nice, neat slicing regime. Thinly slice about half a bell pepper (orange or red make a pretty contrast against the green kale and purple onion), leaving the rings in tact, and cut 2 thin slices of onion, again aiming for the rings. This is a fairly small amount of veg…it barely took any time to prepare, right? And it still could be enough to top 2 pizzas. Woohoo!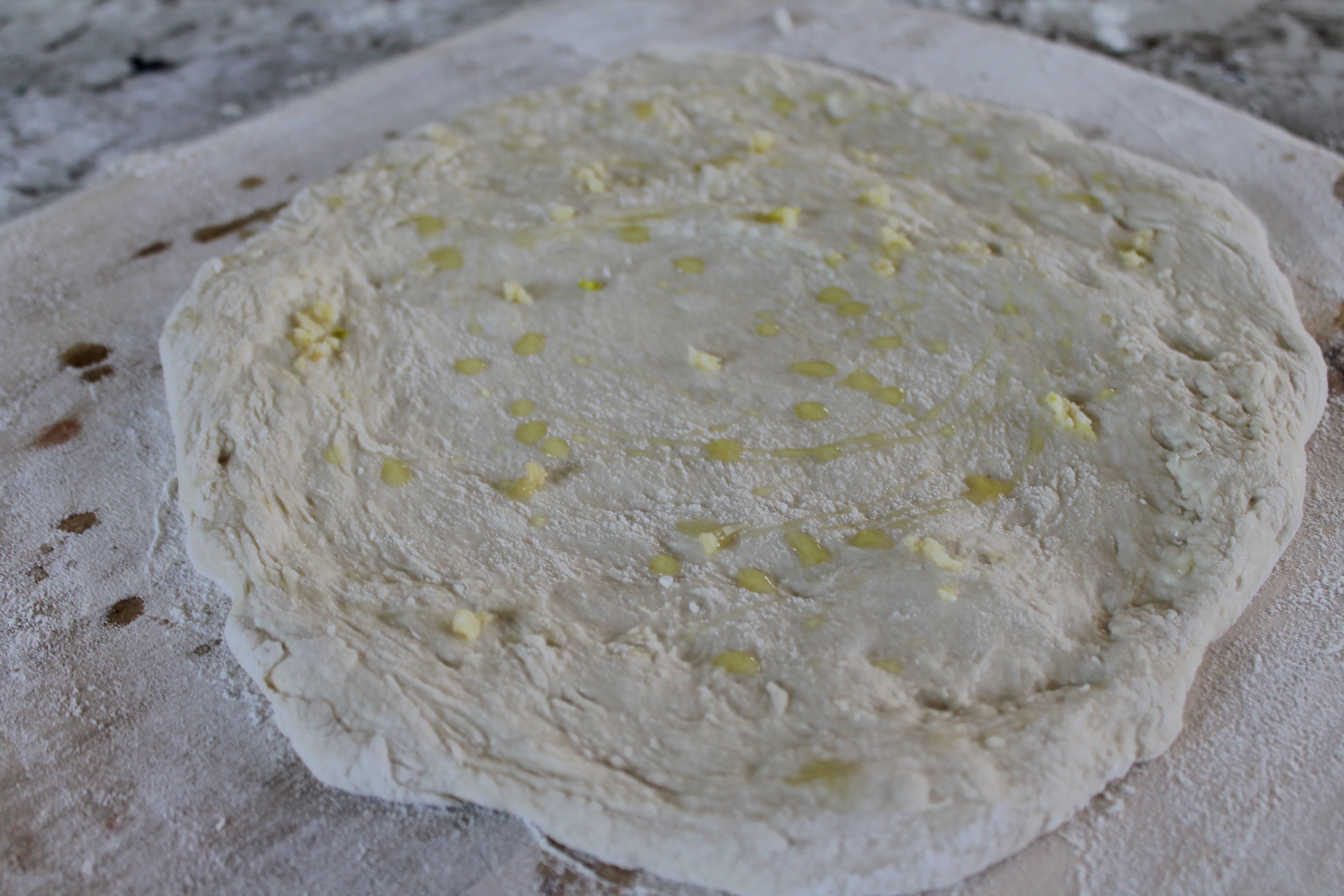 So. Place a shaped but raw pizza crust on a cornmeal-coated pizza peel (I obviously floured my pizza peel here…which sometimes works fine, but in this particular case, made a mess—cornmeal is safer!). If you don't have a pizza peel, you can use any other large, flat surface, such as a baking sheet or a cutting board! Just make sure to sprinkle some cornmeal or a lot of flour on the surface before placing your crust on it, that way it will be able to slide off into the oven.
Also, preheat your oven, complete with pizza stone (or heavy-duty baking sheet). Heat the oven as high as it will go, at least to 500° or up to 550°. (Okay, my new oven goes to 550°, but I usually heat to 500° out of habit, because that's as hot as the old oven in my old house could get!)
Very lightly drizzle the raw pizza crust with olive oil and sprinkle some minced garlic over top. I generally just use a knife to flick little bits of the garlic onto the crust right from my garlic press. It's okay if there are some bigger clumps as long as the whole clove doesn't end up in the same bite!
Grab a double handful of the chopped kale (so about 1 cup) and toss it with 1 cup shredded mozz. I like to buy pre-shredded mozzarella, because otherwise the cheese is so soft that it crumbles and makes a funky melty mess while I try to grate it. Let's not wrestle with that, amiright?
Spread the cheese and kale mixture atop the garlicky pizza crust, then arrange rings of bell pepper and onion around the top of the crust. On my 10″ crust, I found that 3–4 slices of each completely covered the pizza. Don't overwhelm it with toppings!
If you want, drop a little extra cheese over top of the veggies. Or not.
Open the oven and carefully slide the pizza off the pizza peel onto the hot stone. Don't stress if it gets a little misshapen. Or if some of the toppings fall off. It's not the end of the world. (If a lot of toppings fall off the pizza, you can quickly grab some mitts and pull the stone out of the oven, rearrange the toppings, and pop the stone back in the oven. That's part of the beauty of a hot stone…it's working!)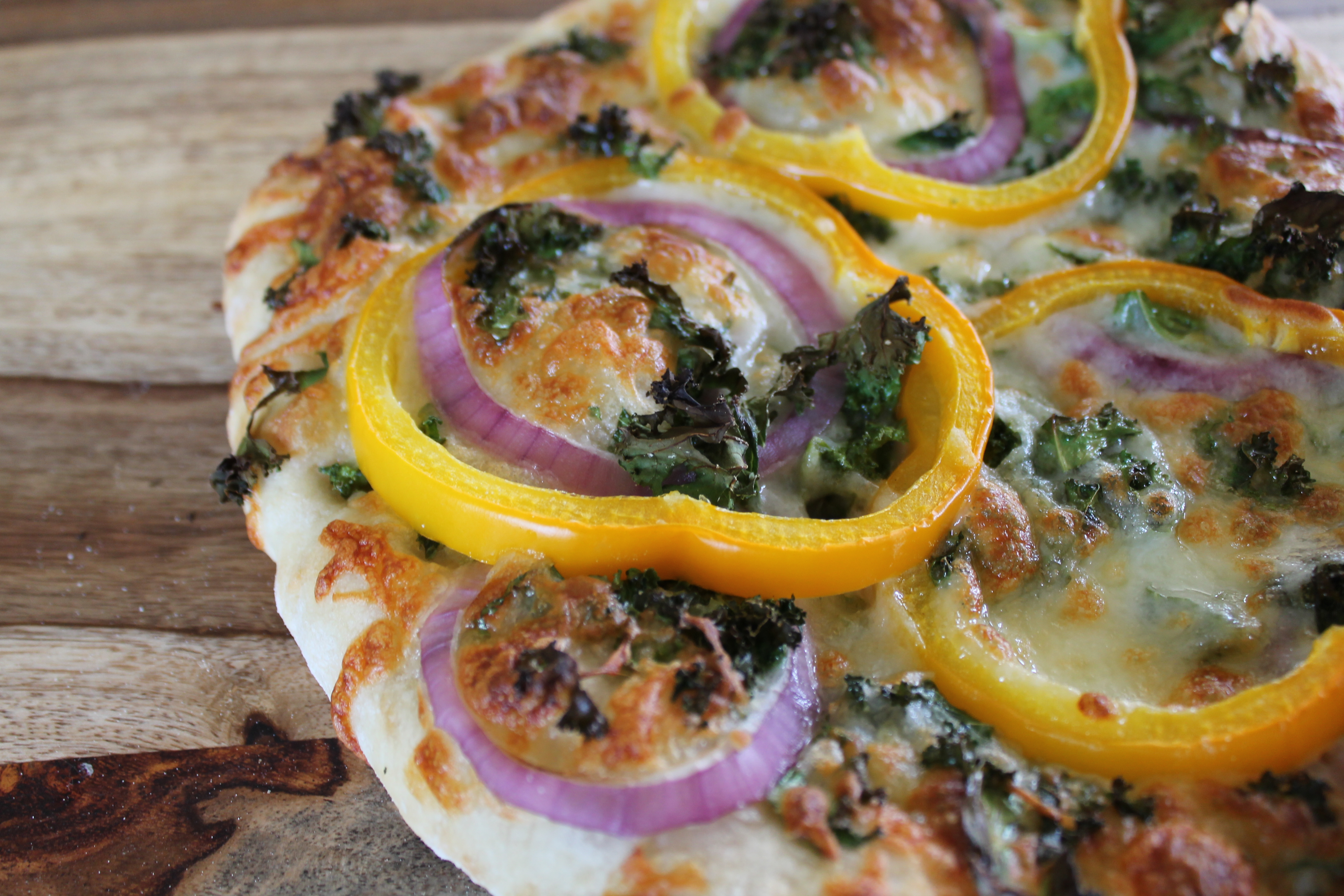 Bake the pizza for 10 minutes, or until the cheese is bubbly and beginning to brown and the kale is starting to crisp. Yum.
Slice and serve! Your taste buds (and your family/friends) will thank you.
Kale, Pepper, and Onion White Pizza
inspired by Primavera Kitchen
serves 2/makes one 10″ pizza
Ingredients:
1 10″ round unbaked pizza crust
1 tbsp. olive oil
1 clove garlic, minced
1 packed cup chopped kale
1 cup shredded mozzarella
2 thin slices red onion, pulled apart into rings
½ orange or red bell pepper, sliced into rings
Directions:
Preheat oven to 500°. Set a baking stone inside the oven to get hot.
Place the pizza crust on a cornmeal-covered pizza peel. Drizzle with olive oil and sprinkle with flecks of minced garlic.
Toss the kale and mozzarella together and spread evenly over the crust. Layer the onion rings and bell pepper rings over the cheese.
Slide the pizza onto the hot baking stone and bake for 10 minutes, or until bubbly and beginning to brown.
Slice immediately and serve hot.
Enjoy!