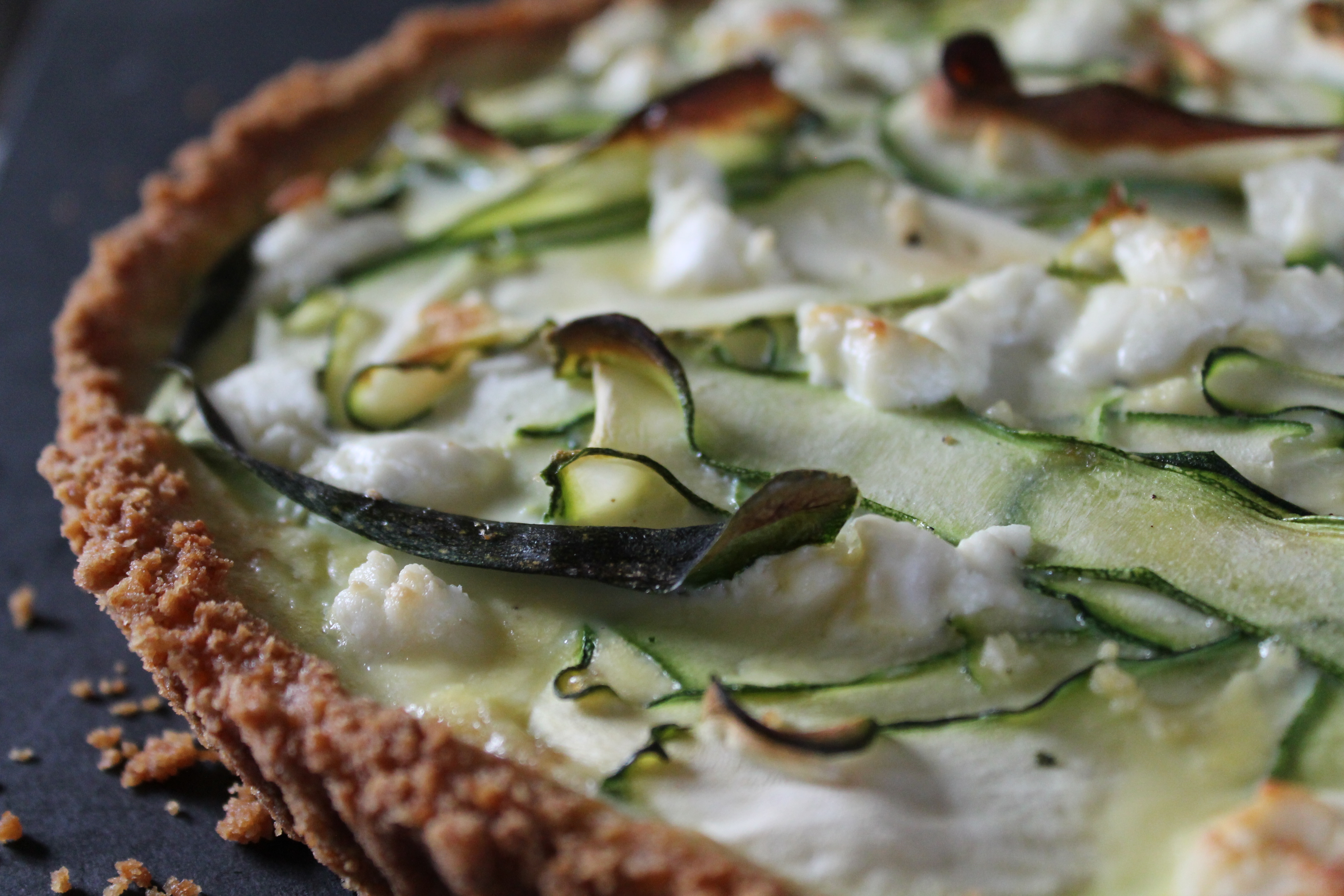 I laughed out loud when I saw the name of my Secret Recipe Club blog for July: Why I Am Not Skinny. That's a question I ask myself an awful lot, usually after a bowl of homemade ice cream or a third slice of pizza.
I was seriously tempted to make Maxine's crepes…lately I have been all too eager to make breakfast, and dinner has sort of turned into a black hole into which I throw takeout and yes, more breakfast foods (and I wonder why all this baby weight is stubbornly sticking around….).
For some reason, both my kids have started losing their cool at exactly 5:00pm. Dinner is hard.
Which is why quiche for dinner is perfect! First of all…it is kind of like breakfast (but healthier and more filling than a plate full of carby sugar)! Second of all, you can prep quiche several hours before baking it, which makes the witching hour much less dreadful.
This quiche is a delicious way to dig into some fresh summer squash! I used zucchini, but yellow crookneck squash would also do! Add in a mound of crumbly soft goat cheese and, if you have it, a bit of saffron, and this quiche is a tasty treat!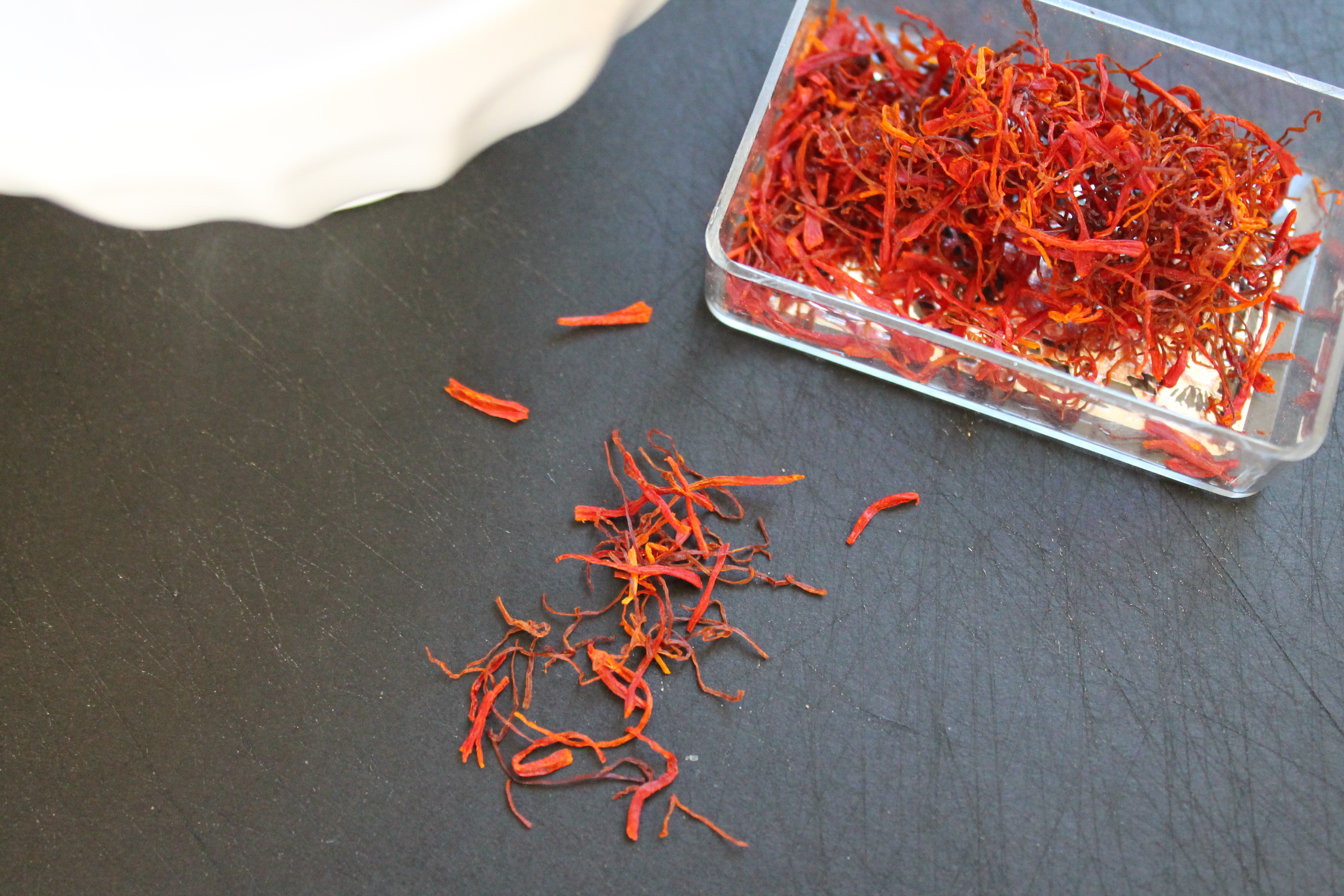 Let's talk about saffron for a minute. Saffron…one of the most expensive spices in the world. I almost skipped using saffron in this quiche (which you can do if you can't find or afford to buy these precious threads), but I happened to have some in my pantry, sitting around with nothing to do after an attempt at a seafood paella a few months ago, so I ended up giving it a try. I have long thought that saffron was little more than an expensive way to dye foods yellow, but I did a little research and read about maximizing flavor and how to use saffron well.
Apparently, saffron is meant to impart more of an aroma than a distinct flavor. So…maybe that's why I had been ambivalent toward it.
If you like saffron, and have the time, here's what I recommend: barely toast the threads on the stovetop, then drop them into a small amount of very warm water and leave it to steep for several hours. If you can keep the water warm during this time, then the saffron will steep more thoroughly, the ends of the stigmas will turn white, and it will be more worthwhile. (Of course, having nothing to compare it to, I'm not 100% sure this strategy is absolutely necessary, but it didn't take any extra effort to try it, just a little planning ahead!)
To be honest, I am still not sold on saffron. Still seems like an expensive yellow food coloring. So include it or leave it out, whatever you please!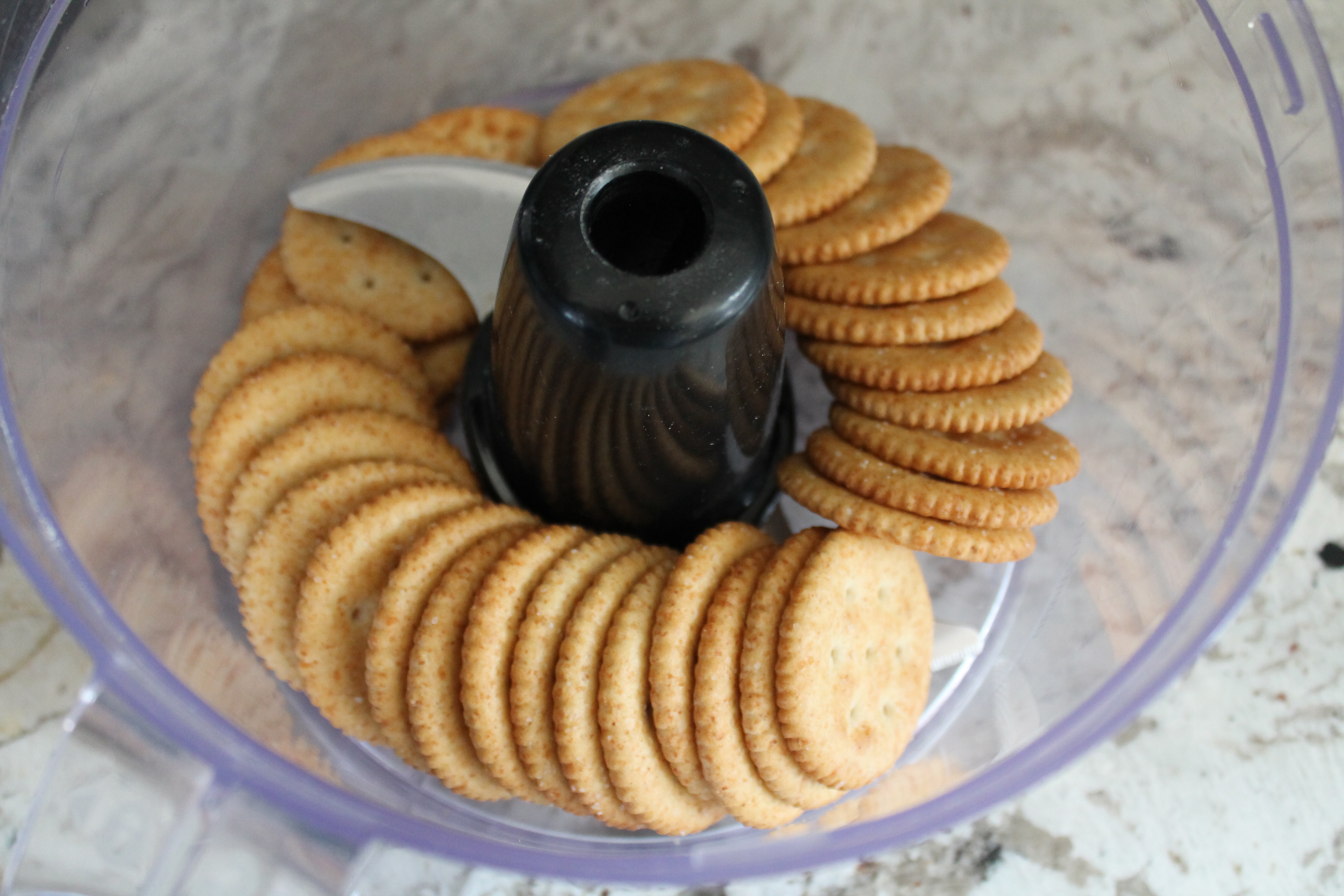 We are going to do a cracker crust for this quiche. Because as much as I love making pie crust (and seriously, you should learn to make pie crust, because homemade crust is wonderful!), pressing a mound of buttery cracker crumbs into a tart pan is a lot faster than chilling and rolling out pastry, and a cracker crust will not shrink in the oven like butter pastry sometimes does. We are aiming for simplicity!
(Also, don't you think crackers go great with goat cheese? Yes.)
Now for a bit of honesty: the cracker crust turned out to be a little simpler in inspiration than in execution. Not that it was challenging to put together! Far from it—combine cracker crumbs and melted butter, bing bang boom—but it did behave rather strangely in the oven.
More on that later.
For now, press the sandy cracker crumbs into a tart shell or pie plate. Bake the crust for about 7 minutes, just to set it and give it a little crispness.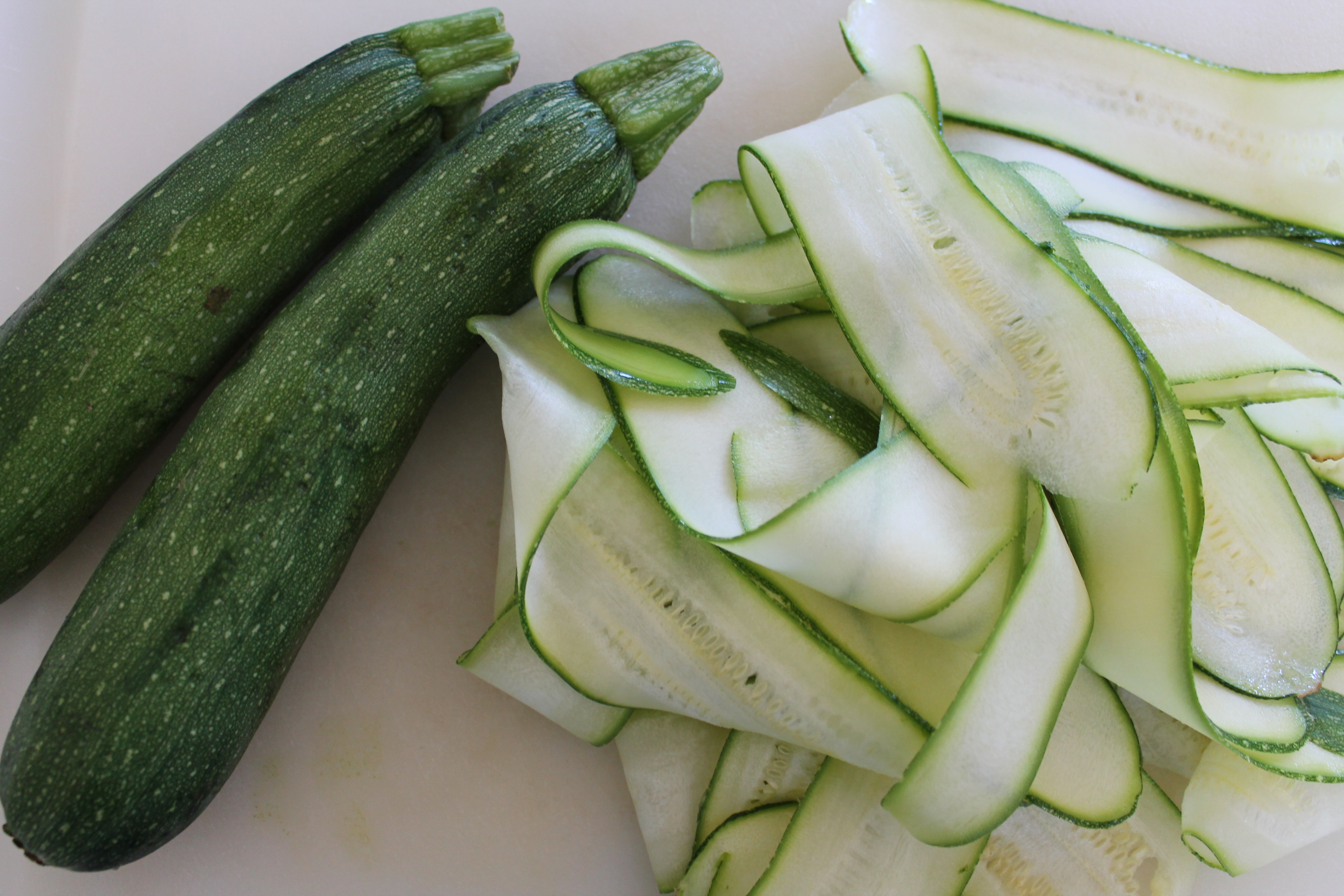 Meanwhile, take a vegetable peeler and shave the zucchini into ribbons.
I love using fresh veggies because it saves time (and dishes) and preserves some of the nutrients, but when you are making a quiche, there is the danger that the veggies will release too much liquid in baking and cause the bottom to get soggy. So I recommend pressing the zucchini ribbons between two layers of paper towels to remove excess moisture. You could salt them to help with this process, but I find that shaving veggies causes them to release quite a bit of liquid on its own.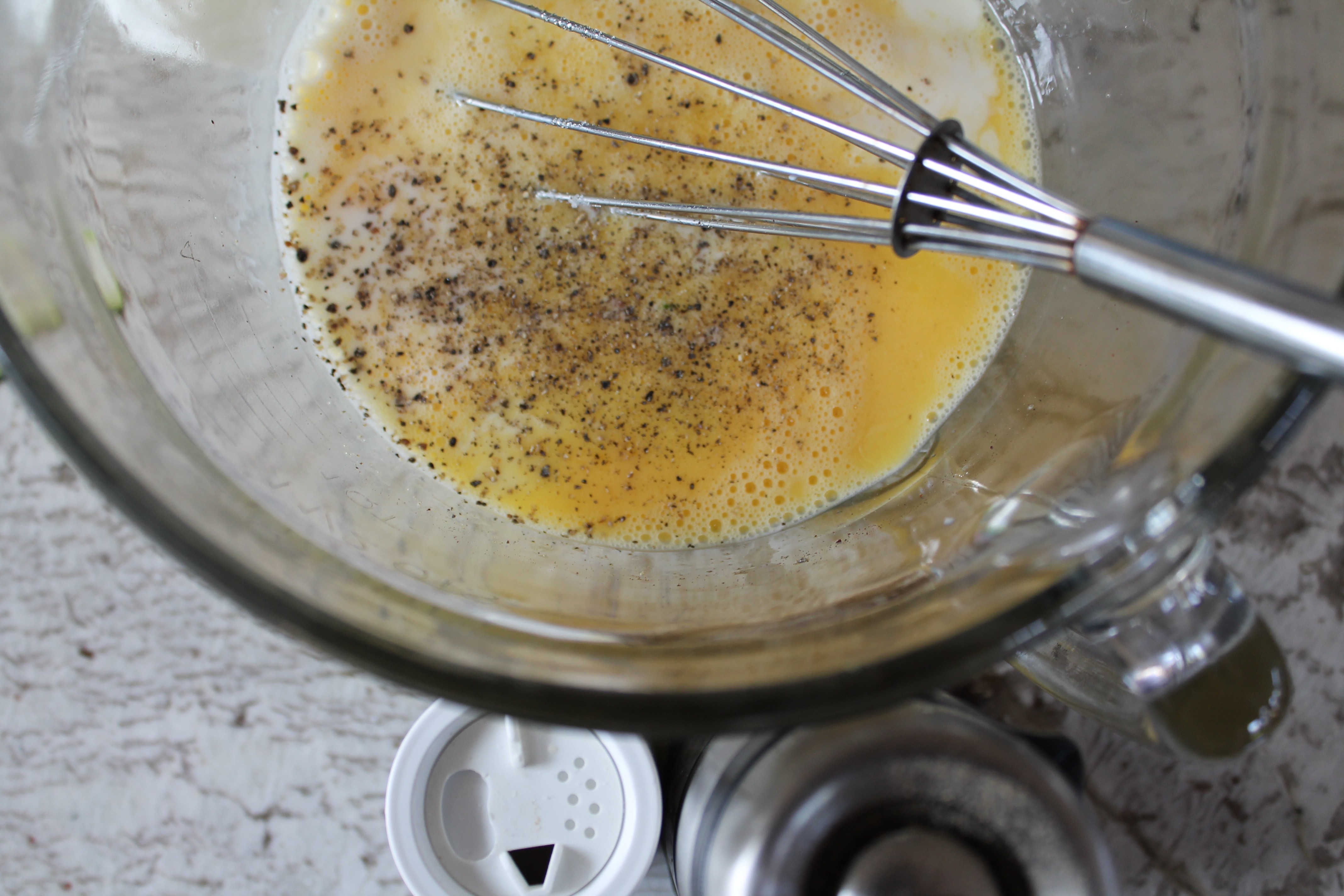 In a large bowl, whisk the eggs, seasonings, garlic, saffron liquid if you are using it, and milk. You could also substitute cream here if you prefer.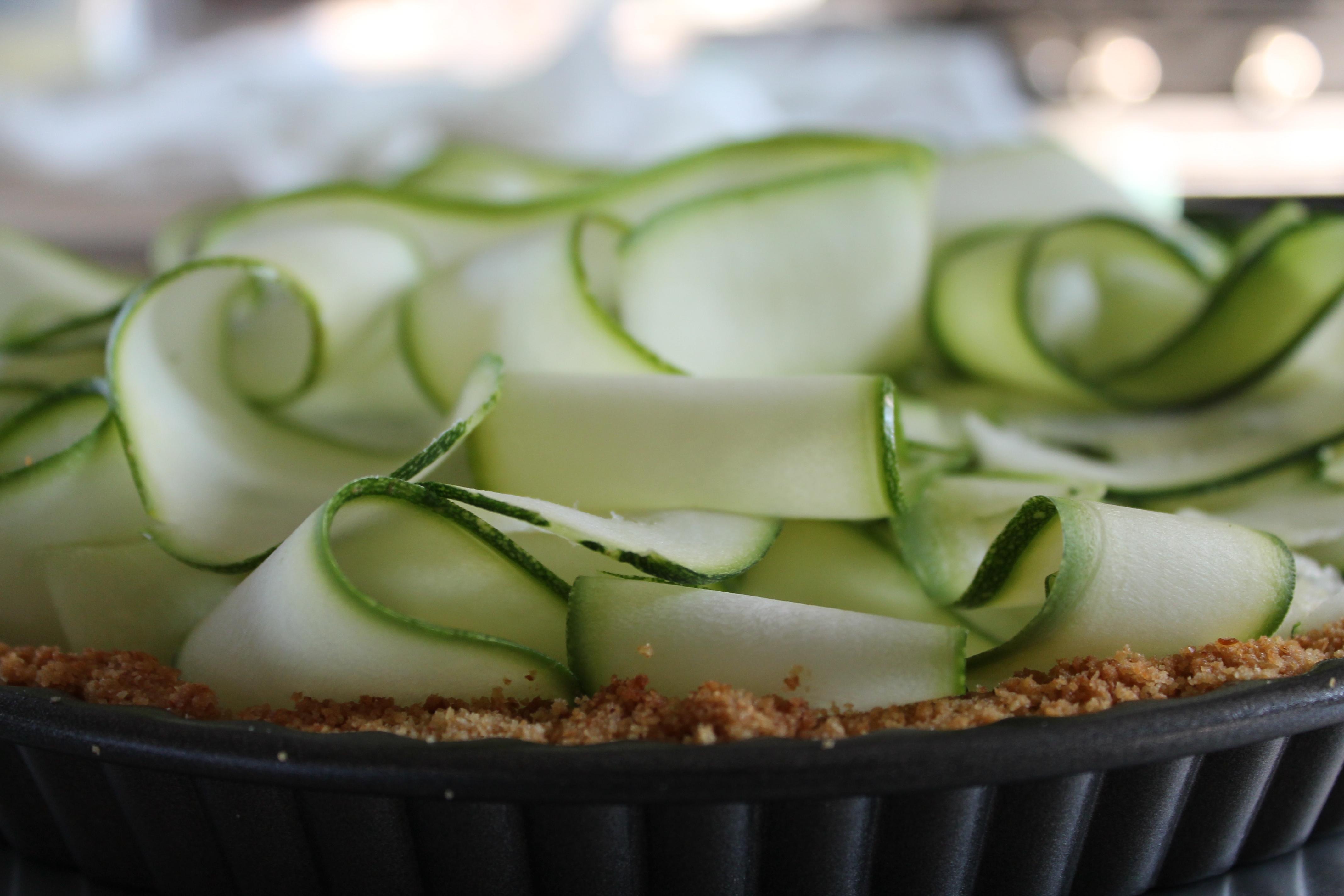 Crumble about half of the goat cheese into the bottom of the par-baked crust. On top, make a little mountain of zucchini ribbons. Top with the rest of the goat cheese.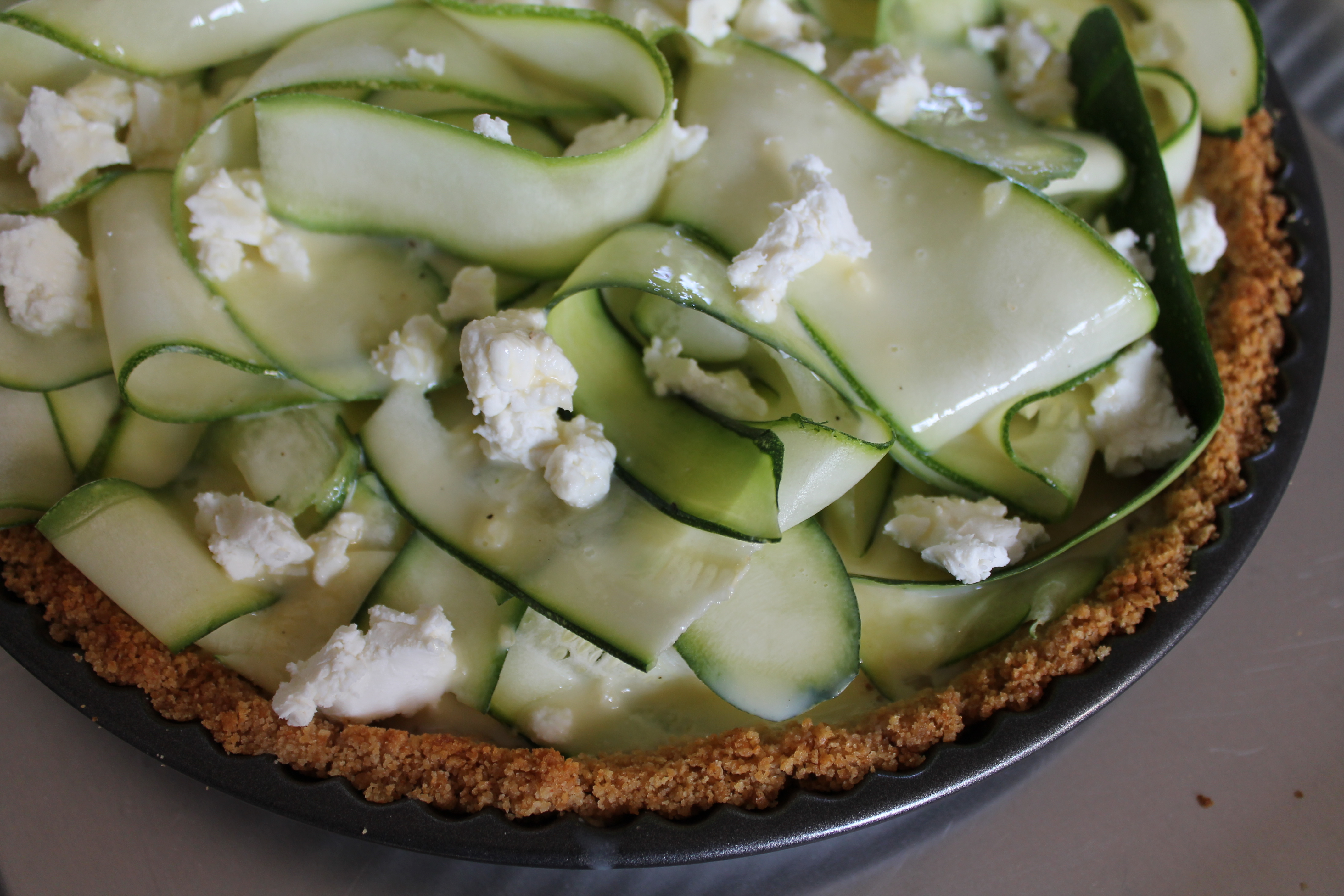 Pour the egg mixture over the veggies and cheese. If you used a tart pan with a removable bottom, I recommend placing the pan on a cookie sheet to catch any drips in the oven.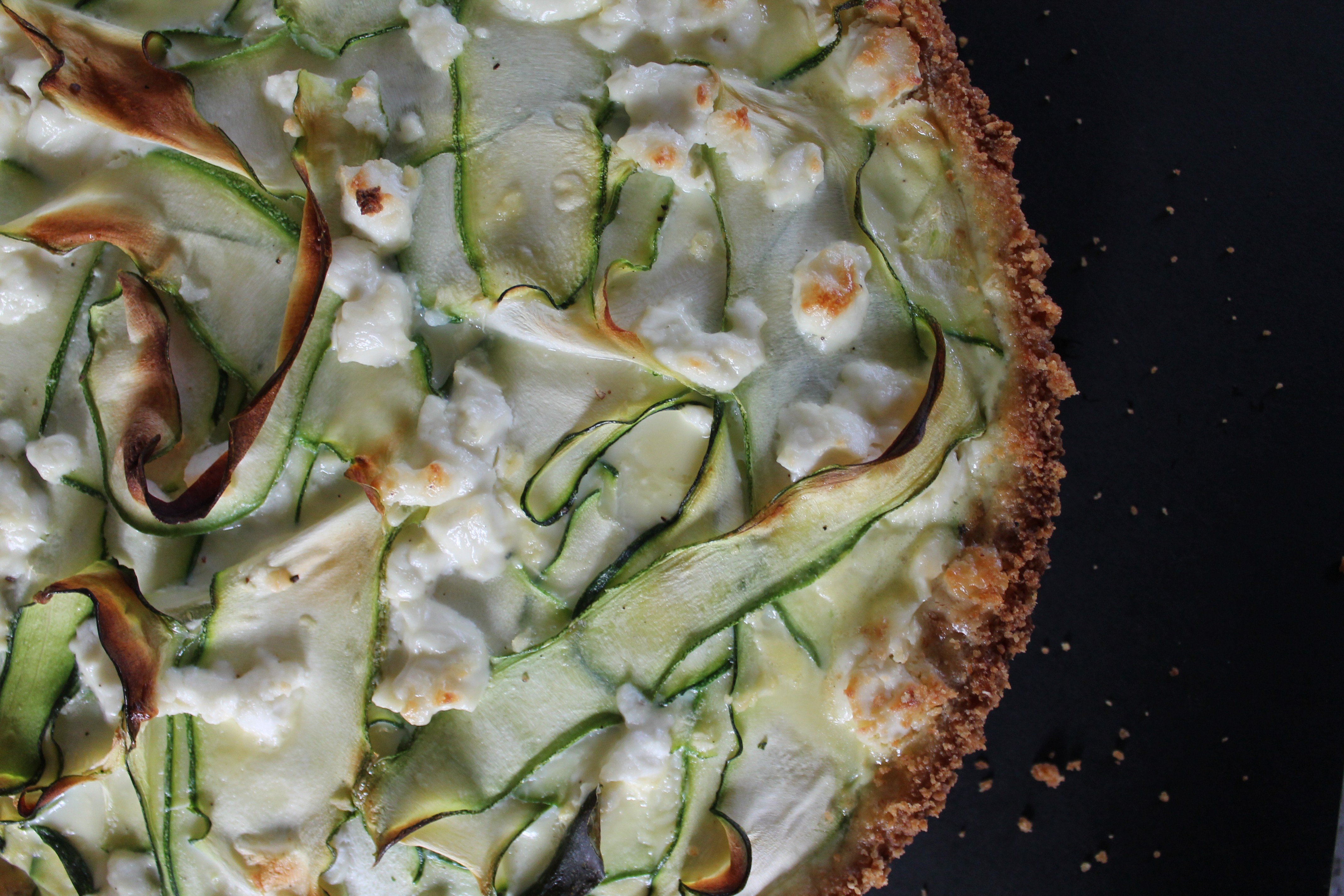 Bake for 45 minutes at 350°. The center should be set and not liquidy at all, but don't be surprised if the quiche doesn't seem to look very eggy anymore, or…weirder…the crust seems to be bubbling. The tart is fine, I swear!
This is what I was mentioning earlier. I baked this quiche three times trying to understand what was happening with the cracker crust, testing different types of crackers and even adding an egg to the crust itself. Here's what I discovered: crackers, which typically contain baking powder, react with the egg and the heat and bubble rather vigorously, small little wet-looking bubbles. The crust absorbs some of the quiche mixture, making the filling a bit less eggy after baking, and the crust quite a bit more substantial than it started. Still delicious. Just strange. (If this freaks you out, you can definitely use a regular pastry shell, or go crustless. I just really couldn't let go of the cracker crust idea.)
As the tart cools slightly, the bubbles will disappear and you will be left with a delicious, tender, veggie-ful tart and a sturdy, crisp crust.
Let the quiche rest for 10 minutes before slicing with a very sharp knife.
Zucchini and Goat Cheese Quiche with Cracker Crust
adapted from Why I Am Not Skinny
serves 6
Ingredients:
pinch of saffron threads steeped in 1 tbsp. warm water (optional)
2 cups cracker crumbs (from about 2 sleeves Ritz crackers, or other plain crackers)
6 tbsp. butter, melted
3 medium zucchini
4 eggs
1 cup whole milk
1 clove garlic, minced
½ tsp. salt
¼ tsp. fresh ground black pepper
4 oz. chèvre
Directions:
Steep the saffron, if using, for up to 4 hours before assembling the quiche.
Preheat oven to 425°.
Combine the cracker crumbs and melted butter. Press into a 10″ tart pan or pie plate. Bake for 7 minutes, until the edges are beginning to brown and the crust is set but crumbly.
Meanwhile, shave the zucchini into ribbons with a vegetable peeler, working until hitting the seeds and then flipping the squash over to peel the bottom. Discard the center seedy part. Lay ribbons in a single layer on a paper towel and press out the excess moisture with another towel.
Whisk the eggs thoroughly, then whisk in the milk, saffron liquid, garlic, salt, and pepper.
When the crust comes out of the oven, lower the oven temperature to 350°.
Crumble half of the goat cheese over the crust. Top with the zucchini ribbons and the remainder of the cheese.
Pour the egg mixture into the crust, making sure to cover as much of the zucchini as possible. Tilt the crust if needed to help the egg settle evenly in the crust.
Set the quiche on a baking sheet.
Bake for 45–50 minutes, until the center is set and doesn't release any liquid when a knife is inserted in the center. The top should be lightly browned.
Let sit for 10 minutes before slicing.
Enjoy!