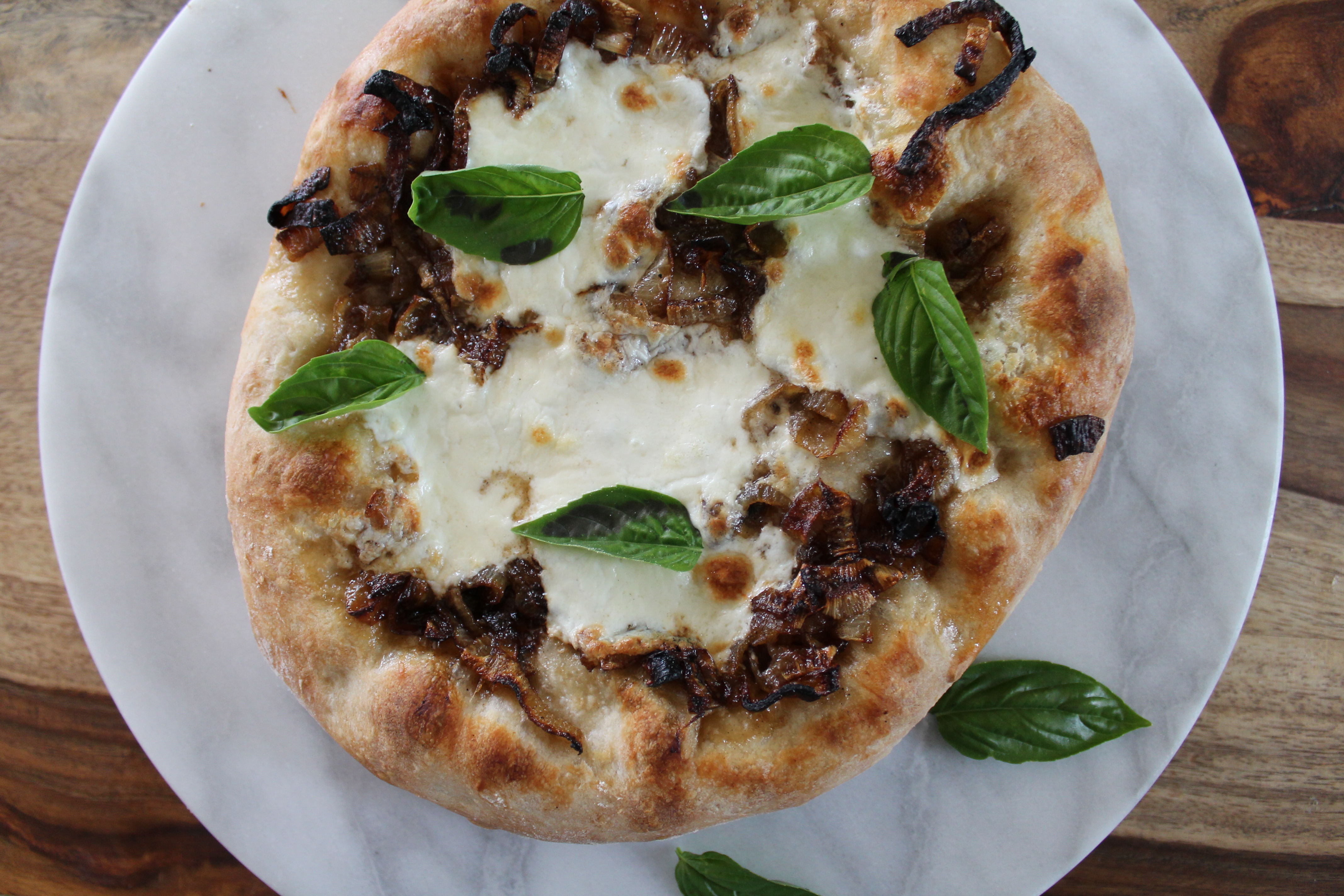 I have to tell you about the most delicious thing that ever happened to a pizza: burrata. And caramelized onions. Just a hint of balsamic.
Swoon.
This is definitely a grown up pizza.
(As in, I'm not sharing a slice with Jake, because it's soo good I want to eat it all by myself. Okay, I'll share some with Sarah of Well Dined…she did do half the cooking….)
This pizza is pretty easy to make! Start with a delicious crust. I made a batch of Lahey crust. It's so easy: just mix the ingredients together and ignore it for 18 hours. Voilá! Beautiful bubbly pizza crust.
By the way, Sarah and I only made enough toppings for 1 small pizza, or one-third of the Lahey crust recipe. It's very easy to make more: just chop more onion and throw it into the pan! But I will warn you: it's very rich and indulgent, so half of the small pizza/about 3 small slices is probably all one person can eat!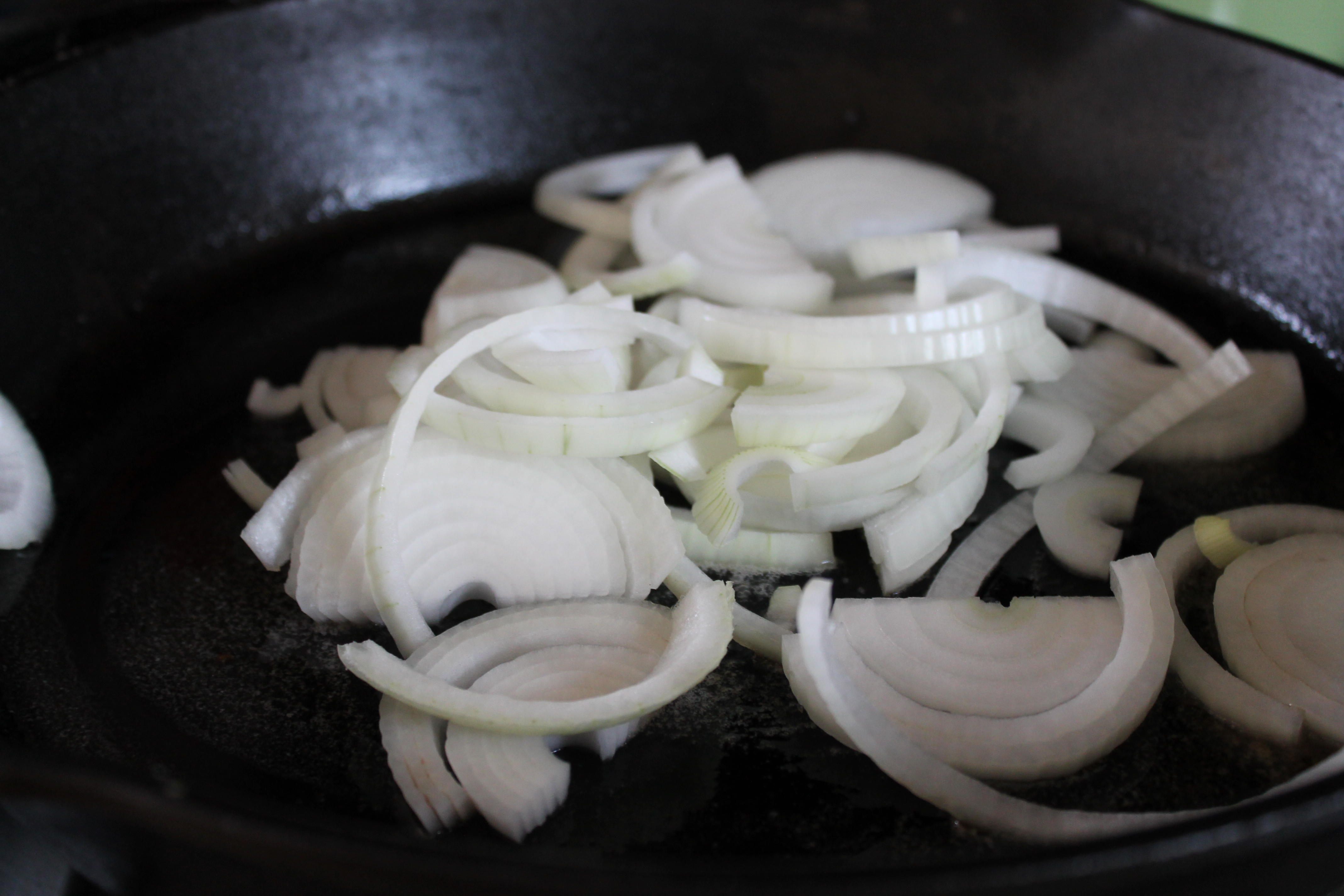 While the Lahey crust finishes its last 30 minutes or so of rising, thinly slice one yellow or white onion into half-moons.
Toss them in a pan with unsalted butter over medium-low heat. Stir occasionally, letting the onions slowly turn soft and translucent, and eventually to brown.
Caramelized onions are so easy! Sarah and I added a splash of balsamic vinegar and some salt and pepper to finish the onions. You can also do a tiny pinch of sugar to really bring out the slow-cooked caramel flavor of the onions.
Meanwhile, press or roll our your pizza dough into a 10″ round (check out the crust tutorial if you are unsure about how to do this). Transfer the crust to a cornmeal-covered pizza peel.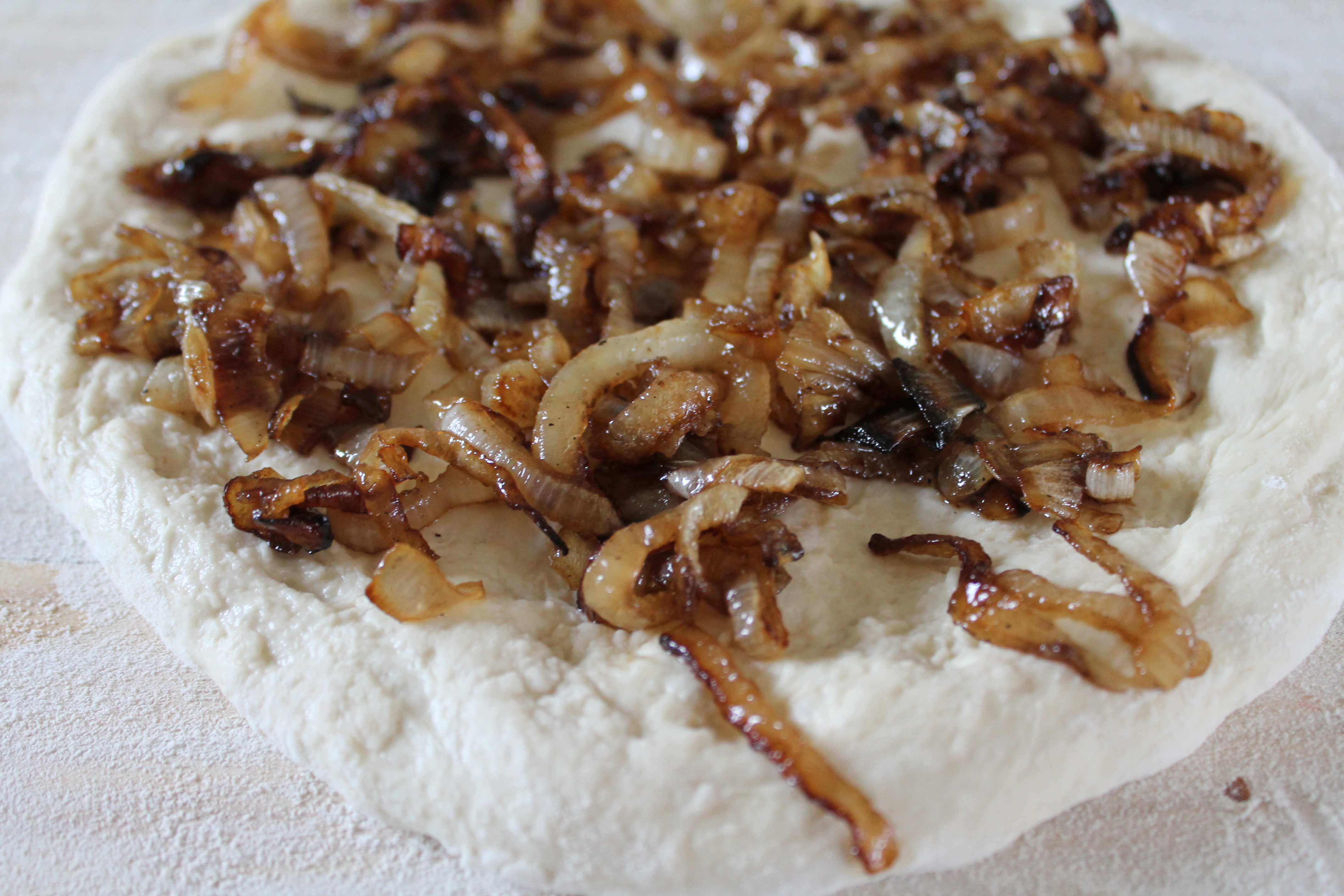 Top the pizza with the warm caramelized onions. Savory and a little sweet. Yum!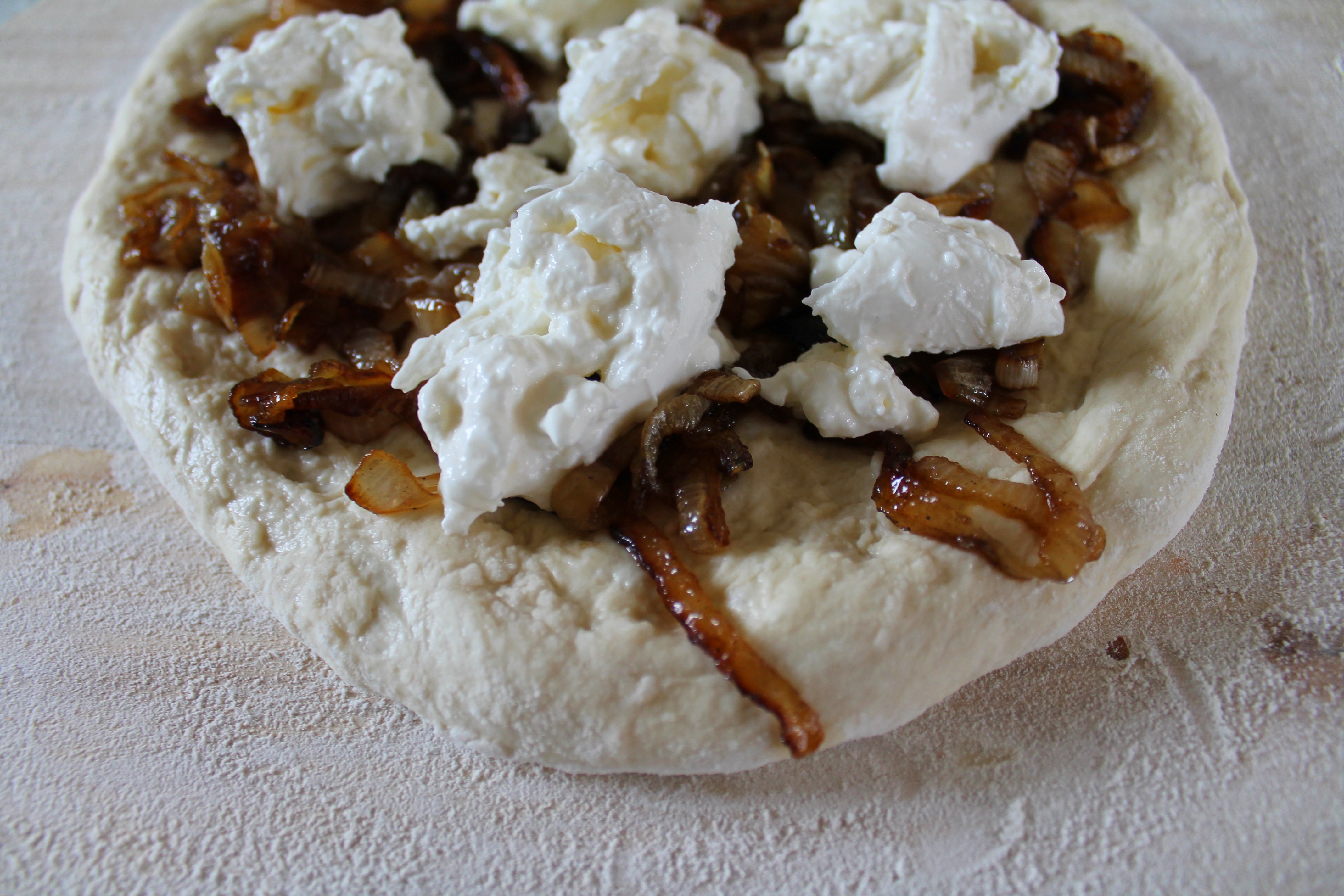 Now comes the real kicker, the ooey gooey burrata cheese. If you didn't know, burrata is heavenly! It's basically a very creamy, cream-filled fresh mozzarella. It's so decadent.
Break apart a small, 4oz. ball over the pizza. Divide the cheesy pieces evenly over the onions.
Slide the pizza into the very hot oven onto a hot pizza stone or baking sheet. Starting with a piping hot baking stone is what allows the crust to rise and bubble and get crisp on the bottom. And we definitely want that with this creamy, rich pizza! It would be such a shame if the toppings slid off.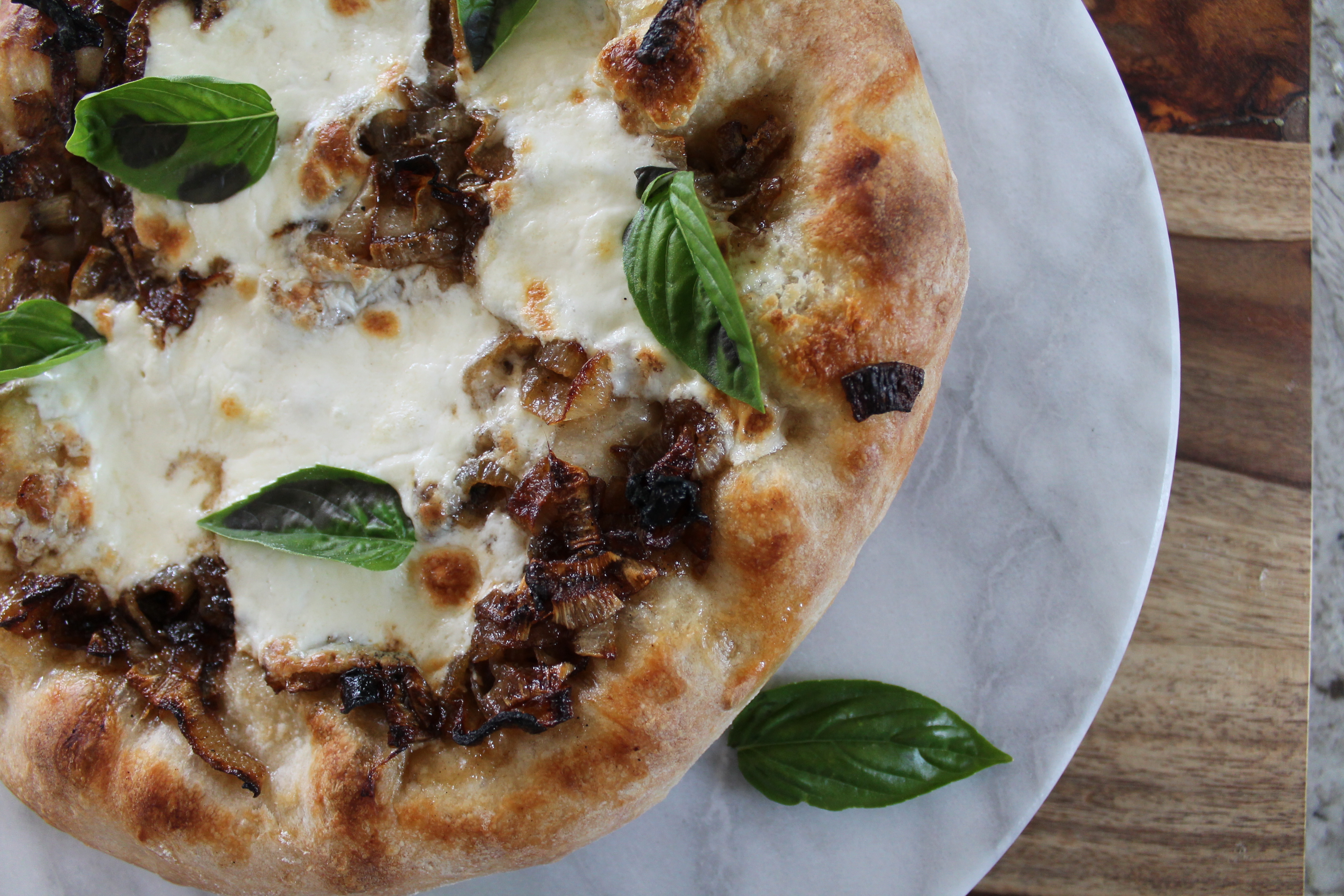 Bake for 10 minutes. The burrata may bubble a but but it won't brown because it's so creamy.
Let the pizza cool for a few minutes before sprinkling fresh basil over top. Slice and serve!
Caramelized Onion and Burrata Pizza
from Alexandra's Kitchen
makes 1 small pizza/serves 2
Ingredients:
1 large white or yellow onion
1 tbsp. unsalted butter
1 tsp. balsamic vinegar
pinch of sugar (optional)
salt and black pepper
⅓ batch Lahey Pizza Crust
4 oz. fresh burrata
fresh basil
Directions:
Preheat oven to 500°. Place a baking stone or heavy-duty baking sheet in the oven to get hot.
Slice the onion thinly into half moons.
Melt the butter in a cast-iron skillet or other heavy-bottomed pan over medium-low heat. Add the sliced onions and cook, stirring occasionally, for 15 minutes, or until soft and amber brown. Season with balsamic vinegar, sugar, salt, and pepper. Remove from the heat.
On a lightly floured work surface, press or roll the pizza dough into a 10″ round. Place the dough on a cornmeal-covered pizza peel.
Mound the onions in the center of the crust, leaving an edge for gripping the pizza. Top evenly with small pieces of burrata.
Carefully slide the pizza off the pizza peel onto the hot stone in the oven. Bake for 10 minutes, or until the crust is puffed and lightly browned and the cheese has melted.
Cool for 5 minutes before slicing and serving, topped with fresh slivered basil.
Enjoy!