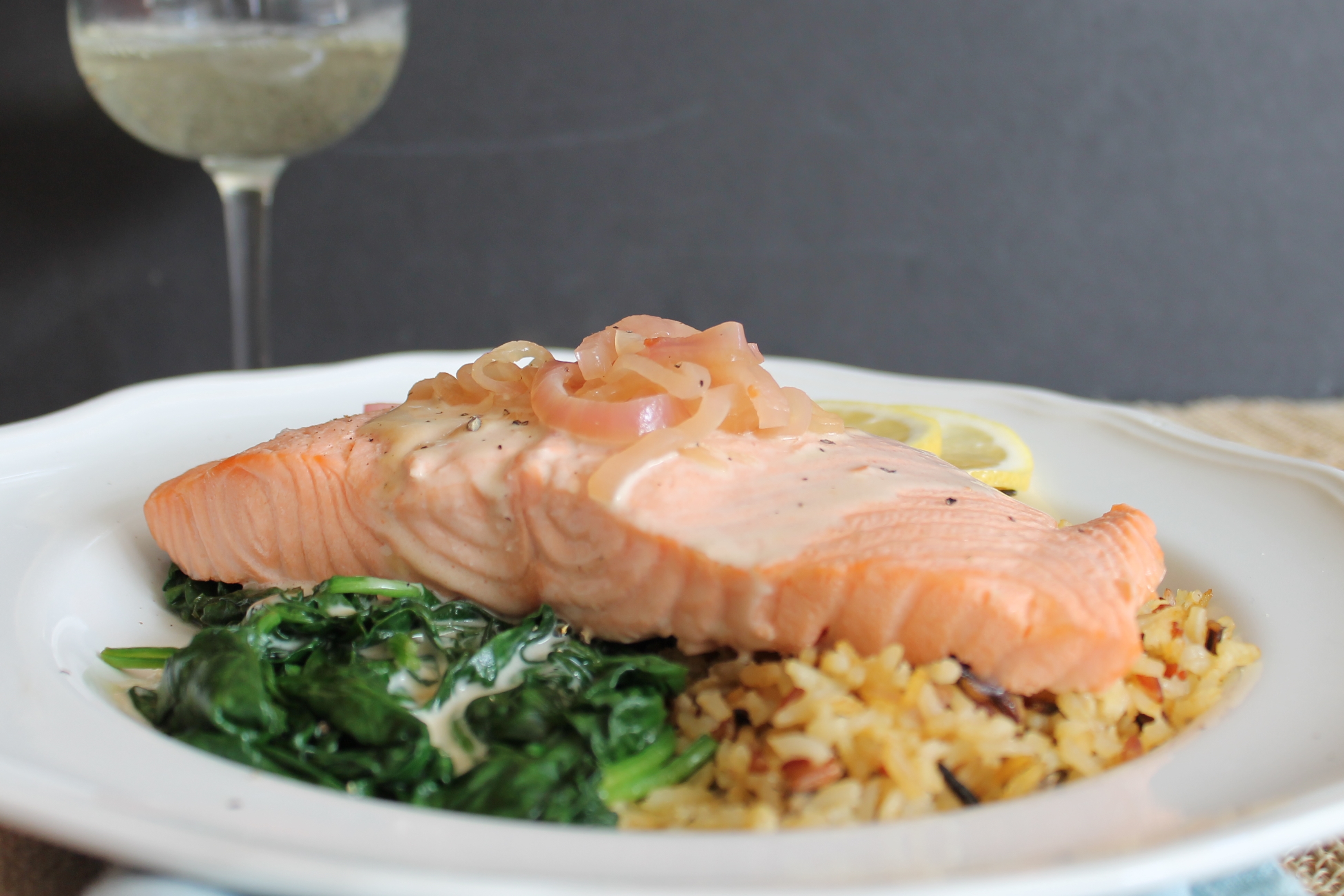 Do you know what the definition of craziness is? It's when you do the same thing over and over again, expecting a different result.
Let's be honest: I have a preschooler and a baby, so my behavior may often seem quite insane, if you are watching.
But this amazing salmon marks an end to one particular crazy thing I've been doing for years! You see, for years I have been trying to make this perfect salmon poached in apple cider. It sounds amazing, right? Perfect for Fall! But it's so sweet. It's genuinely weird. And yet every year as the leaves start collecting on the ground I whip out the same recipe and take another whack at it.
Crazy.
But this month, as I was making plans to go buy some cider from my local pumpkin farm and hop on my regularly scheduled crazy train, I happened to find a recipe that made me breath a huge sigh of relief. Because prosecco!
It just sounds romantic, doesn't it? Poaching salmon in a fizzy broth of sparkling wine and shallots! And let me tell you, it was absolutely perfect! Everything I've always dreamed poached salmon could be.
Many thanks to Ashley (whose last name means delicious in German!) of Cheese Curd in Paradise, my Secret Recipe Club blog for October. Not only does she have dozens of amazing looking fish recipes—always exciting for a picky pescetarian—but she also offers great ideas and advice for family meal planning amidst a busy life! Keeping it real.
And saving me from myself with prosecco cream sauce!
So let's make some salmon!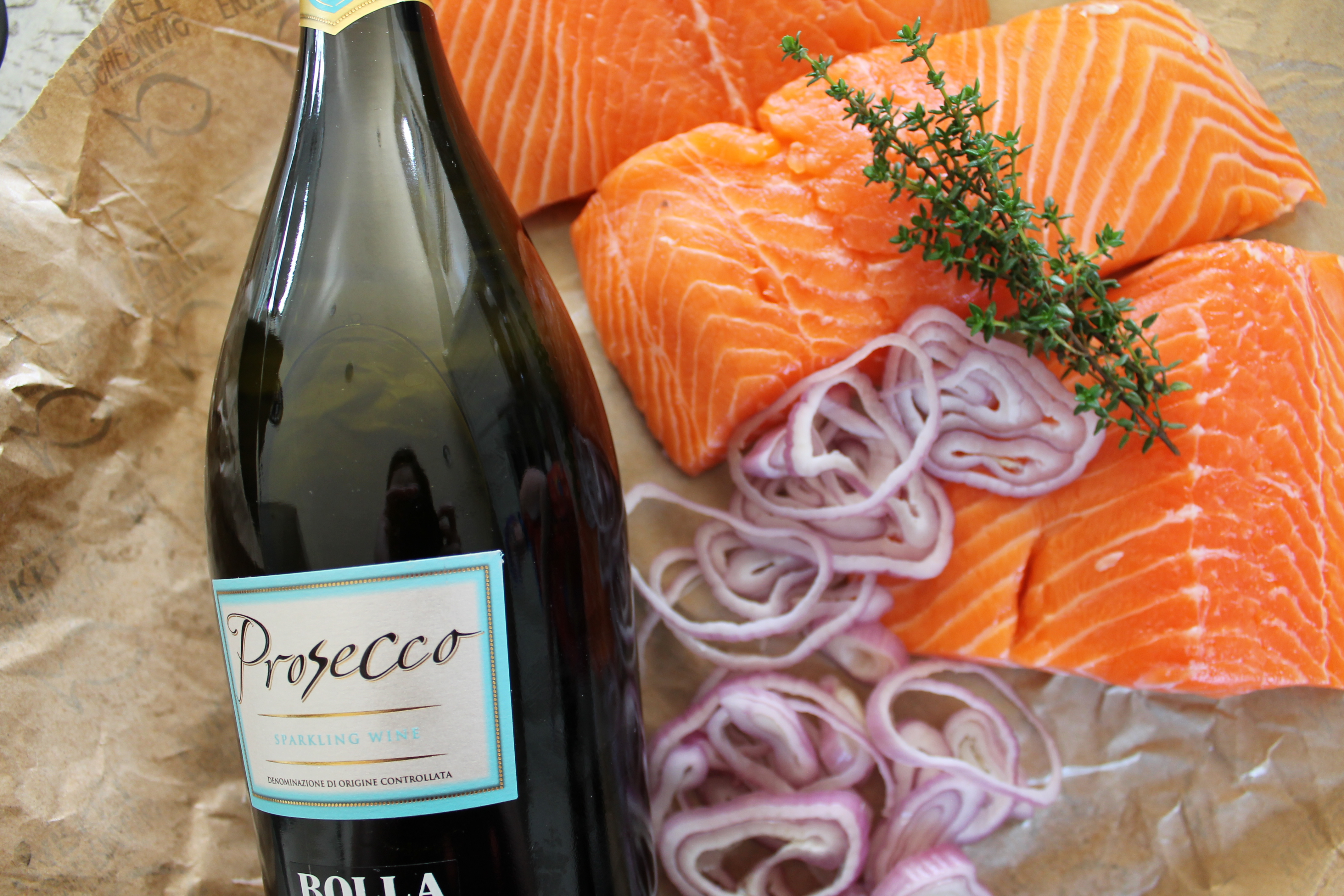 Slice up some shallots really thinly. Toss them in a large pan with unsalted butter and seasonings and let them soften and begin to caramelize.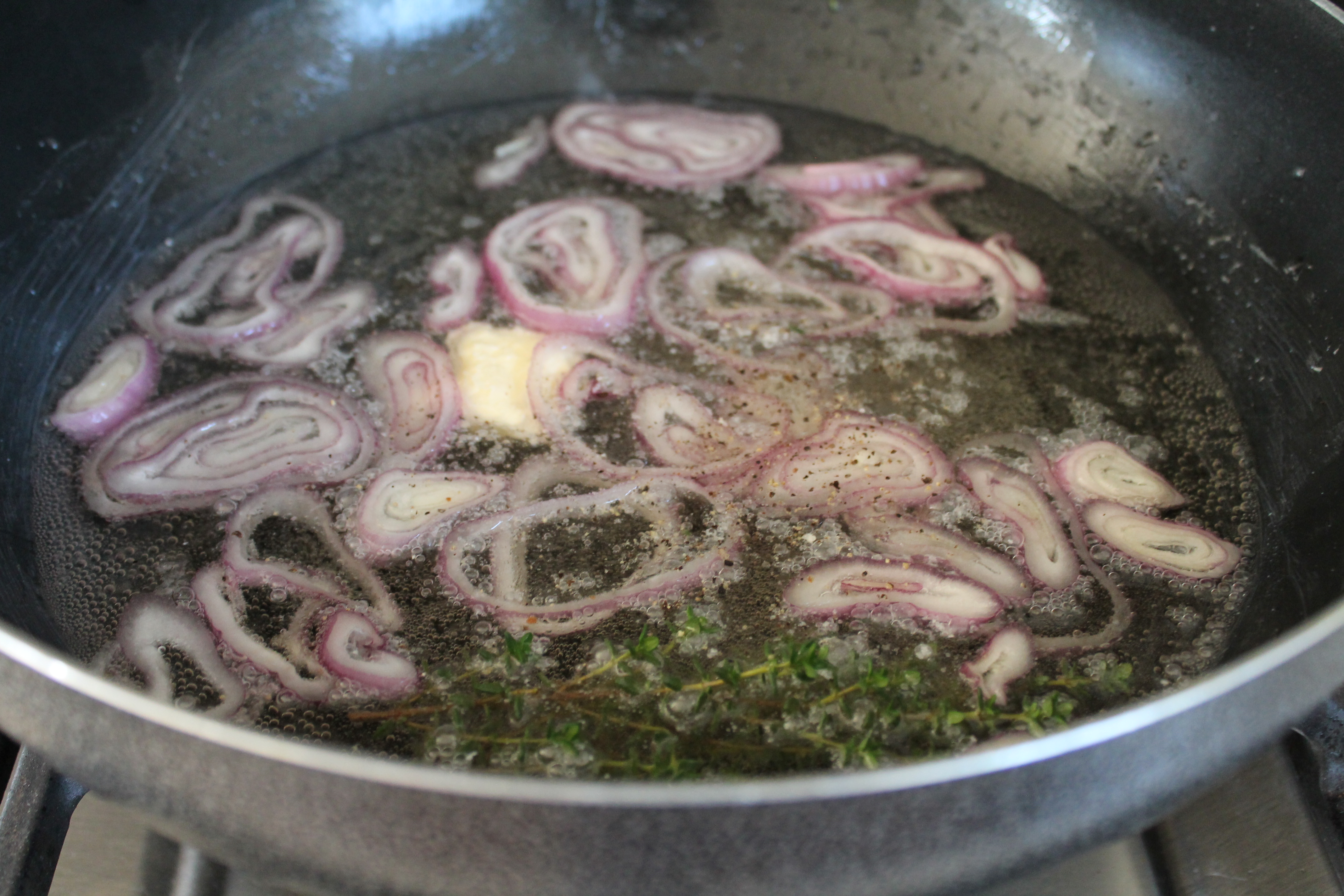 Add your sparkling wine (almost the whole bottle! But enough left that the cook gets a sip…) and fresh herbs. I used thyme, which was growing in my back yard. Sarah and I love saving a few pennies when we are making our super highbrow lunches!
You can use any sparkling wine here, be it prosecco, champagne, or brut. You could even go rosé if that's your style!
Bring the wine to a simmer and let it cook about 5 minutes.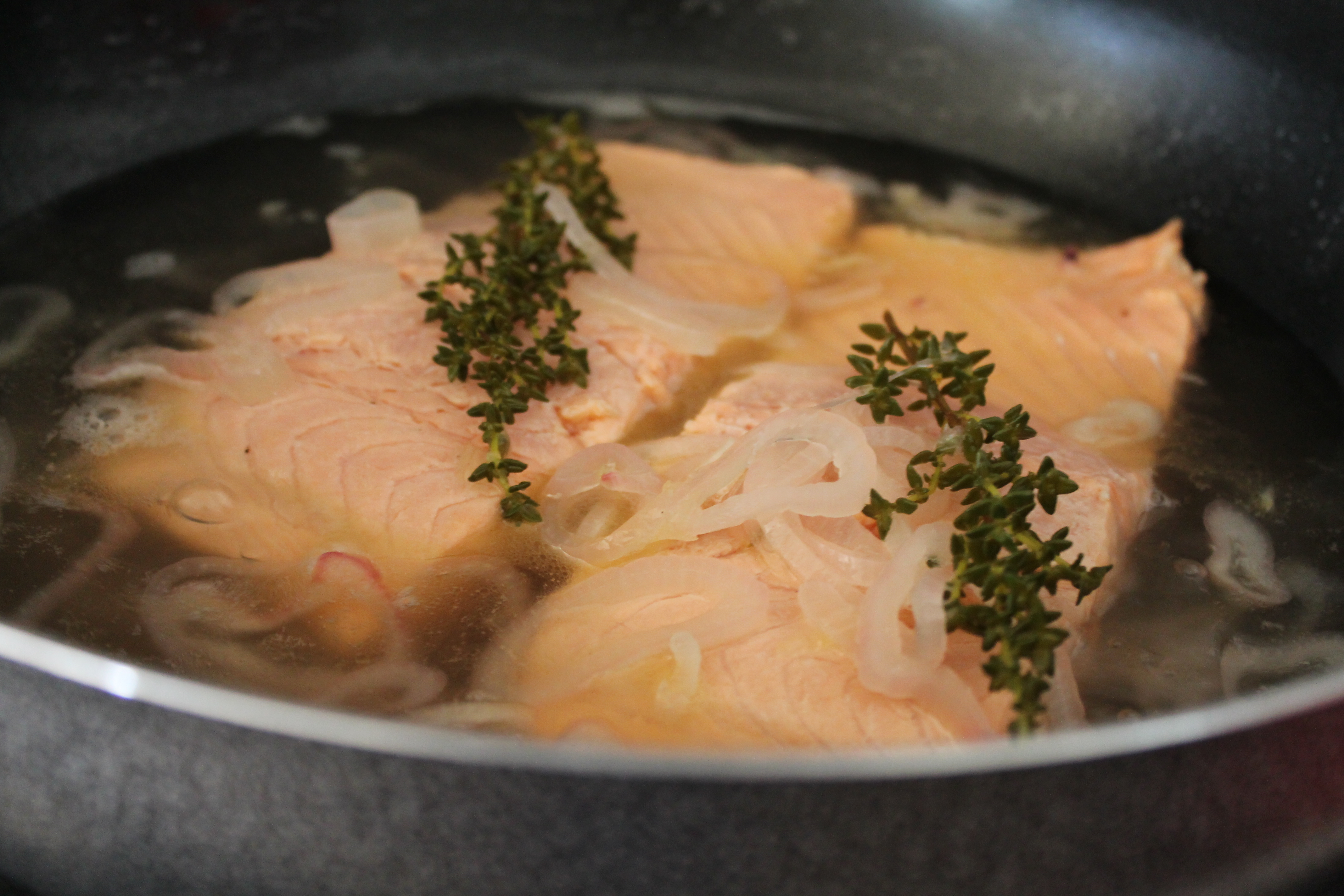 Add the fish to the pan, sliding them into the liquid gently to prevent splatters. If the liquid doesn't quite cover the top of the fillets (as ours didn't…Sarah is a master at finding thick pieces of salmon!), carefully spoon some of the hot poaching liquid over the fish so that the tops will begin to cook as well.
But please be careful. Please don't do what I did: Don't graze the back of your hand on the edge of the hot pan as you are scooping, then flinch with a spoon full of boiling prosecco and basically throw said scalding liquid down your shirt and onto your bare foot. Because ouch.
Cook your salmon until it is barely pink in the center. You will need to check the center with a fork, because the outside will appear cooked long before the center is done. It should pull apart easily into flakes when it is cooked properly. A good rule of thumb is to poach the salmon for 8–10 minutes per inch of thickness. And remember that overcooked salmon is tough and chewy and not delicious!
Carefully scoop the salmon out of the poaching liquid with a fish spatula and set it on serving plates. Pull the thyme out of the pan and discard it.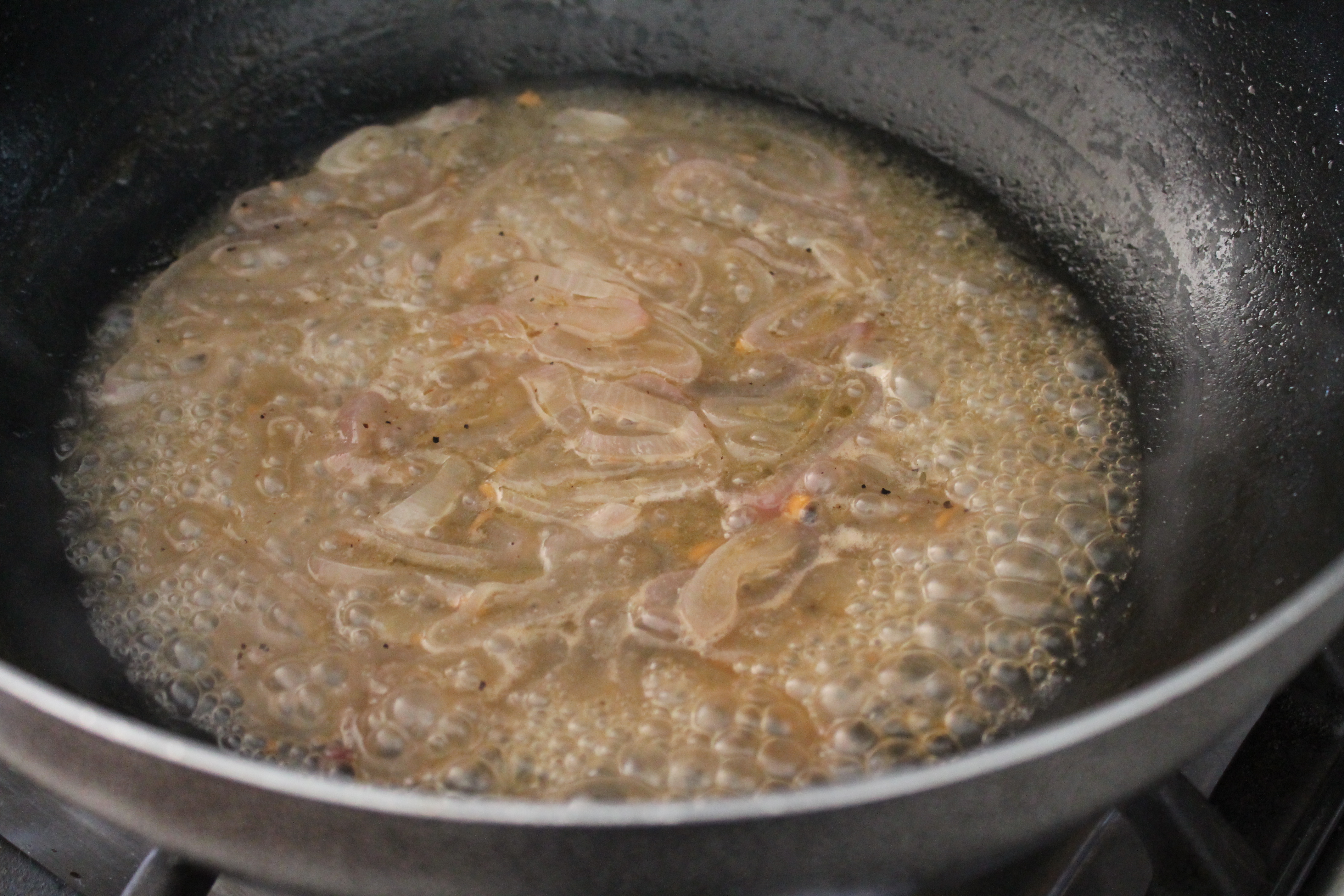 Continue simmering the wine and shallots over medium heat, stirring occasionally, until it is reduced by two-thirds and dark amber in color.
Pour the prosecco through a strainer to remove the shallots as well as catch any stray bits of salmon that flaked off during poaching. Return the prosecco to the pan and add cream and another pat of unsalted butter. Simmer until thickened. Taste and adjust the salt and pepper if needed.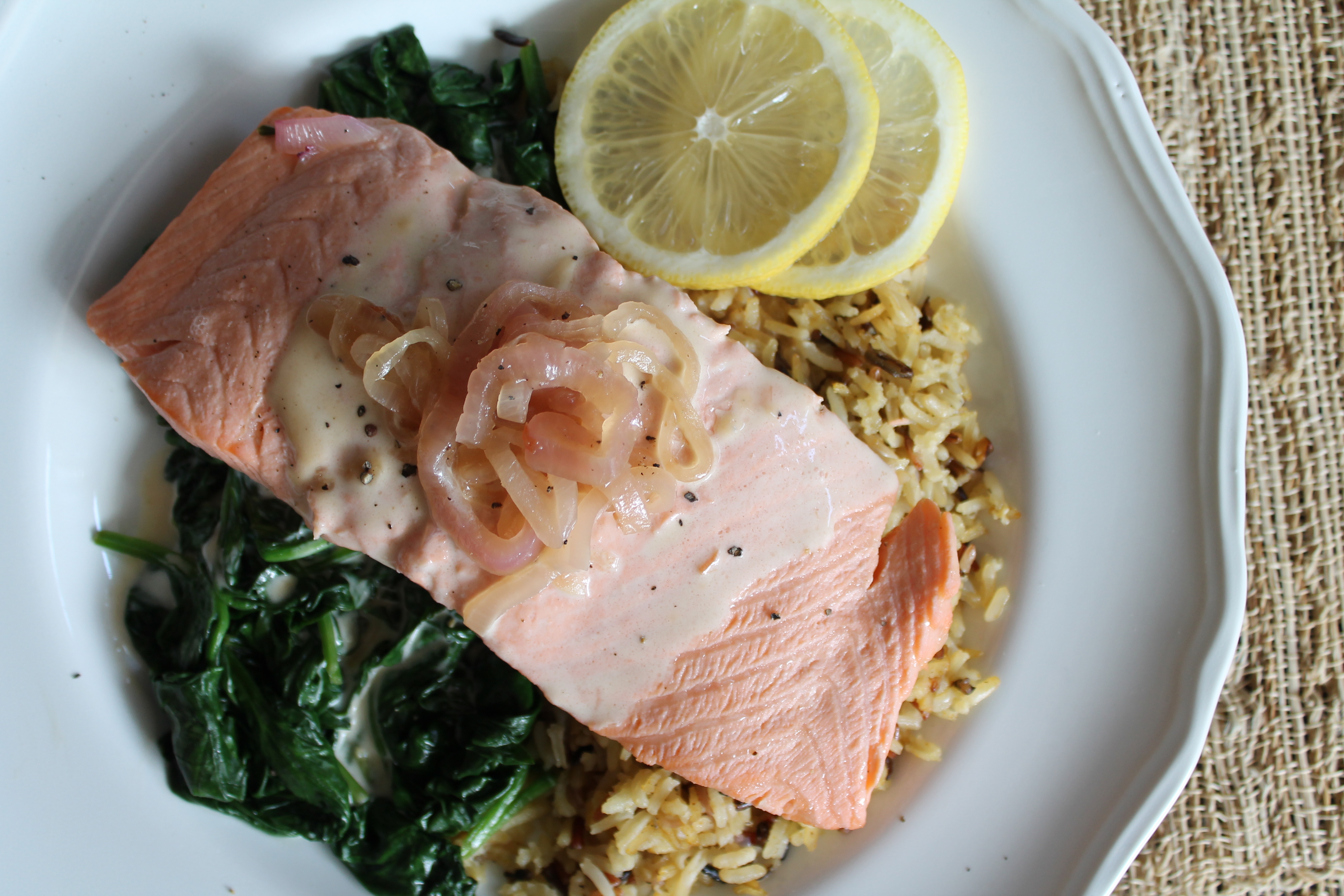 Serve the salmon smothered in the creamy prosecco sauce, topped with the shallots that have absorbed all that amazing prosecco flavor, and a small squirt of lemon juice. The hint of lemon adds a beautiful brightness to the creamy sauce!
And to join in the meal-planning fun: consider serving this saucy salmon with a wild rice pilaf and some garlicky wilted spinach!
Prosecco-Poached Salmon
adapted from Cheese Curd in Paradise
serves 4
Ingredients:
2 tbsp. unsalted butter, divided
½ cup thinly sliced shallot (from about 2 medium)
salt and black pepper
3 cups prosecco or other sparkling white wine
2 large sprigs fresh thyme
4 6oz. salmon fillets, skin removed
½ cup heavy cream
lemon wedges, for serving
Directions:
Melt 1 tbsp. butter over medium heat in a large skillet. Add the sliced shallots and season with salt and pepper. Cook for 2 minutes, stirring regularly, until the shallots soften and become translucent.
Add the prosecco and thyme to the pan and bring to a low boil. Simmer for 5 minutes.
Carefully slide the salmon fillets into the hot liquid. Spoon the poaching liquid over the tops of the fillets. Cook for 8–10 minutes per inch of thickness, or until the fish flakes easily and is barely pink in the center. If the fillets are so thick that the liquid doesn't cover them, continue spooning the hot prosecco over the fillets until they cook through.
Remove the salmon from the pan and set on a serving platter. Discard the thyme and scoop out any stray bits of fish that flaked off during poaching.
Bring the prosecco up to a boil over medium-high heat and cook, stirring occasionally, until reduced by two-thirds.
Sieve the shallots out of the liquid and distribute them over the salmon fillets.
Add the cream and remaining 1 tbsp. butter to the prosecco. Stirring regularly, cook the cream sauce until thickened.
Pour the sauce over the salmon fillets. Drizzle lightly with fresh lemon.
Serve warm with extra lemon wedges.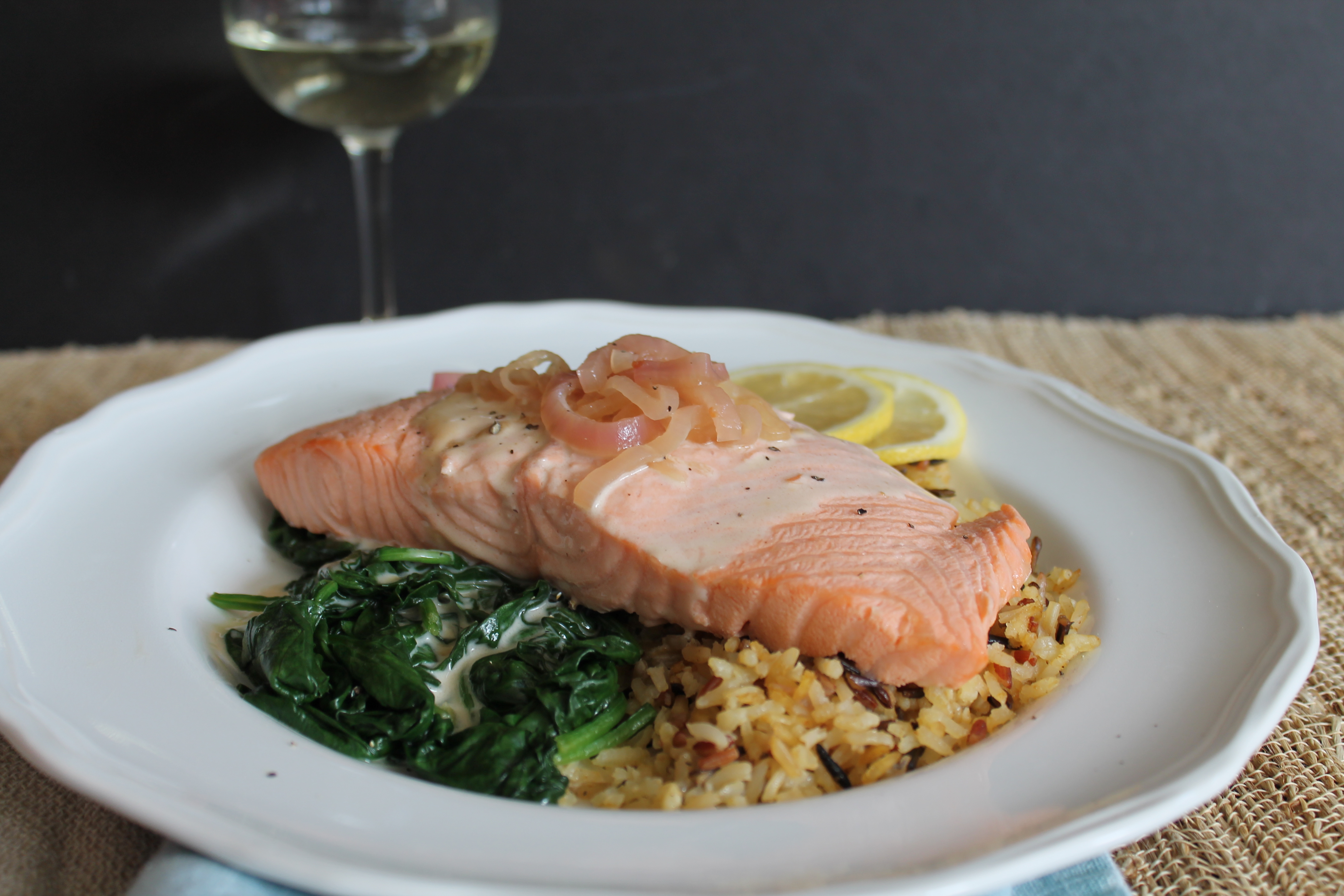 Enjoy!