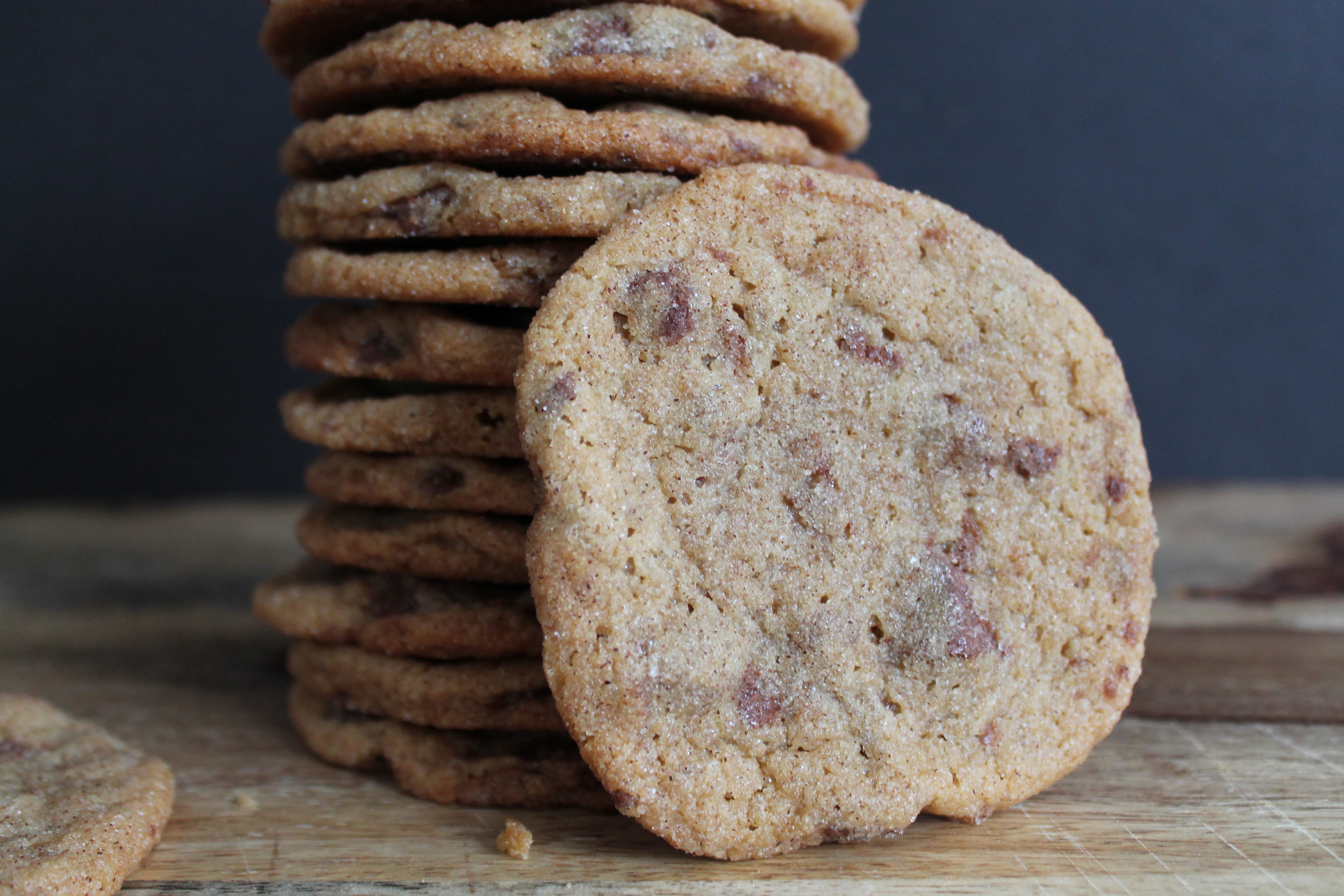 Yesterday, Jake decided to read all of my cookbooks. He pulled pretty much every single book off the shelf, one at a time, to ooh and aah over the glorious photos and recite every single letter in every single recipe title.
That kid. Adorable.
Somehow in the middle of this, I developed a hankering for peanut butter cookies. I'm pretty sure that was Jake's goal all along.
These are not your average criss-cross peanut butter cookie, oh no. These are thin, crispy-edged delights with soft, gooey centers. These are milk chocolate chip cookies to the max, plus a hint of snickerdoodle. In short, these peanut butter beauties are all kinds of amazing.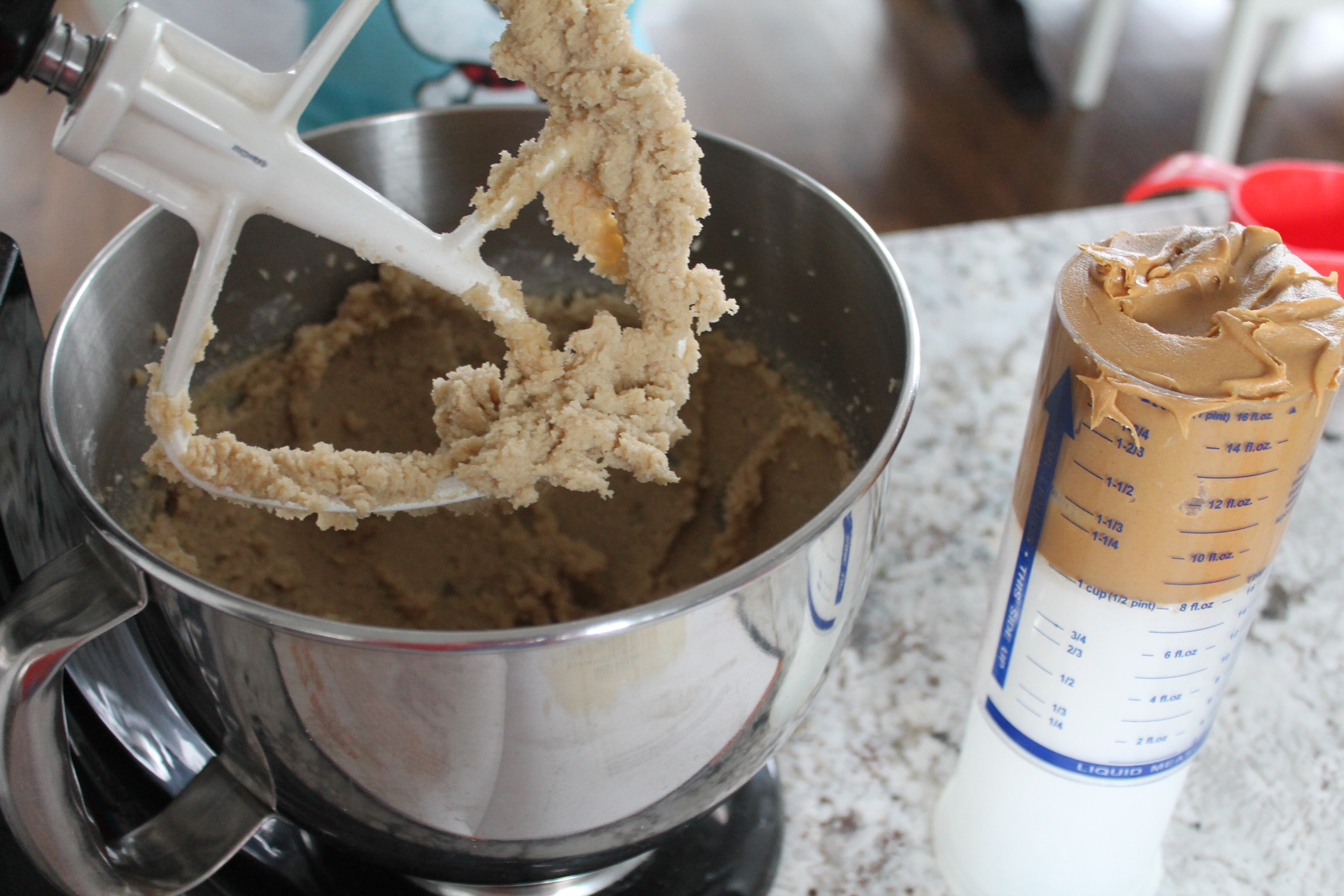 These cookies begin, as most cookies do, with butter and sugar, creamed into a sweet tizzy.
Add eggs, one at a time, scraping the sides of the bowl often to ensure that all the butter gets mixed into all the egg. The result should be light and fluffy.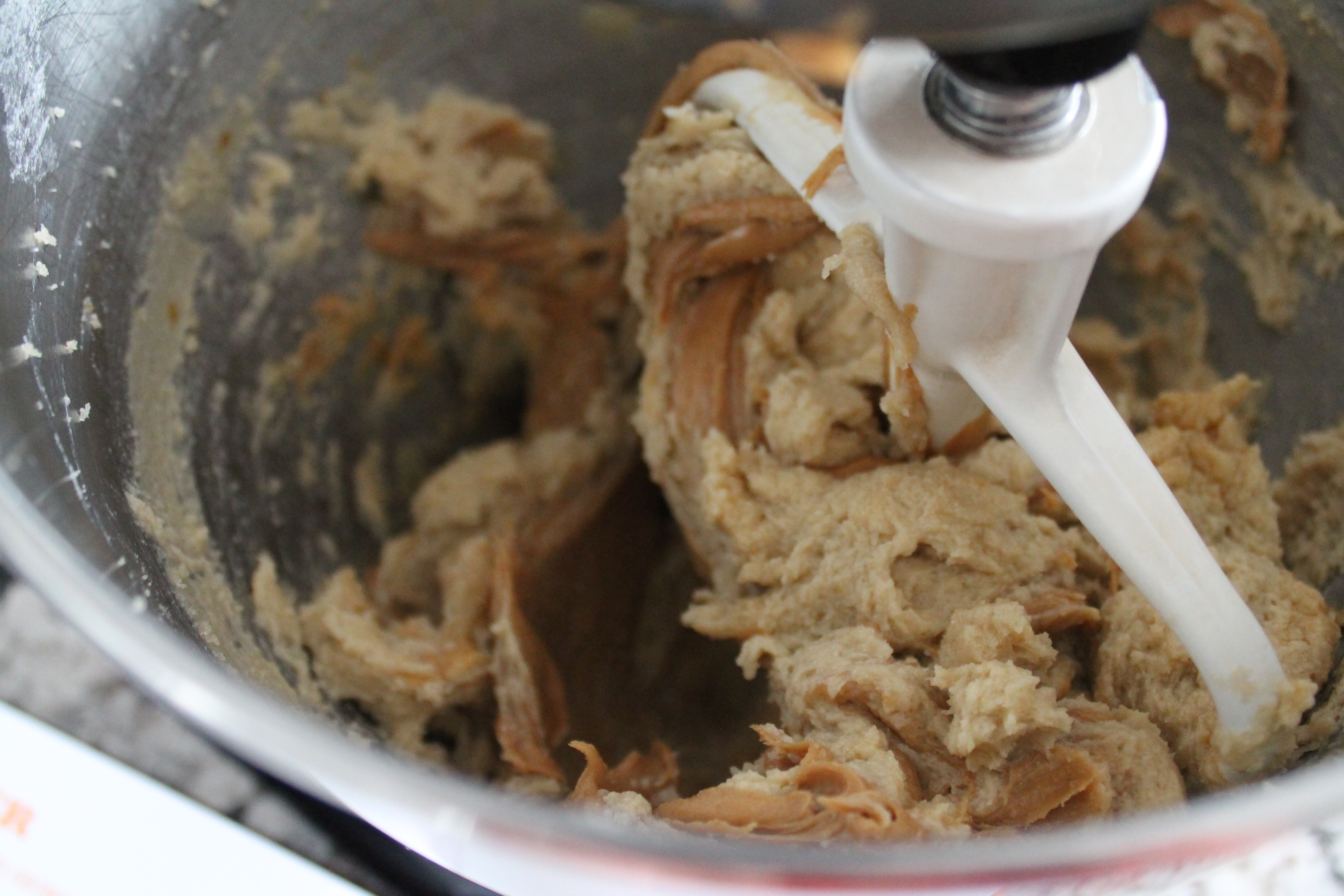 Now add vanilla, a few drops of pure almond extract, and peanut butter. Mix it until the peanut butter is just combined.
You guys, seriously, you should not skip the almond extract. Adding just a little almond to peanut butter makes the flavor so round and sweet and perfect. It takes some of the sticky out of peanut butter somehow. The cookies are still gorgeously peanut-buttery, but even better somehow.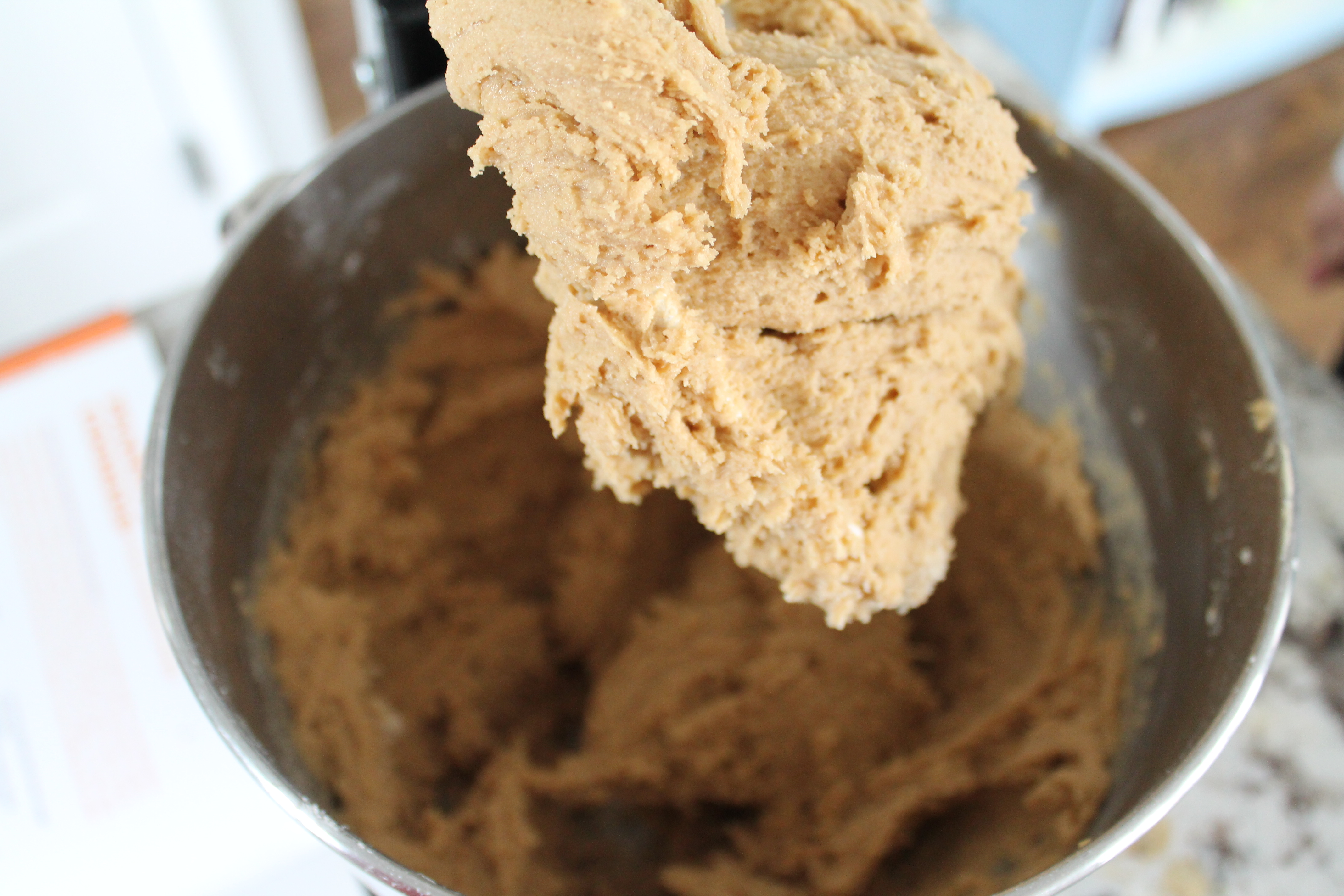 Whisk together flour, baking soda, and salt. Feel free to heap a little extra salt in the mix: salted peanut butter is delicious.
Add the flour mixture in two batches to the dough, scraping the sides of the bowl really well. Make sure to scrape the bottom, so you don't end up with any unmixed sticky bits down there.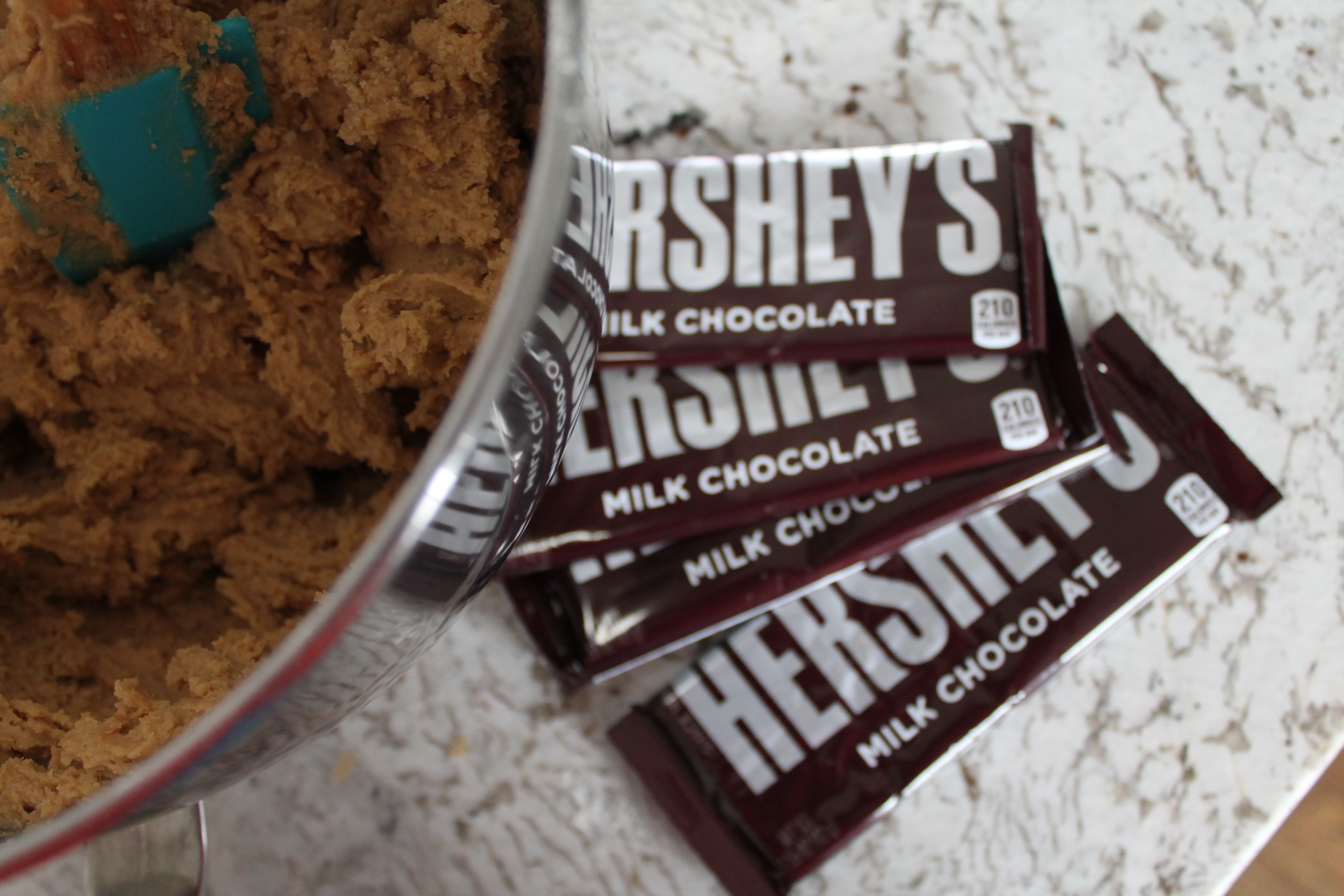 Finally, fold in chopped milk chocolate. Milk. Chocolate. Not semisweet chocolate chips. The milk chocolate adds a softness, both in terms of texture and sweet flavor, that can't be matched by dark chocolate! I used Hershey's bars, which I chopped roughly. I love chopping chocolate for cookies because it ends up making both chunks and chocolate dust, which combines beautifully in the cookie and contributes a ton of flavor throughout!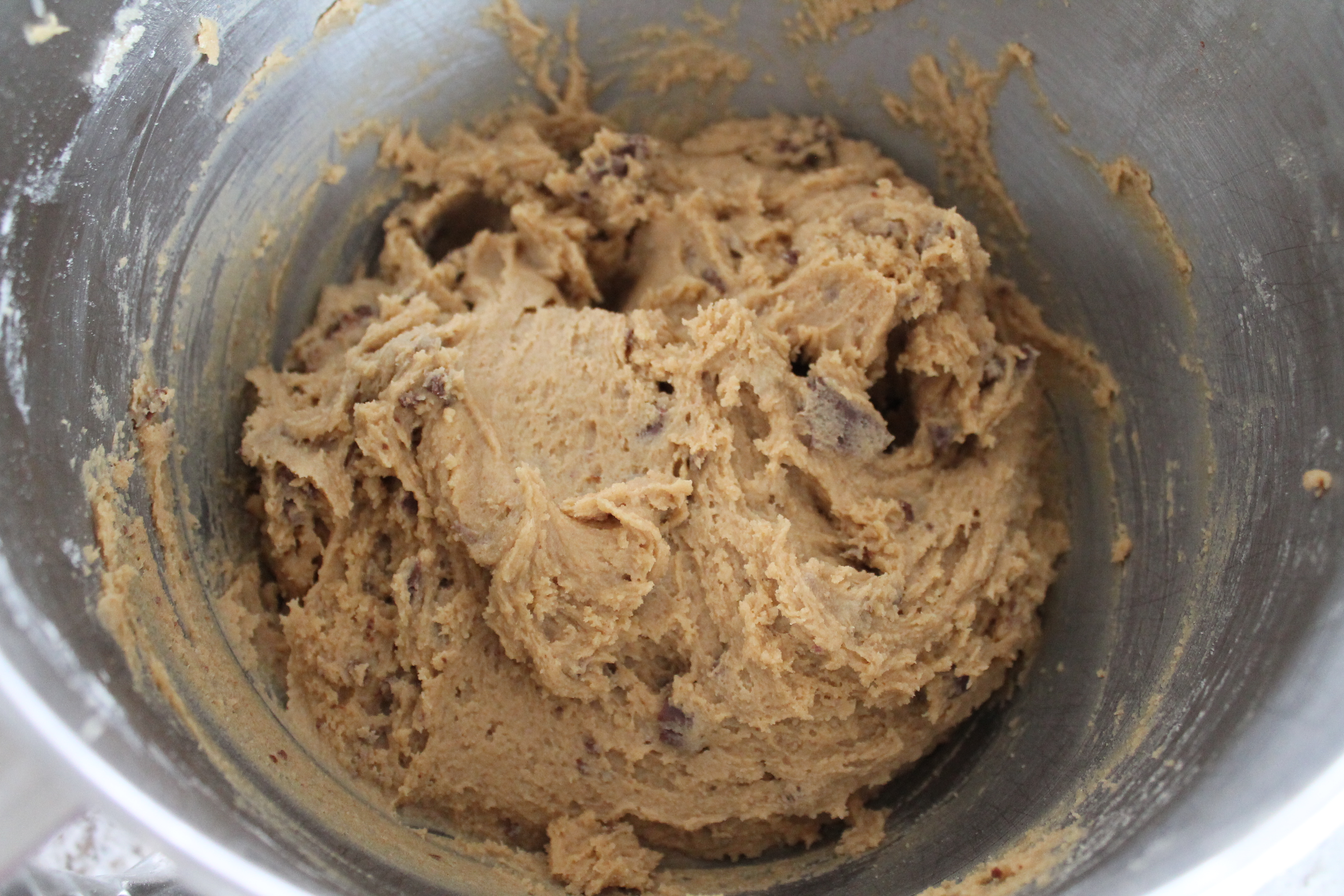 Now comes the irritating part. Sorry, folks. Chill the dough at least 3 hours.
Hey! The dough is sticky! You don't want it to turn into a burnt, flat mess when you bake it. Chill the dough already.
When the dough is cold and firm, scoop it by tablespoons onto a lined cookie sheet. Keep those suckers far apart: they will spread a lot during baking, and they are huge!
Roll each dough ball in a cinnamon-sugar mixture. We aren't using much cinnamon here, just a hint to tease the tongue.
Props to Sarah for giving me this idea over Christmas, when she brought me some vegan peanut butter thumbprints that she had coated in cinnamon-sugar. At first I was so skeptical, but after one bite I was totally convinced: cinnamon and peanut butter should be friends.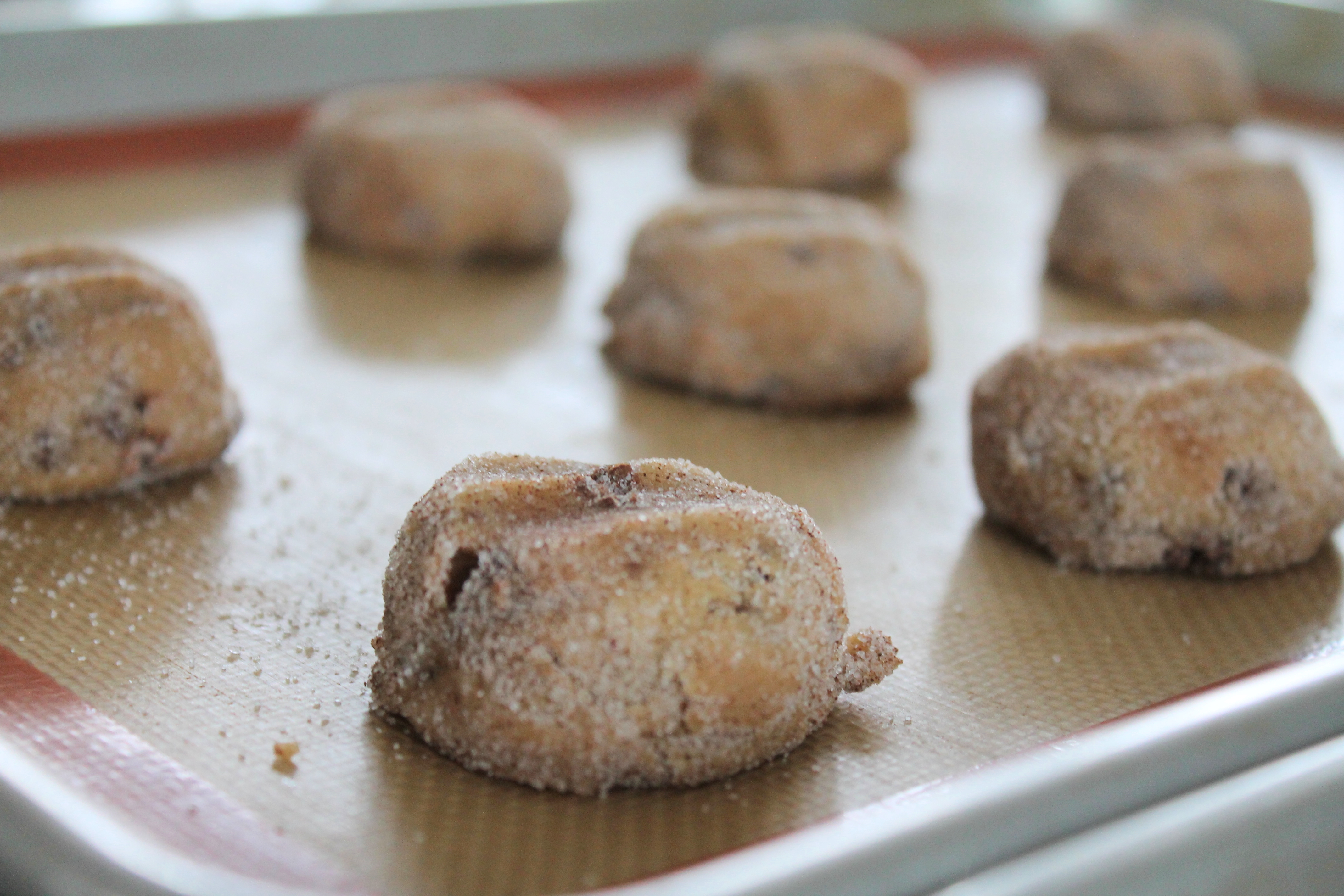 Very lightly flatted the tops of the cookies with your fingers, forming a tall, narrow disc. This will allow the centers to bake through instead of remaining a gooey mess of dough. But don't over-flatten them or the edges will burn!
Let's bake those babies. In my oven, 11 minutes was the sweet spot: thin with crisp edges and soft centers. Rotate the pans halfway.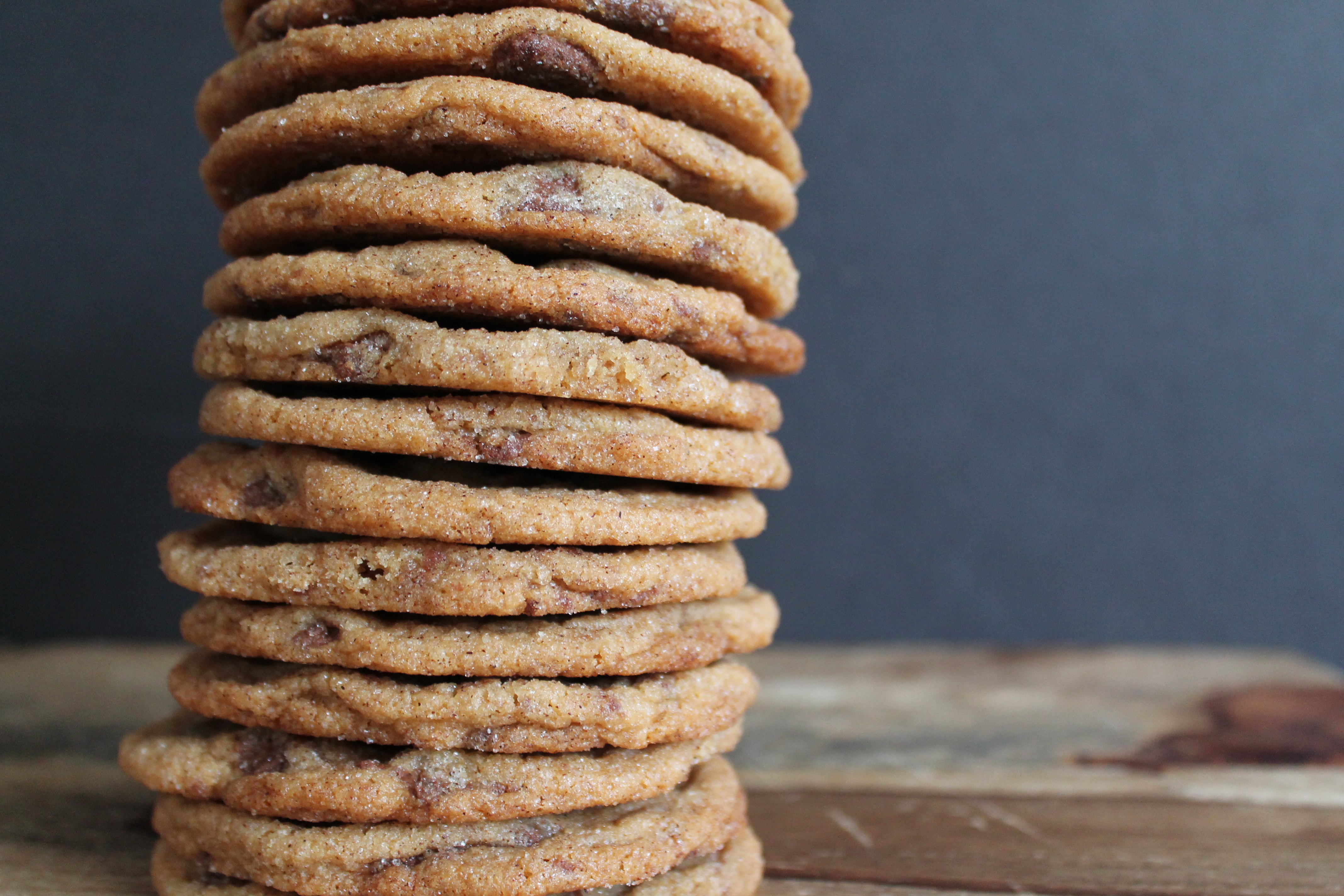 Cool the cookies on the pan for 5 minutes before transferring to a cooling rack. Try not to eat too many all at once. They are addictive.
Peanut Butter Milk Chocolate Chunk Cookies
lightly adapted from Baked: New Frontiers in Baking
makes 40–42 cookies
Ingredients:
1 cup unsalted butter, room temperature
1 cup brown sugar
1 cup sugar, plus 6 tbsp.
2 eggs
1 tsp. vanilla extract
⅛ tsp. almond extract
1 cup creamy peanut butter (I like Jif reduced fat)
1¾ cups flour
2 tsp. baking soda
1–1¼ tsp. salt
6 oz. Hershey's milk chocolate, chopped or broken into chunks
½ tsp. cinnamon
Directions:
In a mixer bowl, beat the butter, brown sugar, and 1 cup white sugar together for 1 minute on high speed, until thick and well-combined. Scrape the sides of the bowl and beat another 30 seconds.
Add the eggs, one at a time, mixing well between each addition and scraping the sides of the bowl thoroughly.
Add the vanilla and almond extracts and peanut butter. Stir until just combined. Scrape the sides of the bowl again.
In a separate bowl, whisk together the flour, baking soda, and salt. Add in two batches to the peanut butter dough, stirring until just mixed and scraping the sides of the bowl as needed.
Fold in the chopped milk chocolate.
Chill the dough for 3 hours, until cold and firm.
Heat the oven to 375°. Line two baking sheets with parchment or Silpats.
In a separate, small bowl, stir together the remaining 6 tbsp. sugar and ½ tsp. cinnamon.
Scoop the dough by tablespoons and roll in the cinnamon-sugar mixture. Place on the cookie sheet at least 3″ apart.
Press the tops of the dough balls very gently to create a plateau: the dough should look like very tall, narrow discs. Do not flatten too much, or the edges of the cookies will burn in the oven.
Bake 10–12 minutes, rotating the pans halfway. The cookies should be barely golden at the edges and puffed in the centers.
Cool 5 minutes on the baking sheet before transferring to a wire rack to cool completely.
Enjoy with a glass of milk!