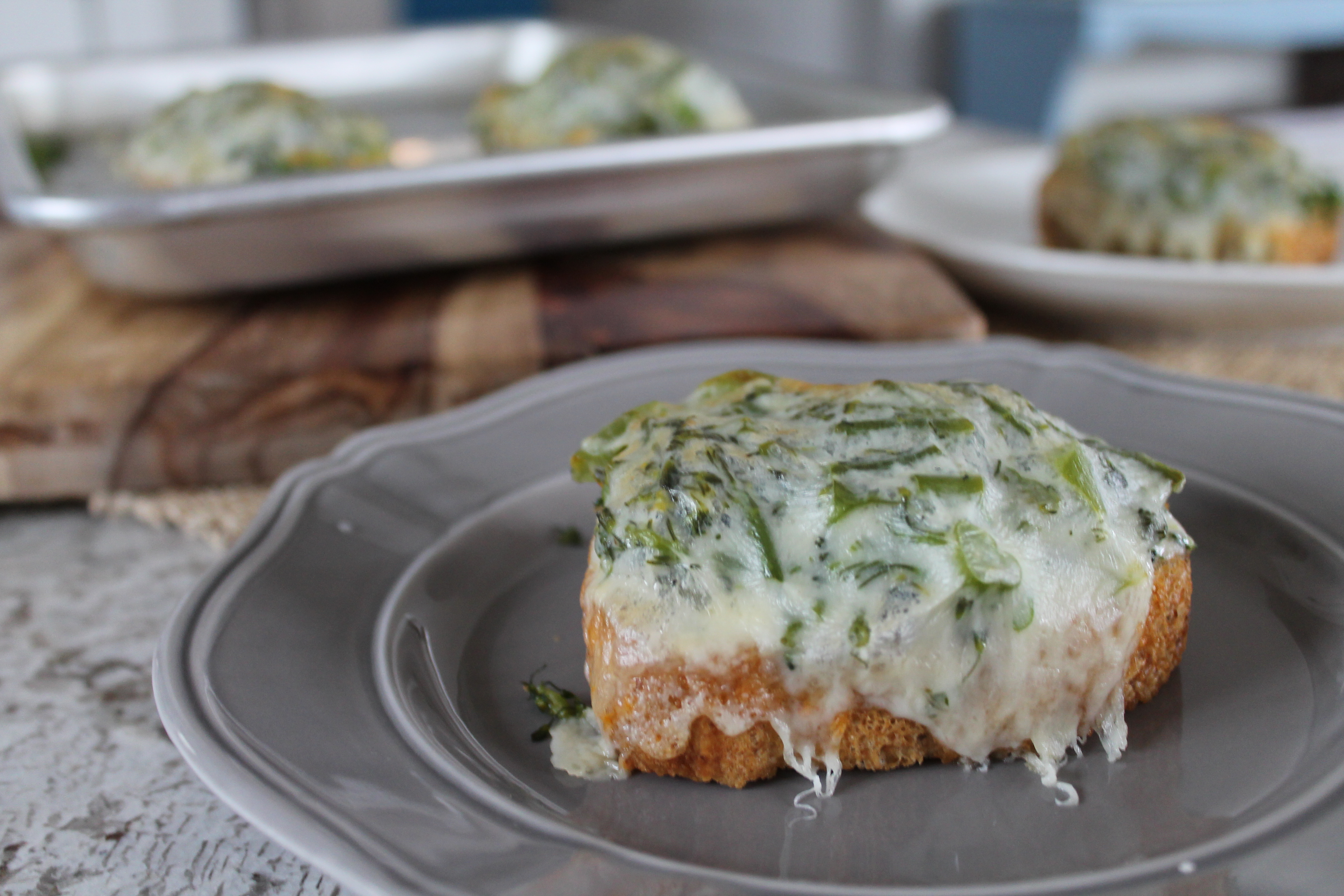 Have I mentioned my obsession with open-face sandwiches?
This broccolini melt is so amazing on so many levels. Not only is it full of bright green goodness, for which your body thanks you, but it is savory and cheesy and garlicky and a little lemony…in short, it is delicious. All delis should throw out their tuna melts and serve this instead.
The prep for this sandwich is pretty darn easy, and the broccolini mixture makes about 10 small or 6 large melts, so there will be plenty of leftovers!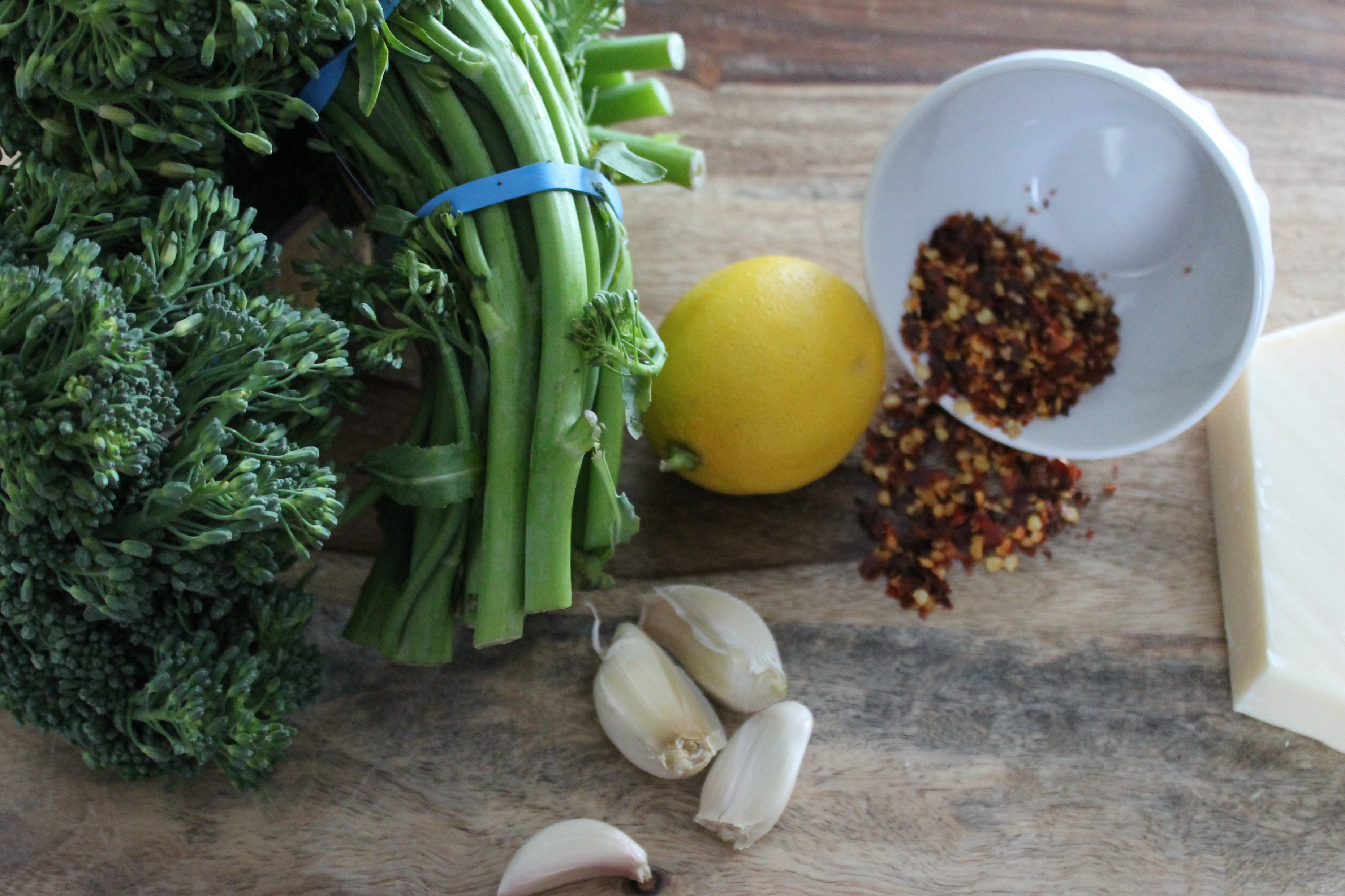 Grab two bunches of broccolini, about 1 pound's worth. Broccolini stays green even after doused with lemon (unlike its bunchier and shorter cousin, broccoli) so it works really well here!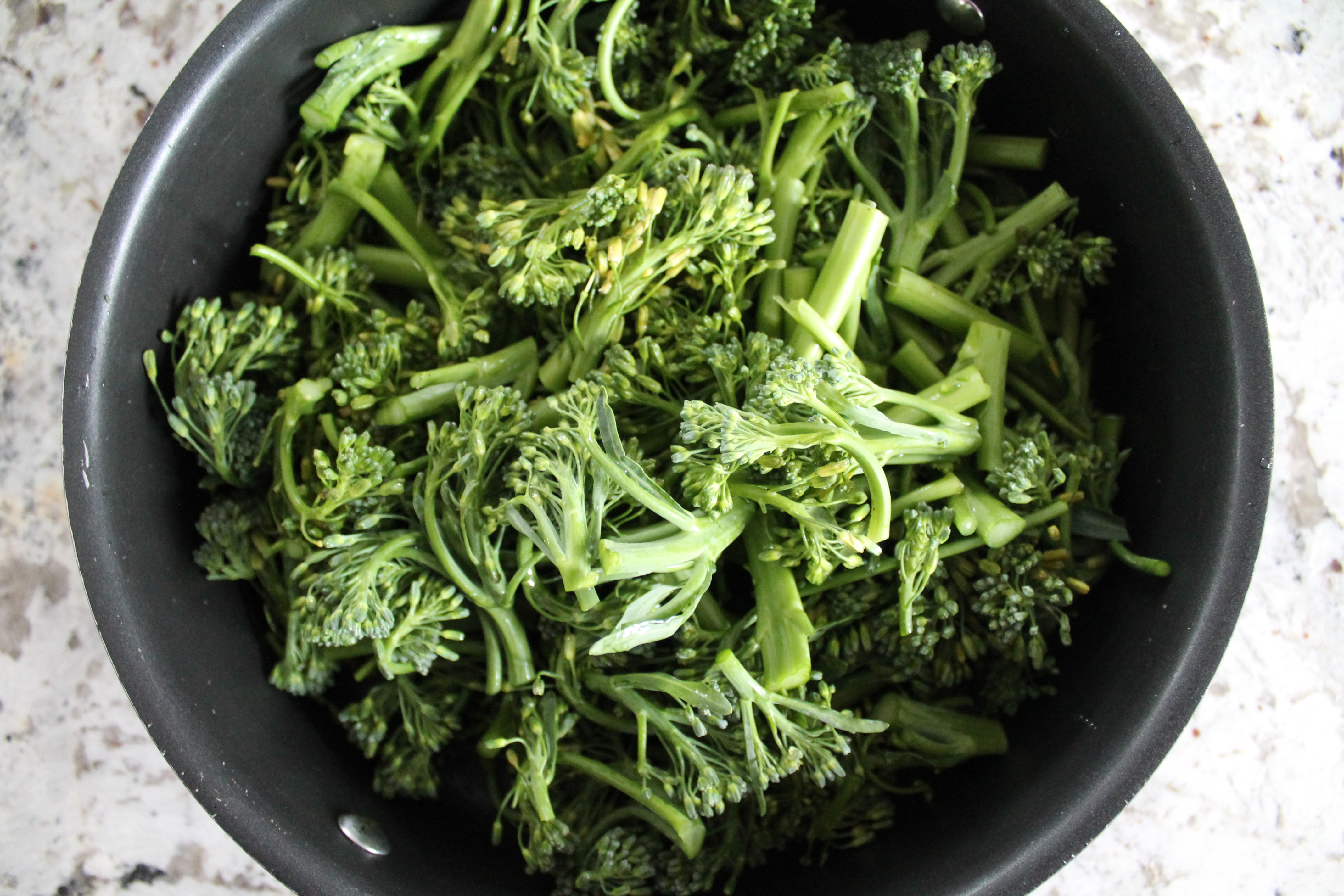 Chop the broccolini into medium-size segments, about 2″ long.
Blanch the broccolini for 2 minutes in lightly salted boiling water, then drain and squeeze dry with paper towels.
Chop the broccolini into small pieces, between ¼″–½″. A rough chop is fine, no need to be too precise, but keep in mind that you won't want any very large pieces because it will make eating the sandwich logistically challenging.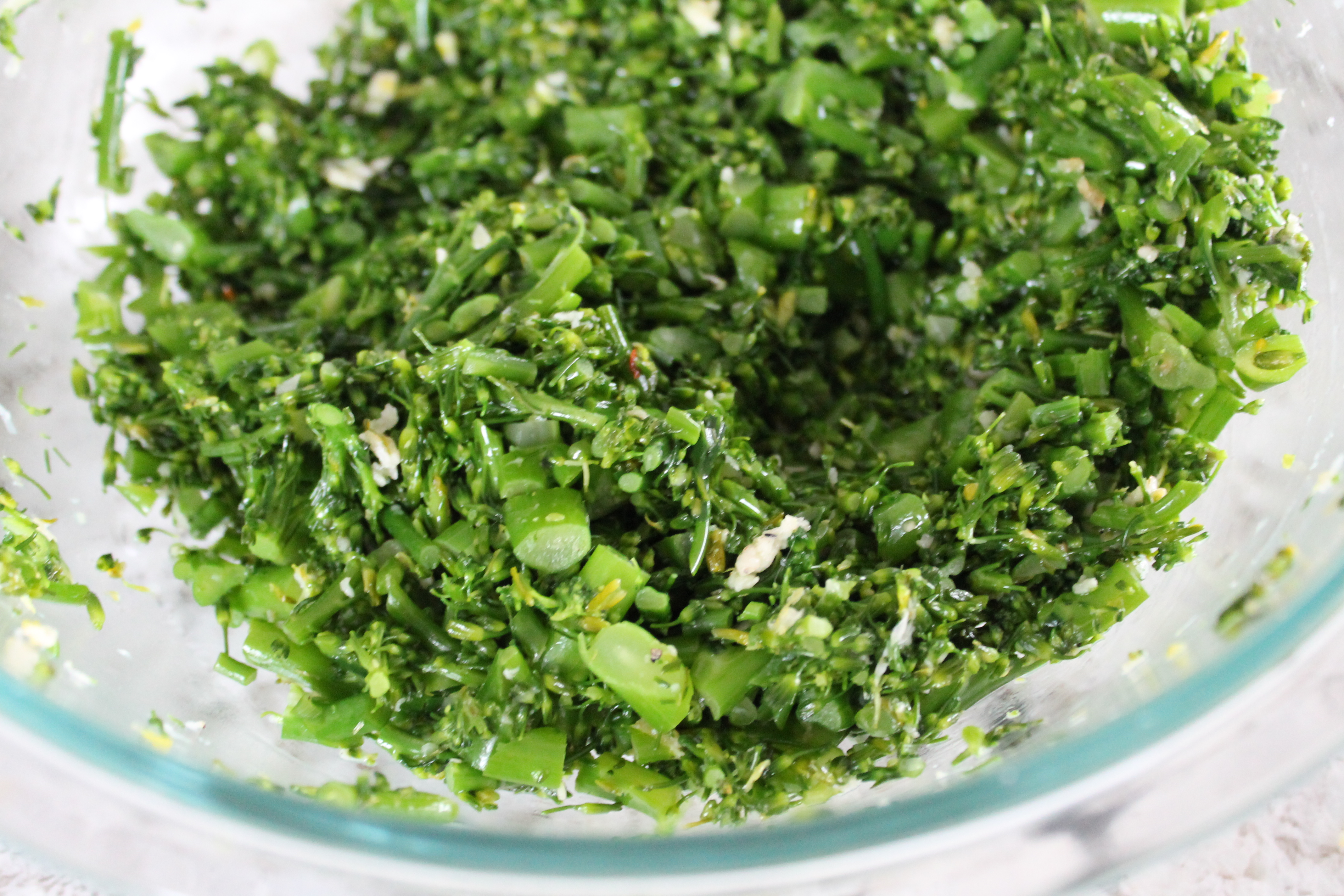 In a large sauté pan, warm some olive oil and minced garlic. Toss the broccolini into the pan and cook for 2 minutes.
Remove the pan from the heat and stir in lemon zest, salt, black pepper, crushed red pepper, and parmesan cheese. I found that the cheese clumped a bit as it melted, but there's nothing really wrong with some clumps of cheese in a melt-sandwich, right?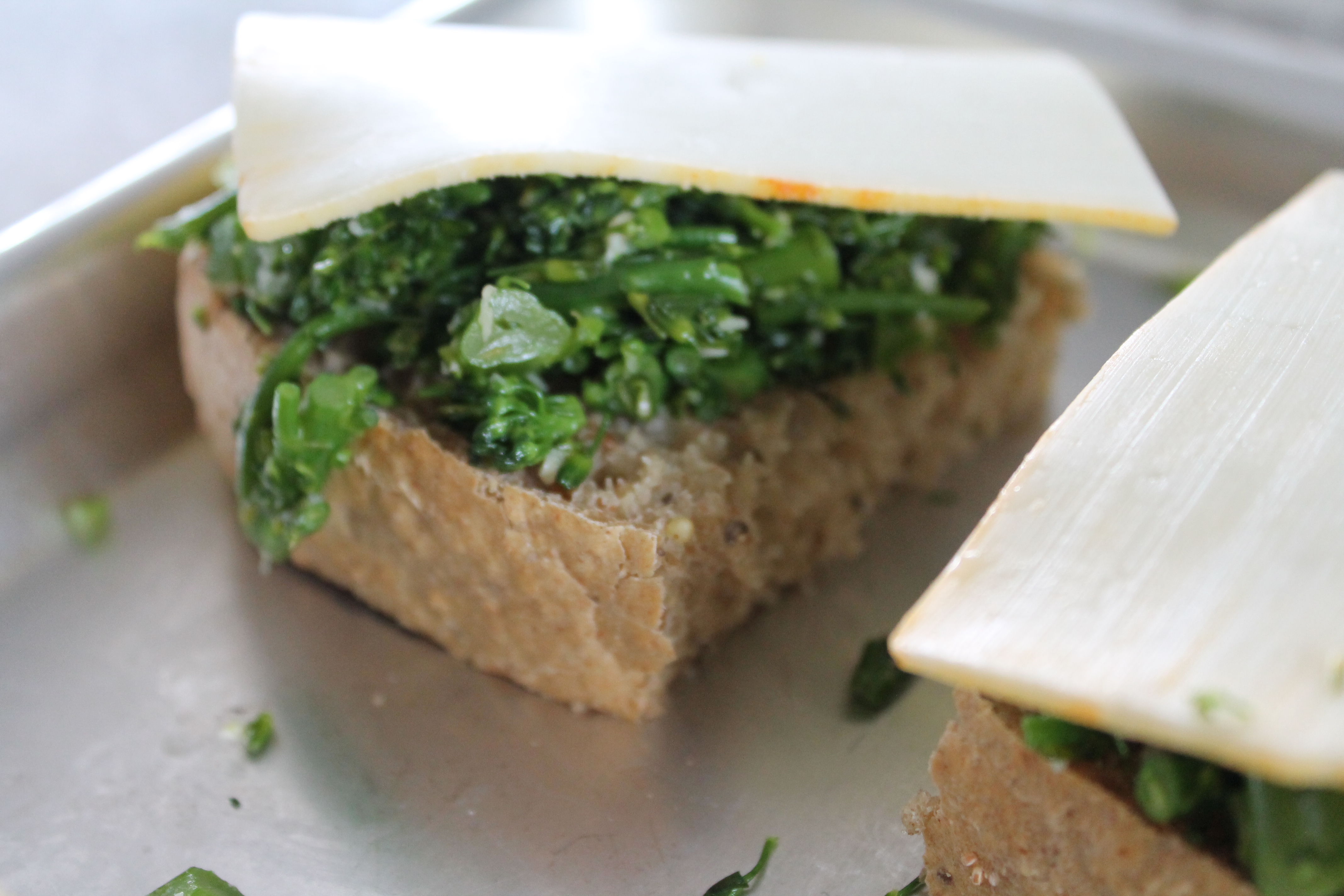 Toast a few thick slices of bread, any kind of bread you like. I used this seeded peasant bread, and it was delicious.
Top the toast with a little pile of broccolini. Spritz with a bit of lemon juice, and top with a slice of cheese. Provolone is pretty classic for a melt, but I had a ton of Muenster on hand, and I thought the combination was delicious!
Broil the sandwiches for 2-3 minutes, until melted and lightly blistered on top.
Broccolini Melts
barely adapted from Smitten Kitchen
serves 4–5
Ingredients:
1 lb. broccolini
2 tbsp. olive oil
3 large cloves garlic, minced
zest of 1 lemon
pinch of crushed red pepper
salt
2 oz. parmesan, fresh shredded
8–10 thick pieces Seeded Peasant Bread or bread of choice
juice of ½ lemon
8–10 slices Muenster or other deli cheese
Directions:
Trim the bottom ½″ off the broccolini stems. Chop the rest of the broccolini into 2″ segments.
Blanch the broccolini in lightly salted water for 2 minutes. Remove from heat and drain. Squeeze out excess water by pressing with paper towels.
Finely chop the broccolini into pieces about ½″ long.
In a large skillet, warm the olive oil. Add the minced garlic and cook for 1 minute, until fragrant but not browned. Add the finely chopped broccolini. Cook for 2 minutes, then remove from heat, seasoning with lemon zest, crushed red pepper, and salt to taste. Sprinkle the parmesan over the warm broccolini and toss.
Lightly toast the bread in a toaster. Top each piece with a pile of the broccolini mixture, as much as will fit, about 1″ tall. Squeeze lemon juice over the broccolini.
Top each piece of bread with a slice of cheese.
Broil the broccolini melts for 2–3 minutes, until the cheese is melted and barely browned or bubbled on top.
Enjoy!