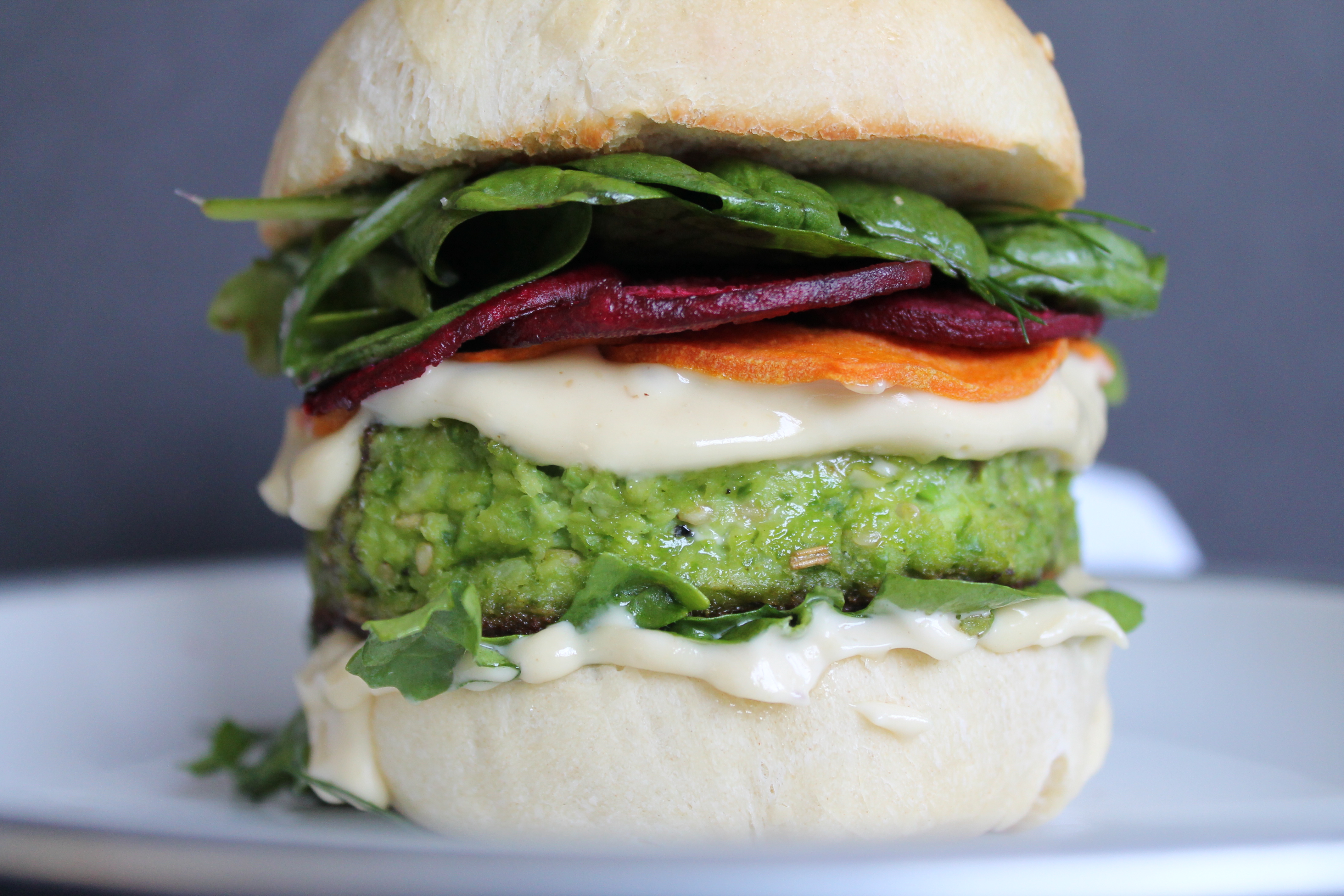 It's no secret that I love foodie burgers.
I'm not the kind of girl who longs after the simplicity of mayo and relish.
The fact that I don't eat meat has definitely exacerbated this situation. Now, in addition to the fancy sauces and unique toppings, I crave interesting and colorful patties.
Like this one, made from green peas and edamame!
For Memorial Day this year, do something special. Skip the all-soy burger and make a masterpiece.
This jolly green giant has everything going for it: most of the ingredients for the patties are in your pantry or freezer; you can make the mixture ahead of time and just fry them up when you are ready to eat; the toppings are unusual and delicious; and brightly colored food is full of varied nutrients!
I have two little kids, so prep ahead is essential to dinner success. You can make the green patties as much as two days ahead of when you plan to serve them. The patty mixture comes together quite easily, and like most veggie burgers, it is soft and easier to work with when chilled.
I adapted this green patty recipe pretty significantly from The Awesome Green's vegan burger, which based off of a recipe by Jamie Oliver and tasted exactly like falafel. While it was delicious and the veggie toppings were genius, I wanted something unique that really highlighted the sweet green peas. I de-veganized the burger because the original mixture was almost soupy and nearly impossible to cook (or eat) as a patty: the eggs and cheese add structure as well as protein! I also abandoned the falafel flavor profile. But if you want to try an interesting falafel recipe that uses green peas and corn, go make the original version!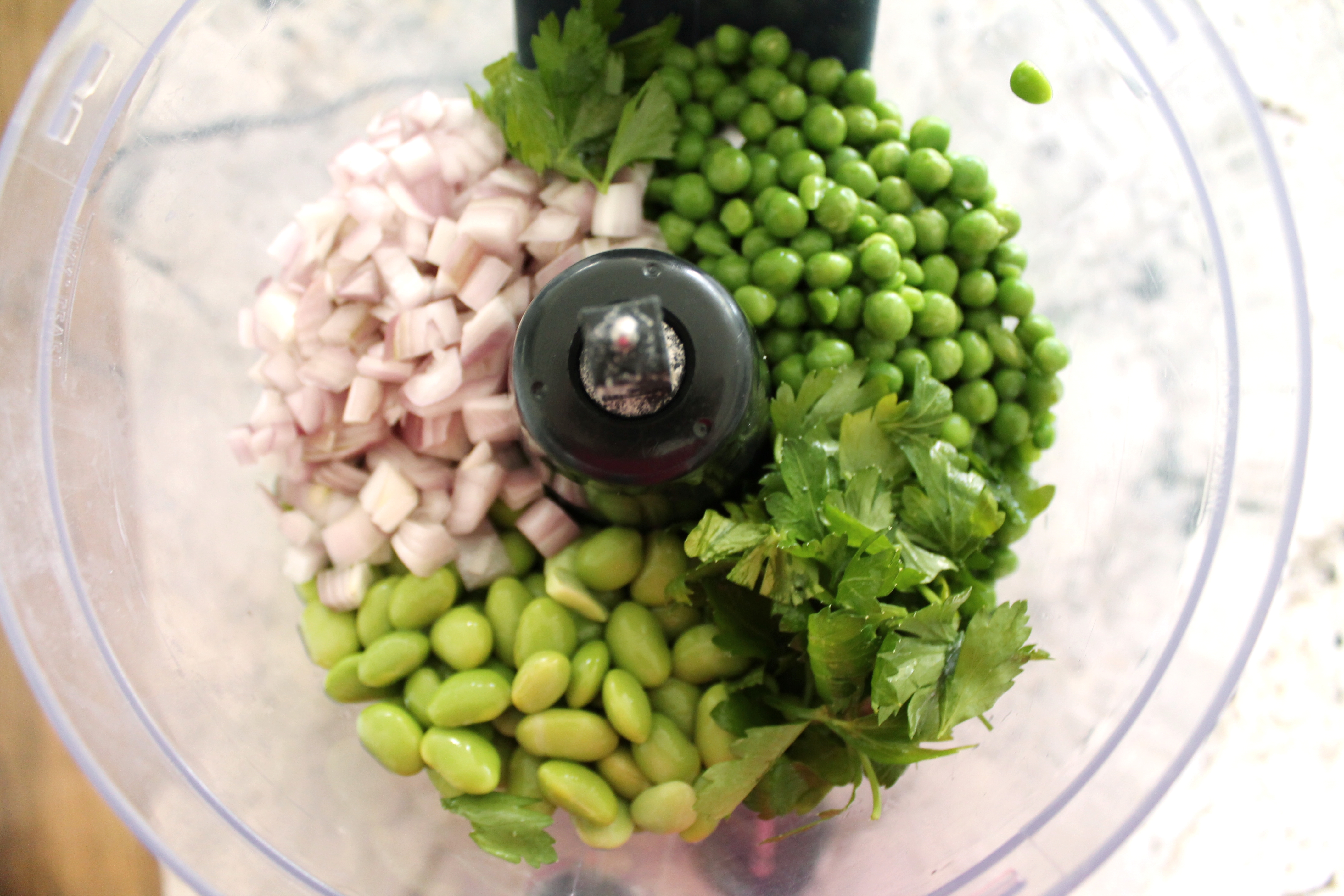 For my sweet pea burgers, combine in a food processor thawed frozen peas and edamame. Yes, this burger has soy in it, though I would hardly call it a soy burger. Feel free to substitute a different bean if you prefer! Fava would be nice, or even rinsed, canned white beans. Add chopped shallot (you could sub any color onion you have in your pantry, but I do like the mild, slightly garlicky flavor of shallot) and some fresh parsley and whiz until the ingredients are fine and even, beginning to form a paste.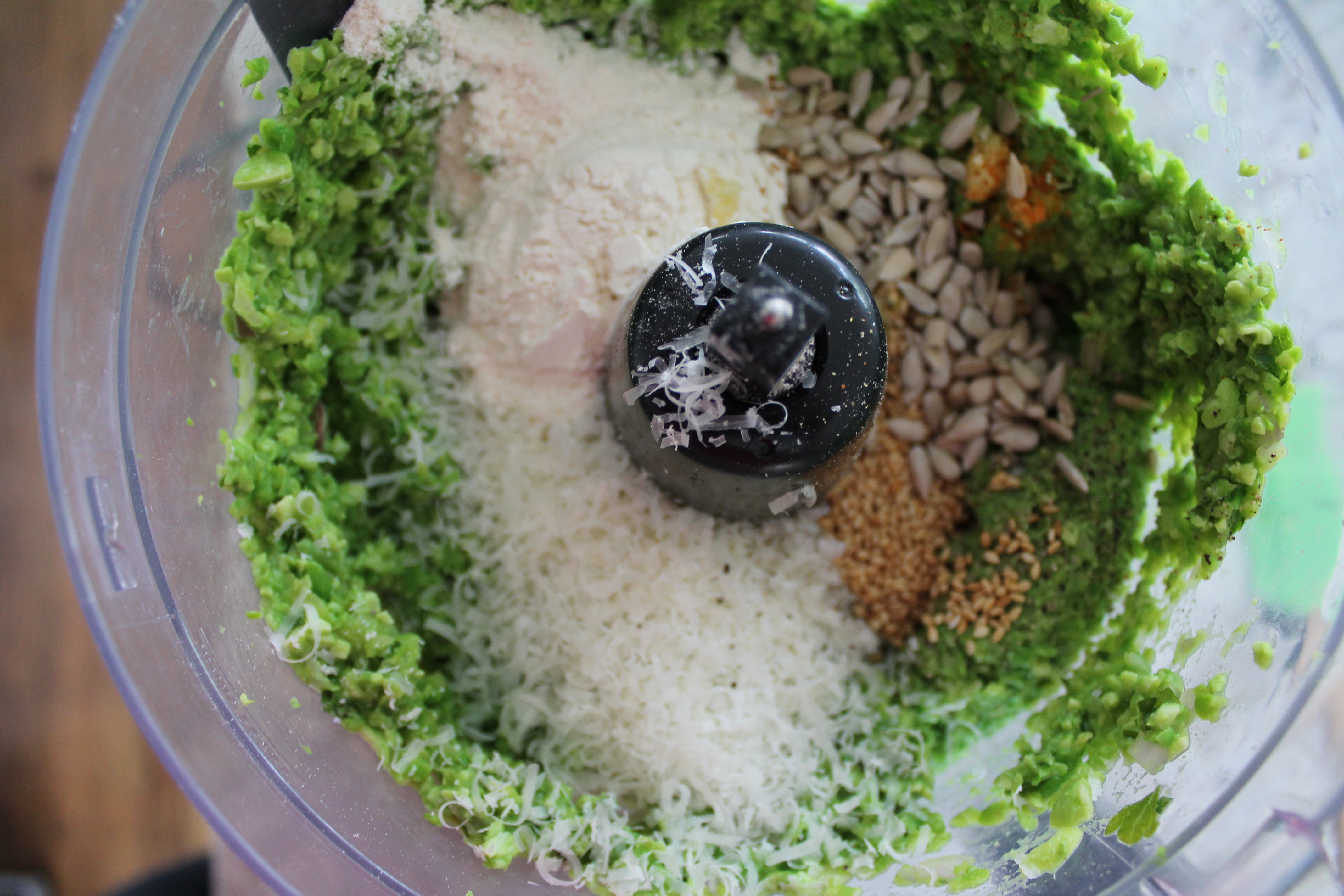 Add an egg, finely shredded parmesan, and flour (any flour you like: I used regular, all-purpose, but you can go whole grain or spelt if you like! Be cautious about subbing a gluten-free flour, as the burger is already quite soft and the flour helps to bind it together). Add some seeds for protein and texture. Toss in some minced garlic and dried seasonings. I used just a pinch of dried rosemary (fresh would be fine, but don't use too much as the flavor is stronger), smoked paprika, and cayenne to complement the sweet starchiness of the peas.
Whiz this mixture until it is even. I processed for almost a minute, scraping the edges a few times in the middle. Don't worry too much about overdoing it: there is so much veg and so comparatively little egg and flour that you can't make the patty overly chewy by processing longer.
Place the patty mixture in the refrigerator for several hours, or up to two days. If you need to make this quick, you can try immediately forming the mixture into thick patties (it will be sticky and soft) and then freezing them for 15 minutes; however, I really recommend the extra chilling time!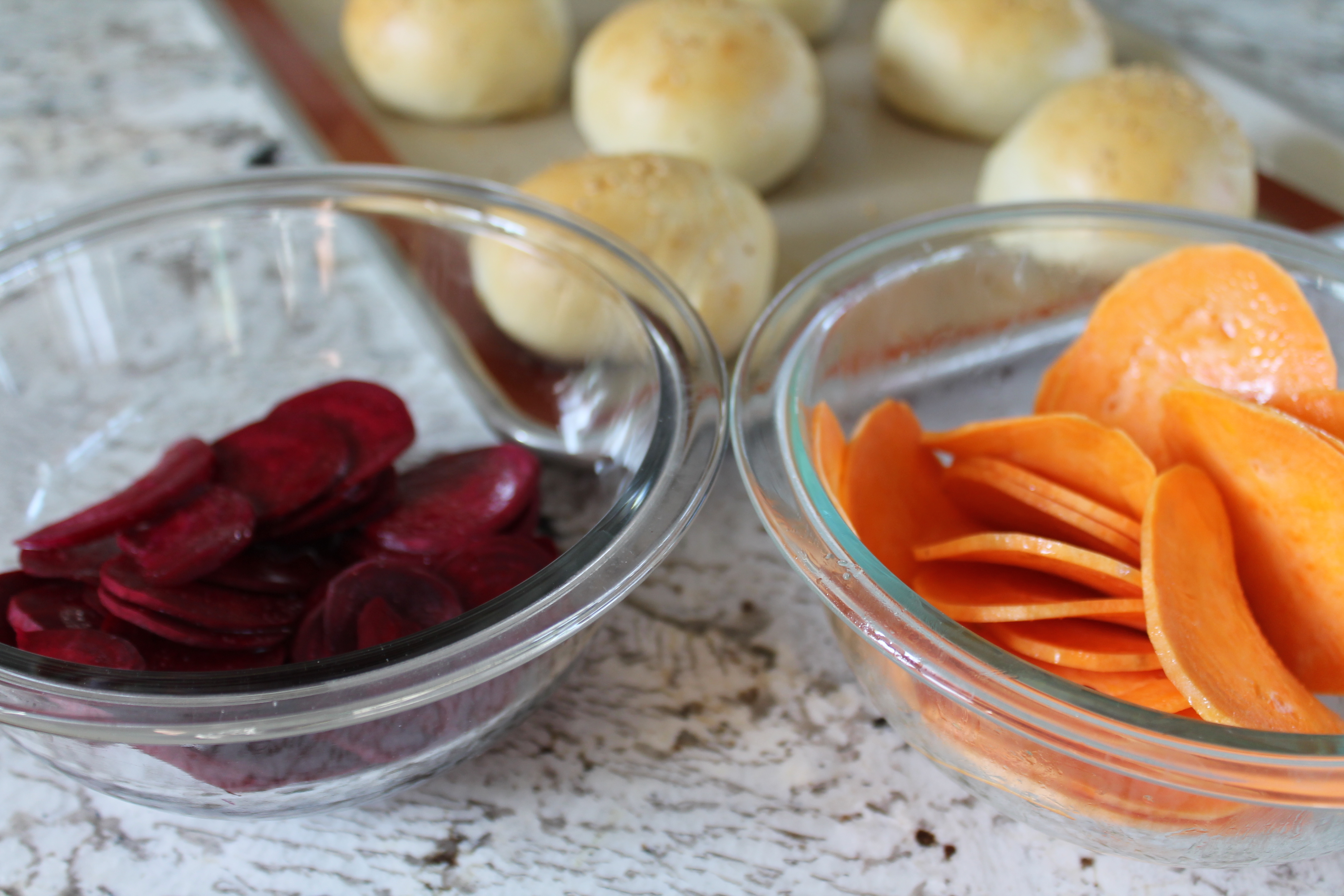 About half an hour before you are ready to eat, it's time to put together the toppings!
First, we make a barely pickled combination of sweet potatoes and beets. I have been baking these as slices, in theory making "chips" out of them for a crispy crunch, but as I've shared before, baked chips are hardly ever crispy. So. You can bake these up in thin, little slices, which is delicious and chewy, or you can fry them, if you are particularly determined to have crisp chips. But what I am going to do next time is shred the roots and make a lightly pickled slaw. I will leave the veg raw and keep the beets and sweet potatoes separate until right before scooping them onto the burger. The raw veg will provide crunch and color!
If you decide to go the sliced-and-roasted route: thinly slice the sweet potato and beets. I used a mandoline set at ⅛″ to slice evenly.
Toss each veggie (I kept them separate so the sweet potatoes wouldn't turn purple) with olive oil, salt, and cider vinegar. Set the slices in a single layer, not touching, on a baking sheet.
Bake the veggies for 15 minutes at 400°. Turn them over and broil for 1 or 2 minutes to add some crisp crunch. Be careful! They are thin, and they can blacken fast.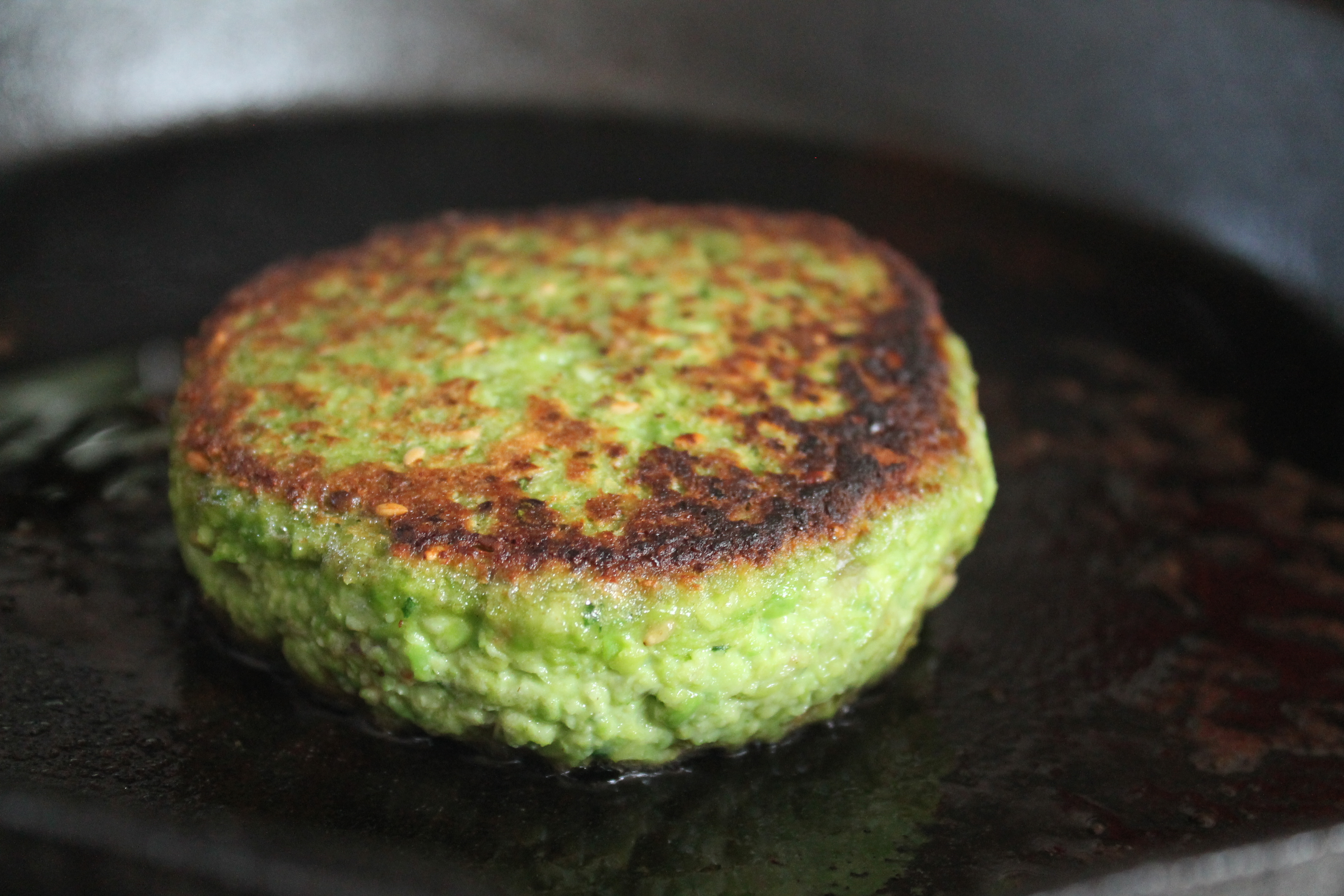 Meanwhile, heat unsalted butter in a cast iron skillet. Scoop the green pea mixture into 4 patties and cook them in the hot skillet, about 4 minutes on each side, until the bottom is browned and the patty is set.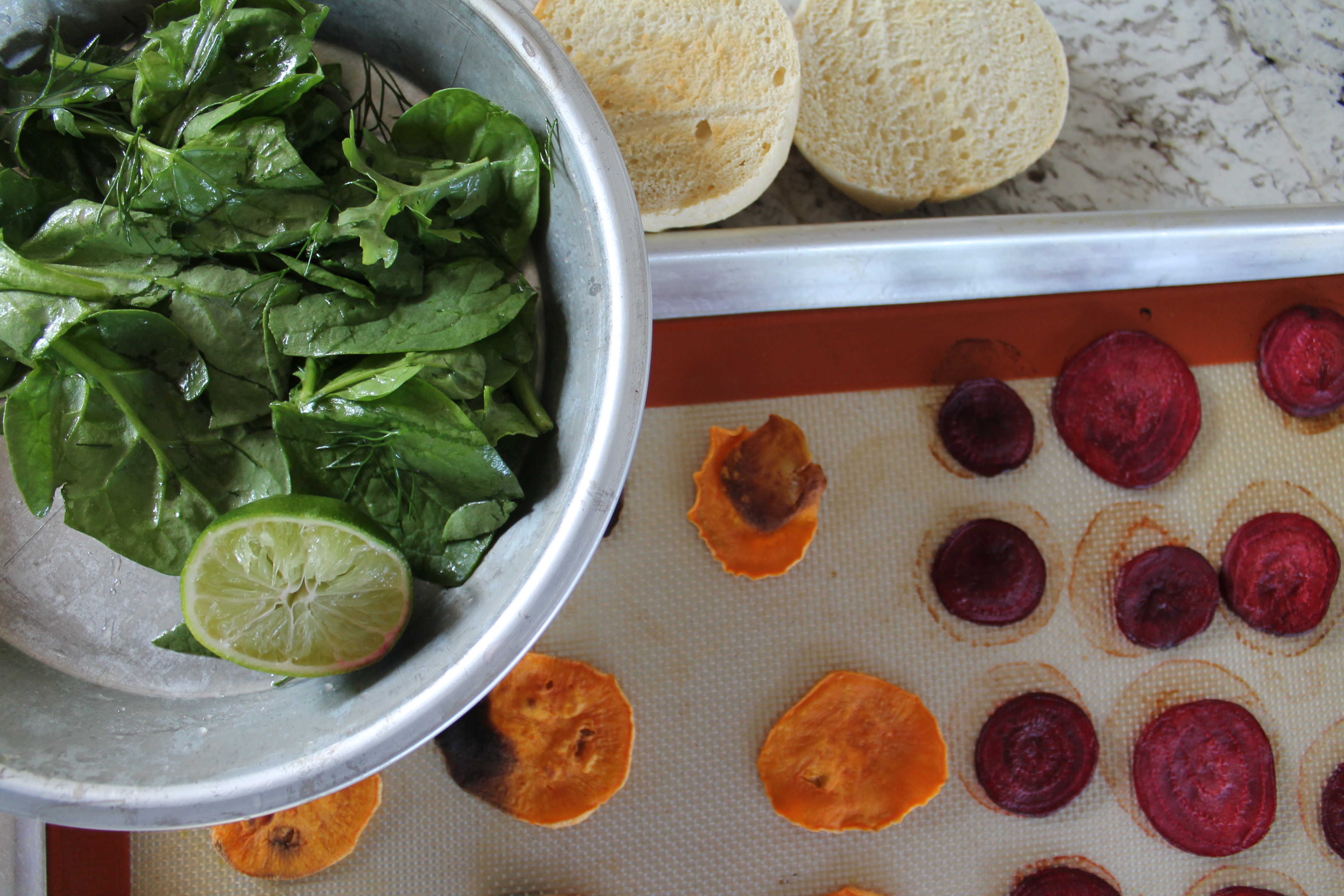 Pull together a lightly dressed salad of spinach, arugula, and dill with lime juice and olive oil. Toss to combine. (Side note: I have never been a huge fan of dill, but the lime accents it so nicely that I will keep this combination in mind for the future!) I like an awful lot of greens on this burger: almost a cup per person! Eat your greens, people.
Finally, don't forget to toast some buns! I made a batch of these brioche buns, and they are so delicious! But I will say, these buns are chewy and sturdy, and the pea patties will be easier to eat with a soft bread that doesn't squash them with each bite. Just a thought.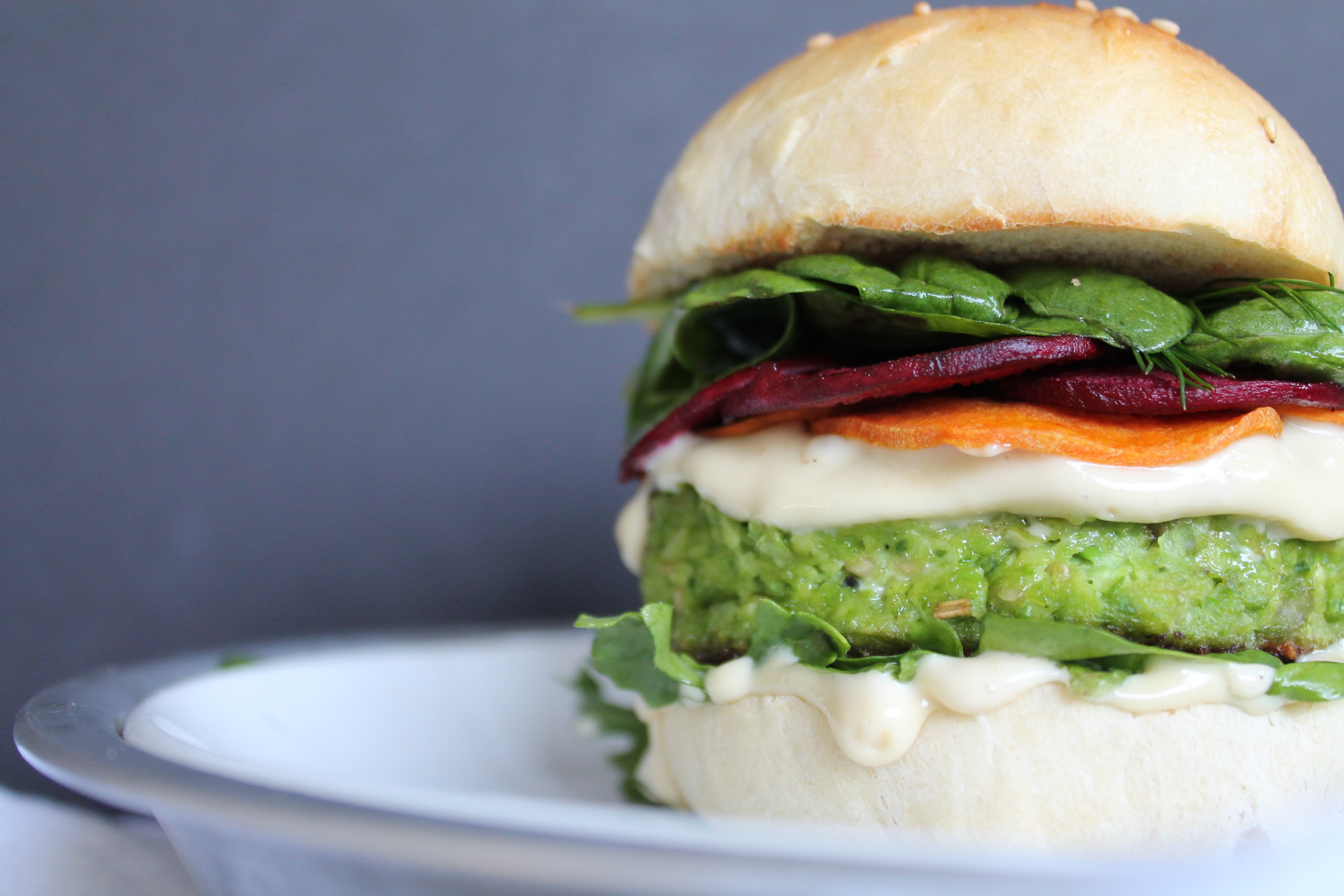 Now we assemble. I love this roasted garlic aioli. It's totally a splurge, but I almost always have it on hand because it's so delicious. In fact, this flavorful aioli is part of what helped me survive the months I couldn't eat dairy. If you can't find it in your local grocery store, or aren't interested in spending extra bucks on a fancy spread, you can use mayo or else make your own fancy spread. I will leave you to figure that out on your own, because I would seriously eat the garlic aioli on every single sandwich for the rest of my life.
Spread the aioli on your toasted burger buns, top and bottom. Layer some of the dressed greens at the bottom, followed by the green patty. Top this with the root veggies and more greens. This burger is so tall. It's a monster.
Eat while warm with plenty of napkins! Messy is delicious.
Monster Green Pea Burgers with Roots and Greens
heavily adapted from The Awesome Green
serves 4
Patty Ingredients:
2 cups frozen sweet peas, thawed
1 cup shelled edamame or fava beans
1 large shallot, diced (about 1 cup)
¼ packed cup fresh parsley leaves
2 cloves garlic, smashed
1 egg
½ cup flour
½ cup fresh grated parmesan (about 1 oz.)
pinch of cayenne
pinch of smoked paprika
pinch of dried rosemary
1 tbsp. sesame seeds
1 tbsp. unsalted sunflower seeds
¼ tsp. sea salt
Fresh ground black pepper
Assembly Ingredients:
1 large sweet potato
2 large beets
2 tbsp. olive oil, divided
2 tsp. apple cider vinegar
salt
1–2 tbsp. unsalted butter
4 lightly packed cups greens (spinach + arugula)
1 tbsp. fresh squeezed lime juice
4 light brioche burger buns or other burger buns, toasted
garlic aioli
Directions:
Make the green patties. Combine peas, beans, shallot, parsley, and garlic in a food processor and puree until a rough paste forms. Add the remaining ingredients and process for 1 minute, scraping the sides of the food processor as needed, until the mixture is thick and even.
Chill the patty mixture in the refrigerator for 2 hours, or up to 2 days.
After chilling, form into 4 patties. Return to the fridge while preparing the toppings.
Heat the oven to 400°.
Peel and slice the sweet potato and beets into ⅛″ thick rounds. Toss with 1 tbsp. olive oil, cider vinegar, and salt. (To avoid coloring the sweet potato slices purple, keep the sweet potato and beets separate while seasoning.)
Arrange the sliced root veggies on a lined cookie sheet in a single layer. Bake for 15 minutes.
Turn on the broiler. Flip the wilted roots over and broil for 1–2 minutes, until crisp but not blackened. Set aside to cool slightly.
While the root vegetables are cooking, heat the butter in a large cast iron skillet. When the butter is melted and the skillet is hot, add the green pea patties. Cook 4 minutes on each side. The top and bottom of each patty should be browned and crisp, and the patty should be cooked all the way through.
Toss the greens with the remaining 1 tbsp. olive oil, lime juice, and a pinch of salt.
Assemble the burgers. Spread garlic aioli over both halves of the burger buns. Layer with dressed greens, the cooked green pea patty, and several slices of beets and sweet potatoes.
Enjoy warm!