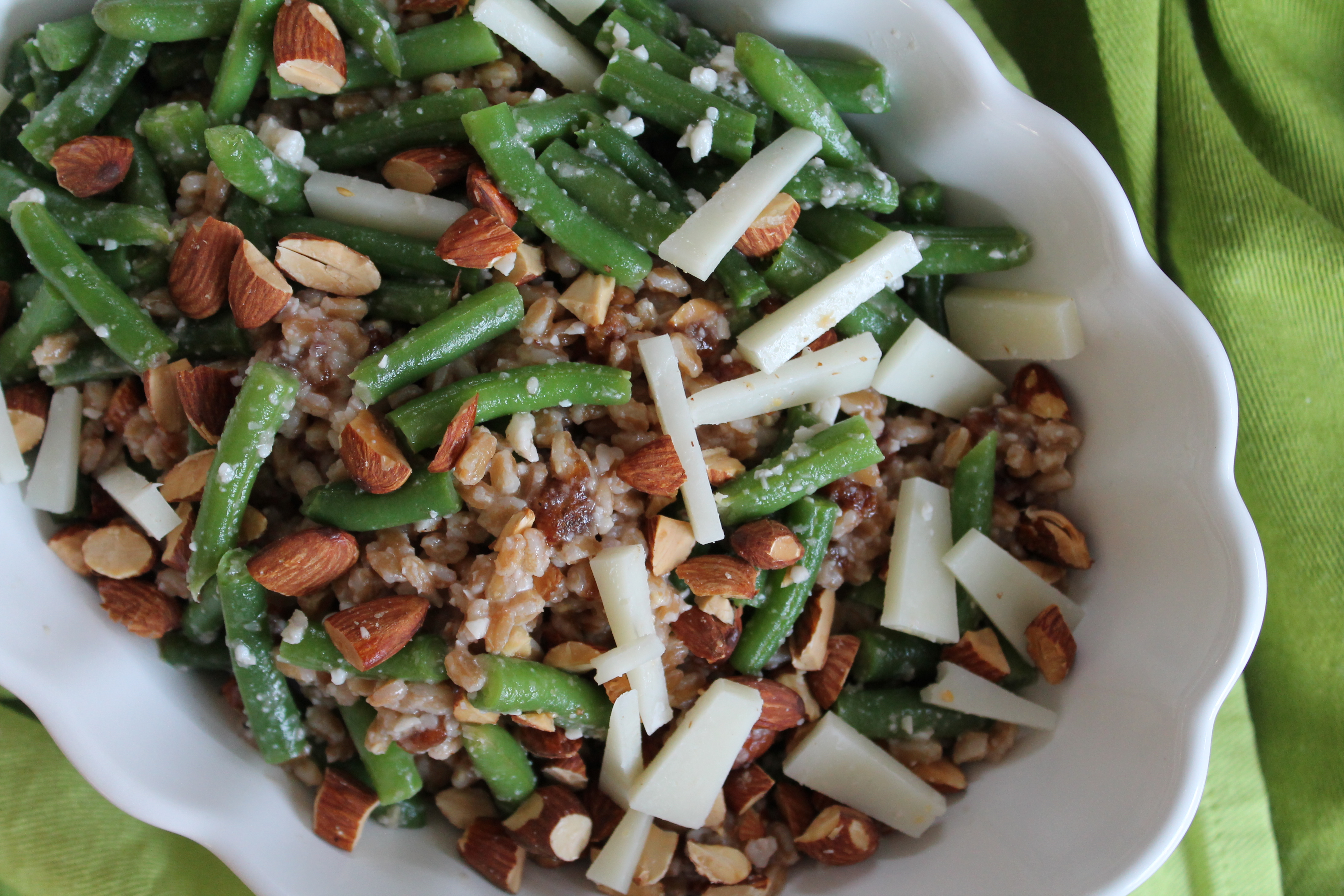 I like to collect cookbooks. Mostly pretty ones. Often written by bloggers I enjoy and famous chefs.
Yet, like everyone in my generation, when I want to figure out what is for dinner, I usually ask Pinterest.
Which is why it's so weird that I have been cooking lately from magazine clippings and *gasp* the actual pages of the books on my shelves!
When I found this grain salad as I was idly flipping through a magazine one morning, I immediately wrote all of the ingredients on my grocery list and purchased them the next day. I love whole grain salads, and you should, too!
This salad is perfect. It reminds me a little of the spring wheatberry salad I made a few years ago, because it is so well balanced and textureful!
There are a lot of separate items to take care of in this salad. (As with most salads, I suppose.)
Start by trimming green beans. I am so into doing prep work for my whole week immediately after returning from the grocery store, because it makes dinner time a breeze! You can trim the beans days in advance, or right before making this dish, and it will turn out brilliantly either way.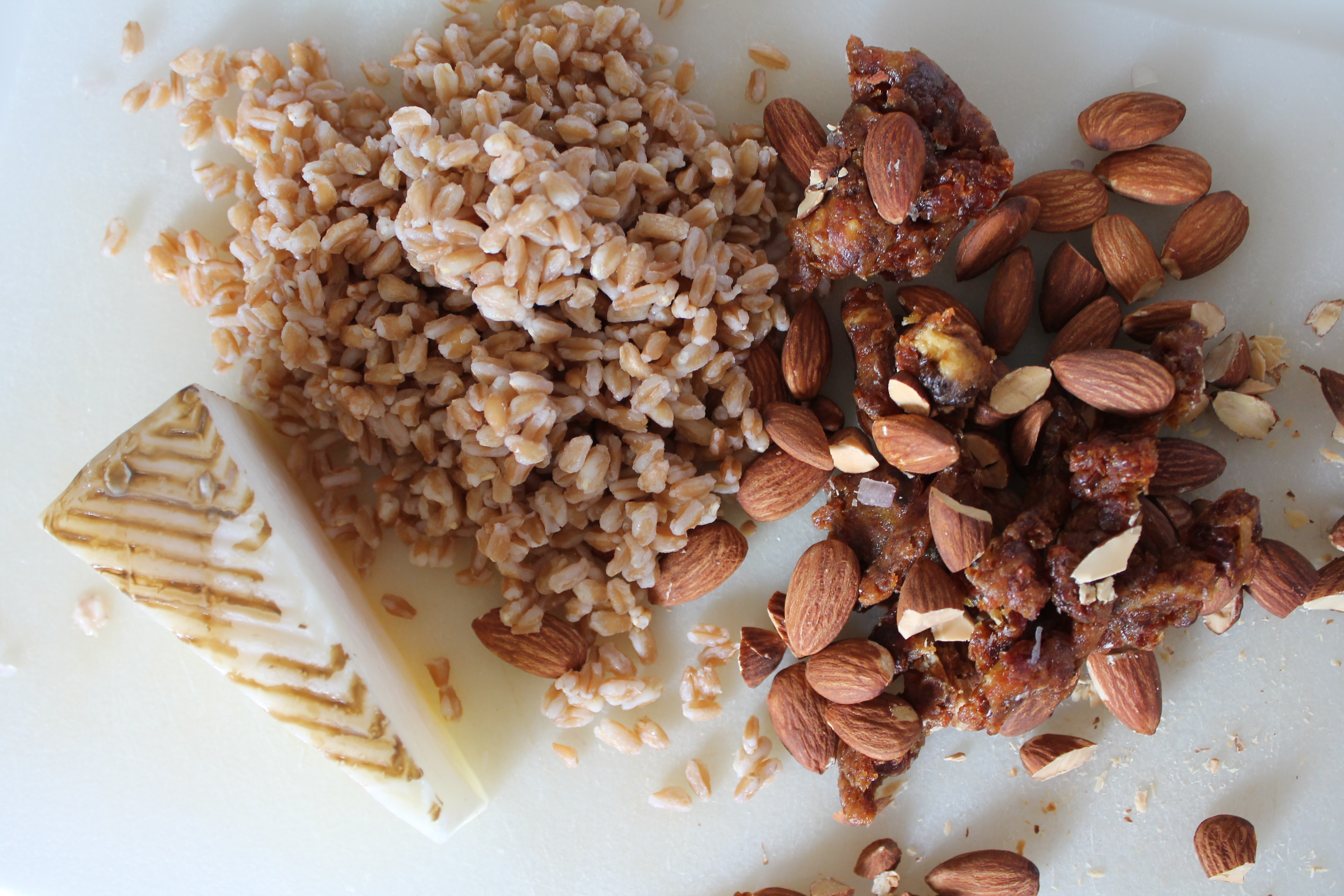 The most time-consuming step in making this grain salad is cooking the farro. Farro is an ancient grain related to wheat, so this salad is not suitable for celiacs. Farro cooks the same way as quinoa or rice: simply throw it in the pot with twice as much water as grain, cover, and simmer until plump. I recommend taking the lid off the pot about halfway, stirring and letting it finish cooking while you make your vinaigrette.
We must also roast some almonds. This just involves throwing some raw, unsalted almonds into the oven for 10 minutes and shaking the pan partway. I like to dry roast my nuts as soon as I bring them home, that way they are always already ready for me to throw them into salads or desserts. You can definitely do this step ahead of time to save effort before your meal!
Vinaigrette. We are making this in a blender! Hooray. That makes life so simple. Add red wine vinegar, 1 minced shallot, salt, and pepper to the blender and blitz. Toss in some grated or chopped manchego, the king of cheeses. Next, several splashes of olive oil, and then blend until the mixture is even. The blender will do some of the work to break up the manchego, but the resulting vinaigrette will still have small shards of cheese texturing it.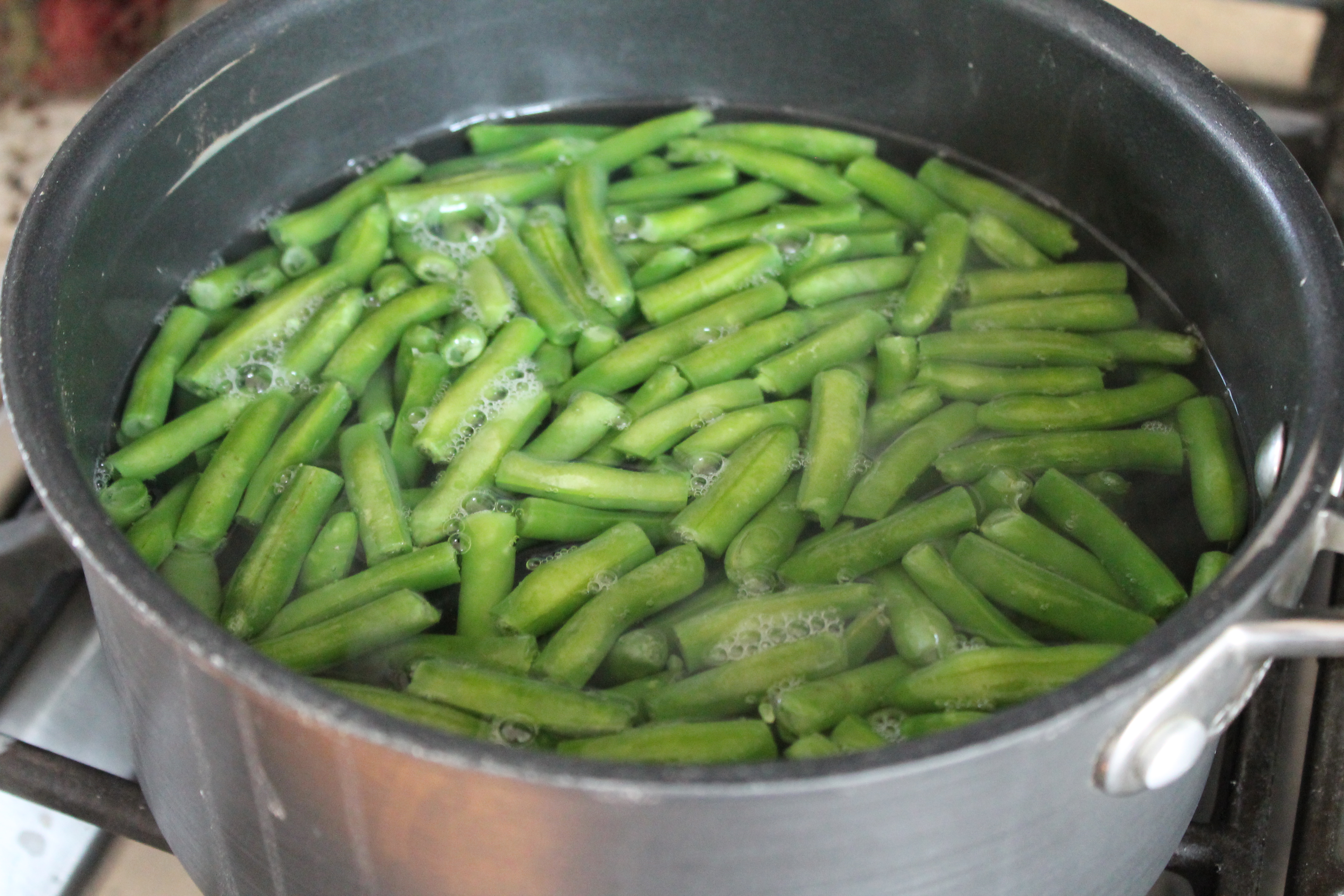 Time to blanch the green beans! Bring a large pot of water to a boil. Salt the water lightly, then add the green beans and cook for 3–4 minutes. Brown green beans are gross, so make sure you keep an eye on them and don't let them stay in the water too long.
When the green beans are crisp-tender and still bright green, immediately pour them into a bowl of ice water to stop them cooking further.
One final bit of chopping. Time to chop dates and almonds, and slice up the remaining chunk of manchego. Dates are super sticky, so I recommend being a bit methodical about it. Slice them into strips and then turn them 90° to complete a fine dice. They will stick together, but you can "crumble" them with your fingers into the salad.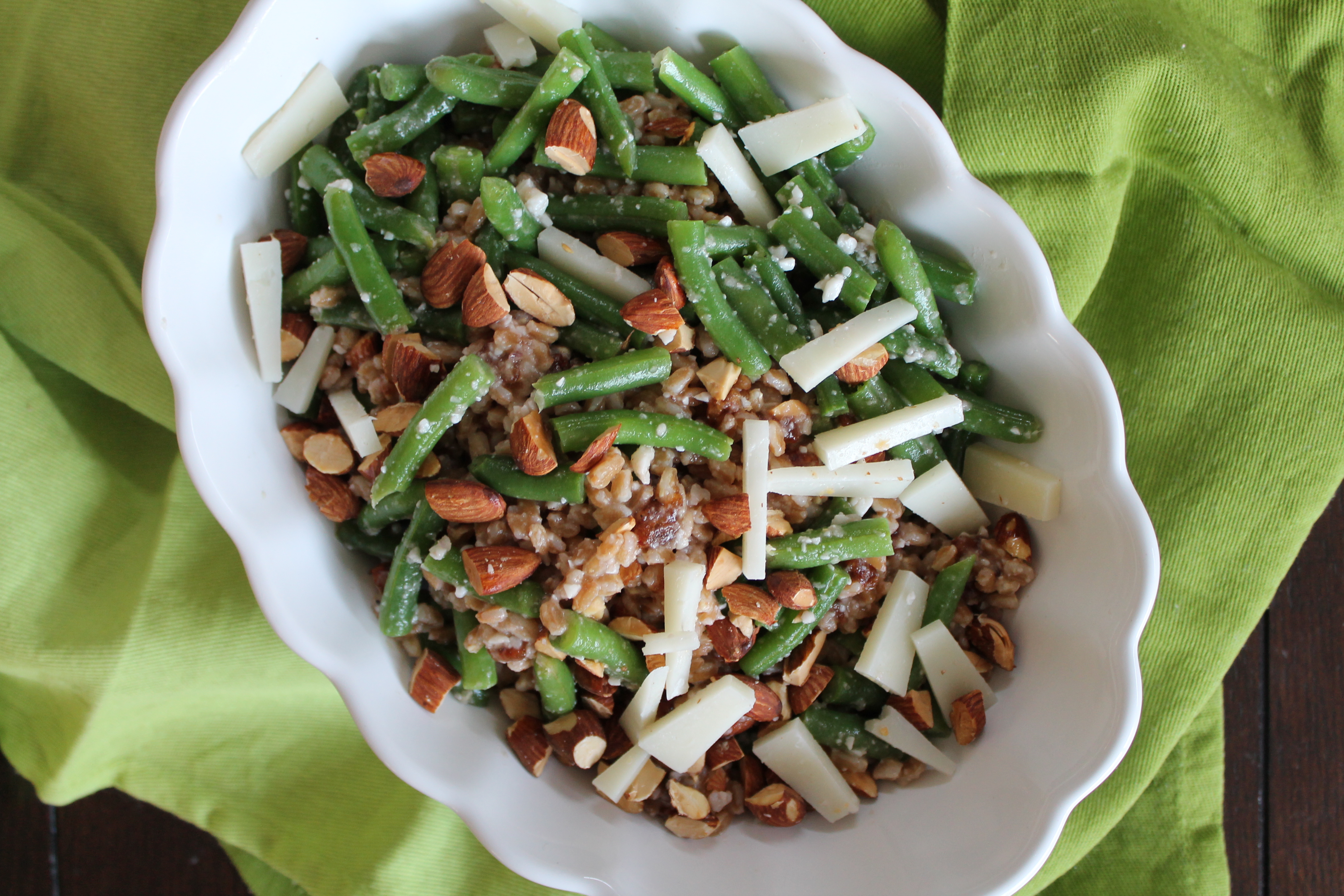 Assemble your salad! At last! Toss the farro,  green beans (drained from their ice water), nuts, dates, and manchego with the red wine vinagirette. Season as needed with fresh ground black pepper and salt.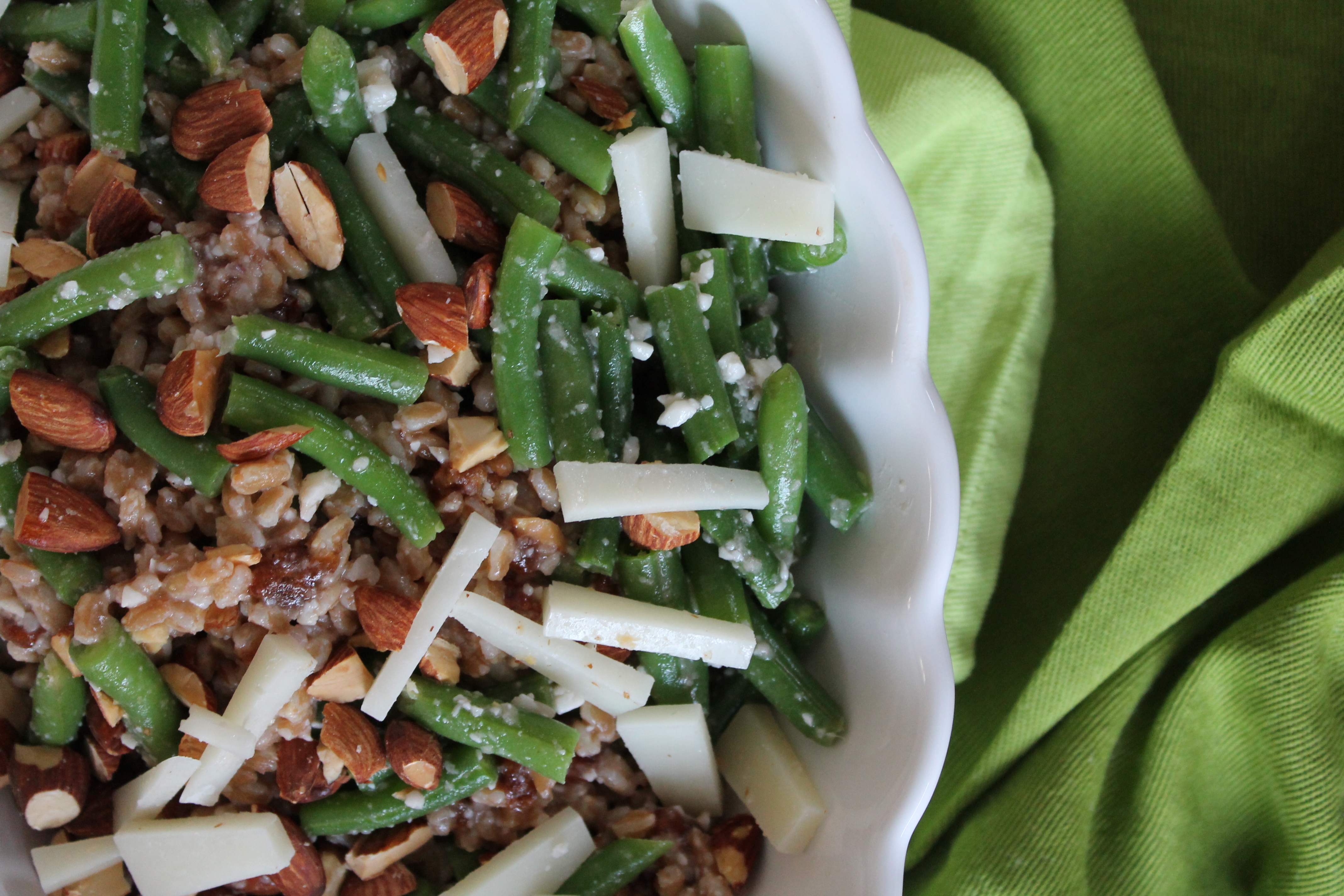 I have been noshing on this salad for a week, and I can attest that it is delicious cold and warm and any other way you like it. It makes a great lunch!
Green Bean and Farro Salad with Manchego
lightly adapted from Better Homes and Gardens August 2016
serves 4–6 as a main dish or 10–12 as a side
Ingredients:
1 cup dry farro
1 lb. green beans, trimmed into 1″ segments
⅓ cup red wine vinegar
1 medium shallot, minced
6 oz. manchego, divided
⅓ cup olive oil
½ tsp. salt, plus extra
¼ tsp. fresh ground black pepper, plus extra
¾ cup dry-toasted almonds, roughly chopped
4 Medjool dates, finely diced
Directions:
Combine the farro and 2 cups water in a medium saucepan. Cover and place the pan over medium heat. Bring the water to a boil, then reduce to a simmer and cook, covered for 10 minutes. Remove the lid and continue to simmer the farro until the water has been absorbed and the grains are swollen an tender. Set aside.
Meanwhile, blanch the green beans in a large pot of salted water, about 3–4 minutes. Immediately transfer the beans to ice water to stop them cooking and keep them a nice, bright green.
In a blender, combine the red wine vinegar, shallot, 2 oz. shredded or chopped manchego, olive oil, salt, and black pepper. Blend until smooth.
Thinly slice the remaining 4 oz. manchego.
Toss the farro, green beans, chopped almonds, sliced manchego, and diced dates with the vinaigrette. Taste and adjust salt and pepper as needed.
Enjoy!