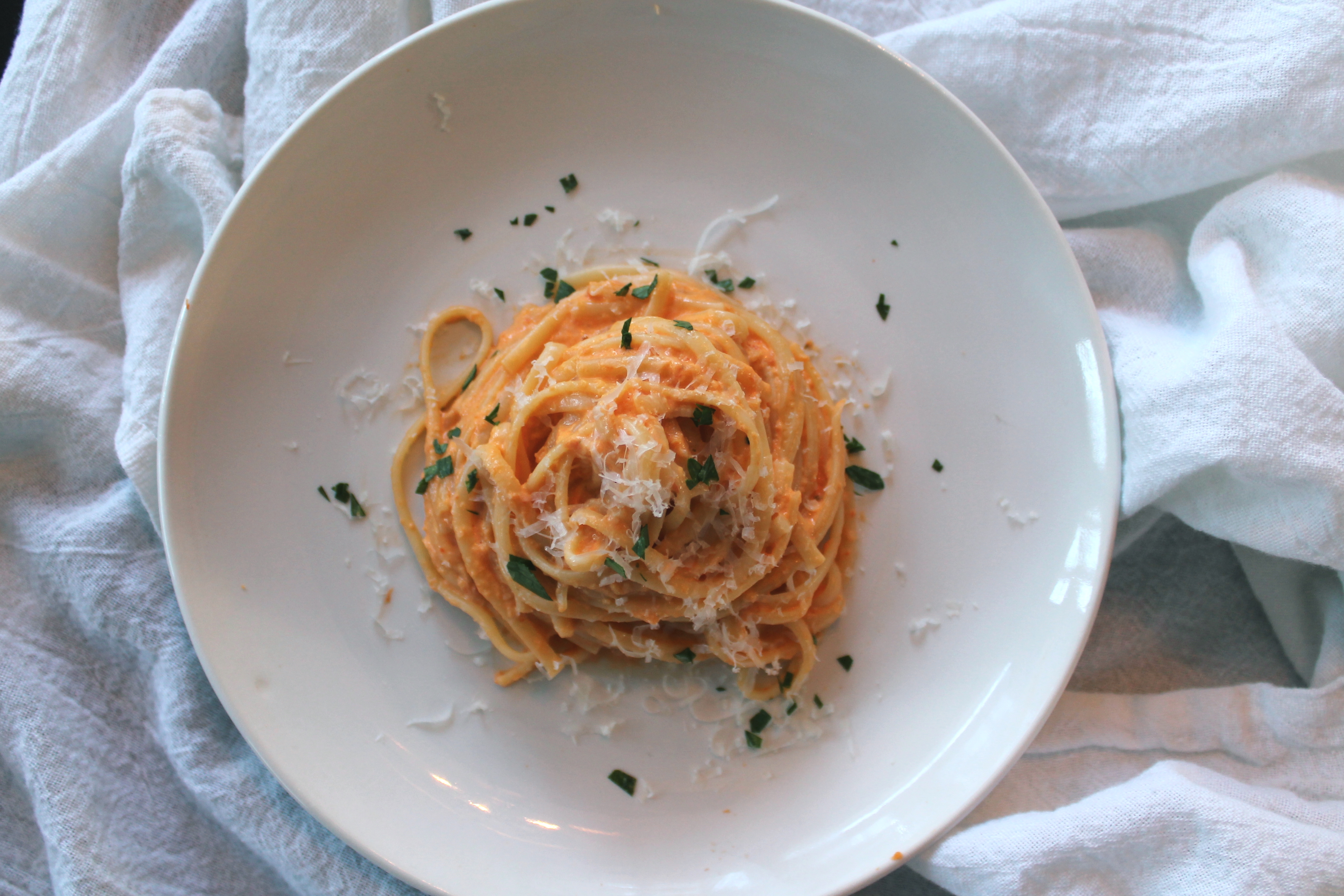 If you've been hanging out here for a while, then you already know how dearly I love Sarah of Well Dined.
She is one of my favorite people on the planet! Sarah has been unspeakably kind and generous to me in the seven years (!) we've known each other. She is thoughtful, thought-provoking, and hilarious. She is bold—and I don't just mean her hair—and she pursues life fully. I am grateful to Sarah for stretching me as a cook, for her encouragement and patience through all of my motherhood woes, and for being the best friend a girl could ask for.
Which is why I am so excited to be cooking from Well Dined for the September Secret Recipe Club challenge!
Months ago, when Sarah joined the SRC, I mentally earmarked this spinach and gruyère strata to make whenever I got assigned to cook from her blog. But…surprise! During one of our subsequent lunches, she mentioned this amazing caramelized French toast she makes, and I knew my life would not be complete without it, so I decided to make that instead. And then, when the assignment actually happened, I got so excited about making some kind of ravioli, which Sarah makes all the time—and we talk about endlessly—that I threw out all my breakfast plans entirely. This somehow turned into the joy of hiding vegetables inside of pasta sauce.
I have been looking for a good way to trick my son into eating bell peppers for quite some time. My husband is quite scandalized that Jake turns up his nose at peppers even though they are quite clearly amazing. I was sure that a sweet and tangy, cheesy pasta sauce would win Jake over.
Turns out Jake is a pretty smart kid: he took one bite and announced he didn't like the flavor. Alas! But Dave and I were both smitten.
This roasted red pepper alfredo is rich and creamy and delicious. The sweetness of the pepper is complemented by the tang of goat cheese, the grassy brightness of parsley, and a tiny kick of crushed red pepper. If you are smart, you will roast up some broccoli until it is nice and crisp and toss it in! It will add the perfect note of bitterness and crunch to make the meal complete.
I love alfredo because it is easy to make. This recipe has the added step of roasting bell peppers, but you can do that days in advance, if need be.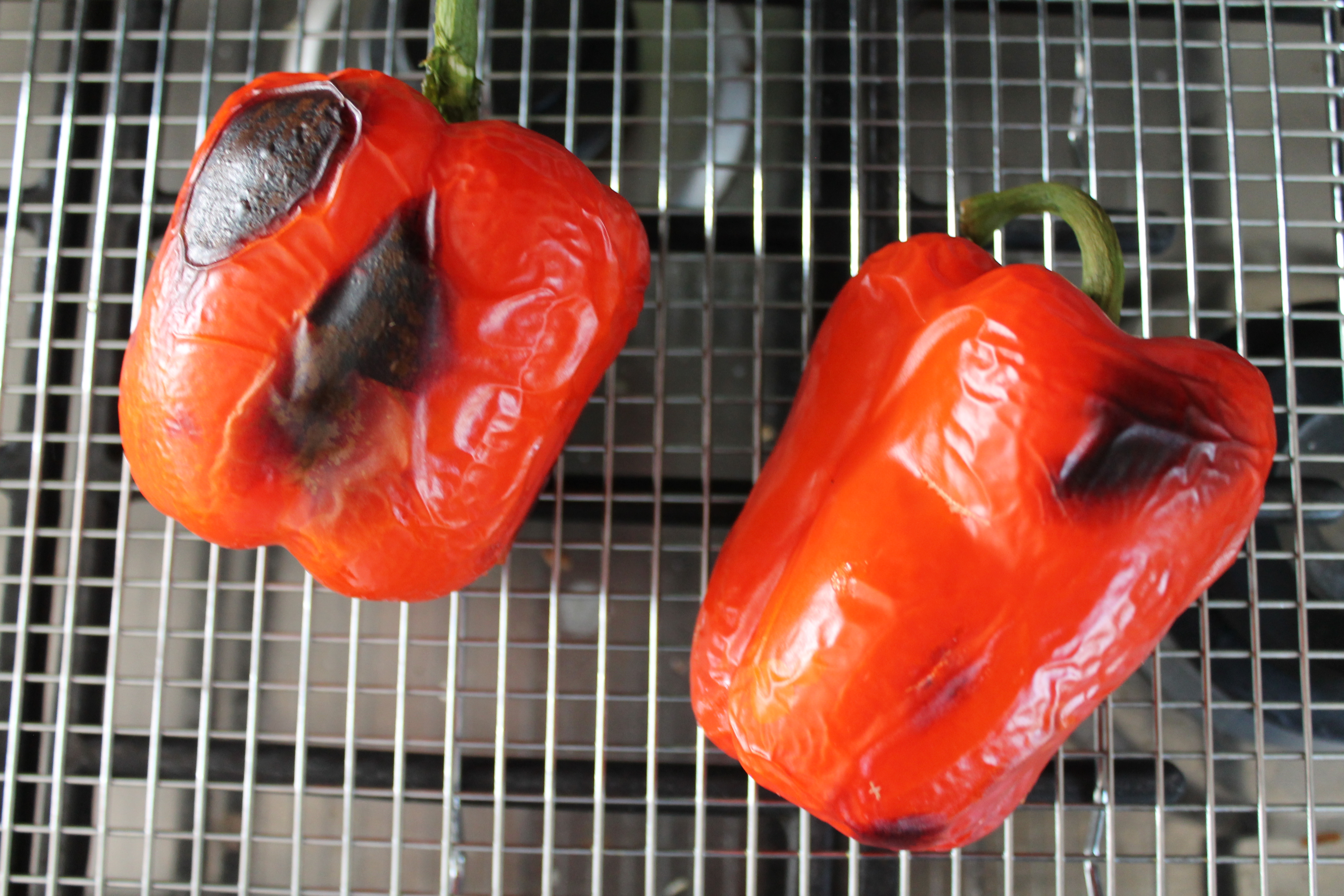 I like to quickly broil my peppers rather than slow-roasting them. Just drop them directly onto the oven rack and turn them with tongs every 3 minutes or so, after the tops blister and develop a few charred spots. Easy peasy.
The peppers are done when they have blistered all the way around. This is very important: if they aren't completely roasted, then the skins will be nearly impossible to peel off!
Remove them from the oven and let them cool on a wire rack. They should start to appear wrinkly and slightly shrunken.
When the peppers are cool (or cool enough to handle, at least), peel the tough, charred skins off the sweet inner fruit. Discard the skins.
If you find that you are having trouble with the skins, then let the peppers rest a bit longer. If absolutely necessary, you can rinse them under cool water to help with the skin removal (but I always try not to do this, because it feels like I am rinsing away a hint of smokiness from the roasting).
I have always had a slight aversion to the roasted peppers that come in a jar: they always strike me as slimy and gross. Not to mention expensive. You can definitely substitute pre-roasted peppers in a pinch, but home roasted peppers are far superior!
Remove the stems, seeds, and membranes from the peppers; cut them into slices and set aside.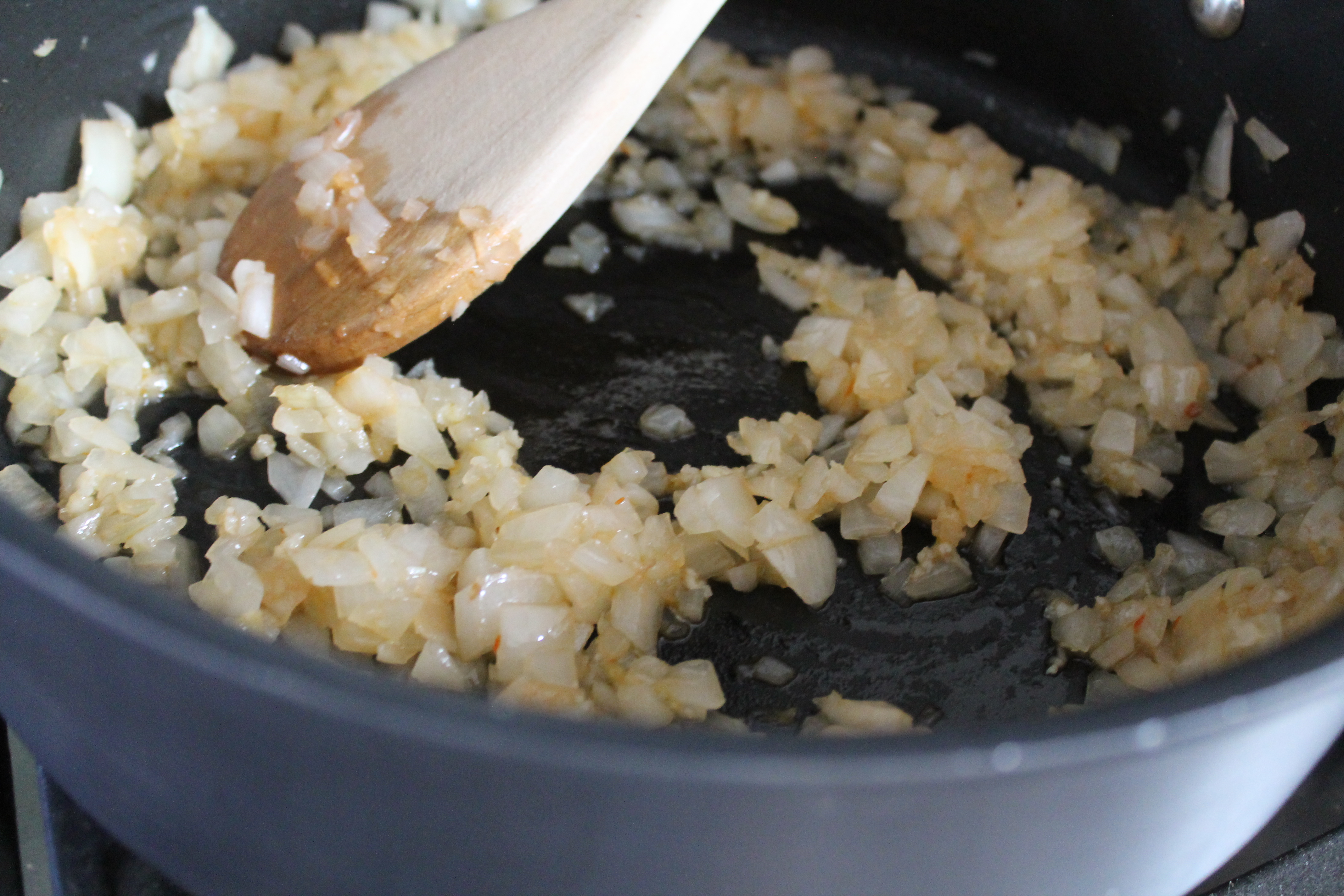 Now we whip up a sauce. I love how easy alfredo is, and no matter what spin you put on it, it usually follows a basic formula: sautéed onions, cream, cheese+parm.
Start by sautéing onion in olive oil with garlic. Already the world smells amazing.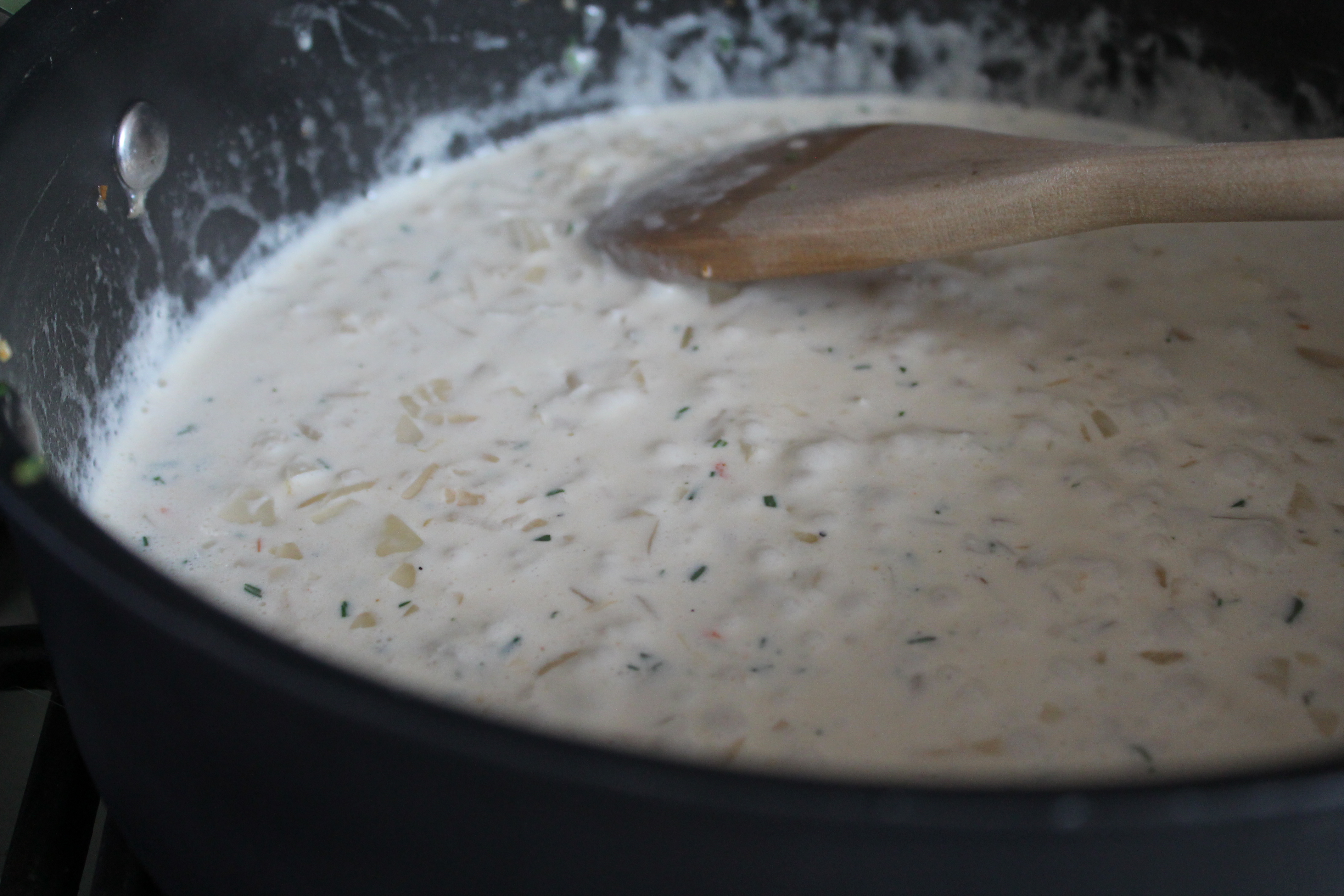 Add cream, goat cheese, Greek yogurt. Stir until it is even and bubbly, then add minced fresh rosemary. Season with black pepper and just a pinch of salt.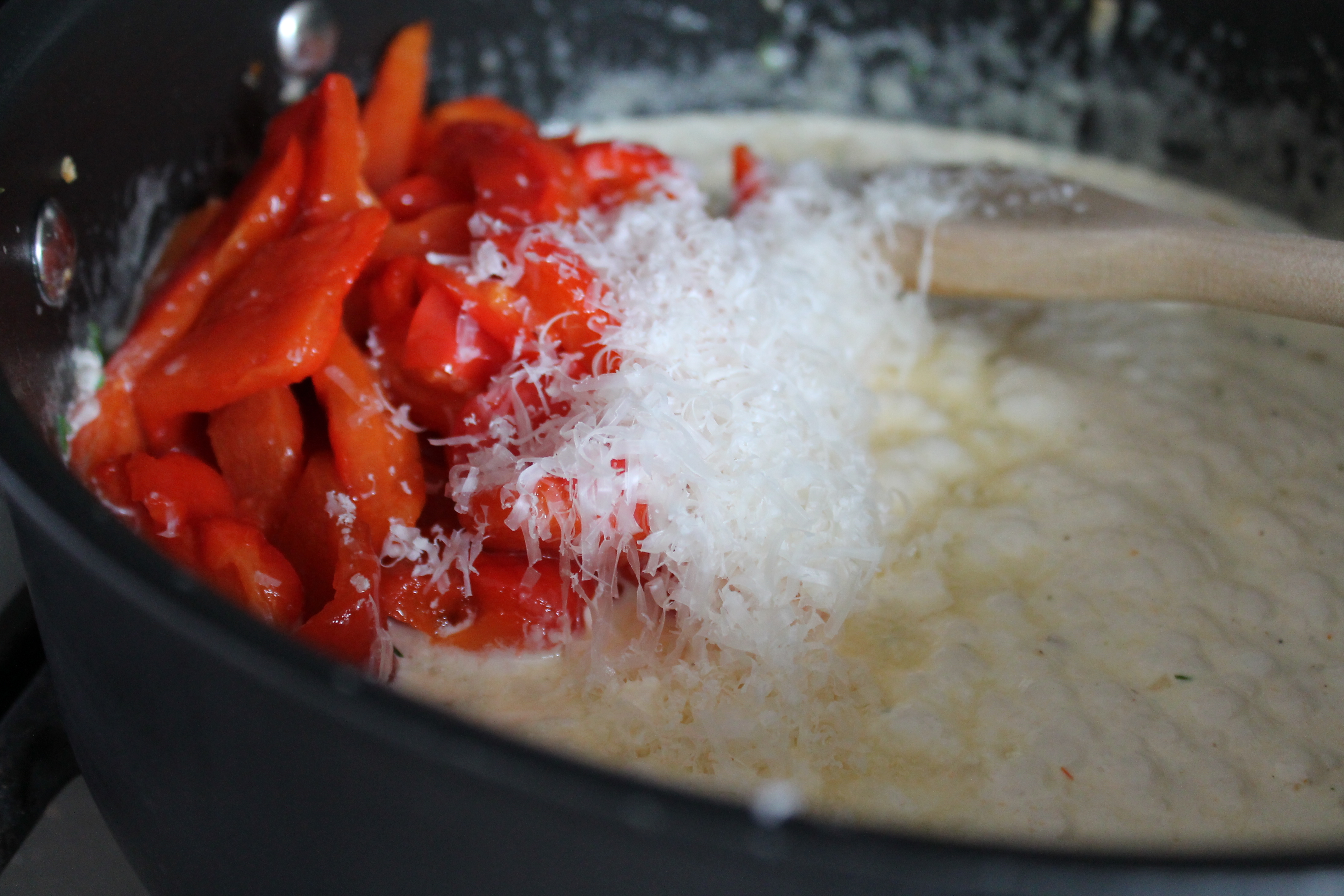 Finally, toss in the sliced peppers and a whole pile of freshly grated parmesan.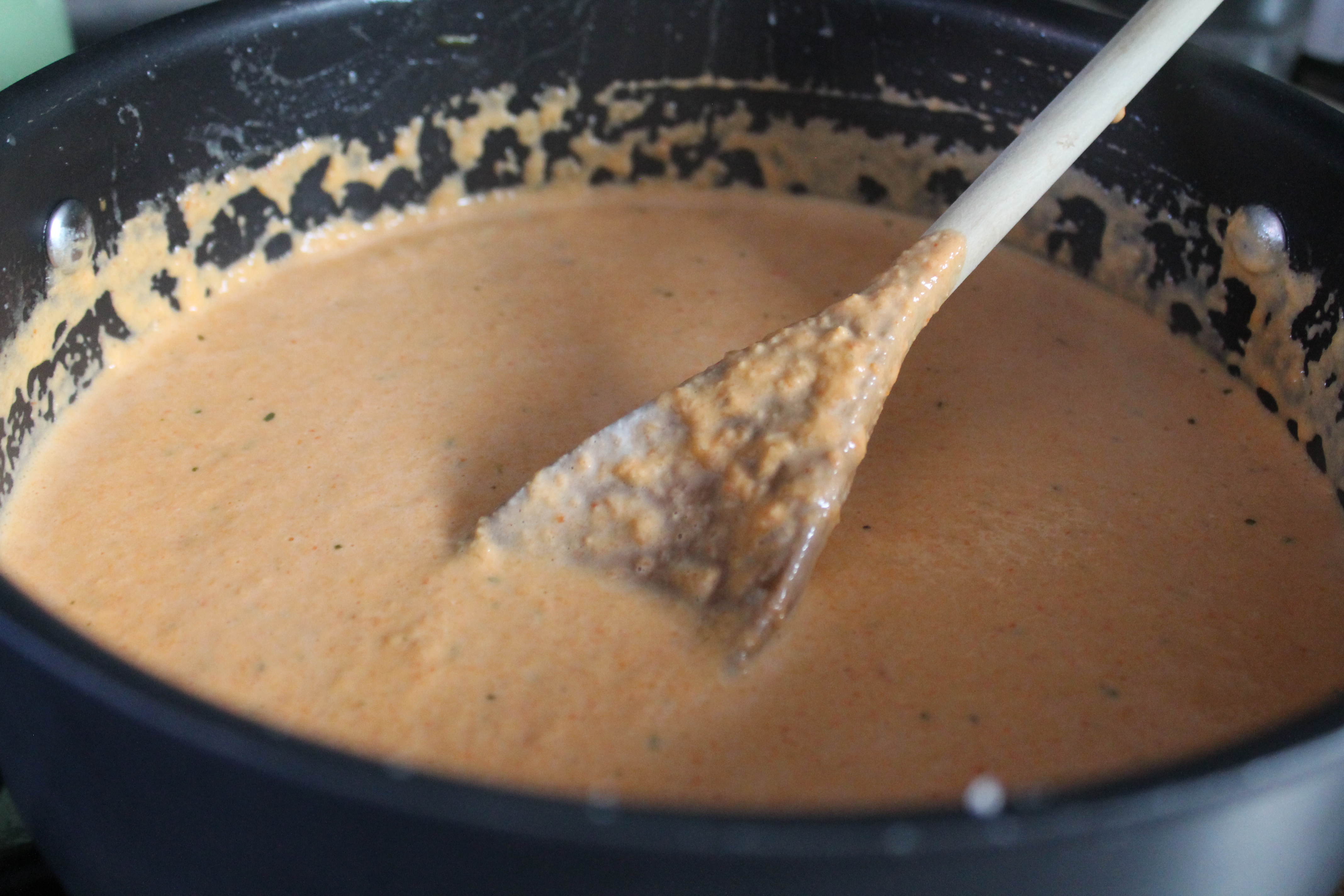 It's time to puree the sauce! I love a really smooth, creamy sauce, so I threw my sauce in my blender and went to town. You could also use an immersion blender in the pan, and you can feel free to leave the sauce a little more textured if you prefer that.
Toss the sauce with some al dente linguine. Linguine really is the perfect delivery vehicle for alfredo sauce! Sprinkle generously with fresh parsley and (because who are we kidding, and I know Sarah would approve) some more parmesan. I also tossed in a few dashes of crushed red pepper, because I think a little heat goes a long way toward adding depth to a creamy sauce.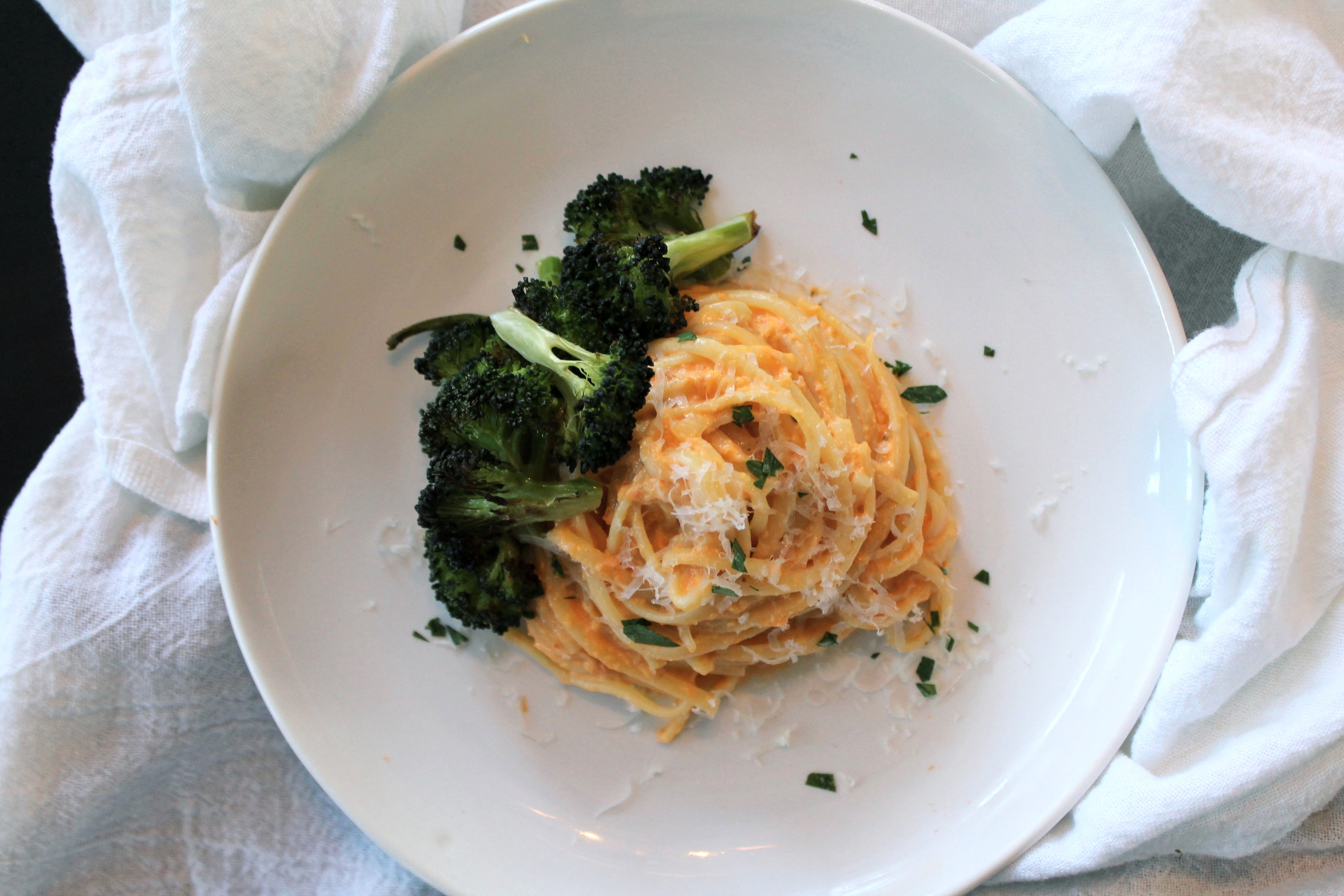 You better believe that roasted broccoli is amazing with this pasta sauce. In fact, I think roasted broccoli should be law where alfredo is concerned. To roast some amazing broccoli, just throw some fresh florets on a baking sheet and toss with olive oil and salt. Bake this without touching it for about 25 minutes at 450°, until the edges of the florets are crisp and browned and absolutely divine.
Take a big bite, friends. Roasted red pepper alfredo. Yum.
Roasted Red Pepper Alfredo with Roasted Broccoli
lightly adapted from Well Dined
serves 4
Ingredients:
2 red bell peppers
2 heads of broccoli or large broccoli crowns, cut into bite-size pieces
3 tbsp. olive oil, divided
8 oz. linguine
1 small yellow or white onion, diced
3 large cloves garlic, minced
1 cup heavy cream or half-and-half
2 oz. goat cheese
¼ cup Cabot 10% plain Greek yogurt
1 tsp. fresh minced rosemary
salt and black pepper
½ cup fresh grated parmesan, plus extra
pinch of crushed red pepper
1 tsp. fresh minced parsley
Directions:
Turn on the broiler. Carefully set the red bell peppers inside the hot oven to blister. Turn the peppers every 2 minutes, until all sides have char marks and puffed skin. Remove from the oven and set on a cooling rack.
When cool enough to handle comfortably, peel the skins off and remove the stems, seeds and membranes. Slice into pieces. Set aside.
Heat the oven to 450°.
Toss the broccoli lightly with 1 tbsp. olive oil, rubbing until all of the broccoli glistens slightly. Toss again with salt. Lay in a single layer on a large, foil-lined baking sheet. Roast without touching for 25 minutes.
Meanwhile, cook the linguine to al dente according to package directions.
While the pasta and the broccoli cook, prepare the alfredo sauce. Sauté the onion and garlic in the remaining 2 tbsp. olive oil until translucent.
Stir in the cream, goat cheese, Greek yogurt, and rosemary. Stir until the goat cheese and yogurt have completely melted and combined with the cream. Season to taste with salt and black pepper.
Add the roasted, sliced bell pepper, parmesan, and crushed red pepper. Stir another 2 minutes, allowing the parmesan to melt into the sauce and the roasted peppers to warm through.
Remove from the heat and let the sauce cool for 5 minutes.
Carefully transfer the warm alfredo sauce to a blender and puree thoroughly.
Return the sauce to the pan. Toss with the drained linguine and fresh parsley. Serve alongside the crispy, roasted broccoli, garnished with extra parmesan.
Enjoy!