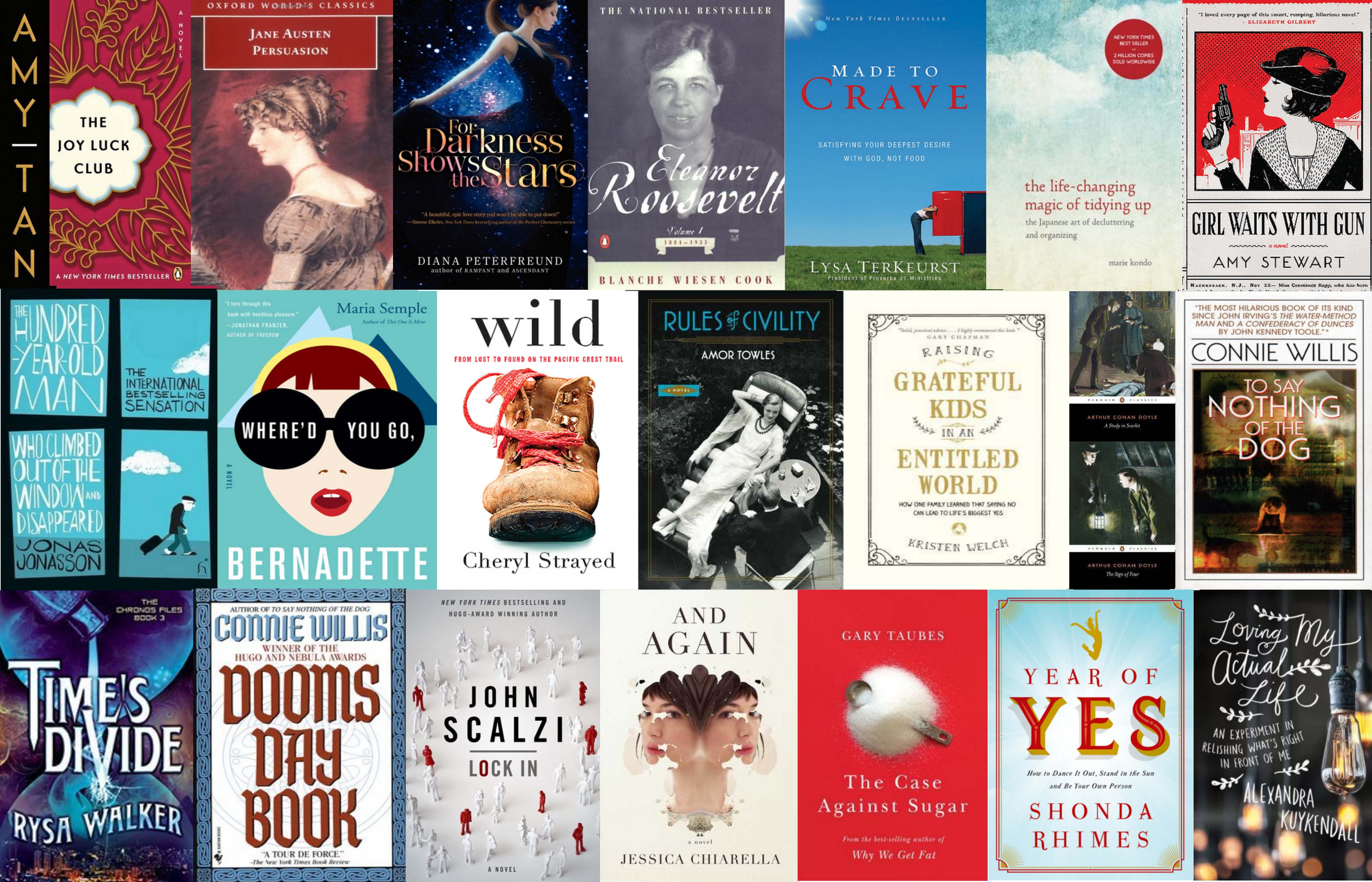 My mom had so many pearls of wisdom for me when I was a kid. Most of the time, I probably rolled my eyes at her when she would repeat one of her classic phrases, but as an adult, some things resonate more clearly. Like this:
Garbage in, garbage out.
Luke even affirms this for us: "A good man brings good things out of the good stored up in his heart…for out of the overflow of the heart, the mouth speaks." (Luke 6:45)
With this in mind, I set a goal to read more books than I watch TV this year. *gasp!*
Together, Dave and I pared down the shows we watch regularly, because we realized that some of them were mind-numbing, others focused almost entirely on things we didn't value, and still others just didn't promote any interaction between the two of us. And maybe we should care about that. And maybe I should invest less time in numbing out. (Although, let's be honest, we still binge watched Unbreakable Kimmy Schmidt.)
So I set about my task of reading. And reading. And reading.
Not that the written word is necessarily more wholesome or encouraging than video. Mainly because I used to be the kind of bookworm that totally crushed it. I could read a 250 page book in one day, and I often did. I missed that part of me. I love that I can dive deeply into a story in a novel, rather than waiting for it in short blips. I love that I can insert my own imagination into the story. Reading is awesome.
So! My goal was 30 books in 2017. We are halfway through the year now, and I have somehow managed to read 22 books already! (A.k.a., my nerdy side is gaining strength.)
I would like to note here that I am a mom. A stay-at-home mom.
I have two young kids…which means that it can be physically impossible to sit down with a book open and not find my lap full of toddlers, my own book cast aside, and The Gruffalo being literally smacked into my head. That is why Audible is lovely!
Yes. Yes, I do think listening to a book counts as reading it. Listening to an audiobook is a beautiful thing, because my hands can be busy doing something else, like dishes or weeding, and my brain can be floating away to Manhattan or Seattle. Audiobooks are definitely part (erm…nearly 50%) of the reason I've been able to make so much headway on my goal!
Audiobooks were, for me, a suitable replacement for TV (per my watch less+read more goal). If you aren't ready to make that leap, that's totally fine! But I realized that one of the main reasons I watched so much TV was to have something for my ears to do while my hands tackled something else. Audiobooks are great for this purpose; as much as I once scoffed about audiobooks and ereaders, I now love them in equal measure!
The last thing I want to say is that sharing this list represents a step of bravery for me. I have long been a bit self-conscious about what I like to read, wondering if my choices are thoughtful enough. But here's the truth: I like to read classics, but I also love silly fantasy novels that transport me to a new world. I like modern literary fiction and inspirational parenting books, but I also like more frivolous quickie reads. I am willing to tolerate some heartier non-fiction books about food and history and science, but give me a snarky memoir over non-fiction any day! My point is that I like what I like, and I hope you feel free to like what you like and read what you read, too!
Books I read in the first half of 2017…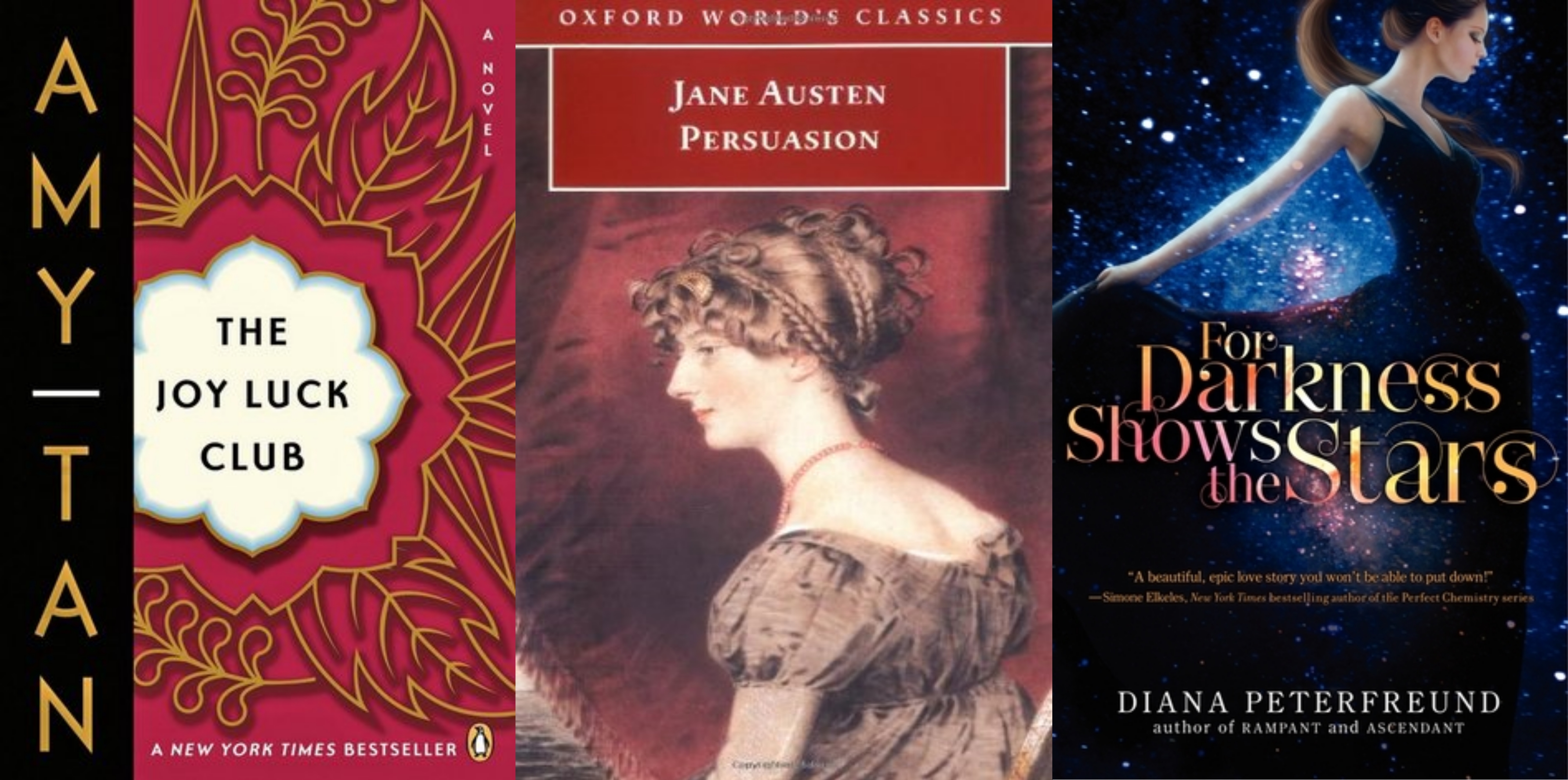 The Joy Luck Club by Amy Tan.
Loved ♥♥♥♥♥
I loved this book (so much more than I expected, having failed to actually read it through once before)! This book offers a real look (I assume, since I am not Chinese American) into what it might be like to emigrate from China to the U.S. and raise a family here. I loved every word of every story Amy Tan told, from the older, immigrant mothers, to the Americanized daughters. There is a deep thread that runs through to a teary ending, and each individual character is so full of life, so full of fear and pride about how others may perceive them or what they have accomplished. A beautiful series of portraits that make me wish I were more intimately acquainted with Chinese history and traditions.
Persuasion by Jane Austen.
Enjoyed ♥♥♥♥
I joined a book club with a few of my old college friends this year, and this was the first book we read together. Jane Austen has always been a favorite of mine, and I love looking through the glass back at the 19th century. I love how Jane Austen typically encourages her leading ladies to stand on their own feet, be kind and reasonable, and see the limitations of the world they live in.
For Darkness Shows the Stars by Diana Peterfreund.
Liked ♥♥♥
This book is a YA, post-apocalyptic, distopian interpretation of Jane Austen's Persuasion, and I read it in one day (for my book club). It was such a quick and easy read, and although it is based on Persuasion, the two plots aren't exactly alike. I loved that Peterfreund wove modern societal themes throughout. The characters were not completely three-dimensional, but easy enough to understand that the pages flew by.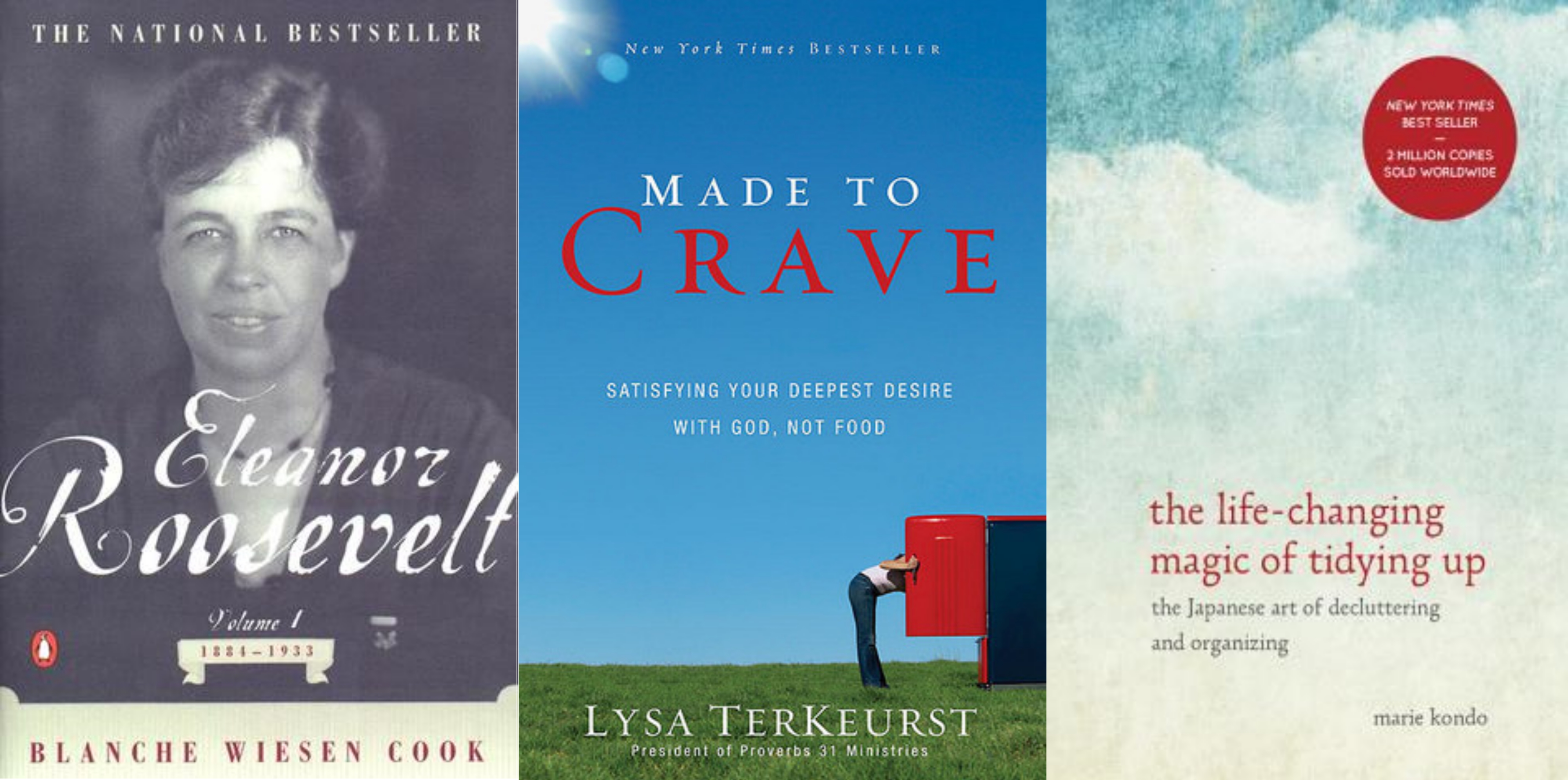 Eleanor Roosevelt, vol. 1: 1884:1933 by Blanche Wiesen Cook. (Audible)
Tolerated ♥♥
I started reading this book as part of the 2016 Read Harder Challenge (read a biography, read a nonfiction book with feminist themes), and wow, was it ever long. So long, I barely made a dent in 2016. So long, I would never have finished it if not for the fact that Audible did all the work for me. The author definitely has a personal agenda here, but I did enjoy learning about Eleanor Roosevelt's early life before FDR became president. Her life was hard and inspiring! I had never known much about nascent political feminism in the U.S. before reading this.
Made to Crave: Satisfying Your Deepest Desire with God, Not Food by Lysa TerKeurst.
Loved ♥♥♥♥♥
This book literally changed my life. I highly recommend it for anyone (particularly women) who has ever struggled with feeling like they eat to meet an emotional need, or like they aren't completely in control of what they eat. This book encouraged me that there is always hope for a life devoted to God, always hope that habits can be changed, simply always hope. Before I read this book, it had never occurred to me that I might need to make some permanent changes to my life in order to become healthy, and now I am working on making them, and working toward becoming holy as Christ is holy in the process! This book is a keeper, and I will likely read it many times in the next few years, along with the companion devotional book.
The Life-Changing Magic of Tidying Up by Marie Kondo.
Enjoyed ♥♥♥♥
I have always been a neatnik, but I have also had a tendency to be a pack rat. I am grateful to this book for shining a light on the fact that possessions can weigh me down. I have given away many boxes of things I do not use or love, started folding my socks and standing them on edge, and also planted my foot firmly at not getting rid of my book collection. I did think that the end of the book went in a weird direction (you will never convince me that my clothes have feelings), but overall, I am very glad this book started me down a path of consuming and holding on to less. (And, since reading this book, I have all but given up shopping at Target, unless my children outgrow their clothes. So there's that. My bank account also thanks me.)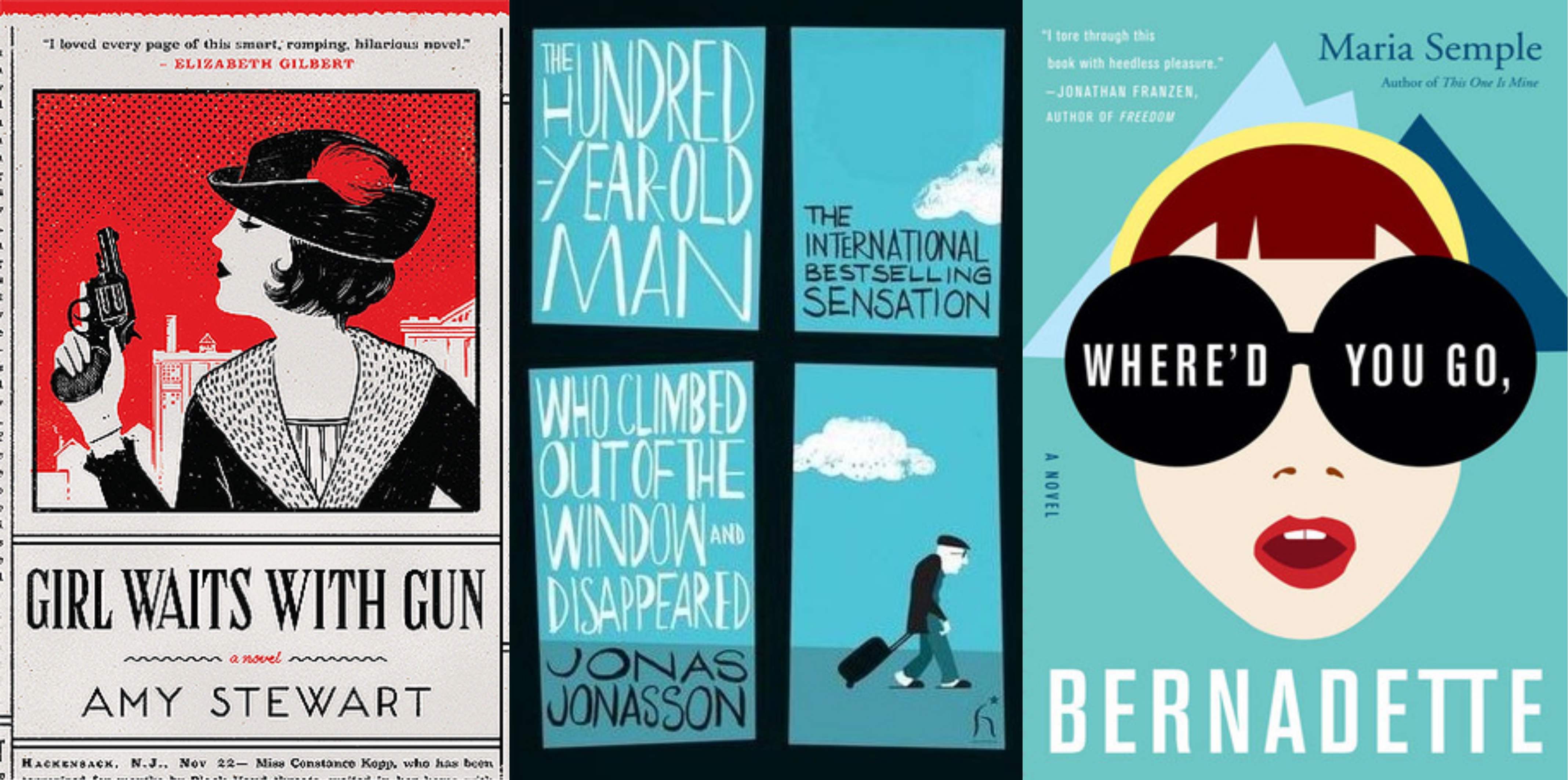 Girl Waits with Gun by Amy Stewart.
Enjoyed ♥♥♥♥
So many times throughout this book, I found myself practically biting my knuckles and thinking, "No! Don't do it!" This novel—based on a true story—further showed me how risk-averse I truly am! Constance Kopp was an excellent trailblazer for brave women everywhere, women who are not willing to take crap lying down, and I am so curious to read the second book in this series, Lady Cop Makes Trouble.
The Hundred-Year-Old-Man Who Climbed out the Window and Disappeared by Jonas Jonasson. (Audible)
Tolerated ♥♥
The story moved quickly and there was always something unbelievable happening, but I was irritated by the fact that the main character had absolutely no internal compass. This made the whole book feel like a chore to read. However, a very fantastical imagination went into weaving one man through many significant historical events of the last century, and I did actually learn a few things from this novel!
Where'd You Go, Bernadette? by Maria Semple. (Audible)
Loved ♥♥♥♥♥
I loved the style of this book, which was told almost entirely through letters with a few interjections in the voice of a young girl. Semple lets you guess the entire way through about the sanity and motivations of the mother in the story, all while the daughter is firm in her faith that her mother is the best human being. The petty twists and turns of life in a small community, as experienced by Bernadette, who is struggling with past failures and a longing after her former creative genius, seem just far-fetched enough to come true. This book was a little silly, and I relished every minute I listened to it.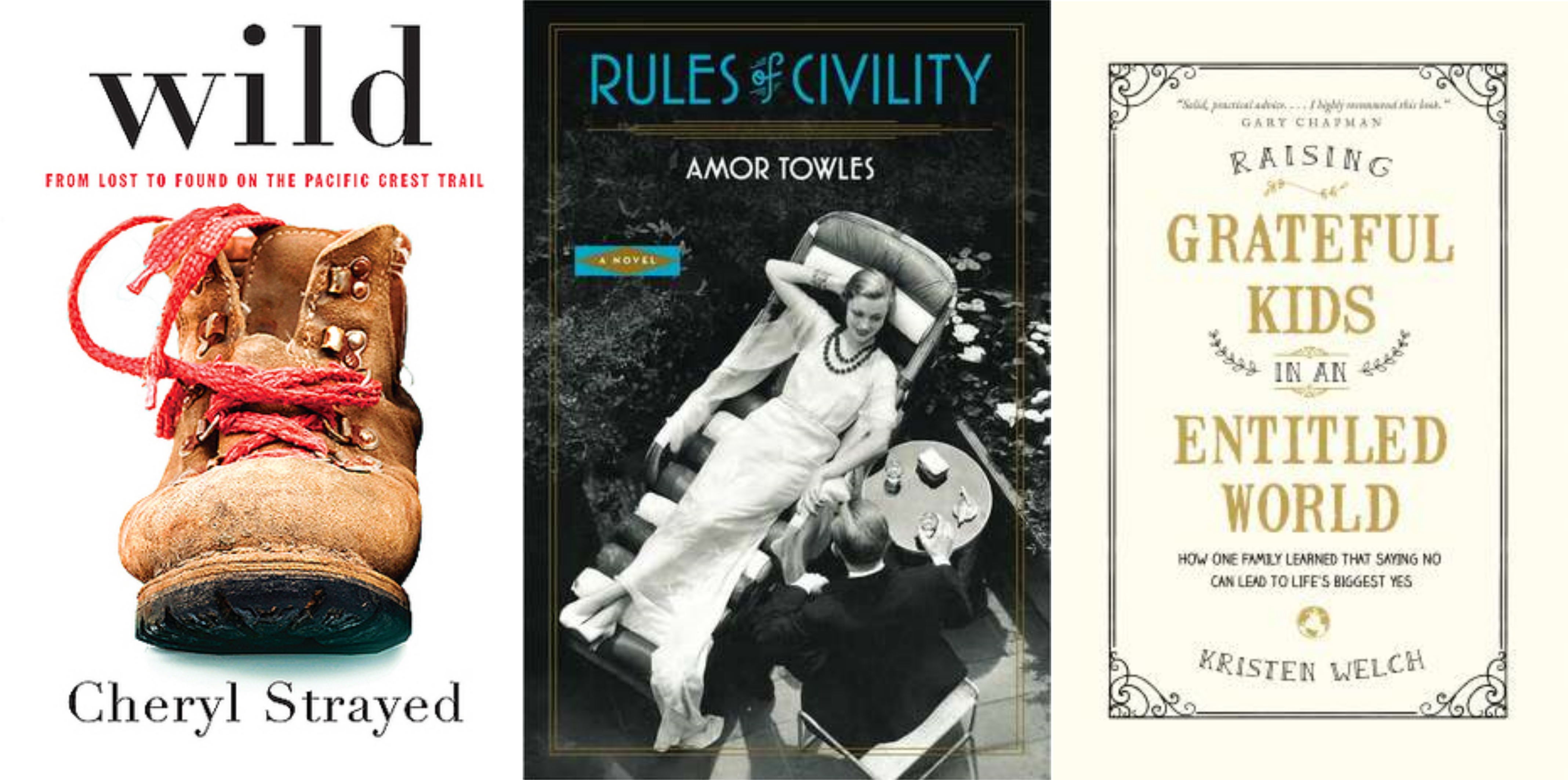 Wild: From Lost to Found on the Pacific Crest Trail by Cheryl Strayed. (Audible)
Barely tolerated ♥
To be honest, if I hadn't purchased this book on Audible, I'm sure I would have stopped partway through. While I loved the vivid descriptions of scenery and the pragmatic aspects of trail life, I found it very hard to be viewing them from inside Strayed's head. Nearly every life choice she described made me uncomfortable…and you are welcome to judge me for this, as I am certainly being judgmental here, but I typically try to avoid immersing myself in things that promote one questionable behavior after another. Things that Strayed wrote to be poignant or deep I often found to be off-putting. But it was still a useful look into what my life could be like if I ever manage to pursue my goal of hiking the AT!
Rules of Civility by Amor Towles. (Audible)
Loved ♥♥♥♥♥
This book drew me in from the first paragraph. Amor Towles put words together in ways that surprised me, in ways that were utterly beautiful to me. I still am amazed at how well a middle-aged man was able to don the voice of a young girl in her 20s: I believed every word he wrote, and loved every word he wrote. I loved reading (hearing?) about Manhattan at the beginning of the Depression, about the dangers and thrills of society life, about and what it is like to be young and trying to figure it out in a world that is completely different from the one I live in. Beautifully written and engaging to the very end.
Raising Grateful Kids in an Entitled World by Kristen Welch.
Loved ♥♥♥♥♥
I recommend this book so highly! Dave and I read it together, and we found so much to talk about! We have taken many of the ideas in this book and tried to make them work in our own family. There are suggestions for children of every age, and heartfelt reminders about what we have to be grateful for (and even why our children need to be taught to see these things!). Dave and I plan to reread this book every year, and use it as a tool to help our family focus and be intentional.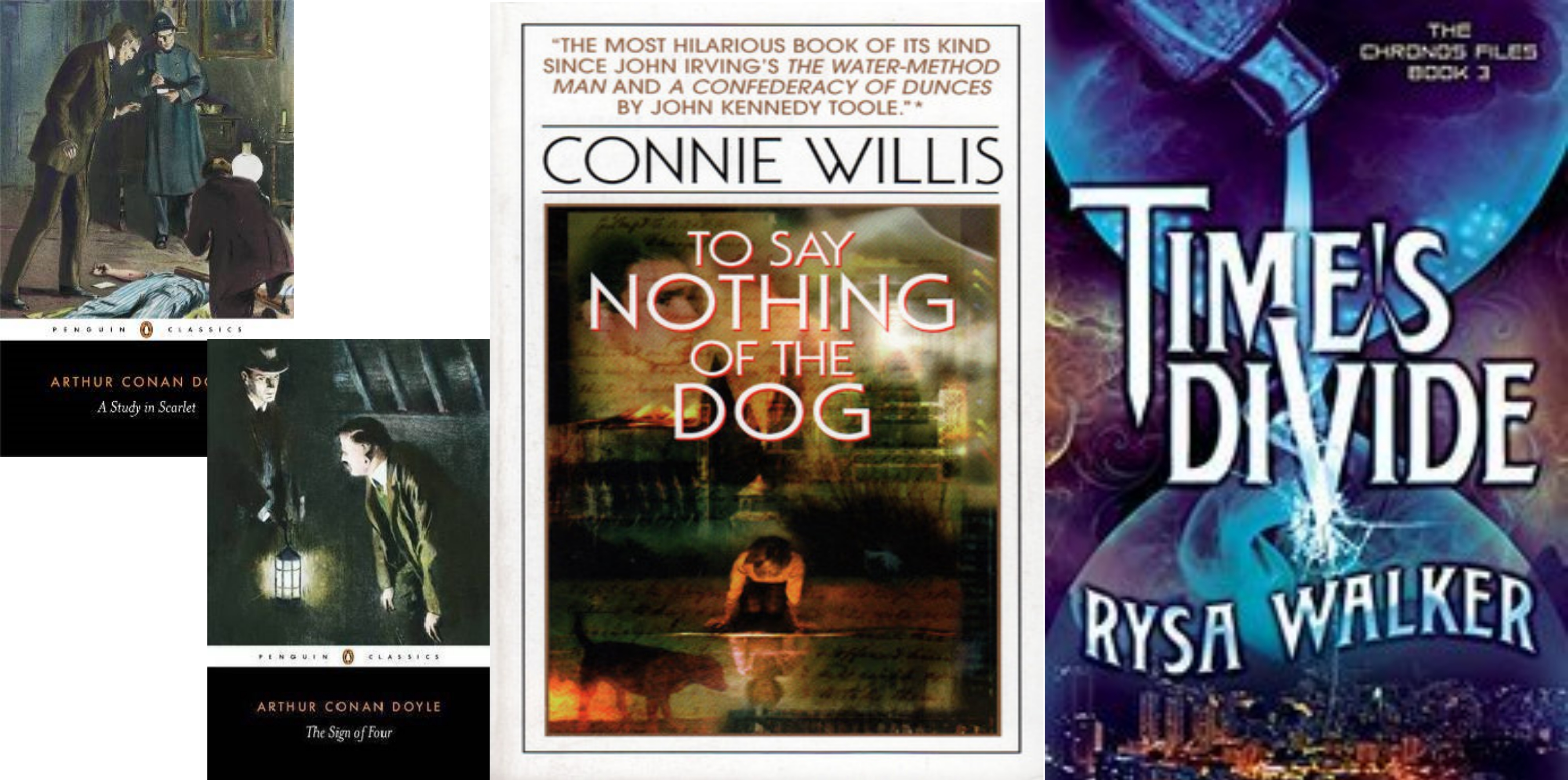 A Study in Scarlet and The Sign of Four by Sir Arthur Conan Doyle. (Audible)
Barely tolerated ♥
I had never read any Sherlock Holmes stories before, and my only familiarity with Sherlock was through modern, high-action movies and TV. I absolutely hated reading these first two novellas. I think I expected them to be more compelling and exciting, given the way Sherlock is filmed…but they utterly dragged. These novellas somehow made doing chores whilst listening MORE TEDIOUS. So much exposition, very little detective work, and a whole lot of racism (which, I suppose, is not unusual for the era they were written, but still shocking to listen to). I utterly dread working through the rest of the canon, which I got on sale as a set through Audible…and I may abandon the task. Dave says most of the stories are quite short, and probably will irritate me less. Time may or may not tell…
To Say Nothing of the Dog by Connie Willis.
Loved ♥♥♥♥♥
This book was a hilarious romp through the late 19th century, as told through the eyes of a dazed and confused time traveler. Connie Willis is a genius. This book was smart and literary and quirky and absolutely engaging. Every character moved with urgency and languor, the scenery was gorgeous, and I loved the ultimate conclusion that time travelers cannot change or ruin history (which didn't seem obvious throughout the story). This whole story was a wildly tangled puzzle, and I would read it again!
Time's Divide by Rysa Walker.
Liked ♥♥♥
I admit it. I love time travel books. This one was the final book in a YA trilogy I started on vacation three years ago, and it seemed fitting that I use a weekend getaway to read the last installment this year. It was not the most fulfilling end to all the twists and turns in the first two books, and the series on the whole was definitely fluff reading, but it was enjoyable.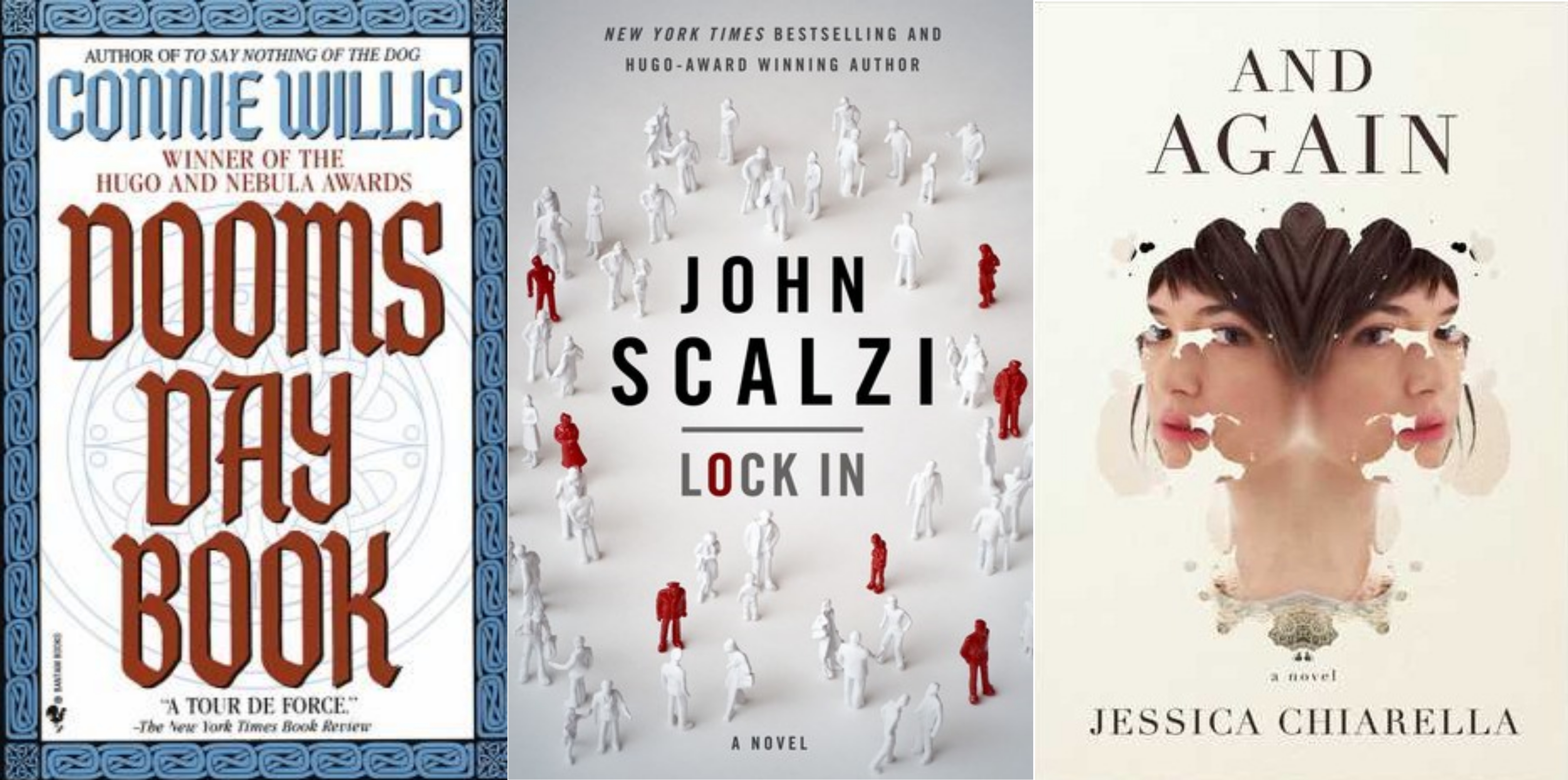 Doomsday Book by Connie Willis.
Liked ♥♥♥
Connie Willis is, unquestionably, a brilliant writer, and she won all kinds of awards for this novel. Doomsday Book is actually the precursor to To Say Nothing of the Dog, and takes place half in the Middle Ages and half in the future/present. It had me on the edge of my seat the entire time, turning pages as fast as I could to find out what would happen next. The linguist in me loved trying to decipher various archaic phrases, and it was fascinating to learn about how life may have proceeded in a small town just before the plagues hit. The book turned out to be quite heavy, though, much unlike its rompier sequel, and it left me feeling depleted. (I'm not sure I would have been as eager to read To Say Nothing if I had read this one first.) So well written, but ultimately bleak.
Lock In by John Scalzi. (Audible)
Liked ♥♥♥
Wil Wheaton's narratorship was a little grating after a few hours, but this sci-fi thriller was basically entertaining. It was a cop procedural, with the added dimension of focusing on a group of people who can only experience the world by transferring their consciousness into robots that allow them to walk around. Naturally, the protagonist was incredibly rich and privileged, but since the book isn't terribly serious to begin with, this isn't as much of a turnoff as it might be. A predictable story, but not a terrible way to spend an afternoon.
And Again by Jessica Chiarella. (Audible)
Enjoyed ♥♥♥♥
A sci-fi novel about cloning that actually adresses some of the deep issues that clones themselves may experience. What makes a person human? I actually enjoyed this book more than I thought I would. All the characters are flawed or broken, selfish and depressed, but I loved the way we see into their thoughts and fears as they grow into their new lives.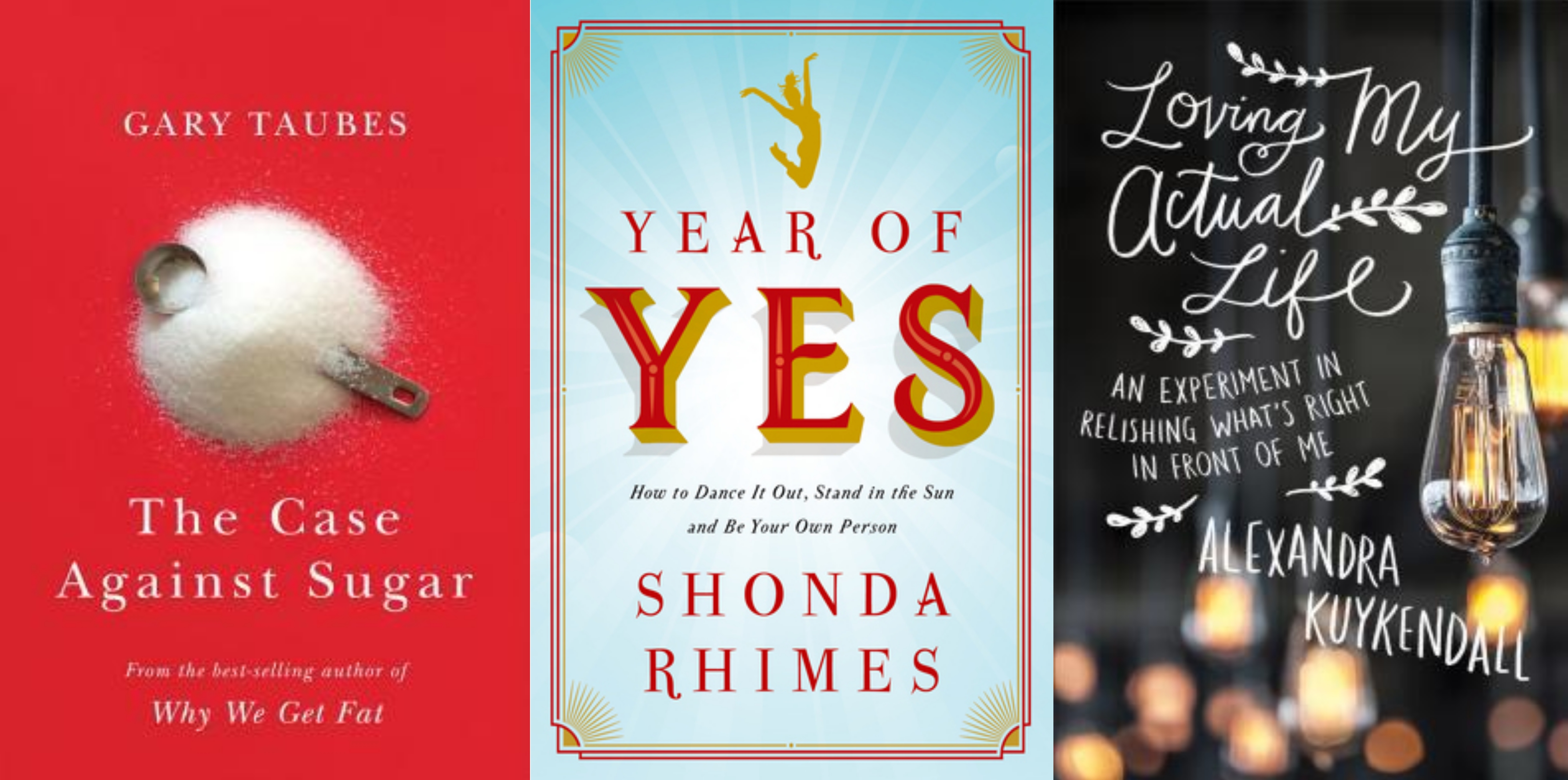 The Case Against Sugar by Gary Taubes.
Liked ♥♥♥
You might be able to guess why I picked this book up, given my recent dietary changes. I dont typically love reading straight nonfiction (memoirs excluded), but I diligently carried on to the end of this book. Taubes wrote a historical overview of the sugar industry and the evolution of nutritional research, especially related to research and public opinion/policy about sugar. He drew many links between refined sugar and a host of deadly, chronic diseases, at the root of which was the basic premise that sugar causes insulin resistance, which in turn will kill you one way or another. I did not need any reasons to give up eating refined sugar, since I've already done it, and I already thought that research indicting dietary fat was basically bunk, but as I read this book, I felt so grateful I had already made that leap! If this book can be believed, sugar is not merely nutritionally empty, it actually could be toxic. I'm not a nutritionist, and I haven't reviewed all the references or research in this book, but this book paints such a bleak picture of the effects sugar can have on our bodies! My own anecdotal evidence supports many of the claims related to weight gain/loss and sugar, and I can only hope I am making nutritional choices for my future that will promote health!
The Year of Yes by Shonda Rhimes. (Audible)
Liked ♥♥♥
Ironically, when I mentioned in the intro above that I have given up a bunch of TV shows…none of Shonda Rhimes' shows made the cut. I quit watching every single one of her shows with no regrets, because I want to be full of examples of love that are more selfless. But in June, I saw a TED talk she gave, and it was about saying yes to playing with her kids…so I listened to her read her own book. I mostly disagree with the soapboxes she dances on, but I did love the basic premise of saying yes to things that scare you, saying yes to things that are challenging and healthier, and spending time on the things that really matter. Plus, I love when people narrate their own memoirs.
Loving My Actual Life by Alexandra Kuykendall.
Liked ♥♥♥
I picked up this book because of the title: I definitely need some new pathways into being grateful and loving my life! I think I expected more of a self-help style book, but this book is actually a journal. It was a quick, pleasant read, and I liked the idea of trying something new for a month to see how it affects my experience of my life as a whole, but I wish it had been more Christ centered, and I still wish the book was what it wasn't, more of an encouragement to be intentional and love my own life!
So there you have it. Six months, as told in books. I hope that you may feel inspired to embark on a reading goal, or that you may have a few ideas about books you want to add to your own reading list.
Feel free to shoot me ideas of books to read next! The year's not over yet!