If you are ever thinking to yourself that you need to get more veggies into your diet, I have one excellent suggestion: buy a colorful vegan cookbook.
(What, Melissa? This is a strange way to begin a post that is mentions salmon in the title…which is most definitely not vegan.)
But seriously. When I started revamping my eating habits earlier this year, I got really excited and bought a bunch of vegan cookbooks. I love it when I find someone who shares my philosophy that real ingredients are great, and that vegetables don't need to imitate meat to be enjoyable. Some of my favorite new recipes came from these beautiful pages, even though I don't always adhere to their original vegan intentions.
Like this recipe. Which is so insanely delicious and satisfying that I honestly never even think of snacking inappropriately after I've eaten it.
I spotted this chickpea salad looking gorgeous in the middle of a sandwich, and I knew it would be a great alternative to my favorite lunch standby, which is buttery egg salad.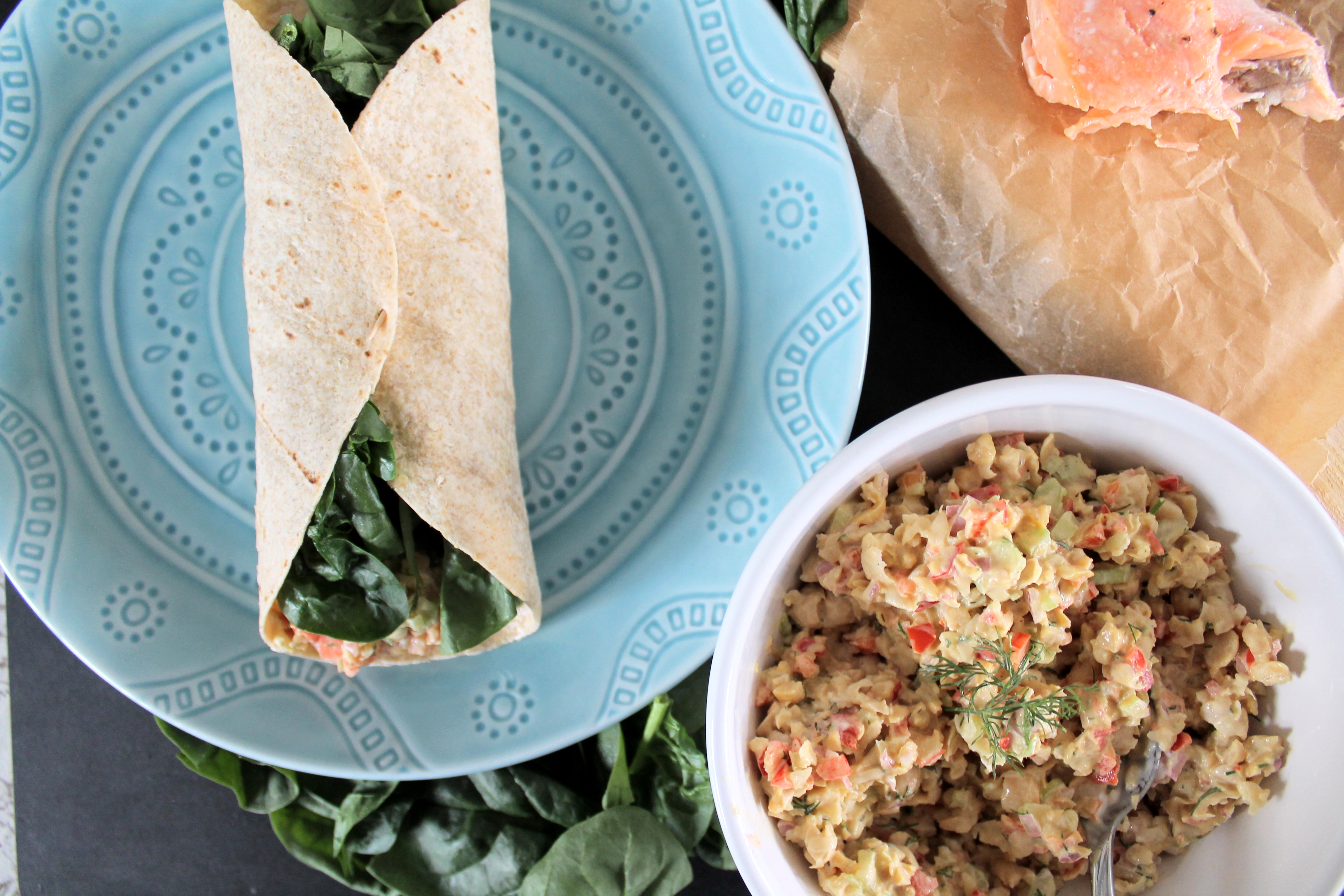 Then, I topped the chickpeas with a bit of leftover roasted salmon, and I was hooked! This meal is full of protein, healthy fats and omega-3s, B vitamins, fiber, manganese, vitamin K, vitamin A…I mean, I could seriously go on and on. So many good things! I genuinely feel good for hours after I eat this, and I hope you will, too.
The first thing we should do is roast some salmon, so it will be ready (when I have leftover salmon, too, I always use it up in these wraps). I like to buy a pound or so of salmon and bake it very simply, with just salt and black pepper. Occasionally I will drizzle a little lemon over it, or brush it with oil, but most of the time I just lay it skin-side down on a foil-lined baking sheet and bake at 350° for 10 minutes per inch of thickness.
The goal here is to get the salmon cooked just long enough that it will flake with a fork, but not so long that it dries out or becomes hard. Especially if you plan to make your salmon ahead of time and use it left over in your lunch, make sure to take it out of the oven when the outsides are opaque but the center is still moist and a little darker in color! Then, when you are ready to eat, you can flake off about 3 oz. of salmon and warm it, covered, in the microwave for 15 seconds without turning it into a horrible, overcooked lump.
Baked salmon will keep for at least a week in the fridge; don't get squeamish about eating leftover fish. There's nothing better than having all of the ingredients for your lunch prepared and waiting for you!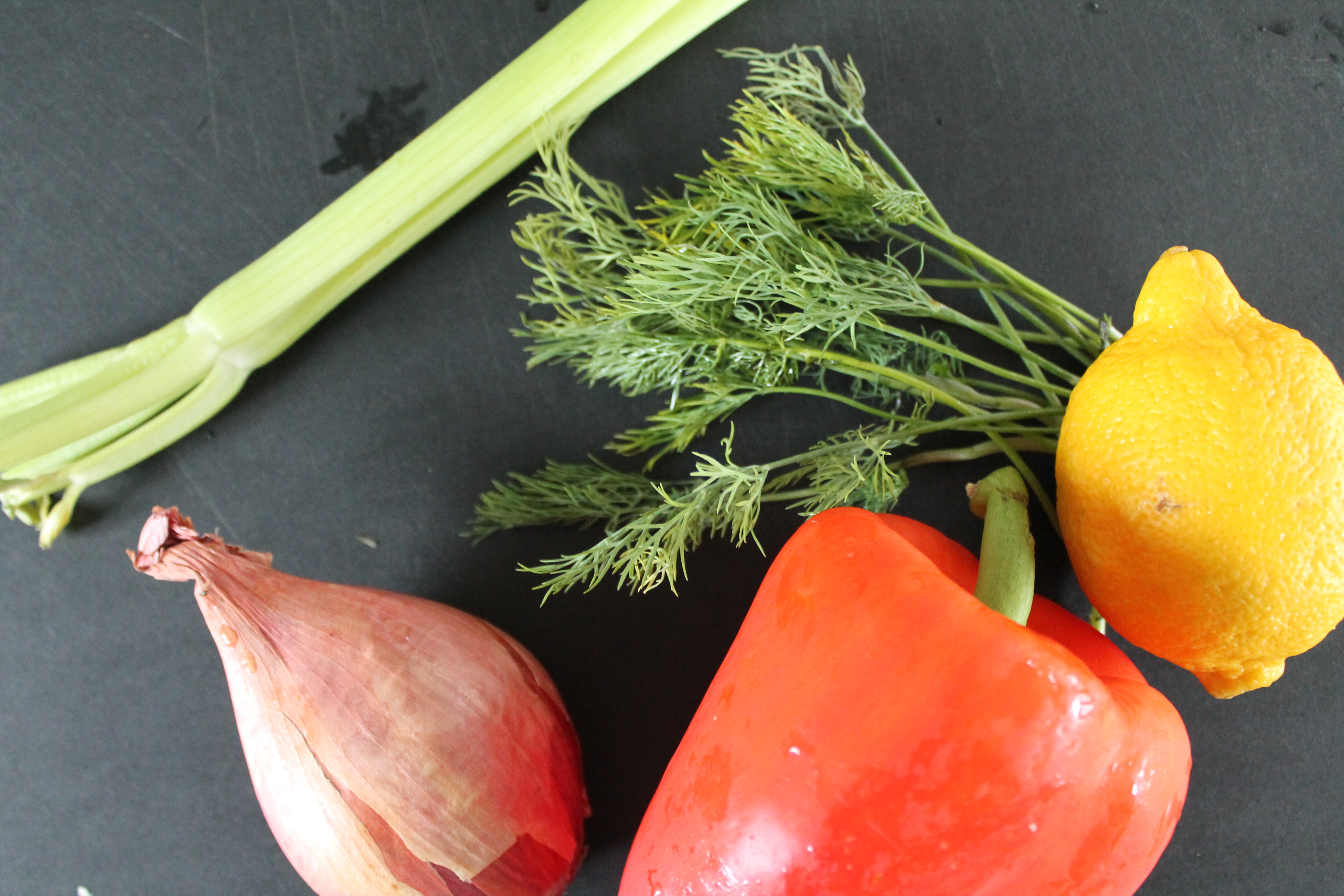 While the salmon is baking, it's time to whip together the chickpea salad. My favorite thing about the chickpea salad is that 5 minutes of effort makes enough food for me to have lunch for a week.
There is chopping involved: you should cut up half a red bell pepper, a shallot or a handful of green onions, and a long stalk of celery into a medium dice. Don't forget to press a large clove of garlic through your garlic press.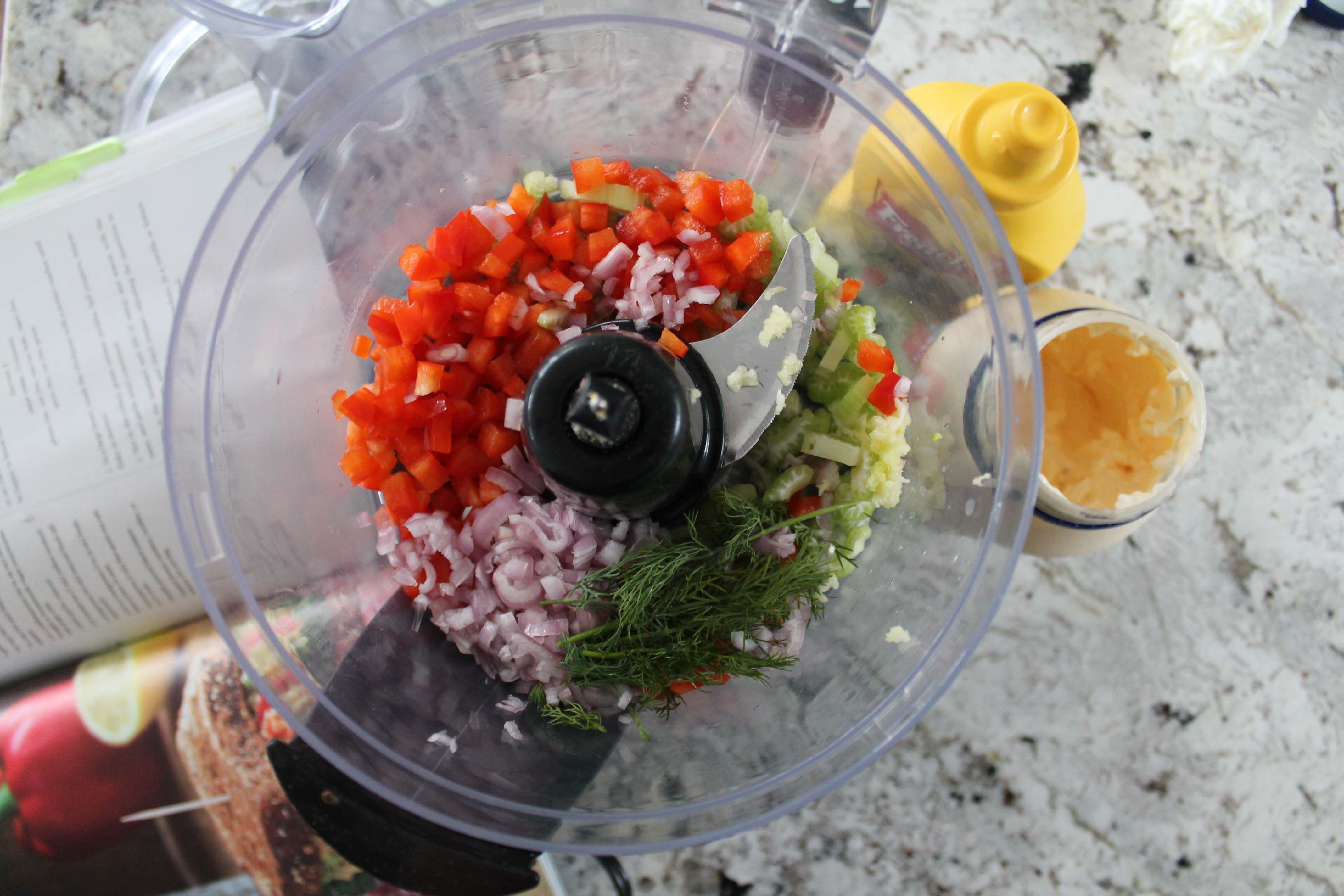 Add all of the veg to the bowl of a food processor. Throw in a can of drained and rinsed chickpeas, a small glob of mayonnaise (yeah…I don't get too finicky with the measuring. This salad is forgiving! And sure, if you actually are vegan or can't eat eggs for some reason, you can use a mayo substitute instead of the real deal…), and a smaller glob of yellow mustard. Season with salt and pepper, and squeeze half a lemon into the bowl. And then, the piece de resistance, add some fresh dill.
Dill and I are slowly learning to get along. This lunch is helping, because it is the hint of dill that blends all the flavors together in such a lovely way! Dill is great on fish, great with butter, great with eggs. Fresh dill, in this salad, is not optional and has no substitute.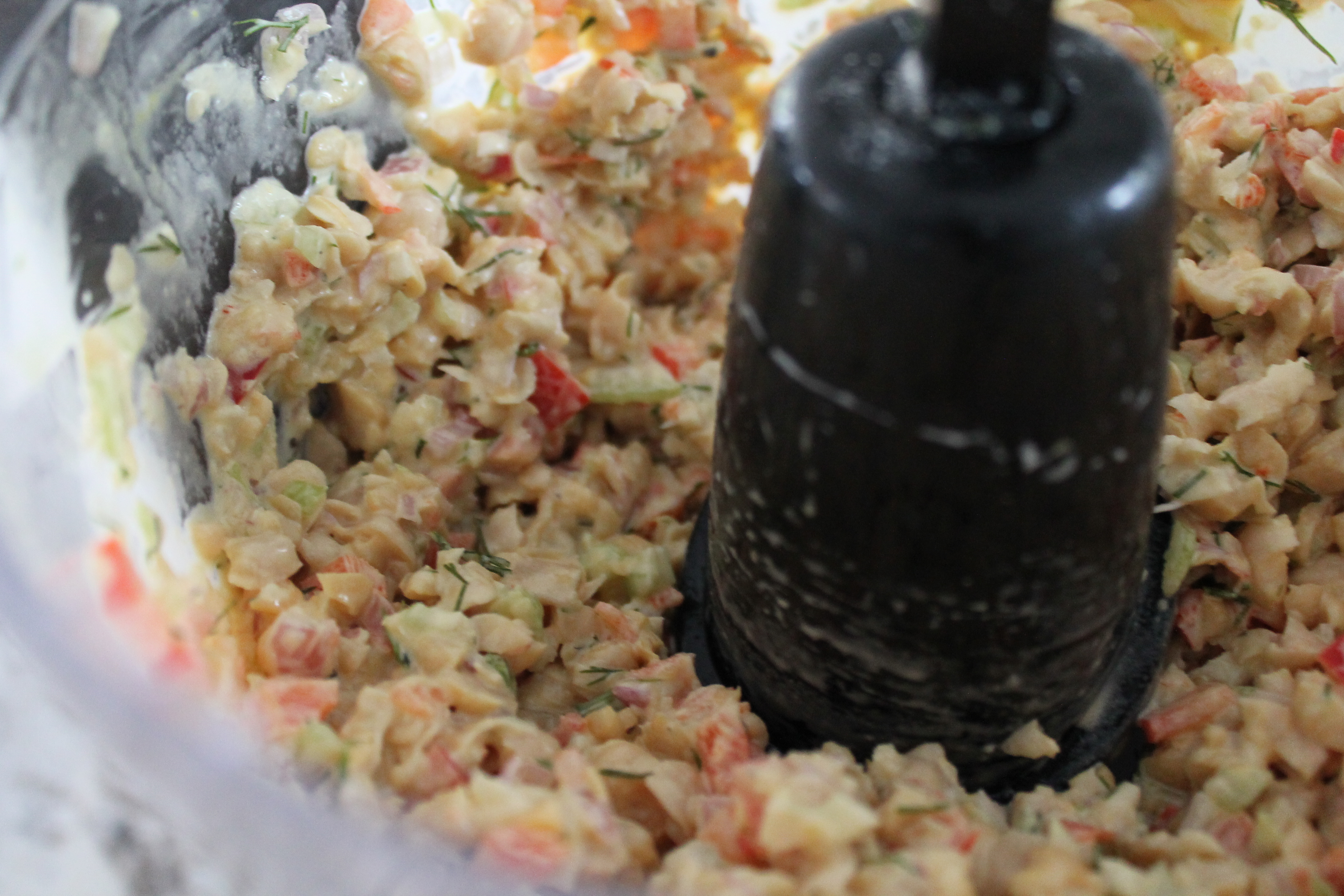 Pulse the food processor until the ingredients come together into a chunky, well-mixed salad. The chickpeas should be broken into pieces, but not mealy. This really only takes 3-4 pulses. Super quick! If you get a little exuberant with the food processor, your chickpea salad will have less texture and be a little more pasty, but it will still be delicious.
The chickpea salad can keep up to 10 days in the fridge in an airtight container. I almost always make this ahead of time, because lunch is a crazy hour for my two sweetly demanding children, and I have no energy to gather all the ingredients when I'm already hungry.
All that's left is assembly!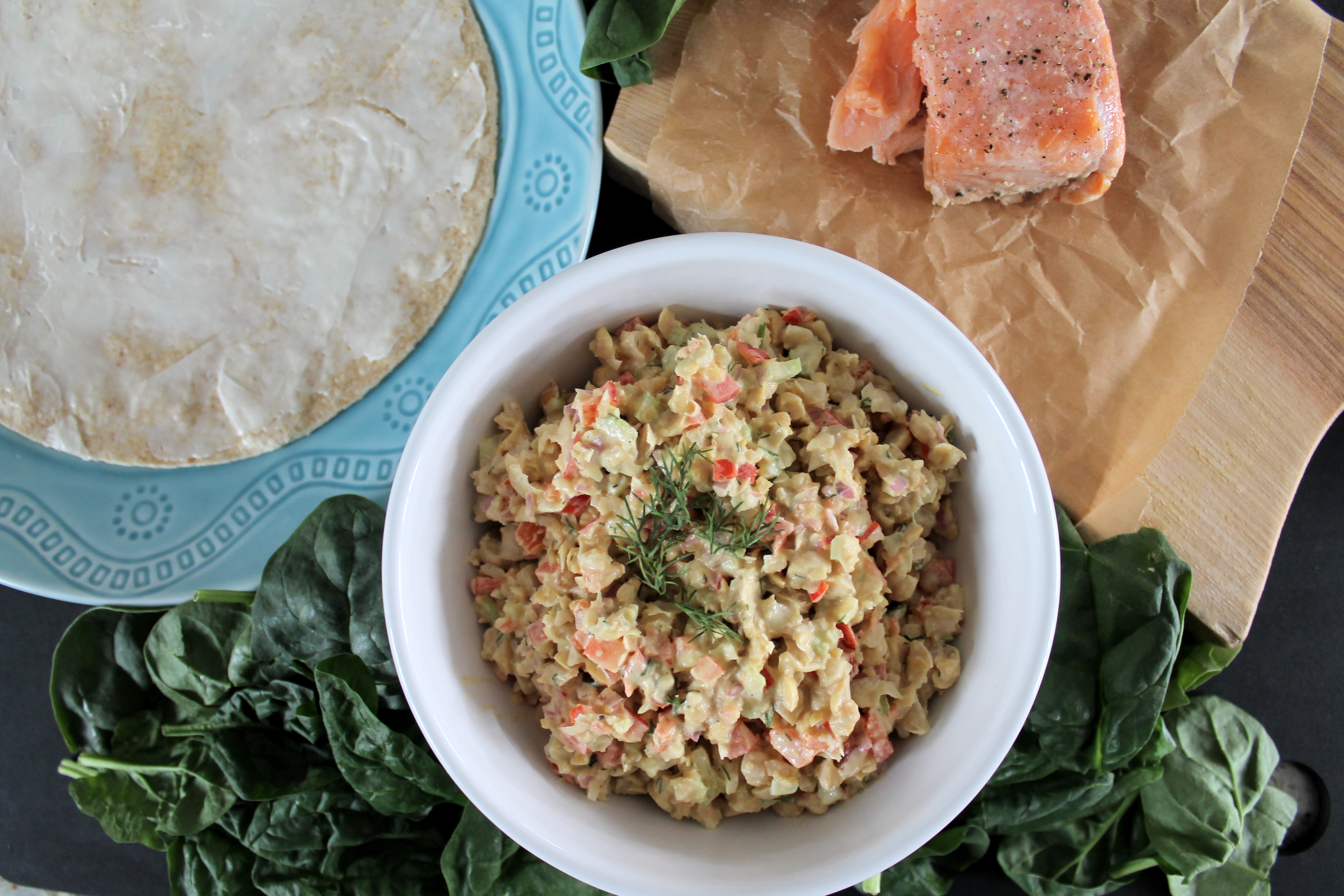 I like to spread a small tortilla with salted butter as my base. I have never and will never surrender my love of salted butter. Butter goes so well with fish! And greens! It's a match made in heaven.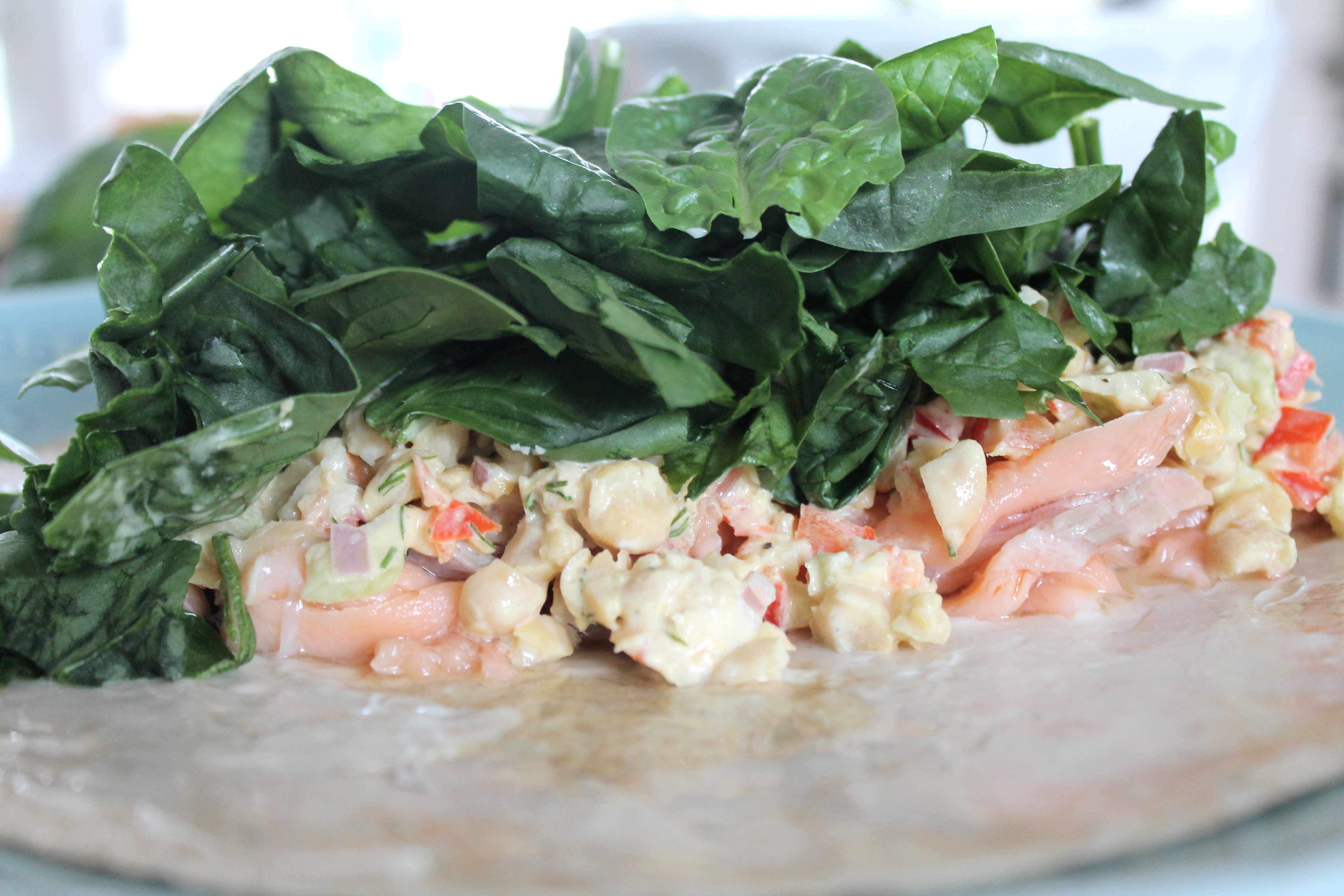 In the center of the buttered tortilla, layer chunks of warm salmon, between a third and a half a cup of the chickpea salad, and a small mountain of torn baby spinach.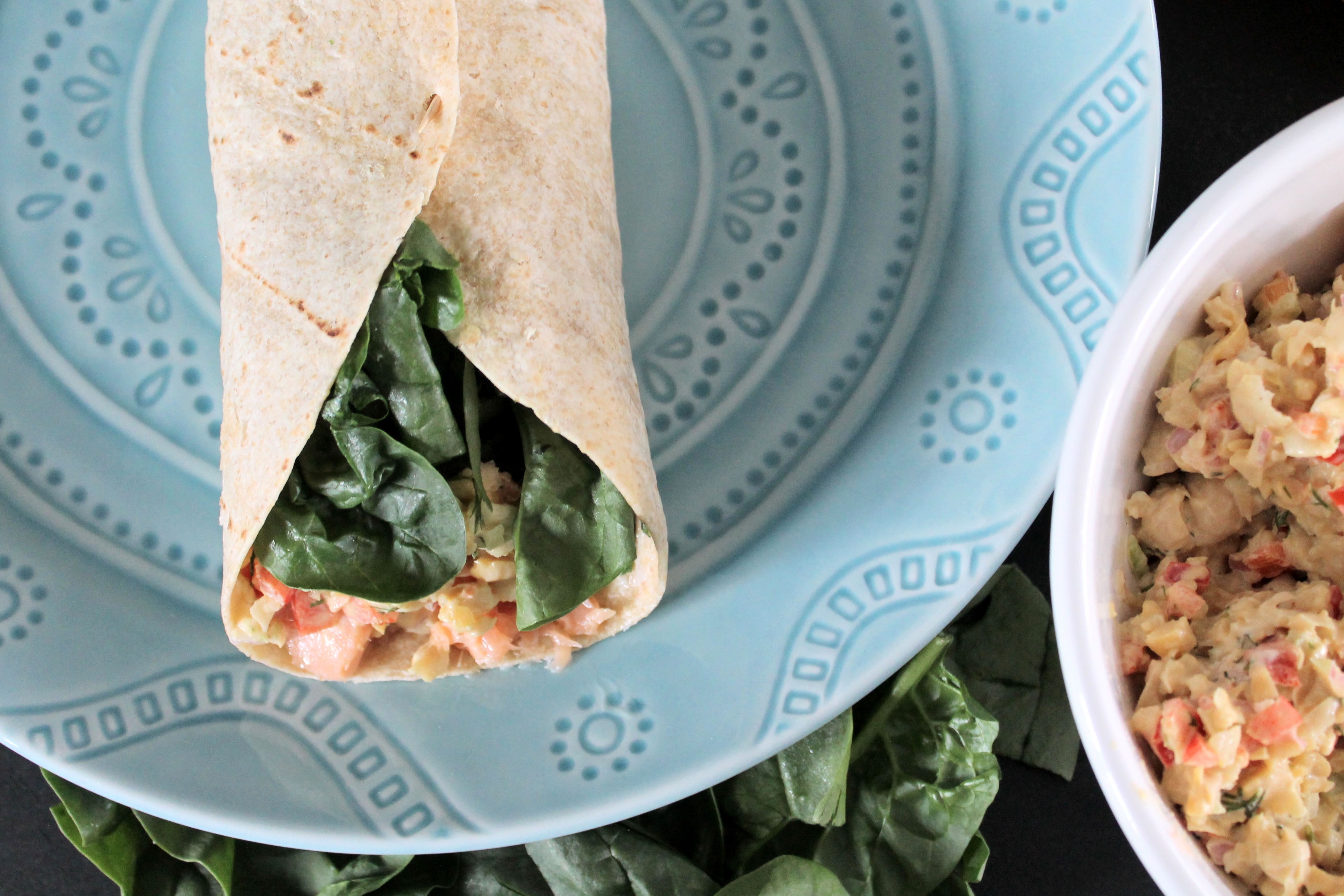 If you can (because I almost always overfill mine!), close up the wrap. And eat til your stomach's content!
"My soul will be satisfied, as with fat and rich food, and my mouth will praise you with joyful lips." – Psalm 63:5
Chickpea Salad and Salmon Wraps
Ingredients
15

oz.

can chickpeas,

drained and rinsed

1

stalk

celery,

finely chopped

1

small

shallot,

finely chopped or 3 green onions, thinly sliced

½

red bell pepper,

finely chopped

1

large clove

garlic,

minced or pressed

3

tbsp.

mayonnaise

1½

tsp.

yellow mustard

2

tsp.

chopped fresh dill

1

tbsp.

fresh lemon juice

¼

tsp.

salt

fresh ground black pepper

4–5

small

whole wheat tortillas

4–5

tbsp.

salted butter,

room temperature

10

oz.

salmon filet*,

skin removed, roasted

5

oz.

fresh baby spinach,

roughly chopped or torn
Instructions
Combine everything except the tortillas, butter, salmon, and spinach in a food processor. Pulse until the beans are broken up into small pieces and the mixture is evenly saucy.

Warm the tortillas for a few seconds on each side in a dry skillet. Spread with butter.

Flake the salmon and distribute in the center of the tortillas.

Top with a large scoop of the chickpea salad, and a very large handful of chopped or torn spinach.

Close the tortillas and serve immediately.
Notes
Roast salmon at 375° on a foil-covered baking sheet for 10 minutes per inch of thickness.
For vegetarians who do not eat fish, omit salmon.
Enjoy! 
♥ Melissa