How in the world did my son turn 5? It's not like the days or years have felt short; I honestly can't even remember (because it seems so long ago) what my life was before this kid made me a mom. It's just that I remember so clearly thinking he would be small forever. That his little hands and his little feet would always be doll-size. That 2-year-olds seemed as big as monsters.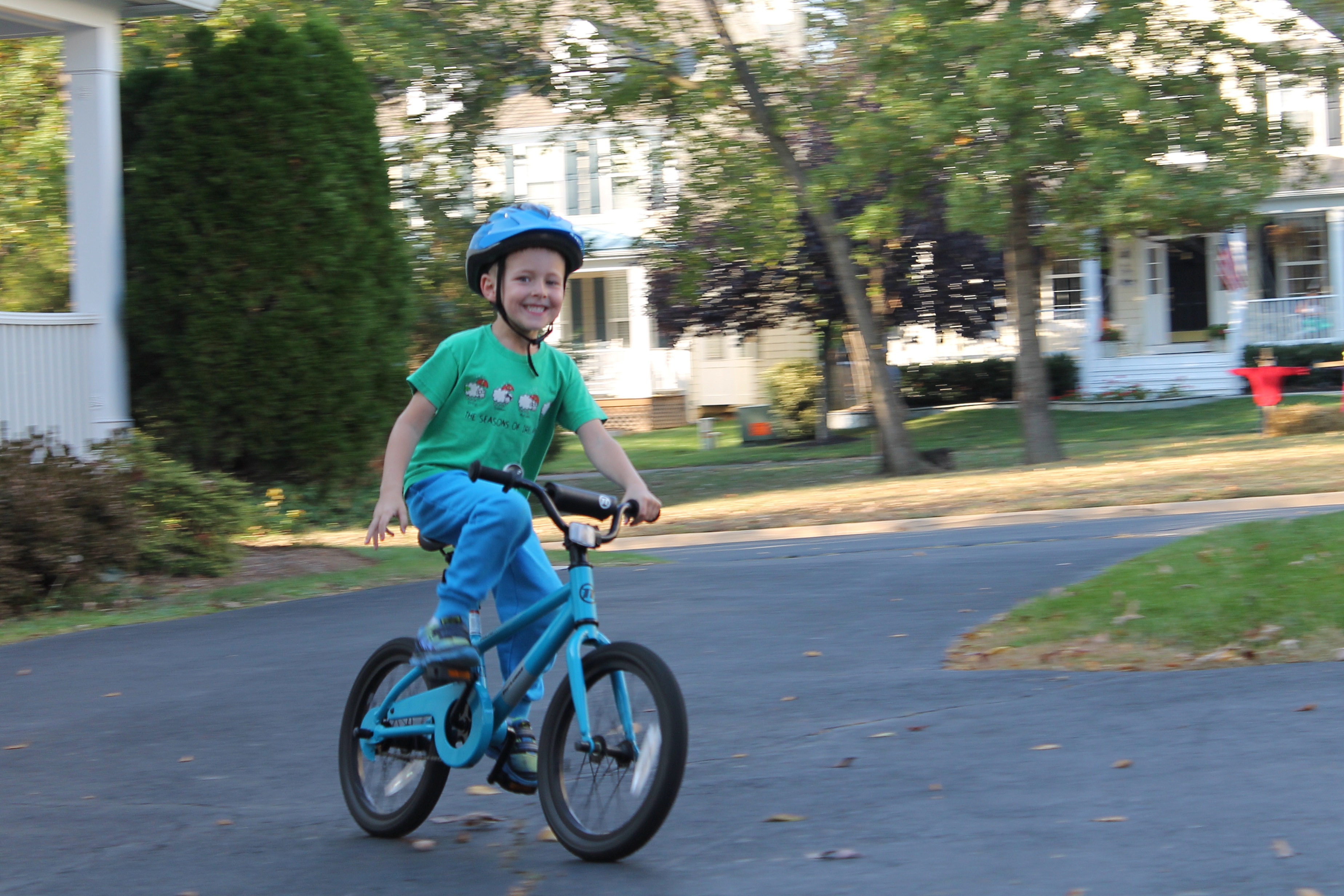 And here he is! Reading. Riding his bike without training wheels. Coloring elaborate pictures with gel pens. Eagerly doing science experiments and cooking his own scrambled eggs.
This year, my young creative genius demanded a costume party, which seemed perfect, given that his birthday is just before Halloween! Five is young enough that most of his friends aren't eager to be terrified (so costumes wouldn't be too spooky) and everyone loves dressing up!
Jake decided to be a valiant knight, and we planned to dress Caitlin as a princess so they would coordinate. Yep, I went there. (But, spoiler alert: she refused to put on a costume when the party started. And Jake would not let me take a picture of him in full costume. So there's that.)
Let me tell you: a costume party turned out to be more mentally challenging than I had expected! "Costume" isn't a clear decorative theme, nor does it lend itself to a lot of on-theme activities that a huge group of 3–5-year olds can do.
I am not into Halloween at all, because I hate horror and don't relish being scared. (Additionally, I think that there really are powers at work in the world that we cannot understand, and I don't like to spend my time getting excited about them.) Jake shares my aversion to scary things, and is, in fact, scared by a huge number of unscary things. So my main priority in doing a costume party for Jake was making sure the party was fun but in no way scary.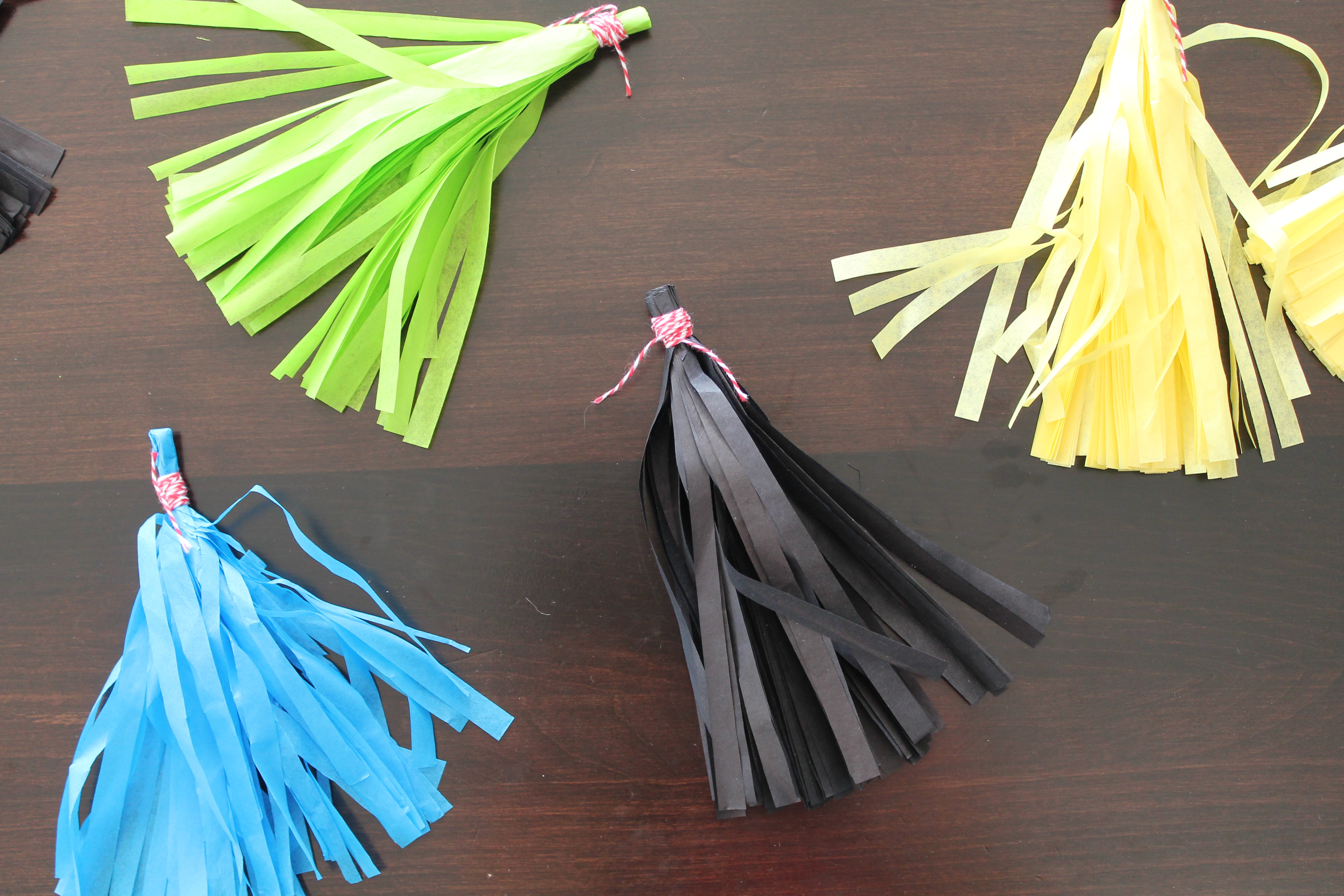 As I wandered around Pinterest, looking for generic birthday decorations that I liked and reading dozens of articles called, "How to Throw a Birthday Party at Home!" and "17 Fun Halloween Party Activities for Kids" (none of which were particularly helpful), I stumbled across the tassel garland trend.
As you probably know, I am not very trendy. In fact, this is probably an old trend—I realized  I've been seeing tassels all over shoes and purses for ages. They usually make me think of cowboys and 80s fringe.
But tassels are super cute strung on a garland. They vaguely remind me of rows of little fuzzy monsters, which was a decorating idea I had toyed with early on (and Jake rejected). They seemed super simple, which was something I desperately needed this year, when I am overcommitted.
The only problem was that buying pre-made tassels is incredibly expensive. I'm talking $10 for 12 monochrome tassels at Michaels. I'm talking $171 for 100 on one Etsy listing.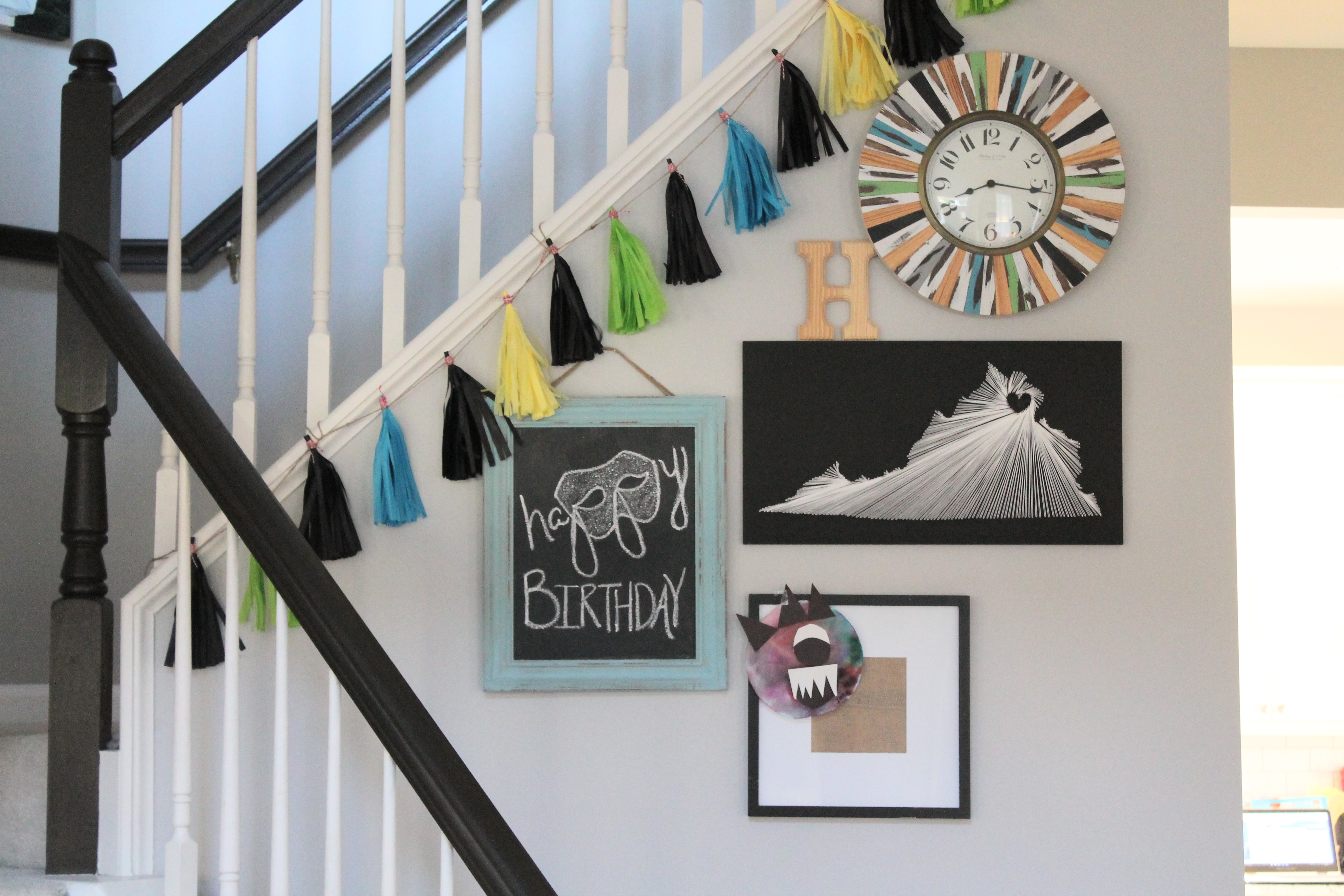 I mean…when I decorate for a birthday, I like to string garlands all over my entire house. I have been known even to decorate kitchen cabinets and bathrooms. In my mind, more is better for decorations. More of something simple or plain can make it seem much more excellent. I was guessing I would need at least 100 tassels in order to make our house feel like something special was happening. (In case you were wondering, my estimation skills are excellent; I used 104 tassels to decorate for this party, and I probably would have liked to add a few in other rooms, if I'd had more time.)
I have a philosophy that time is money, and sometimes, it is worth spending some money to avoid spending hours working on something. This was not one of those times. Ain't no way I am spending $171 plus shipping for party decorations.
So I bought four huge packs of tissue paper for about $6 each. I decided to use black, bright blue, neon green, and canary yellow for the party decor, which was mirrored in the digital invite I had crafted. (I am not going to post that here, because even though I created it myself, I closely copied a design I had found online when that designer declined to make a simple change in their original for me; but if you want to use something similar, there are a dozen cute, unspooky invites on Etsy that feature a row of kids dressed in cute costumes against a black background, with brightly colored lettering.)
And then I set to work. And after I realized that making one single tassel took me six minutes, my sweet husband sat down without being asked to help me! What a blessing! (And shout-out to my brother-in-law Tim who also helped me make tassels. Tim, the green ones are the best.)
I eventually honed an assembly line method that made the process much faster, especially with help!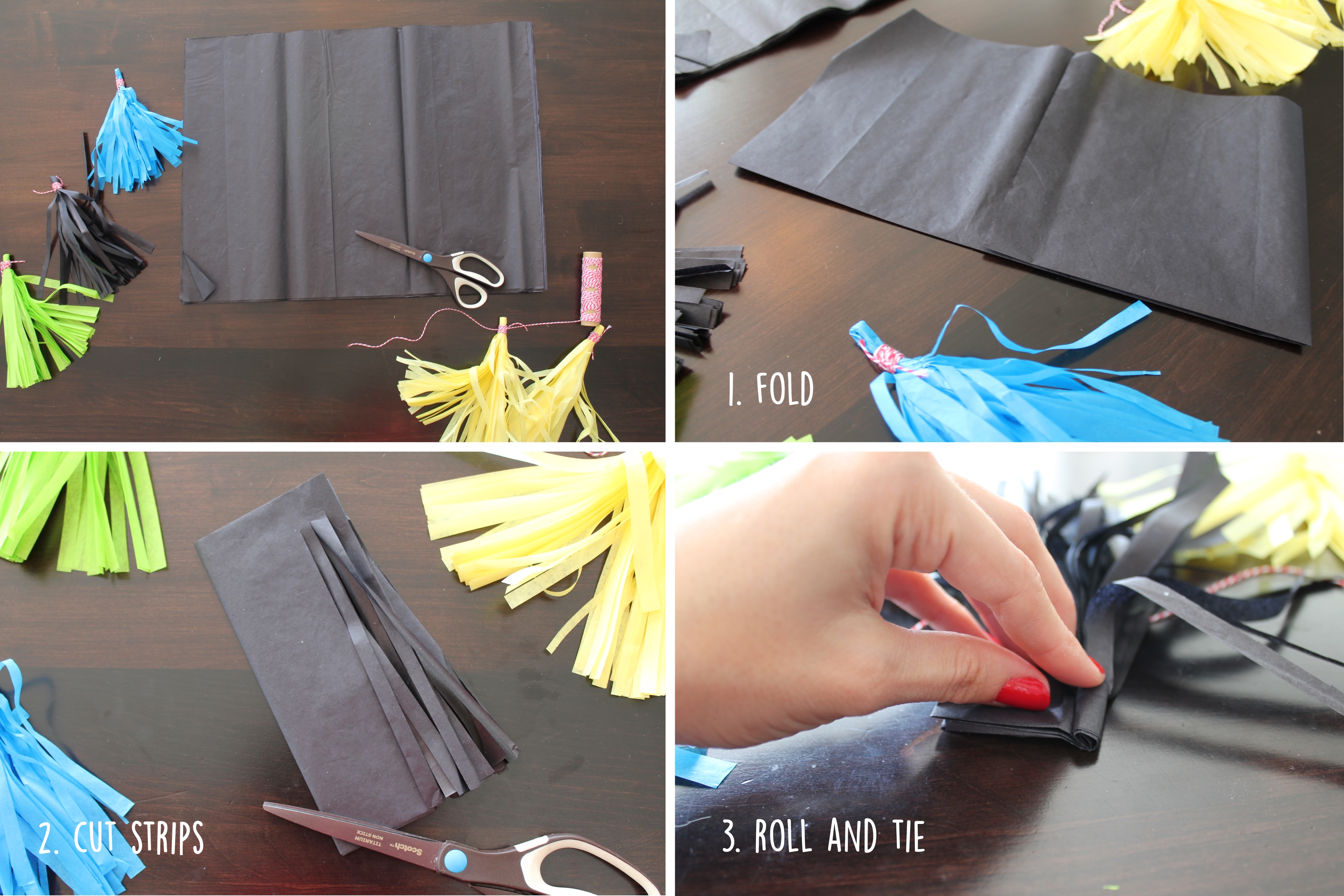 How to make a tissue paper tassel (I prefer doing at least three at a time, to save time):
Fold a 15″x30″ piece of tissue paper in half lengthwise, then turn and fold into thirds, then fold in half again. You should now have a long rectangle about 4″x8″.

Cut into strips, attached at the top by a ½″ border. It takes a little practice not to snip off long chunks as the paper shifts around, but the strips don't have to be perfectly even or straight! Imperfect is more natural.

Roll the strips up and tie with string. I used red-and-white bakers string that I had on hand. Some methods recommend unfolding and rolling, then refolding to create a loop at the top. Seriously, you will want to quit if you do that, because all those little strips will drive you mad. Skip the loop and plan to tie the tassels onto your garland.

After you have a small mountain of tassels, assemble your garlands. I tied my tassels onto twine with simple overhand knots. It took a little practice to find my rhythm, and I only eyeballed the distance between each one to save my sanity. They looked pretty dandy strung all over the house!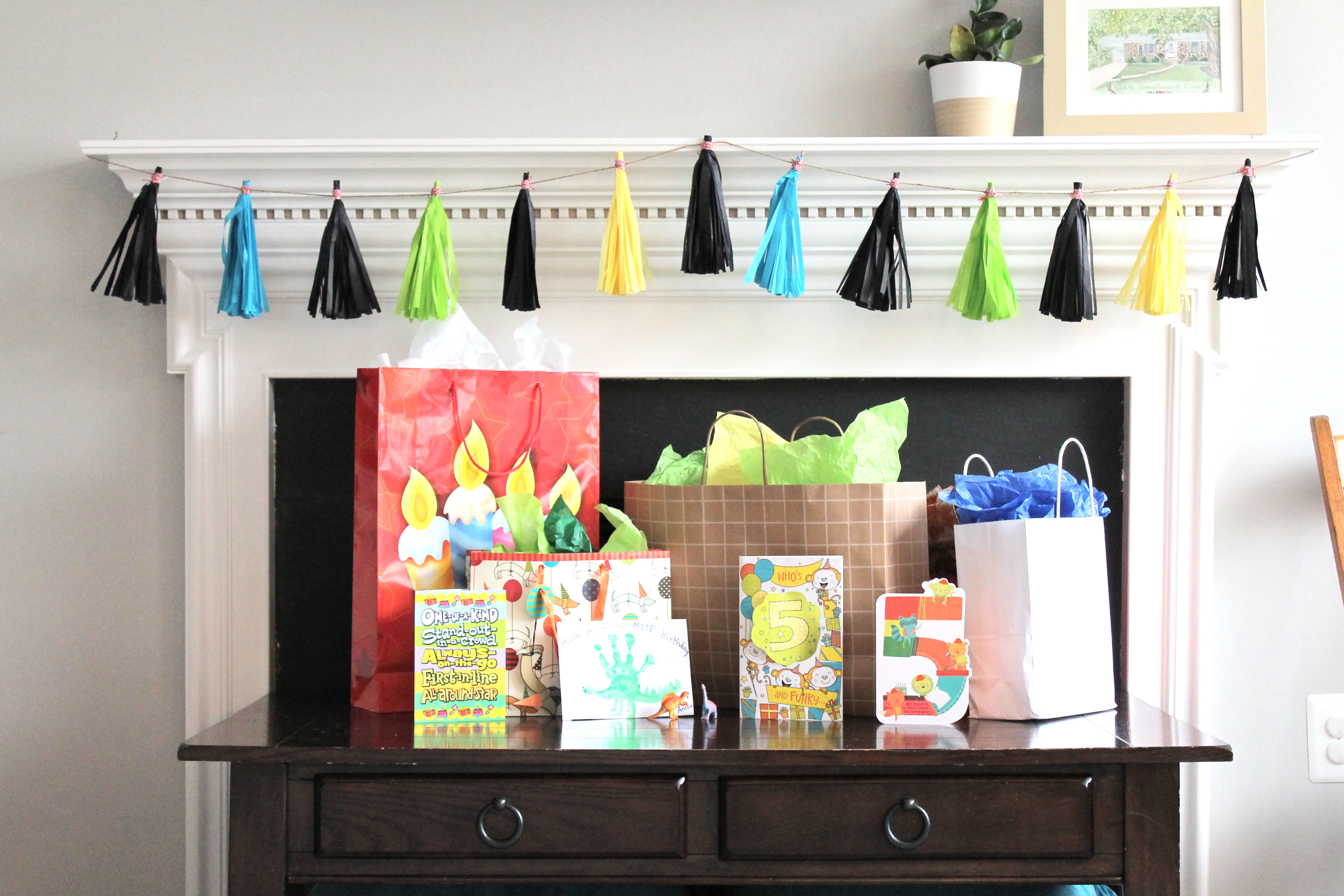 We have been living in this house for almost three years, and I have more or less nailed down a party decorating plan that makes me feel happy and confident. I typically decorate the stairs by the entry, the wall across from our kitchen table, and the mantle. I try to add a little something to the powder room. If I have time, I move on to windows in the main area of our house. 
Jake's fifth birthday is the first year we have invited class friends to celebrate with us. This was super intimidating for me, because I don't actually know these kids well. His preschool doesn't have things like "class mom" (and, to be honest, I'm not sure I would volunteer for that job, even if they did!), so the most I ever see his class friends is during the chaos of pickup.
We invited everyone from his preschool class, and half the kids from his Sunday school class, and all of the family. And…they all RSVPed yes. At which point I had a minor panic attack, because that meant 43 people (20 kids!) RSVPed yes. Luckily (or perhaps sadly…), we had many cancellations at the last minute. We ended up with 31 people, of whom 13 were kids. This number included half of the family, who only came to the afterparty for pizza. Thanks to the smaller volume of people, I found the party to be much less overwhelming than I originally expected!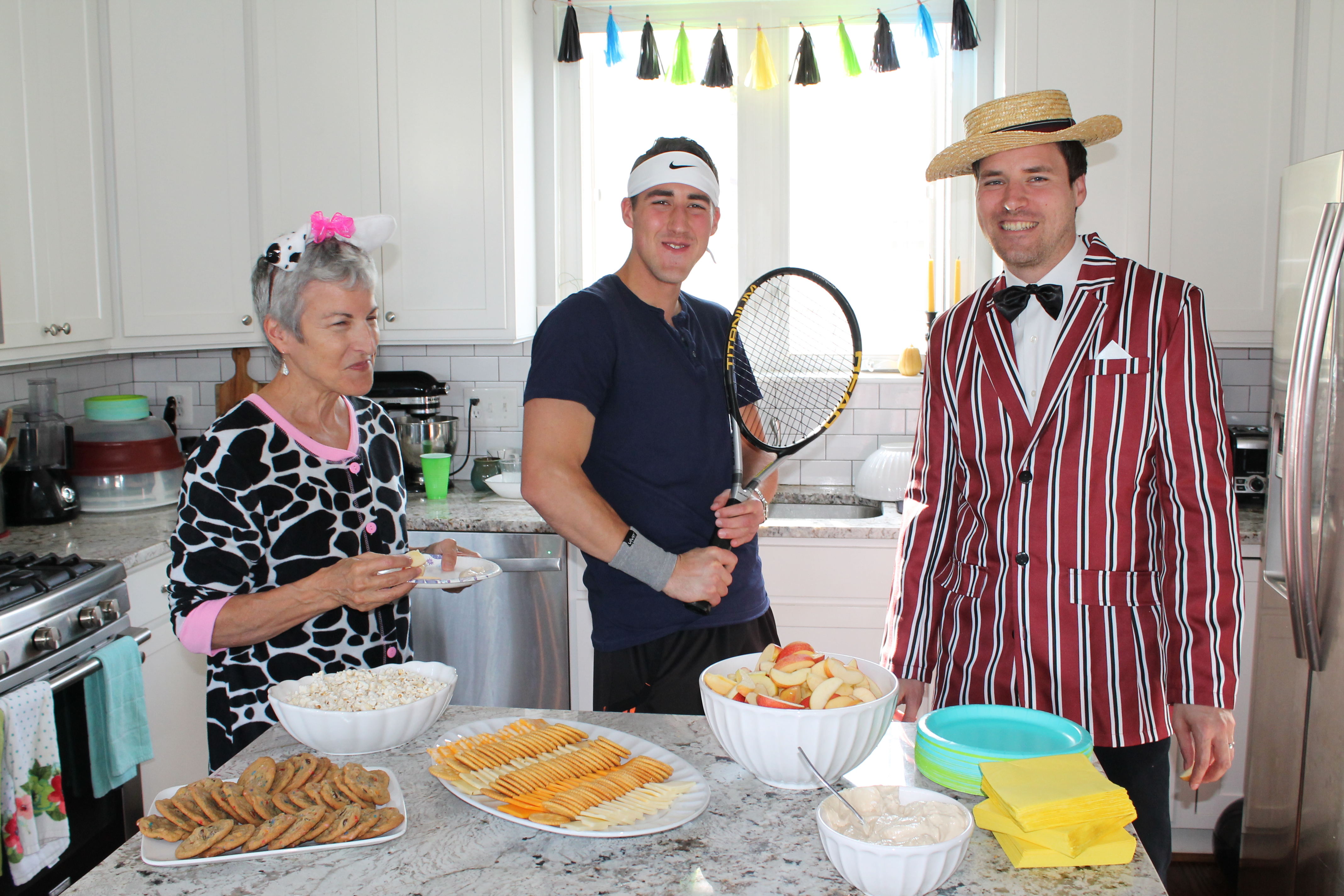 In light of the late afternoon time for the party, I kept the snacks very low-key. We had chocolate chip cookies dotted with rainbow sprinkles, cheese and crackers, apples, and popcorn.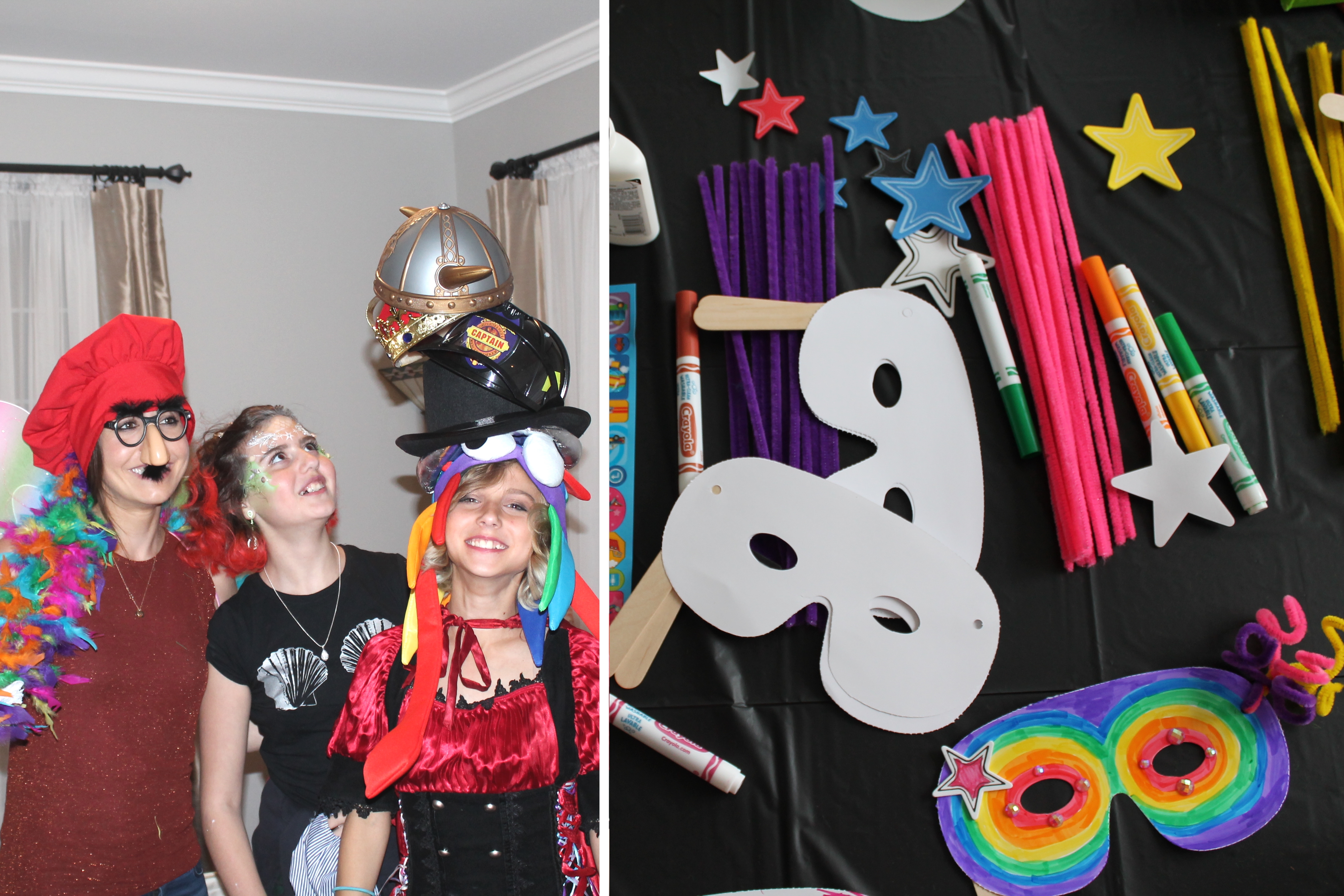 For activities, I set up a costume change/photo booth station (that went largely ignored by the children. Ha. Live and learn), and a craft station where kids could decorate paper masks with markers and stickers and pipe cleaners. When they started to get antsy, I called them all outside and we played Simon Says, which mostly involved racing to the far tree in our yard and pretending to be dinosaurs.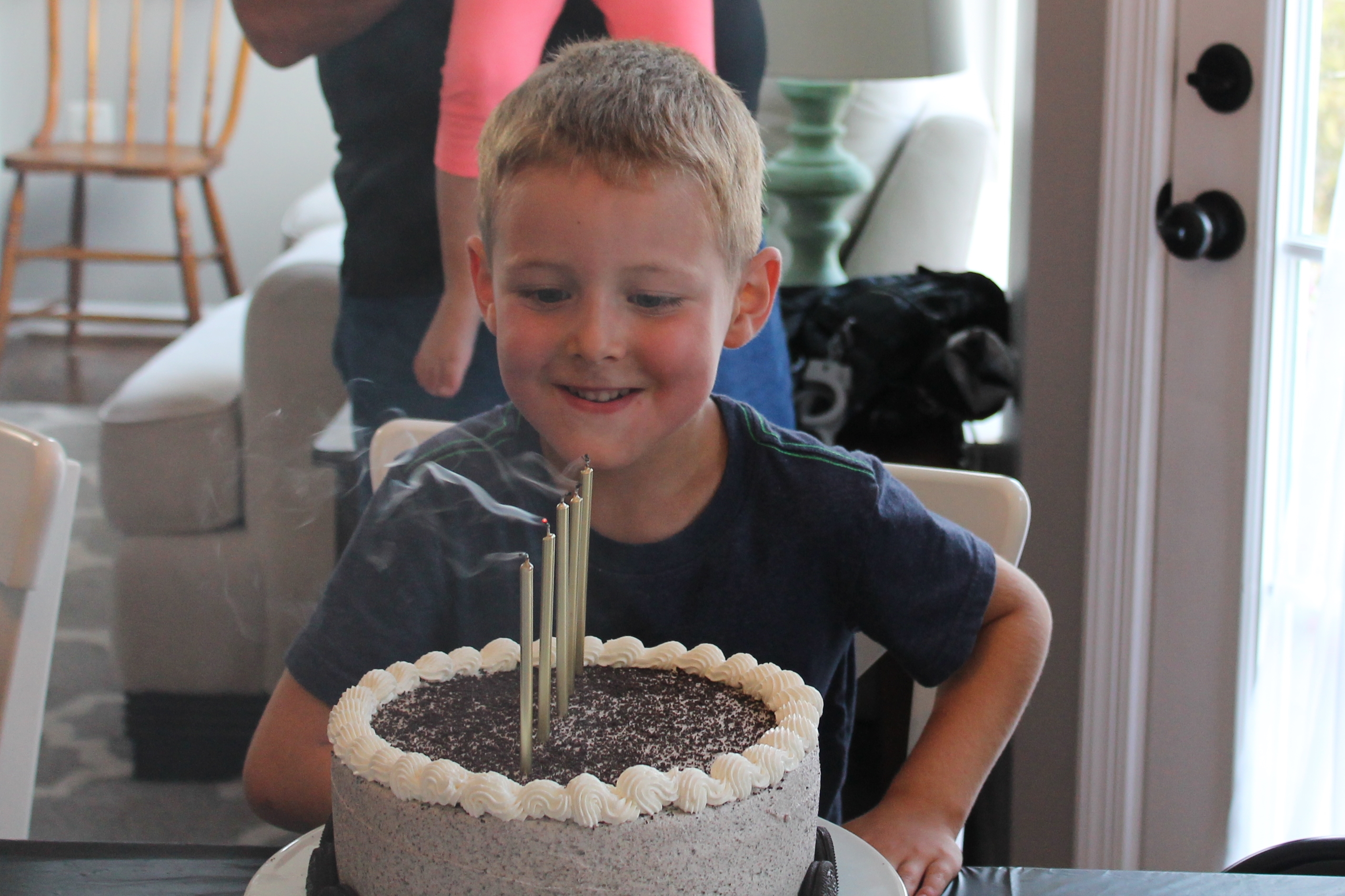 Jake's birthday cake this year was chocolate with Oreo buttercream. The chocolate cake recipe is the same one I made for this wedding cake, and the Oreo buttercream was a simple combination of 1 cup unsalted butter, ¼ tsp. salt, 1 tsp. vanilla extract, 1 lb. sifted confectioner's sugar, 2 tbsp. whole milk, and 9 ground up Oreos. Bless you if you read that whole sentence.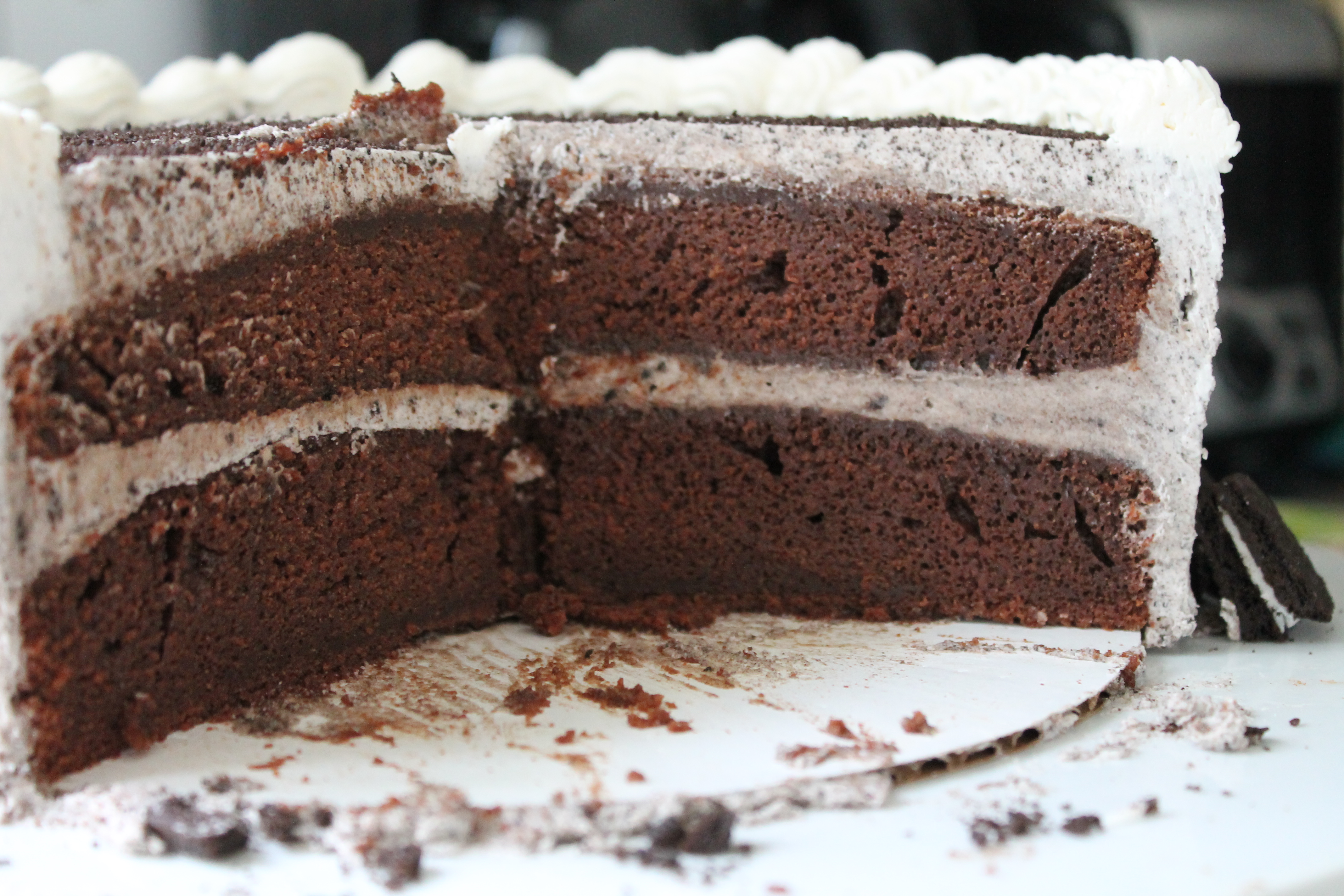 Jake really wanted a layer cake because he thinks they are very fancy, but I really thought it would be simpler to distribute cupcakes, so in the worst compromise ever, I made both. And then I had a mountain of cake left over, which I had to send to work with Dave in order to avoid eating it all.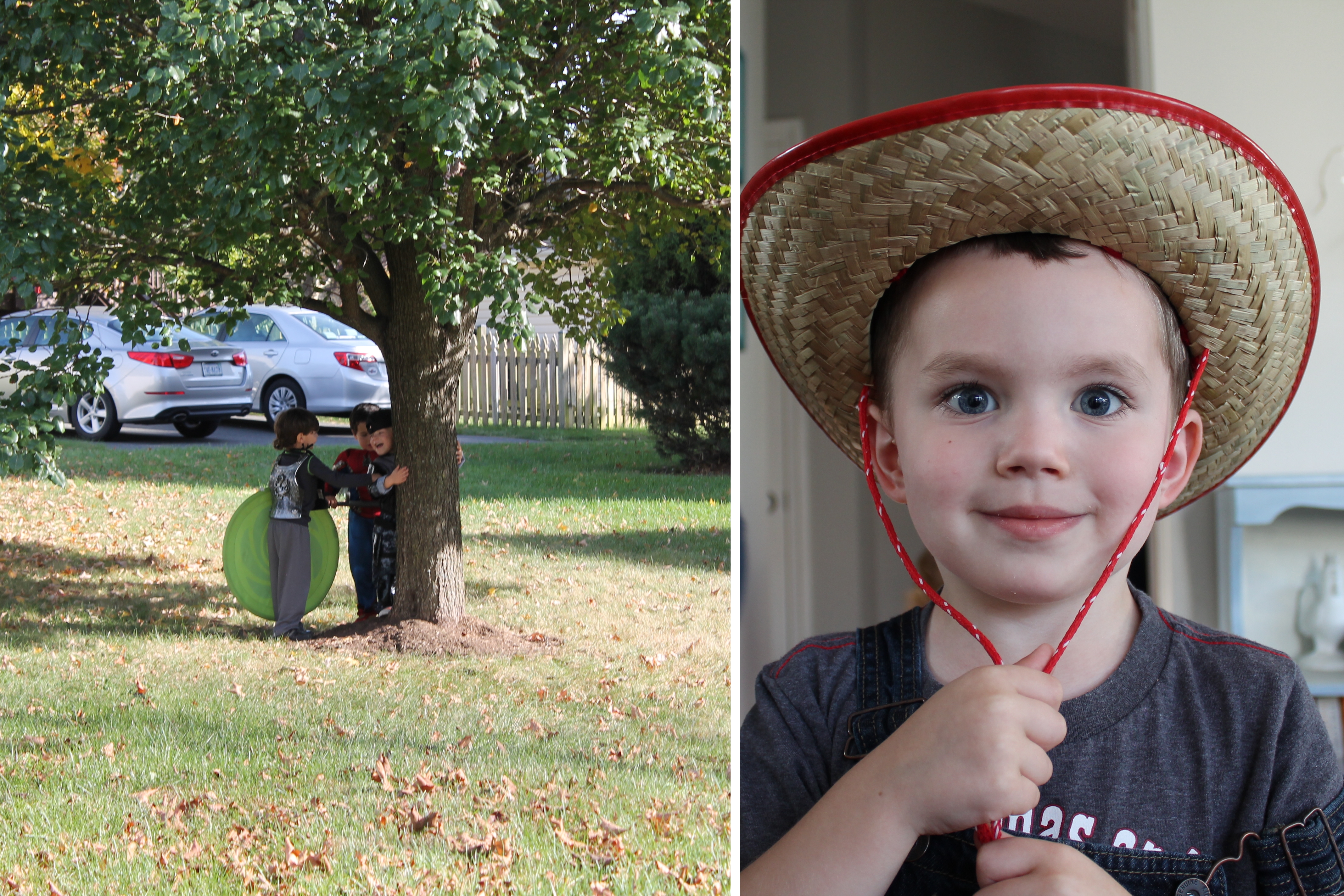 The party itself went smoothly (with many thanks to my parents for all their help setting up and greeting guests), especially considering how staggered people's arrival times were! It was so fun to see what costumes all of the kids wore—my favorite had to be my nephews, who were matching farmers. Too cute.
I pretty much failed at taking pictures during this party. Let's pretend I did that on purpose, that I decided to come out from behind my camera and enjoy the party deliberately, rather than that I felt very distracted and scattered and just forgot.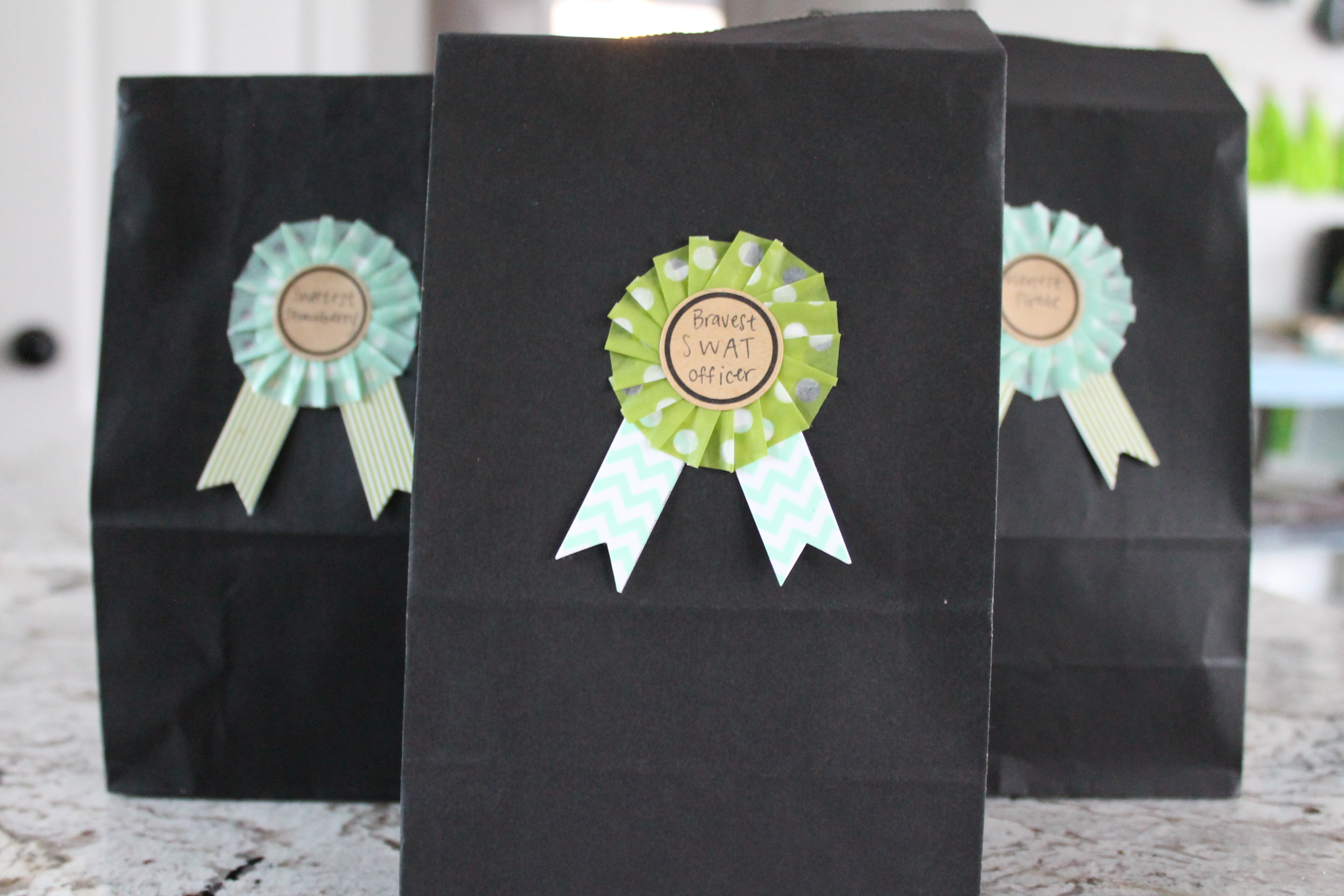 Most of the kids shucked off their costumes within 10 minutes of arriving. But they did enjoy getting "prizes" for their costumes! I made little awards out of washi tape and stuck them onto the favor bags. Then after Jake opened gifts, I handed out prizes like "Bravest SWAT Officer" and "Sweetest Strawberry."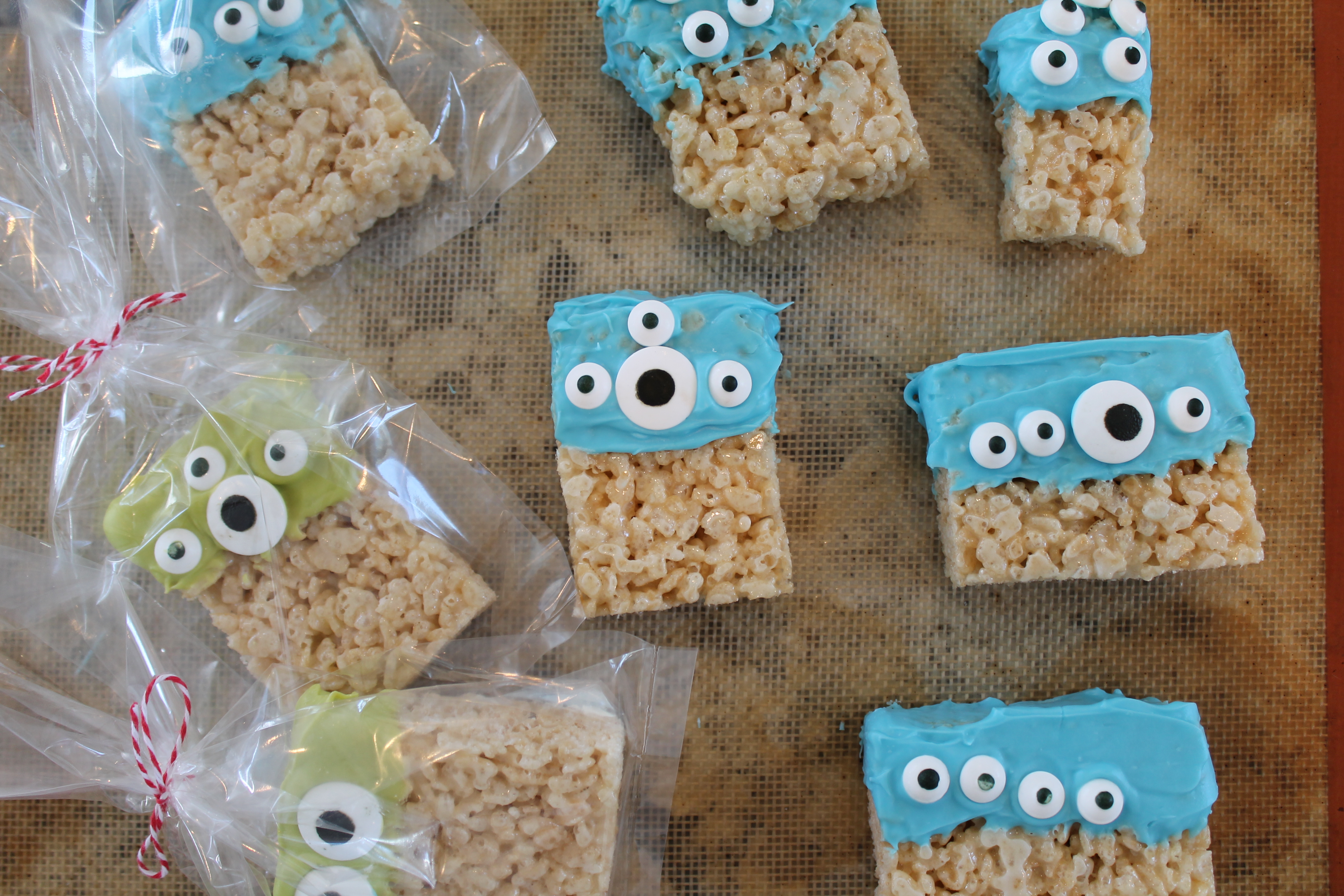 I always feel uncomfortable trying to put together kids' party favors, because I have an aversion to doodads in my own home. This is why I prefer to hand out consumables. Jake and his cousin helped me make little Rice Krispie monsters (they were in charge of the eyes), and I gave out glow sticks (which I love because you can toss them when they run out of energy!). I also added little mini labyrynth puzzles, which are, admittedly, a doodad.
After the kiddos got their prizes, we headed outside and beat up a minion piñata for about 10 minutes, to no effect. Dave had to literally hit it like a baseball to bust it open! Then the kids went to town stuffing their sacks with candy. (Ahem…Jake may or may not have hoarded about 3 cups worth in his own bag. How did he even manage that!?)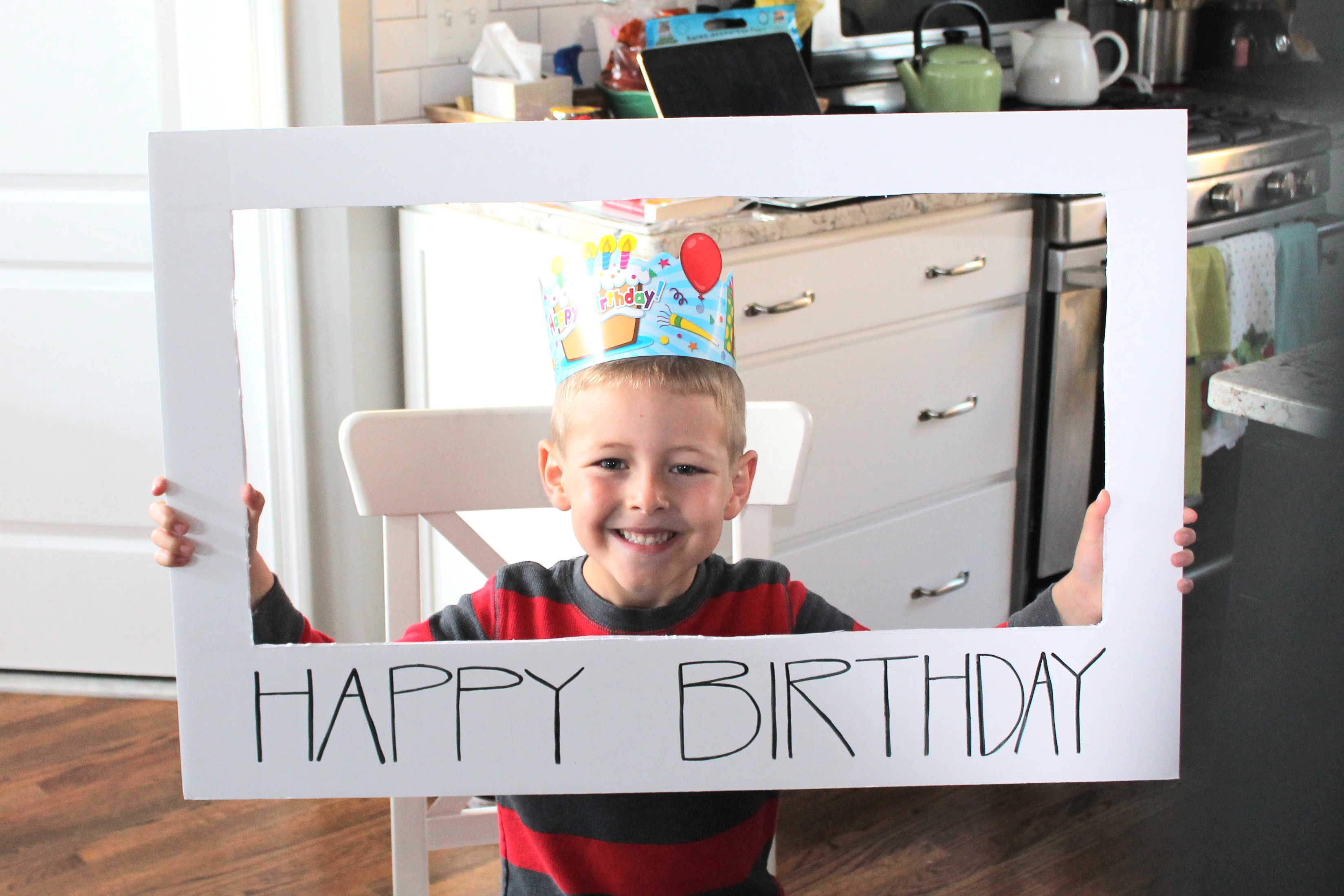 Over all, the party was a success. I can't believe my little hug-wrestler has turned into such a lanky, mature young man, and I can't wait to see how he learns and grows over the course of this year!
A Change of Pace
So now I want to get a little real with you. I really struggled with this birthday party. I struggled creatively and emotionally, and basically dragged my heels through all of the prep, complaining and stressing, and generally not enjoying even the idea of hosting a celebration.
It's not that I didn't want to celebrate my son and his fifth birthday. I did.
But my heart wasn't in it.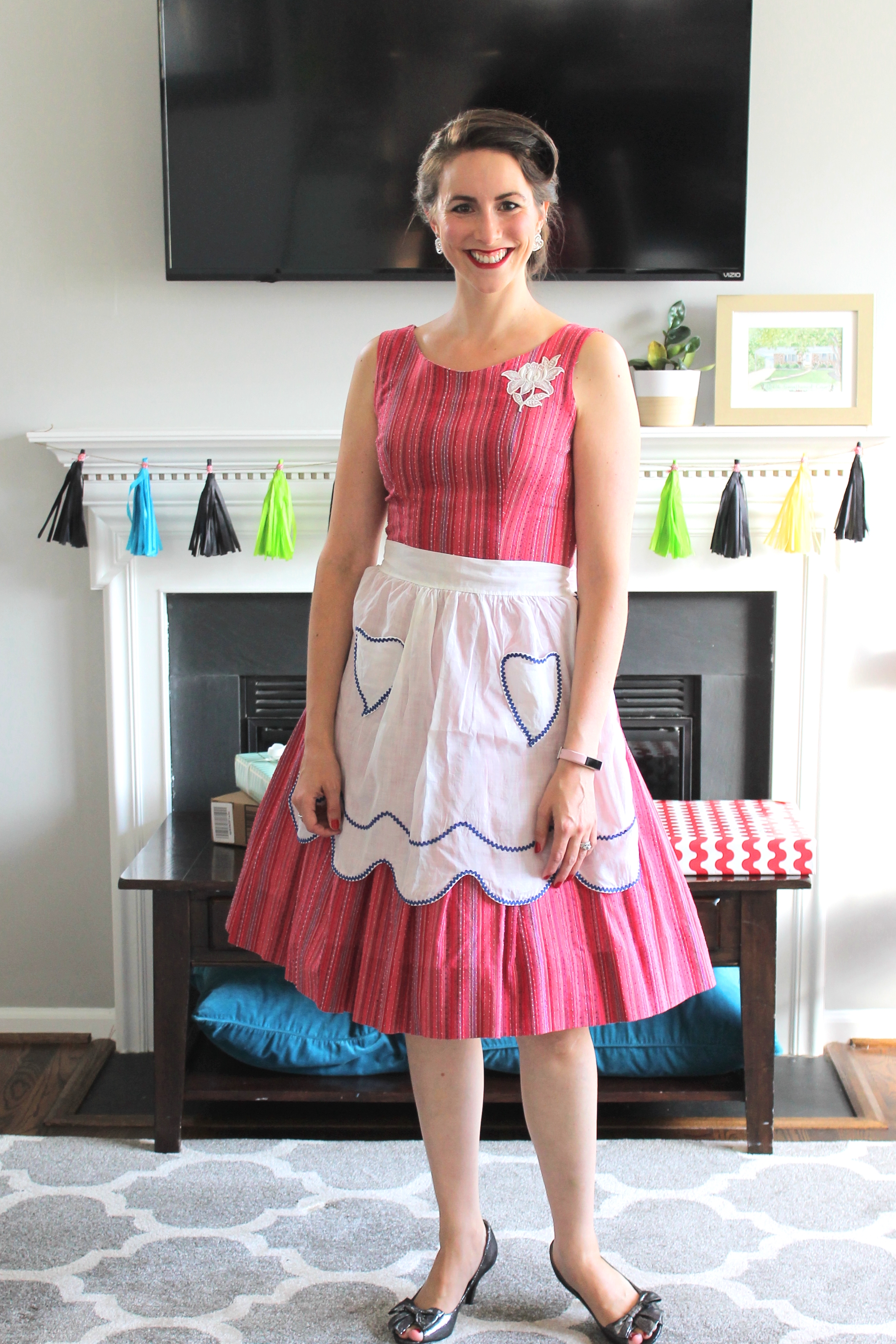 Since the party, when friends have asked me how it went, I have either hemmed and hawed or outright ranted. The truth is that I didn't really think the party went smashingly—although, I will grant that the kids seemed to have fun, I did not have fun. My adorable little son did not thank me for all the planning and assembling and baking and arranging. In fact, the only interactions we had during the party at all were when he complained about not wanting to play a game with his friends outside, and when he told me, "Mom! I don't like this cake!"
It's not all roses and rainbows over here.
In my hurt and frustration and weariness, I decreed that next year we will skip the big party. And we definitely might do that. I'm nothing if not stubborn.
The thing is, I do want to teach my son not to expect every moment to be larger than life. I do want him to know that a big birthday party isn't his right. I do want him to grow in gratitude and generosity.
I both don't want to carry on throwing parties I regret out of some sense of obligation or competition with myself or the rest of the internet –and– don't want to give up on something important in the lives on my children because of feeling bitter, apathetic, broken in spirit.
I know that God sees me in this struggle, and I thank Him, in his beautiful, bountiful grace, for seeing me. Because even in this grumpy week following Jake's party, this week in which I feel nothing but disappointed about the whole thing, He made a way to encourage me. And He did this using the podcast Risen Motherhood, which aired an episode about birthday parties just days after Jake's birthday. God's timing is so perfect.
In that episode, which I hope you will listen to before planning your next party of any sort, the two lovely hostesses, Emily and Laura, talked about how God loves to celebrate life, and God loves parties and traditions, and God loves to mark the progress we are making in our journey with Him. But also, they share that our attitide as moms matters more than the event itself. So many good things condensed in 19 minutes of talk, and God is using that already to heal my heart!
I share this because I think it's really important to acknowledge that being Pinterest-fantastic doesn't always bring joy. It's possible to go all out and feel empty about it, and that's never as wonderful as going small with a smile. I hope to lean into joy in the future, no matter how we decide to celebrate our children in years to come!