"Greens" is like a love word for me. If someone tells me they made a dish with greens (or any specific version of greens, like chard or kale or spinach), I basically swoon.
I love greens.
My theory is that we begin to crave the things we eat a lot. I eat a lot of leafy greens…therefore my taste buds have accomodated me.
Greens. Swoon.
Over the summer, Dave and I took a little weekend getaway to a B&B situated on a working farm. The proprietor was a sweet, hilarious lady who very generously made me a sugarless, meatless breakfast while I apologized repeatedly about how hard I am to feed in the mornings. I basically eat eggs, bread, and veggies. No waffles with syrup, no fruit cups, no smoky bacon.
She made me baked eggs with sautéed swiss chard and cream and thick slices of delicious rosemary fougasse fried with butter in her cast iron skillet. It was utterly decadent.
And since then, this has been my go-to special occasion breakfast.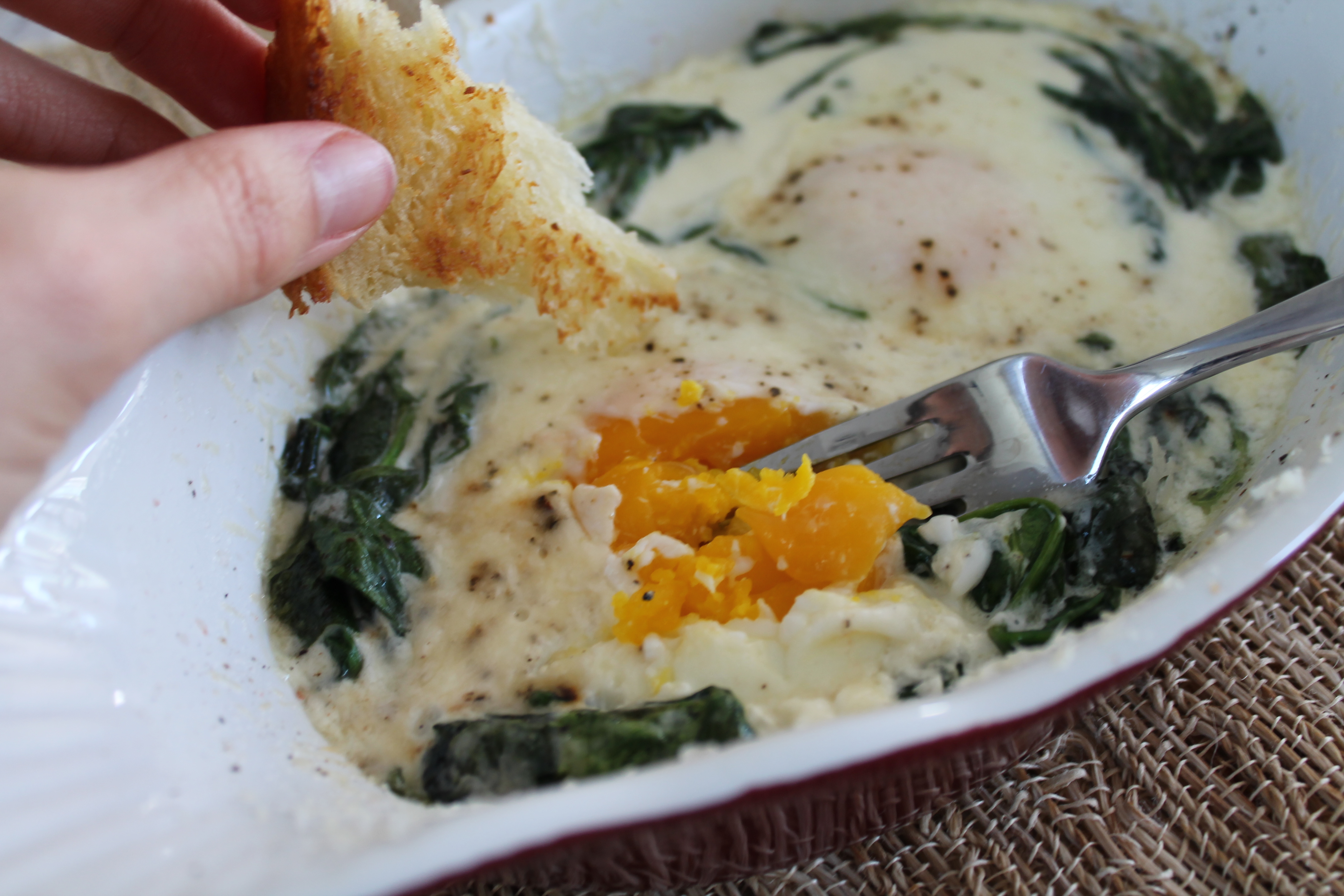 Greens with eggs. Swoon.
This is honestly a very simple, easy, and hearty breakfast.
But, disclaimer: if you are looking for a low-cal meal, look elsewhere. I don't believe in low-calorie breakfasts, to be honest, and this one is full of butter and cream, both of which pack a pretty significant caloric punch. (Keto friends, welcome to heaven.) I believe the heartiest meal of the day should be breakfast, when my body is empty and I have the whole day ahead of me to be active and use up what I eat.
This breakfast is gloriously good. Treat yourself. Give it a try.
In case you've never heard of shirred eggs before, that's really just a fancy way of saying "baked eggs."
Start by preheating your oven to 325°, and then lightly buttering a small gratin dish (mine is about 4″x8″).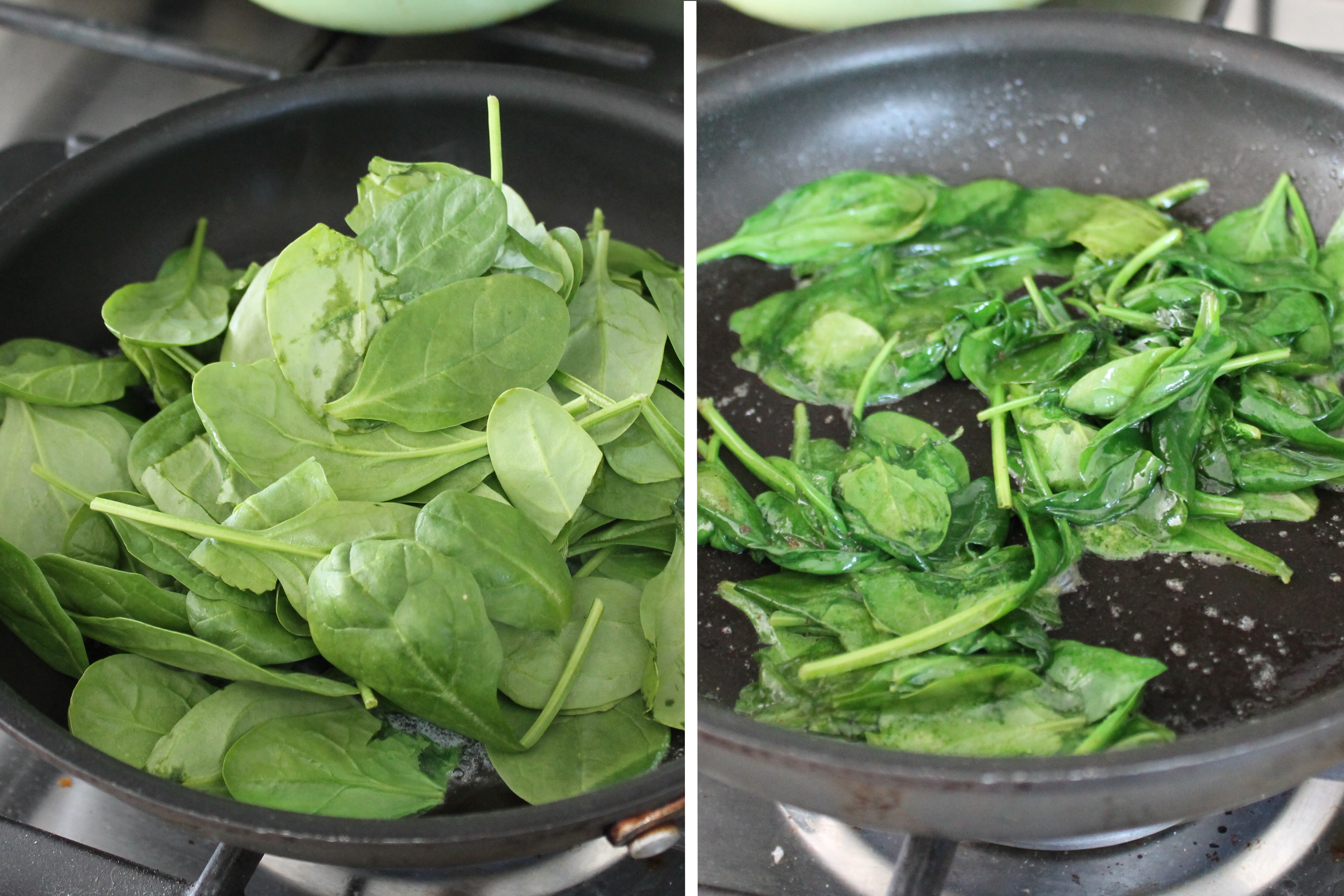 Next, wilt your greens. Add a small pat of butter to a clean skillet and allow it to melt. Throw in more greens than you think you need. Seriously. Lots of greens. At least 2 cups. When greens wilt, they shrink down so much they practically disappear. So go for broke here.
I always have a huge bucket of fresh spinach on hand, so that's what I used in these photos, but chard is also completely delicious! If you go for chard, you will have to do a bit more prep: remove the tough stems and dice them. Cook these first, for about 3 minutes, until they begin to soften. Roughly chop up the leaves and throw them in with the stems, stirring until they wilt.
The greens will be great seasoned with a few dashes of garlic powder and nutmeg. I typically salt my whole dish at the end, rather than salting each component, but you could lightly salt here instead if you prefer!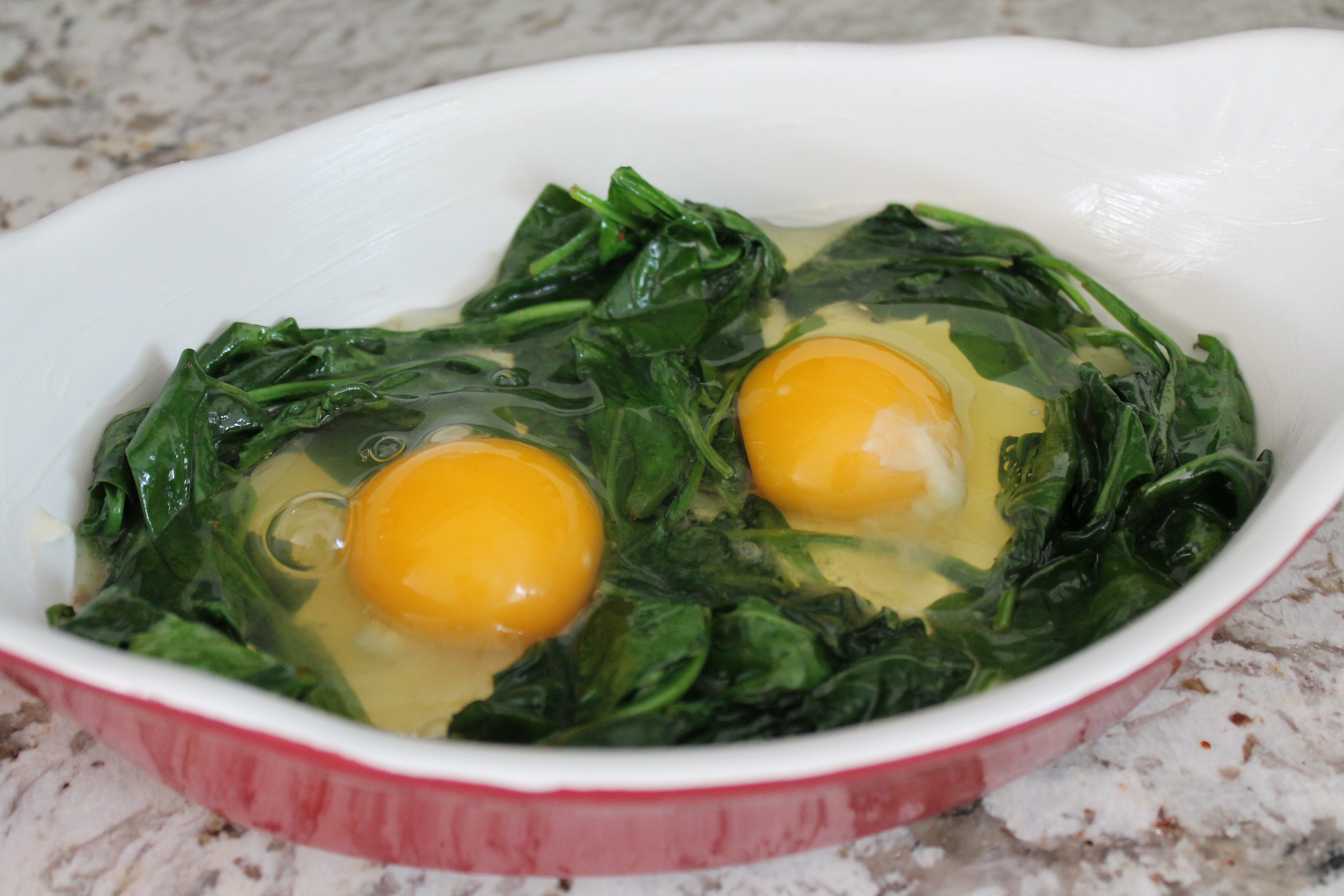 When your greens are just barely wilted, immediately remove them from the heat and scrape them into your prepared gratin dish. Make two wells in the center of the dish.
Crack your eggs into the wells. I used large eggs, just for reference. (If you use different size eggs, your baking time will be different.)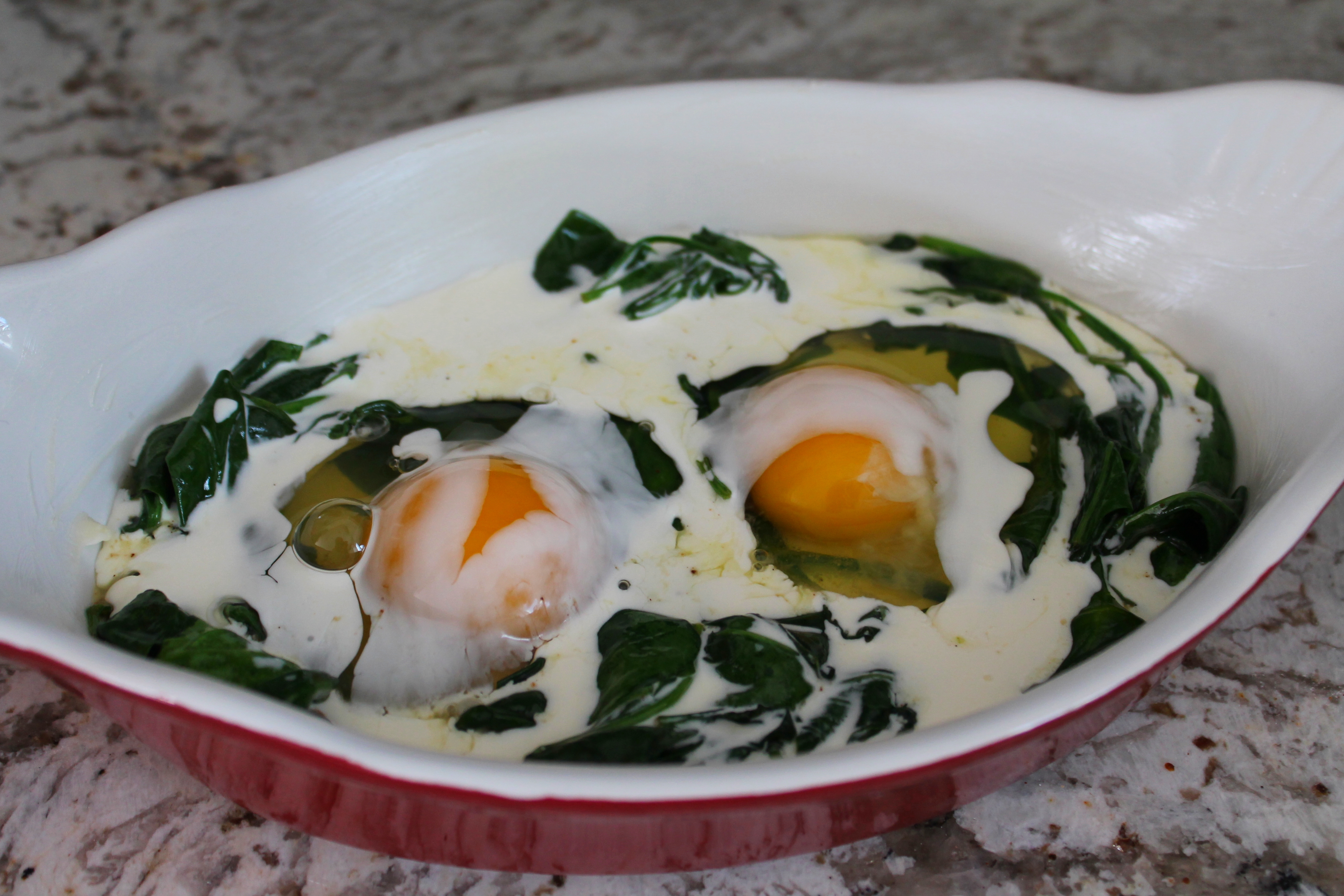 Pour a few tablespoons of cream over the wilted greens and eggs. Lightly season with salt and fresh ground black pepper. You could add some fresh chopped herbs here, if you like. A few pinches of rosemary would be delicious!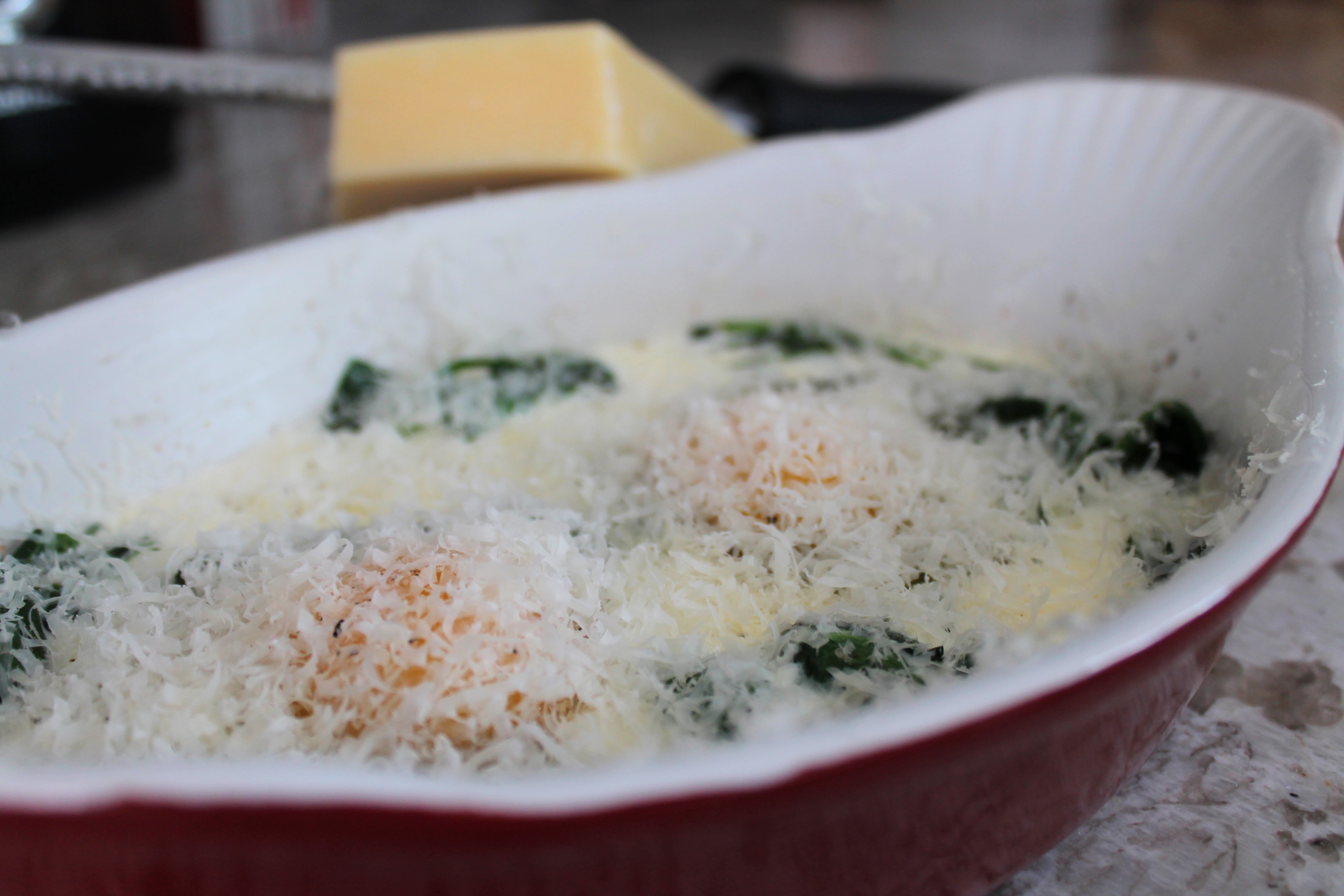 Now grate parmesan all over the top. I really go for it with the parmesan: it's salty and cheesy, and I just love it. I use maybe a quarter cup, maybe less, but I don't typically measure this separately; I just aim to cover the eggs and greens evenly.
Cover the gratin with foil and bake for 18–20 minutes, depending on whether you like your yolks runnier or firmer. I love me some runny yolks, and I will admit that achieving runny yolks but solid whites is tough with shirred eggs. In the photos of this recipe, you can see that my yolks are dark yellow, but completely set. I slightly overshot my mark, didn't I? But for reference, that is what your eggs will look like if you go the whole 20 minutes.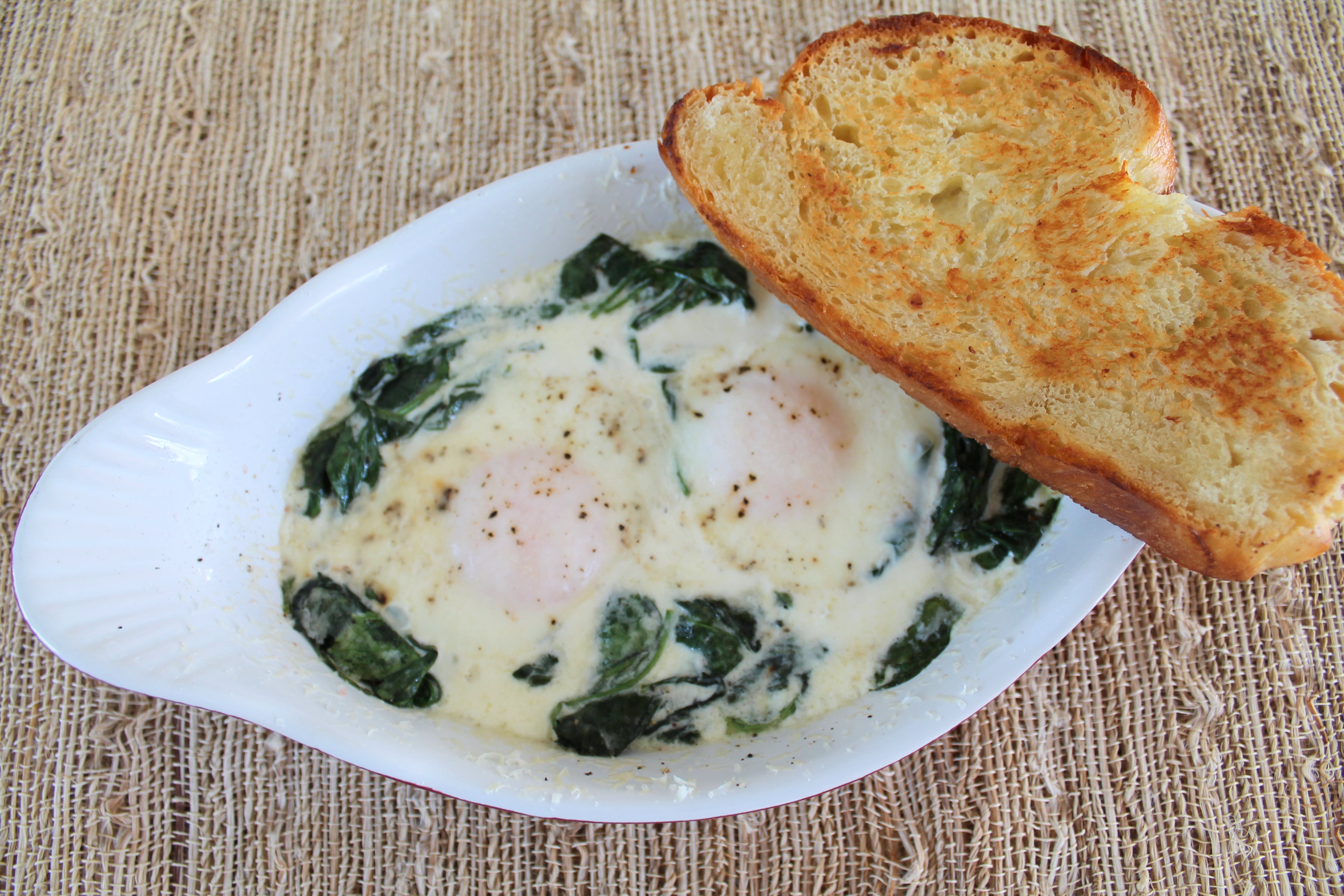 After I pull my eggs out of the oven, I like to squeeze a frew drops of lemon juice over the whole dish, no more than a teaspoon, for a pop of acid to balance out the creaminess.
Serving this dish with bread is totally optional. But using said bread to mop up the creamy sauce is delicious. I'm just saying.
Shirred Eggs with Swiss Chard
Ingredients
2

tbsp.

salted butter,

divided

3-4

large

Swiss chard leaves,

stems chopped off and finely chopped —OR— 2–3 packed cups of baby spinach

2

dashes

nutmeg

2

dashes

garlic powder

2

large

eggs

2-3

tbsp.

heavy cream

salt and black pepper

2-4

tbsp.

fresh grated parmesan

1

tsp.

fresh lemon juice

(optional)
Instructions
Preheat oven to 325°. Grease an individual ceramic gratin dish with 1 tbsp. butter, leaving any excess butter in the dish.

Lightly sauté the Swiss chard stems in remaining butter, about 2 minutes, until softened. Add the chopped greens and sauté until wilted, another minute. (If using spinach, simply add all of the spinach at once and stir for 2 minutes, until wilted.) Season with nutmeg and garlic.

Distribute the chard around the prepared gratin, forming two small indentations in the center of the dish for the eggs (to prevent the yolks from resting against the sides of the pan).

Gently break the eggs into the wells.

Pour cream over top of the whole mixture, especially into the chard. Season lightly with salt and black pepper, and grate parmesan over top.

Cover the gratin with foil and bake for 18-20 minutes, until the whites are no longer jiggly.

Optional: drizzle with fresh lemon juice for a pop of acidity.

Serve warm with buttery bread, if desired.
Enjoy, and eat your greens for breakfast!