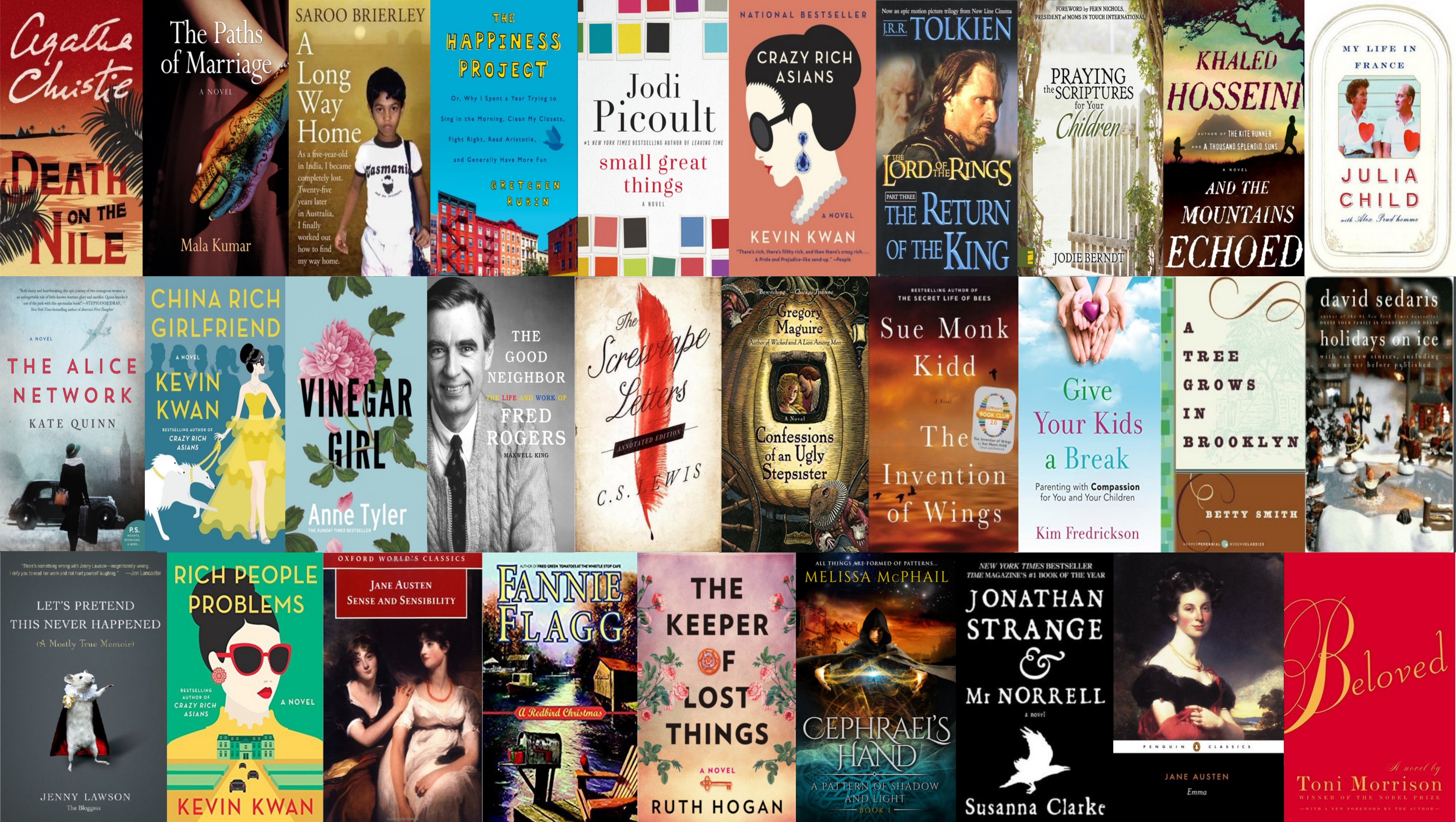 I know, I know, I've been writing a lot about reading. I bet you are getting bored.
But just in case you are still looking for some book recommendations, here is the full list of everything I read in the second half of 2018, both books that fit my 2018 Reading Challenge, and the extras I snuck in along the way!
Read more, friends.
If I look back on the year, including the books I read during the first half of 2018, I see a trend of reading books about slavery and race relations, as well as a trend of reading classics and chicklit (let's count Jane Austen as chicklit even though it's classic, shall we?), with quite a few memoirs sprinkled in. But as always, I share my weird and random list hoping that you will take away a sense of freedom to choose books you love, without worrying about what anyone will think of you when they see you reading it!
I hope you find some inspiration here, and maybe pick a good book or two to read on your own!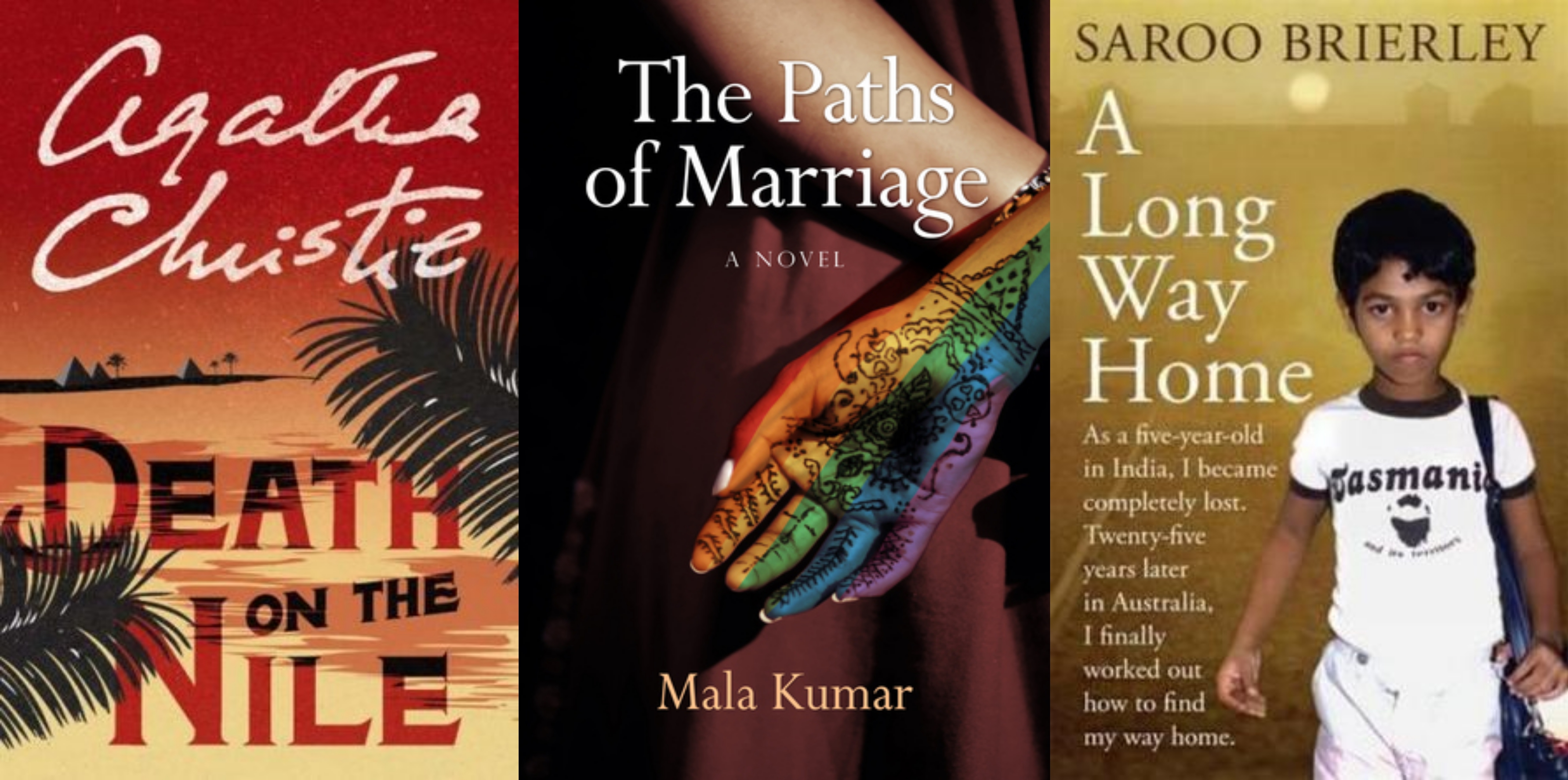 Death on the Nile by Agatha Christie.
Enjoyed ♥♥♥♥
This book was a pleasant little jaunt through British society in the 1930s. Christie's writing is always very careful and richly detailed, not giving away the mystery ahead of time but keeping the reader wondering. This book was quite different from the first Poirot I read, though they both do take place on a confined vessel. I am pleased that my deductive skills are improving with each Poirot mystery I read—I was actually able to figure out half of the murder before Poirot revealed it (which is half the fun in any good mystery, I think).
The Paths of Marriage by Mala Kumar.
Liked ♥♥♥
This book was written by a high school friend of mine. It follows three generations of Indian/Indian-American women through their choices about love and marriage. I enjoyed the first half of the book more than the second half, perhaps because it transported me into totally unfamiliar family dynamics and cultural background. I thought the writing in the second half of the book was less clear, as if the author thought the character's actions should be much more self-explanatory (for me, they were not, especially as I tend to eschew creating drama in my own life, for example, by lying repeatedly). Although first-person storytelling is hard to pull off well, I think each character in the book was believable, if not terribly nuanced. The book did prompt me to think about how, as parents, we try to fix for our children the problems we ourselves faced in adolescence and early adulthood…but our children are unique individuals with unique perspectives, and therefore a rather different set of needs than the ones we may try to address for them.
Lion: A Long Way Home by Saroo Brierly. (Audible—actually read last May, but forgot to write about it!)
Tolerated ♥♥
From the details of the book, I expected an emotional, highly personal tale of a man rediscovering his family after decades and continents of separation. Unfortunately, the book was written in a detached, clinical tone, which was hardly moving at all. The narrator for the book was fairly terrible, contributing to the lack of emotion with his monotone. Many parts of the book were genuinely fascinating, including Saroo's rare success in finding his birth family, but I wish I could have been more deeply immersed in the emotional side of story.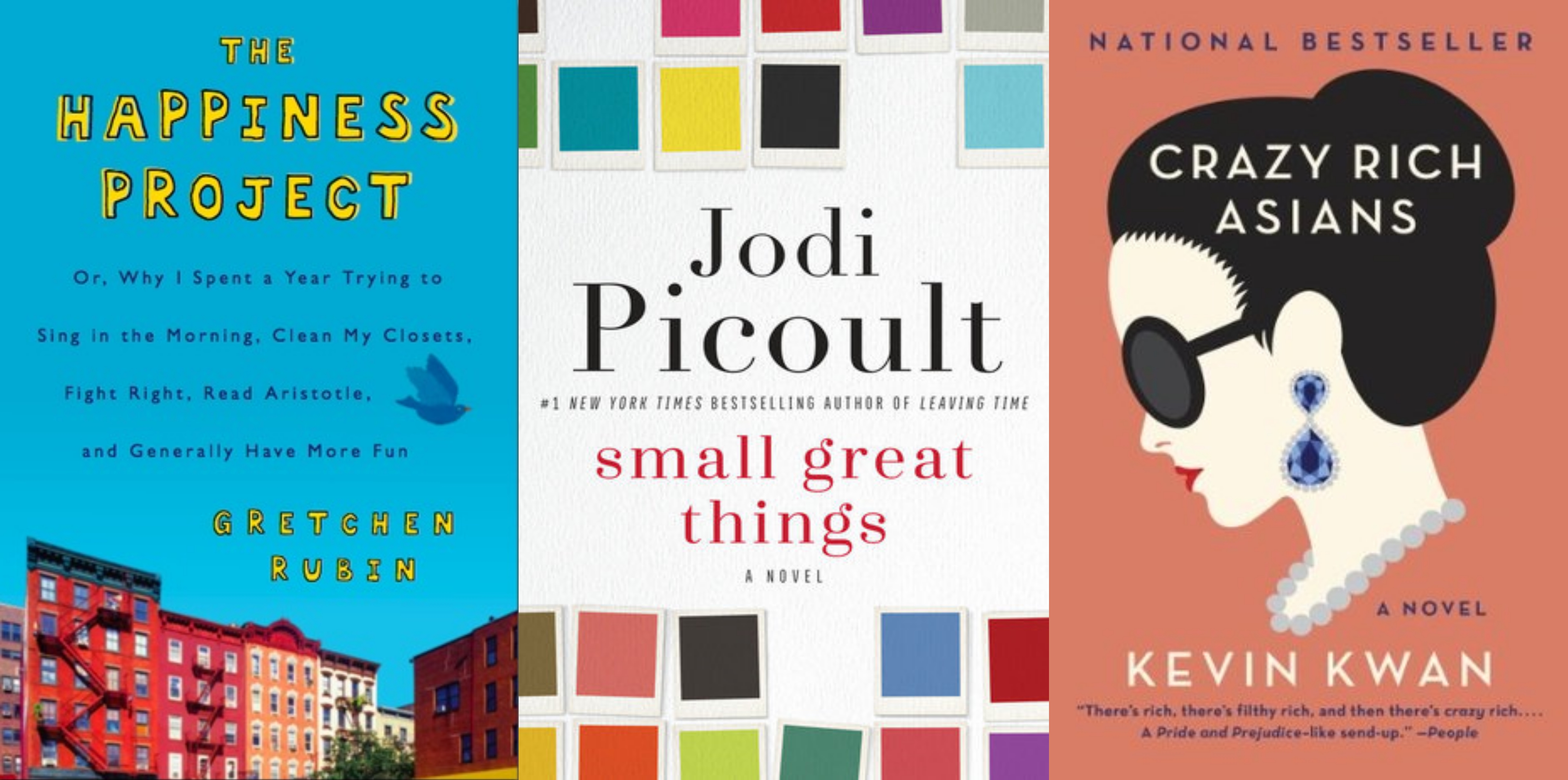 The Happiness Project: Or Why I Spent a Year Trying to Sing in the Morning, Clean My Closets, Fight Right, Read Aristotle, and Generally Have More Fun by Gretchen Rubin. (Audible)
Loved ♥♥♥♥♥
Loved, loved, loved this book. This is certainly not the first book I've read that takes on systematic changes over the course of one year, but I did find Gretchen Rubin's set of tasks and reasoning behind them to be intriguing. I especially loved her point that what makes me happy is not the same as what makes you happy. She set me thinking about my own happiness goals, and although I was a month away from having a baby when I read this and didn't quite feel the timing was right to embark on my own happiness project, I have been trying to implement simple steps toward greater joy, such as not putting off a quick task, and speaking about others with love.
Small Great Things by Jodie Picoult. (Audible)
Loved ♥♥♥♥♥
This book was SO well written. SO good. I keep trying to write a short summary of it here, but even the opening situation is so richly complex that I just can't capture it sensibly without writing too much. Suffice it to say that you will love to love some characters and love to hate others, and I did not expect to learn so much from this story! Toward the end, there is a beautifully composed explanation of modern racism that convicted my heart, especially following the gripping and poignant story about a black woman who has been wrongfully accused, who has suffered cruelty and rejection, and who ultimately questions her own desires to fit in with the world around her. It was deeply emotional, and even hard to read at times, but I highly recommend it to anyone.
Crazy Rich Asians by Kevin Kwan.
Liked ♥♥♥
This book is utterly silly and vapid. The reader is meant to identify deeply with Rachel, a character who is unable to be sullied or swayed by riches and lavish surroundings, which are a normal part of her boyfriend, Nick's family life in Singapore. The sneak peak into the lives of the super-rich and super-snobby was entertaining, despite being completely riddled with dropped names that I could not care less to look up. One of the best things Kevin Kwan did was add little tongue-in-cheek footnotes to explain labels, people, and foreign phrases to outsiders like me! Definitely a fast read, and definitely amusing, but not in any way edifying.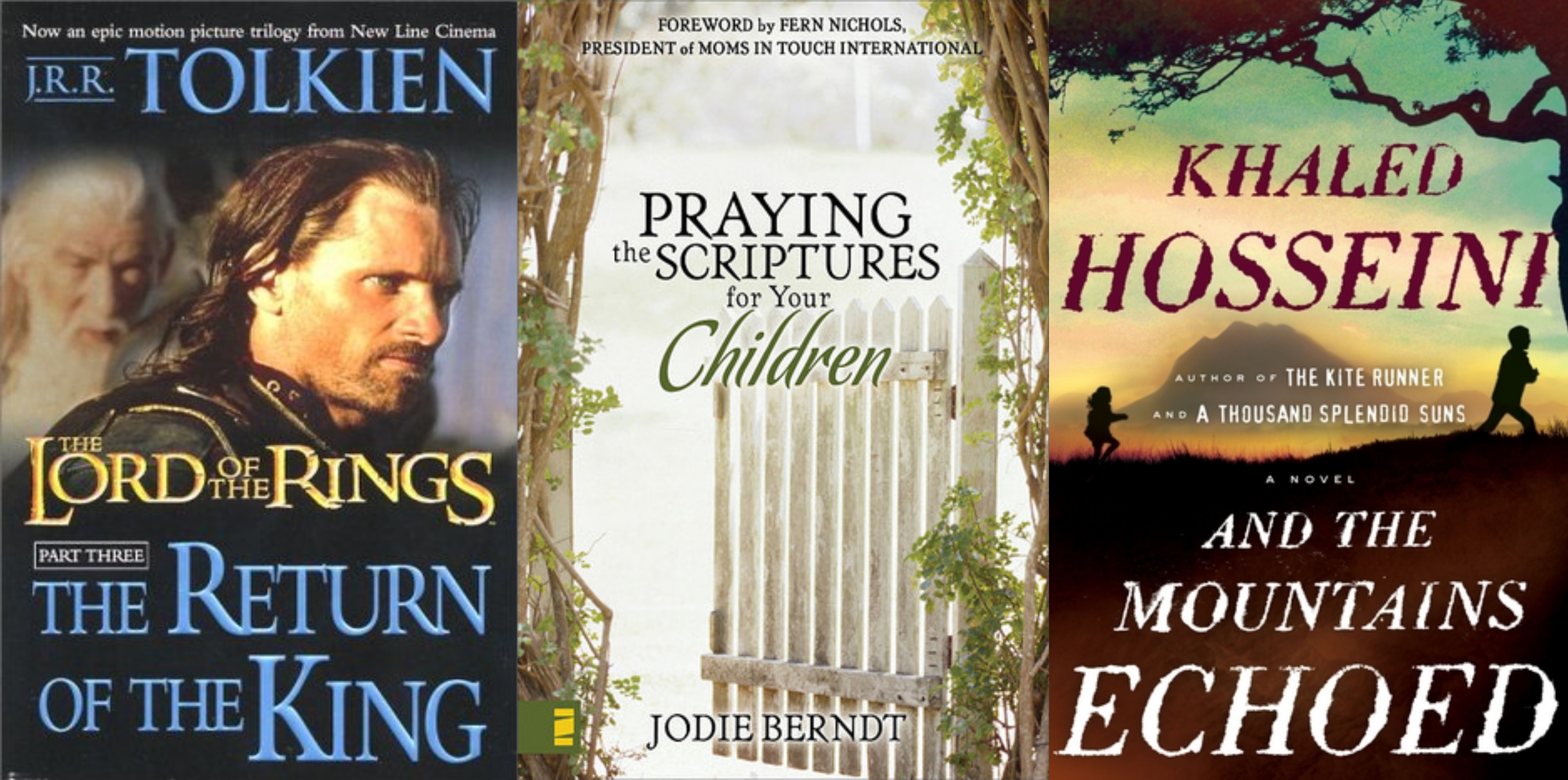 Return of the King by J.R.R. Tolkien. (Audible)
Tolerated ♥♥
I survived, I survived, I survived, I SURVIVED!
Praying the Scriptures for Your Children: Discover How to Pray God's Will for Their Lives by Jodie Berndt.
Enjoyed ♥♥♥♥
This book was so full of good ideas and encouragements for how to lift my children up in prayer. I really appreciated the many suggestions of verses for specific areas in my kids' lives, as well as the idea of praying that God would highlight the needs in my children's lives so that I can pray for them more effectively!
And the Mountains Echoed by Khaled Hosseini. (Audible)
Liked ♥♥♥
What a challenging book to describe…it jumped from one perspective to another and spanned several decades, but more or less followed the Afghani family it started with, in which a father sold his young daughter to a rich, childless couple in order to have enough money to support his remaining children. I did not like this book as well as The Kite Runner, and—like others who have reviewed the book—I thought a few of the stories should have been cut because they did not pull their weight and ultimately distracted from the whole tale. At times haunting and at times intriguing, but not a book I'm likely to recommend. The narration did add a special flavor to the book, and I quite enjoyed the listening experience.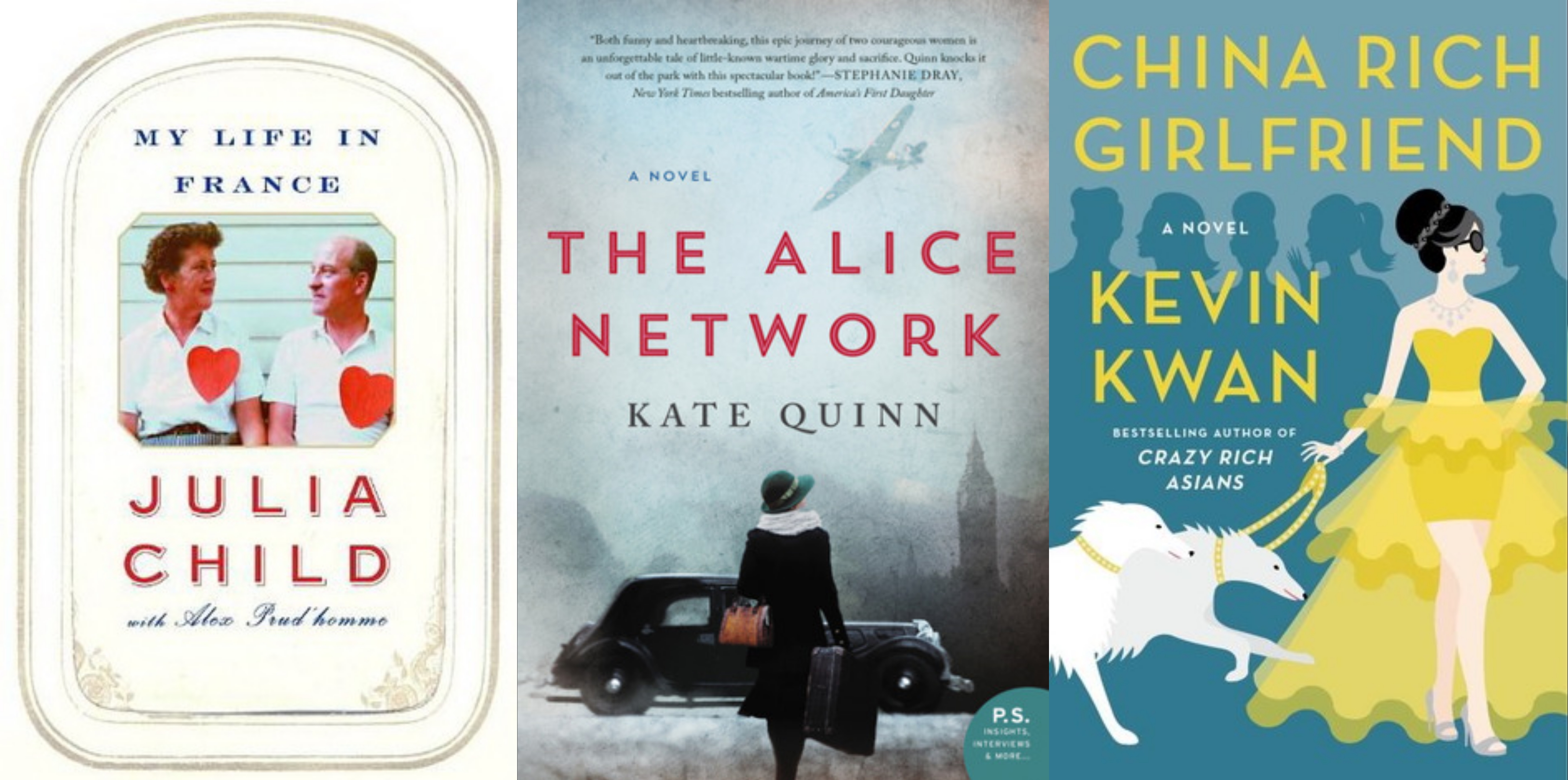 My Life in France by Julia Child and Alex Prud'Homme.
Enjoyed ♥♥♥♥
It took me absolutely forever to get through this book, and I'm not entirely sure why. I loved tramping through France (and several government-imposed moves to other countries, as well), cooking classes, book writing, and life in the 50s-80s with Julia. This book was slow going, but it made me long for dinner parties and letter writing. I should do more of both of those!
The Alice Network by Kate Quinn. (Audible)
Enjoyed ♥♥♥♥
An interesting story, spread across two timelines. It was very refreshing to read a war story about World War I (not II), but I must admit that the character development was a little awkward. In the beginning of the story, all of the characters were like caricatures of un-self-aware people, and then suddenly poof they all developed new perspectives and attitudes two-thirds of the way through. While it was enjoyable, this book didn't really succeed in making me proud of the capabilities of women in the last century, which I think was definitely one of its goals…it more made me think, "Why do so many books think that sex is the only logical endgame?" Nevertheless, the two storylines propelled me along to the end.
China Rich Girlfriend by Kevin Kwan.
Liked ♥♥♥
This book is so completely silly and ridiculous. It was a lovely, quick second jaunt into a world where everyone is obsessed with money and labels and is completely oblivious to the real world. This time, the book centers around Hong Kong and Mainland Chinese society, and although it had very little redeeming cultural or moral value, I still quite enjoyed being distracted from my real life as I indulged in this quickie read.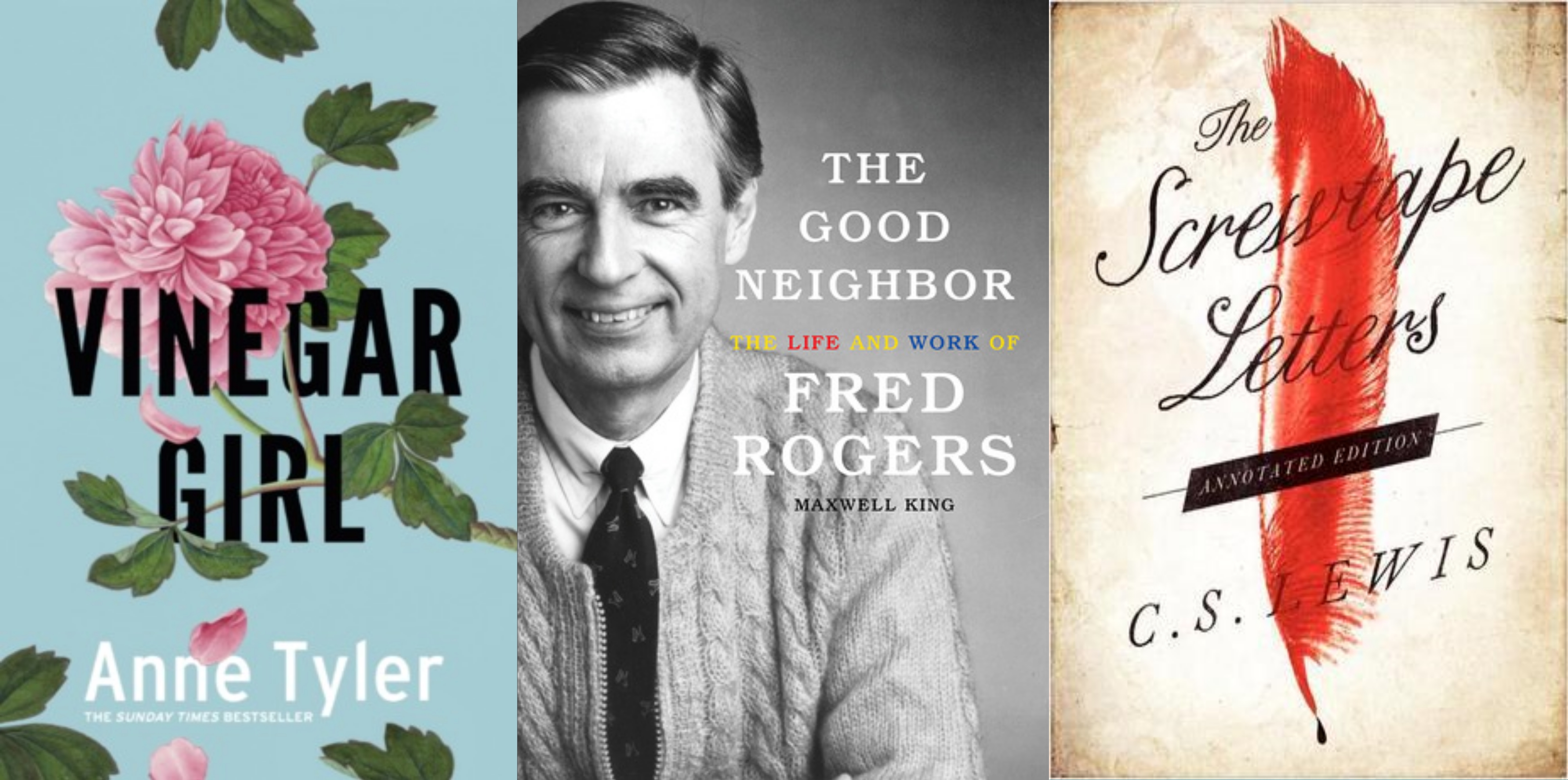 Vinegar Girl by Anne Tyler. (Audible)
Enjoyed ♥♥♥♥
This short, modern-day adaptation of The Taming of the Shrew by William Shakespeare was perfectly pleasant. Full of completely realistic and self-centered characters, it didn't strictly adhere to Shakespeare's plotlines (which would never work in a modern setting), but it did briskly pace around the same track: unappreciated, caustic daughter agrees to marry an unlikely man, ultimately finding love and a more mellow attitude. This book was short and superbly narrated, and it kept my attention from beginning to end.
The Good Neighbor: The Life and Work of Fred Rogers by Maxwell King. (Audible)
Tolerated ♥♥
When I got started into this book, I was sure it was going to amaze me. In many ways, my own philosophies on child development and, in particular, media for children, line up with those of Fred Rogers. The introduction literally made me cry (despite Lavar Burton's very halting narration, which was an irritation throughout). However, this biography was entirely too long. It repeated itself over and over, and the whole point seemed to be proving via personal anecdotes that Mr. Rogers was the same man on TV and in real life. (Though it contradicts itself by also discussing how Fred Rogers was an intensely demanding, self-absorbed perfectionist.) I wish this book had been significantly shorter, and that it hadn't ended with the sentiment "Fred Rogers never wanted a biography to be written about him," which further compounded my feelings that I had wasted my time.
The Screwtape Letters by C.S. Lewis.
Liked ♥♥♥
If you've never heard of it, The Screwtape Letters is an epistolary novel written from the perspective of an older demon who is coaching his nephew in the art of leading a human away from the kingdom of God. It was very thought-provoking, causing me to reconsider how I pray, how I find enjoyment, and even how I interact with others about eating (which, as you may know, has long been a challenge for me). I found that the middle became a bit repetitive, but overall it was a quick read and I enjoyed being challenged to think about how my faith is growing or stagnating from a new perspective.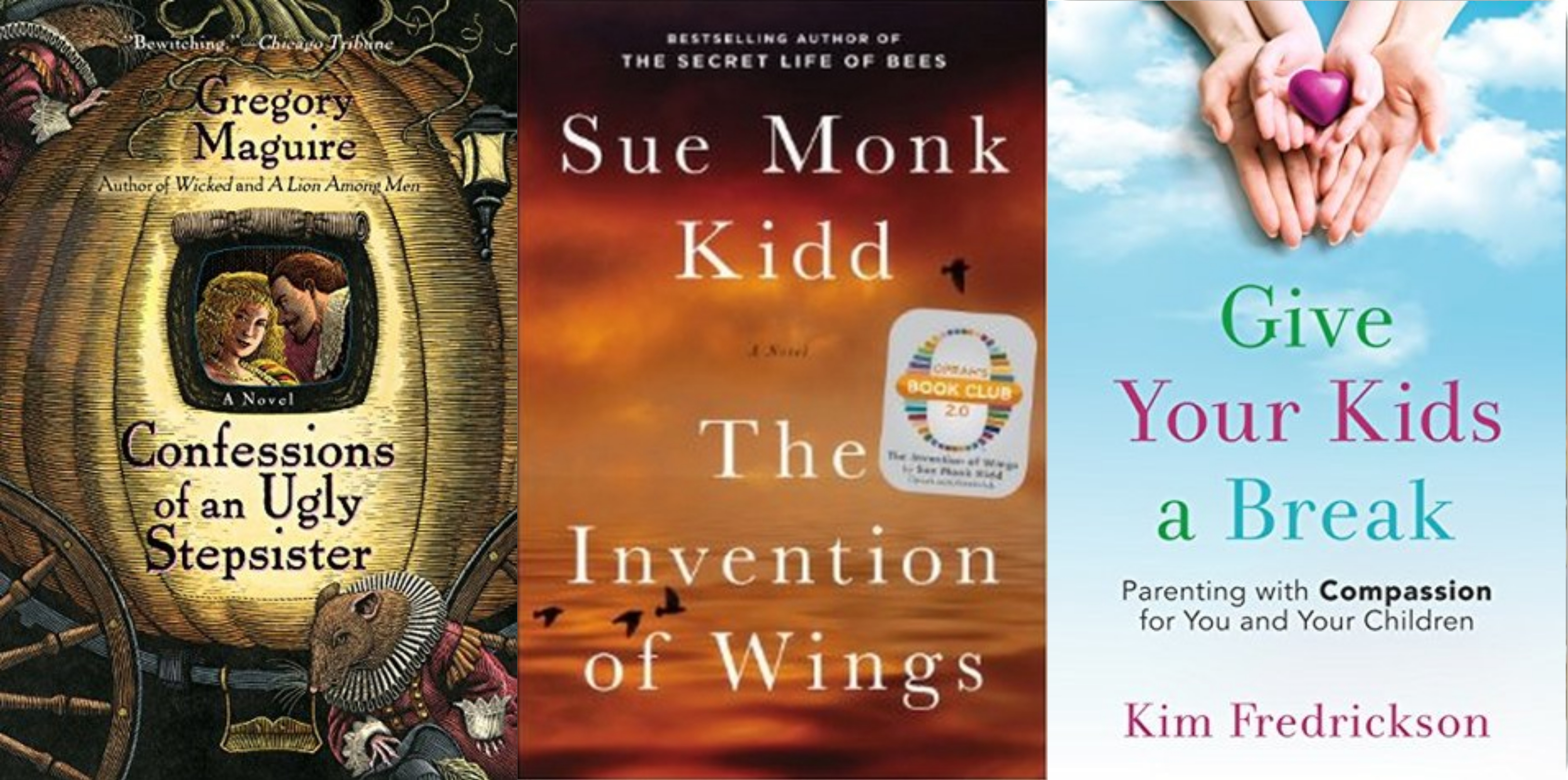 Confessions of an Ugly Stepsister by Gregory Maguire.
Liked ♥♥♥
This story almost can't be called a parody/spin-off of Cinderella, because it's so very, very different from the fairy tale, but I also loved that Maguire really told his own story. The rich history of Dutch painting tradition and the tulip trade were much more prominent than the tale of a beautiful but disdained step-daughter. Naturally, Maguire portrayed Clara (who occasionally called herself Cinderella) as capricious and mainly useless, while the stepsisters were very sympathetic, if not very lovely. Luckily, in the end, everything turned out for the best. Thoroughly enjoyable!
The Invention of Wings by Sue Monk Kidd.
Liked ♥♥♥
This isn't my favorite book by Sue Monk Kidd, and the reason is definitely that it was based on real-life characters. The first half of the book and the second seemed completely disjointed as Kidd tried to weave a thoughtfully imagined relationship between Sarah, a young white girl who didn't approve of slavery, and Handful, her own personal slave, together with the actual events of Sarah's adult life. The result was that the book seemed to fly off on a tangent, in which Sarah became a Quaker and then a professional speaker promoting abolitionist ideals, leaving Handful essentially to wither under the oppression of her pro-slavery family. I kept waiting for Sarah to do right by Handful, a character I (and she) cared about deeply, but in the end, Handful had to fend for herself. Very interesting and obviously realistic, but not very satisfying, to say the least.
Give Your Kids a Break: Parenting with Compassion for You and Your Children by Kim Frederickson.
Loved ♥♥♥♥♥
The introduction to this book made me a little nervous that the whole thing would be awkwardly edited and/or way too long, but once I got through that, the rest of the book literally changed my life. I had been very much struggling with my 3-year-old, and this book helped me to understand and introduce more compassionate parenting with her. Spoiler alert: it has been WORKING. If you are a parent, especially if you are a parent in the middle of any kind of battle with your kids, consider reading this book. It will help you to have mercy on yourself when you make mistakes, courage to try again, and the wisdom to address the hearts of your children. I want to know my kids more than control them, and I want them to feel deeply loved and completely safe with me. Not everything in this book specifically applied to me, but it was a very, very useful book to read. (Apologies if you know me personally and heard me talk about this book incessantly during the month I was reading it.)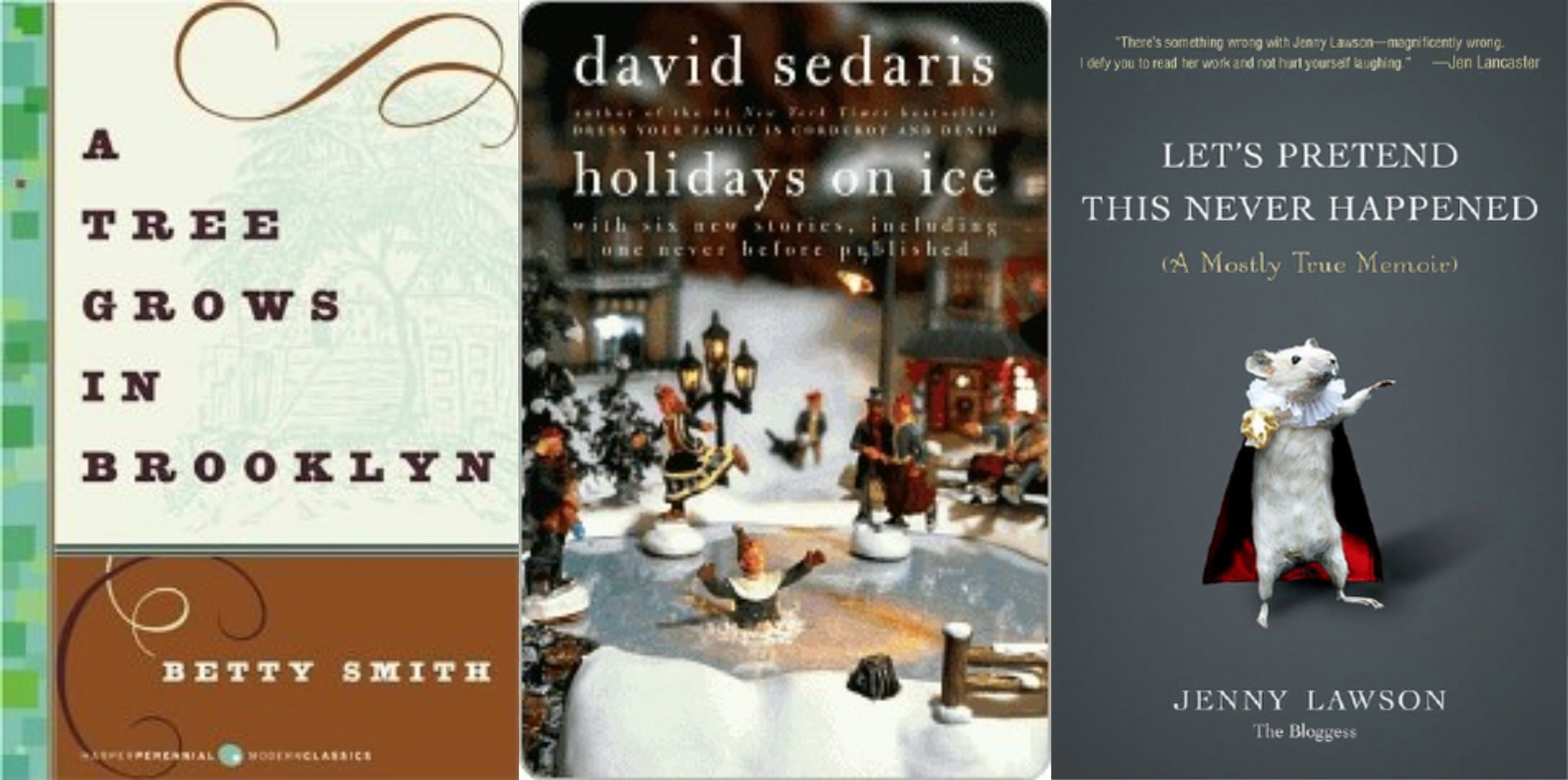 A Tree Grows in Brooklyn by Betty Smith.
Enjoyed ♥♥♥♥
I used to call this my favorite book, and for the first time I have re-read it! A Tree Grows in Brooklyn still inspired a magical feeling in me at the beginning, like the world could still be a place of real connection and striving and finding what is lovely in the mundane. I enjoyed reading about Francie and her family, but I think I felt the hardness of their life more in this reading than I did at age 19. I loved that they truly worked for the good of their whole family, willing to suffer through hardship in order to make it through—but in the end, this time, I realized that Francie had begun to take on the jaded aspect of adulthood, and it really cast a sad pall over the whole book. Nevertheless, an amazing piece of literature that everyone should read!
Holidays on Ice by David Sedaris.
Tolerated ♥♥
I picked this book up on a whim as I was hunting for a fun holiday read for my reading challenge, partly because it promised to contain stories about Halloween and Thanksgiving in addition to Christmas (it Nov. 1 when I started). I have enjoyed David Sedaris in the past, but it's been almost a decade since I've read his work! I think my sense of humor has changed… Some of the problem was definitely my expectation, which was that all of the stories or essays would be based on Sedaris' own life; and to be fair, I did enjoy those that were. But the obviously fictional stories were very grotesque and, for me, tedious to read. I wouldn't classify this as a "holiday" book, and I'm not really sure whether it should count as fiction or memoir or satire…but at least it was short.
Let's Pretend This Never Happened: A Mostly True Memoir by Jenny Lawson. (Audible)
Liked ♥♥♥
I picked this book up (figuratively…since I listened to the Audible version) because of how much I had loved Furiously Happy. But this book just didn't have the same magic for me. It was much more disturbing and contained a lot of really gross country tales…which is her life, but in this book Jenny Lawson framed them as "Can you believe this!?" instead of "I will laugh and press on."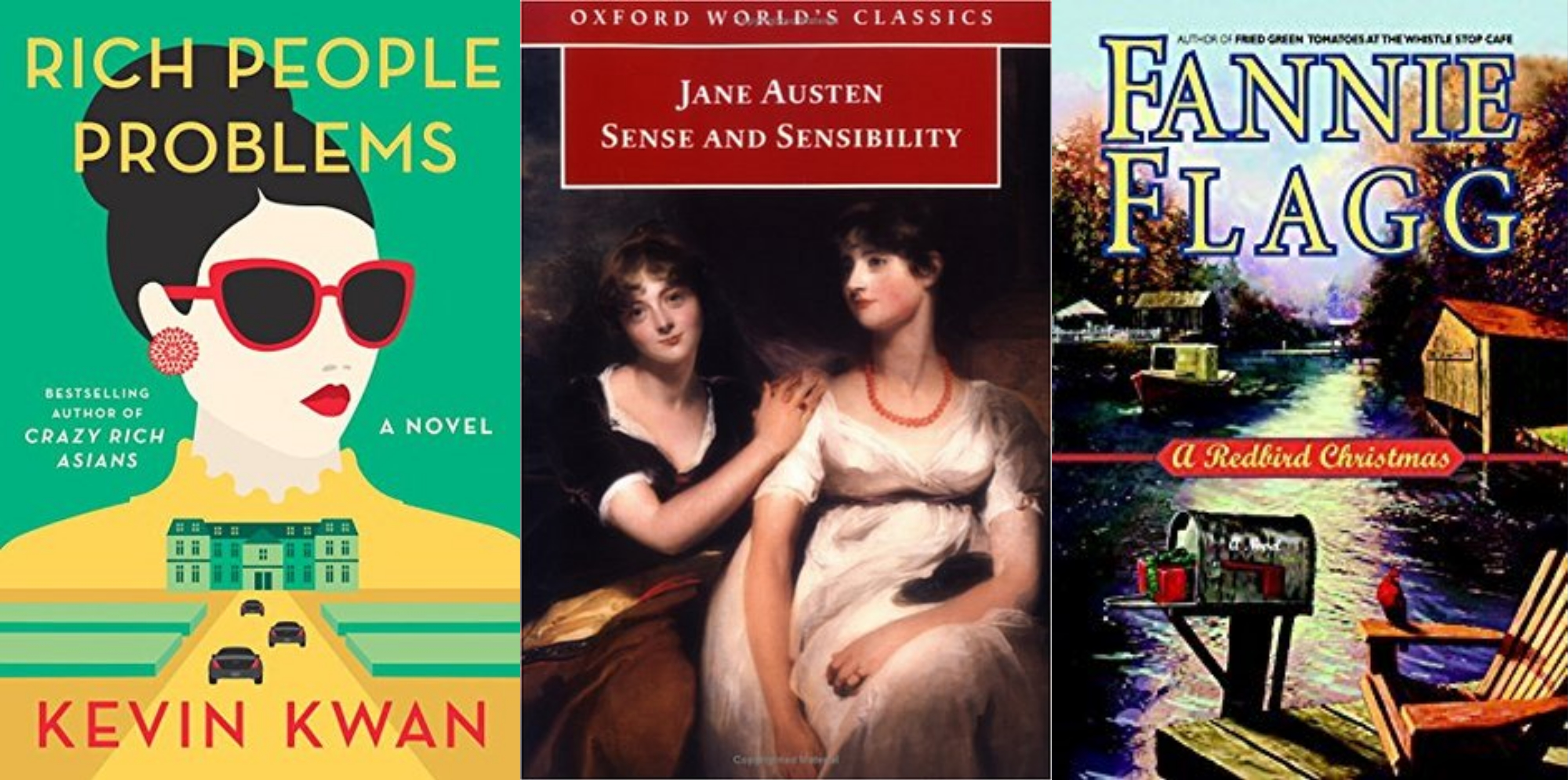 Rich People, Rich Problems by Kevin Kwan.
Enjoyed ♥♥♥♥
Well, you know I had to finish the series! Still thoroughly entertaining, with slightly less name-dropping and more twists in the plot than I had anticipated. I whizzed through it and felt very satisfied by the way the story ended.
Sense and Sensibility by Jane Austen.
Enjoyed ♥♥♥♥
It took me a while to get into this story and really catch the rhythm of it, but I finally did! Jane Austen expects the reader to infer so much from the discreet statements she makes that it sometimes gave my brain a workout to decipher the full meaning of some of the jokes and histories she relayed, but I also felt inspired by the slow pace of life she described (enough to actually take walks and write letters of my own!). I thought the ending wrapped up a bit too quickly and neatly, but all's well that ends well!
A Redbird Christmas by Fannie Flagg. (Audible)
Enjoyed ♥♥♥♥
I truly enjoyed this book. Fannie Flagg took great care in crafting the characters and the small, tight-knit town. I loved learning about their histories and watching them influence each other. This was definitely a feel-good story…but I'm not sure I would call it a Christmas story, although it started and ended at Christmas. It was more of a don't-give-up-hope story.
The Keeper of Lost Things by Ruth Hogan.
Liked ♥♥♥
Spoiler alert! This book was a bit choppy (on purpose) because it alternated between two larger narratives across two time periods, and also included much smaller mini-short stories. It was full of lovely, alliterative descriptions and believable characters; it all felt quite realistic until taking a sudden left turn and becoming a ghost story! I was super surprised, but I still enjoyed how the stories ultimately wrapped together.
Cephrael's Hand by Melissa McPhail.
Tolerated ♥♥
This book sounded so full of promise when I first picked it up, and nearly 800 pages later I know it was truly a work of love and immense creativity. But, ultimately, it was very hard for me to get through this book (even though my husband and I read it aloud together, and he did the lion's share of reading!). I think it is a huge failure of editing, and not only because the second half of the book is riddled with typos, but because a story of this magnitude should have been focused and directed…and probably cut down by at least a third. I found the story intensely confusing due to the gigantic cast of characters (I was still asking who various people were, even hundreds of pages in!—and the thoughtfully included index of characters was actually still missing a few!). Most disappointing of all, after I tolerated hundreds of pages of the wandering journey and vague background, I found that the book ended with major questions left unanswered…presumably to drag the story on and on and on and on and on and on. (In case you hadn't guessed, I won't be reading a sequel. But my husband plans to! Maybe he will give me the Sparknotes.)
Jonathan Strange and Mr Norrell by Susanna Clarke. (Audible)
Liked ♥♥♥
If you are going to read this book, prepare yourself, because it is very long and written in a very dry style. The story centers around two magicians and a fairy in Victorian England, all trying to gain the most power and prestige for their skills. The plot meanders around quite a bit with no obvious direction, although in the end, I was able to understand how most of the rabbit trails were leading to the same thing. I know this description sounds rather bleary, but I did actually enjoy listening to the book. It created a completely unique world and set it on top of real history, and it was quite imaginative (which, I'm sure, is why it won the Hugo Award in 2005). From the beginning to the end, I was curious to know whether the magicians would learn and succeed and whether Lady Pole would be rescued from her accidental fate. But the book felt as long as it was, if you catch my drift.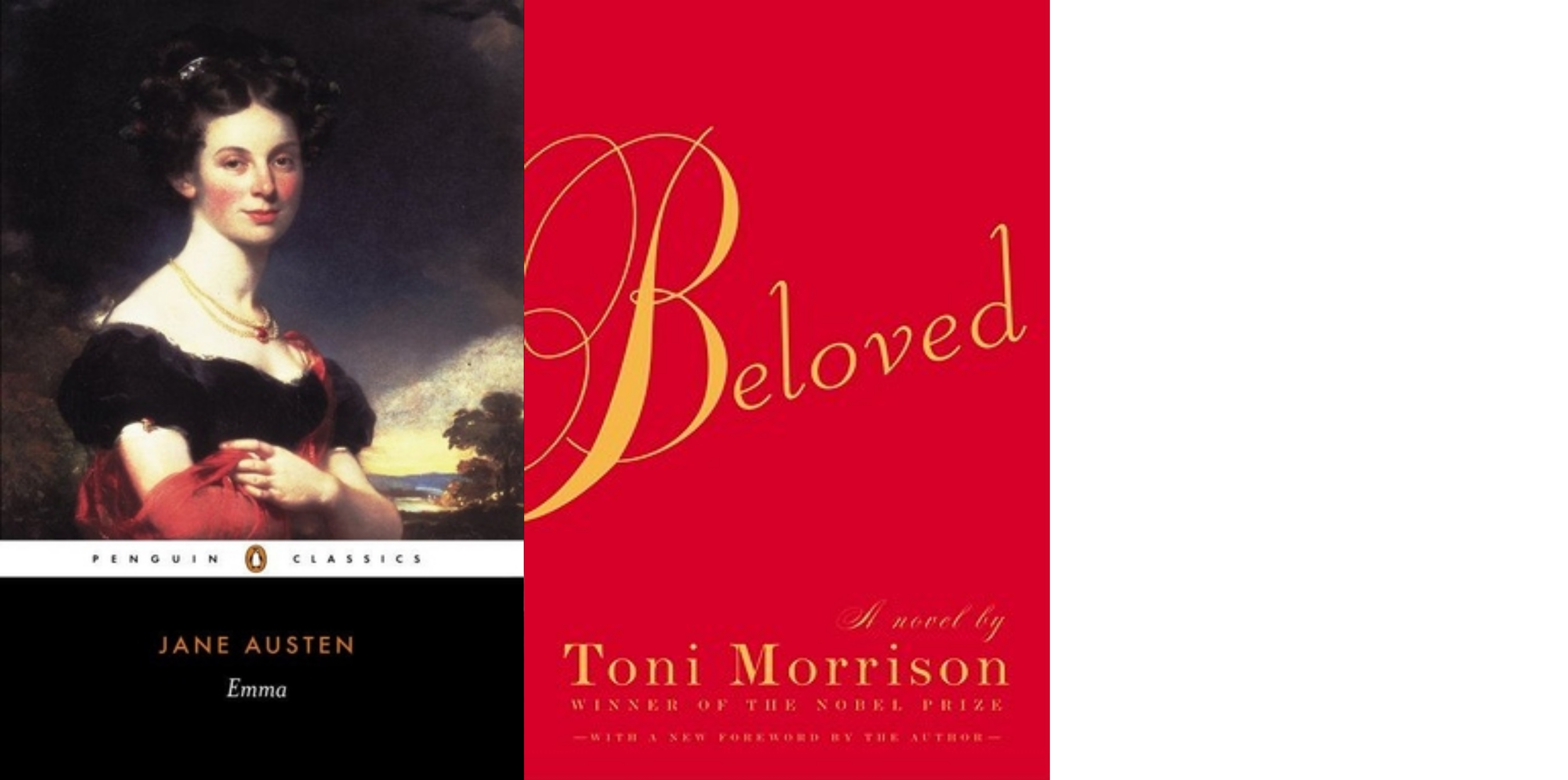 Emma by Jane Austen.
Enjoyed ♥♥♥♥
The first time I read this book, over a decade ago, I pretty much thought Emma was a ridiculous waste of a character, and therefore I didn't enjoy the book as a whole. But this time, perhaps with the wisdom of added years, I really enjoyed watching Emma grow from a rather petty and self-important girl into a more mature and cautious woman. In fact, this may be my new favorite of Jane Austen's novels, because the main character isn't so measured and temperate, nor is she obliged to find a wealthy husband in order to survive. Emma does start out fairly snobbish and oblivious, but she truly learns from her mistakes.
Beloved by Toni Morrison. (Audible)
Tolerated ♥♥
Oh boy. I know this book is considered to be an amazing work of literary art, but it was just miserable. It follows an escaped slave woman and tells of her history and family. The story was compelling, but awful, and I almost dreaded listening to it…which probably means it painted a realistic picture of slave life and escape and fear. When I finally understood what had happened to Beloved, I was horrified and incredibly sad. The narration by Toni Morrison was also choppy and awkward, which didn't increase the appeal or ease of following what was happening. I have had this book on my list for a decade, so I'm glad I finished it, but whoah: I do not feel uplifted.
---
You guys. It has been a full year of reading. In 2018, I completed my first ever book challenge, and read a total of 56 books!
I have come a long way from the sad post-undergrad years of feeling worn out by course reading, and the years when I worked as a professional editor and thought that everything I read outside of work should be "important" or "intellectual." Let me tell you a secret, in case you don't know: reading should be fun! If it's drudgery, then you've got the wrong book. Start with something a little silly and dive into a different world.
Come on. Read with me.
♥ Melissa