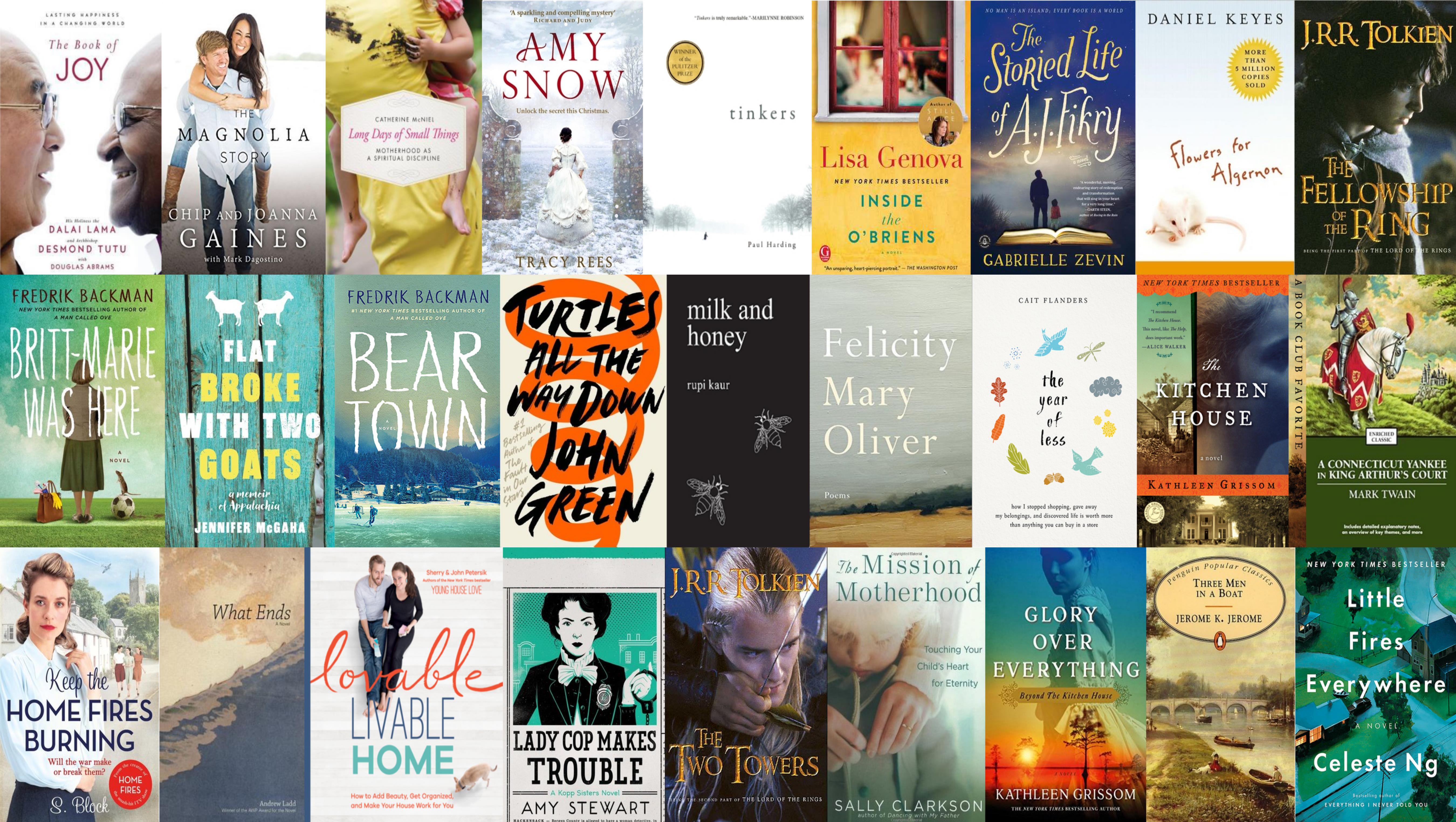 Hello, friends. It sure has been a while since I've written here, but I hope you'll extend some grace to me! I found out on New Year's Day that I am expecting a new little one, and wow has she been requiring all of my energy! (And so have my other two tots. All the energy and more patience than I have had to spare. Say a prayer for me, friends!)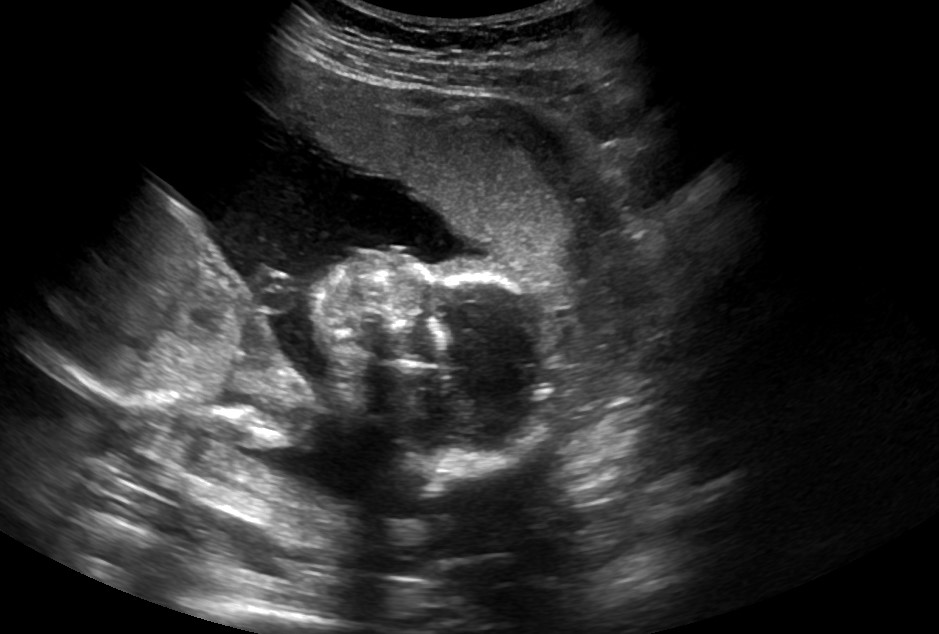 I never like to cook when I am pregnant, so round about the time I posted those delicious shirred eggs with greens in February, my family and I began to survive on a rotation of Chick-Fil-A, Dominos pizza, and take-out Indian.
I'm finally getting back in the groove of preparing meals at home, meals like black bean tacos and roasted red pepper alfredo and veggie burgers and kale salmon caesar salad. And, of course, still ordering pizza at least once a week. I may or may not have fallen off the moderate+healthy eating wagon, hard. I am still climbing back on, and feeling better and better in my third trimester.
During the last several months, we have traveled domestically and internationally, finished a basement remodel, and debated every single girl name we could think of. I have taken a lot of naps and let a lot of commitments and chores go, but I have kept on reading! So far this year, I've read 27 books (if you are keeping track, that puts me slightly ahead on my goal to read 52 books this year)!
As always, I share the books I've read knowing that some of them are silly and some of them are not, and that you may or may not share my opinions about them! I encourage you to read more and numb out less, because reading is enlightening and delightful (even when you feel gross and don't like anything…also known as being pregnant). Read on, my friends! And if you are looking for some inspiration, feel free to join me in my Reading Challenge of 2018! This challenge is turning out to be much more…well…challenging than I had anticipated, but I am about halfway through the suggestions on the list, despite taking a lot of detours and having many trysts with non-challenge books in the first half of 2018.
Here is what I've read this year so far: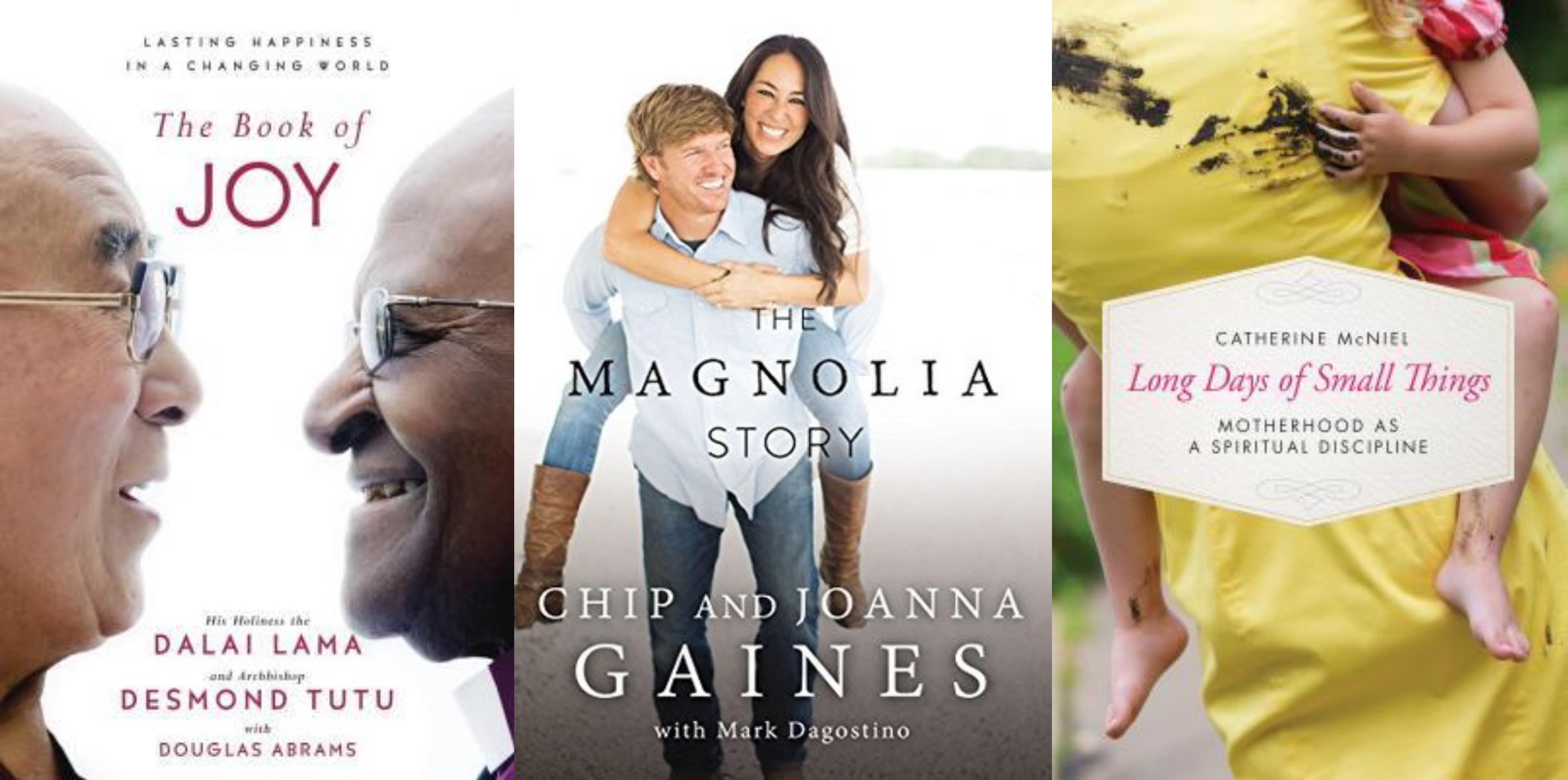 The Book of Joy: Lasting Happiness in a Changing World by the Dalai Lama XIV, Desmond Tutu, and Douglas Carlton Adams. (Audible)
Tolerated ♥♥
Whew, I do not think I should have listened to this on Audible (no fault of the narrators), but I'm not sure I would have made it through if someone's recorded voice hadn't been merrily propelling me forward. The book was a week-long interview between the Dalai Lama and Desmond Tutu, both great moral leaders, with a lot of context/background provided by their friend and interviewer. It was honestly just boring. However, because I was listening rather than reading physically, I know I missed a lot of important nuggets of wisdom! The main things I take away from this book are that joyful people are joyful because they cultivated gratitude and act with compassion toward others.
The Magnolia Story by Chip and Joanna Gaines with Mark Dagostino.
Enjoyed ♥♥♥♥
This was a perfect airplane book. I love memoirs, and this one did not disappoint! The story was mostly told from Joanna's point of view, though Chip interjected many times to tell his side. It was intriguing to read about the struggles they had and the way they learned to relate to each other in marriage and business. I feel like I could learn a lot from Joanna about accepting and embracing the quirks of my own husband with grace and humor.
Long Days of Small Things: Motherhood as a Spiritual Practice by Catherine McNeil.
Tolerated ♥♥
I can summarize this whole book in one sentence: Moms, notice and appreciate the moment you are in. The author seems to be trying to reassure moms that they are already great…which, for me, left a whole lot to be desired. I would love to be inspired and encouraged by a parenting book, not just patted on the back and told that being present in a moment is the same thing as drawing close to God. There are SO MANY "practices" in this book that no one could possibly remember them all, but again, they can mostly be summarized as "be in the moment." This book seemed to suffer from a huge misunderstanding of what God calls his followers to do (though, certainly, I agree with the idea that mothering itself can often draw us into a deeper relationship with Christ), so do not read this book expecting to grow spiritually in the Lord. I had to literally force myself to keep reading, but I was mildly glad I did, because the second half of the book was a hair better than the first; if you are going to read this book, skip the first half entirely and start with the chapter called Nurture, which is where the book begins to sound less like a meditation coach.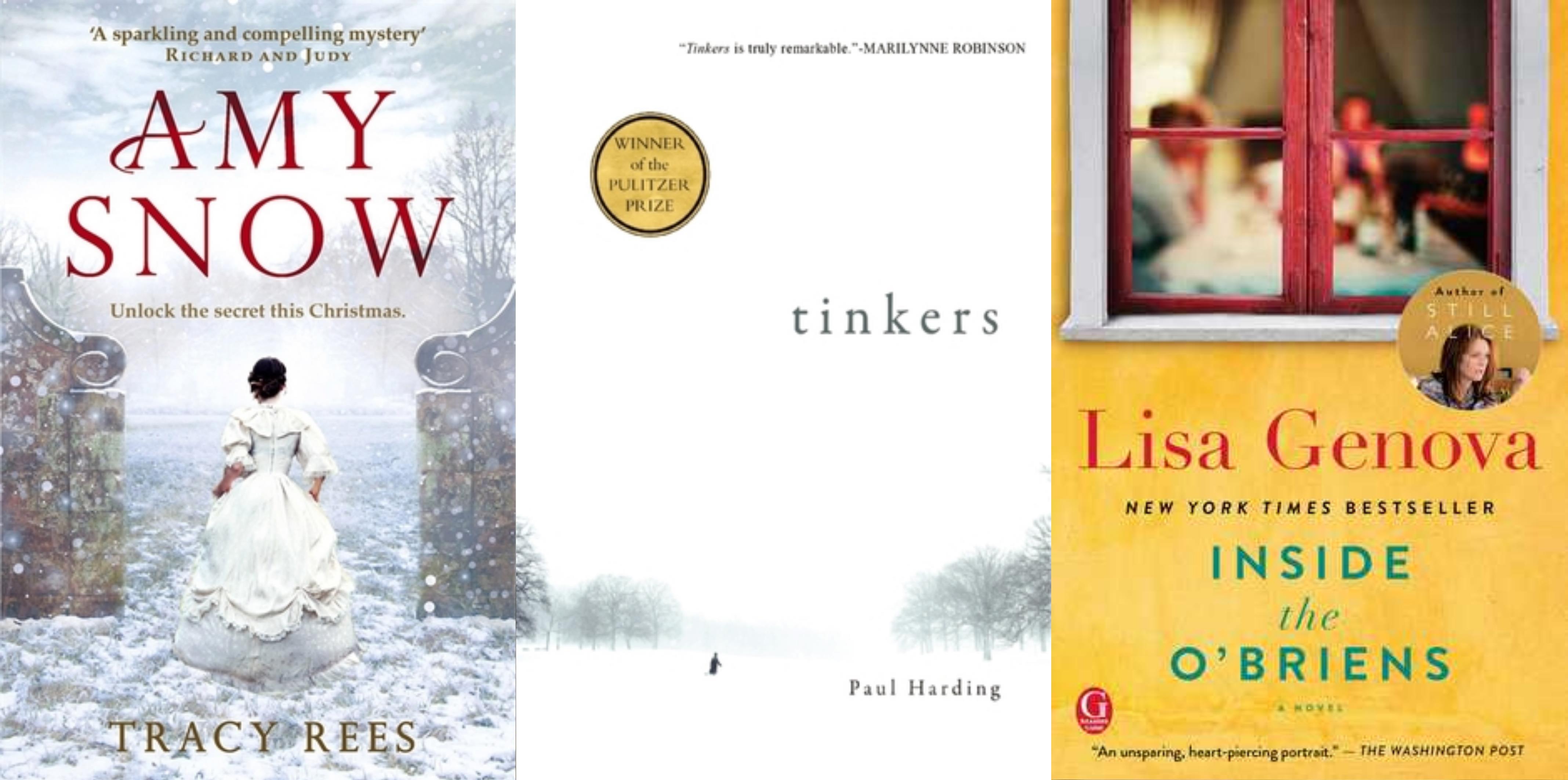 Amy Snow* by Tracy Rees. (Audible)
Loved ♥♥♥♥♥
This book was Jane Austen meets mystery novel. Set in early Victorian England, it follows a young woman on a scavenger hunt left for her by her late best friend. This book has love, intrigue, and social commentary (though from a much more modern perspective and with much less elegance than Austen). It was delightful to disappear into this tale, and I did not at all predict the end to the mystery!
Tinkers* by Paul Harding.
Tolerated ♥♥
The back flap intrigued me—the idea of remembering a long, full life from the end of it seemed so full of promise. But in truth, this book was disjointed and awkward, written largely in the style of someone's thoughts as they are beginning to doze off (rambling, makes little sense). There were engaging portions about Howard's life (the father of the supposedly "main" character, George), but they were not tied well to George, and the parts about George's last days were basically unbearably confusing and dull. All in all, I could not understand the point of this book, the picture it was trying to paint. Looking back, I wonder if that makes me stupid? Not the way I'd like to feel after a book I read for fun.
Inside the O'Briens by Lisa Genova.
Loved ♥♥♥♥♥
I must admit I was quite nervous that a book about Huntington's Disease would feel utterly hopeless, but this book was enthralling from start to finish. Lisa Genova is excellent at crafting unique, realistic characters, and particularly families. This intimate portrait of a family whose patriarch is struck by Huntington's was sad and beautiful, and yet its ultimate conclusion was that love and life are bigger than ugly circumstances. I loved this.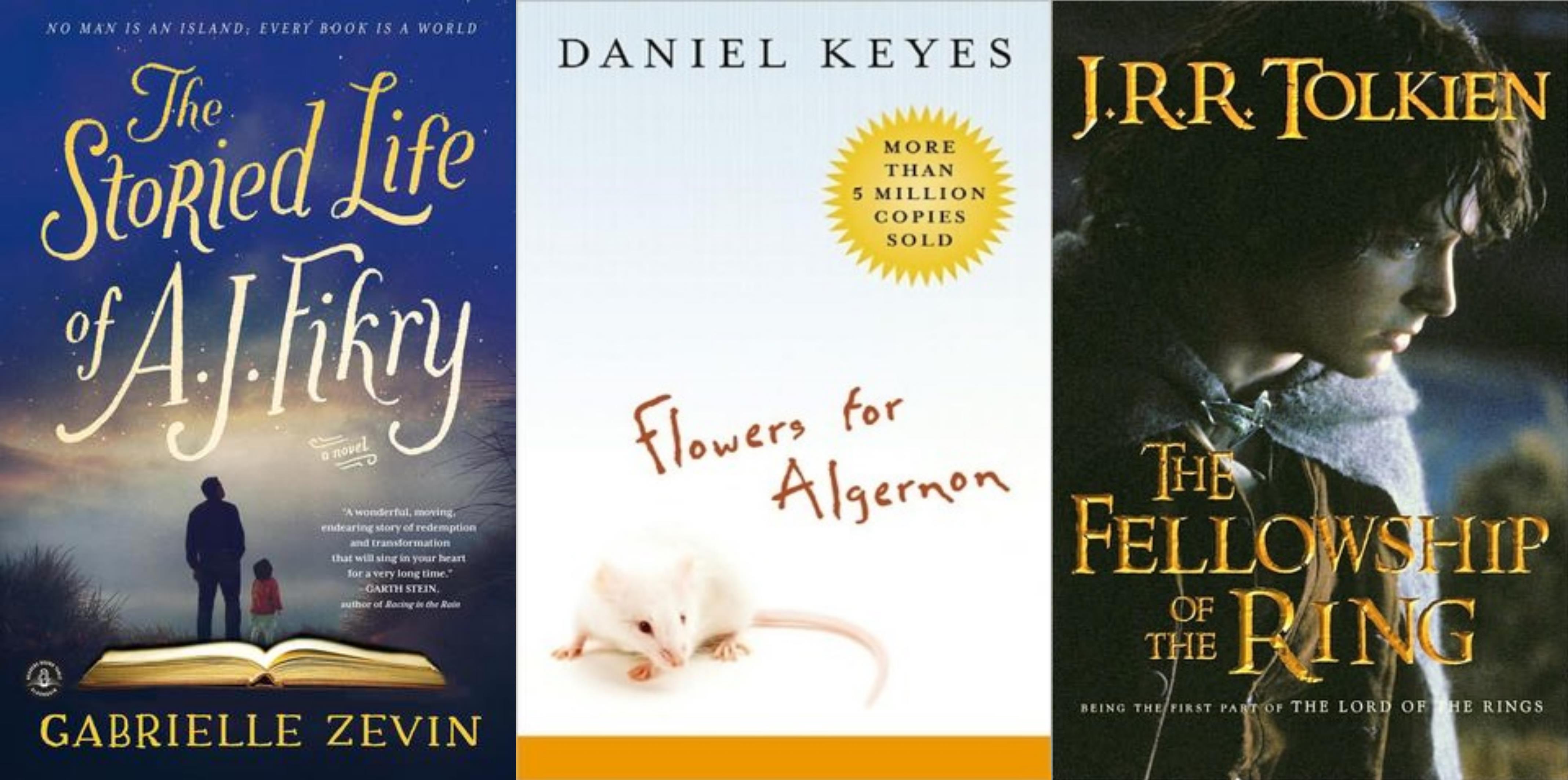 The Storied Life of A.J. Fikry* by Gabrielle Zevin.
Enjoyed ♥♥♥♥
This was a very pleasant tale of a bookstore owner as he rises to the occasion and raises a young, orphaned girl abandoned in his store. The story moves very quickly, hitting mainly the highlights of A.J.'s life. I finished this book in one day, but I must admit the end was vaguely disappointing: the author attempted a big, emotional finish, and when she completely failed to move me, I realized I wasn't actually all that invested in the characters. Nevertheless, this was an enjoyable way to spend an afternoon and evening.
Flowers for Algernon by Daniel Keyes.
Liked(ish) ♥♥♥
This was a tough book that definitely did not leave me feeling good. The story follows Charlie, a mentally disabled adult in the 1960s, as he undergoes an experiment designed to make him brilliant. The experiment succeeds, with devastating emotional consequences, only to slowly reverse itself. It was painful to see Charlie's self-awareness both grow and fade, and the book raised a lot of hard questions about how we evaluate each other, how we treat mentally disabled people, and where human worth comes from.
The Fellowship of the Ring* by J.R.R. Tolkien. (Audible)
Tolerated ♥♥
Had I not been so determined that my third attempt at reading this book would take, I definitely would not have made it through to the end. I know every single person who adores the history and lore of Middle Earth will be horrified by this, but: I found the first two thirds of this book to be T E D I O U S in the extreme. This may have been exacerbated by the fact that I was listening, but I honestly kept losing the thread of the story over and over. I think I literally listened to this 19-hour book for 32 hours. I found most of the history and folk tales to be exhaustingly boring—it was very hard to tell which little pieces of trivia were useful to the plotline and which I would not need to remember later—and I only really started to enjoy the book when they became trapped under Moria (which is the last quarter of the book). Not exactly eager to read the next one…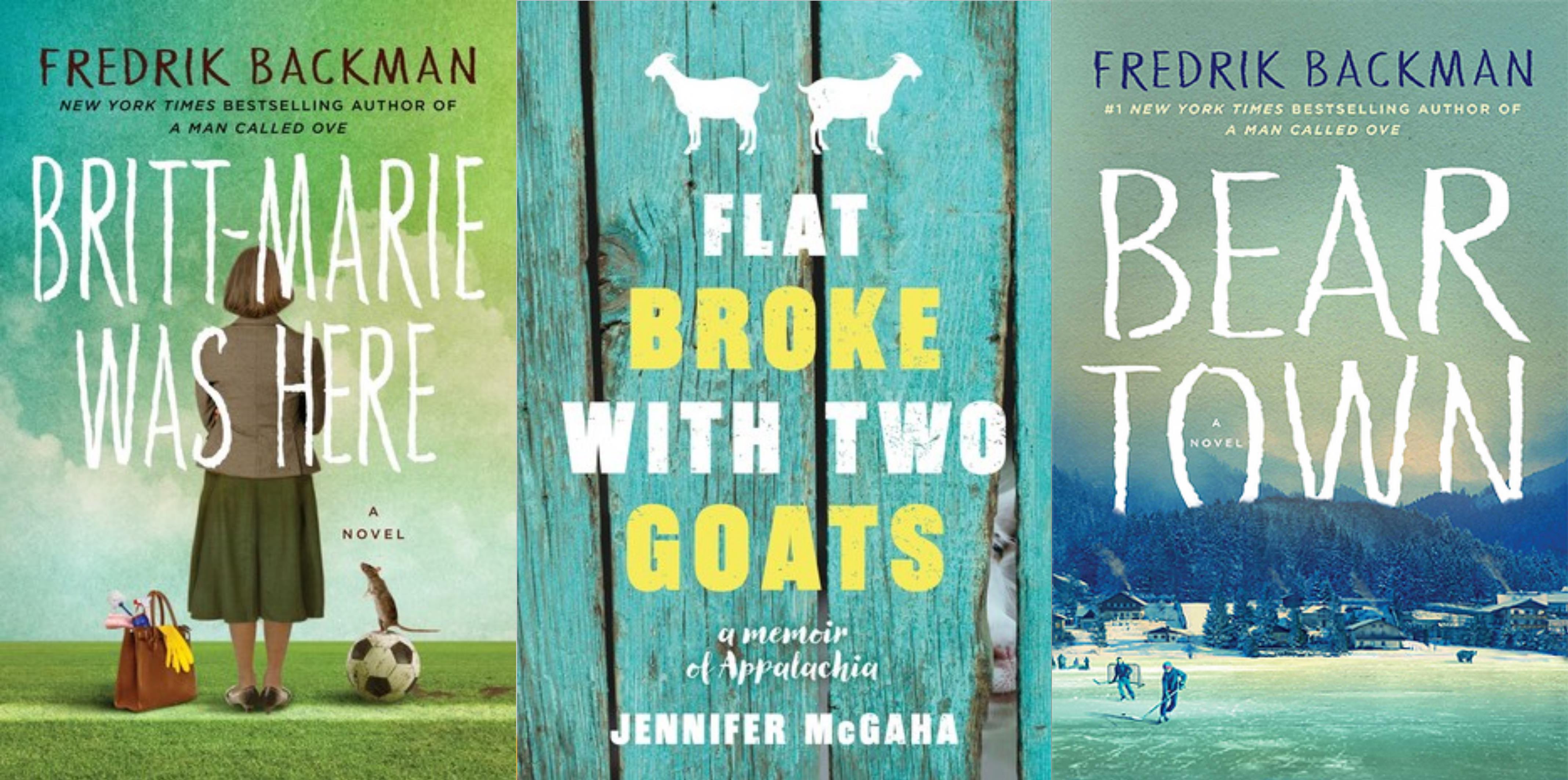 Britt-Marie Was Here* by Fredrik Backman.
Loved ♥♥♥♥♥
Backman is a wonderful crafter of hope in unexpected places, and beginnings out of endings. This story about how one person can impact an entire community, simply by existing, was rough around all the edges, emotional, and beautiful. Britt-Marie is a very rigid and seemingly tireless character in the very beginning, and I found her immediately endearing. As she made the best she could of a new and lonely situation, she slowly took cruel people off their pedestals and learned to view herself through a lens of grace.
Flat Broke with Two Goats: A Memoir of Appalachia by Jennifer McGaha. (Audible)
Enjoyed ♥♥♥♥
This memoir was a cautionary tale if I ever heard one. Jennifer McGaha starts off telling about how she and her husband came to find themselves impossibly in debt to the IRS, and ultimately winds through the back woods to a cheap, broken-down cabin where they learn to get through, make do, and become farmers. I found her story gripping and fascinating, even while I started to realize that country life can be even less idyllic than I had thought. For example, if I ever come down stairs and step on a wolf spider, barefoot, I expect I will simply keel over dead. But the McGahas keep putting one foot in front of the other, and the way Jennifer shares her life was sassy resignation kept me listening eagerly (although, to be honest, I wish she had narrated her own story).
Beartown by Fredrik Backman.
Liked ♥♥♥
Ooh, this was one miserable book. It's really, really miserable. It is such a complete departure in terms of tone and perspective from the other books Backman has written, that I'm still honestly not quite sure what happened. I struggled to invest in it for the first third, but after that, it turned into a real page-turner. This is a book about what will happen if no one talks to each other or connects emotionally. This is a book about bitterness and mistrust, and what will happen if a belief system is never challenged and never grows. Backman raises a lot of interesting questions, and in the end the characters begin to grow toward more healthy futures, but the book was very painful to read.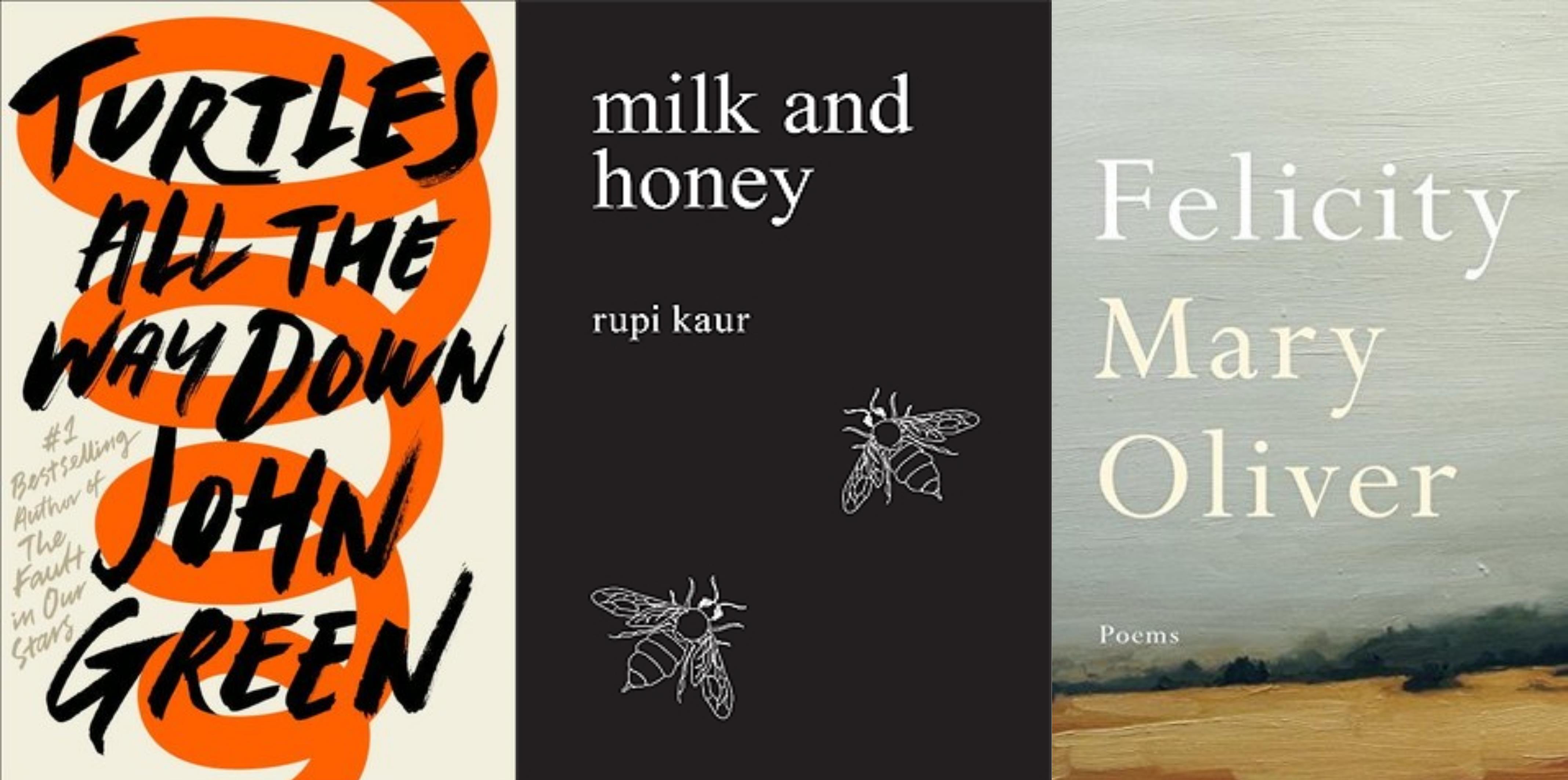 Turtles All the Way Down by John Green. (Audible)
Liked ♥♥♥
As always, John Green writes about sick (or sometimes, sickish) teenagers who live in a fantasy world of their own making. There was puppy love and neurosis and adventure and personal epiphany. Everything you want in a fluff read!
Milk and Honey* by Rupi Kaur.
Tolerated ♥♥
The poems in this book were often beautiful and very hard. The reason I struggled with the book is that it was so sexual, which I generally try to avoid. (It just so happened that the few poems I sampled before I decided to read the whole thing were not as suggestive as the vast majority of the work. Oops.) Moreover, the drawings made the whole book that much more risqué.
Felicity by Mary Oliver.
Liked ♥♥♥
The poems in this book are not remarkable or life-changing, either in terms of form or content, but they were pleasant. They often featured nature, and often question God or the existence of God. I found this collection a relief after Rupi Kaur!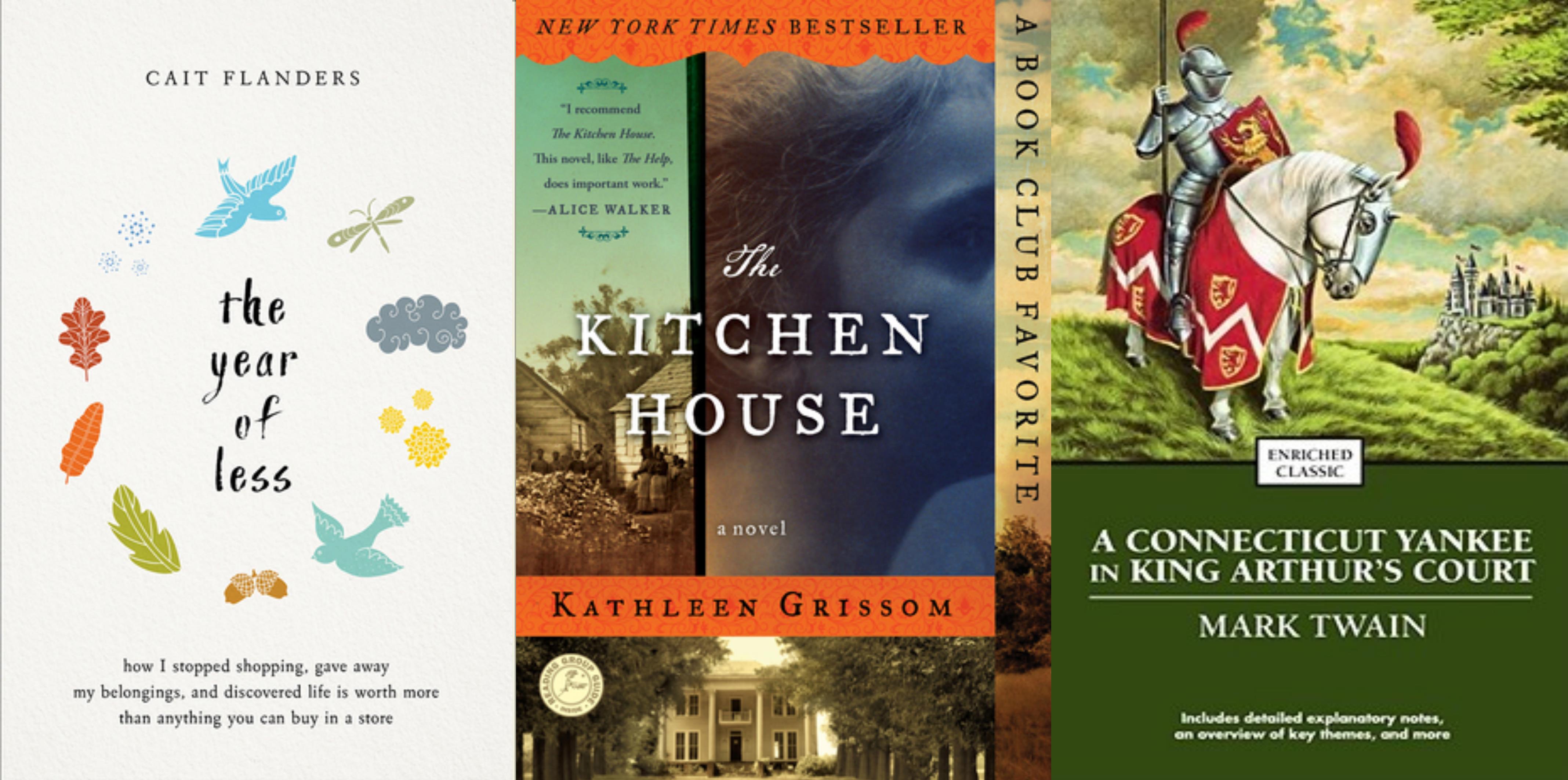 The Year of Less: How I Stopped Shopping, Gave Away My Belongings, and Discovered Life Is Worth More Than Anything You Can Buy in a Store by Cait Flanders. (Audible)
Loved ♥♥♥♥♥
This book is more of a memoir than a how-to on minimalism, but I resonated with an idea that she repeated throughout: in modern society, we have forgotten how to feel our feelings. Instead, we dull them by overindulging in any number of vices, be they wine, food, or shopping. I know this has been true in my own life, and I very much enjoyed hearing Cait narrate her process of really learning to live with herself, breaking the habit of using shopping/ownership as entertainment, and discovering how much really is enough.
The Kitchen House* by Kathleen Grissom.
Loved ♥♥♥♥♥
Go read this book immediately! This is the story of young Irish immigrant who is first taken in by the slaves who work at the big house on a plantation, and later by the white owners. Because she is never invisible, but can participate at different times with both of the worlds on the plantation, she develops a very unique but rather naïve perspective. It is also the story of a young woman who is both a slave and the beloved daughter of the plantation owner. Her heart struggles against the hard position she is in—no rights of her own, and a desire to stay in the place she views as home, but several privileges/favors that cause the rest of the owner's family to hate her. At times, Grissom portrays very hard situations in this book, but I think she does so believably. I found myself staying up late at night to read one more chapter, and desperately wishing for easier circumstances for the people I grew to love while reading!
A Connecticut Yankee in King Arthur's Court* by Mark Twain. (Audible)
Enjoyed…and then tolerated ♥♥
At first, I loved this book. It was witty, and I found myself intrigued by aspects of a knight's life that had never before occurred to me. Sandy, the girl who never stopped talking and never got to the point, was utterly hilarious to me (and the narrator later said she must be the mother of the German language, at which point I realized just why I found her to be hysterical). However, as the book dragged on and on, I really became irritated toward the main character, who turned out to be a narcissist of the highest order. (In hindsight, I probably should have sensed this much earlier than I did.) When his visions of grandeur ultimately fell through, he essentially threw a gigantic and deadly tantrum. I have a five-year-old…so perhaps this grated on my nerves more than it was intended to. The last third of the book really dragged down my entire enjoyment of the rest!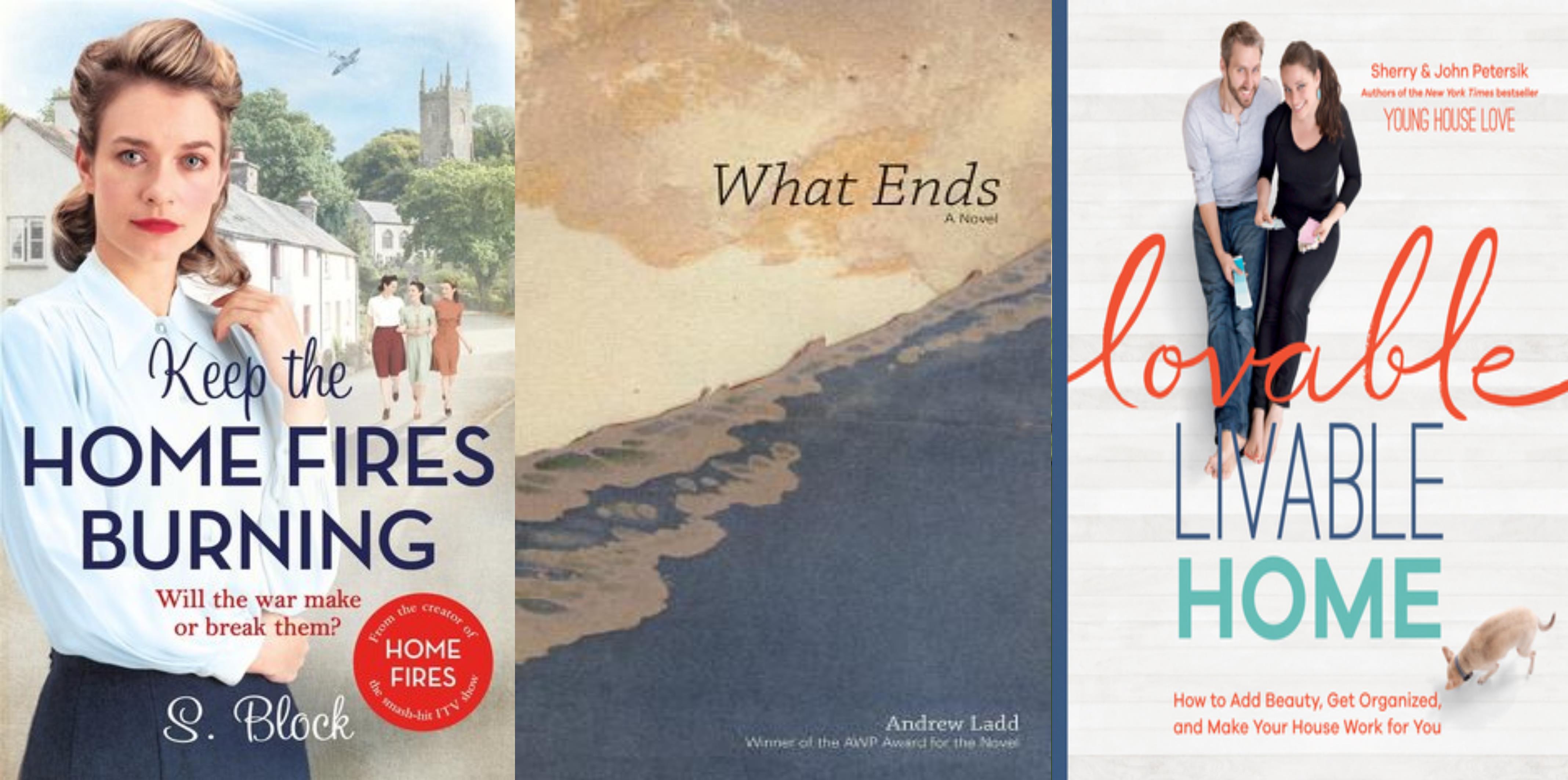 Keep the Home Fires Burning by Simon Block.
Tolerated ♥♥
If you loved the TV show Home Fires and were super disappointed when it was cancelled suddenly, DON'T READ THIS "SEQUEL." It quite honestly gave me a sour taste for the whole series, and I am left with feelings of disillusionment and discontent. The writing was not excellent, but more than that, the internal monologues of the characters turned them from women who cared about community, women with grace and integrity under extremely trying circumstances, into self-absorbed and morally questionable shadows of their TV incarnations. This book took everything that was intriguing about the period drama and threw it away. I read this while on vacation, and even as a "travel read" I honestly didn't want to keep reading (but I persevered because I'd thought at the time this book might count toward my reading challenge).
What Ends by Andrew Ladd.
Liked ♥♥♥
I picked up this book in a tiny bookstore during our trip to Scotland this Spring! Dave and I are both intrigued by the small islands of Scotland and Ireland, and it was fascinating (and a bit depressing) to read about what life might be like on a minimally populated island that has maintained many of its traditions in the face of the modern age. Before I read this book, I had a romantic yearning to escape to the middle of nowhere, somewhere I could enjoy a slow pace of life, live with less, and know my community well…now I think I'd better pick somewhere a little more on the beaten path and enjoy modern accessibility! The book is an easy read, and I finished it in one day.
Lovable Livable Home: How to Add Beauty, Get Organized, and Make Your House Work for You* by Sherry and John Petersik.
Liked ♥♥♥
I read this book because I love Young House Love Has a Podcast (and the blog), and in general, "home stuff." I often find myself excited to work on a project, new or ongoing, as part of listening to the podcast, so I thought the book would be a great read! The book is a few years old, and it was pleasant enough, but it didn't really inspire me with new ideas. I suspect it was geared more toward someone who is in the earlier stages of thinking about how to organize their life and beautify their space…whereas I have been interested (er…obsessed) with that process for several years.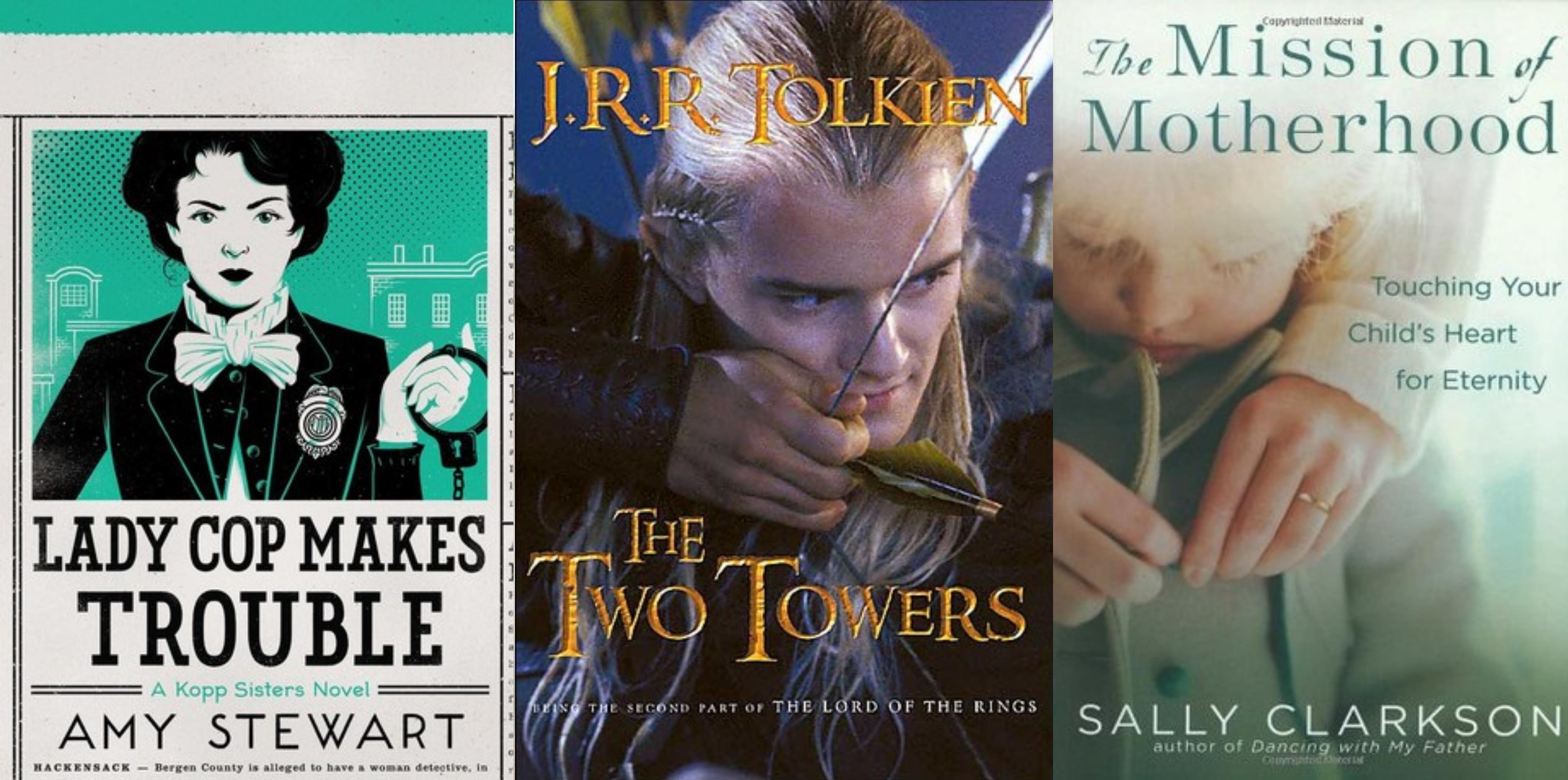 Lady Cop Makes Trouble by Amy Stewart.
Enjoyed ♥♥♥♥
This book is the sequel to a book I read last year, Girl Waits with Gun. I found that the pace of this book was much faster and smoother, as if Stewart has become more comfortable writing about Constance Kopp, the real-life main character. Constance still did a fair amount of bumbling, but she seemed to blossom internally and truly find comfort in her own skin, now that she finally feels she had a purpose. I loved reading about how hard an investigation was without the help of modern technology and cunning.
The Two Towers* by J.R.R. Tolkien. (Audible)
Liked ♥♥♥
It took me a while to get into the rhythm of this second book in the LOTR trilogy, but when I finally did, I found that I was actually enjoying the journey! (In truth, I enjoyed listening to the hobbits more than the rest of the crew, I think because they spent a lot less time discussing the history of Middle Earth.)
The Mission of Motherhood: Touching Your Child's Heart for Eternity by Sally Clarkson.
Liked ♥♥♥
This Spring I started a book club with some dear ladies I've been wanting to get to know better, and The Mission of Motherhood was our first read. Honestly, I've always found Sally Clarkson's writing style to be more difficult to digest than her podcasts—she seems much more encouraging when she speaks! This book was okay, but at the beginning, it spent a lot of time trying to convince the reader that being a stay-at-home mother is the best way to fulfill God's calling to nurture and disciple children (I am a stay-at-home mom, but even I found this a bit off-putting). The best nugget I got from this book was that the Holy Spirit will fill in the gaps that me doing my best as a mom still inevitably leaves. I enjoyed the section about drawing close to God as a mother, and there were some good ideas of activities to do with children of various ages, but this book didn't change my life or my perspective dramatically.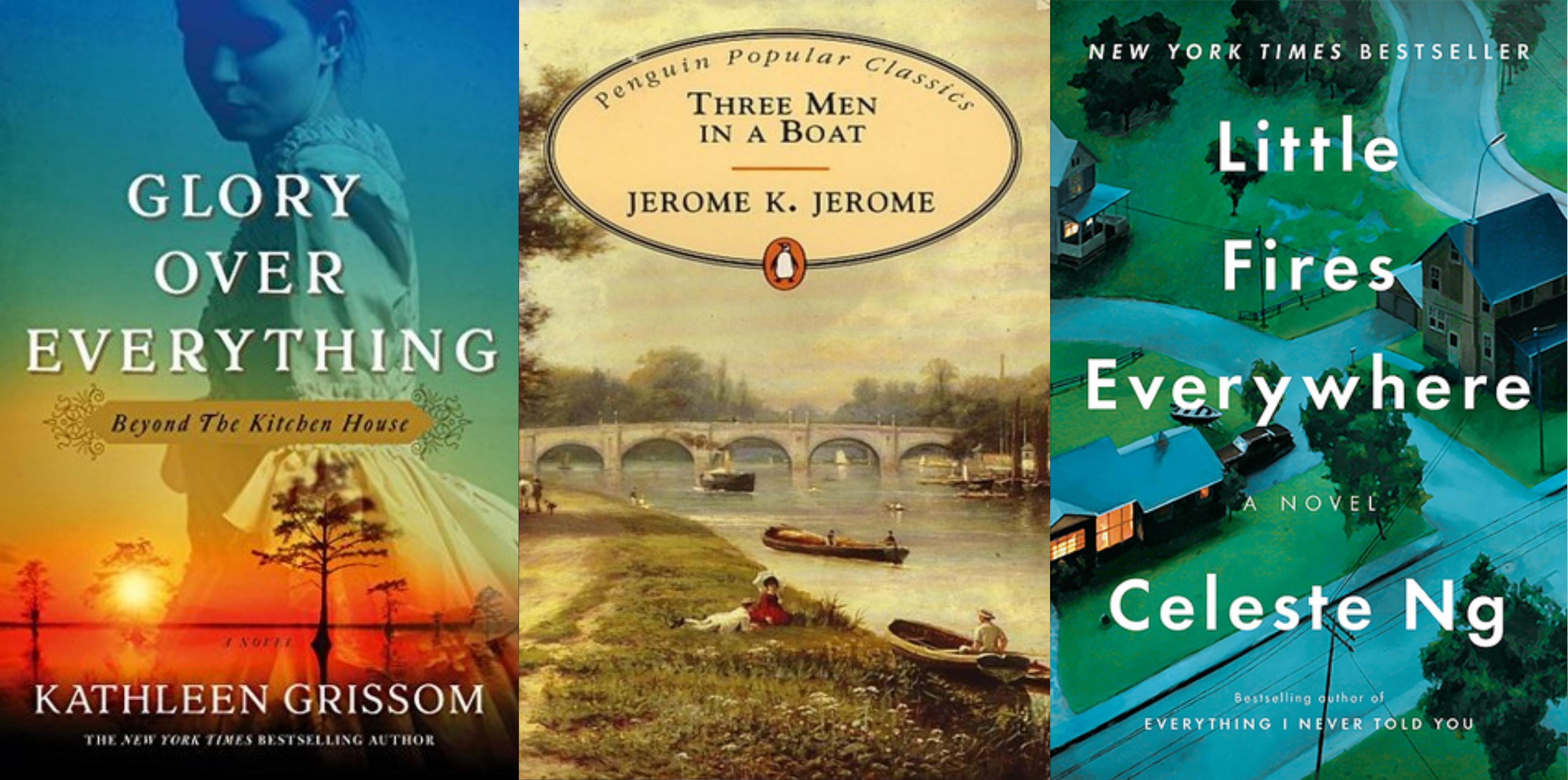 Glory over Everything by Kathleen Grissom.
Loved ♥♥♥♥
There were so many hard things about this book, the sequel set 20 years after The Kitchen House. This novel primarily follows a mixed race man who had been raised white in the early 1800s, and his journey down South to rescue a black boy who had been kidnapped and sold into slavery. It was fascinating to be inside James's head as he wrestled with his own prejudices and grew to respect and honor the black men and women who helped him along the way. Other voices in the book include the captured boy, and a slave woman who helps runaway slaves escape to safety. The last third of the book was quite harrowing and anxiety-inducing, which is definitely the mark of some amazing writing on Grissom's part!
Three Men in a Boat* by Jerome K. Jerome.
Enjoyed ♥♥♥♥
I did not expect, when I picked up this book, to spend half of my time reading it literally laughing out loud. It is over a century old, and I was certain that whatever they considered humorous in late Victorian England was probably not related to anything I would find funny. Boy, was I wrong. Sure, there were a number of philosophical and historical musings that made my eyes glaze over (luckily, these were about halfway through, when I was already committed and convinced), but the way Jerome had with physical comedy and relationships was truly hilarious. His wit was dry, almost deadpan, and terribly sardonic. Worth the read!
Little Fires Everywhere by Celeste Ng. (Audible)
Loved ♥♥♥♥
This book was not at all what I thought it would be, and it grew in layers from something fairly inane yet pleasant to something deeply complex and thought-provoking. I honestly enjoyed just about every minute of listening to this tale of two families. The characters were rich and made unexpected mistakes, choices, and discoveries. The story trailed through the present (in the mid 1990s), through the way people build our expectations with or without questioning them, through challenging pasts, and through whether it's actually possible to make amends for mistakes. Gosh, I loved it! And when you read this story and you get to the court case, let's talk about what ruling you would have passed down!
*Books which count toward the 2018 Reading Challenge!