It's been quite a while since I've written about food. But during that long break, this is one of the meals I have made over and over again. I make it for guests, I make it just for me. I made it once with Sarah of Well Dined.
This burger is piled high with delicious flavors, from the brie and onion jam, to a rich truffle aioli, a tight handful of spinach, and the creamy coolness of avocado. I love a good, fancy burger. I love that when I make burgers, I can customize them for each person at my table (and, for me, it usually means double spinach).
I like to make a batch of onion jam and a batch of truffle aioli to keep on hand for these burgers, so I can whip them out at a moment's notice. But if making your own condiments isn't your thing, you can always buy something similar, or use plain mayo and sauteed onions.
It's true that a piled-high burger is not a poster child for nutritional restraint. That's actually why I wanted to share it with you first of all meals, after my soul-baring post a few months ago about changing my diet to exclude refined sugar. I am eating differently than I once did. I eat a lot more vegetables, and a lot less quick carbs. Sometimes I eat more conscientiously than others. But I still love to enjoy delicious food, and I believe that almost anything can be transformed into a balanced, healthier version of itself that will satisfy my palate as well as my body.
So. This burger is full of protein, fats, and nutrients from spinach and avocado. Spinach and avocado are two of my favorite foods of all time, and I eat plenty of them almost every day. Onions are also pretty darn good for you, but I'm sure that the long caramelization process required to turn them into a jammy spread (plus the addition of honey) renders them nutritionally inert.
In addition to the veggie nutrients, this burger is fairly high in fats. I like fats (and you won't convince me otherwise) because they are a beautiful vehicle for flavor. Additionally, fats leave you feeling satisfied and keep you fuller longer. Research about fats frequently seems to flip-flop, but I can offer the anecdotal evidence that my body seems to perform better on fats than it does on sugars. I'm keeping them. This burger delivers filling fats in three forms: in the avocado, in the brie, and in the rich mayo-based aioli.
Let's make condiments, and then we can assemble!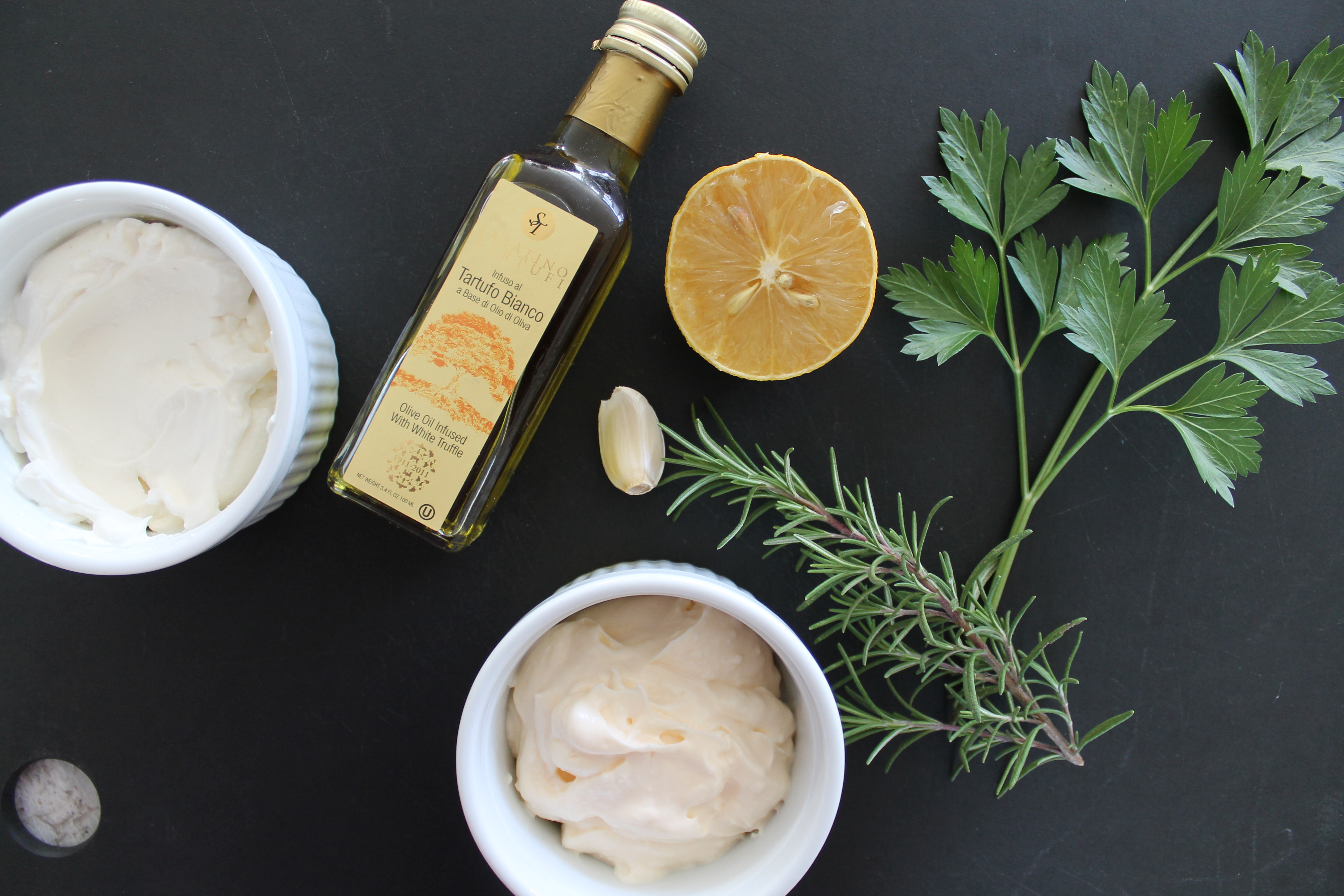 The truffle aioli is a breeze to make, because it is not a true aioli (which is a garlicky mayonnaise, although the term can now apply to almost any flavored mayo, if you like). By this, I mean that we aren't making mayonnaise from scratch, although that is not has hard as it sounds. Instead, we are just whisking together a bunch of things you may already have on hand!
What's that? You don't keep truffle-infused olive oil on hand? You're crazy.
Just kidding. I know truffle isn't everyone's favorite, and most celebrity chefs defame it as passé. But I like what I like, and I do like the occasional hit of truffle in my food, as long as it isn't overwhelming.
If you don't want to make your own spread for these burgers, I recommend my tried-and-true favorite, Stonewall Kitchen's Roasted Garlic Aioli. They do also make a truffle aioli, but I've never tried it, so I can't comment.
But if you don't mind chopping a few fresh herbs and squeezing a lemon, those are the most strenuous tasks involved in making your own spread!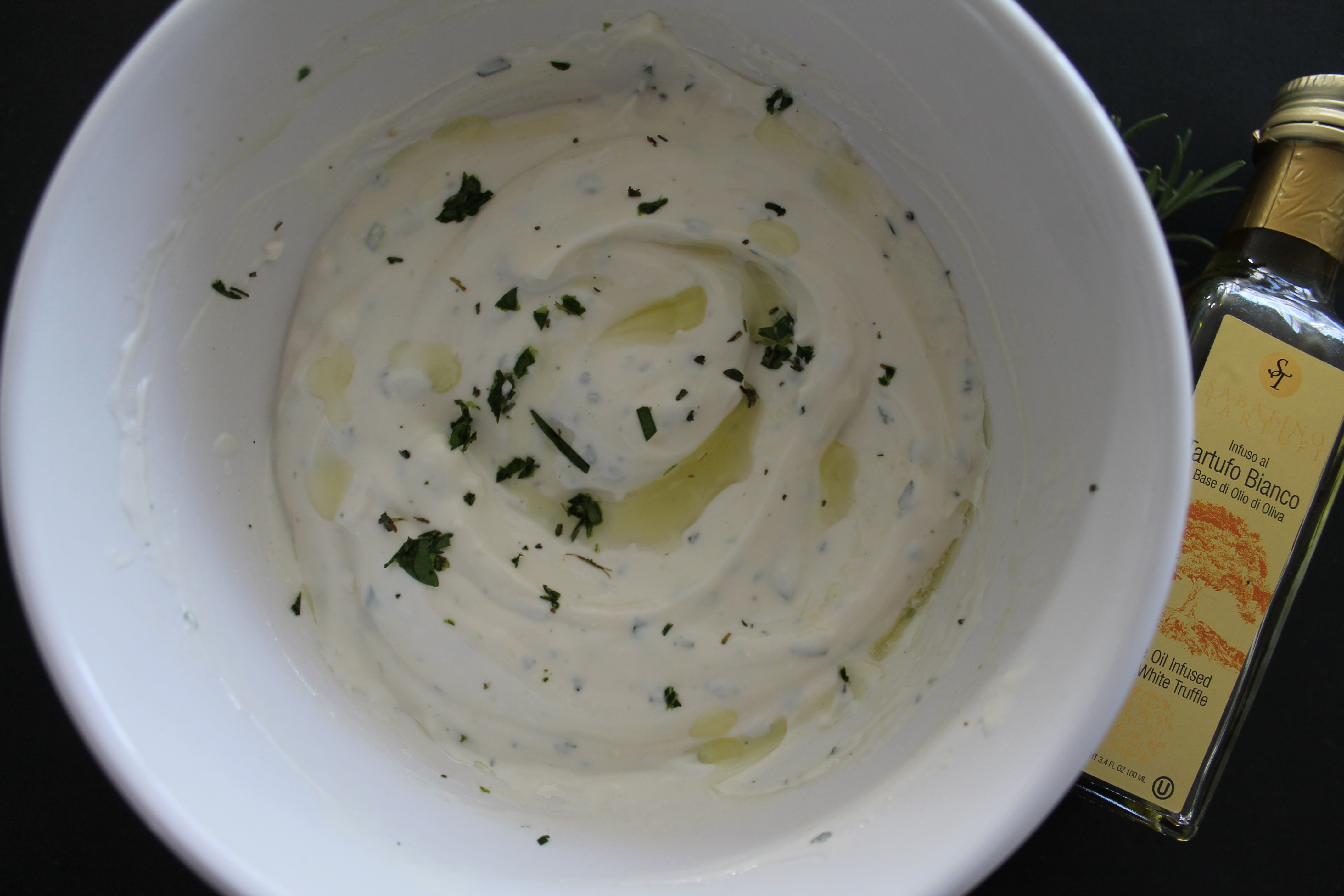 Just stir together plain, full-fat mayonnaise, full-fat sour cream (or sometimes I like to use whole milk Greek yogurt, any brand except Chobani which is quite bitter, for a kick of protein), lemon juice, rosemary, parsley, garlic, and a splash of truffle oil. Just a splash of truffle, because a little goes a long way. Taste and adjust the salt, lemon, and truffle as needed, and then you are done!
Scoop the spread into a jar and stick it in your fridge. I have found that it will keep for a month or two in an airtight container.
The next condiment we must make is onion jam. You really can't skip the onion jam in this burger, because it is the perfect complement to the funkiness of brie. I really thought about posting this onion jam recipe separately, as it is good on just about any kind of sandwich you can dream up…but then I couldn't wait to write about these burgers, so here you go. Also, I couldn't find my pictures of making this. Apologies for the fact that this post contains three recipes instead of one, and no pictures of this jam. Give me a little grace! I'm making up for lost time!
Onion jam is easy to make, but you need to start a long time ahead (at least an hour! this is why I just make a batch to keep on hand, because then I never miss out on sweet onion in my burger).
All you need to do is chop some onions and then cook them forever with red wine and a little vinegar to caramelize them and turn them into a thick paste. The smaller you chop your onions, the more even and spreadable the jam will be. I usually go for a medium dice, not to get too finicky about it, but I've even known people to make onion jam with thinly sliced onions, so this is really a matter of personal preference.
When the onions are chopped, toss them into a pan with some olive oil and let them soften for about 10 minutes, until they become translucent.
Next, add your red wine (antioxidants!), whatever you are using for sugar (yes, it's a jam, and we do need this. I typically use honey, since I am avoiding refined sugar), a little bundle of thyme and rosemary sprigs, vinegar, and salt. Balsamic vinegar is delicious, but turns your jam brown. If you want your jam to be a little more purple in the end, you can use red wine vinegar.
Bring this mixture to a boil, then turn the heat down to low and allow the onions and liquids to reduce into a syrupy texture, stirring every now and then so nothing sticks to the bottom of the pan. This will probably take about an hour, but I promise it is a low maintenance hour! You can totally go read your book, make a Lego treehouse, or fold the laundry while you wait, as long as you remember to pop back every 10 minutes or so to swirl your spoon through the jammy onions.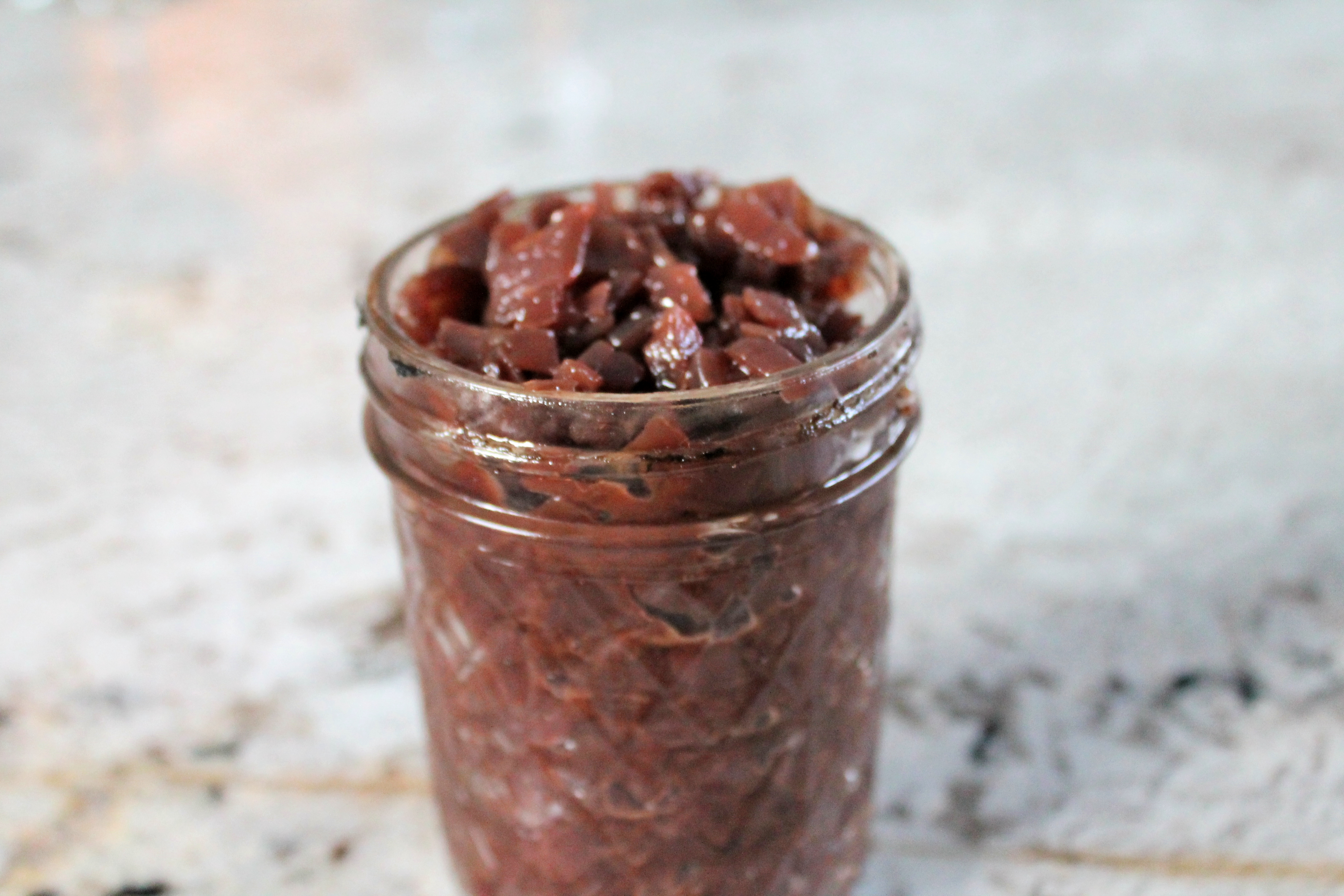 When the jam looks thick and sticky, it is done! Again, this is a bit of a judgment call: do you want it a little looser or a little thicker?—but keep in mind that you are going to be using it as a spread, and that the jam will thicken slightly more as it cools. Pull the bundle of herbs out of the pan and discard them. Add salt and pepper to taste.
You can store the jam in little jam jars in the fridge for two or three months!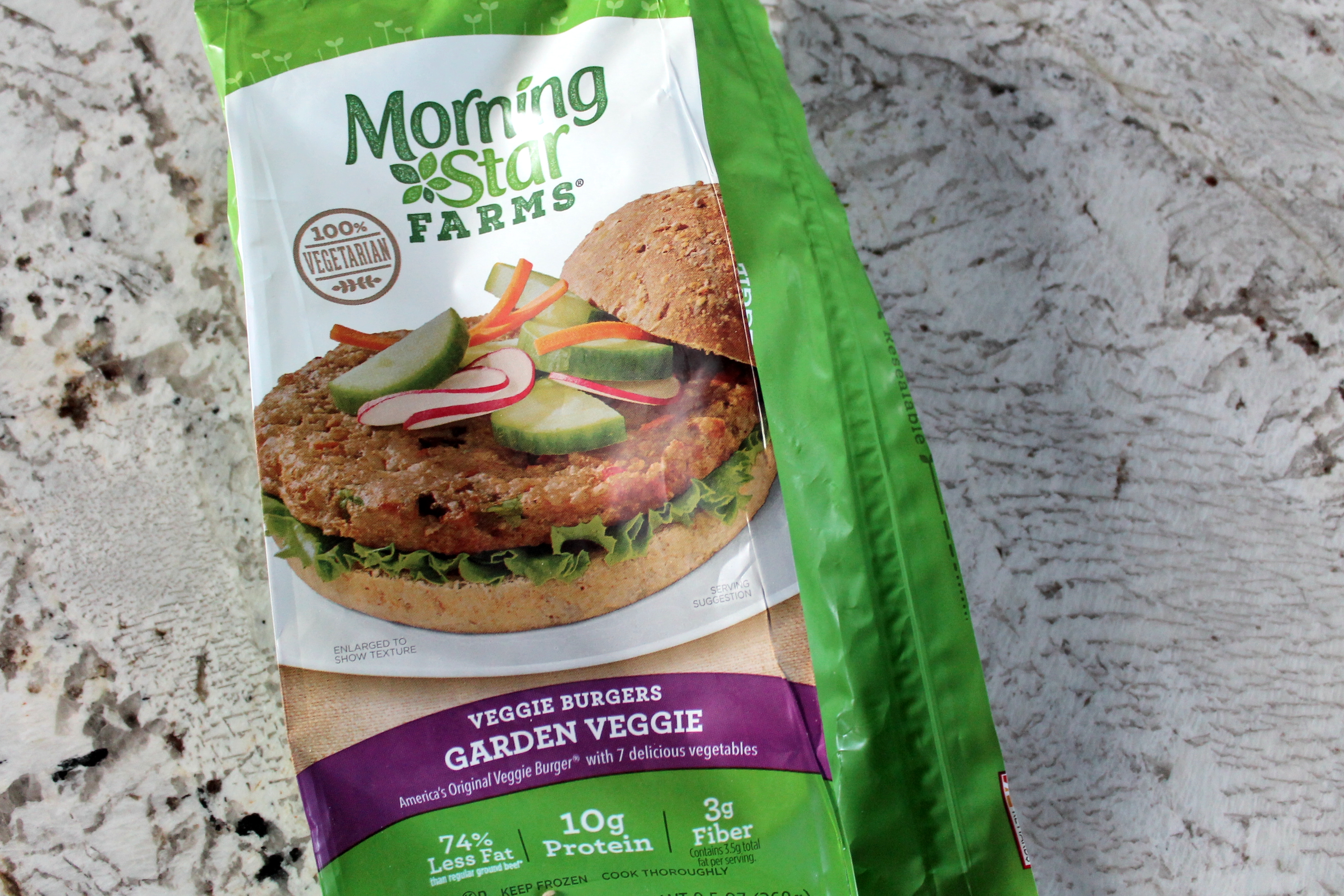 So. Now our condiments are ready. Hopefully you made them way before dinner time, so this burger assembly is going to feel like a breeze.
I use Morningstar Garden Veggie burger patties to make these burgers. You can use your favorite burger patty (*gasp!* even a meaty one, if you insist), but I love the Garden Veggie burger and I use them all the time! I like that they have discernible veggies in them, and they aren't trying to pretend to be meat. (Hey, I'm not a vegetarian because I want to eat meat. You feel me?)
My husband, who is a die-hard carnivore, also really likes these Morningstar burgers. He appreciates how they hold together like a meat patty, and they add subtle depth of flavor to our dinners.  You can find these in any regular grocery store. 
We've been chowing a lot of these Morningstar veggie patties in the last few months, as one of my goals has been to cut back on efforts required at mealtime. Although I still occasionally make my own veggie patties, I do admit that it feels like a luxury to open the freezer and have a patty ready for me. I am definitely growing more and more fond of meals I can make with less fuss!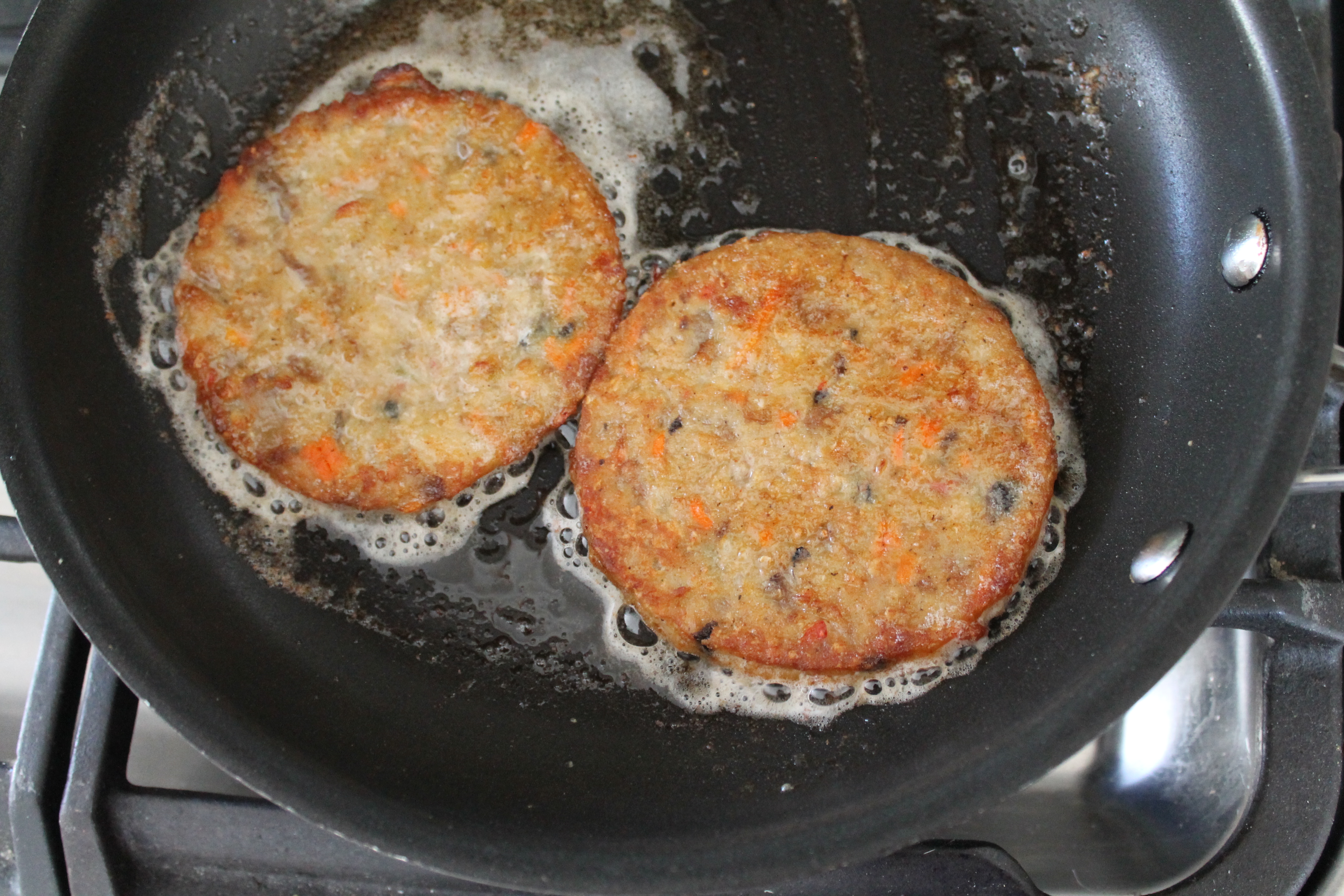 So. Saute your burger patties in butter. Yes. Salted butter. Yum. A little butter won't kill you. Aim for a deep, golden color on both sides of the patty.
Meanwhile, toast your favorite burger buns. I like these and I also like these amazingly soft and delicious brioche buns sold by Walmart, of all places. I like to buy several packs of the Walmart buns and just freeze them, harkening back to my less-effort-is-more policy. Potato buns are also nice. I, personally, do not believe that burger buns get healthier as they get whole-wheatier, so I no longer bother to buy the super tough wheaty buns. This is owing to the glycemic index data, which shows that most breads hover around the same glycemic load (i.e., white hamburger buns are around 61, the average whole wheat bread is around 59…not a big difference!). I do love whole grain breads, but for burger buns, I love the soft texture you more commonly find in white breads.
Spread the aioli lightly on both sides of the toasted buns.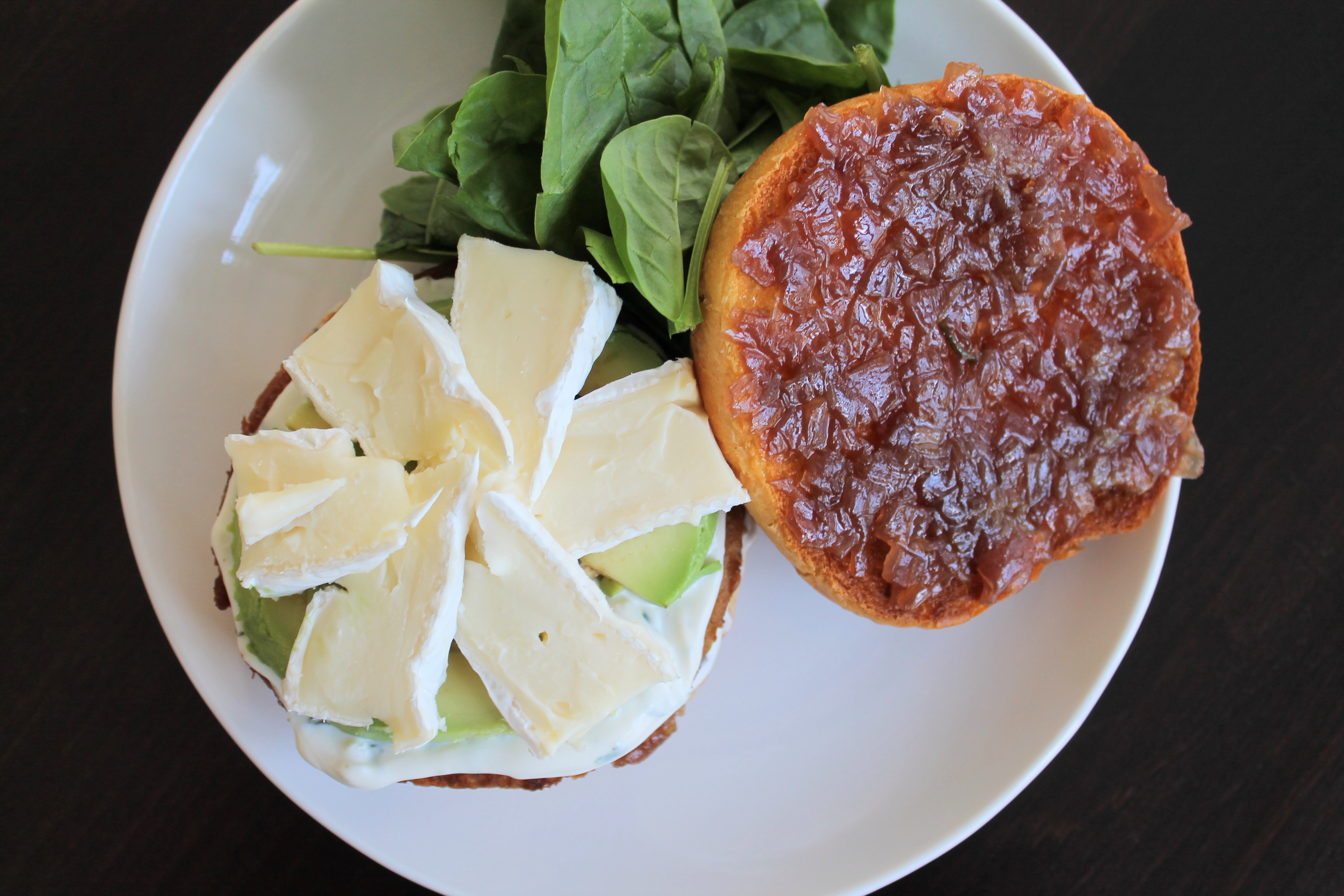 When the patties are done, distribute them among the bottom halves of the buns. Top with onion jam, a few thin wedges of brie (with or without the outer rind, your call), some slices of avocado, and a huge pile of spinach. The logistics of toppings are always challenging…feel free to change up the order if you come up with a more brilliant layering strategy! You could also get quite orderly with the spinach and arrange the leaves so they lay flat, but I like to just grab a fistful and hope that my top bun can keep them mostly in place.
I have also tried adding a fried egg to this burger. You know how I love fried eggs with anything. It was good, but honestly just too much food for me. You do what you like.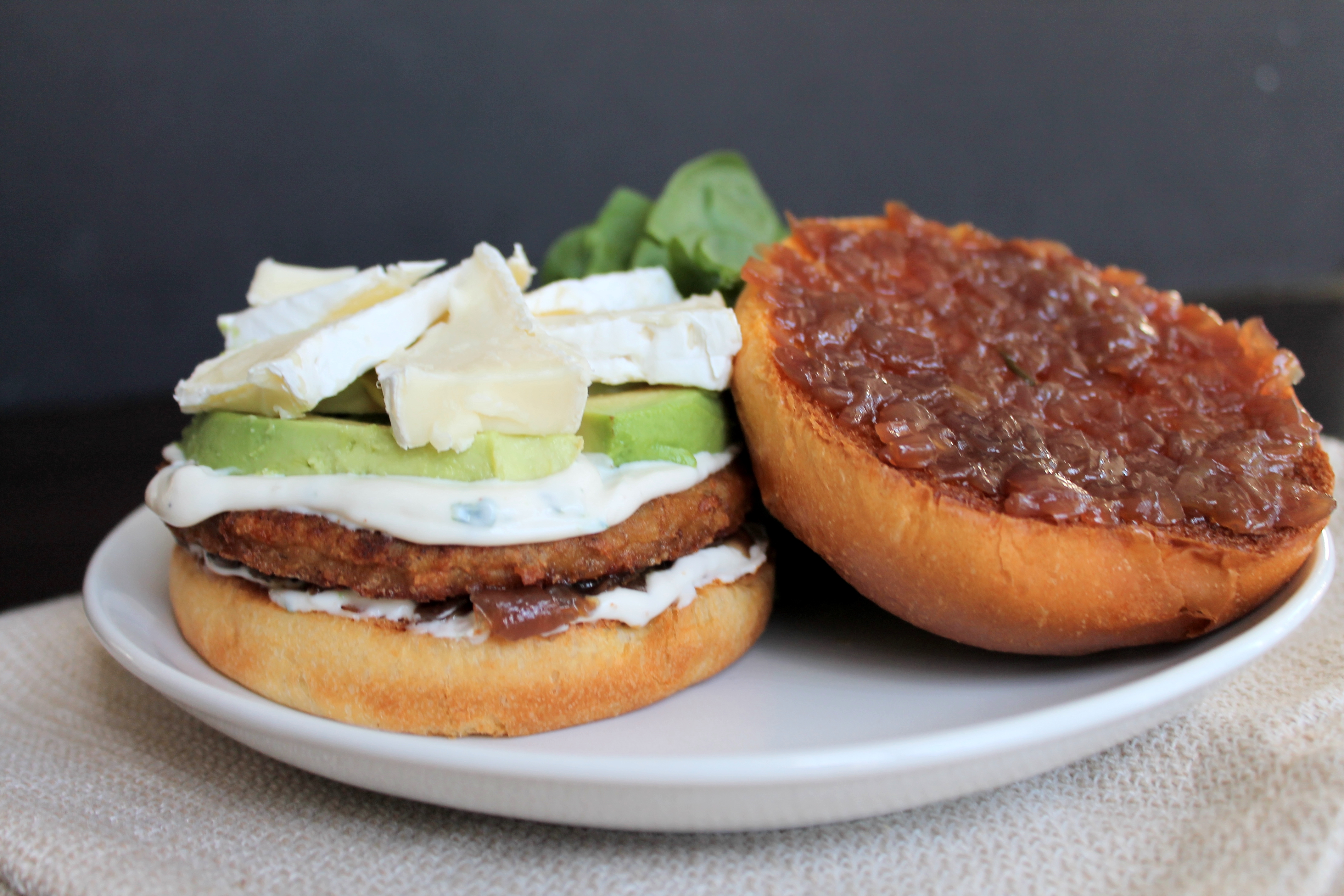 I would serve this burger with a salad if I were you—because it's already a massive amount of food by itself. But my family thinks sweet potato fries are also nice, if you want to go for a slightly more classic burger combo.
Truffle Aioli
Ingredients
½

cup

full-fat mayonnaise

½

cup

full-fat sour cream

Cabot plain whole milk Greek yogurt, or crème fraîche

1

large clove

clove garlic

minced

zest of 1 small lemon

2

tbsp.

minced fresh rosemary

2–4

tbsp.

minced fresh parsley

1–2

tbsp.

white truffle infused olive oil

salt and fresh ground black pepper
Instructions
Stir all of the ingredients together, starting with the smaller amount of truffled olive oil. Taste and adjust seasonings as necessary (e.g., add a small squirt of lemon juice, add more truffle oil or salt).

Store in a jar with a tightly fitting lid for up to 1 month.
Red Onion Jam
Ingredients
2

large red onions

(about 2 lbs. total)

2

tbsp.

olive oil

1

cup

red wine

4–5

tbsp.

honey or coconut sugar

3–4

sprigs

fresh thyme plus 1 sprig fresh rosemary,

bound together with kitchen twine

2

tbsp.

balsamic vinegar or red wine vinegar

½

tsp.

salt

plus more to taste

¼

tsp.

fresh ground black pepper
Instructions
Dice the onions, either medium dice or small dice, according to the desired chunkiness of the onion spread.

Heat the oil in a large, deep pan over medium heat. Add the chopped onions and sauté, stirring regularly, until translucent.

Add all the remaining ingredients except the pepper. Bring the mixture to a boil, stirring regularly.

Turn the heat down low and allow the liquid to reduce to a thick, jammy texture, about 1 hour, stirring every 5–10 minutes.

Remove the onion jam from the heat. Season with pepper. Taste and adjust salt as needed.

Let the jam cool completely before storing in an airtight container in the fridge for up to 1 month.
Brie and Onion Jam Veggie Burgers
Ingredients
2

tbsp.

salted butter

4

Morningstar Garden Veggie burger patties

4

burger buns

Truffle Aioli

(recipe above, as needed)

Red Onion Jam

(recipe above, as needed)

4

oz.

mild brie,

cut into small wedges

1

large

ripe avocado,

sliced

3–4

oz.

baby spinach
Instructions
Preheat the broiler.

Melt the butter over medium heat in a large skillet. If you do not have a skillet large enough to place four burger patties flat on the bottom, then aim to cook the patties in batches.

Place the patties flat on the bottom of the skillet. Cook for 3 minutes, or until browned, then flip and repeat.

Meanwhile, toast the burger buns under the broiler.

When the buns are golden, spread them with a thin layer of aioli.

When the patties are cooked through and richly browned, layer them inside the burger buns with the remaining toppings, including a large fistful of spinach.

Serve with napkins (these guys get messy!).
Enjoy!
♥ Melissa