In case you haven't figured this out yet, I'm a really picky eater.
And as summer has gotten into full swing again, I've circled back around to the fact that cookouts are a challenge for me.
I love a cookout—the smoky smells and the fellowship on a deck or patio, standing around with a bunch of friends over plates of no-fuss food. The problem is the food. I don't eat meat and I don't like fruit or baked beans. If I'm not careful, the only thing there for me to eat will be potato chips and brownies…and that will obviously be a meal I'd regret.
Usually when I go to a cookout, I bring something that can double as my whole meal, just in case, like this Green Bean and Farro Salad. Yum.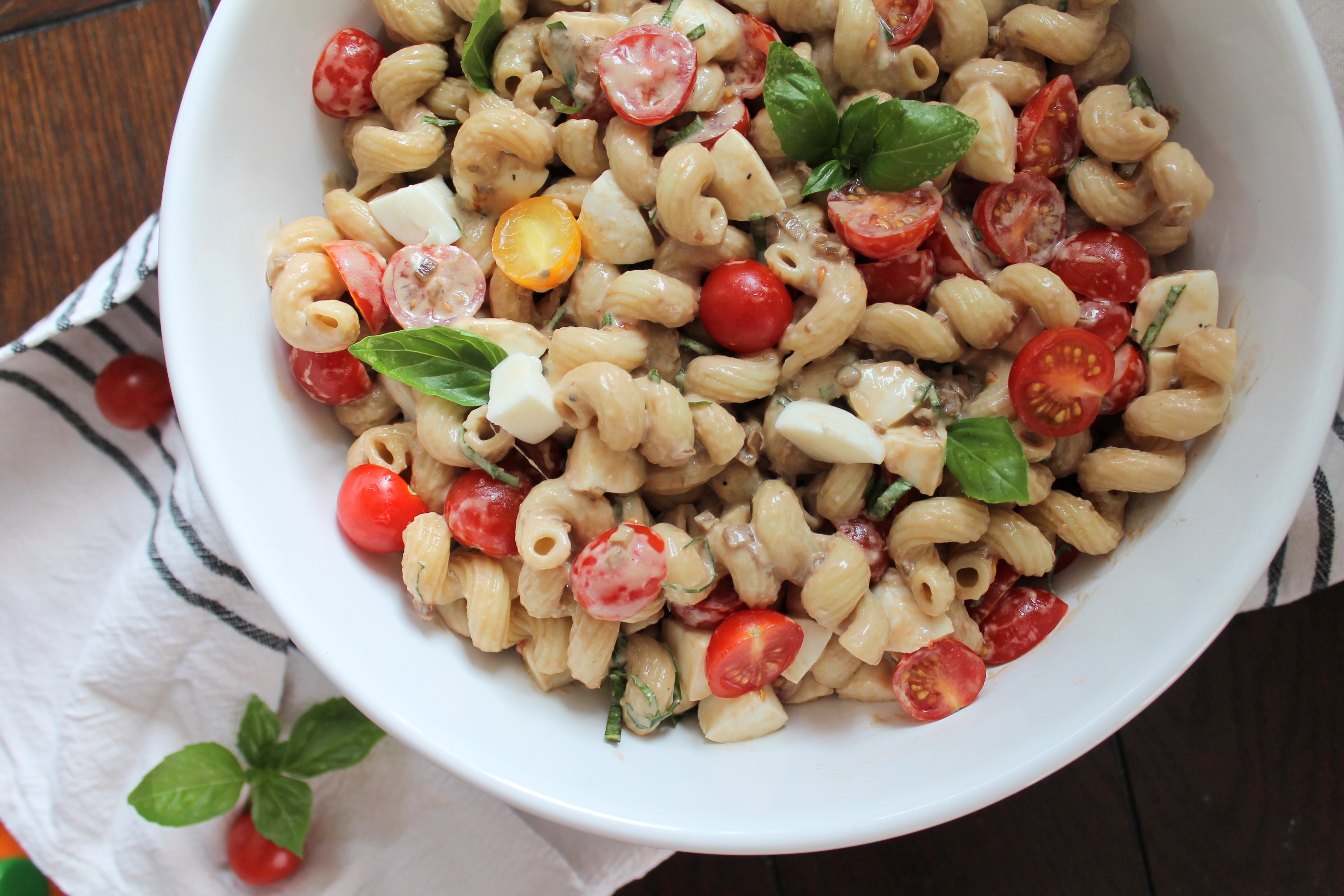 But recently I've just been craving something a little simpler. And more tomatoey.
Basically, I've become obsessed with caprese salad, and I want to eat it all the time. So for the 4th of July last week, I turned it into a pasta salad!
Now, I know what you are thinking. Pasta salad is not life changing. It is not even that good. Mostly, pasta salads are either dry or taste like mayo.
But I figured why stick with tradition? Pasta salad doesn't have to be tossed in salad dressing or salmonella.
Why not just make…pasta? And then serve it at any temperature I please?
So I stirred together an easy, creamy balsamic sauce and threw it over some short pasta with tomatoes, mozzarella, and basil. It stayed creamy and moist all night long, and the flavors were subtle but classic. And I totally had seconds.
Let's get cooking! We obviously must cook some pasta.
I chopped my shallot and pressed my garlic while the pasta water was heating up. Don't forget to salt your pasta water!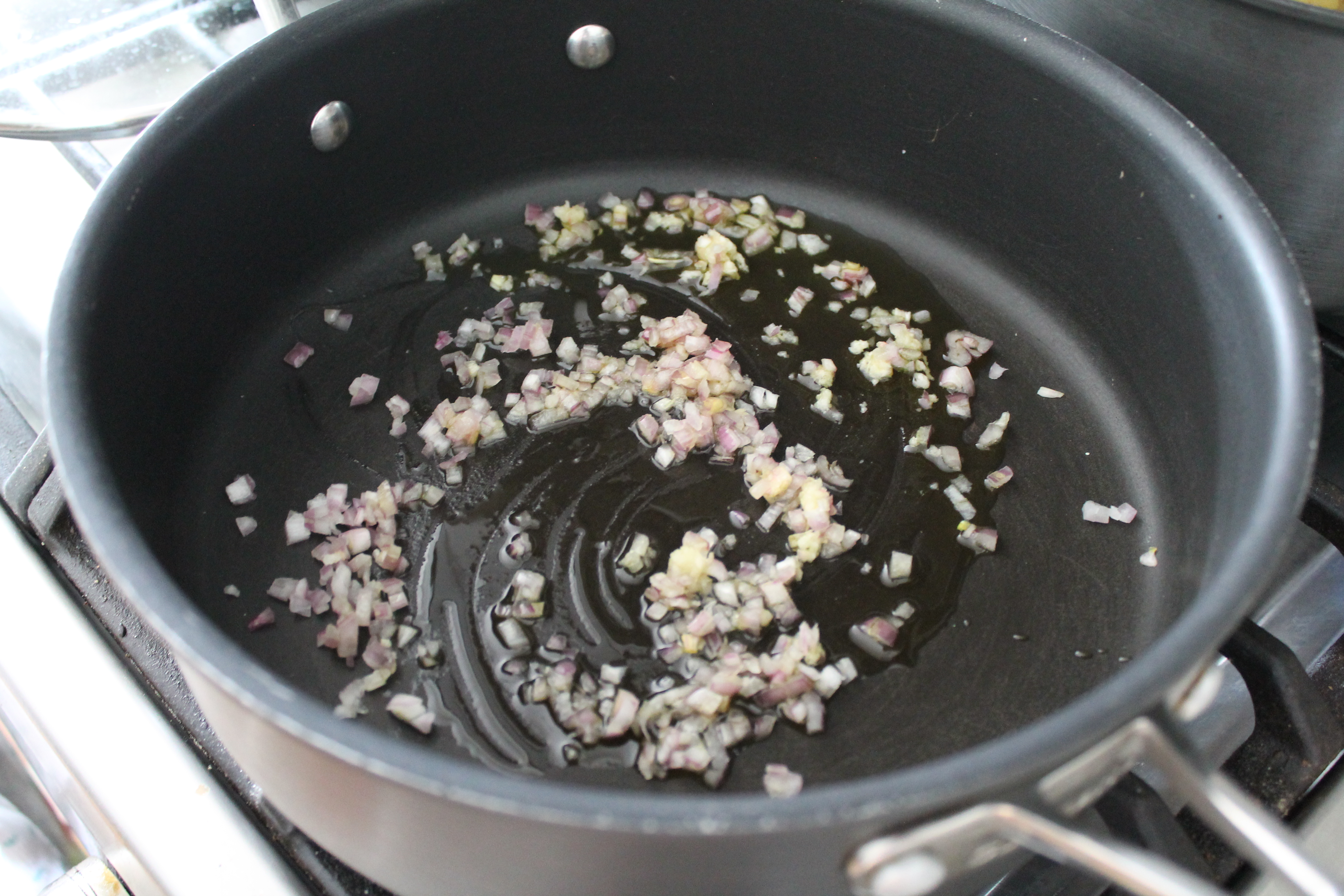 Heat up some olive oil over medium heat, and then toss the chopped aromatics in with them. Reduce the heat to low and let the shallots caramelize. They should slowly turn translucent and then a light brown, all while smelling amazing. Stir a few times to prevent them from burning on one side. I let my shallots caramelize for about 20 minutes.
(By now, you are probably cooking your pasta. You can use any short pasta you like! I used corkscrews, but bowties or penne would also be great. Steer clear of rotini unless you'd like to make a double batch of sauce to soak into all those crevices.)
Throw some balsamic vinegar into the pan with the shallots and garlic. Keep the heat low and stir for 2 minutes, until it begins to thicken slightly.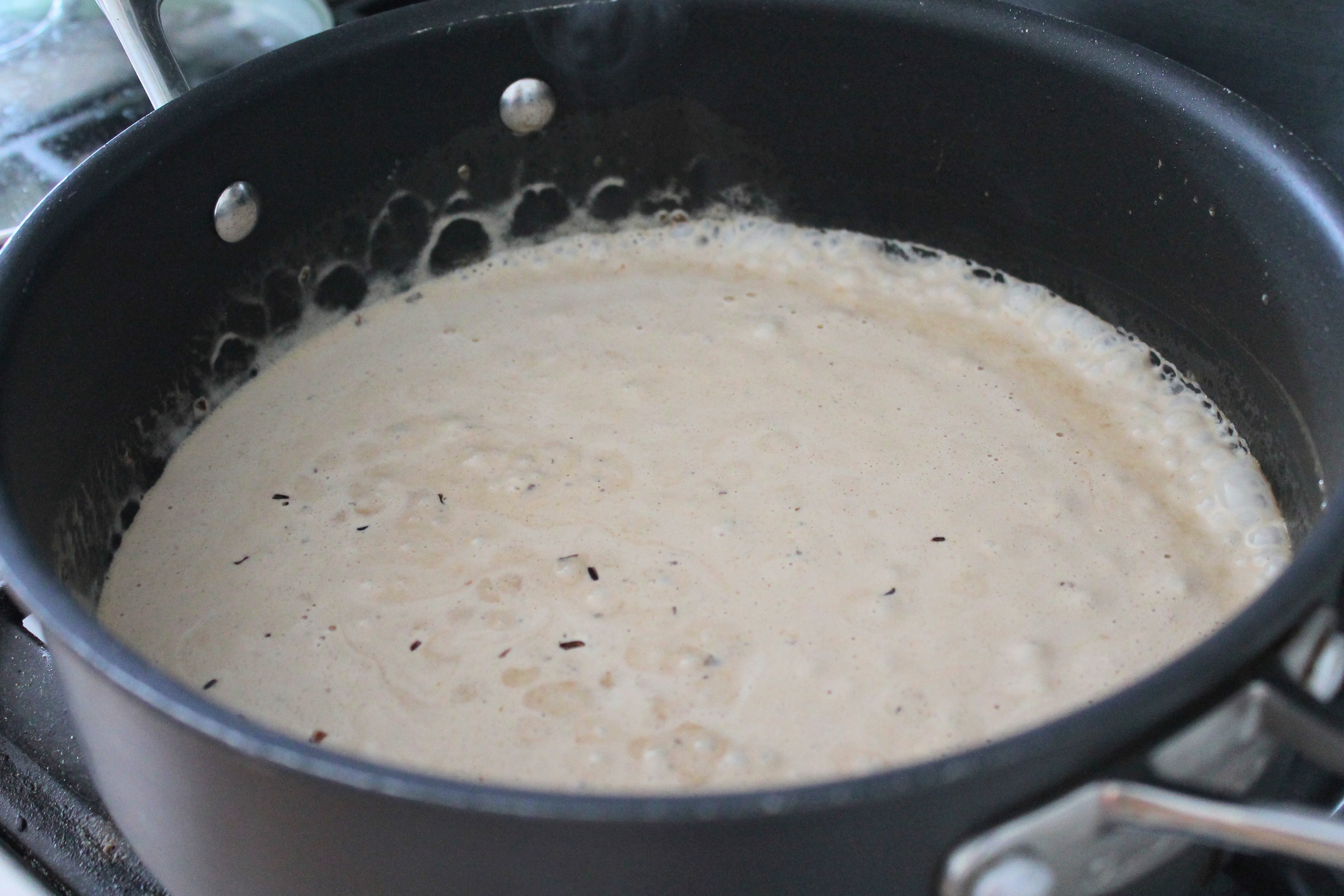 Stir in cream and parmesan. Season to taste with salt and fresh black pepper.
Sauce is done! Yay! It should be tangy and creamy and just a bit salty, all the good things.
Drain the pasta and toss it with the sauce.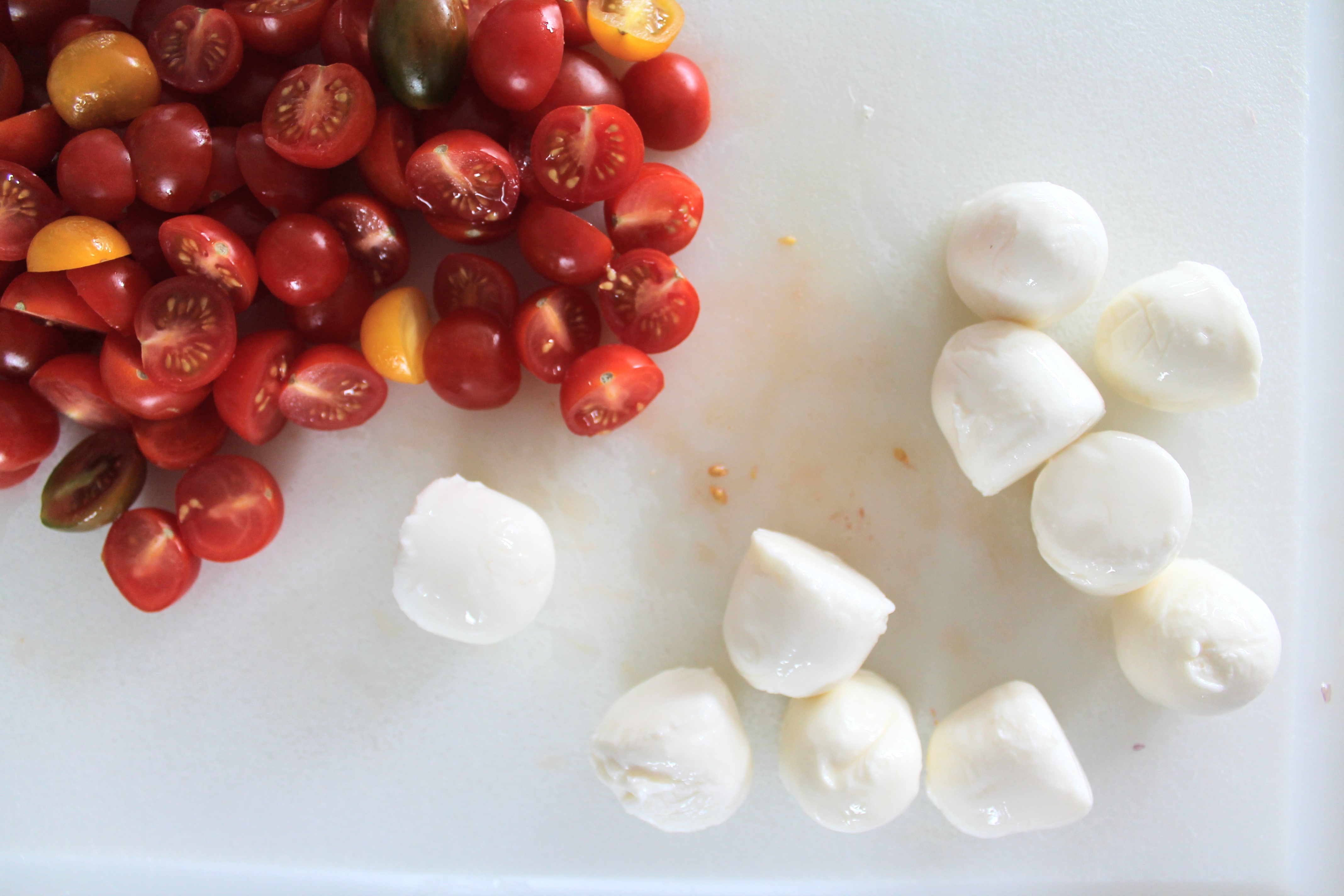 If you haven't already, cut up a pint of cherry tomatoes and chop the fresh mozzarella. I used "snack" balls, because that's all my store had on hand at the time, but any fresh mozz (read: soaking in liquid, not intended for slicing or shredding) will work!
Of course, pasta salad usually has large pieces of vegetables and cheese tossed in, so you can aim for whatever size you like with the tomatoes and cheese, but I halved my cherry tomatoes and cubed my mozzarella for easy scooping and big flavor.
It's best not to chop the basil until you are ready to serve, because basil turns brown quite quickly. It will still taste fine, but it won't look as pretty! When you are ready, layer all the basil leaves on top of each other and roll them up into a log. Then thinly slice them.
I think you almost can't have enough basil. After I took the photo above, I actually chopped another whole handful of basil. Basil sings with tomatoes and balsamic vinegar, and I love the fresh flavor and pretty green it adds to a caprese salad!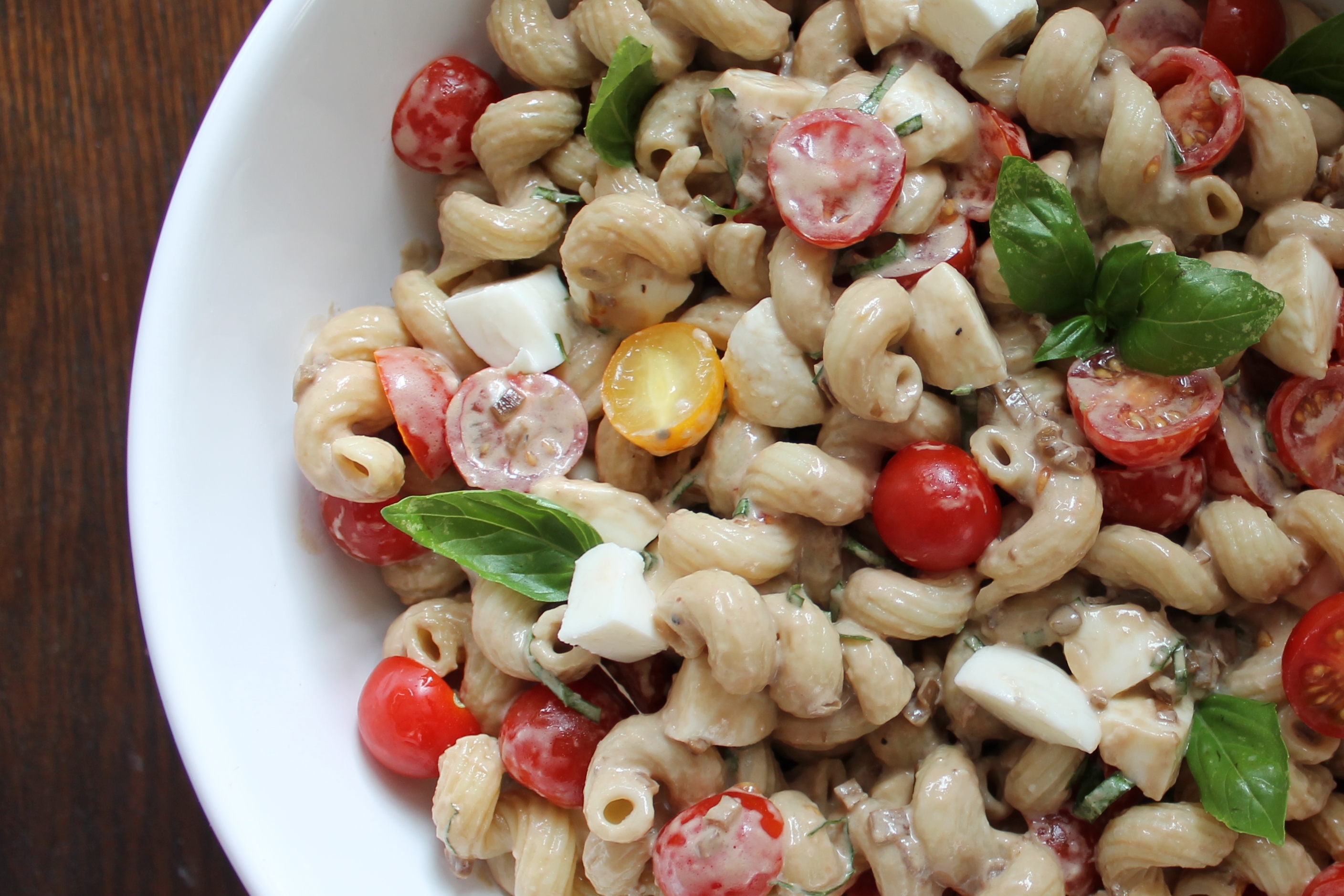 Toss the chopped tomatoes, mozzarella, and basil into the creamy pasta.
You can serve this warm or chilled! Either way it will be delicious.
Caprese Pasta Salad with Balsamic Cream Sauce
Ingredients
½

lb.

short pasta,

such as bowties, penne, or corkscrews

2

tbsp.

olive oil

¼

cup

finely diced shallot

(from 1 small shallot)

2

cloves

garlic,

minced or pressed

3

tbsp.

balsamic vinegar

1

cup

heavy cream

½

cup

fresh grated parmesan

salt and fresh ground black pepper

1

pint

cherry tomatoes,

halved

10

oz.

fresh mozzarella,

cubed

20

basil leaves*,

thinly slivered
Instructions
Cook the pasta in salted water according to package directions.

Meanwhile, heat the olive oil over medium heat. Add the shallot and garlic and reduce heat to low. Cook for 20 minutes, stirring occasionally, allowing the shallots to caramelize.

When the shallots are tender and beginning to turn brown, add the balsamic vinegar and stir for 2–3 minutes, allowing the vinegar to thicken slightly.

Stir in the cream and the parmesan. Season to taste with salt and black pepper.

Drain the pasta. Toss with the balsamic cream sauce. 

Stir in the tomatoes, mozzarella, and basil.
Notes
This pasta can be served warm or cool.
*Basil will brown quickly after it is sliced. For brightest color, chop and add basil to the pasta just before serving.
Consider adding thinly sliced baby spinach to amp up the greens and nutrients!