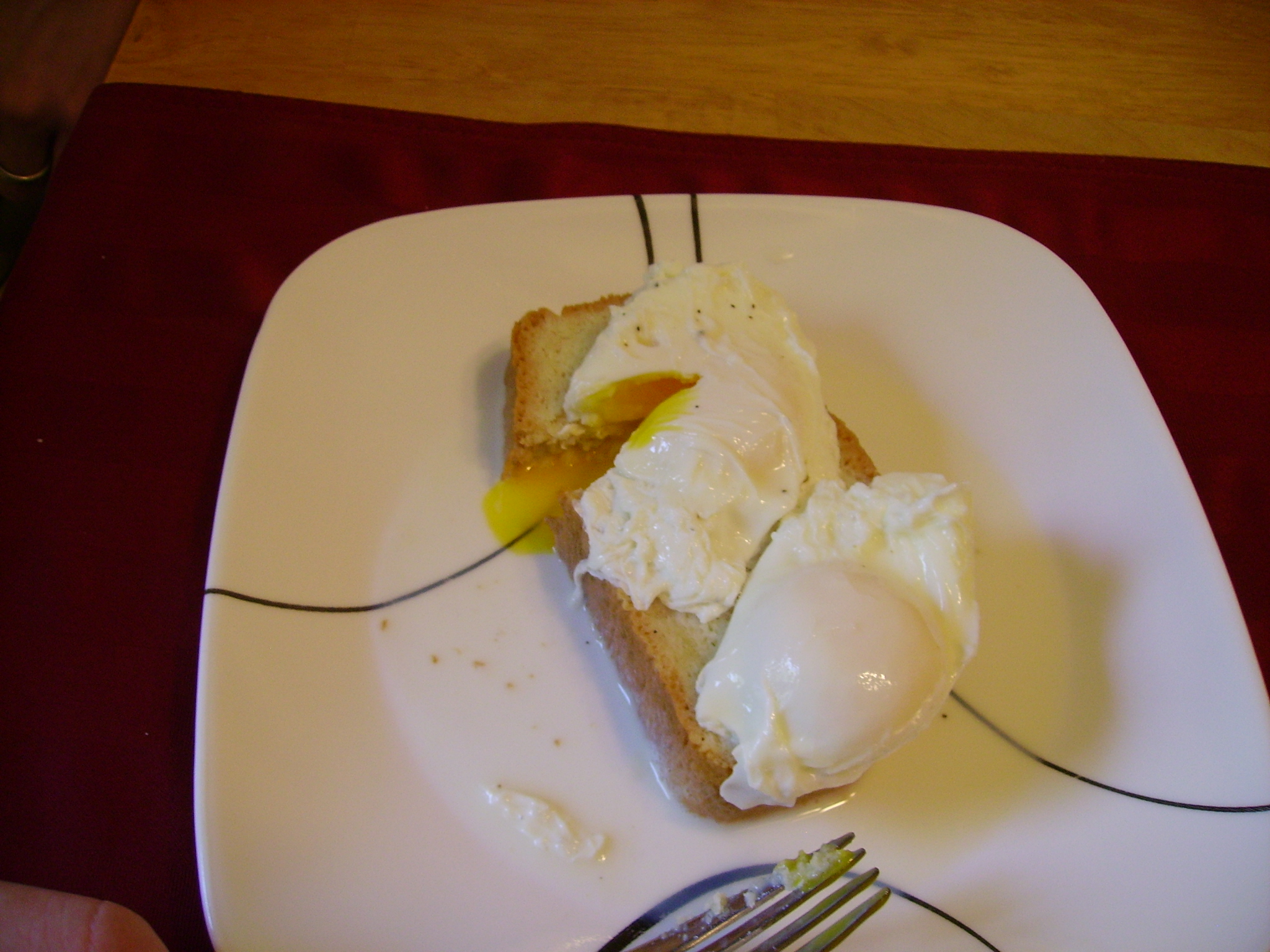 I'm not really sure when Easter was reduced from celebrating the life and resurrection of Jesus to dying eggs with vinegar…and even further to stuffing plastic eggs with sugary treats…but I think that slippery slope has had an everlasting effect on Americans. Eggs and Easter are alliteratively associated (haha…ya like that?…I'm an English teacher, give me a break. Okay, I'll stop).
So a few days ago on Easter, I woke up very early so that I could poach myself and my husband some eggs for breakfast before church.
When I was growing up, one of the most exciting breakfast treats was my dad's poached eggs. This was a collaborative effort between my parents, and it was a highly elusive breakfast, because my mom had to make bread AND then my dad had to decide to poach some eggs, all in the same weekend. But when it happened, it was so great! In fact, I like this breakfast so much that it's what I requested on the day I got married. (Weird, right? You'd think I'd go for chocolate chip pancakes given my choco-obsession…)
My dad's poached eggs are unlike any others I've ever had: they are poached in milk rather than water. True, they don't come out quite as beautiful, and yes, milk does burn on the bottom of the pan in the process, but the egg whites are firm and the egg yolk is like melted butter. Once you drop the eggs down on the toasted bread and pour a bit of seasoned milk over the whole thing, the simple notion of eggs and toast is transformed into a breakfast to remember.
Admittedly these are not great pictures, but I guess that's pretty much what I should expect from making foods that are all white. 🙂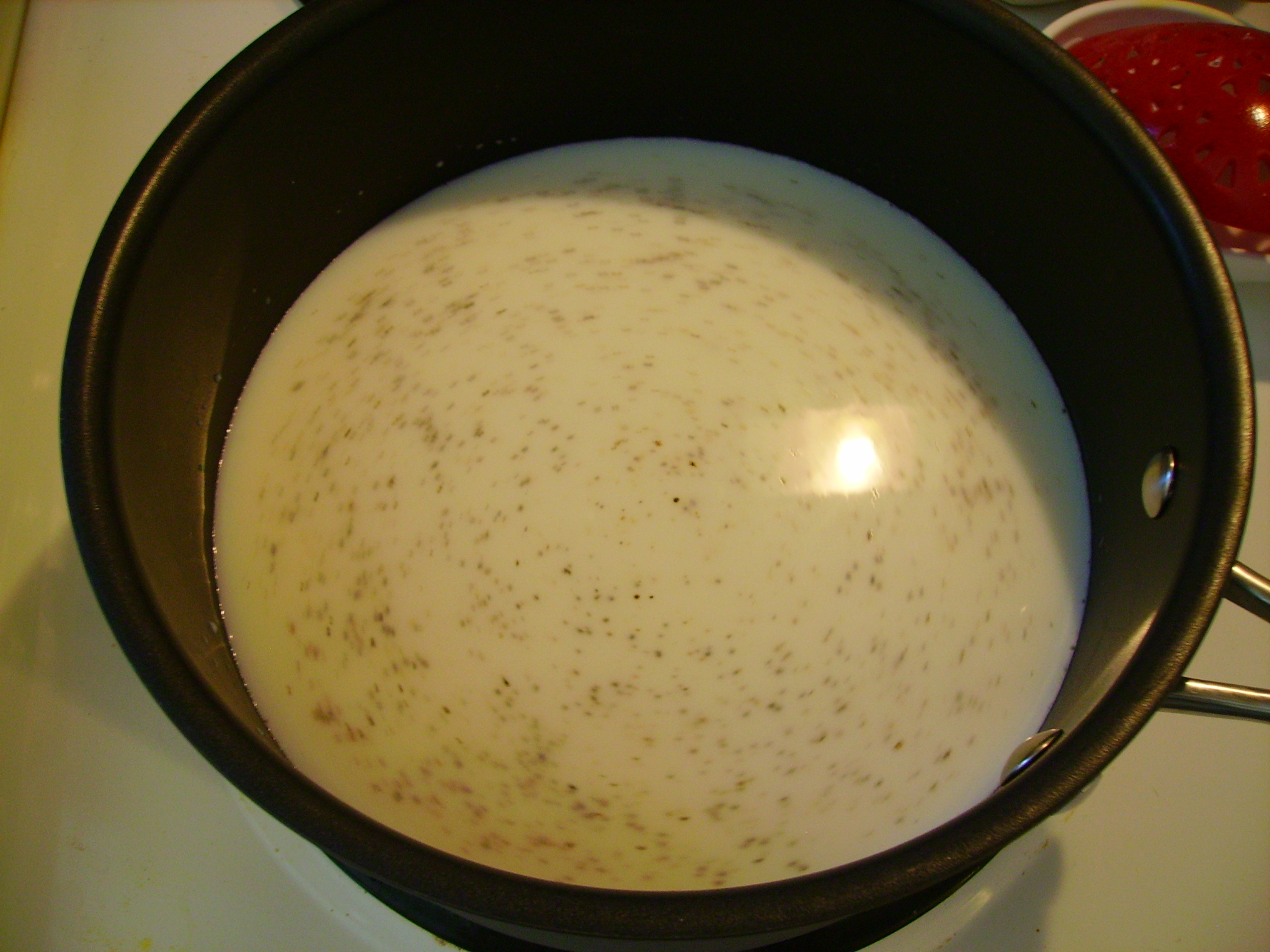 Season the milk and set it to boil.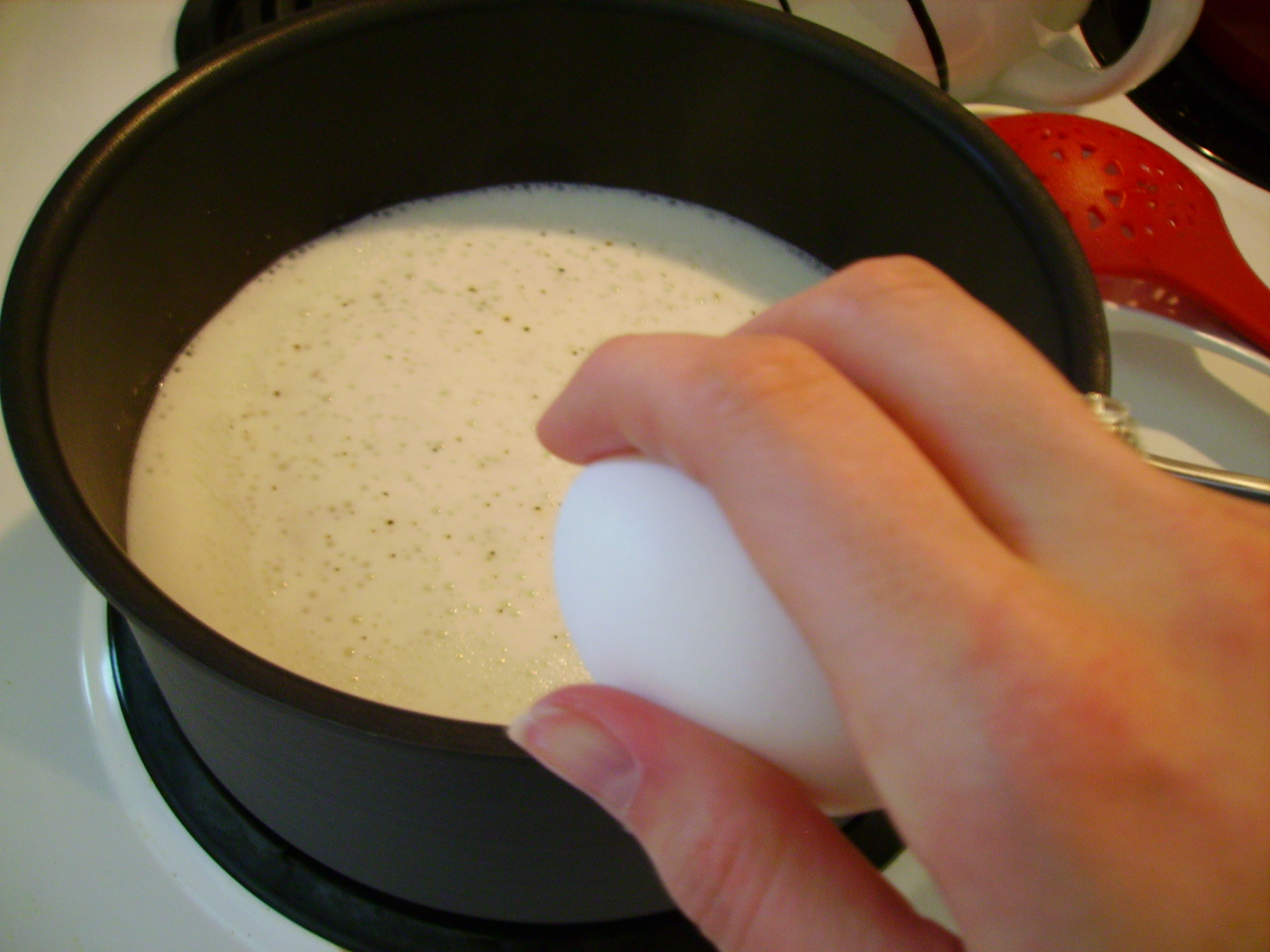 Crack in the eggs as soon as the milk begins to fizz up.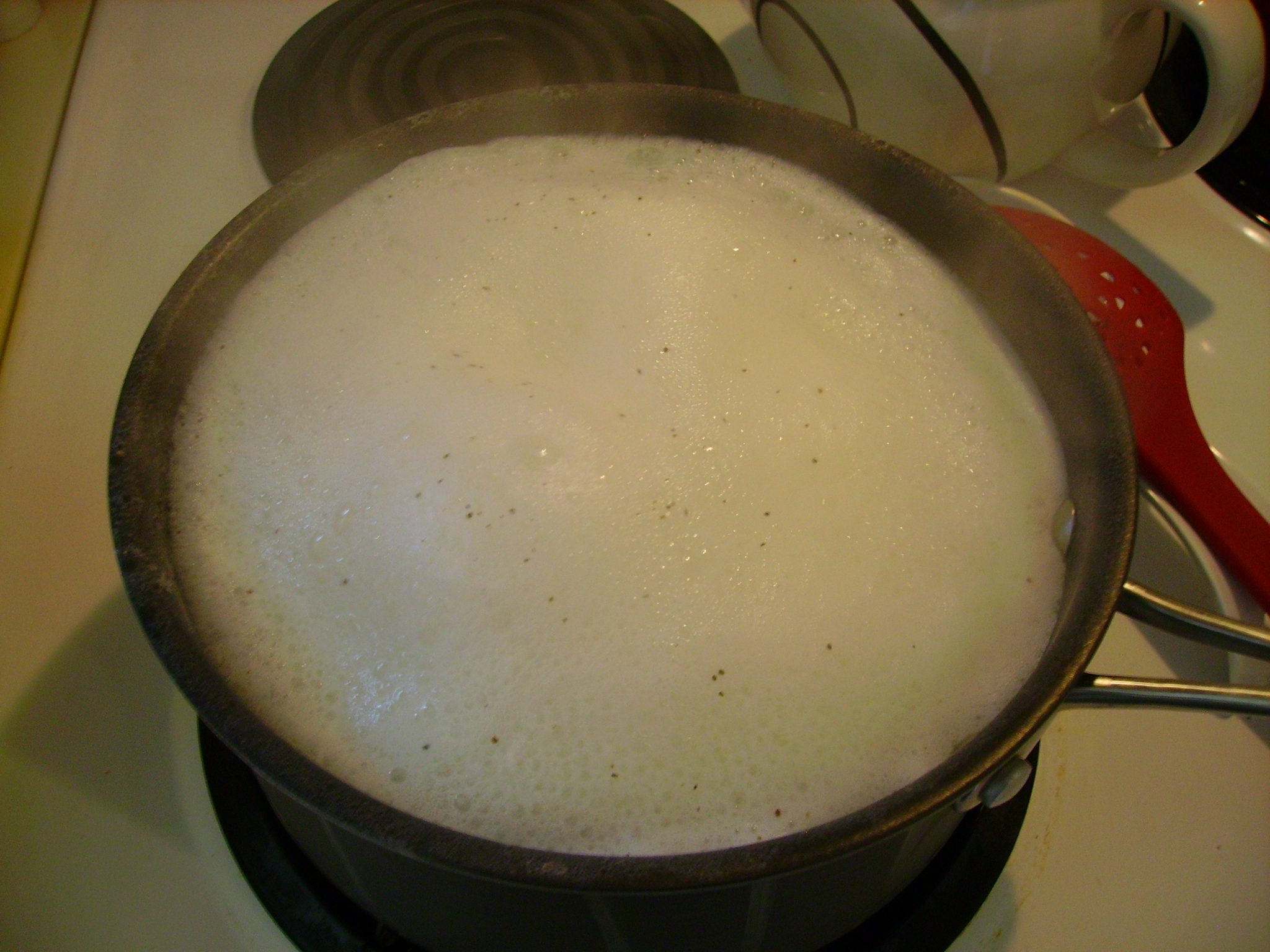 Watch out! You don't want the milk to boil over, so stop taking pictures and move the pot! (Er…experience talking.)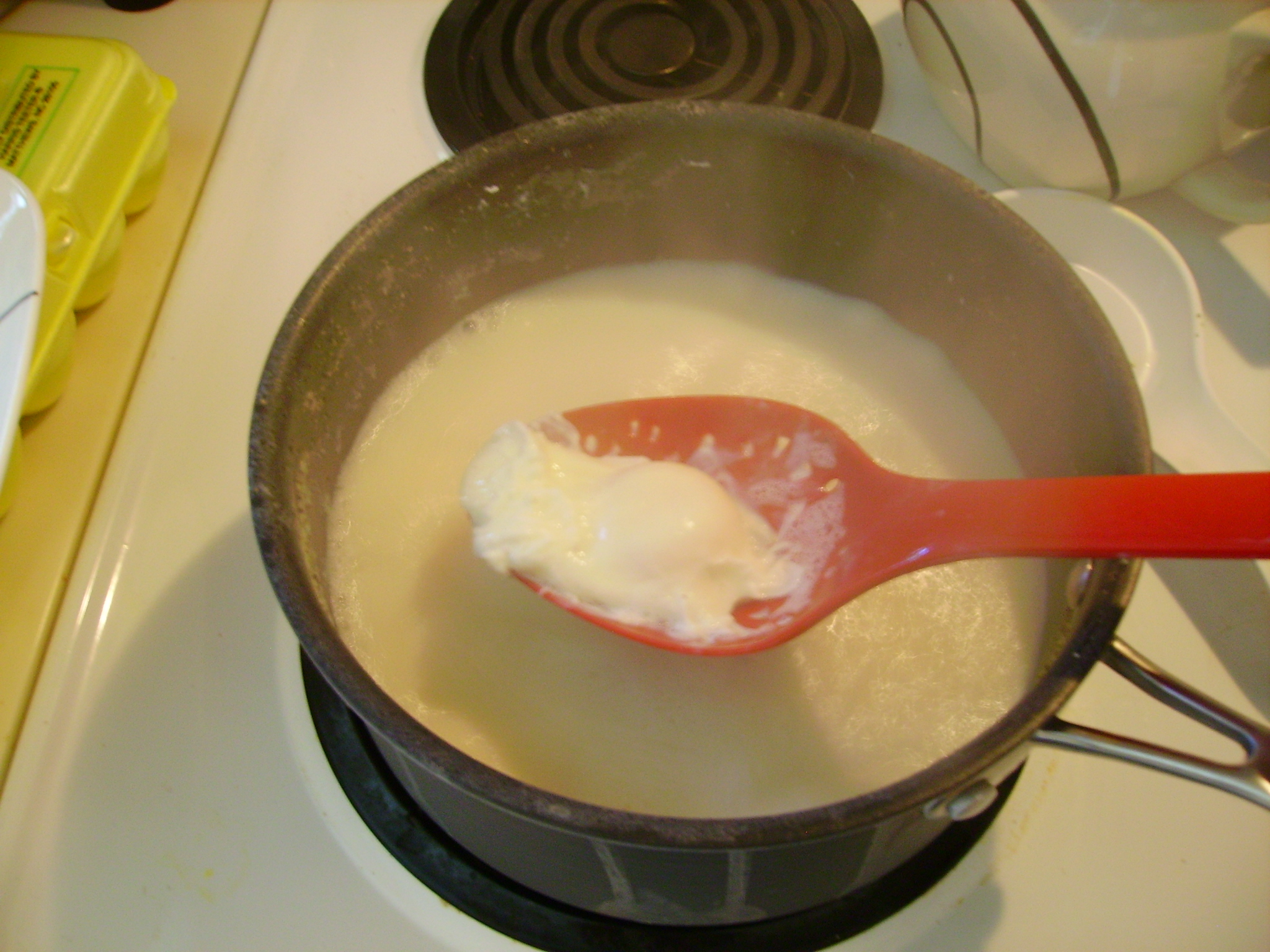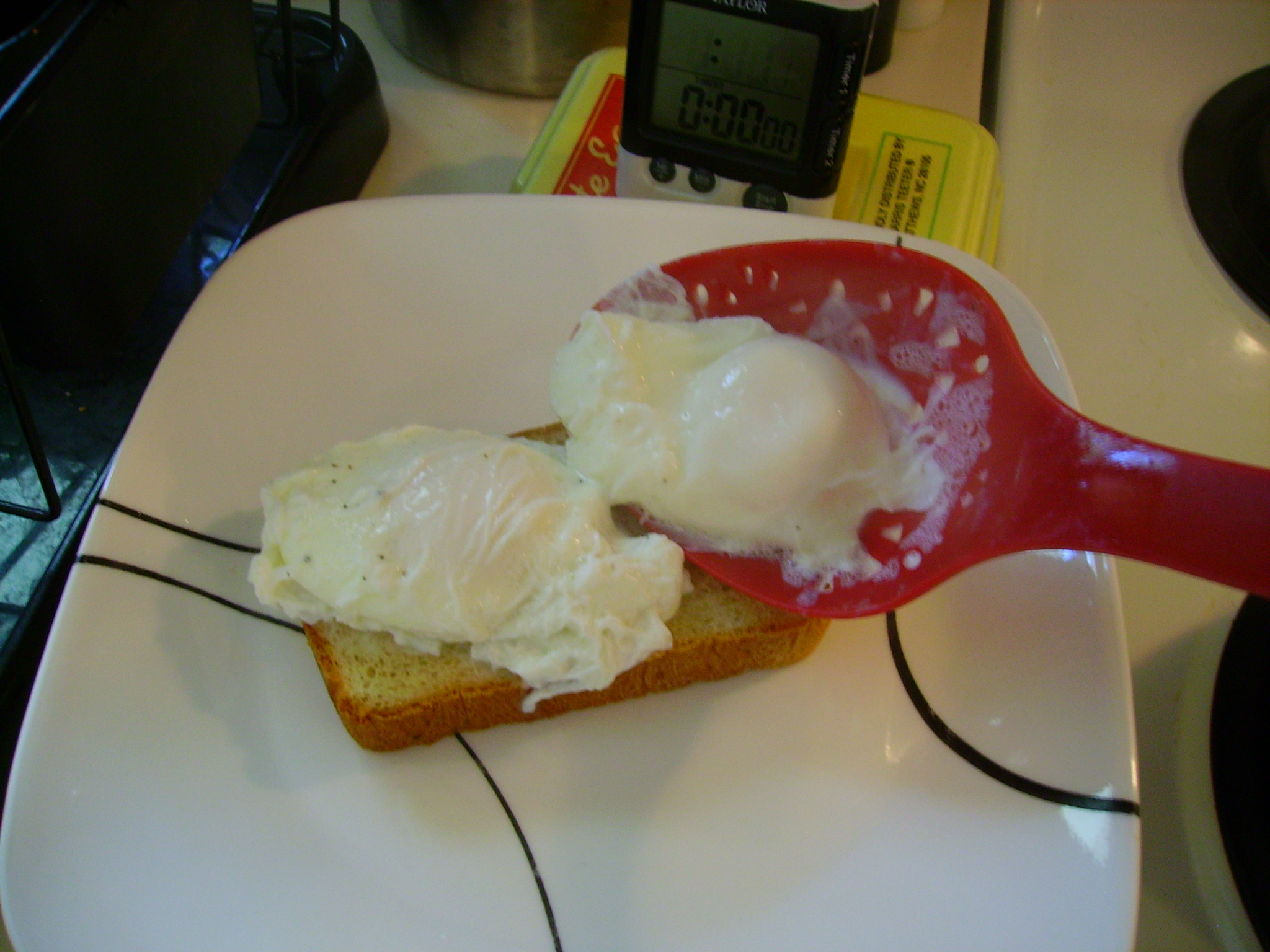 And there you have it! After 2 minutes of boiling, remove the eggs and set them atop a thick slice of Sunbeam White Bread. Don't forget to pour a splash of seasoned milk over top.
Milk Poached Eggs
from my dad
serves 2
Ingredients:
2 thick slices Sunbeam White Bread
3 cups milk, as needed
salt and pepper
4 eggs
Directions:
Toast the bread and set on a plate. Butter lightly, if desired.
Meanwhile, liberally season milk and bring to a boil in a medium to large pot. When it begins to bubble up, drop in 2 eggs, 1 at a time.
Once the milk begins to boil gently for the second time, poach for 2 minutes more. Do not let the milk boil over. Use a slotted spoon to remove eggs from the milk. They will be done once they look solid on the outside.
Drop the poached eggs on top of the toast, then pour about ½ cup or less of the hot milk over the eggs.
Repeat for the second serving. (It may be ideal to scrape the burned milk from the pan before breaking in the second set of eggs.) There will be extra milk left over after both breakfasts are complete.
*Note: These eggs are best warm, so allow to sit for no more than 1–2 minutes before eating. This also means that each person might need to eat separately.
Enjoy!