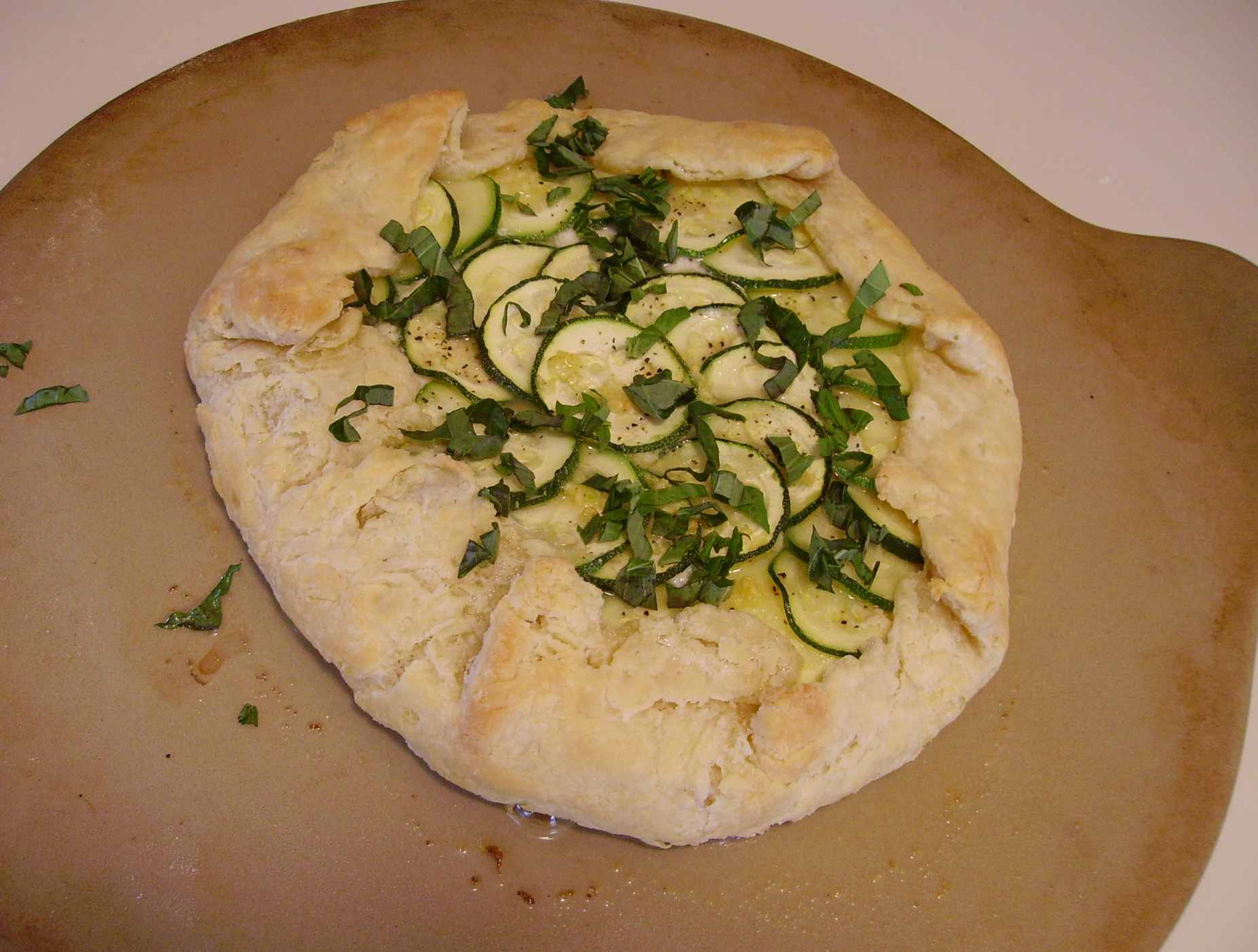 I have mentioned previously that I am obsessed with several other food blogs, one of which is SmittenKitchen. About six months ago, when I was trolling through Deb's archives, I discovered a delectable vegetarian entree called a galette, which could also go by the name of crostata or even "rustic tart." I was, in a word, smitten.
The first galette I tried was a spicy autumn variety with butternut squash. The galette was an immediate hit with my husband and his meat-loving best friend, so I knew I would have to try some of the other variations posted on SmittenKitchen. Thus, I am bringing you a lighter and brighter filling that fits the spring weather. Last weekend, when I announced that I was making a galette for dinner, my husband practically started drooling.
Although delicious, the Zucchini Ricotta Galette is a once-in-a-while kind of meal. For one thing, it is loaded with cheese, but the biggest kicker is that it takes about 2 hours to make! I only ever make it on weekends, often when I am procrastinating other chores. It's worth the wait, but it's not a low-maintenance meal by any stretch.
That being said, please do carve out some time to make yourself a galette! Serve it with a nice, colorful salad. I promise, you will be happy if you do…
The thing that takes the longest time when making a galette is the crust.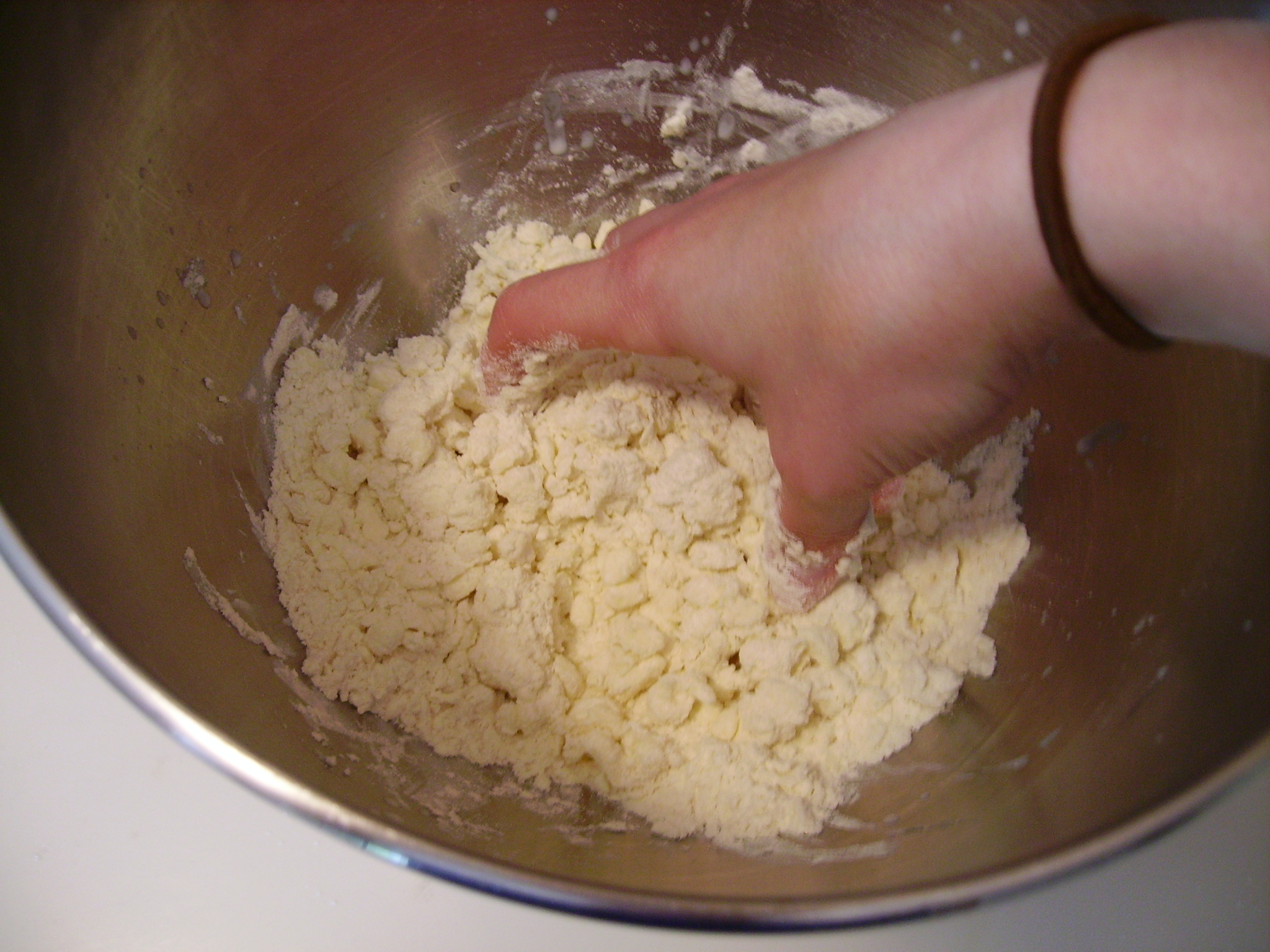 You start out like you're making a pie crust, by cutting butter into flour and salt. Then you mix together sour cream, lemon juice, and ice water. Pour half of that into the crust and gently work it with your fingers until large lumps begin to form. Remove those lumps; pour in the second half of he liquid and repeat.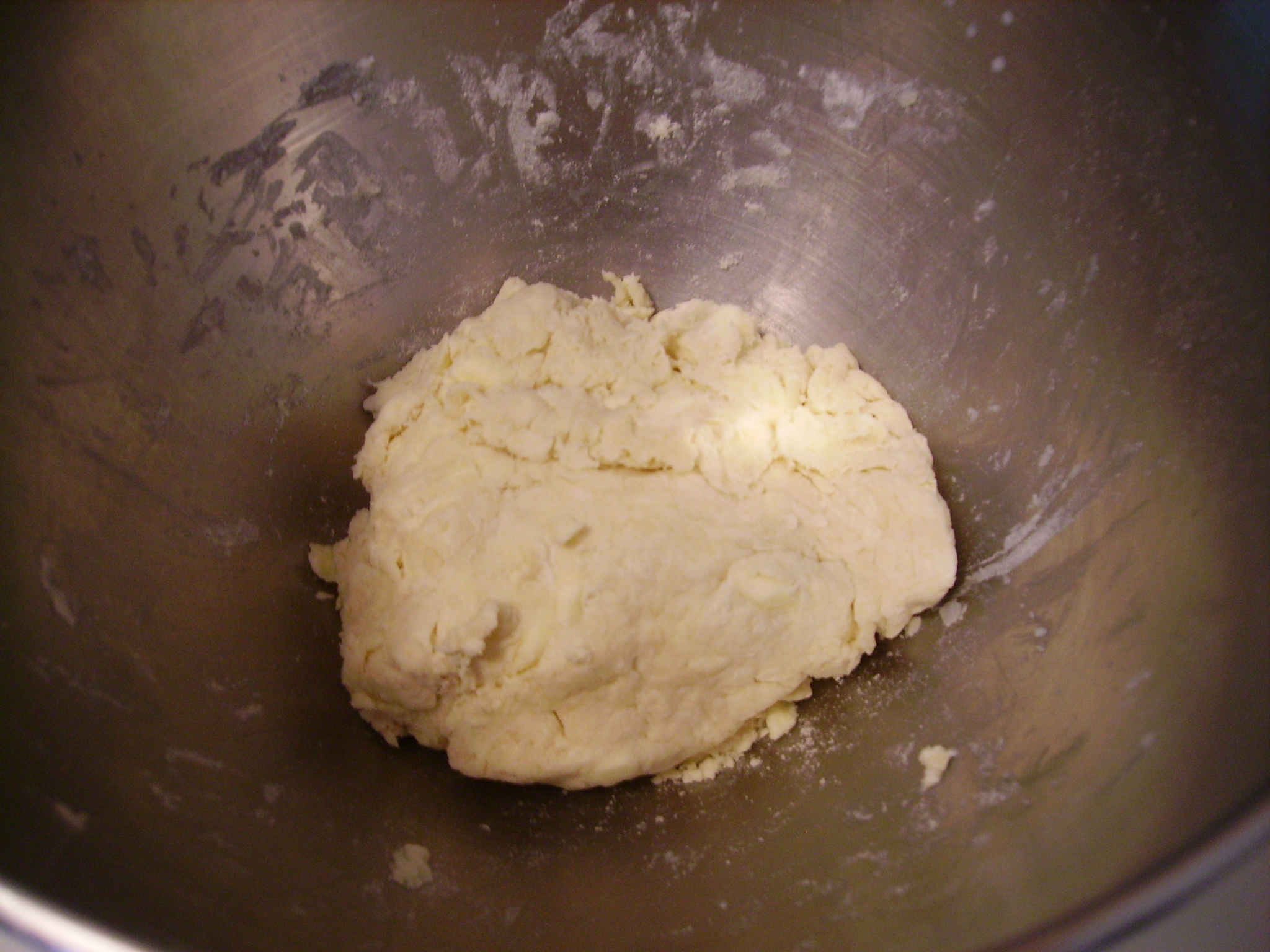 Gently pat the large crumbs into a ball and refrigerate for 1 hour.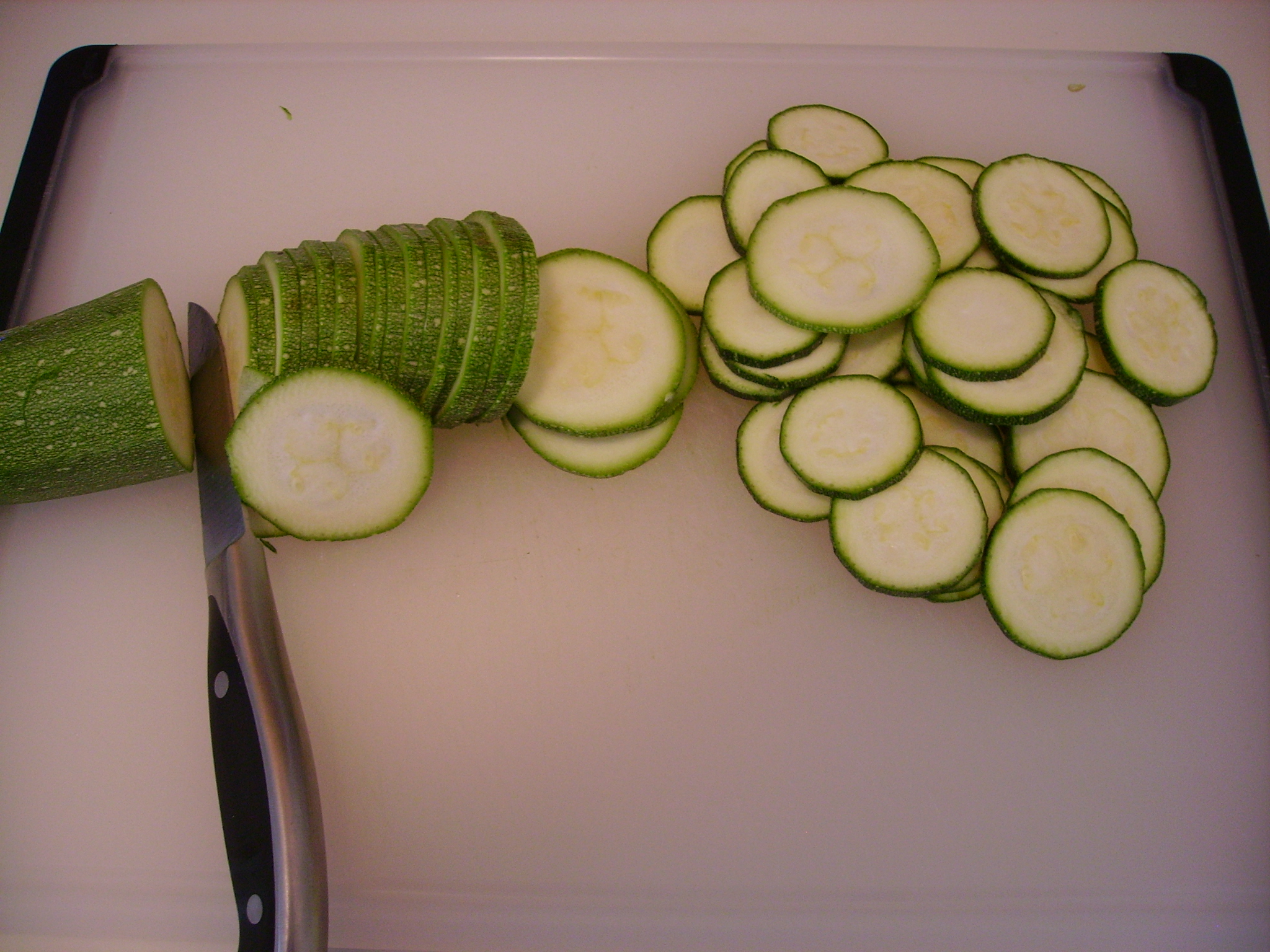 Meanwhile, slice the zucchini thin, then set onto a paper towel in a single flat layer. (You could use a grater or a food processor for this, but I find that I get more shapely results if I slice by hand.) Lightly salt and pepper, and let rest for 30 minutes.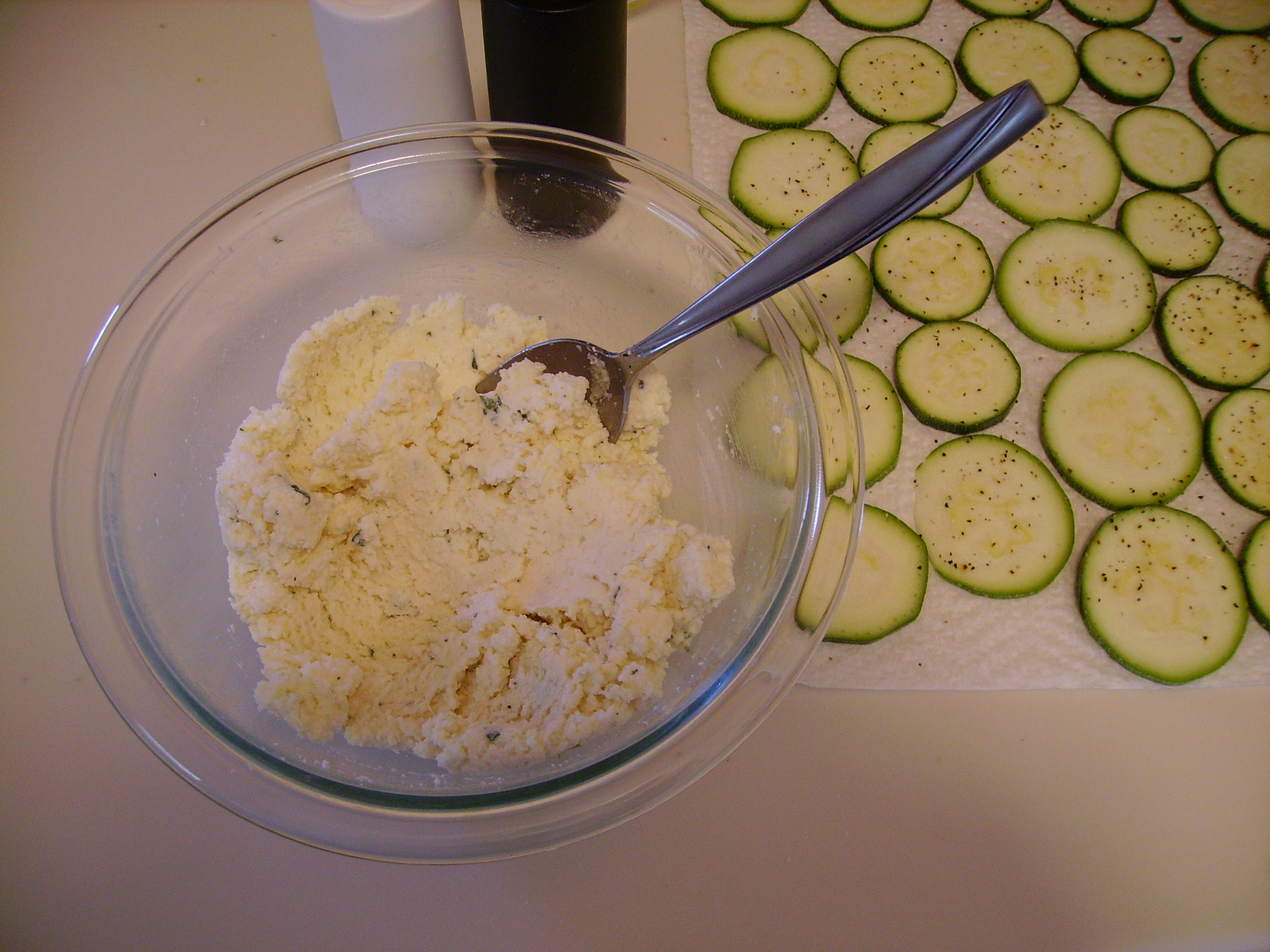 Mix together the cheeses and seasonings. It's best to refrigerate this until ready to assemble the galette.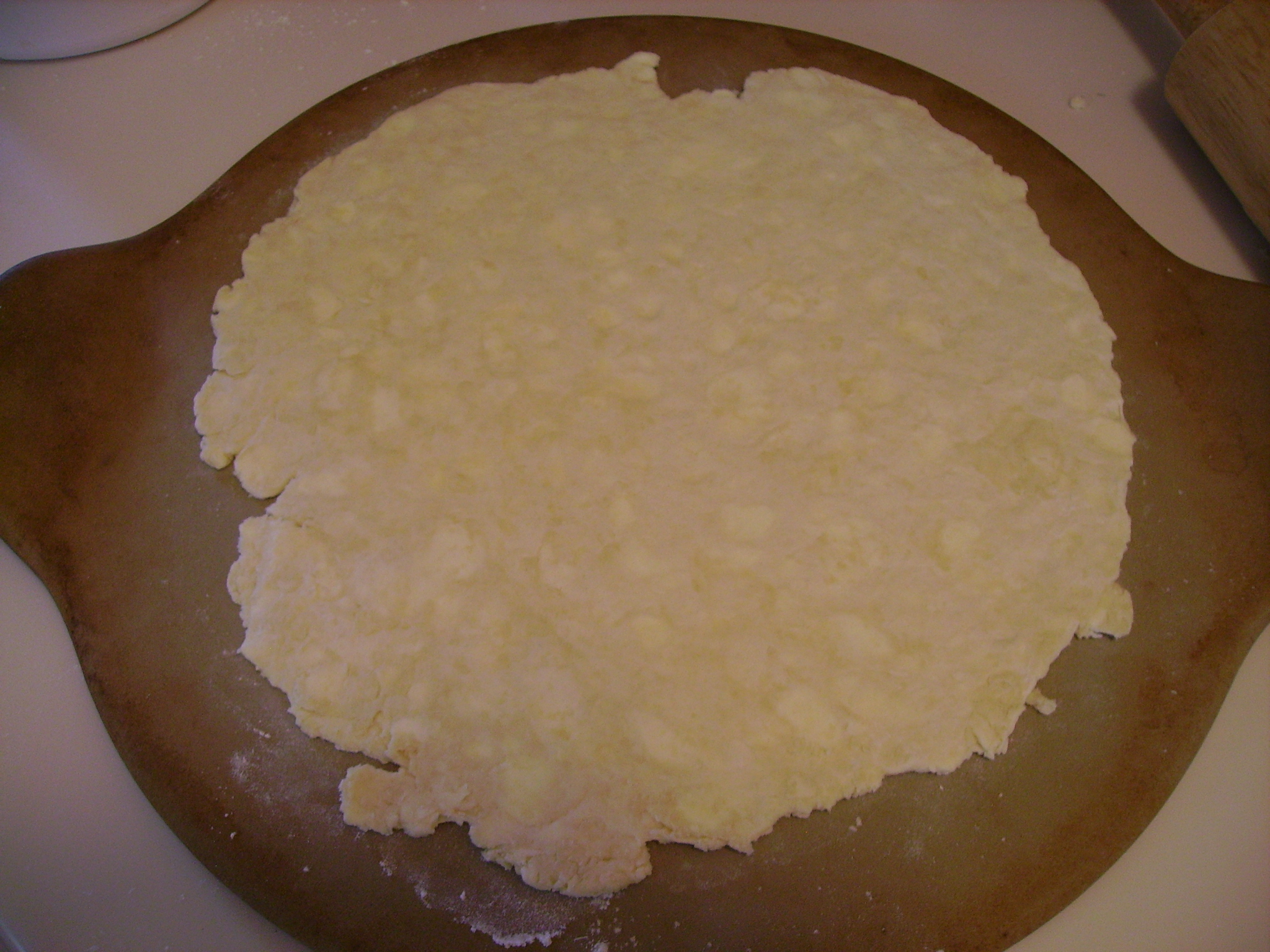 After the dough is properly chilled, remove it from the fridge and roll it out on a well-floured board; transfer to a baking stone.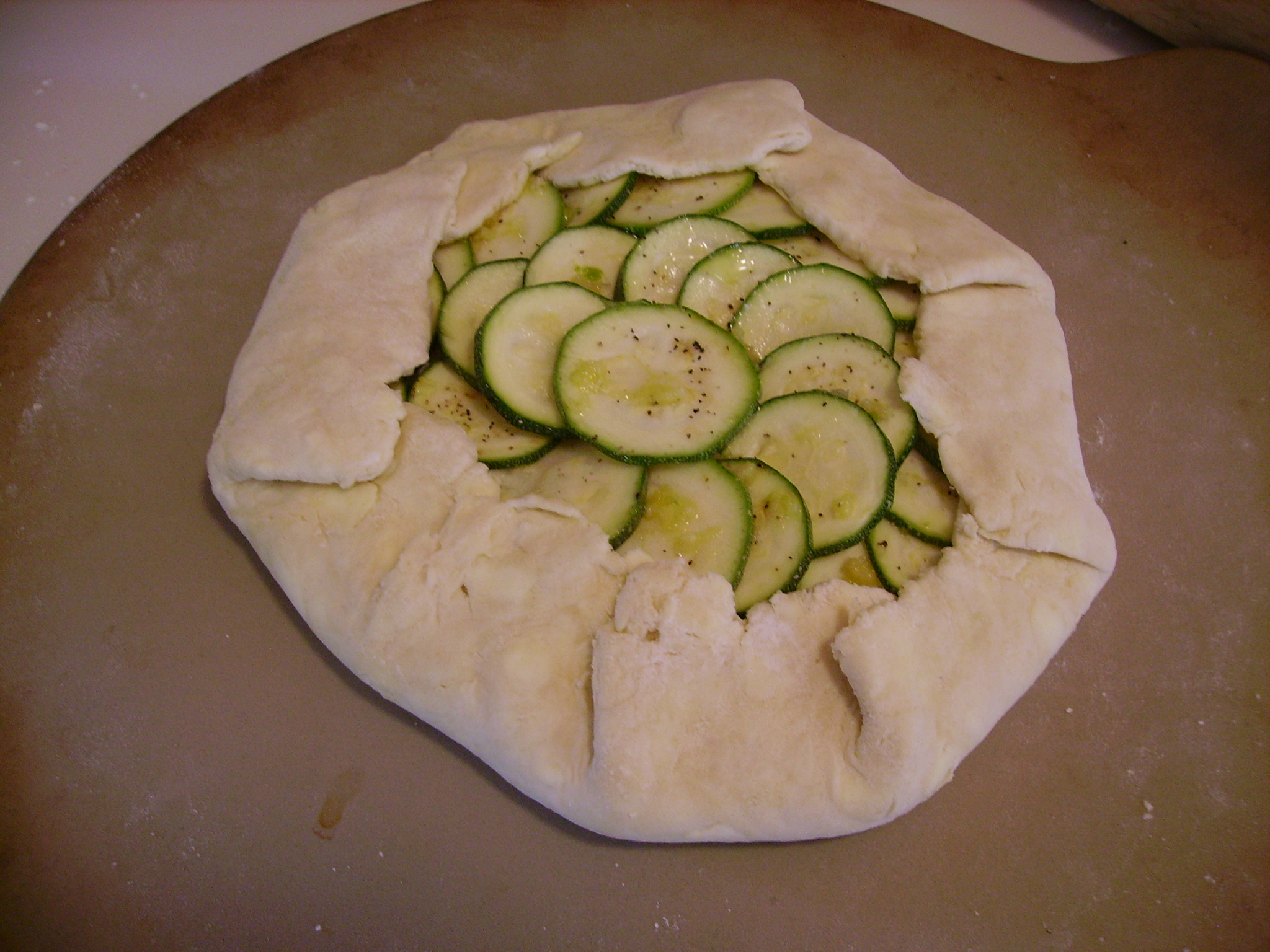 Spread the cheese over the galette crust, leaving about a 1½″ edge to fold over the fillings. Layer zucchini in a dense spiral pattern and drizzle with garlic oil. (Dave and I both agree that we would have liked zucchini slices layered under the cheese as well as on top, so next time I will do that! This change is reflected in the recipe below.) Set into a preheated oven and bake 30–40 minutes, until cheese is puffy and crust appears flaky. Top with slivered basil leaves, then slice and serve.
Zucchini Ricotta Galette
adapted from SmittenKitchen
serves 4–6
Pastry Ingredients:
1¼ cups flour
¼ tsp. salt
8 tbsp. (1 stick) cold unsalted butter, cut into pieces
¼ cup low-fat sour cream
2 tsp. fresh lemon juice
¼ cup ice water
Filling Ingredients:
2 medium zucchini
salt and pepper
1 tbsp. plus 1 tsp. olive oil
1 clove garlic, minced
¾ cup low-fat ricotta
½ cup grated parmesan
1 tsp. minced fresh oregano
1 tbsp. slivered fresh basil leaves
Directions:
Begin by making the pastry. In a bowl, combine the flour and salt. Make a well in the center of the flour and cut in the butter using a pastry blender, just until the mixture resembles coarse meal. Make another well in the center.
In a small bowl, whisk together the sour cream, lemon juice, and water. Pour half of this mixture to the well in the flour. With your fingertips, mix in the liquid until large lumps form. Remove the large lumps and repeat with the remaining liquid and flour-butter mixture.
Pat the lumps into a ball; do not overwork the dough. Cover with plastic wrap and refrigerate for 1 hour.
Meanwhile, slice zucchini very thin and lay flat onto a paper towel to drain. Season very lightly with salt and pepper.
Stir together ricotta, parmesan, 1 tsp. of the garlic oil, oregano, and a pinch of salt and pepper. Refrigerate until ready to assemble.
Preheat oven to 400°.
To assemble the galette, flour a flat surface and roll the dough out into a 12″ circle. Transfer to a baking stone.
Pat zucchini slices dry with a paper towel. Layer the zucchini in concentric circles atop the galette dough, leaving 1½″ on the edge to fold over. Spread with ricotta mixture, followed by a second layer of zucchini in concentric circles.
Fold the outside edge carefully over the filling, pleating as necessary to make it fit.
Bake 30–40 minutes, or until golden brown. Remove from the oven and top with slivered basil leaves. Let stand for 5 minutes, then slide the galette onto a serving plate.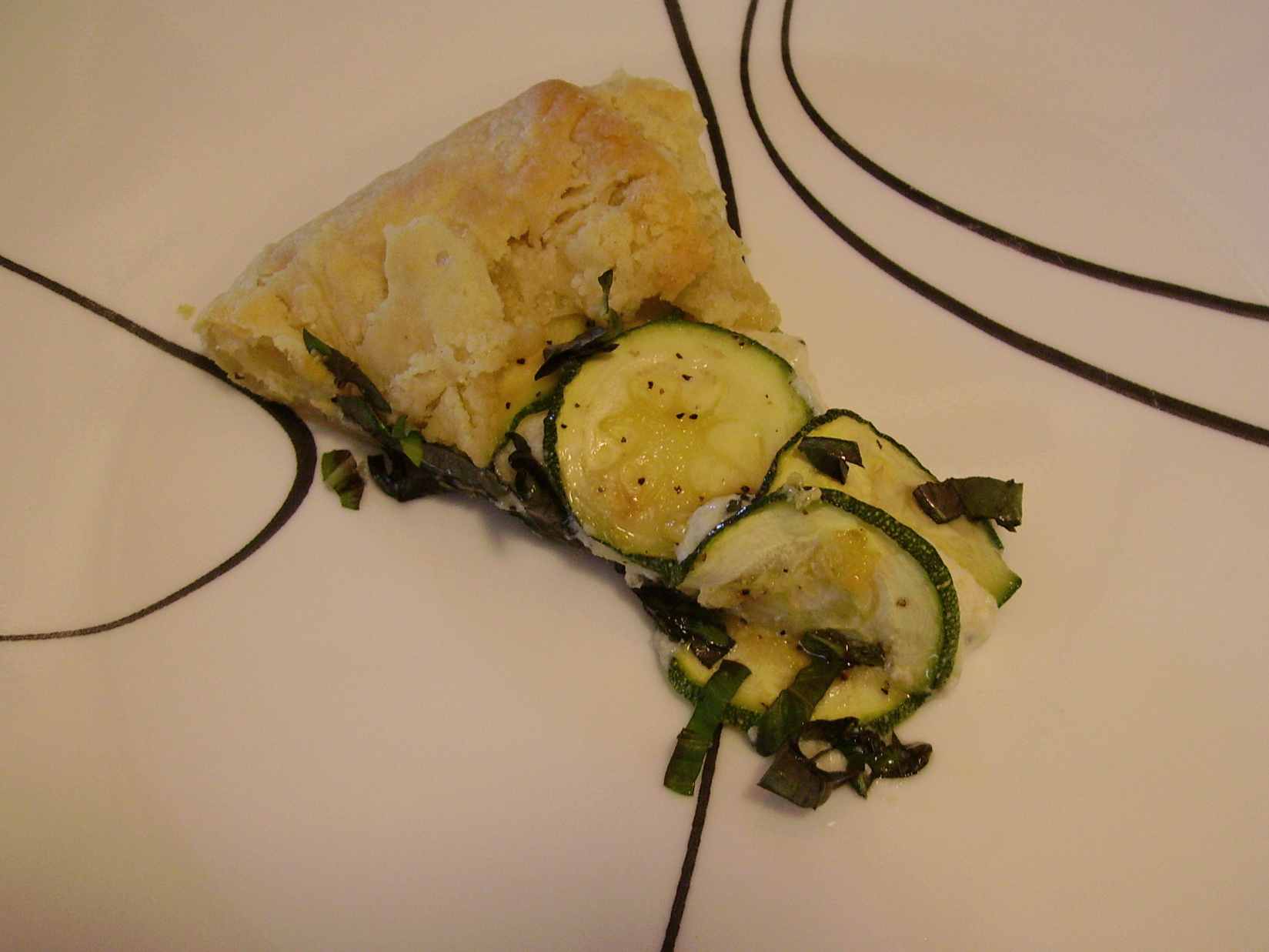 Enjoy!