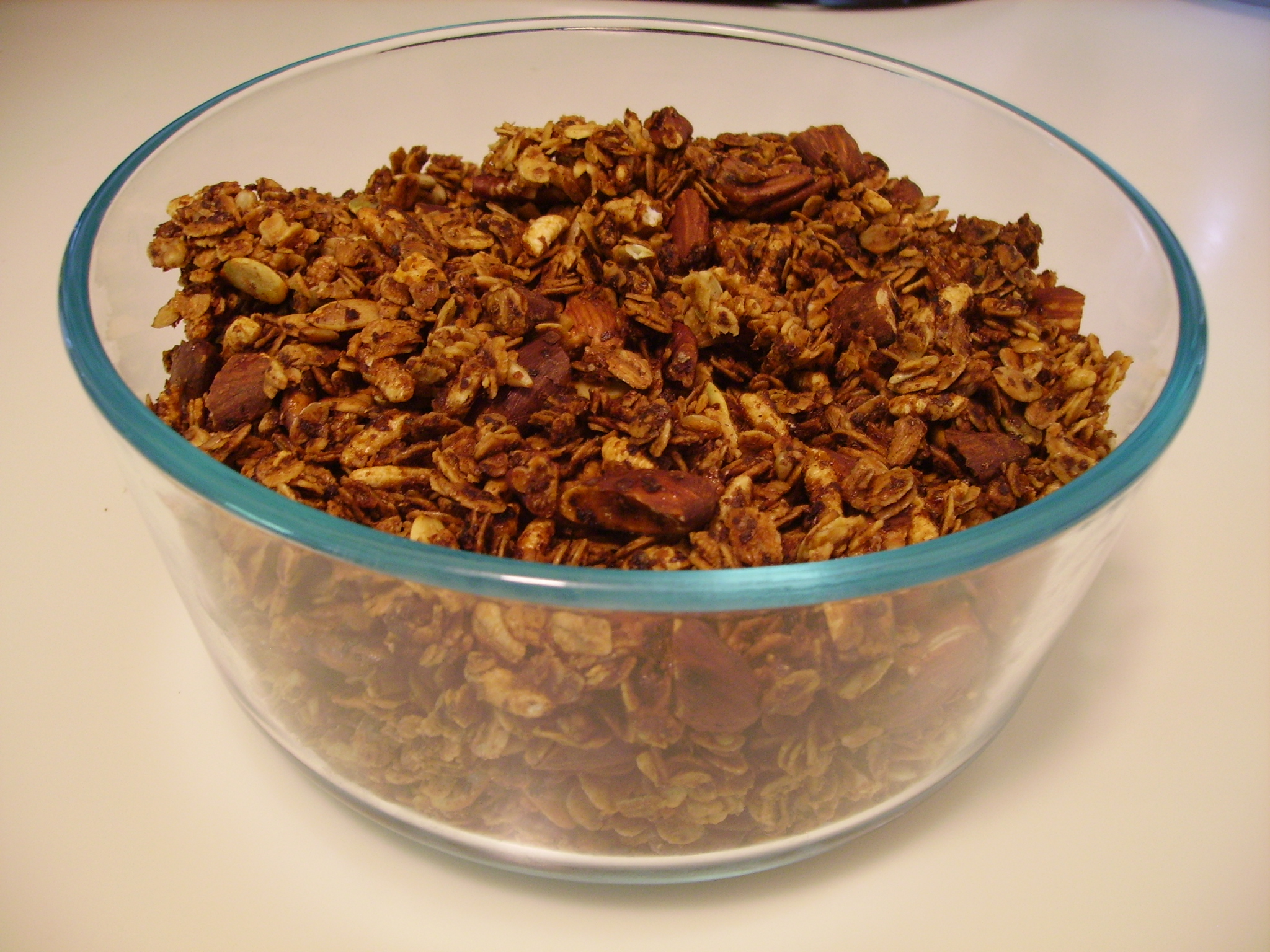 It's so hard to find a good granola or trail mix when you don't like fruit. Growing up, I was constantly chewing the yogurt off of the yogurt-covered raisins, or meticulously picking out the dried cranberries and holding them in my hand to throw away later.
So imagine my dismay when I got wind of the Greek yogurt craze: thick, creamy, fat-free yogurt (yay!) mixed with granola (uh-oh) and berries (danger!). I avoided the berries altogether and managed to find a granola that consisted entirely of oats and nuts…and a lot of high-fructose corn syrup. So I made a mental note that I'd better find a way to make my own granola.
As you probably know, granola is incredibly versatile. As I was searching the interblags for recipes, I came across so many different combinations that honestly, it took me 2 weeks to decide on what ingredients I wanted to include in my own version and buy what I didn't already have. I knew I wanted something more complex than just rolled oats and almonds–surely there is something better out there for us fruit-haters!
The recipe I concocted came from reading several different recipes and ultimately just adding in the ingredients I thought I would like in proportions that looked reasonable to me. Making your own granola is very easy, and ultimately more likely to be what you want than if you buy it in the store. So you can make mine exactly, drop a handful into some yogurt and go to town, or change the ingredients to suit your own tastes! The basic premise remains the same: start with rolled oats; mix in other grains, nuts, seeds, and even dried fruits of your choice; add honey or maple syrup and oil; and bake for about an hour.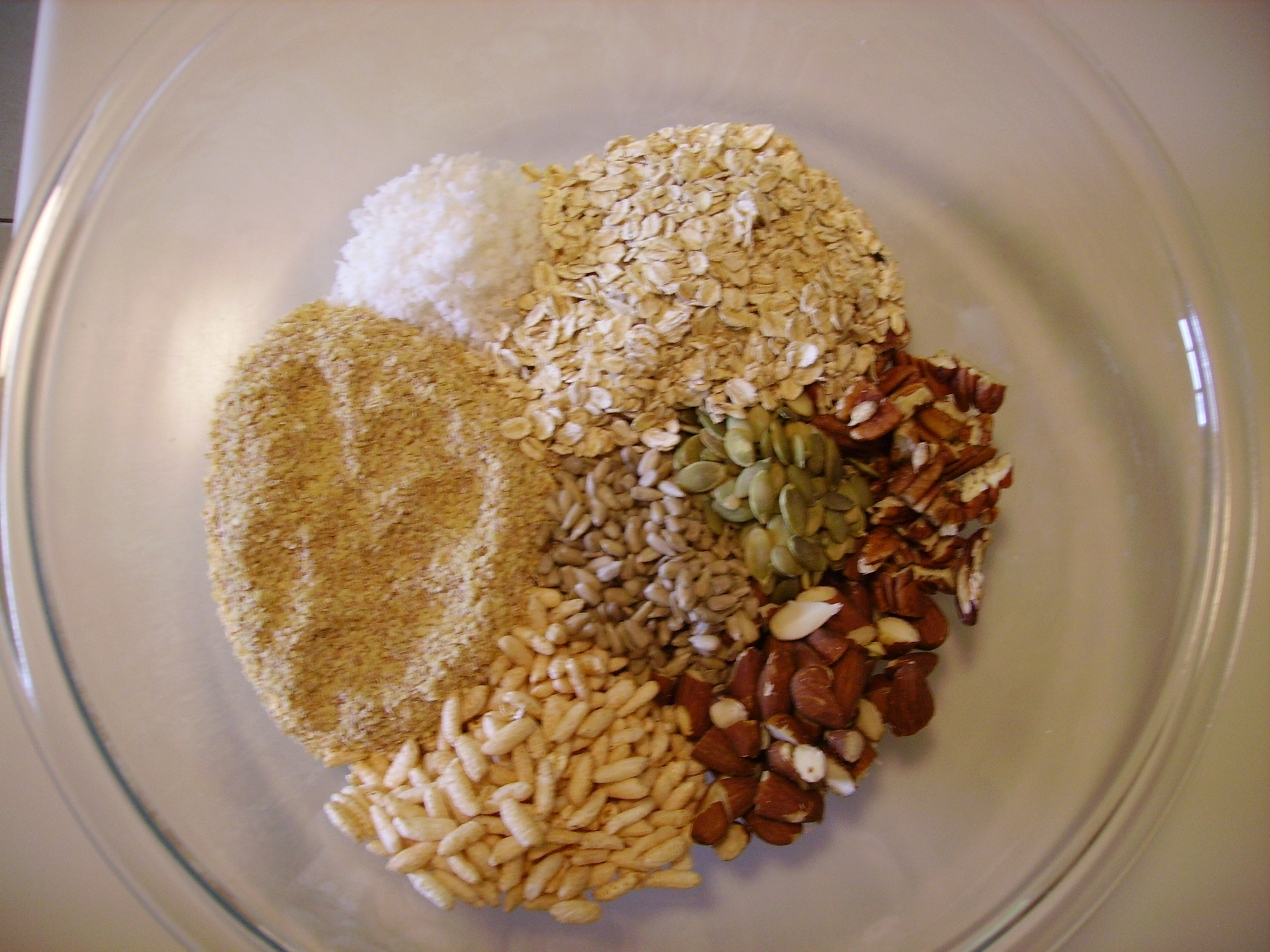 Here is the combination of dry ingredients I used. It doesn't look very proportional (all of this is sitting on top of a huge mound of oats), but you can definitely tell I got a little carried away in Whole Foods when I went to get wheat germ…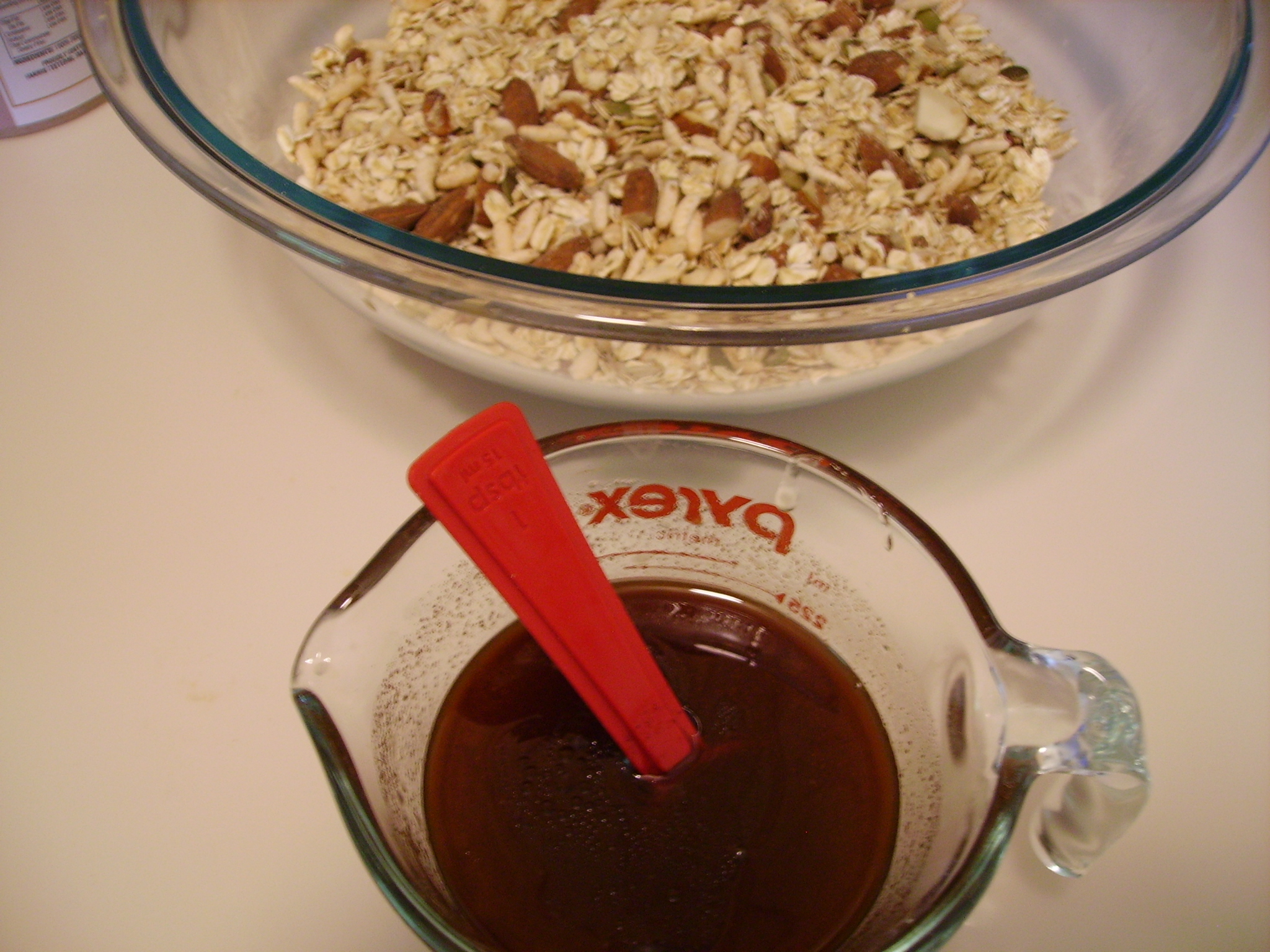 Here is the syrup I poured over the dry ingredients. I actually poured in a little extra honey, to even the amount out to 1 cup, and the proportion of liquid to dry ingredients seemed just about right. When I tasted this sticky sauce, it was not my favorite taste, by far, so all I can say about that is don't worry! Once this granola bakes, the strong flavors of the sauce mellow and combine with the toasty flavor of the grains and nuts to give just a subtle cinnamon sweetness.
As a side note, at this point in making the granola, my entire counter except for the tiny space on which I was taking these pictures had disappeared under ingredients and measuring utensils.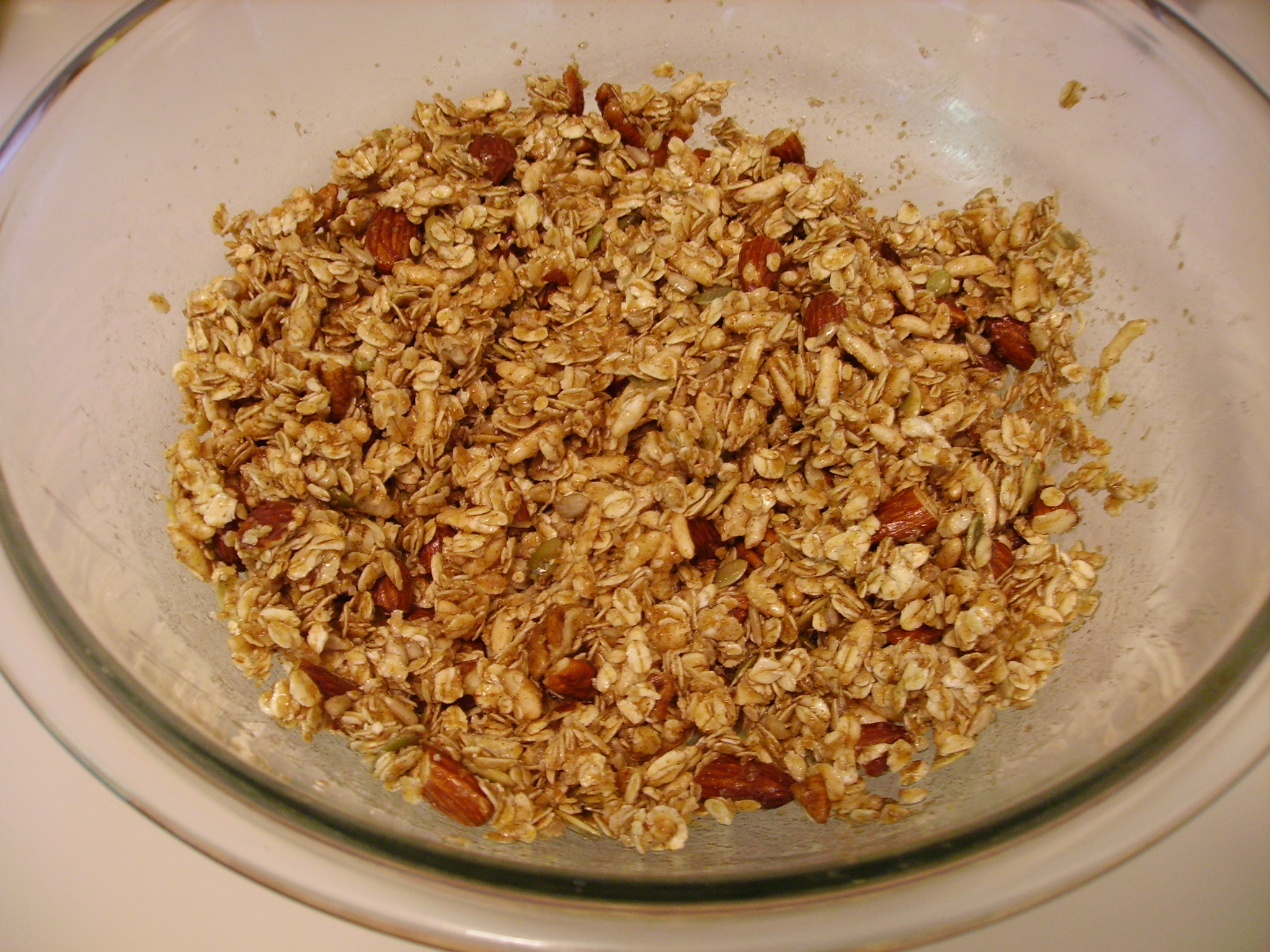 Mix the liquid into the dry ingredients about half at a time. Spread it out onto a dry cookie sheet in a medium thick layer (about ½″ thick or so) and put it into a preheated oven.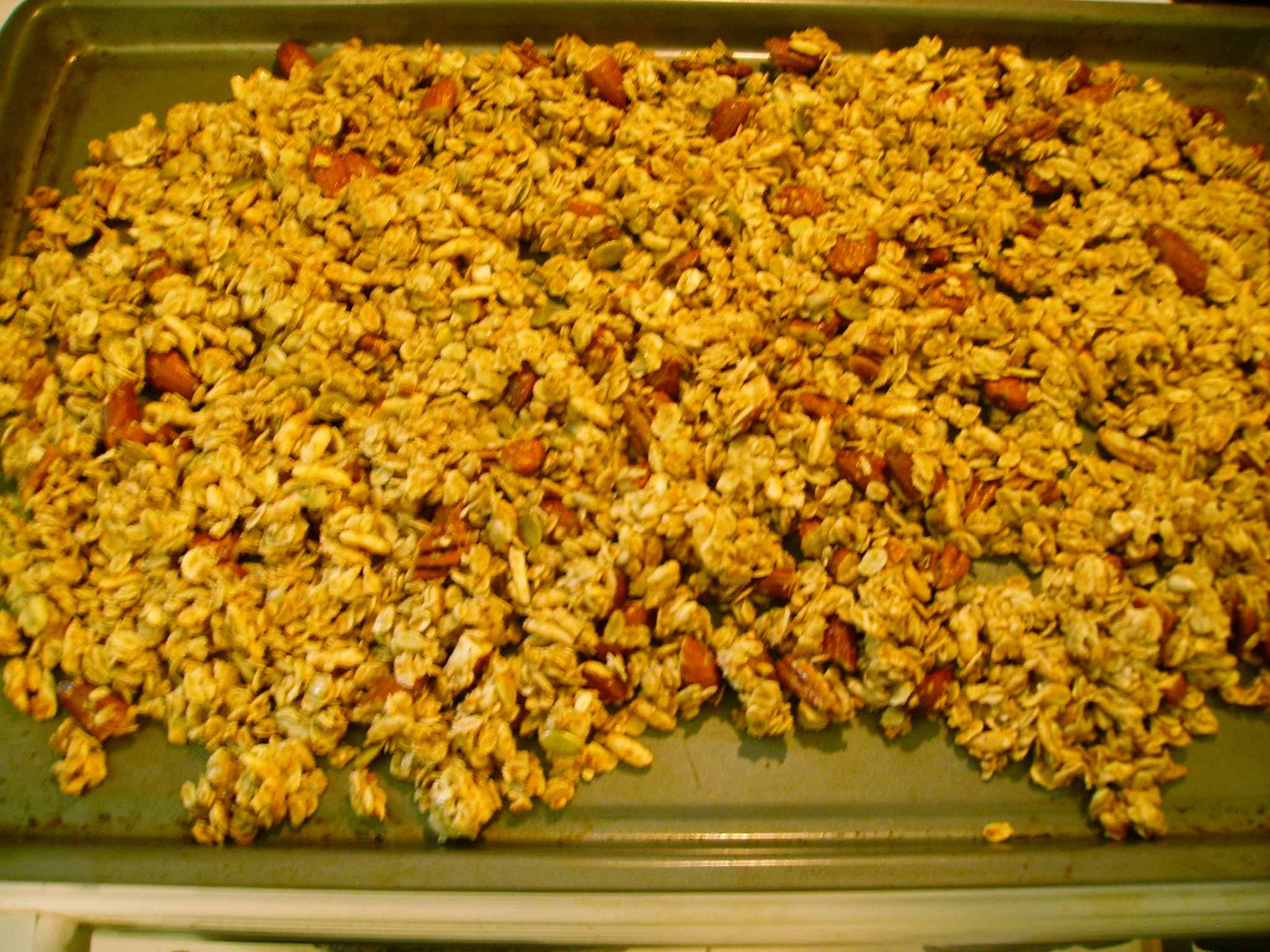 After 15 minutes, the granola will look something like this. Gently stir it–try not to disturb all of the small little clumps that are forming, as you don't want to turn the granola into a mountain of separate flakes. Let it keep its body!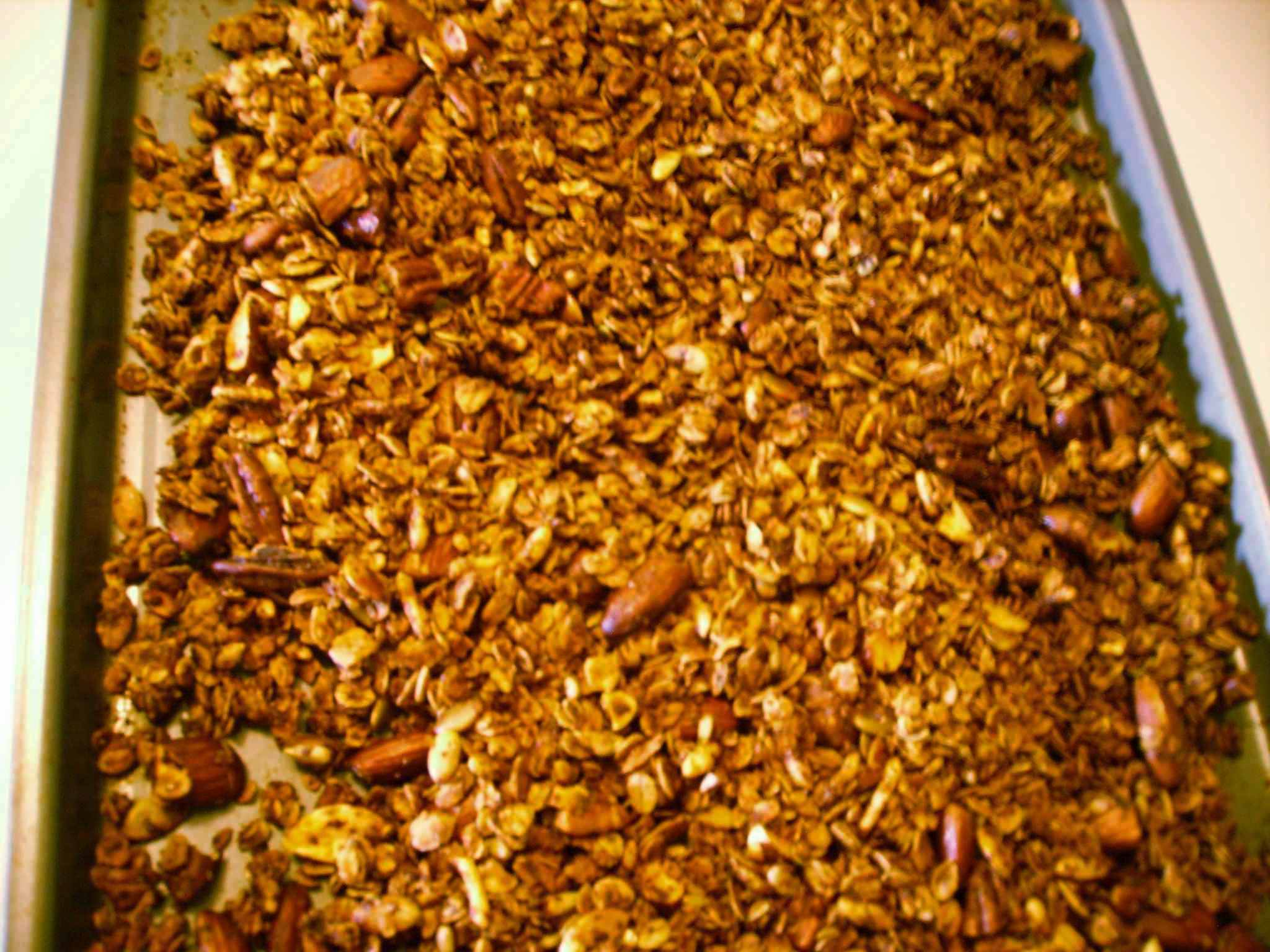 After about 50 minutes, having stirred every 15 minutes to prevent burning, the granola will be nice and toasty. Cool and then transfer to an airtight container to store.
Multigrain Granola
a Melissa original
makes 5 cups
Ingredients:
2 cups rolled oats
½ cup wheat germ
½ cup puffed rice
½ cup rough chopped almonds
¼ cup rough chopped pecans
2 tbsp. raw sunflower seeds
2 tbsp. pepitas (raw pumpkin seeds)
2 tbsp. grated coconut
½ cup honey or real maple syrup
¼ cup vegetable oil
1 tsp. cinnamon
2 tbsp. brown sugar
1 tsp. vanilla extract
1 tbsp. 100% orange juice
Directions:
Preheat oven to 300°.
Mix together the grains, nuts, seeds, and coconut in a large bowl.
Combine everything else in a 1-cup liquid measure. Pour the wet ingredients over the dry and mix together.
Spread out on a cookie sheet and bake for 50–60 minutes, stirring gently every 15 minutes. Try to maintain some clumps of granola during the stirring process.
Cool on the cookie sheet on top of a wire rack. Store in an airtight container.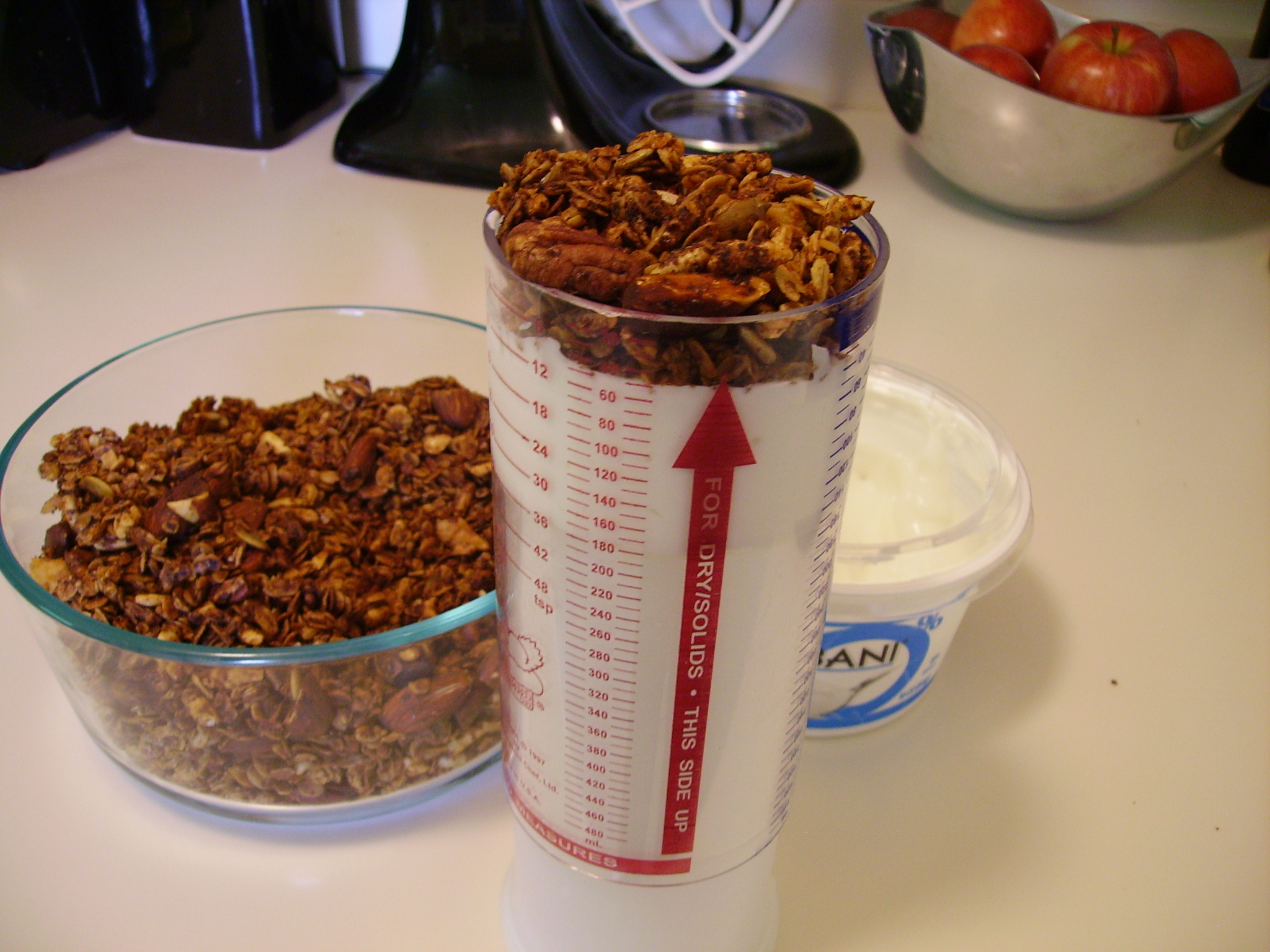 Enjoy!