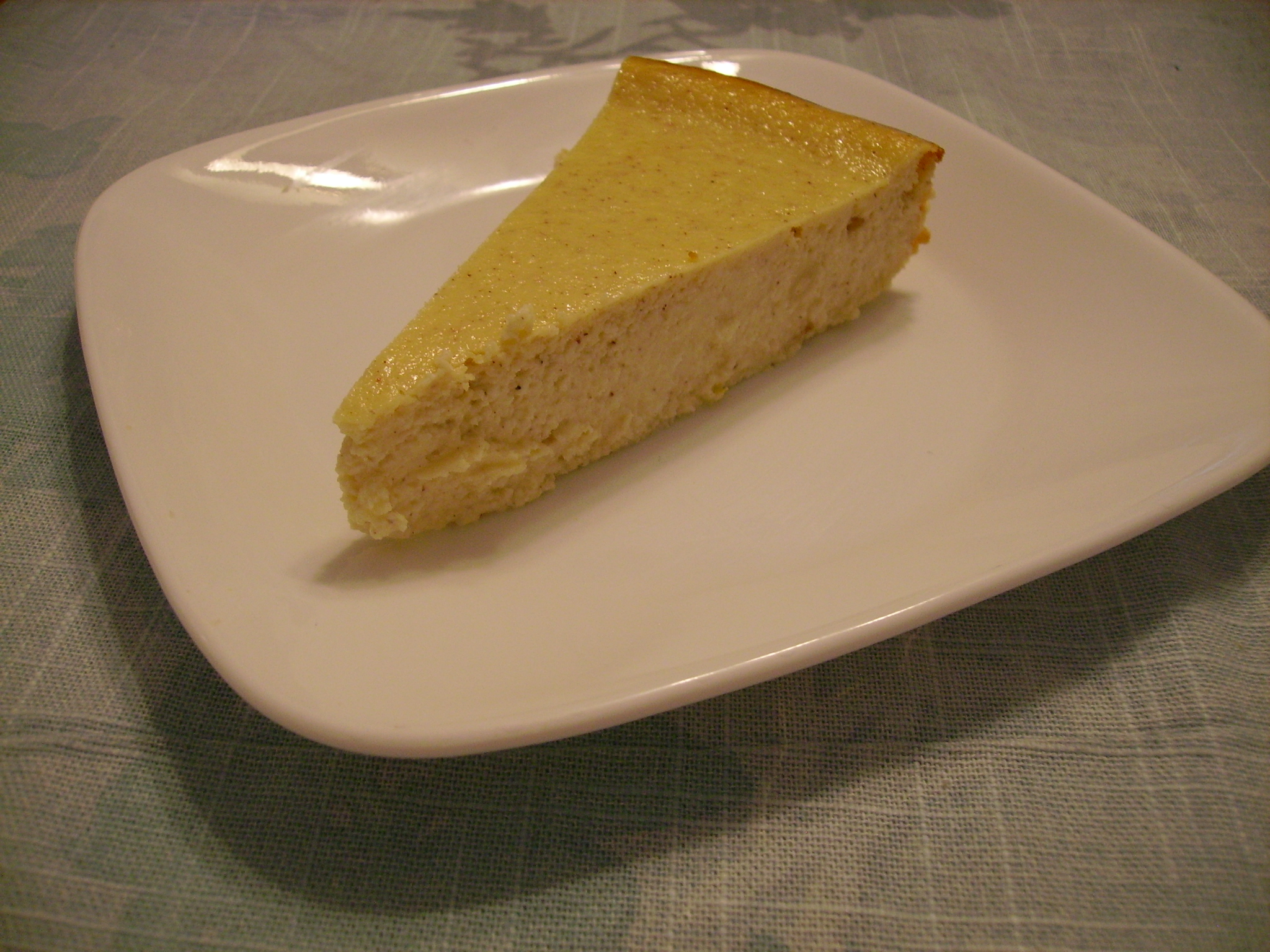 There is almost nothing more luscious than a cheesecake, am I right? Thick and creamy, sweet and slightly tangy…the perfect canvas for any flavor you are craving, be it chocolate, caramel, or even cherries.
But if you are anything like me, heavy-laden slices of cheesecake just don't make good summer fare. That's why, when I found a recipe for ricotta cheesecake, the cream cheese cake's skinnier cousin, in Ready for Dessert, I immediately went out and bought an obscene amount of ricotta cheese so I could try it. Why not have your cake and eat it too?
Now, before you get all excited about eating a guilt-free cheesecake, let me warn you that the ricotta version is more like a custard than a cheesecake. It is much less dense, though still creamy, and still a good canvas for your favorite add-ins. David Lebovitz suggested adding fruits…which I, of course, ignored.
I tried out two versions of this recipe. The first aimed to see whether I could sacrifice any of the dairy fats and still result in a cheesecake that was creamy enough to substitute for the New York-style cheesecake I am used to. I used part-skim ricotta and added extra flour to compensate for the extra liquid in the cheese. That version was fine, though a bit crumbier than I would have liked. But the second version, which was more true to David Lebovitz's recipe, was a delight.
One of my friends who is a professional pastry chef once mentioned using her "mental taster" before making anything to decide whether she wanted to change any of the ingredients. I took some liberties with the original recipe, because my own mental taster told me to, but I will note some of the main changes here in case your mental taster would like the fruitier version.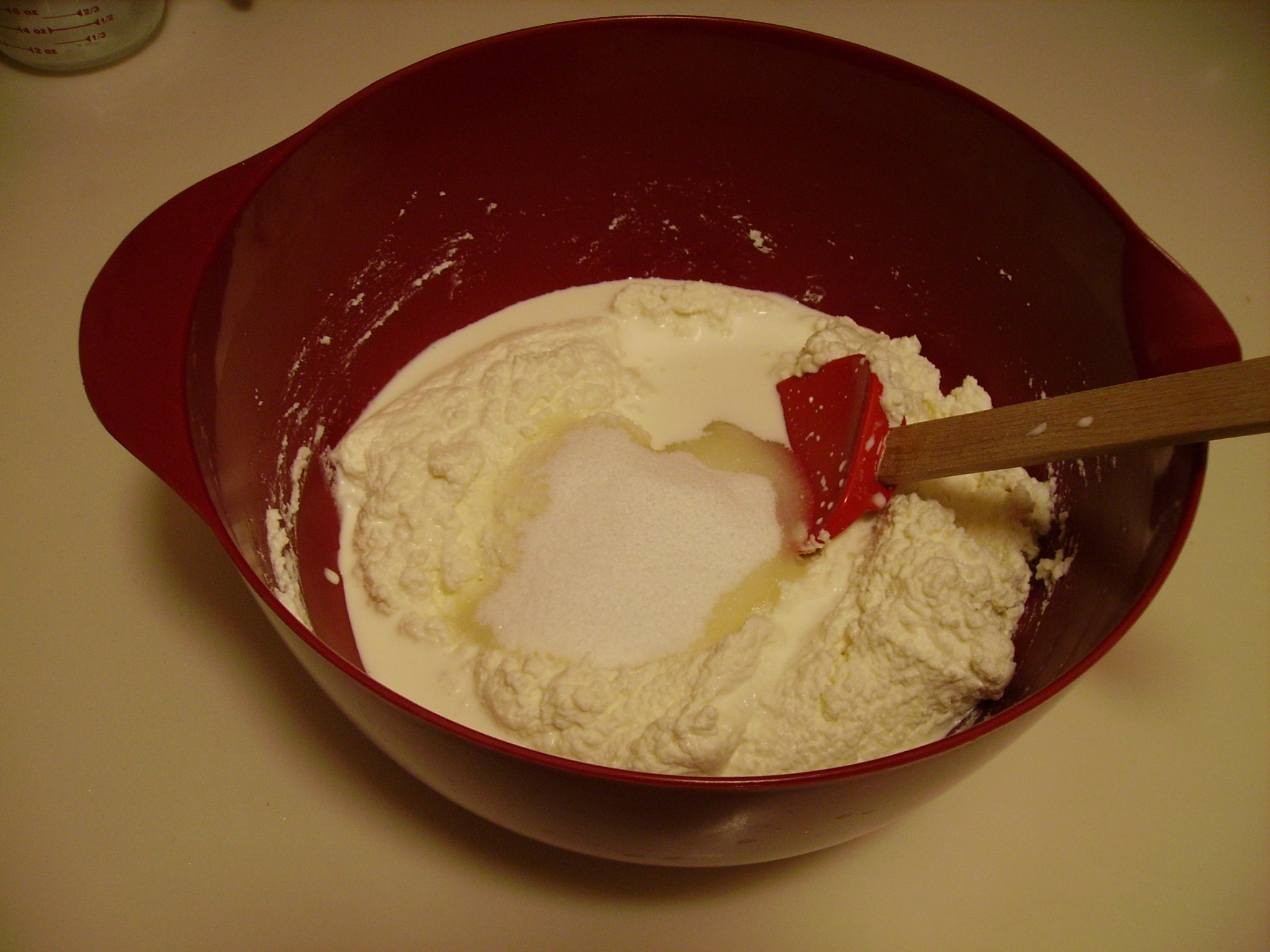 Start out by stirring together the ricotta, cream, and sugar. Don't over-stir or the cake will crack when it comes out of the oven, but do try to reach a creamy consistency.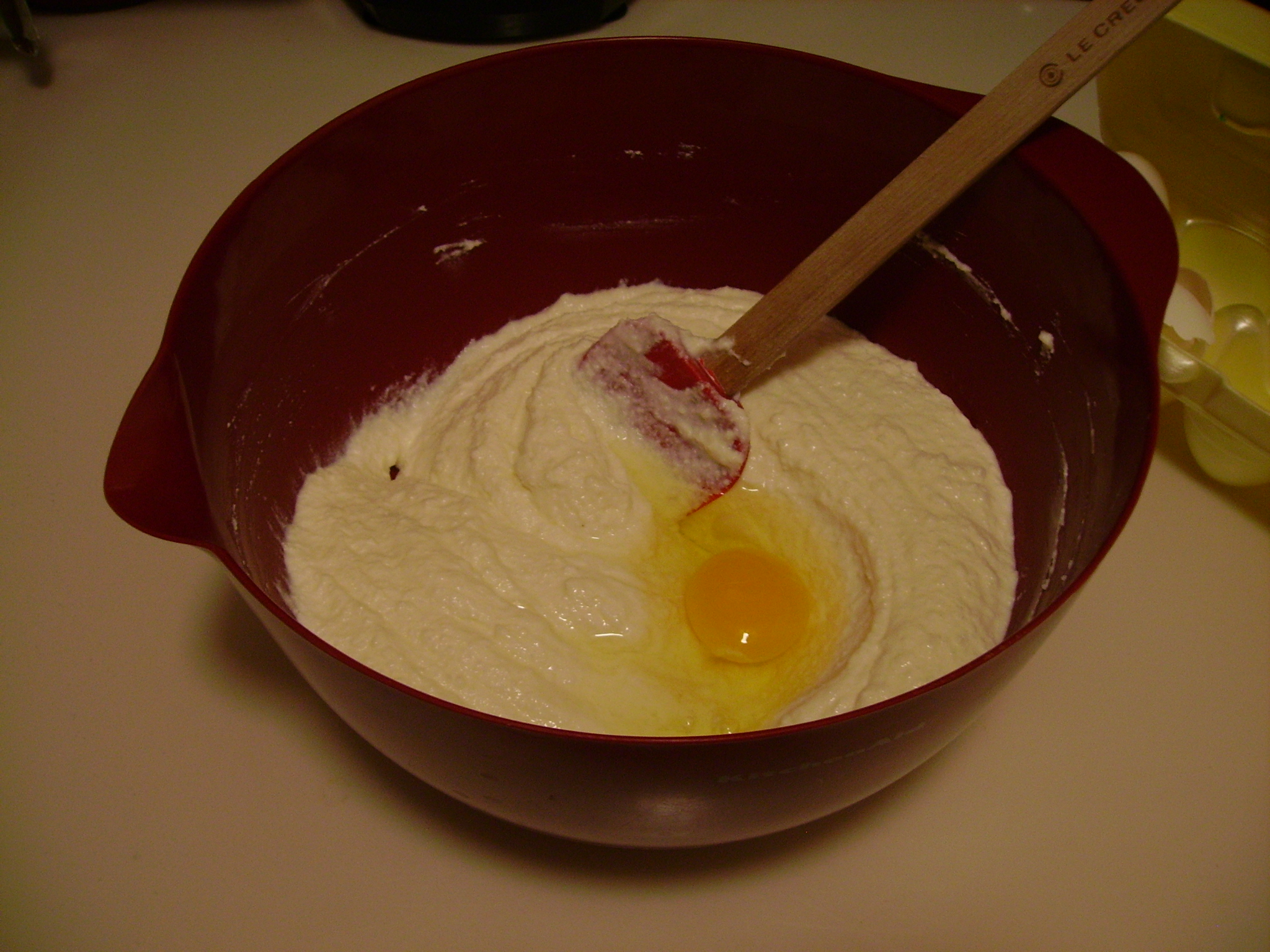 Stir in the eggs one at a time. Make sure to scrape the sides of the bowl well so everything gets properly mixed.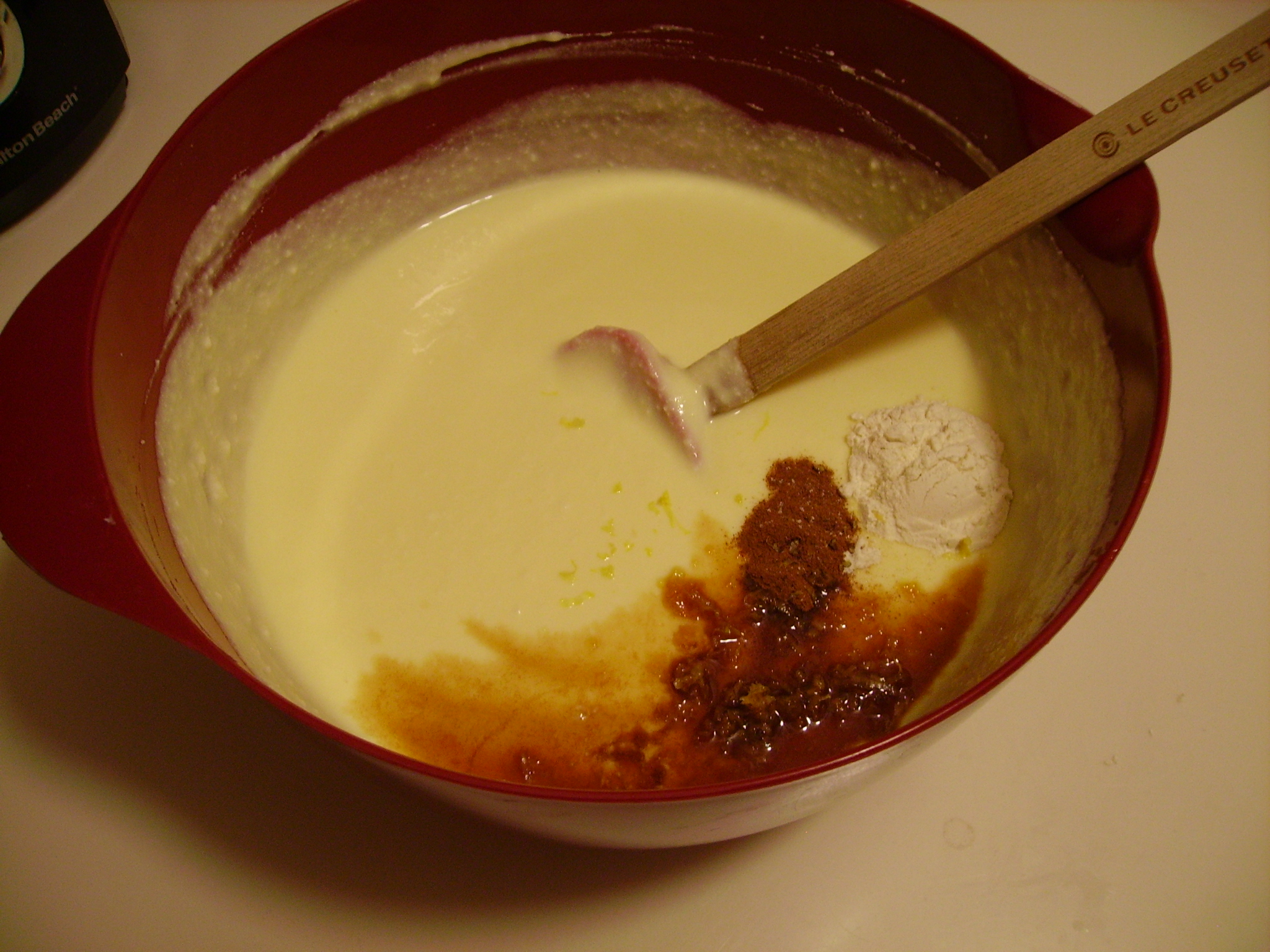 Stir in the cinnamon, flour, lemon zest, and vanilla extract. Here is where I majorly diverged from the original recipe: David Lebovitz started out with a raisin and port reduction, which he mixed in here. He also used crushed anise seeds instead of cinnamon, and orange zest rather than lemon. I wanted to go for a flavor more similar to a traditional creamy-tart cheesecake, like what I'm used to, so I stayed away from the stronger flavors and the fruit.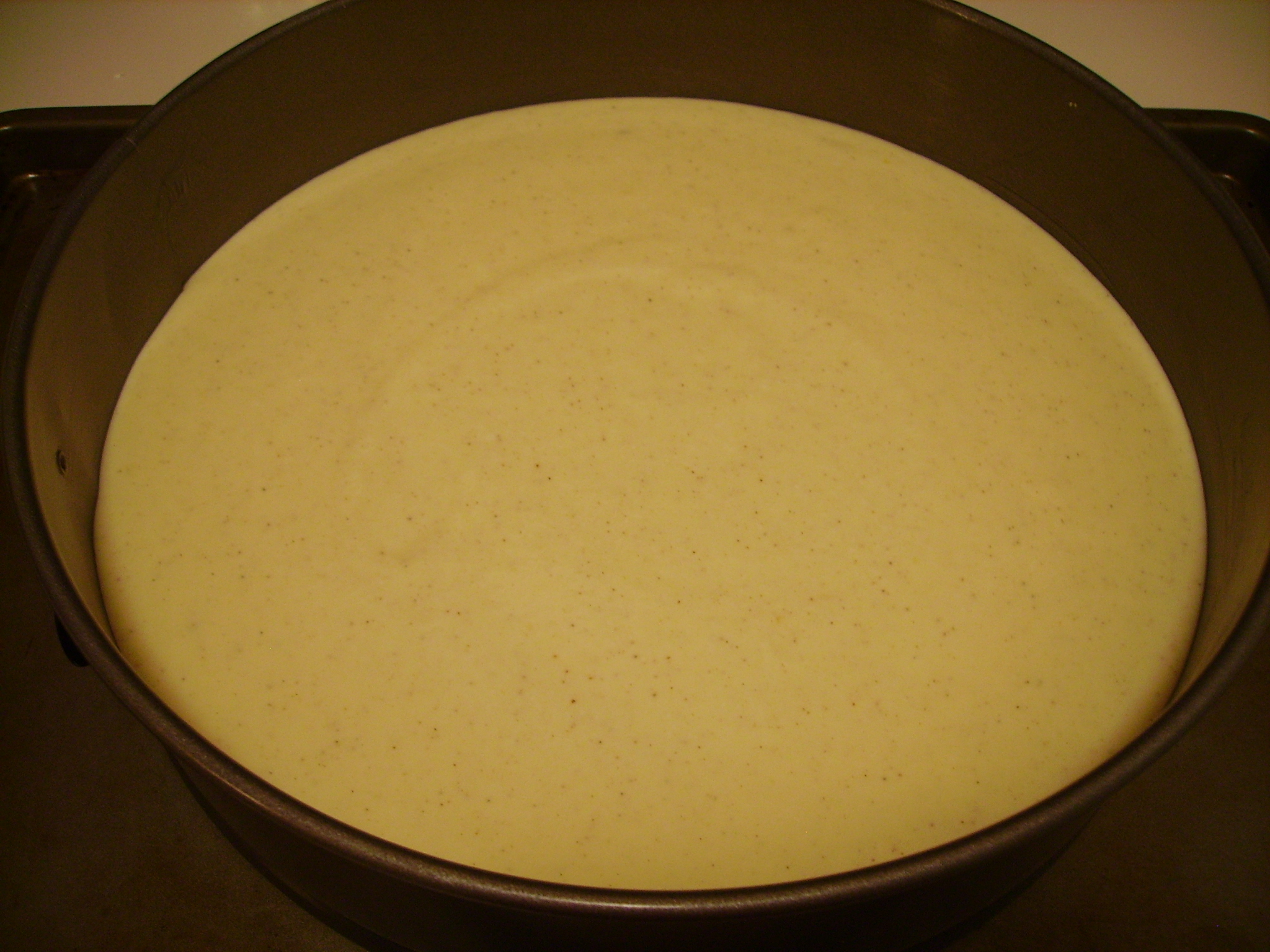 Pour the cheesecake batter into a prepared pan and bake for about 1 hour, until just set. I pulled mine out a few minutes before the hour was done, and the cake was very moist but maybe slightly less firm than I would have liked.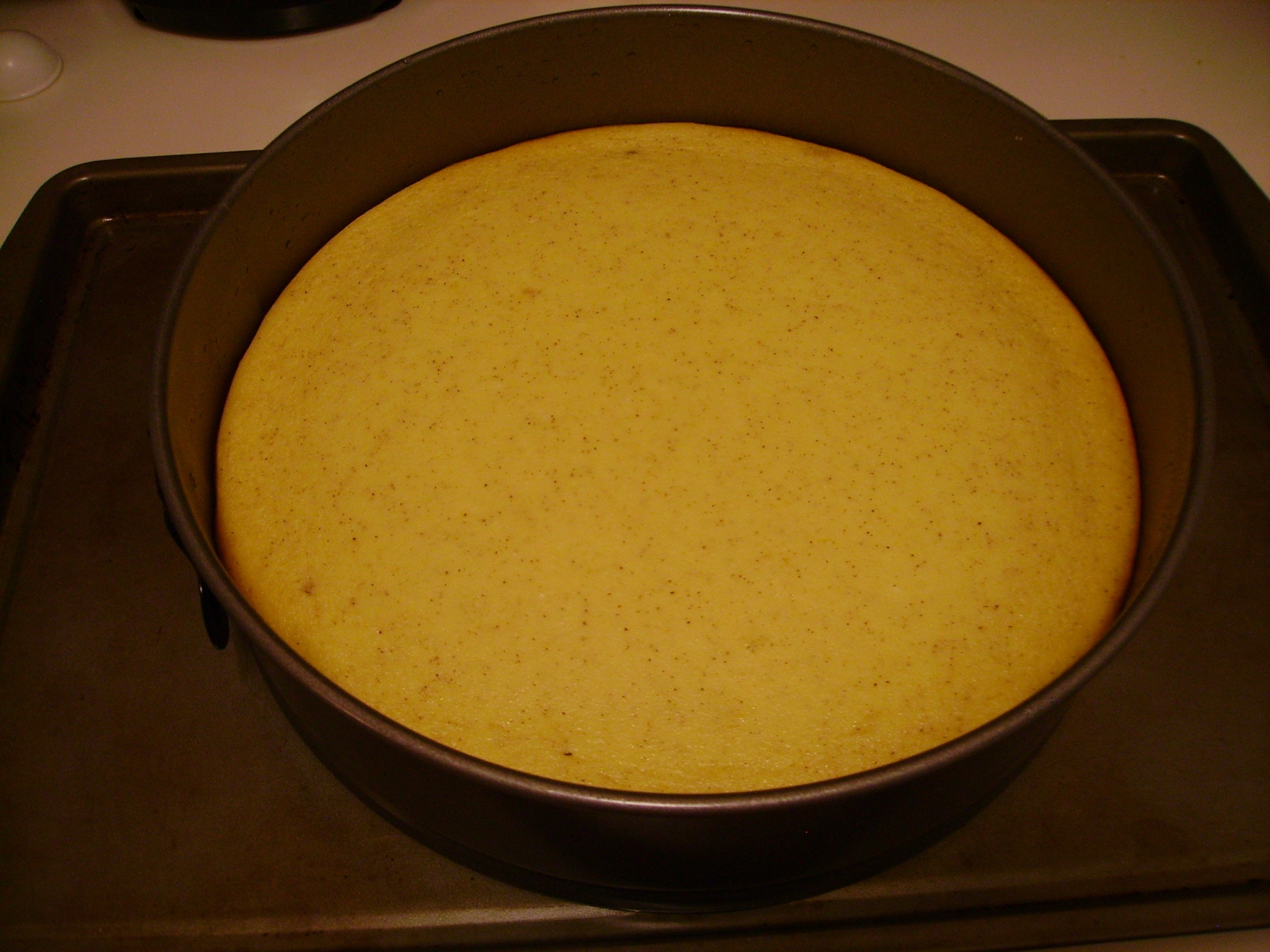 Right after removing from the oven, run a knife around the edge of the pan to loosen the cake. Let the cheesecake cool on a wire rack, then store, covered, in the refrigerator until ready to serve. This cheesecake would be great with toppings like whipped cream, a drizzle of chocolate or caramel, or even fresh fruit if you like that sort of thing. I ate mine plain and enjoyed it so much that I had another slice. After all…it is low-cal and low-fat…
Crustless Ricotta Cheesecake
adapted from Ready for Dessert
serves 12–16
Ingredients:
2 lbs. whole milk ricotta
¼ cup heavy cream
⅔ cup sugar
5 eggs, room temperature
½ tsp. cinnamon
1 tbsp. flour
1 tsp. lemon zest
2 tsp. vanilla extract
Directions:
Preheat oven to 350°. Grease the bottom and sides of a 9½″ springform pan. Flour the bottom only.
Mix together the ricotta, cream, and sugar until smooth. Do not overmix, lest the cheesecake crack in the oven.
Add the eggs, one at a time, stirring just until combined, and scraping the edges of the bowl after each addition.
Sift the cinnamon and flour together and stir into the batter. Stir in the lemon zest and vanilla.
Pour the batter into the prepared springform pan. Set the pan on top of a cookie sheet to catch any drips.
Bake for 1 hour, or until just set. Check the cheesecake starting at about 50 minutes. Take it out as soon as the center is set.
Cool the cheesecake to room temperature on a wire rack. Cover and store in the refrigerator until ready to serve.
Enjoy!