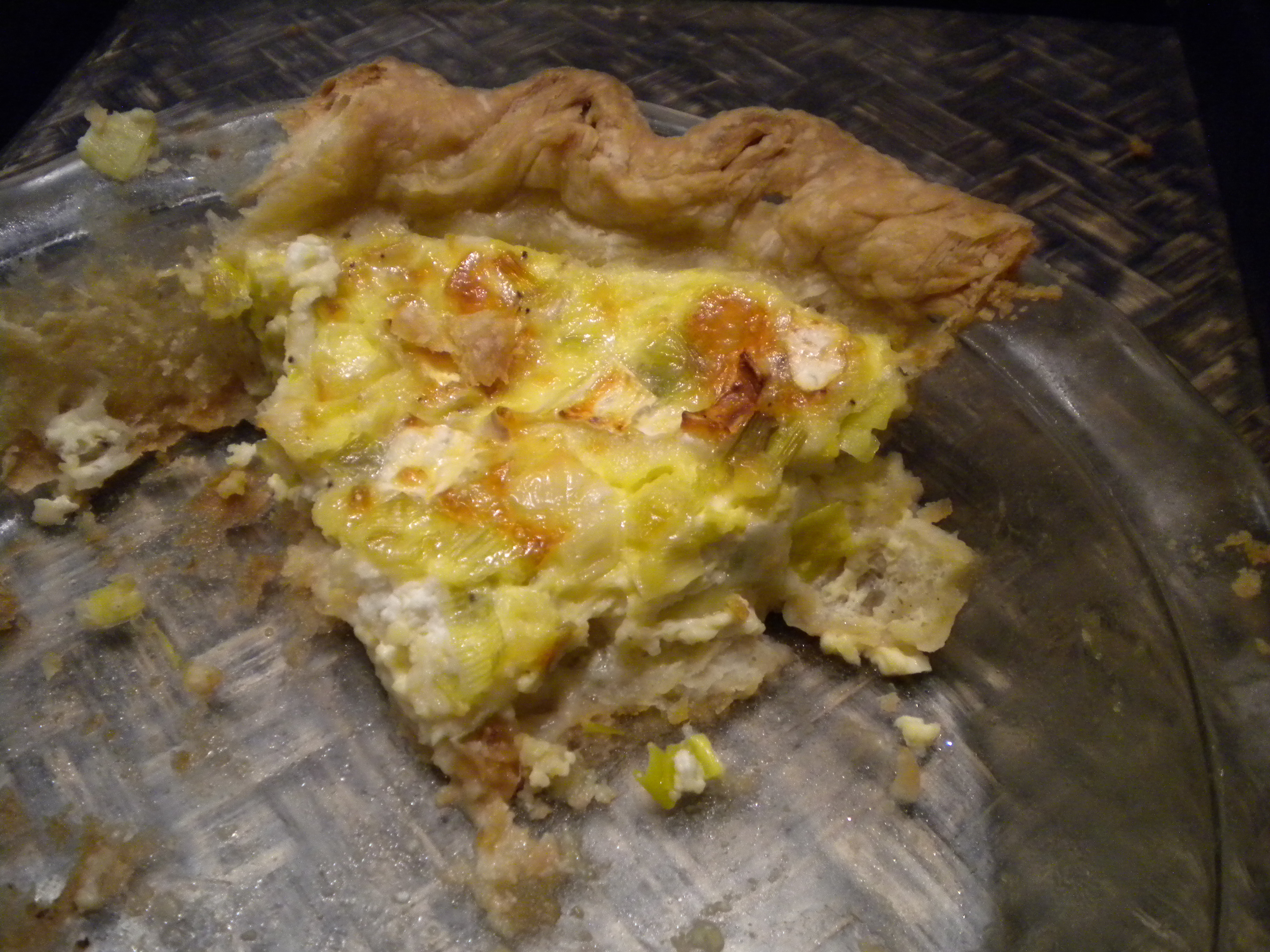 Macarons. Beautiful fresh veg from the local market. Pain au chocolat. Comté and dijon on a baguette. Crème au chocolat with an espresso. Wine at lunch. Crème brulée. Hot chèvre. Croissants.
Good grief. Food in France is an art…and I gained 5 pounds during the week my husband and I spent there, because everything was too delicious to pass up!
But I have to tell you a secret. Even though Paris was wonderful–full of well-known monuments, tourists, and boulangeries–my favorite time in France was when Dave and I visited his brother in Fontainebleau, a little town about 40 minutes outside the city. Dan described it as the ideal French provincial experience, and almost every second of our time there was perfect.
On our last afternoon in Fontainebleau, we were invited to join the local pastor's family for dinner, and Dan suggested we bring a quiche (which can also be called a "tart" in France). We got a huge leek from the marché, fresh French eggs, and beautiful chèvre. I got the privilege of making the crust for the tart (because even in France, where pastry reigns, a homemade pie crust is a thing of beauty).
For those of you that fear making pie crust, please set aside your worries and give it a try! I promise promise it is not as challenging as it seems, and you will never want to eat the cardboard crusts from the grocery store again. Homemade pie crust is flaky and flavorful, and it really takes minimal effort.
To make your own pie crust, all you need is flour, salt, butter, and water. To quote Ina, how easy is that?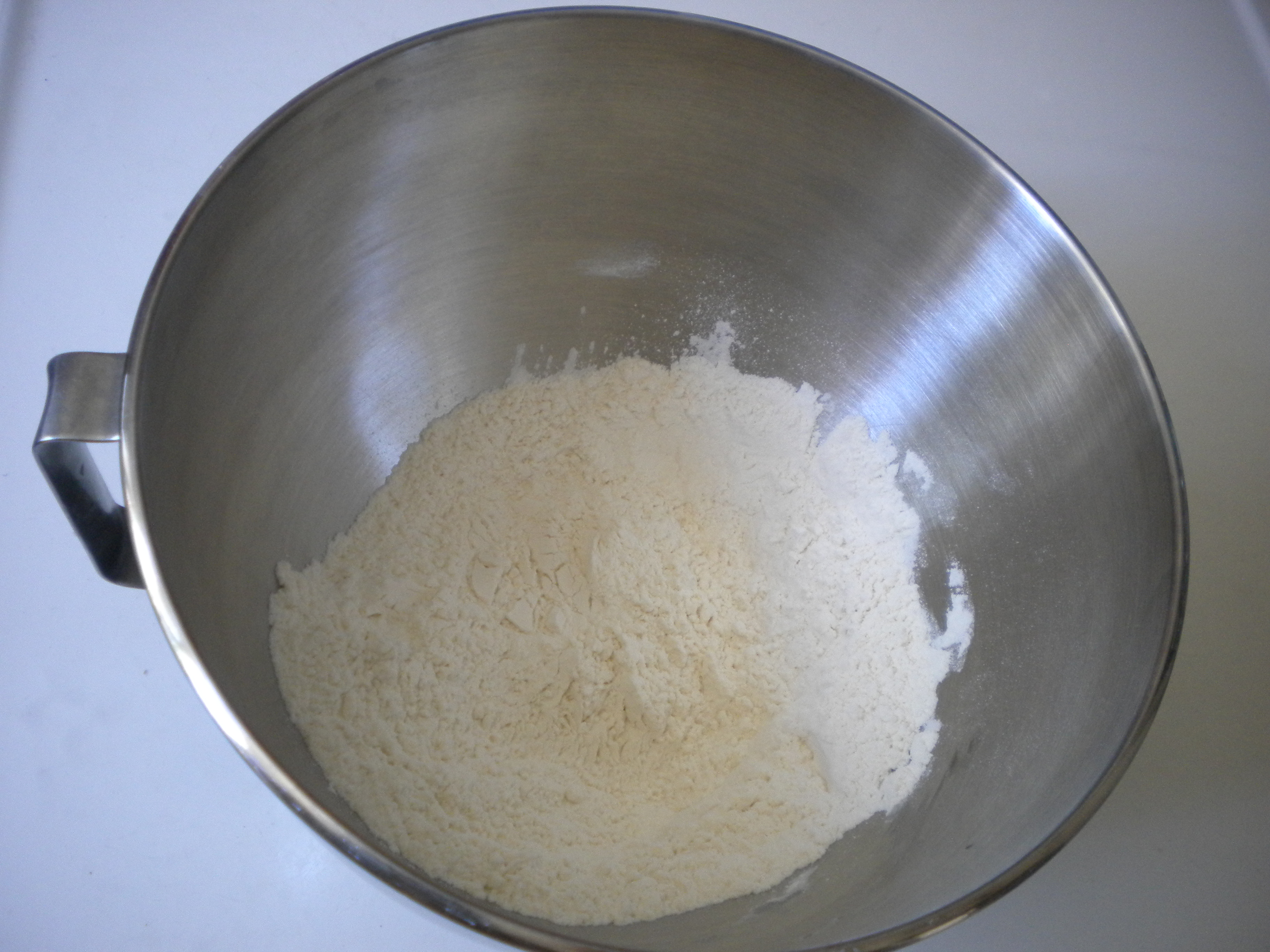 Whisk together the flour and the salt.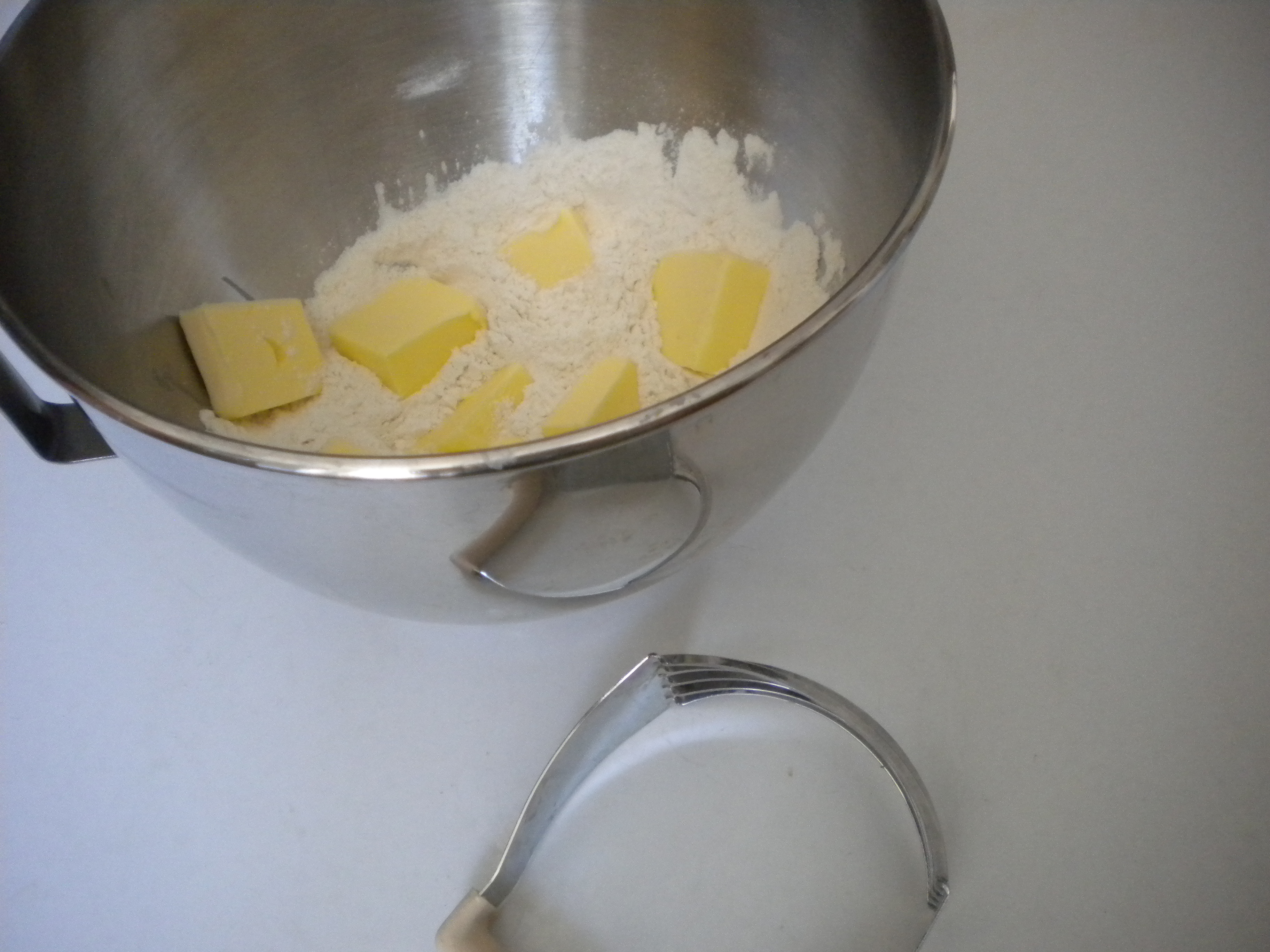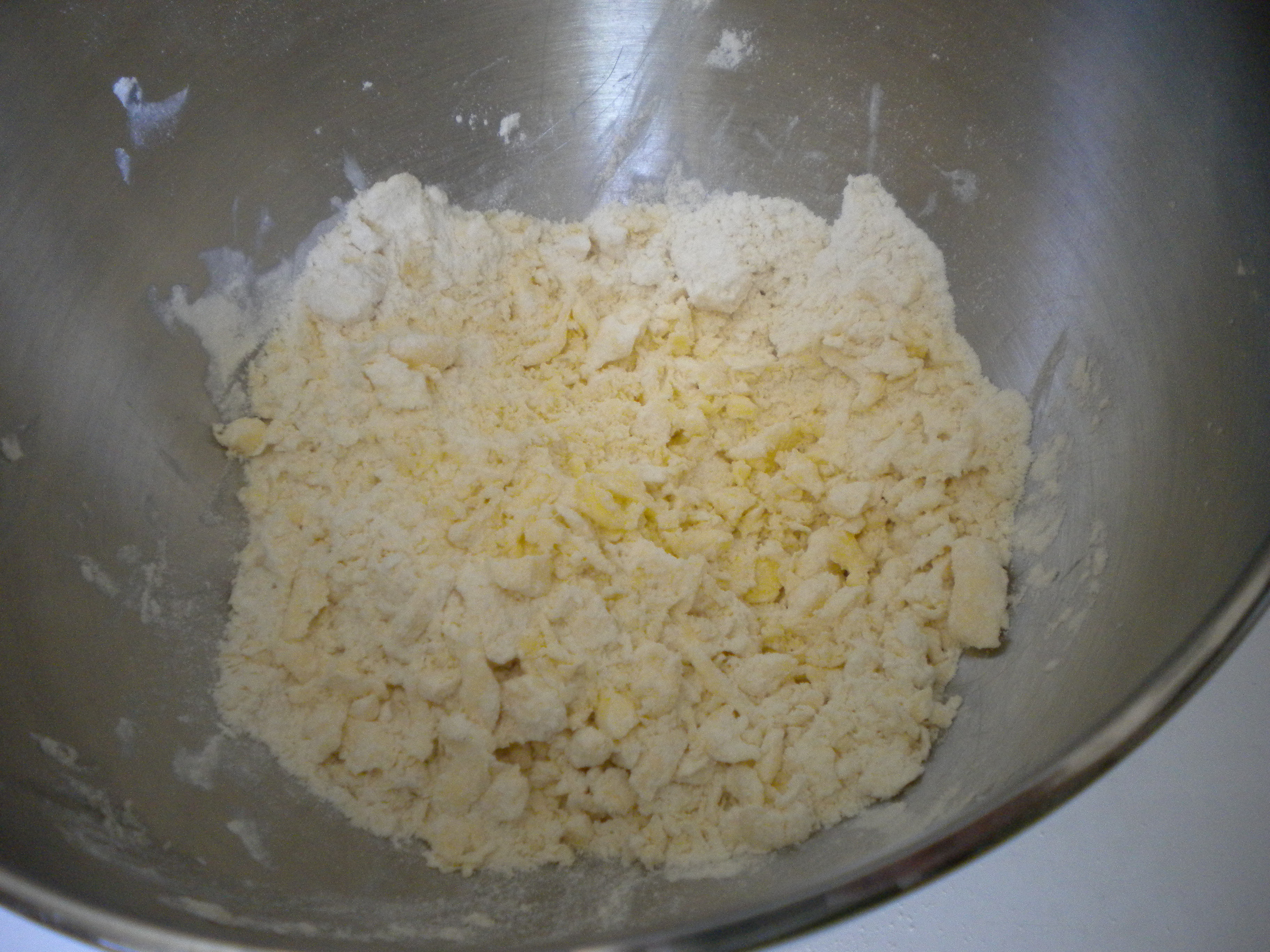 Cut in some really cold unsalted butter (if you only have salted butter, then omit the salt above). You want the butter to end up in pea-sized chunks, so that it will later melt into the crust and result in that flaky texture. In France, the refrigerator temperature is typically a bit higher, so my butter was somewhat softer than I would normally want for pie crust. You can see in my picture that the butter didn't all end up in little pill-size balls, that some of it flaked and squished instead. That's okay, because when the dough goes back in the fridge to chill, it will harden up enough to yield the right texture.
By the way, if the reason you don't make your own pie crust is that you don't have a pastry cutter, you can do this step with knives instead, though that will take longer. You could also use the no-effort method: a food processor!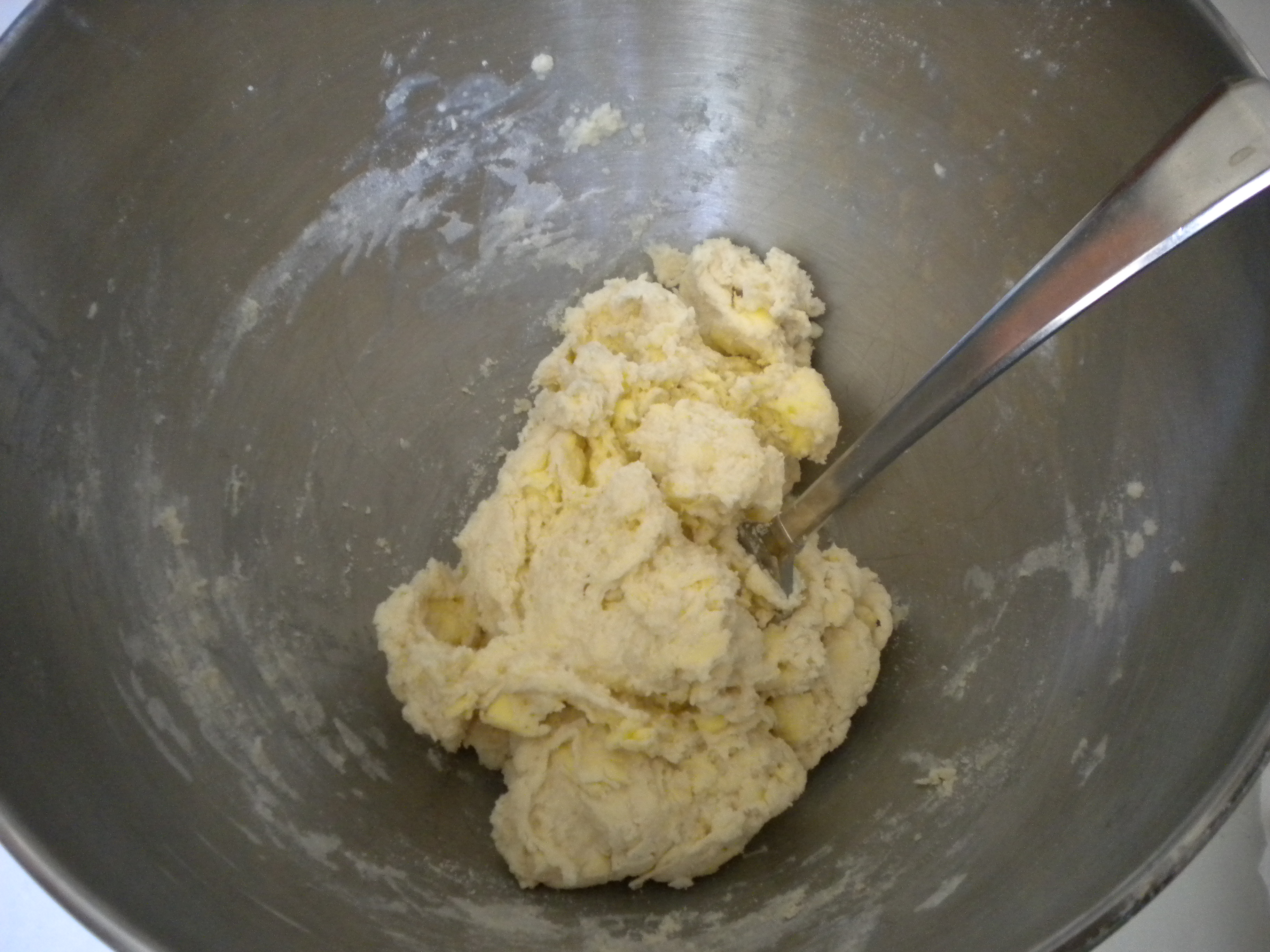 Add in ice water, a little at a time. Toss lightly with a fork to incorporate the water without over-stirring.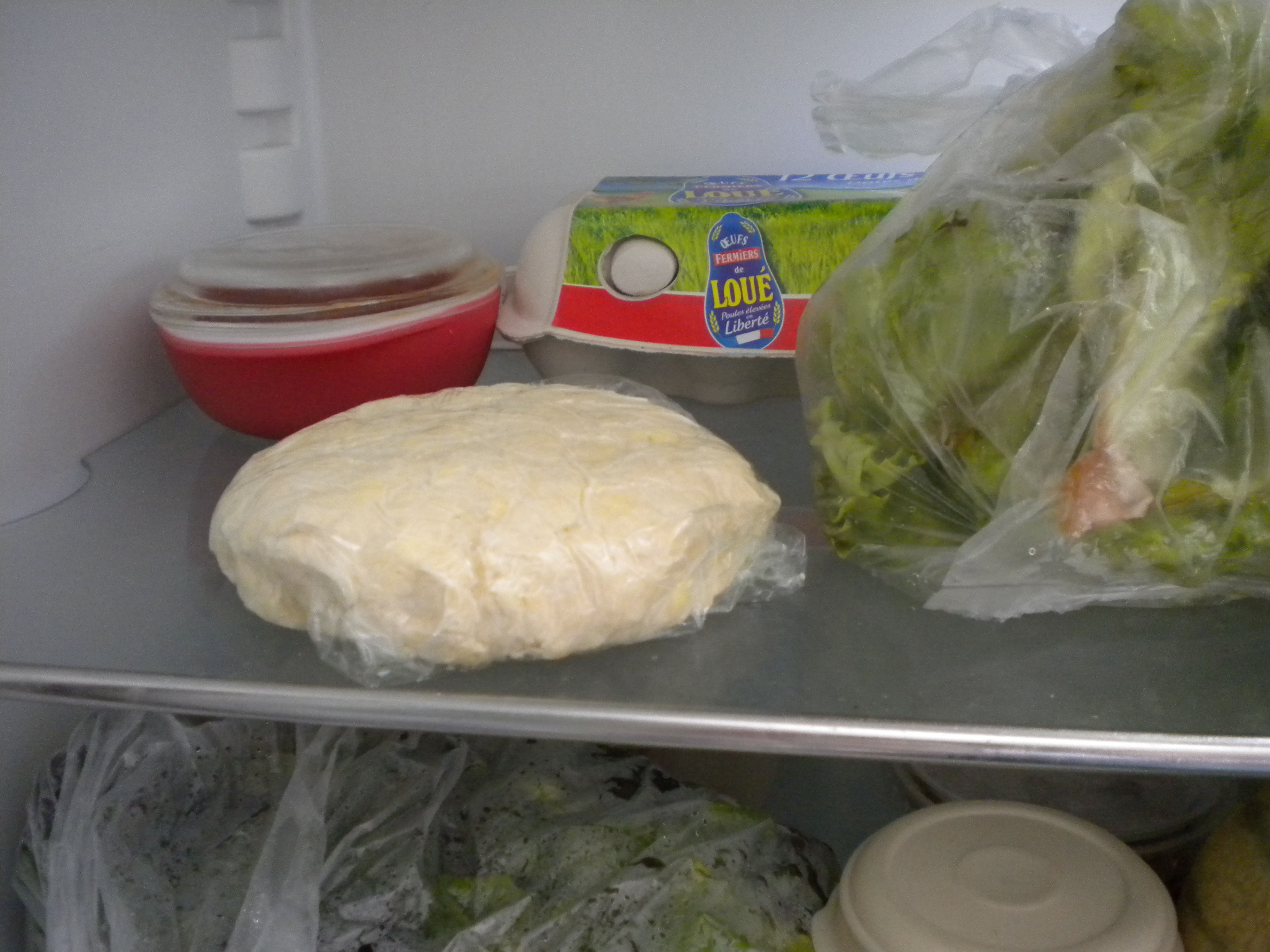 When the dough is completely combined, knead a few times, either in your hands or on a floured surface. Then flatten the dough into a 5″ disc and wrap in plastic wrap. Store in the fridge for at least 1 hour before rolling.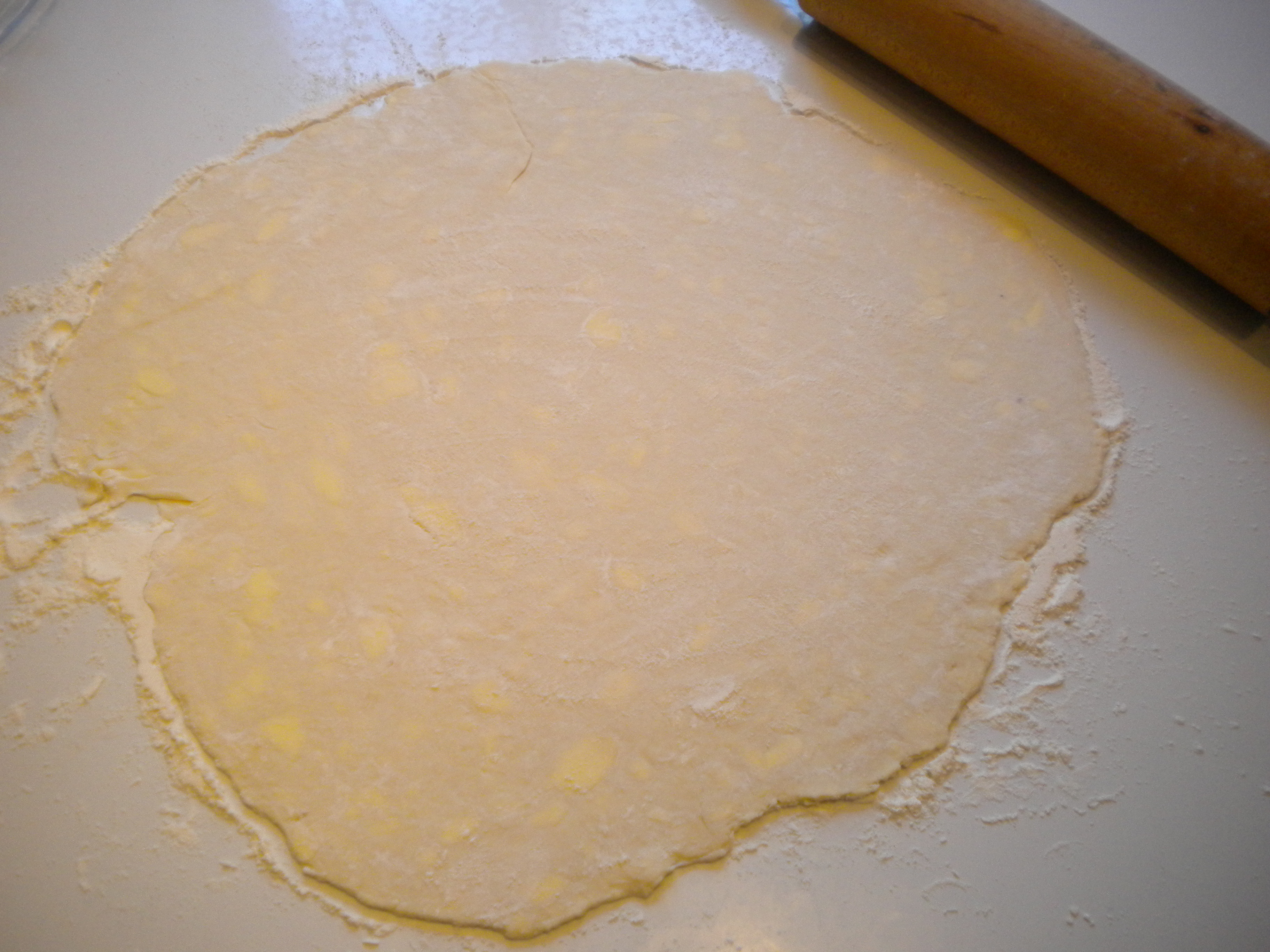 When the pie dough is sufficiently chilled/you are ready to bake, cover a clean surface with a generous layer of flour. Dust the top of the dough disk with flour. Gently roll out into a large circle, occasionally lifting the dough to redistribute flour as needed so it won't stick.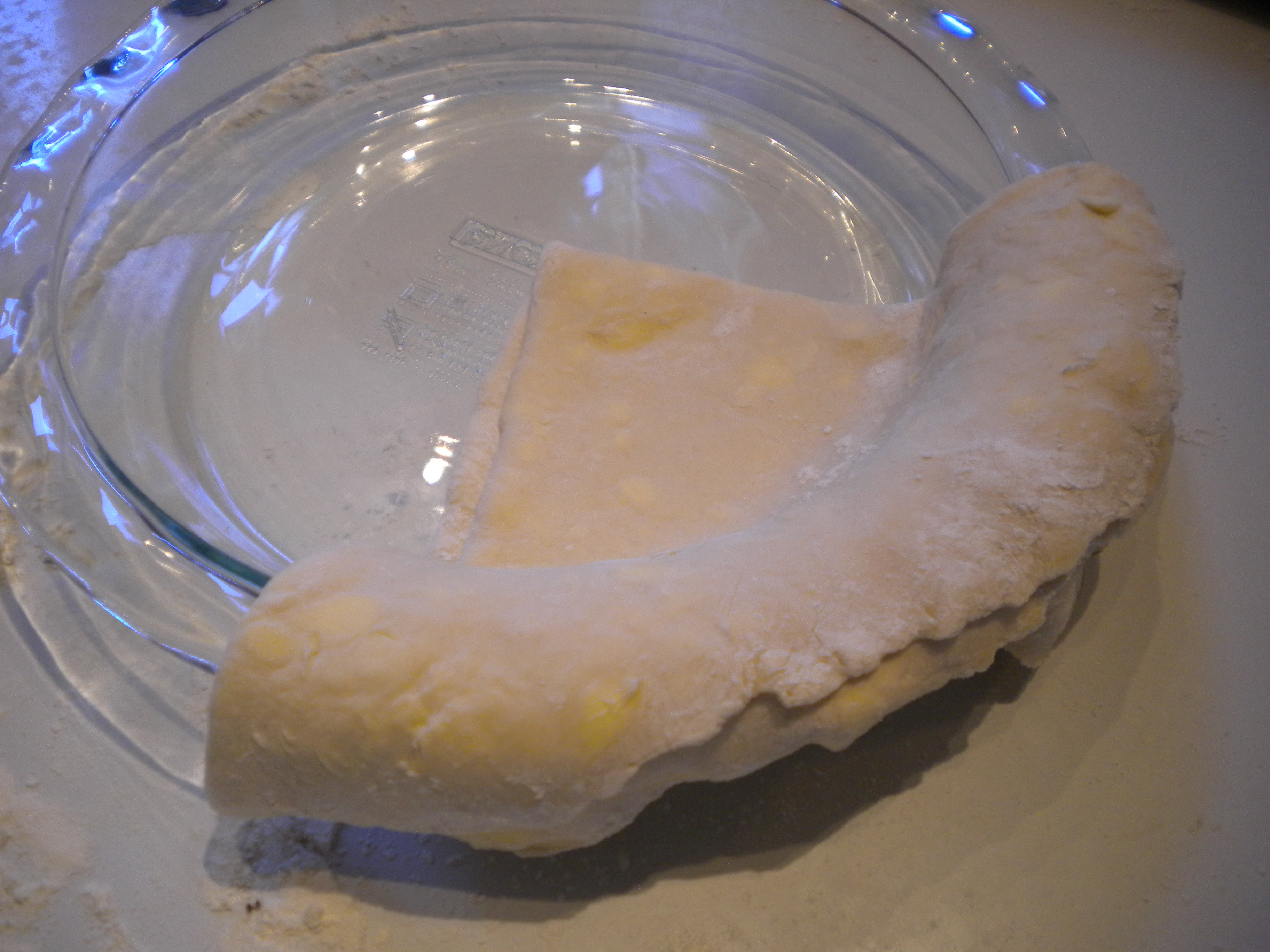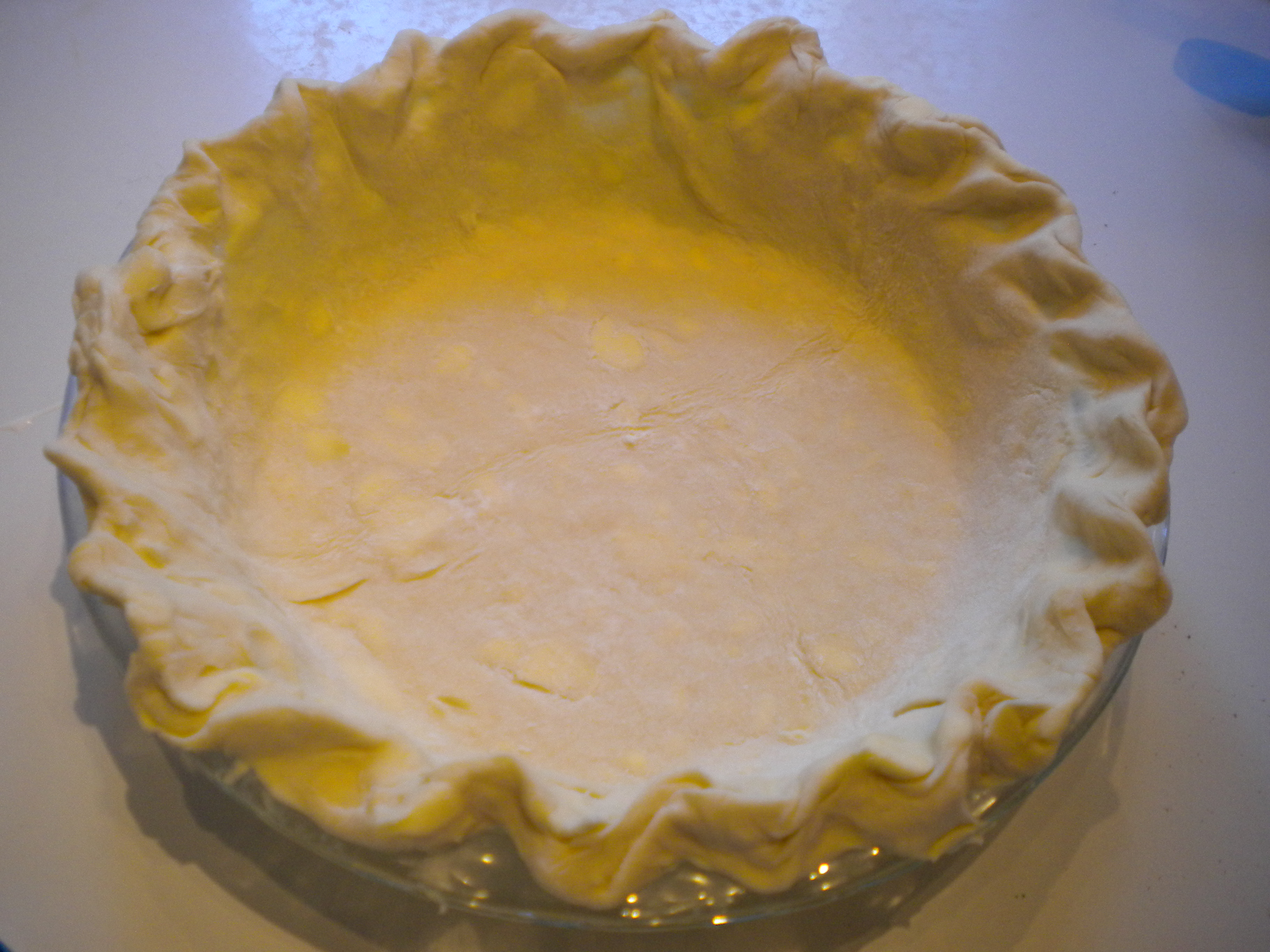 Fold the dough into a triangle and lift into the pie plate. Unfold in the center of the plate. Tuck the excess edges underneath and crimp in whatever fashion suits you. As you can see, my pie crusts, while tasty, tend to be ugly. I will say this is probably the ugliest one I've ever made…it was 36 degrees Celsius outside, which translates to about 97 degrees Fahrenheit. Because the French don't air condition, that meant that inside the house, though considerably cooler than standing outside in the sun, was quite warm, and the crust kept melting. Alas. I stuck it back in the fridge while my brother-in-law and I made the quiche components.
NOTE: I recommend a modification to the recipe I actually made. While the quiche was delicious, the crust itself would have been better if I'd pre-baked it at 400° for about 10 minutes before adding the quiche mixture. While it will still work if you don't do that, the bottom of the crust will get a bit soggy as the quiche is setting.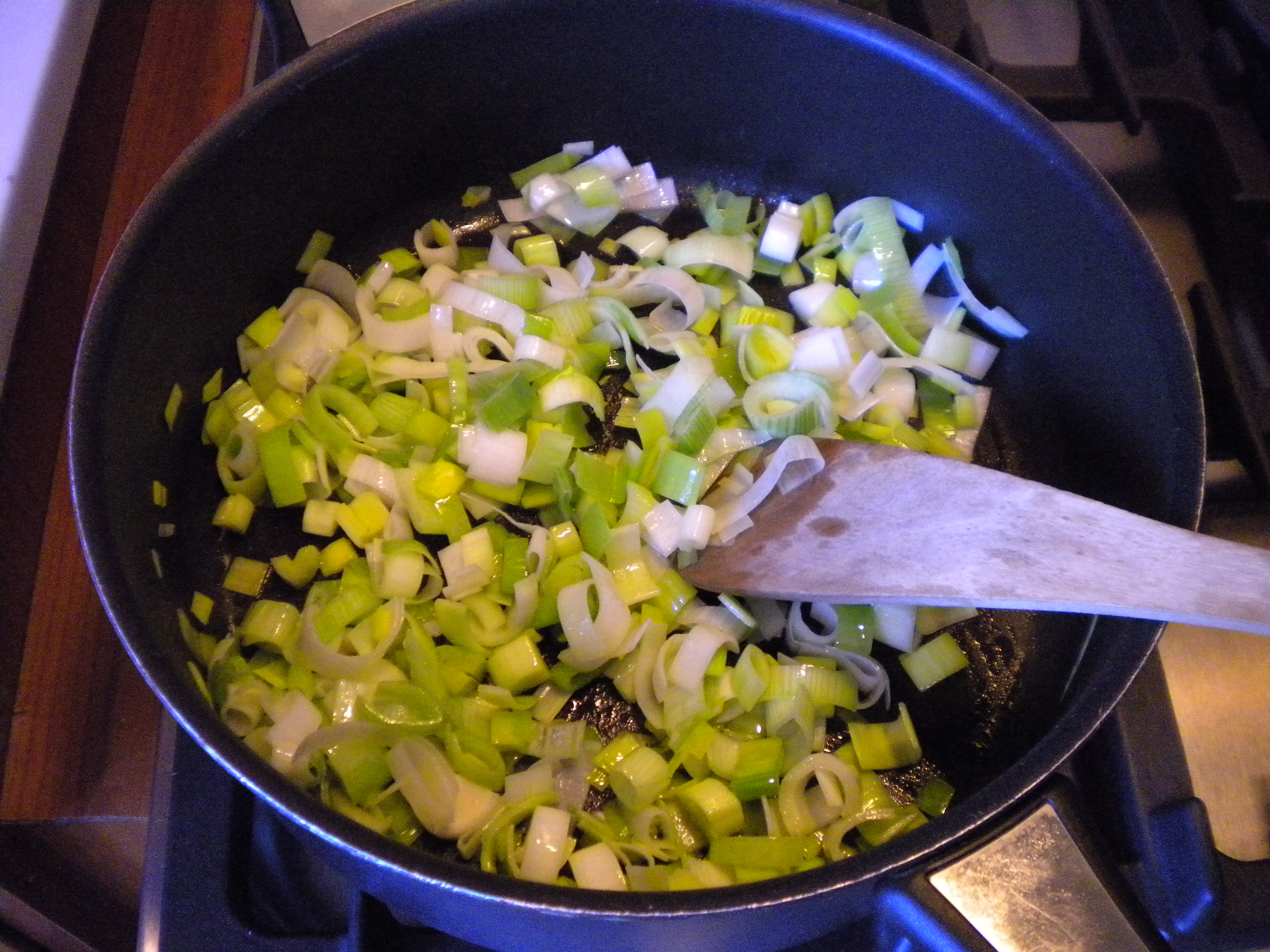 One cleaned leek, chopped into small half-moons, sauteeing merrily away. Apparently the French love leeks, so this was a classic choice.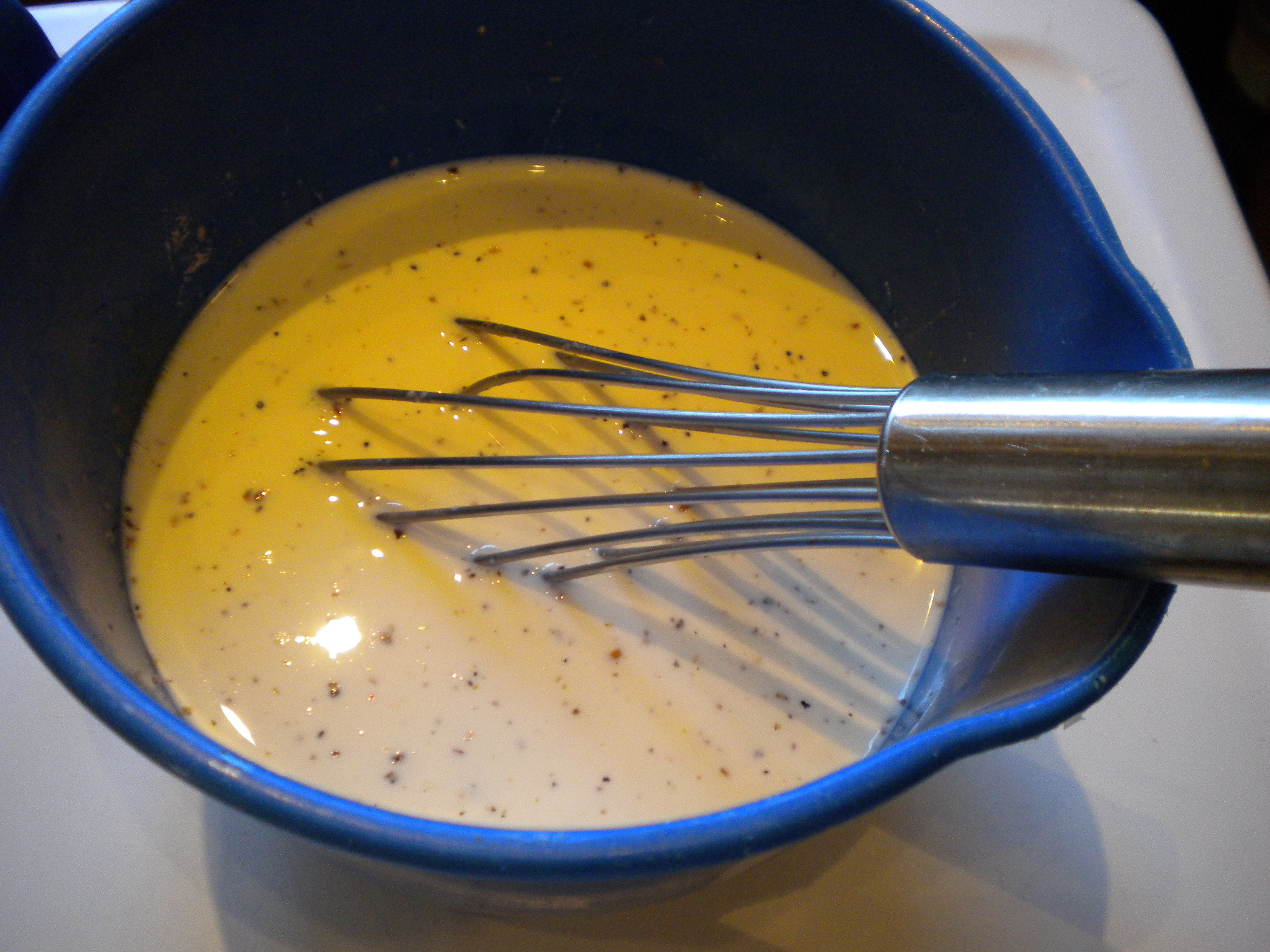 I asked our host how she normally makes the egg filling of quiche and we did it her way: 1 cup cream, 1 cup milk, 3 eggs, and salt and pepper. This is a much smaller ratio of eggs to dairy than I normally use, but when in Rome (er…Fontainebleau)!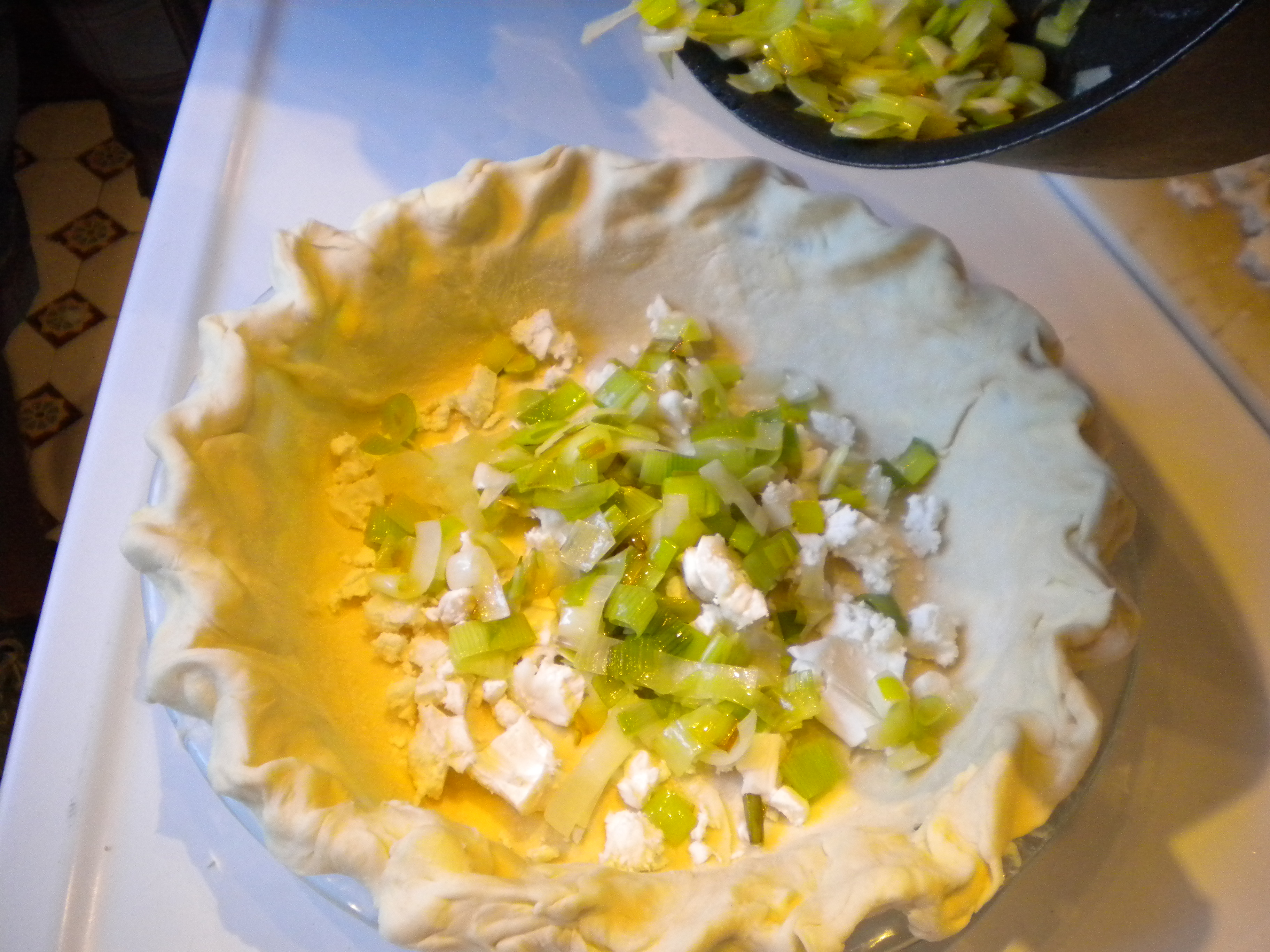 We crumbled up almost an entire 8 oz. log of chèvre and layered it with the sauteed leeks.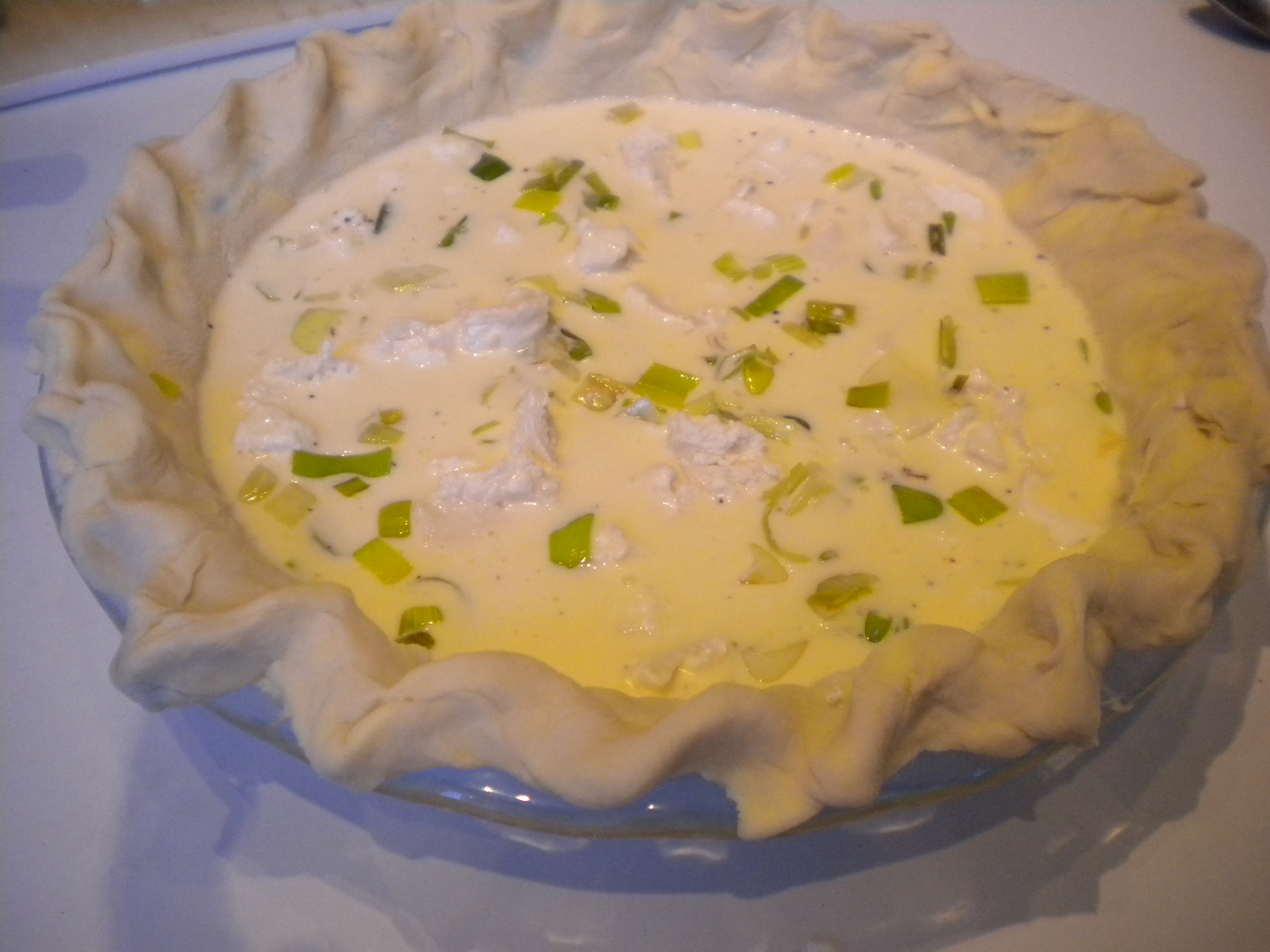 Then we poured the egg and cream mixture over top. This quiche baked for 50 minutes at about 350°.
NOTE: Normally, I would recommend tenting the crust with foil as soon as it browns, but unfortunately, as I was working in a kitchen other than my own, I didn't quite manage that. The crust is still great even if it gets a bit crispy.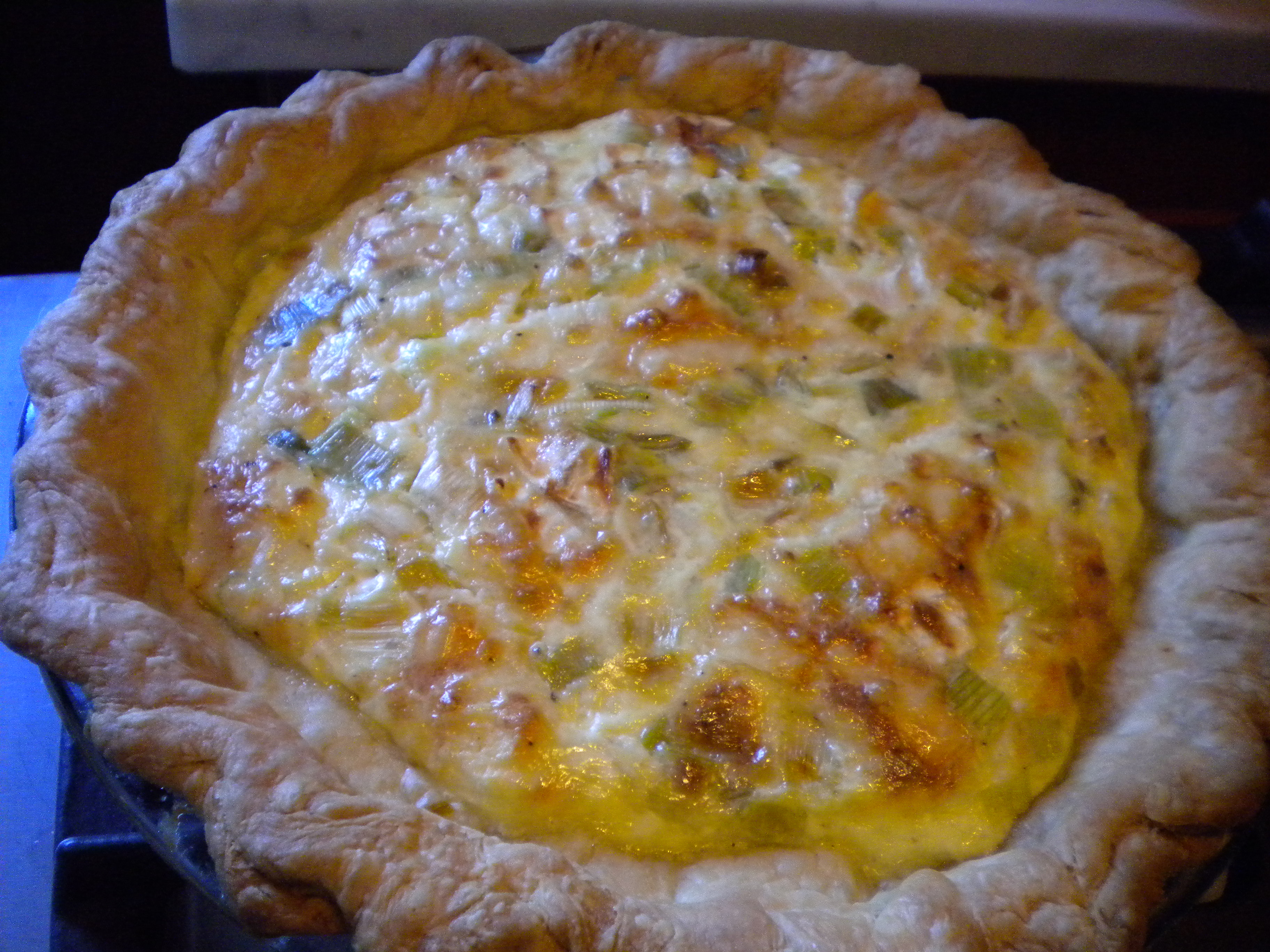 This quiche was enjoyed by all, though it was very soft out of the pan and didn't stand up stiff like a proper slice of pie. I highly recommend it as a special treat, but if you are calorie or fat conscious, consider substituting milk for cream, cutting back on the goat's cheese, and possibly adding an egg for extra protein. If you like an eggier quiche, decrease the milk/cream by half a cup total.
Leek and Chèvre Quiche
pie crust adapted from SmittenKitchen
quiche filling from Cooks Illustrated 1997, via Linda Eshel
serves 8-12
Crust Ingredients:
1¼ cups flour
½ tsp. salt
½ cup (1 stick, or if you're European, 125 grams) unsalted butter
¼ cup ice water, plus a few tbsp. as needed
Quiche Ingredients:
1 very large leek, green leafy ends trimmed off
1 splash olive oil
3 eggs
1 cup heavy cream
1 cup low-fat milk
½ tsp. salt
½ tsp. fresh ground black pepper
8 oz. chèvre, most of the mold shaved off
Directions:
Combine flour and salt. Cut in butter until uniform and fine. Sprinkle water over mixture a few tbsp. at a time, tossing lightly with fork. Knead the dough until it is fully combined, about 4–5 times.
Divide dough in half. Flatten each half into a disc about 5″ in diameter and wrap in plastic wrap. Refrigerate for at least 30 minutes and up to 1 week.
Preheat oven to 400˚.
When ready to bake, roll out carefully on a floured board, using a very light touch and regularly re-flouring the board to help prevent sticking. The dough may be a bit stretchy while it is cold.
Lay the pie plate upside down on top of the dough. Cut a wide circle around it and set the scraps aside for another use. Fold the circle of dough into quarters and gently transfer to the pie plate. Unfold the dough and arrange in the center of the plate. Tuck the excess under the edges and crimp using index finger and thumb.
If pre-baking the pie shell (which I didn't do but recommend), prick the dough vigorously with a fork to help prevent shrinking. In that case, bake 10 minutes, until almost cooked through.
Lower the oven temperature to 350°.
Whisk together the eggs, cream, milk, and seasonings in a small bowl.
Crumble the goat's cheese into the bottom of the crust. Layer with sauteed leeks.
Pour the prepared egg and cream mixture over the leeks and cheese.
Bake for 45-50 minutes at 350°. As soon as the crust starts to brown, tent it with foil to prevent from burning.
The quiche is done once it has mostly set, meaning that it jiggles very little when it comes out of the oven. Test by cutting into the middle of the quiche with a knife. If any liquid pools in the sliced spot, the quiche needs another few minutes.
Once it's done, let cool for 10-15 minutes before eating.
Enjoy!