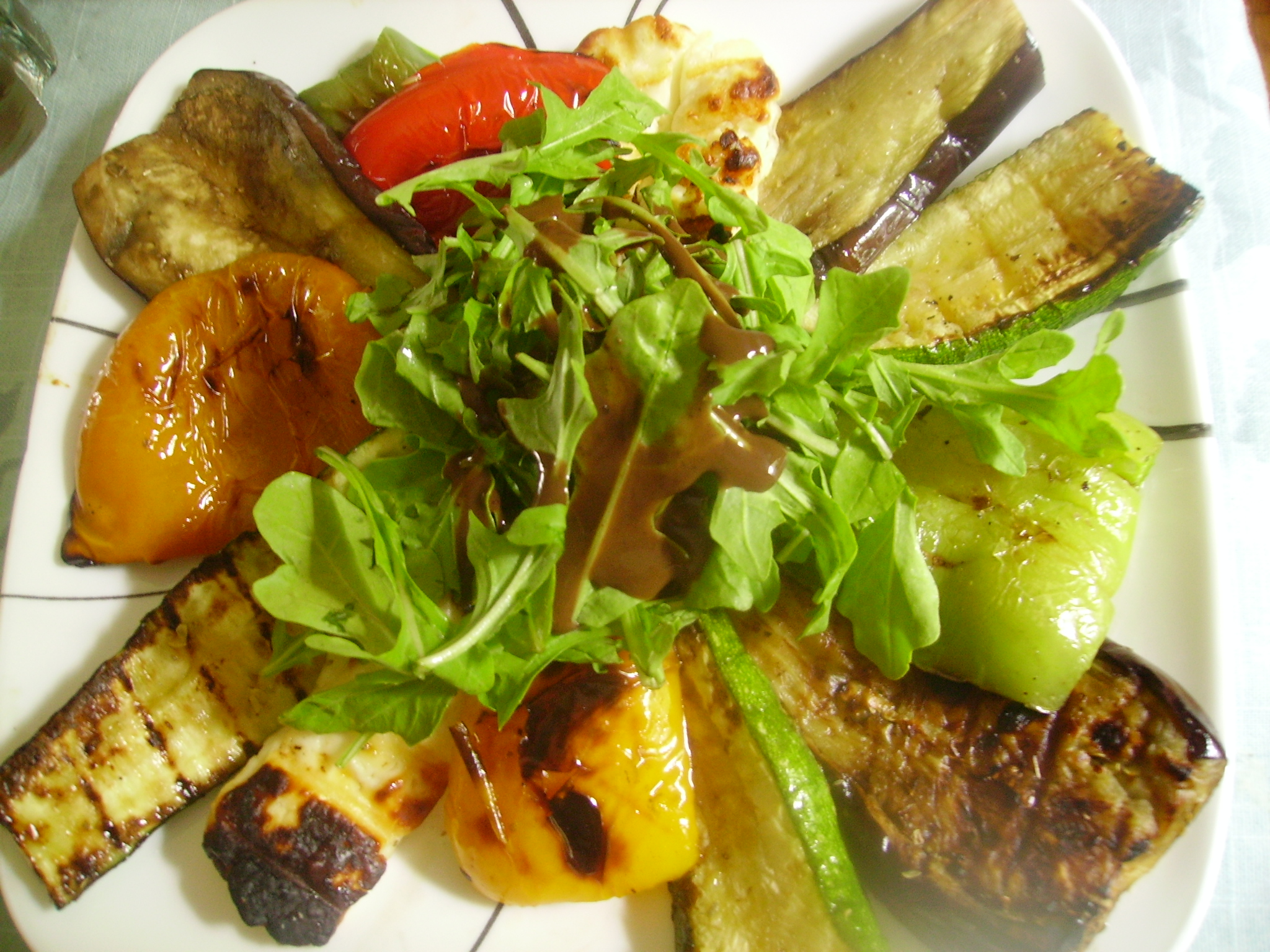 When we were in London, I had this massive craving for Italian food. What can I say? We took a walk through Kensington and every other restaurant had an old world-sounding Italian name…and I just wanted ravioli. So the last day before we left for Paris, I demanded Italian food! Unfortunately for that craving, we were near King's Cross, where we needed to catch our train, and where there is almost nothing around. We wandered down to the British Library (closed) and I started to get really irritated at the distinct lack of ravioli and then we happened across this Mediterranean place called Caprice. Oh my gosh. Caprice.
As I perused the menu for vegetarian options, disappointed by the lack of ravioli, a couple walking out told me that the grilled mixed vegetable plate was heavenly. I wasn't convinced…"mixed vegetables" doesn't really call anything exciting to mind. But  we were tired of walking so I gave in.
Holy crap was that mixed veggie plate good. I practically hugged the waitress it was so good. I literally talked about it for the next week of our trip, while we were in France, no less! Maybe I had just forgotten how grilling something instantly makes it delicious…also I didn't know what halloumi was,or I would never have hesitated. If YOU don't know what halloumi is, I highly suggest you go find out. Seriously. Grill it up with these veggies. Right away.
Grilling is possibly one of the simplest forms of cooking. I prefer a charcoal grill, because fire just makes food tastier!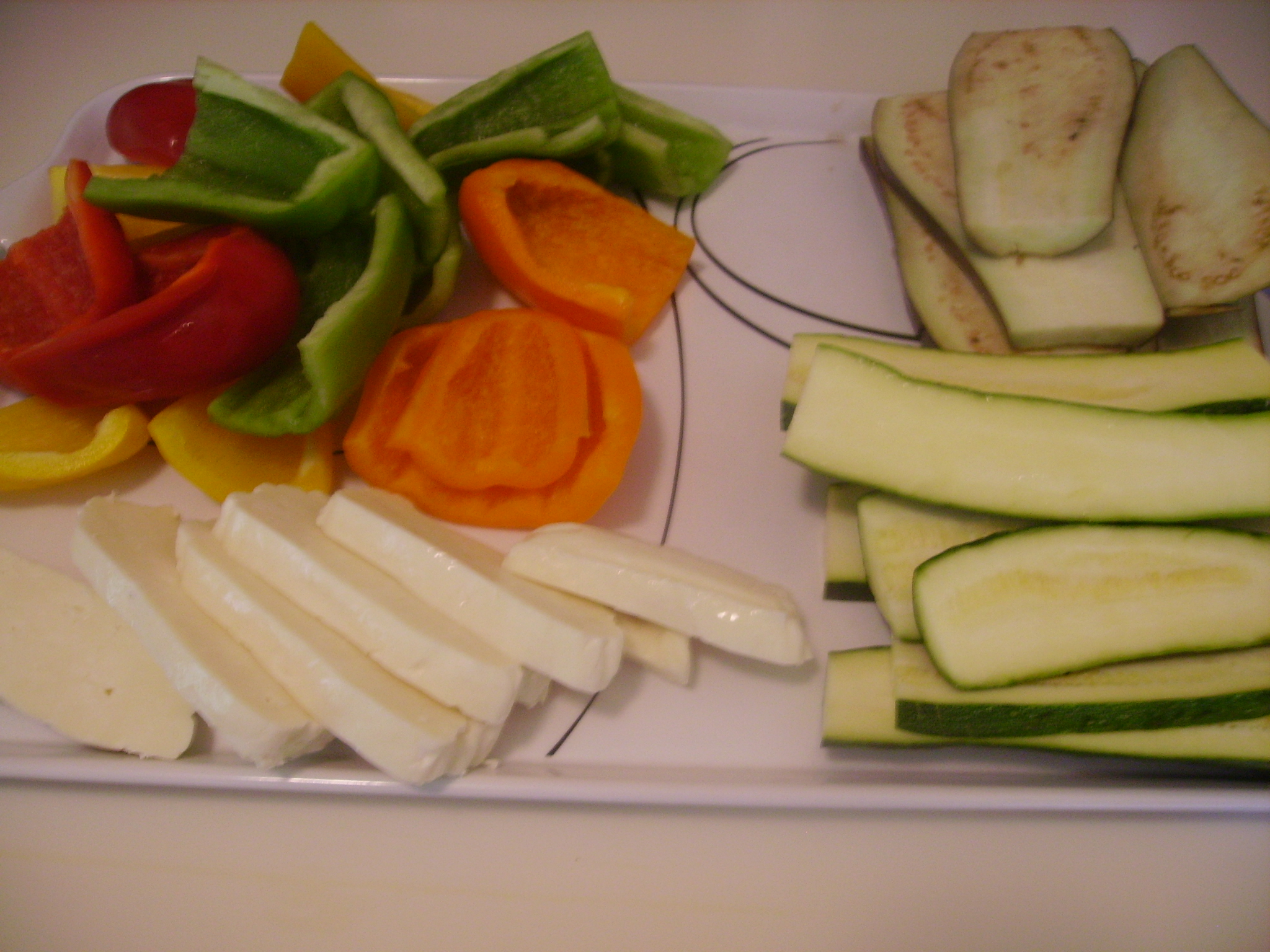 Chop up any color of bell peppers you like, an eggplant, a few zucchini, and of course, some halloumi cheese. Salt the eggplant and zucchini so they will release their juices. Rinse and dry them off.
Season some olive oil with dried oregano (or your favorite herb). Lightly baste the veggies and the cheese with the olive oil on both sides. Season the eggplant generously with minced garlic.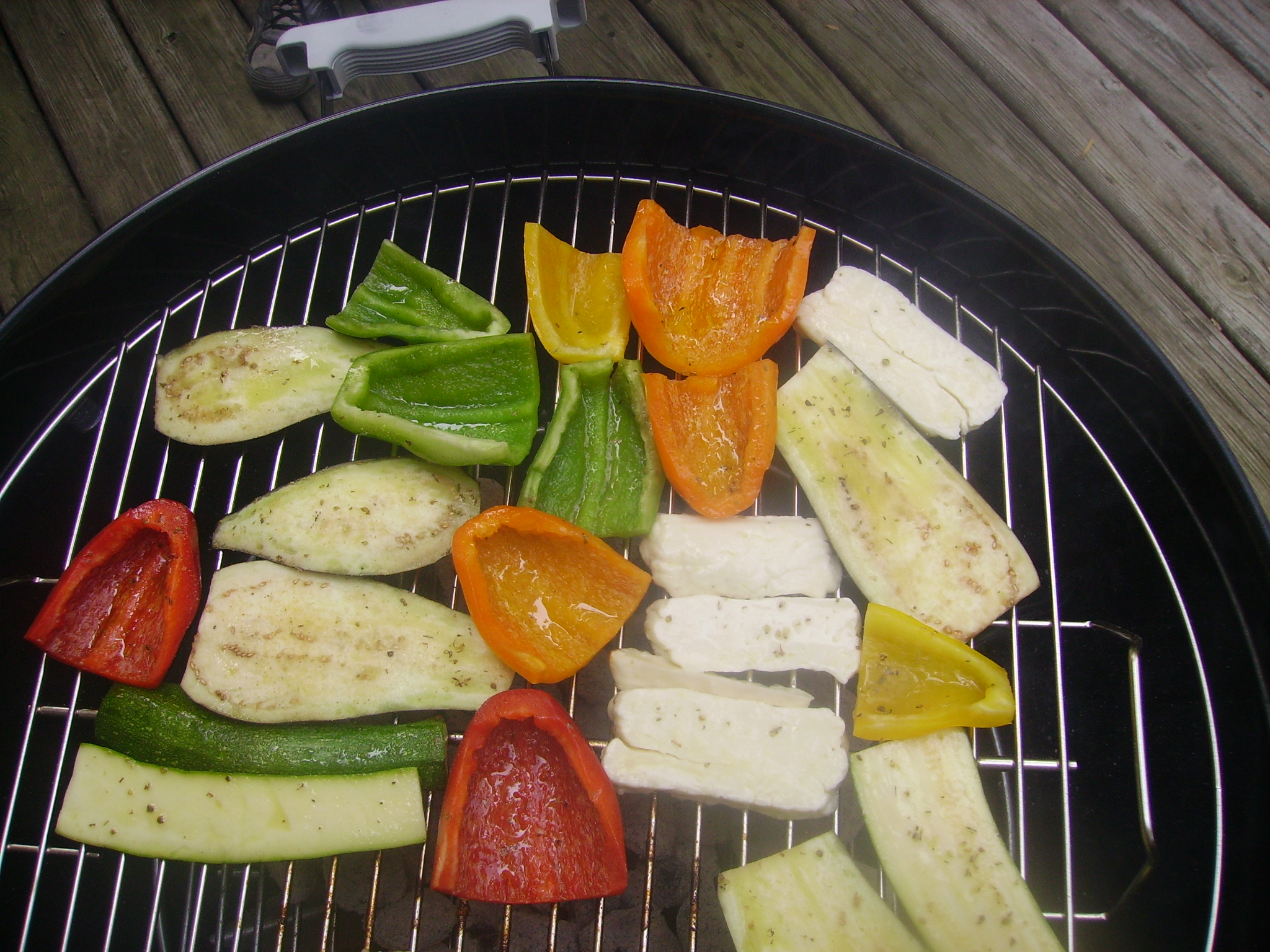 Lay the veggies on the grill. I suggest laying the sliced cheese about 2-3″ from the edge of the grill, so it will char lightly but not expand too much or fall apart. When to flip things  over will depend on how hot the grill is and how thick your slices are, but look for grill/char marks and a slight softening of the veggies. Grill on both sides. I think that whole process took about 7 minutes for me. I also had several peppers that were blackened on one side, and a few slices of cheese that were too close to the center and blackened a little. Everything was delicious, even the things I cooked a little more than I meant to, which is what makes grilling great!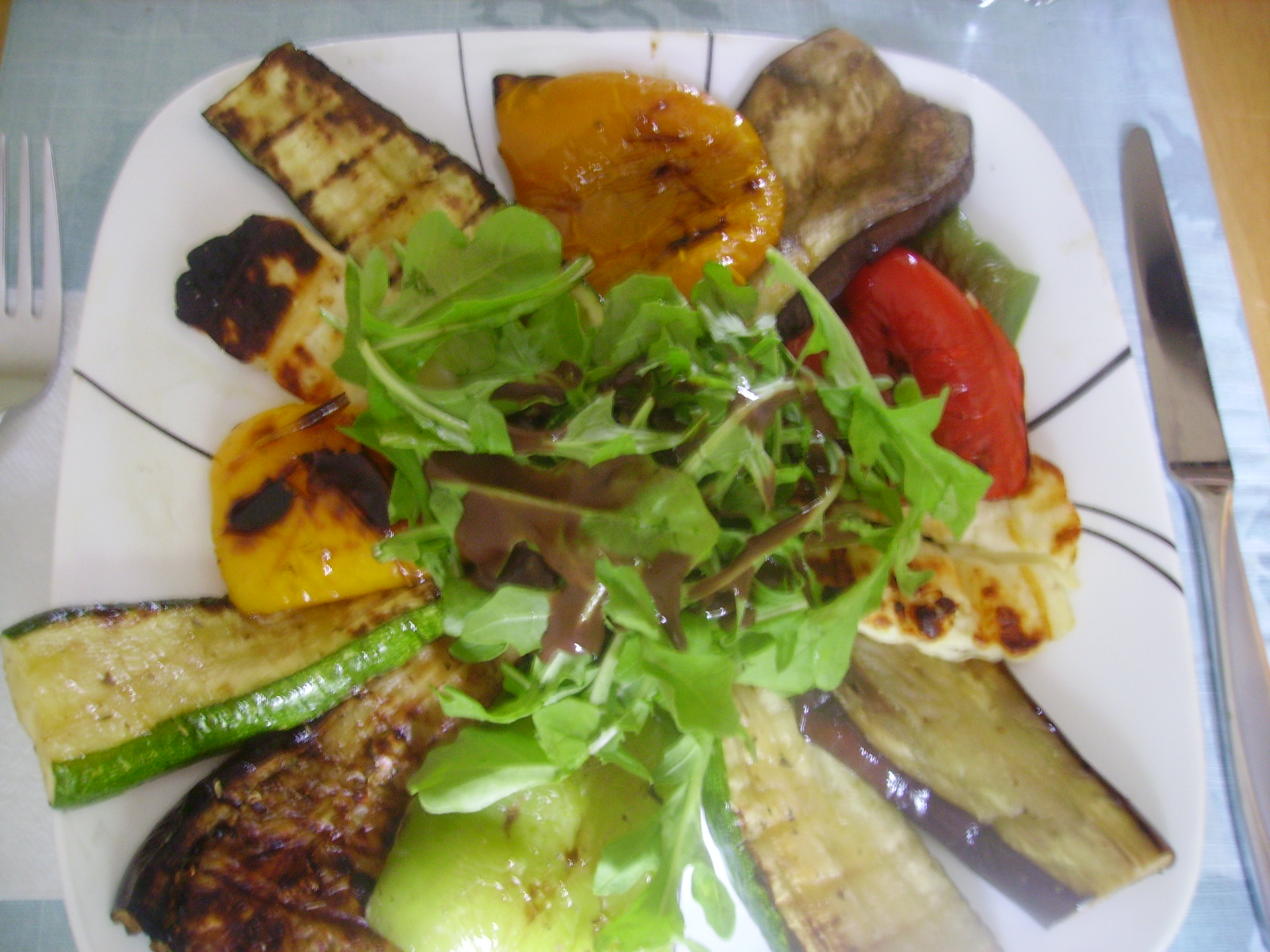 Distribute the veggies and cheese on the plates. Following the meal I had at Caprice, I also added an arugula and balsamic salad. The dressing really complimented the veggies well, so if you don't plan to add the salad, you may want to add some balsamic vinegar to the pre-grilling baste mixture.
Grilled Mixed Vegetables with Halloumi
adapted from Caprice
serves 2
Ingredients:
1 red bell pepper
1 green bell pepper
1 orange bell pepper
2 medium zucchini
1 small eggplant
9 oz. halloumi
olive oil
oregano
2-3 cloves garlic, minced
arugula
creamy balsamic dressing
Directions:
Slice the zucchini and eggplant into ¼″ slices. Lightly salt to extract the juices; after about 10-15 minutes, rinse off and pat dry. Meanwhile, seed the peppers and chop into 3-4 large chunks.
Lightly baste both sides of all the vegetables with olive oil mixed with oregano. Liberally season the eggplant with minced fresh garlic.
When the grill is hot and smoky, lay the vegetables and cheese directly on the metal grate. Make sure to lay them perpendicular to the slats that way there is little danger of anything falling in. Check frequently, especially those that are in the center, and flip as soon as they have grill marks and have softened a bit. Be careful with the cheese, as it becomes more pliable when hot.
Grill the veggies on both sides. To speed up the process, put the top on the grill, but be careful not to overcook the cheese, as it will ultimately break apart when it gets hot enough. The veggies may blacken if left on the grill too long.
Distribute the veggies evenly on plates. Top with a handful of arugula and a drizzle of balsamic dressing.
Enjoy!