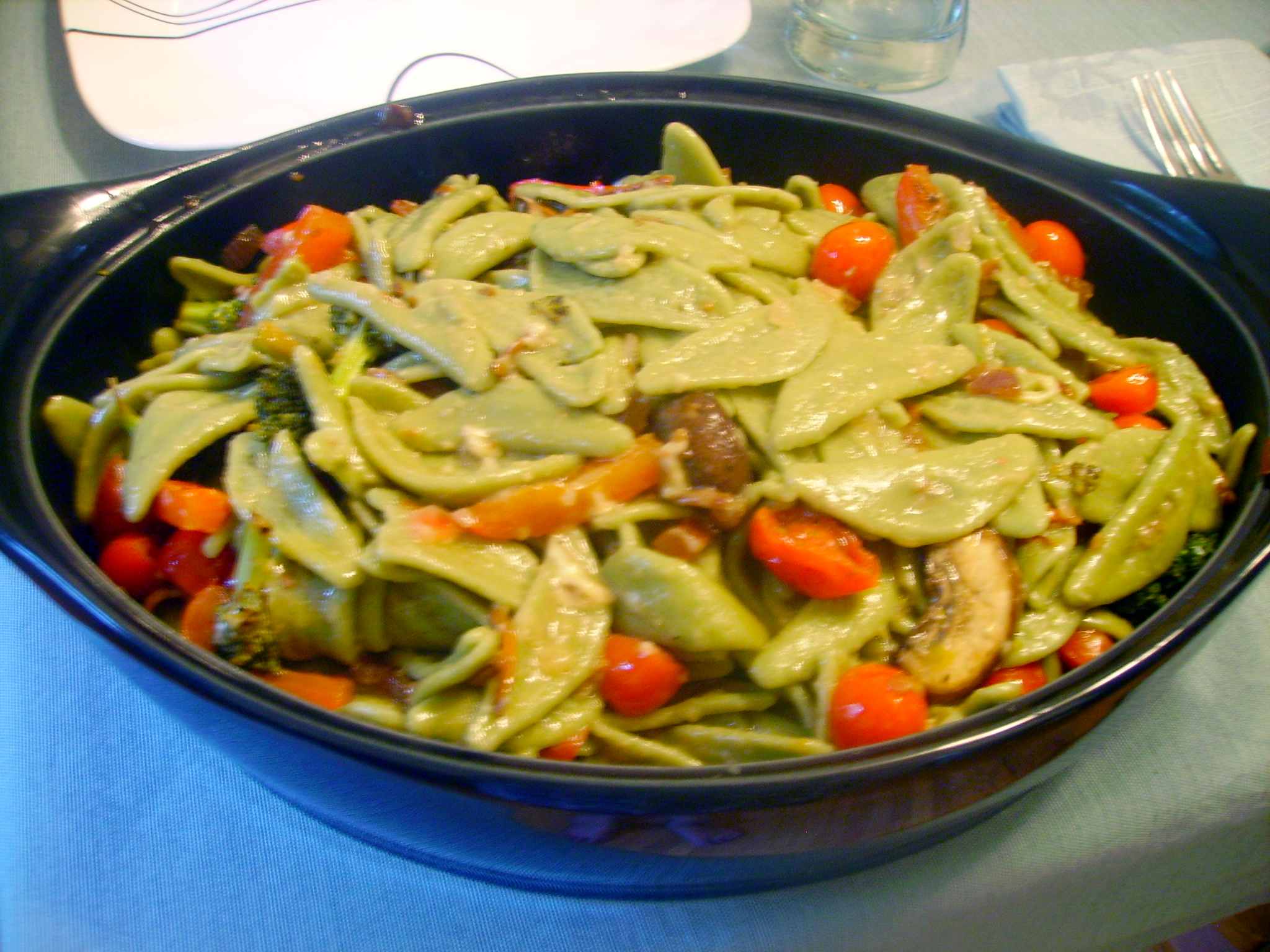 One of the challenging aspects of being a vegetarian is how hard it is to find Italian food. Most Italian restaurants only offer vegetarian options that consist entirely of carbs, cream, and cheese. I shouldn't really complain about that, because homemade ravioli is heavenly, but I do often find myself wishing for more variation. The bright shining spot in the pasta world is primavera.
Primavera–which literally means "spring" in Italian–can really be made with any vegetables and any type of pasta you want, which is fabulous because you can eat in all year long with seasonal produce. I've seen it with marinara sauce and cream sauce. Basically, anything goes as long as you leave the meats elsewhere.
I like my primavera with a white sauce and tons of vegetables…you know me, any excuse to add another veggie is one well worth it. Though, when I was sautéing the veggies, I was seriously worried that I had managed to outdo myself and the pasta:veggie ratio would end up like 1:4. Happily, it was just right. The vegetables should be the star in primavera, so I didn't want to drown them in a heavy sauce. Thus, I searched until I found a sauce that sounded delectable without being too overpowering (or as high in calories as a standard cream-based sauce). My husband raved about this pasta, and even said he loved the vegetables (!), so I think the sauce did its job in highlighting the produce rather than overpowering it.
This pasta is easy to make, but a little time consuming when all is said and done. Or maybe that's just because I found myself incapable of multitasking while I was sautéing, so I hadn't even started the sauce or pasta by the time the veggies were done. Oops.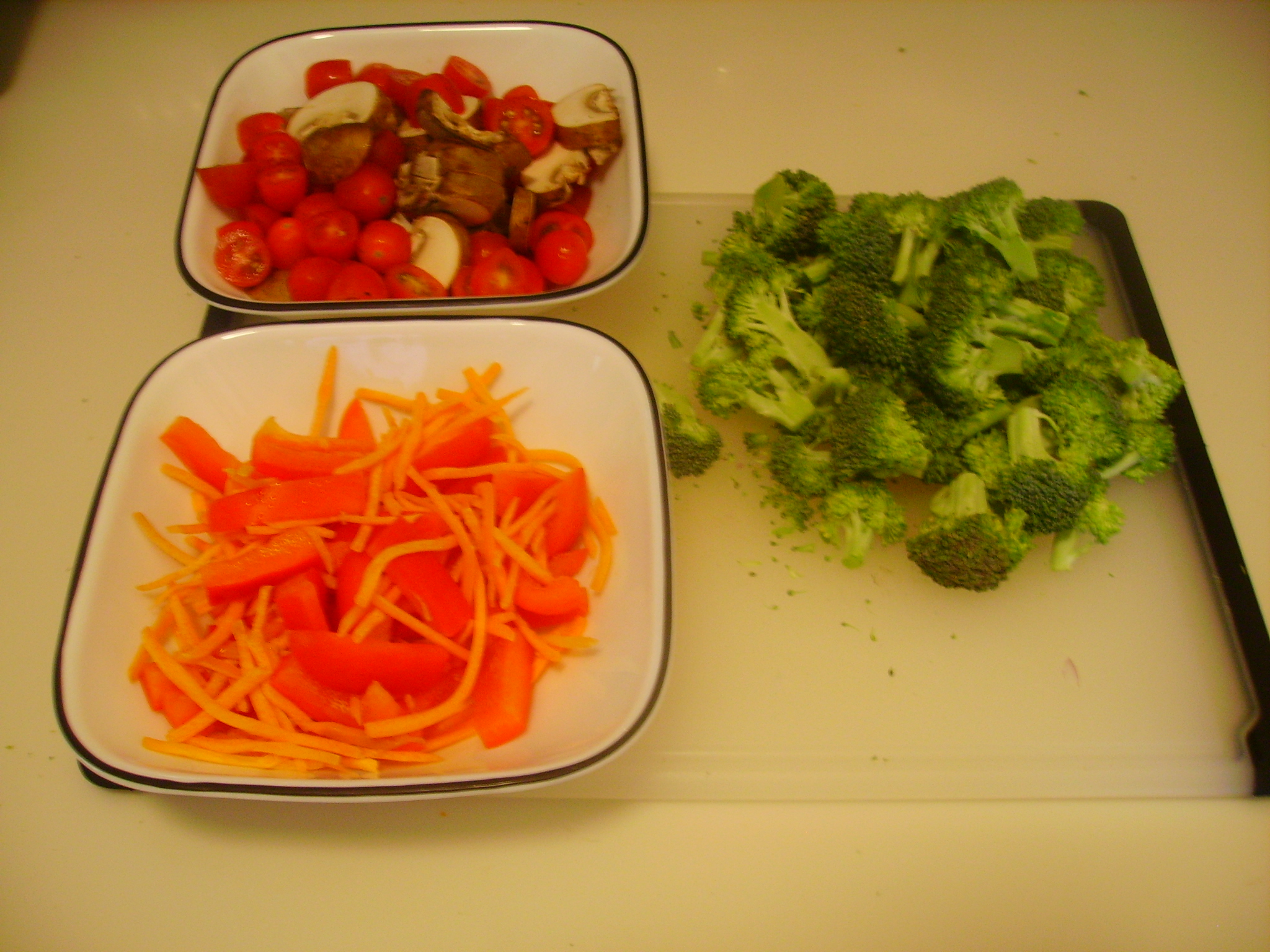 Chop up all your veggies. I like to separate mine out by the order they need to get tossed in the pan.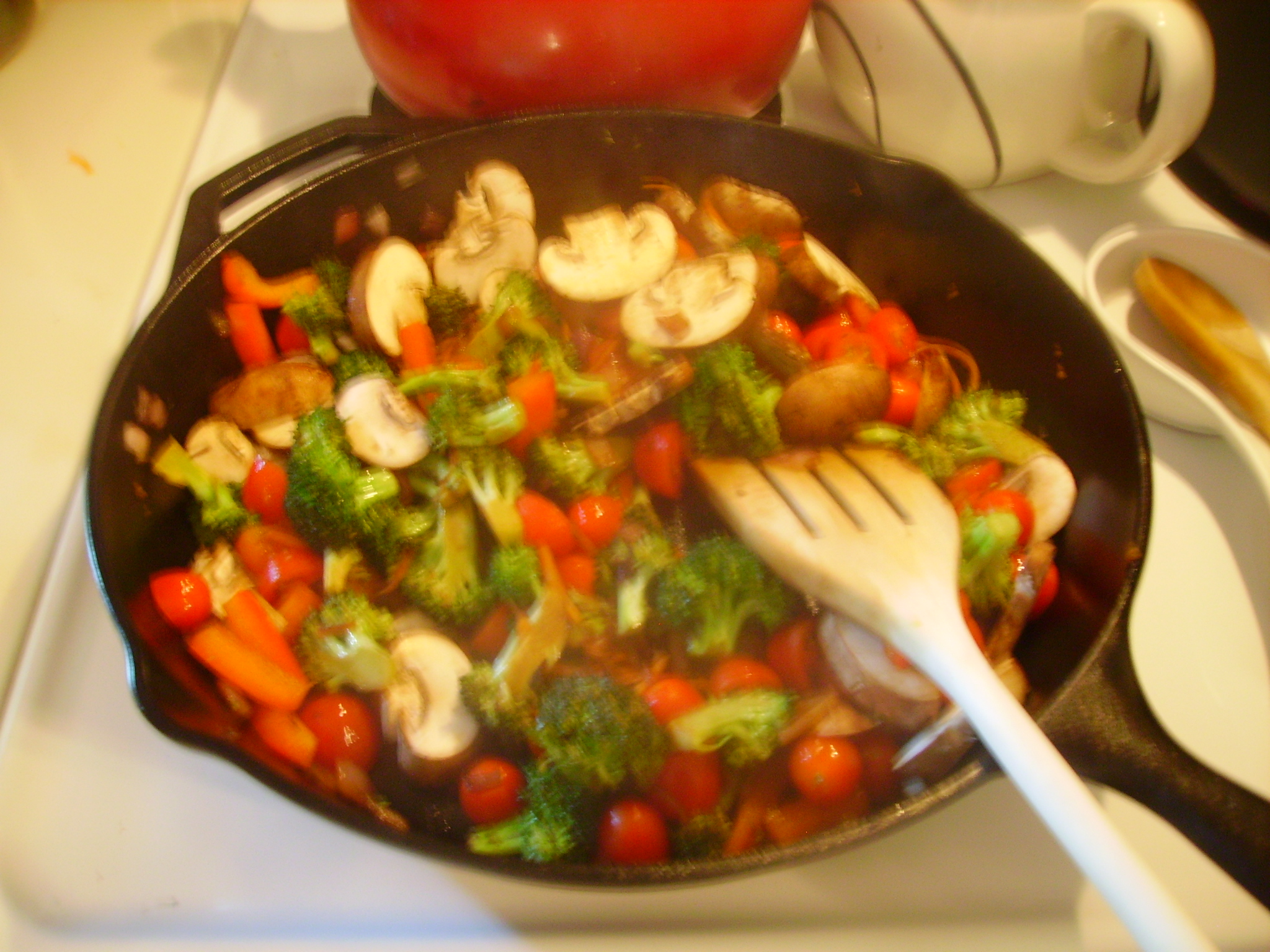 Sauté the vegetables in a very large skillet with a small dollop of olive oil, starting with the red onion and garlic, closely followed by broccoli. As each round begins to soften, add the next: red peppers and carrots, then mushrooms and grape tomatoes. You don't want the mushrooms and tomatoes to soften too much, so only leave them on the heat for a few minutes.
As I was cooking, I started to think that the vegetables smelled too much like Chinese stir fry, so I added some lemon juice and balsamic vinegar. The end result tasted great, so I will definitely do that next time, too!
P.S., sorry for the fuzziness of these shots…my camera was low on batteries and apparently couldn't be bothered to focus, no matter how many tries it got.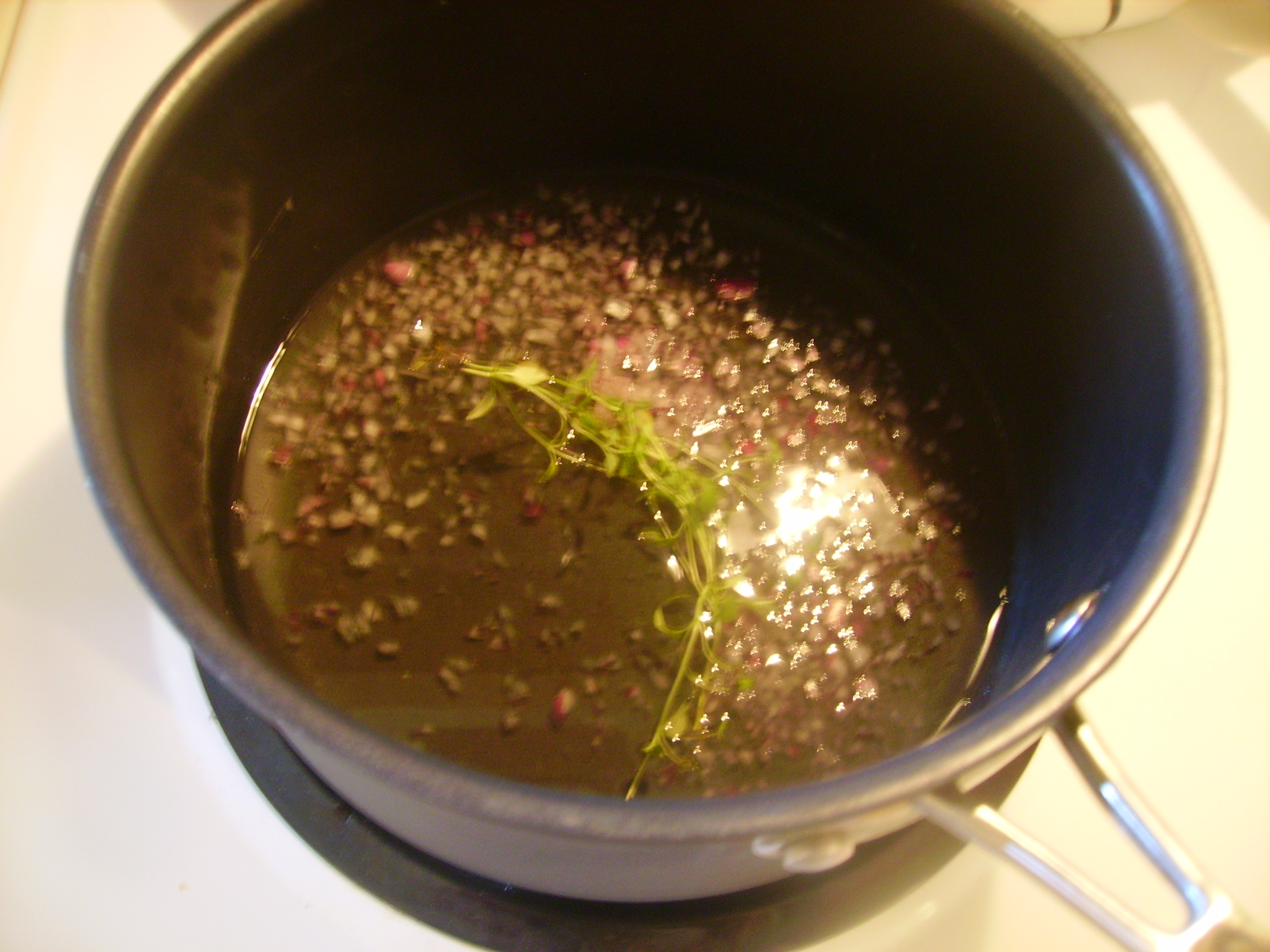 Meanwhile, you should be reducing the white wine and lemon juice mixture by about half (no need to stir regularly, just let it simmer and give it a whirl when you have a moment!), and cooking your pasta.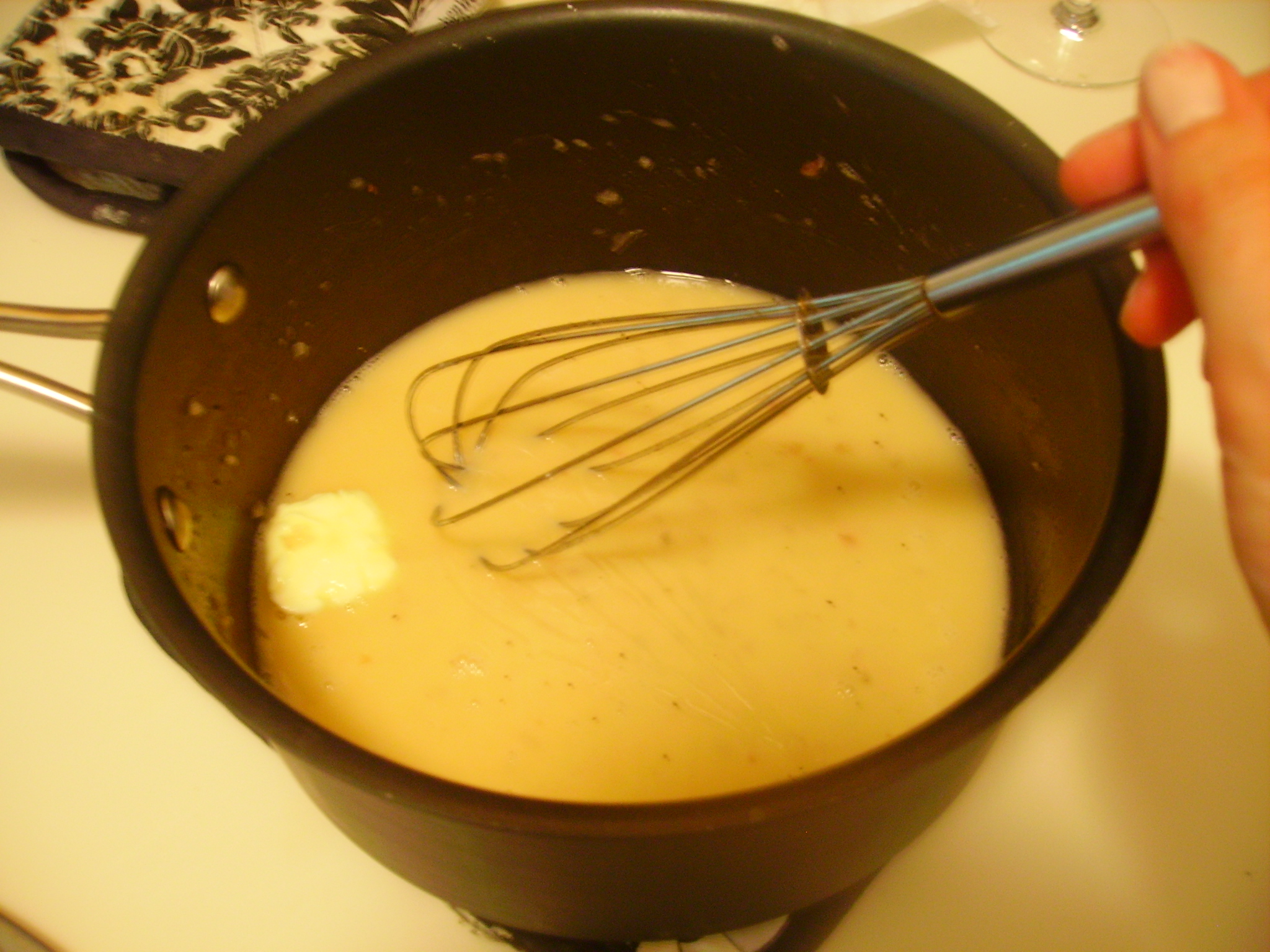 When the sauce has reduced, remove it from the heat and whisk in the butter, one tablespoon at a time. Work quickly, or the sauce will cool down too much to melt the butter. The result will be a very thin white sauce, creamy and tangy all at the same time. Season with salt and pepper to taste.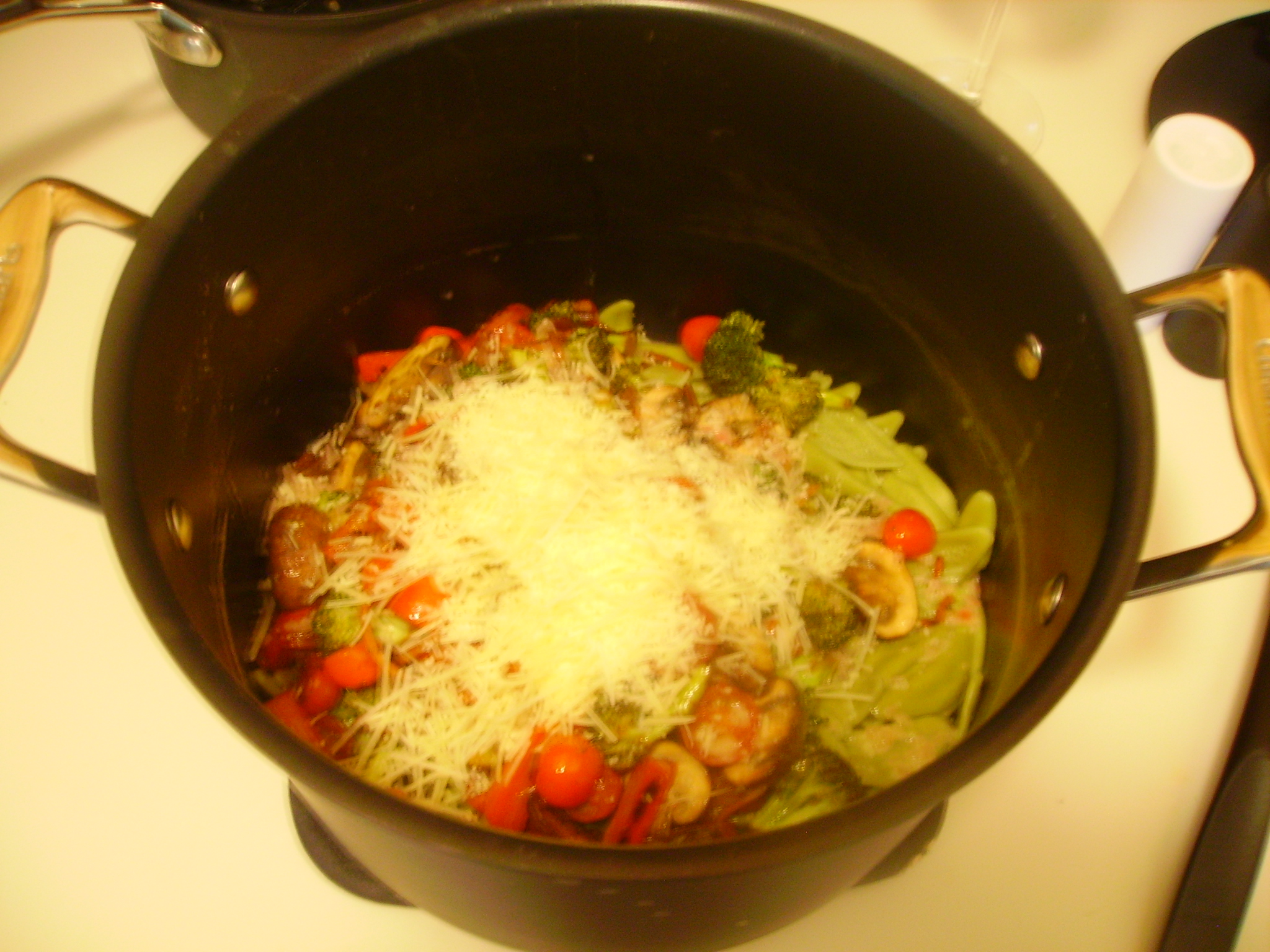 Drain the pasta and return it to a large pot. I used an interesting little pasta I found in Wegmans, shaped like olive leaves. It wasn't bad, but ultimately I think I would have preferred something a little less chunky, like angel hair or even penne. But you can really use whatever pasta you want!
Top the hot pasta with veggies and sauce. Sprinkle the parmesan over top of the whole mixture, then toss everything together. The cheese should melt and the veggies distribute nicely through the pasta. Turn the mixture into a serving dish.
Serve with a glass of the wine you used in the sauce! Mmmm…
Pasta Primavera in White Wine Butter Sauce
compiled from many sources
serves 6
Sauce Ingredients:
½ cup dry white wine
¼ cup fresh squeezed lemon juice
1 large shallot, minced
4 sprigs fresh thyme
6 tbsp. cold unsalted butter, cubed
salt and fresh ground black pepper
Pasta Ingredients:
1 lb. whole wheat or multi-colored pasta, such as fresh spinach tagliatelle
1 tbsp. olive oil
1 small red onion, diced
3 cloves garlic, minced
1 medium head broccoli, cut into small florets and stalks
1 red bell pepper, julienned
1 large carrot, peeled and julienned in 1½″ strips
¾ cup sliced baby bella mushrooms
½ pint cherry or grape tomatoes, halved
¼ cup grated parmesan, plus extra to taste
Directions:
To make the sauce, heat wine, lemon juice, shallot, and fresh thyme in a saucepan. Allow sauce to simmer until reduced by half. Remove the thyme.
Turn off the heat, and whisk in butter, 1 tbsp. at a time. Season with salt and pepper.
Meanwhile, cook pasta as directed. Drain but do not rinse.
To make the veggies for the pasta, heat the oil, onion, and garlic in a large sauté pan over medium-high heat. Add broccoli florets and cook until they begin to soften. Repeat with peppers and carrots. Add mushrooms and tomatoes and cook until softened, an additional 5 minutes. Remove from heat.
As soon as the pasta is ready, toss with the veggies, sauce, and parmesan. Serve warm, topped with extra parmesan.
*Note: Vegetables may be added or omitted ad hoc, but a combination of at least 3 is ideal.
Enjoy!