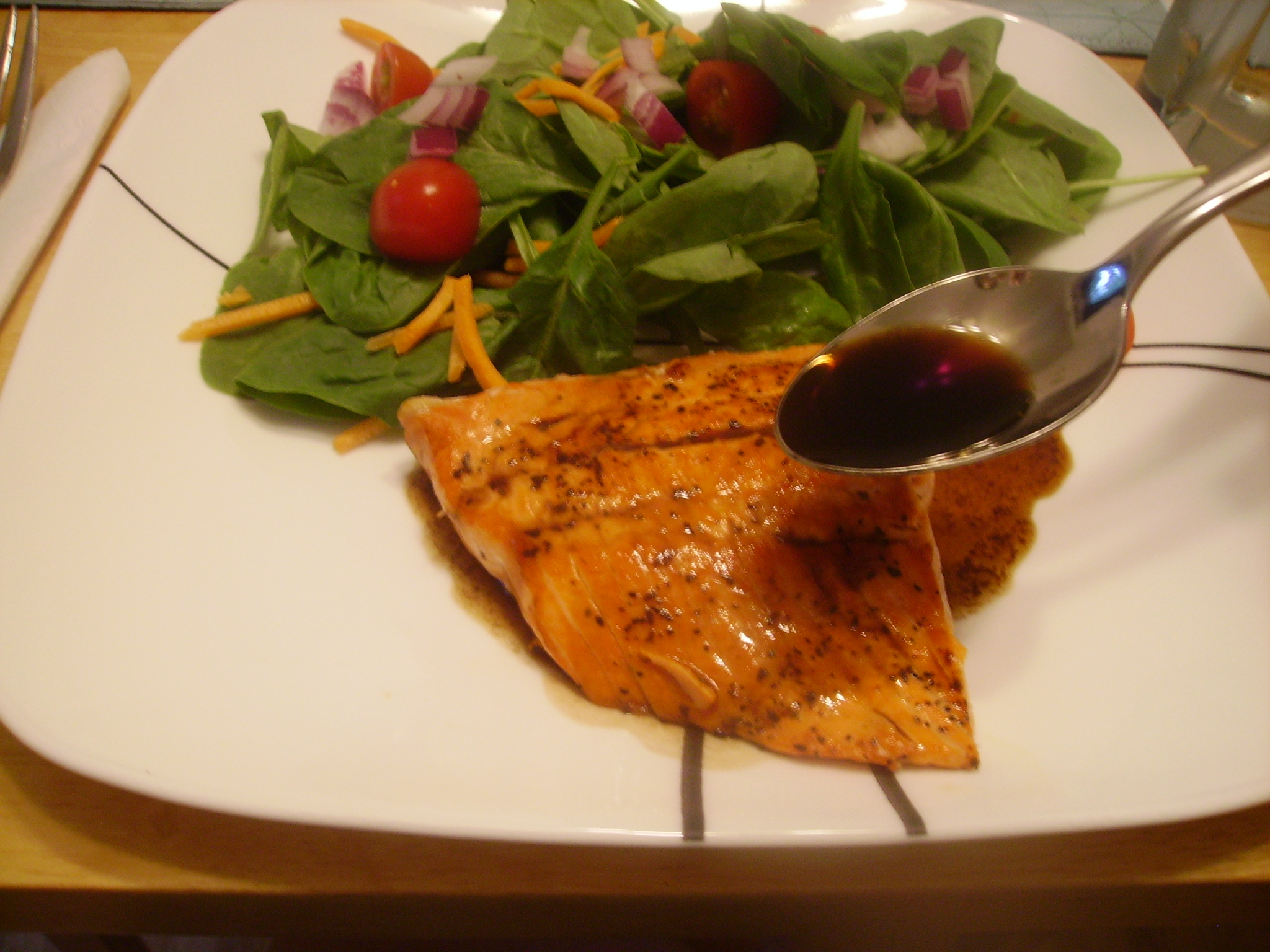 I lucked out in the grocery store this week…Harris Teeter had a sale on fresh, wild Alaskan salmon. It was such a beautiful color of bright red that I practically drooled on the glass case.
By the way, if you didn't know that your fish guy will skin the fish for you, I highly suggest you start taking advantage of that!
So with my prize fish in hand, I set off to decide what to make out of it and I landed on an old Rachael Ray recipe I'd saved. One of the first recipes I ever saved, in fact. Back when I was in college, I caught the foodie bug. Unfortunately, I didn't exactly have a fully stocked kitchen at my disposal, so I couldn't run out and make much of anything too easily. I had to learn to "taste" recipes with my mind to see whether they would be any good. I am not usually a big Rachael Ray fan, because I like doing things the hard way and, well…I don't eat meat. But boy did the citrus vinegar glaze she concocted here sound like it would taste delicious.
Trust me…it does. My husband, who tolerates salmon for my sake but really doesn't like fish that isn't sushi, actually told me he liked this! He said the sauce made the dish. Even if you don't like salmon, the citrus vinegar would work well over a salad, so I highly recommend you try it!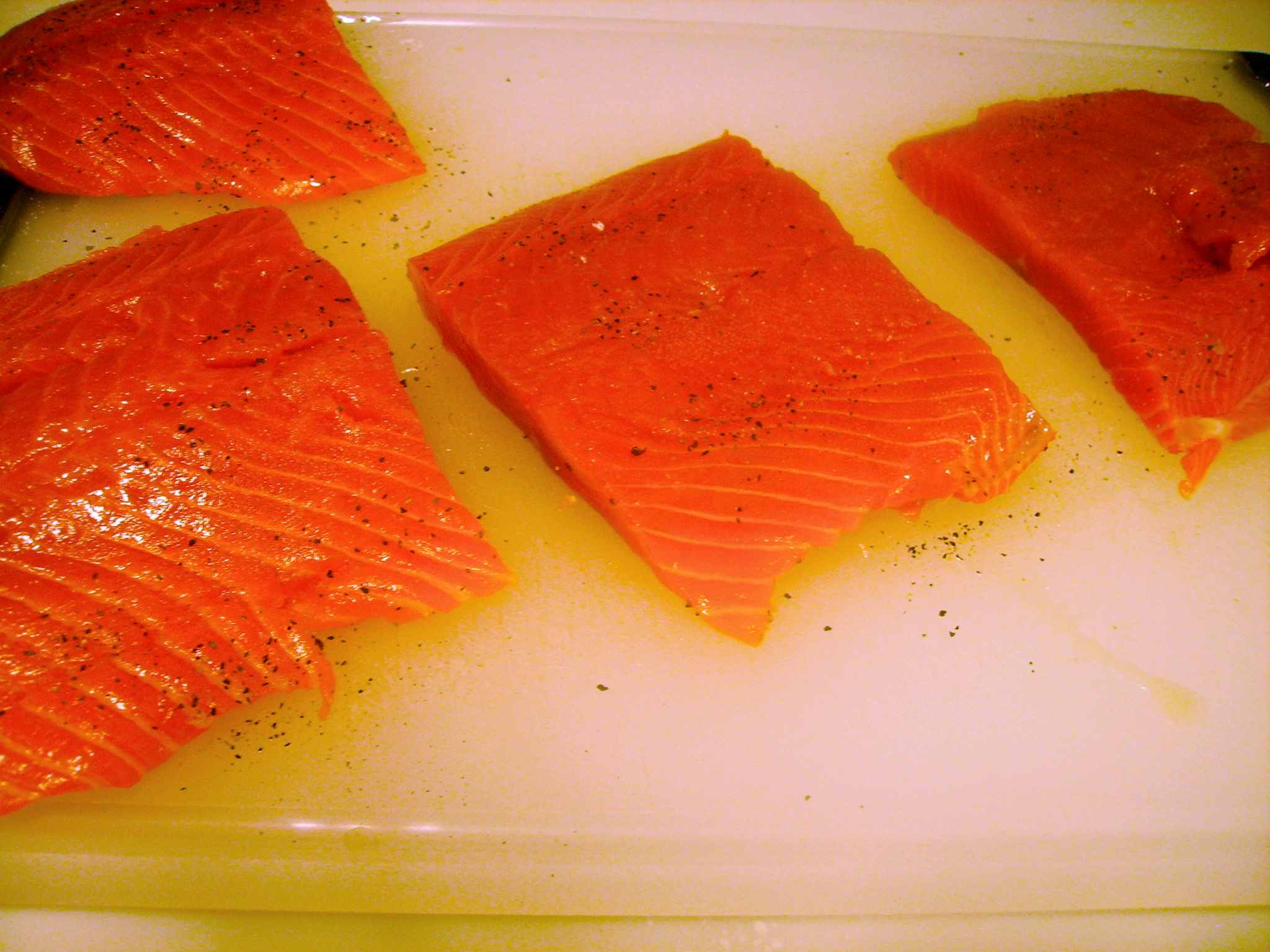 Cut a flank of salmon into 4 small filets. (Make sure the fish is skinned first, otherwise the nightmare of pulling the skin off will be even more hellish.) Baste the filets with a little olive oil on both sides. Season with salt and pepper and basil.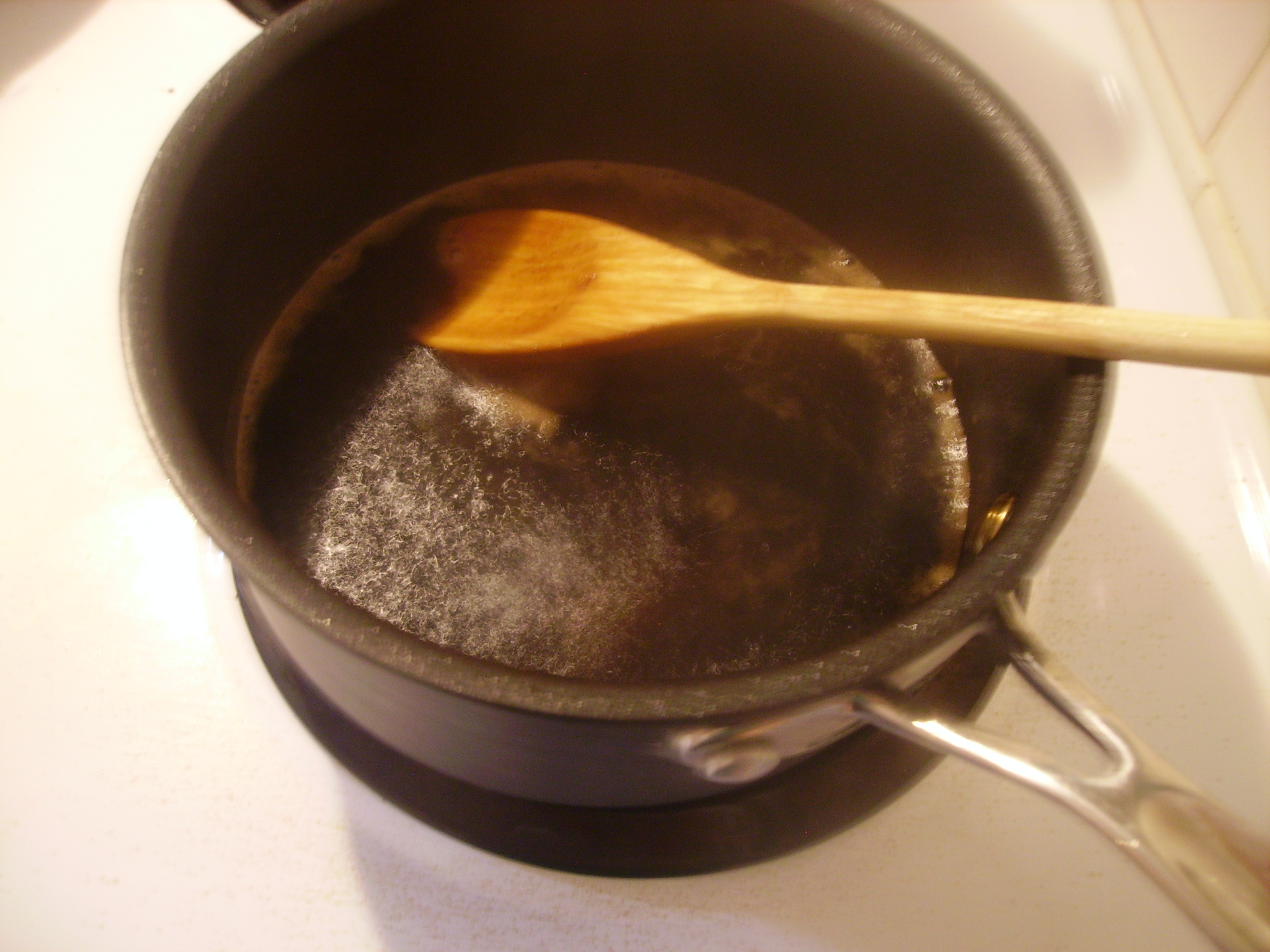 Mix together all of the ingredients for the sauce in a small pot. Make sure you use fresh juices from real fruits, not canned or bottled concentrates. Bring the sauce to a boil and continue to boil for 5 minutes or so, until the sauce is slightly thickened. For me, it never really thickens that much, which makes me wonder whether I should add more wine and help the process along, but the flavor is perfect, so I am afraid to tamper with it too much.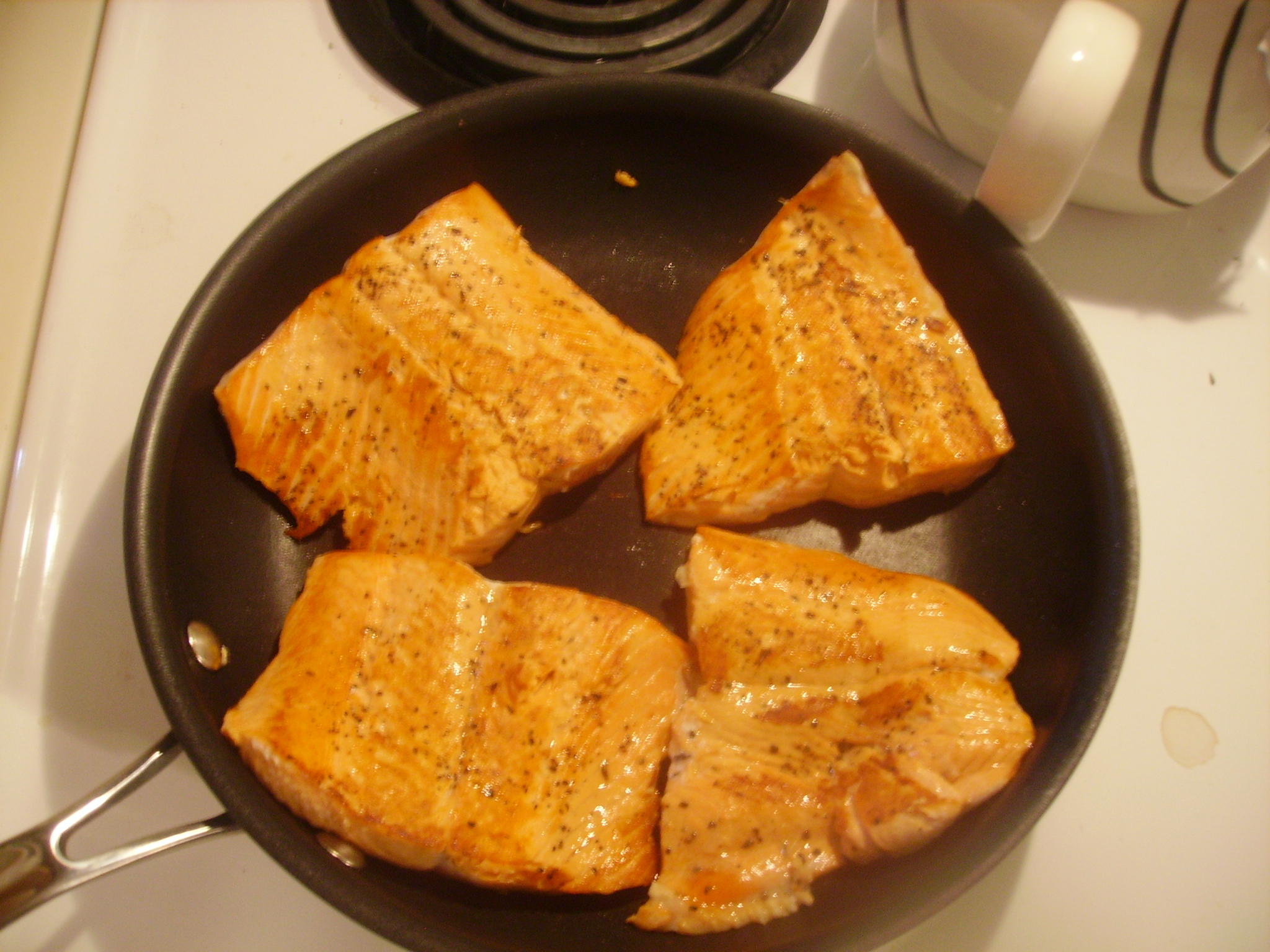 Meanwhile, sear the salmon over medium-high heat, about 3 minutes on each side. If any of the filets are a little thinner, you should test them early and remove them from the heat as soon as they are cooked through.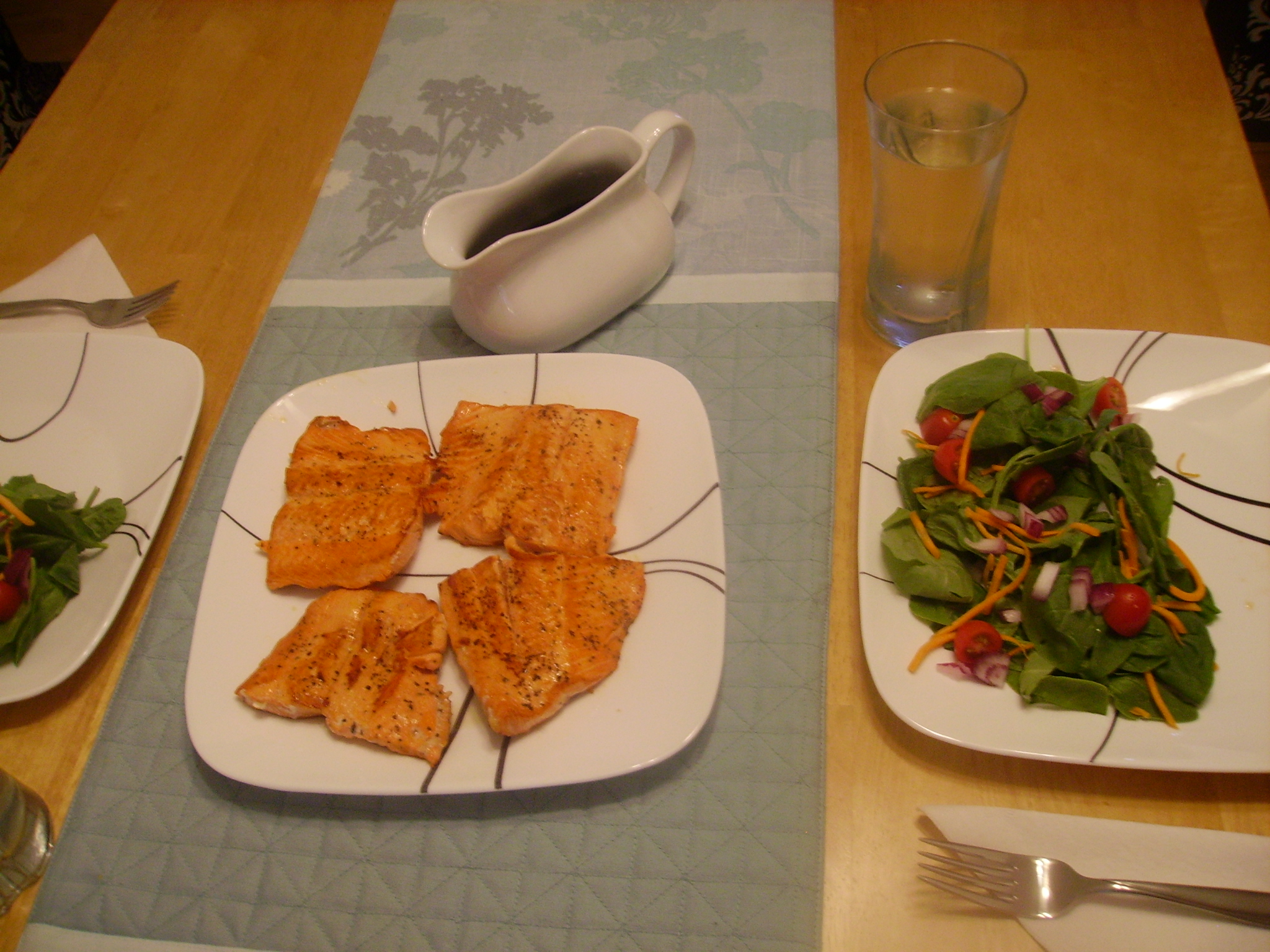 Serve the salmon with a spinach salad. Drizzle the glaze over both the fish and the greens.
Pan-Seared Citrus Salmon
from Rachael Ray
serves 4
Ingredients:
4 6oz. salmon fillets, skin removed
olive oil, for brushing fish
salt and black pepper
1 tsp. basil
½ cup dry white wine
½ cup balsamic vinegar
2 tbsp. orange juice
2 tsp. lemon juice
2 tbsp. brown sugar
fresh baby spinach and other veggies, as desired
Directions:
Preheat a large nonstick skillet over medium high heat. Brush the salmon fillets lightly with oil. Season with salt, pepper, and basil.
Cook salmon in the pan until just cooked through, about 3 minutes on each side. Test the thickest part of one fillet to make sure it is cooked properly: the flakes should separate easily and the center should be pink but not red or wet looking.
While salmon cooks, bring wine, vinegar, citrus juices and brown sugar to a boil over high heat. Continue boiling for 4–5 minutes, until reduced by about a third (the sauce will still be quite thin). Remove from heat. Stir in ½ tsp. coarse ground black pepper.
Lay salmon fillets over a bed of spinach and drizzle with sauce.
Enjoy!