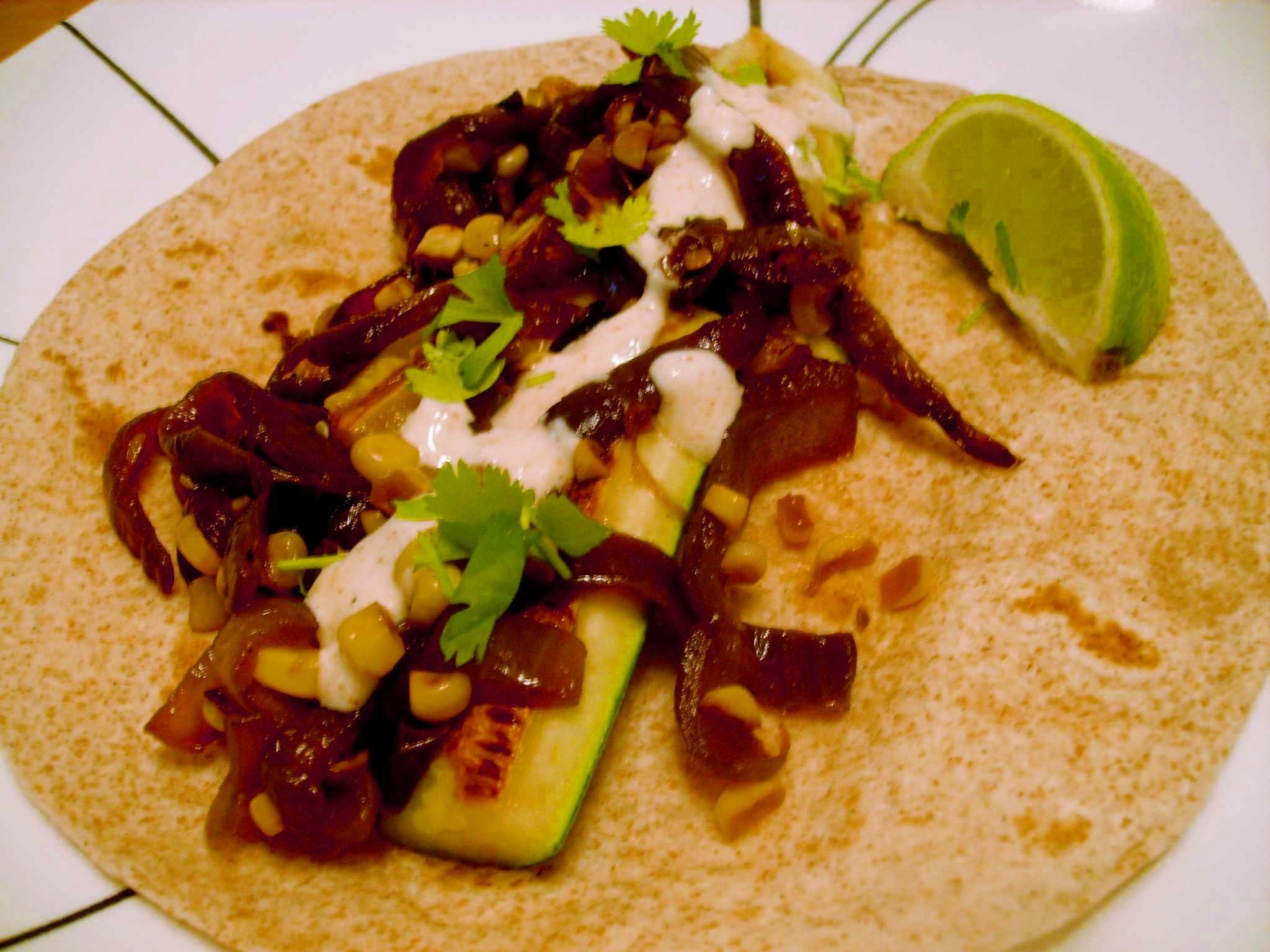 Oh no! The summer is ending! I just realized that I am doomed to a life without tomatoes, summer squash, and sweet corn for like…9 months…
To celebrate the last of summer's bounty, I bring you some yummy vegetarian tacos.
I love tacos, and homemade Mexican food in general, because all of the condiments are delicious, many are healthy, and you can mix and match with whatever you want or have on hand. I made these tacos with the works, and you can certainly do whatever you like in the way of guacamole, salsa, chopped tomatoes, cheese, jalapeños, etc., but for the purpose of this recipe, I am only going to write about what I see as the essentials.
So grab those last ears of yellow corn, the few zucchini in the bin/on the table that aren't weirdly scratched and deeply dented, and a few red onions, and let's get cooking!
These tacos really couldn't be easier…everything practically cooks itself!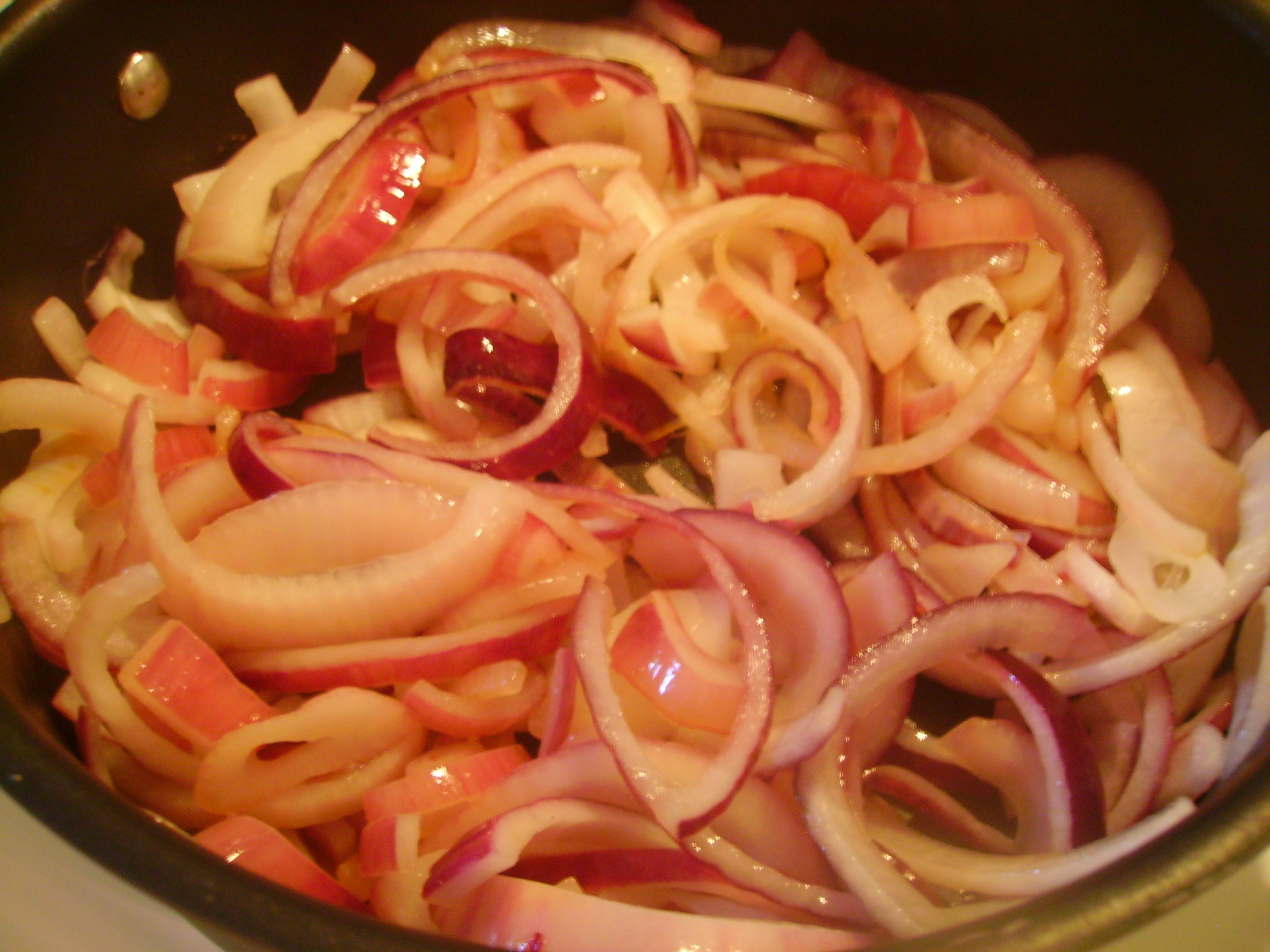 Start by chopping two large red onions in half and then slicing—whatever thickness you like, but they will be in the pan for a long time, so keep that in mind. I went medium thick. Dump them into a very large sauté pan with a little dollop of olive oil. Cook over medium heat, stirring occasionally so that they do not brown or burn on one side.
Meanwhile, quarter the zucchini lengthwise and cut into 3–4″ long chunks. Heat up a George Foreman (or, if it's not raining where you are and you want to run outside, heat up an outdoor grill…but the Foreman is probably easier). Place as many zucchini chunks as will fit in a single layer onto the grill and drizzle very lightly with olive oil. Close the grill and let them cook for 4–5 minutes, until they are soft and show grilling marks. Transfer to a bowl and repeat with the remaining zucchini.
As the zucchini and onions are each cooking, cut the kernels off of three–4 ears of corn. I used yellow corn (much to my surprise…thought I'd bought white…) and I really liked the extra color they gave to the dish. Dump the corn into the pan with the onions, which should be getting very dark in color and very aromatic. Continue to stir occasionally. When the corn is heated, or whenever you are ready to serve, transfer the mixture to another serving bowl.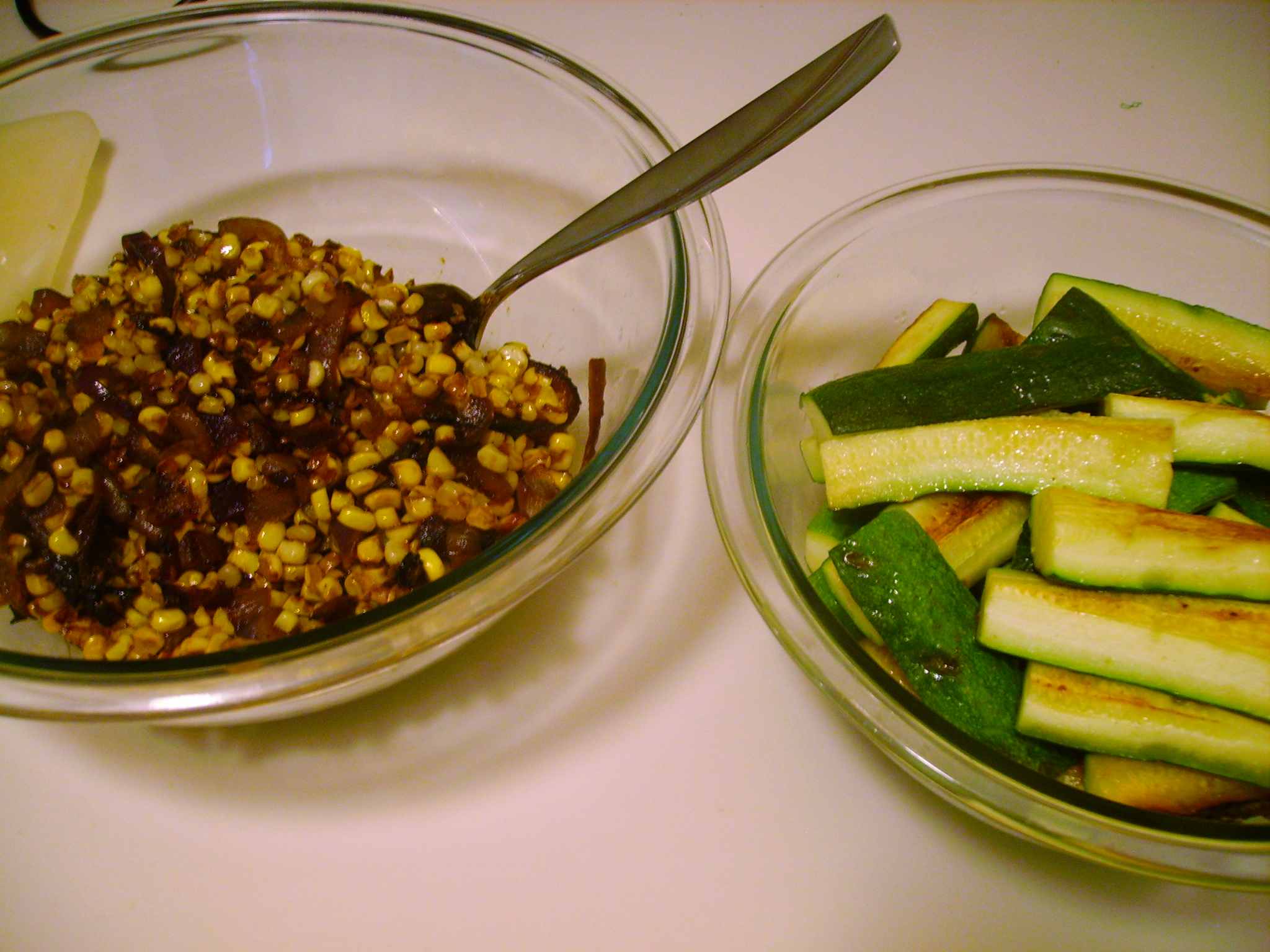 Just before serving, make a spicy cream to drizzle over the veggies by stirring together sour cream, chili powder, and lots of Cajun seasoning (whichever brand/style you prefer). Taste as you add the seasonings to get a blend you like. Chop up a very large handful of fresh cilantro. Heat the tortillas (be careful not to dry them out if you heat them in the oven!) and set out some lime wedges to squeeze over the tacos.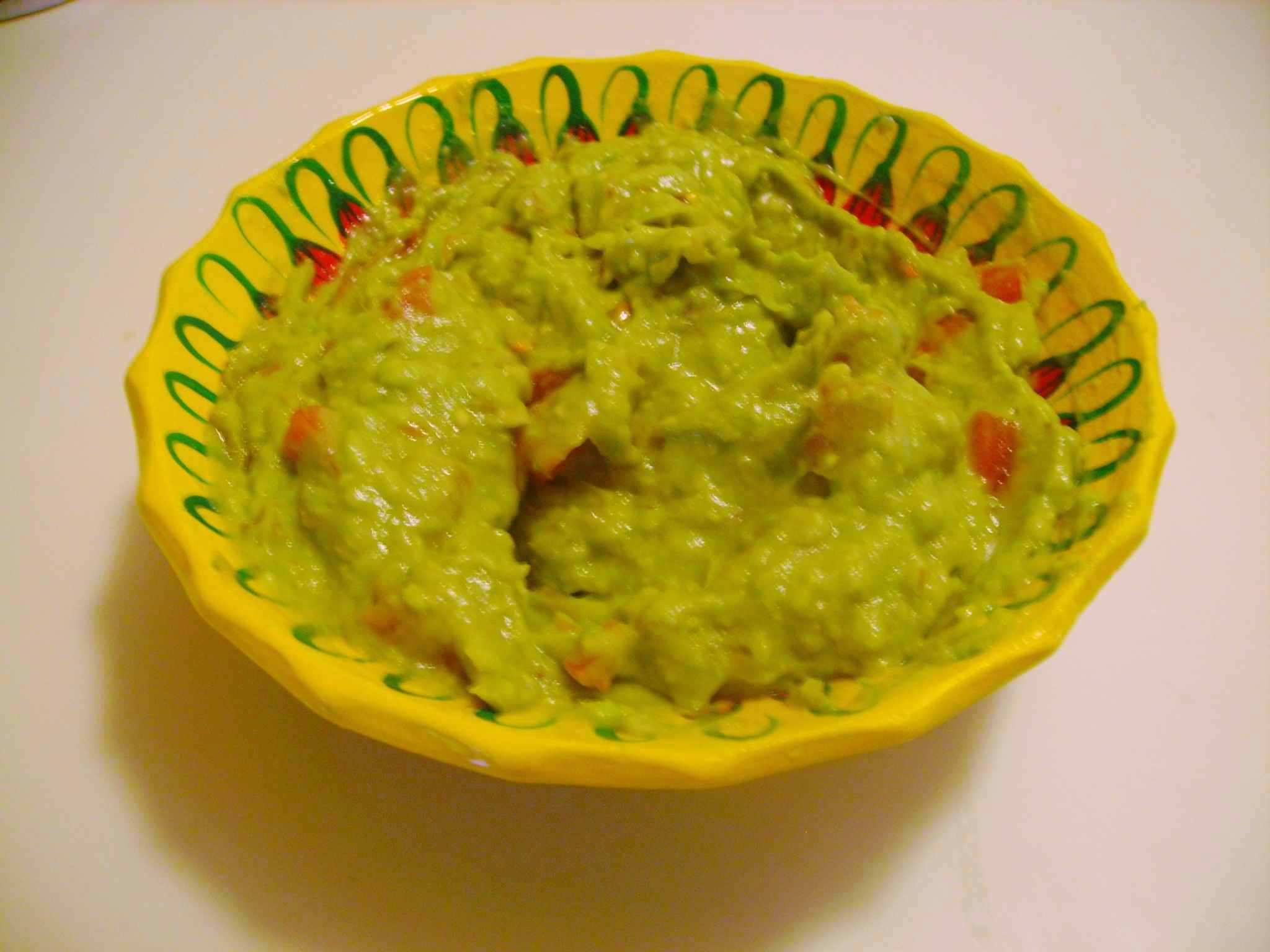 I also served homemade guacamole, salsa, chopped tomatoes, romaine, regular sour cream, and shredded cheddar with the tacos, as we were having folks over to the house and I wanted to make sure everyone went away happy. My husband has demanded an exact repeat performance, so I will probably keep that same set in mind the next time I make these tacos. If you want to have a more well-rounded meal, you could also add in some rice and beans for protein.
Corn and Zucchini Tacos
adapted from Tomato Tango
serves 6–8
Ingredients:
2 large red onions
¼ cup olive oil, divided
5 medium zucchini
3 ears white or yellow corn
⅓ cup low-fat sour cream
chili powder
Cajun seasoning
8–12 small whole wheat tortillas
2 limes, sliced into wedges
½ cup chopped cilantro
guacamole (optional)
Directions:
Halve and slice the onions. Set them in a very large sauté pan with about 2 tbsp. olive oil over medium heat. Cook, stirring regularly to prevent burning, for 10 minutes, until they begin to caramelize.
Meanwhile, cut the zucchini in half and quarter each segment lengthwise. Grill on the George Foreman or a charcoal grill, very lightly drizzled with olive oil, until the pieces display grill marks and are soft. Transfer to a bowl for later serving.
Cut the kernels from the corn cobs and add to the onions. Let the mixture cook another 5 minutes, stirring occasionally, over medium-low heat. Transfer to a bowl for serving.
In a small bowl, mix together sour cream, a few dashes of chili powder, and several dashes of Cajun seasoning. Taste and adjust seasonings as necessary.
To serve, warm the tortillas and top each with 3–4 zucchini wedges, a large spoonful of the corn mixture, a drizzle of spicy sour cream, lime juice, and cilantro.
Enjoy!