I have something you want.
But you are so going to hate me once I give it to you.
Let me explain. The last few weeks I've been in a bit of a cooking/baking slump. I spent the first week eating mainly oatmeal as I worked furiously to paint all the hallways in my house in preparation for a visit from my folks (yay! too bad I didn't take any pictures of the meal I made for them), and the second week feeling sorry for myself because I couldn't–absolutely couldn't–get a brownie recipe to work right (though partly due to temporary inability to read…8″ and 18″ are not the same thing…). So what got me through this dismal time?
Cake in a cup.
I originally got this recipe from my friend Melissa, and I have no idea where she got it from, but it has been a mainstay of girly emotional eating for years. Because sometimes you want chocolate cake, and you want it right now! (Not to mention you don't want an entire cake tempting you to cut another slice half an hour later…)
You can make this single(ish) serving cake in under 5 minutes, and you only need one measuring utensil. Hooray! You will love it. But you may also wish you didn't know that you could make yourself a hearty helping of chocolate cake at a moment's notice…I will leave that for you to decide. Whatever you decide, this recipe for cake in a cup will change everything if you let it!
What you will need: a 12 oz. mug, preferably one that is tall rather than fat; a tablespoon; and a microwave. Oh, and ingredients…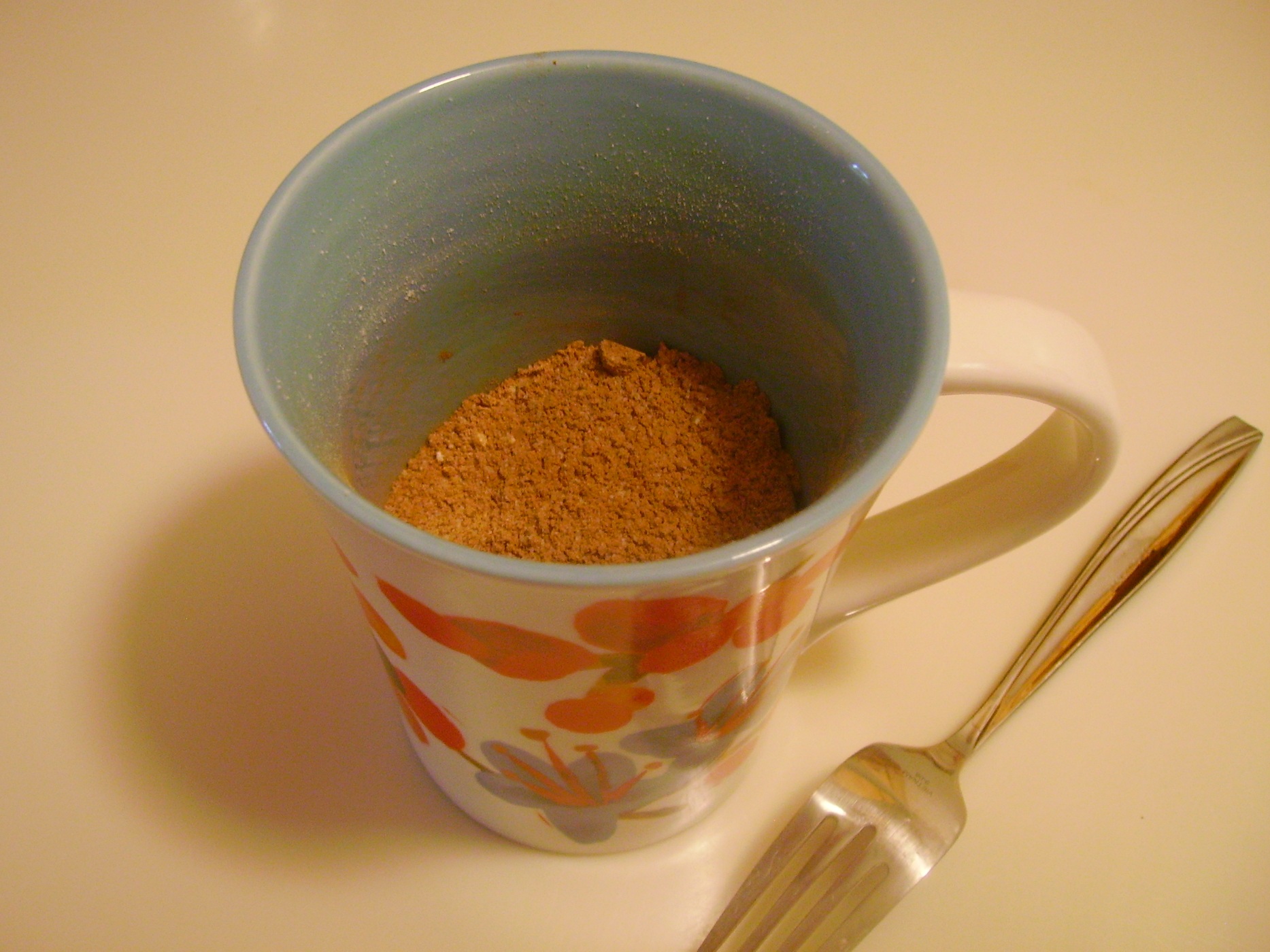 Start by stirring together the flour, sugar, and cocoa powder in the mug with a small fork until the color is uniform. If, for some crazy reason, you don't want to make chocolate cake, you could exchange the cocoa powder for flour and just add more flavoring later on.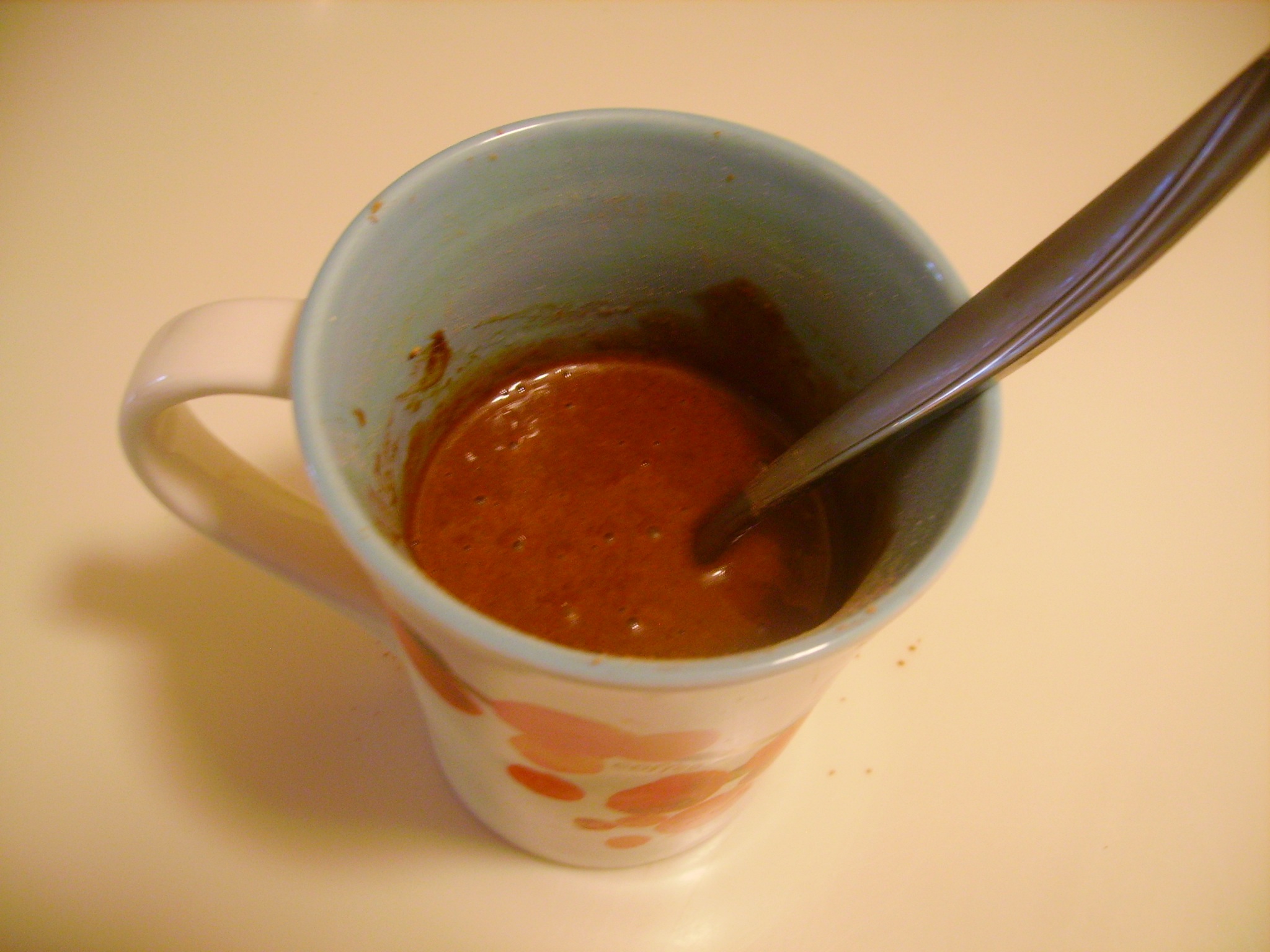 Stir in the wet ingredients: 1 egg, milk, oil, and a splash of vanilla extract. I like to stir the egg in first, as thoroughly as possible, and then stir in the other liquids once the egg is well mixed in. This is because any egg that does not get completely stirred in, any little bits of white or yolk that remain in tact, will cook in the microwave and leave little flecks of egg in the cake. Super gross, let me tell you. Regardless, stir everything really well, until the batter is thin and not lumpy.
If you want to, drop in a small handful of chocolate chips. I prefer the cake this way, but I will warn you that the chips tend to sink to the bottom, since the batter is so thin, so if you want them to have a better shot of being distributed through the cake instead of forming a dense layer on one end, then don't try to stir them in at all. Just leave them on the top.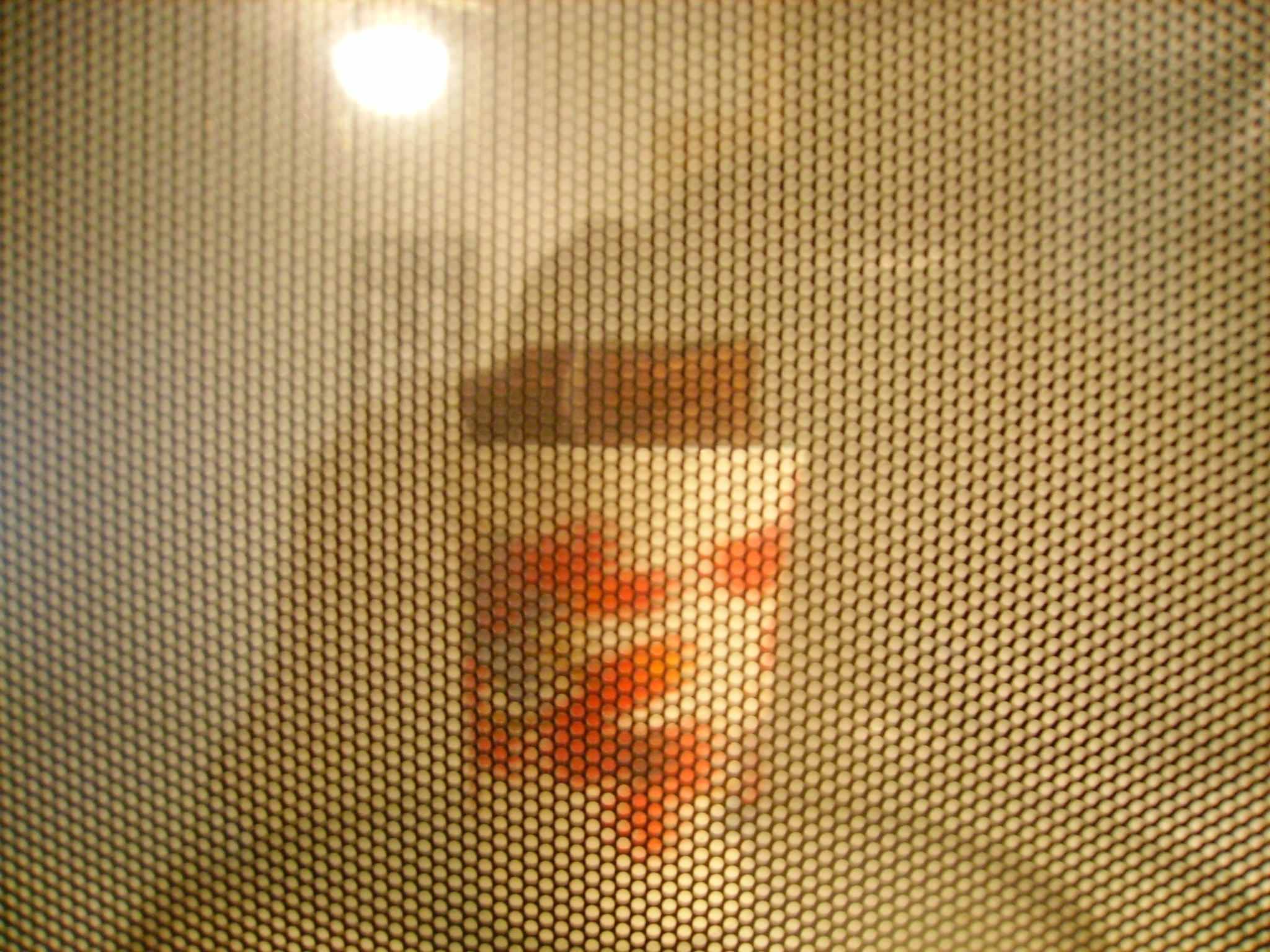 Pop the mug into the microwave. Microwave on full power, between 2½ minutes and 3 minutes. You will need to find your perfect time that works with your particular microwave to achieve the best consistency, but my general recommendation is this: The first time you make cake in a cup, stand by the microwave and watch it. The cake will puff up above the rim of the mug. Once you can see the cake above the rim of the mug, microwave for about 1 minute more. In my microwave (950 watts, but runs really hot), the perfect time is 2 minutes and 40 seconds. Just be careful not to overcook, otherwise it will end up dry and a bit chewy.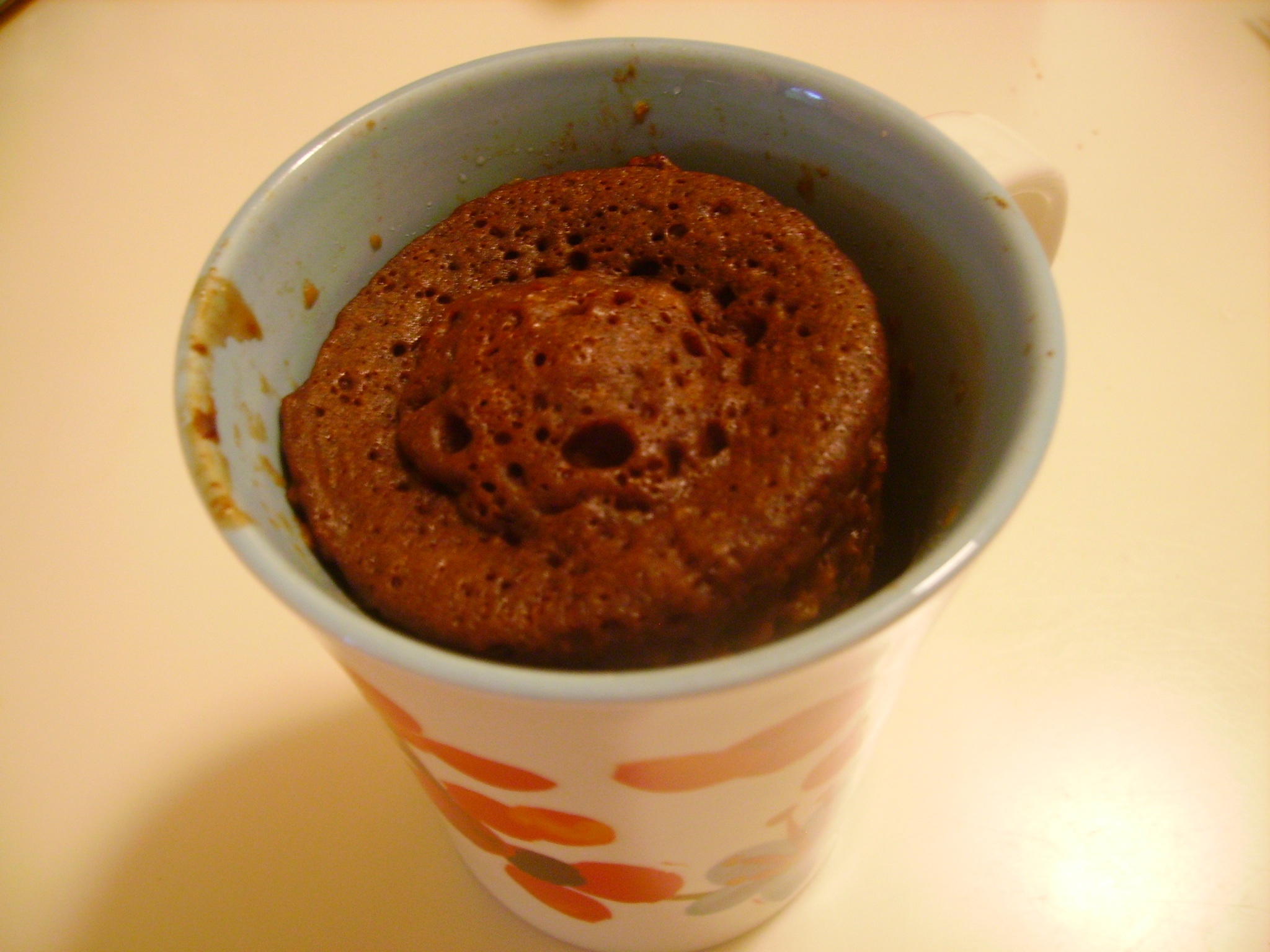 When the cake is cooked, turn it out of the mug onto a small plate. Either cut it in half or lay it on its side. Let it cool for 2–3 minutes, but enjoy it warm with a generous amount of whipped cream to serve as "frosting."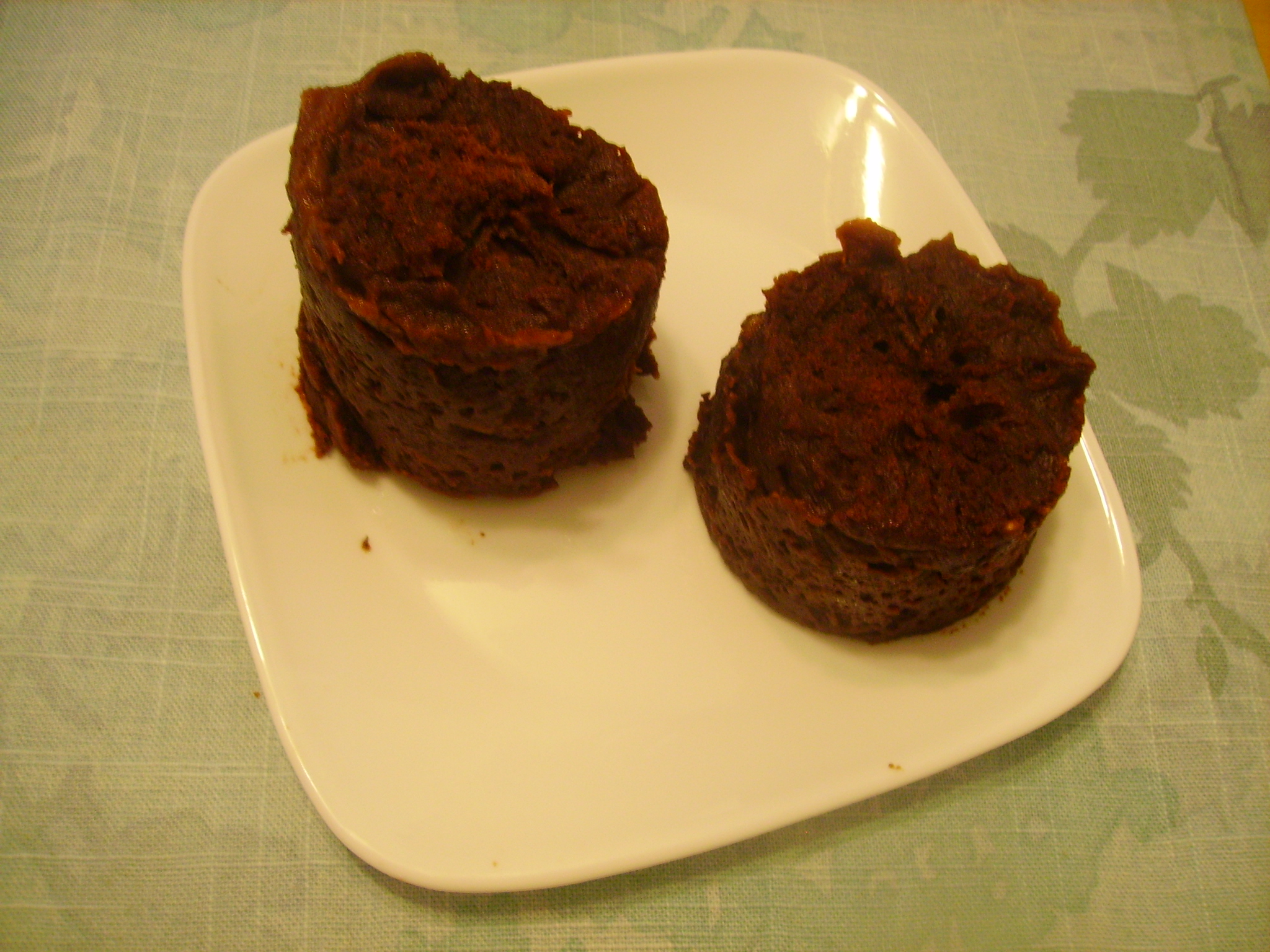 Chocolate Cake in a Cup
from Melissa Wilks/somewhere on the internet…
serves 1 (or 2, if you are feeling generous)
Ingredients:
4 tbsp. flour
4 tbsp. sugar
2 tbsp. cocoa powder
1 egg
3 tbsp. milk
3 tbsp. vegetable oil
1 splash vanilla extract
2–3 tbsp. chocolate chips (optional)
whipped cream (optional)
Directions:
In a 12oz. mug, stir together the dry ingredients. Add in the wet ingredients and stir until the batter is complete mixed and smooth. Add in the chocolate chips, if desired.
Microwave on full power for 2½–3 minutes. The cake should be firm to the touch (but be careful, it's very hot).
Transfer the cake to a plate to cool for a few minutes. The cake is best when eaten warm with whipped cream.
Enjoy!