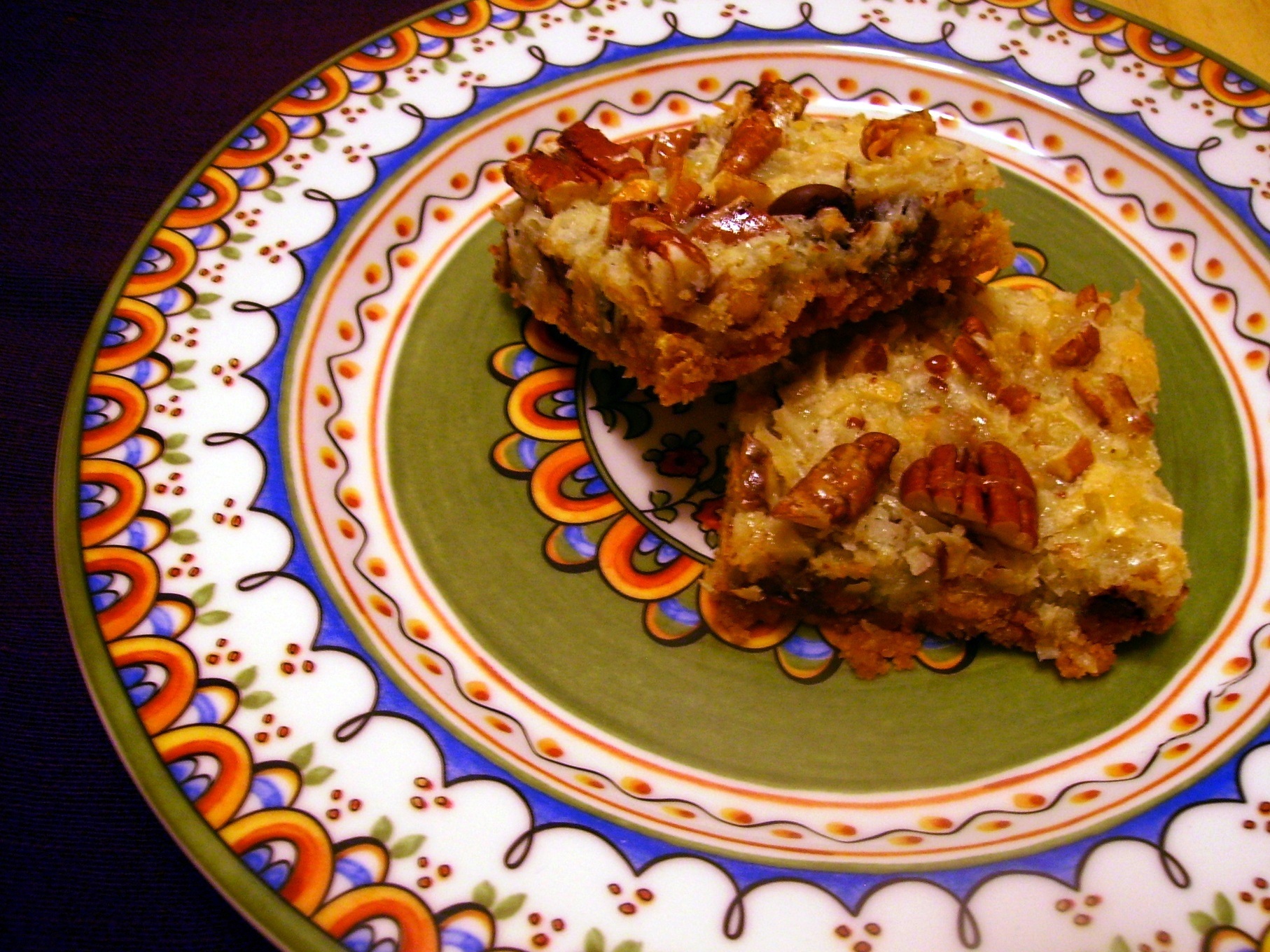 So. Now is a good time to tell you that I am a fan of cookies.
Maybe you already knew that.
You might also be able to guess that Christmas is one of my favorite seasons (for so many reasons!), in large part because cookies have a huge showing this time of year. At my house especially.
When I was growing up, my mom went all out with Christmas cookies. Every year, she would make about 8 different kinds of cookies, and man, those cookies were so good that she gave them away as gifts to our extended family. If she didn't have time to make someone's favorite cookie that year, they would come back with their bags or tins and say, "Hey, where is [insert cookie here]? I've been looking forward to that all year!"
What a legacy to live up to.
So when I finally moved away from home, I knew that Christmas would just not be Christmas without doing it up cookie style. I baked and baked and then packed up my cookies and gave them to my coworkers and my Bible study. I did not share the leftovers with my roommates. I gained 5 pounds. Oops.
Then I had a revelation…what if I made even MORE cookies and invited as many people as I thought would fit into my home to come and eat cookies with me!? Brilliant. Thus was born the annual Christmas cookie party.
Preparations for this year's cookie party are in full swing. This year I have set my sights high on making 12 different types of treats (waistlines, beware). For the past 3 days I have been baking and freezing and doing about a zillion dishes. I will share the details of the cookie party with you soon, including tips for planning your own Christmas party without going insane.
But today I am going to share the easiest holiday treat in the whole world with you: magic cookie bars. Some folks call these 7-layer bars, but whatever name you know them by, they are flavorful and awesome, and you really have no excuse not to try making them. I mean seriously, you don't even really have to stir anything. It's a relief.
Let me just start by saying that if you have an aversion to coconut or butterscotch, if you are allergic to nuts, whatever, no big deal! You can easily find things to substitute, or you can just leave out the ingredients you aren't on speaking terms with. Sure, your cookie bars might be slightly less racy, but they will be delicious all the same.
Line a 9″x13″ pan with parchment paper or foil. Grease the sides of the liner generously, because man, does that caramel get sticky!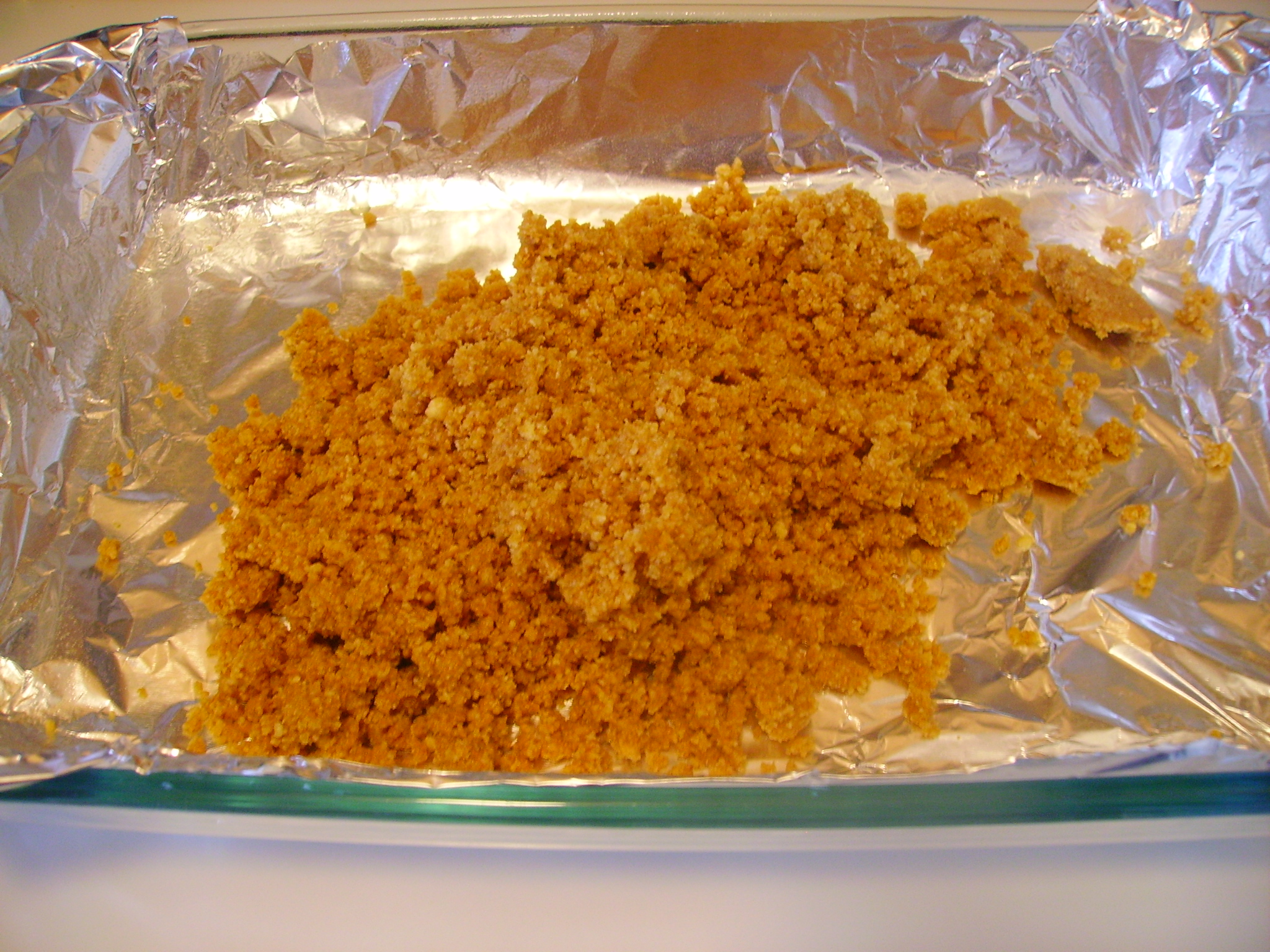 Melt the butter, pour it over the graham cracker crumbs (I buy crushed up graham crackers to save time, but you can also crush up your own), and stir them together (okay, this is the only thing you stir…and you could totally use your fingers if you don't want to dirty a spoon…or want to lick your fingers later…). Pat the graham cracker crumbs down in an even layer on the bottom of the prepared pan.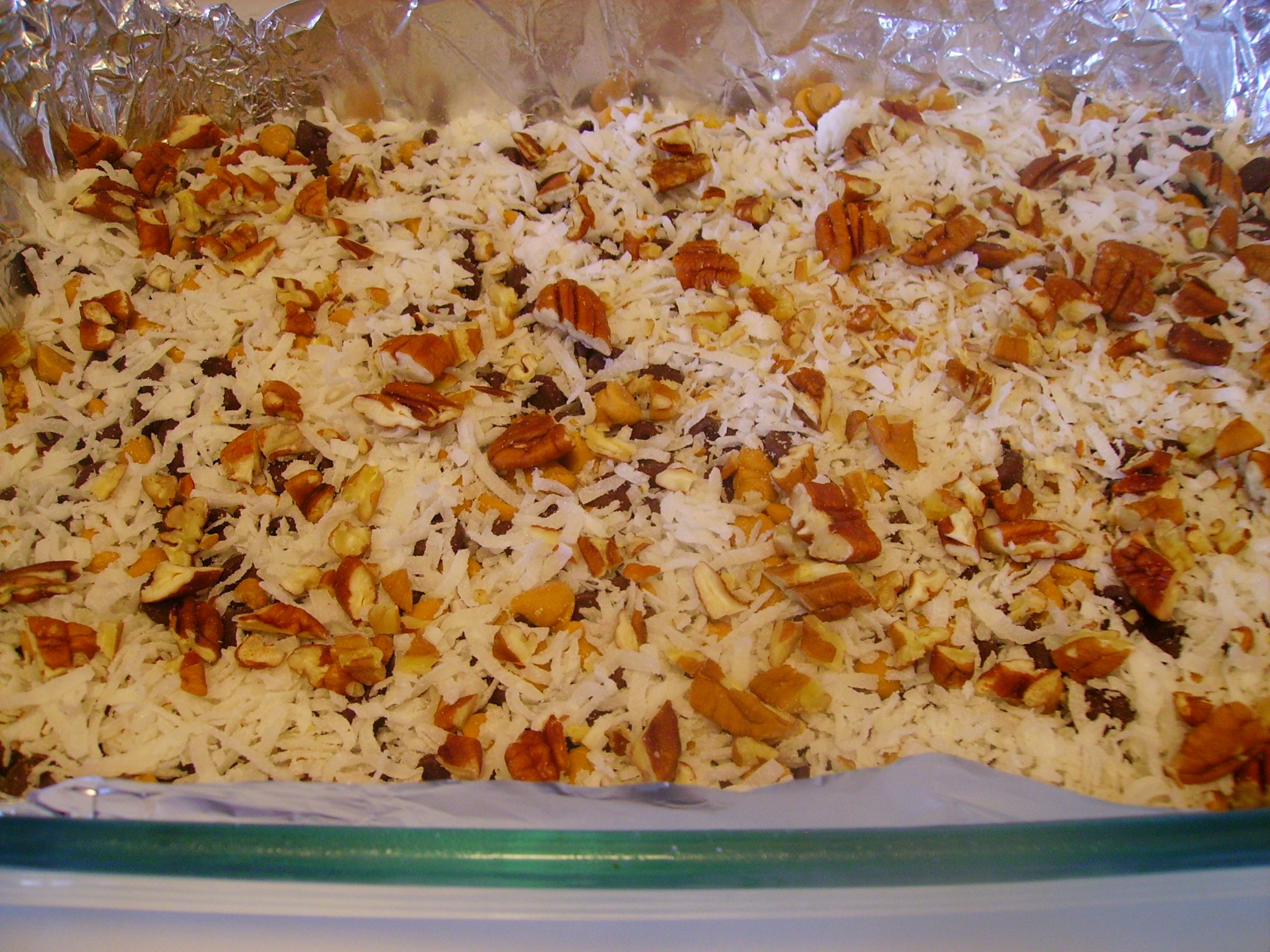 Layer the remaining ingredients over the graham cracker crust, in any order you like. This is how I do it: chocolate chips, butterscotch chips, flaked coconut, pecans. You must pour the sweetened condensed milk over top, because it is the glue that holds the whole sticky shebang together. Yum.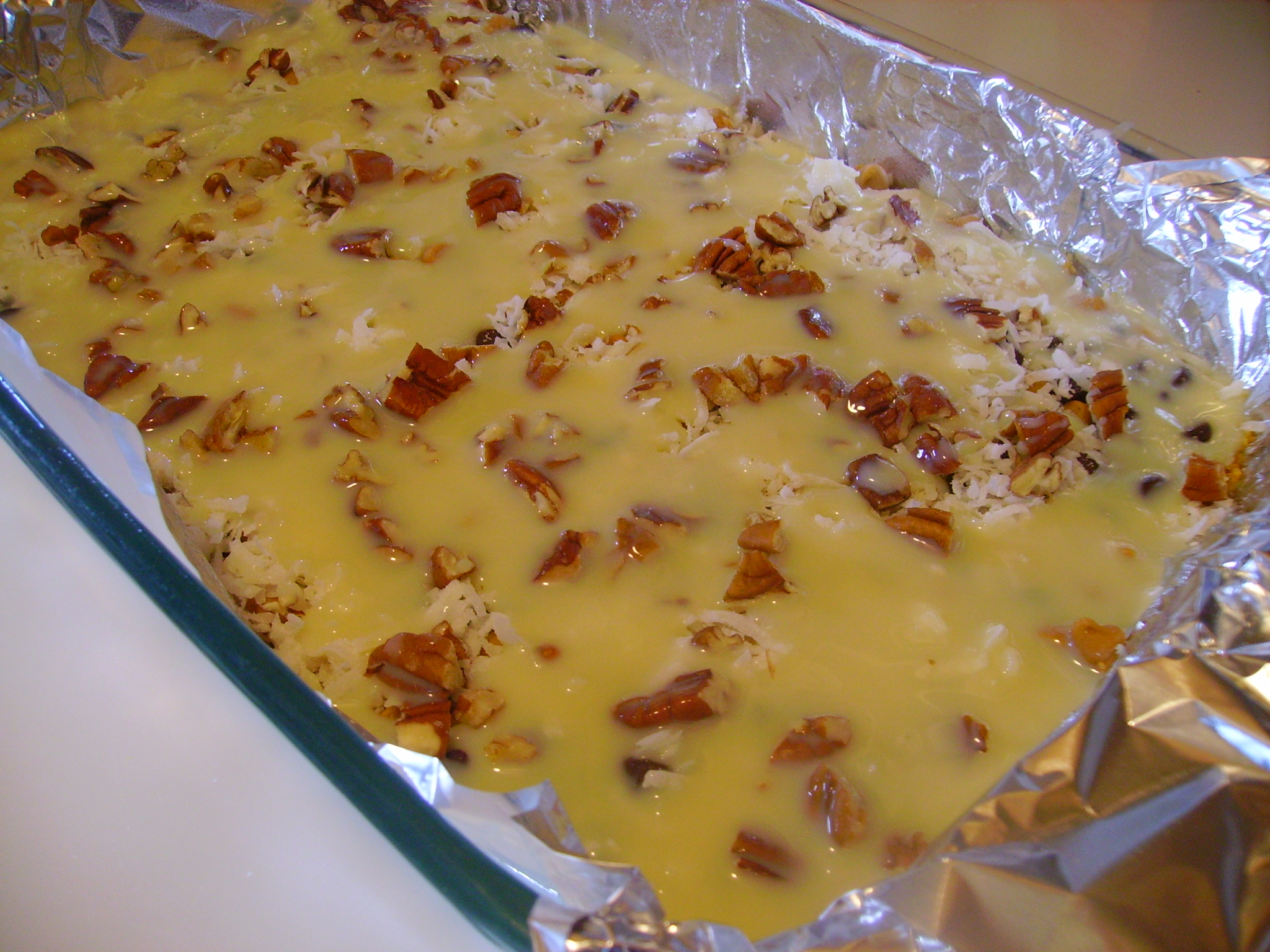 Bake for 30 minutes at 350°. Immediately after removing from the oven, run a knife around the edge of the pan to make sure nothing is stuck. You can peel back the sides of the liner, too, if you are brave enough to lift the solid cookie bar block out of the pan right away.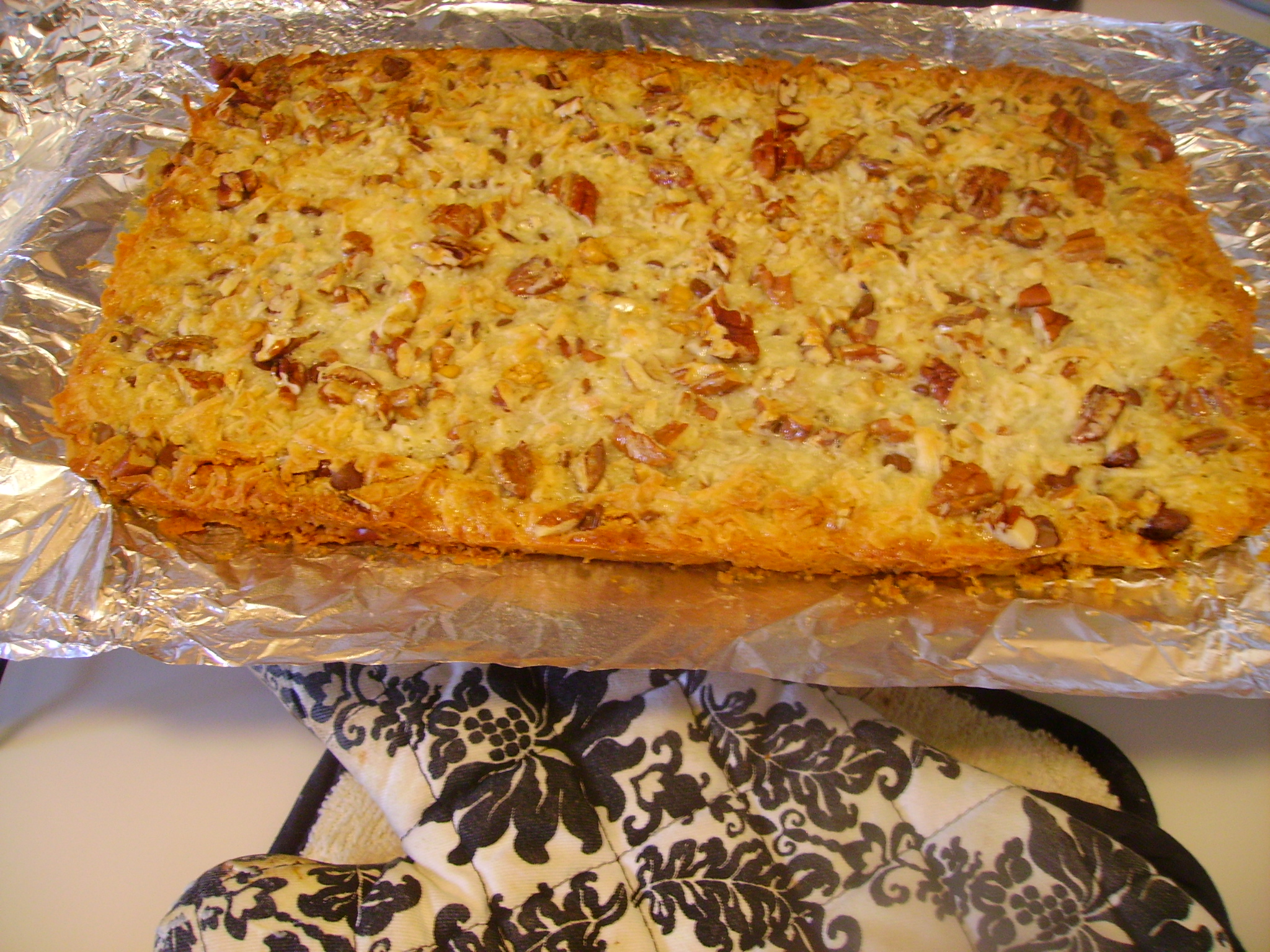 Cool the bars completely on a wire rack (in or out of the pan) before cutting.
Magic Cookie Bars
from my momma
makes 2 dozen cookies
Ingredients:
½ cup (1 stick) butter
1½ cups crushed graham crackers (about 1 sleeve)
1 cup chocolate chips
1 cup butterscotch chips
1 3½oz. package flaked coconut
½ cup chopped pecans
1 14oz. can sweetened condensed milk
Directions:
Preheat oven to 350°.
Melt butter, stir in graham crackers. Pat mixture evenly on bottom of a 9″x13″ glass baking dish lined with parchment paper.
Layer in order: chocolate chips, butterscotch chips, coconut, and pecans. Pour sweetened condensed milk evenly over the top.
Bake for 30 minutes. Immediately after removing from the oven, run a knife around the edges of the pan to loosen. Cool on a wire rack. Cut into bars.
Enjoy!