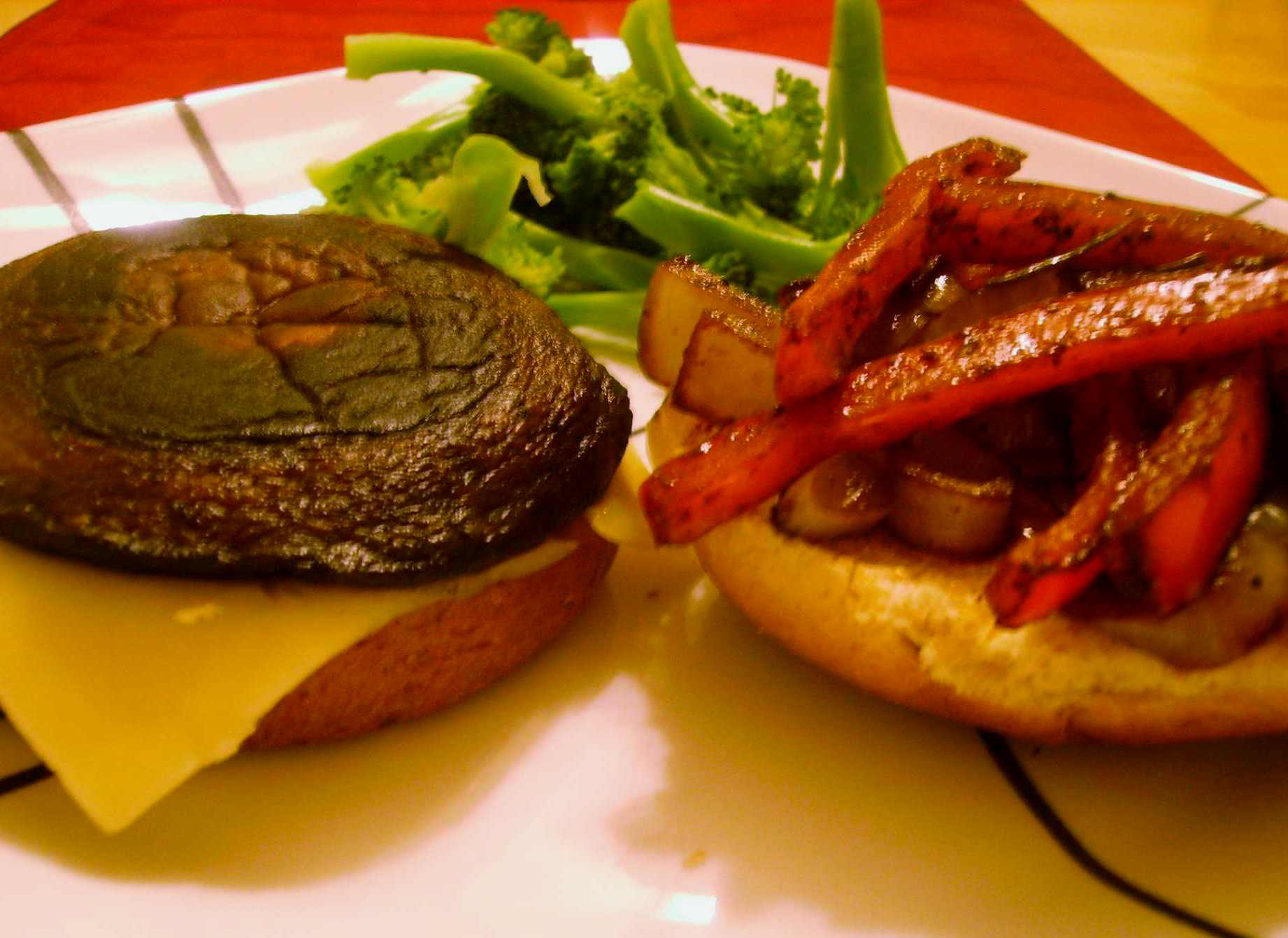 So. It's the week before Christmas. You are probably busy cleaning your house for the relatives coming into town, running back and forth from Target, and wrapping so many presents that you have little tooth-shaped scars on your index finger from the tape dispenser.
Or maybe that's just me.
What you really need right now is a quick and delicious meal that won't interrupt your flow. Something filling but not heavy. Something you could make using only one pan, and be ready to go in about 10 minutes.
What you need is portabella burgers.
Precursory announcement: This meal happened so fast that I managed not to take any pictures of it while I was cooking. Alas! But fortunately it is so easy that you shouldn't really need the pictures in order to carry the meal out perfectly 🙂
Start by slicing up a small onion and a red bell pepper. You can really cut these veggies to whatever size you want, but to save time, I make rather large slices rather than trying to get everything into a medium dice.
In a medium sauté pan, cook the veggies you just chopped, along with 1 clove minced garlic, in about 1 tbsp. each olive oil and balsamic vinegar. I also like to add whatever fresh herbs I have in my fridge, which right now means lots of rosemary. Sauté for about 5 minutes, until the onions are translucent and have absorbed most of the vinegar, turning them brown at the edges. If you want to, add a pinch of sugar to help them caramelize before removing from the heat.
Meanwhile, toast the hamburger buns. As soon as they come out of the toaster, lay a slice of Swiss between each of the top and bottom buns so the cheese will melt slightly.
When the veggies are done, transfer to a bowl to cool slightly, and quickly wipe down the pan with a paper towel. Melt 1 tbsp. butter in the pan. While the butter melts, break off the stems of the mushrooms and wipe them down with a slightly damp paper towel to remove the dirt.
Saute the mushrooms, turning regularly, until they become very dark in color. They will release some of their excess liquid during the cooking process, so though you may feel tempted to add more butter about a minute into cooking them, don't do it! I turned the mushrooms over about ever 30–45 seconds, and when the bottom of the mushrooms appeared soaked with liquid and the caps were a bit pliable and soft on the outside, but still slightly firm in the center, I removed them from the heat.
The cheese between the hamburger buns should be nice and soft by now. Layer a portabella mushroom and about half of the onion-pepper mixture (or however much fits—I usually have about ⅓ cup leftover) on top of the cheese, and finish with the top bun.
Let the burgers cool for a minute or two before eating, and make sure to keep several napkins handy, as the mushrooms likely still have liquid left to release.
Portabella Burgers
a Melissa original
serves 2
Ingredients:
½ yellow onion, sliced in half-moons
½ red bell pepper, julienned
splash of olive oil
2 splashes balsamic vinegar
1 clove garlic, minced
dash of salt and black pepper
fresh rosemary, oregano, or thyme (optional)
2 whole wheat hamburger buns
2 slices Swiss
1 tbsp. butter
2 medium portabella mushrooms
Directions:
Heat the onion and red pepper in a skillet with oil, vinegar, garlic, herbs, salt, and pepper. Cook until the onion is clear and the bell pepper is soft.
Meanwhile, toast the hamburger buns. As soon as each one comes out of the toaster, place a slice of Swiss cheese on the bottom bun. Lay the top bun over the cheese to encourage it to melt.
Sauté or grill the portabellas about 5 minutes, turning over regularly to prevent burning. When tender and juicy, transfer to the waiting buns. Top with onion-pepper relish.
Eat warm. The mushrooms will be very juicy.
Enjoy!