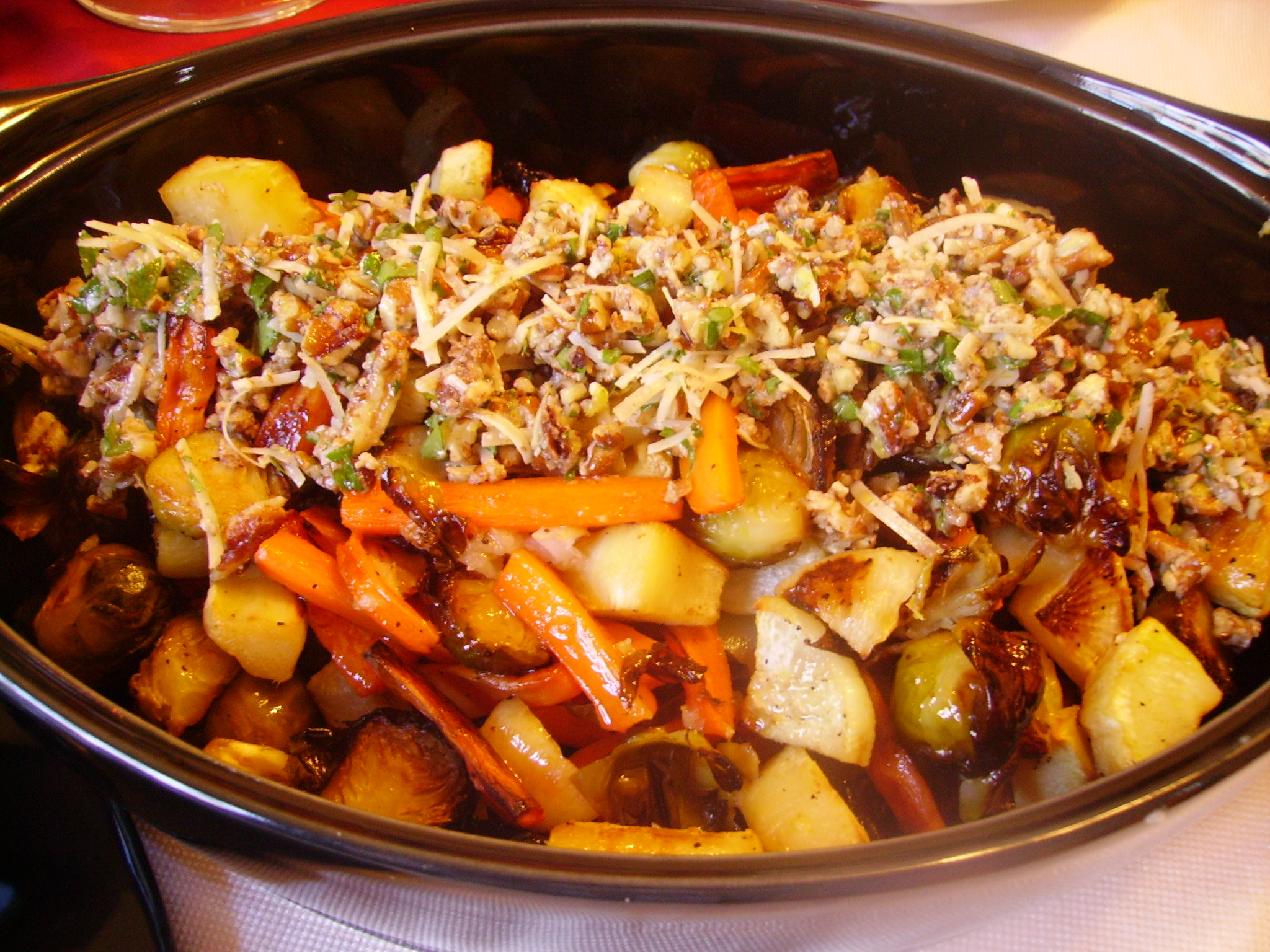 Eating seasonally is awesome. But I am not very good at it, mainly because I have a hard time knowing when things are in season. I think this is the plight of most Americans who don't grow up in agricultural communities (which I'm given to understand is most Americans), because most grocery stores stock the same selection of produce year round.
My mom once told me to just follow the sales—that foods will be on sale when they are plentiful and fresh in your area. But the grocery stores lie. Sometimes asparagus goes on sale in September. Sometimes there are specials on strawberries (for Dave…not for me…) in January. It's confusing.
I've been trying to learn what foods are in season when in the DC area, and I discovered that winter vegetables include root veggies, such as carrots, sweet potatoes, and parsnips; brussels sprouts; leeks; and of course winter squash, such as butternut, spaghetti, and kabocha. So, naturally, I was super excited to find a roasted veggie dish comprised entirely of wintery produce.
This dish makes a great, simple side for a dinner party; I, personally, like to eat it for lunch alongside a container of yogurt. You could set the cold leftovers on top of some greens and call it a salad, or reheat and enjoy it with your favorite carb. In short, roasted veggies are the best, and you should make this dish for your family and all your friends!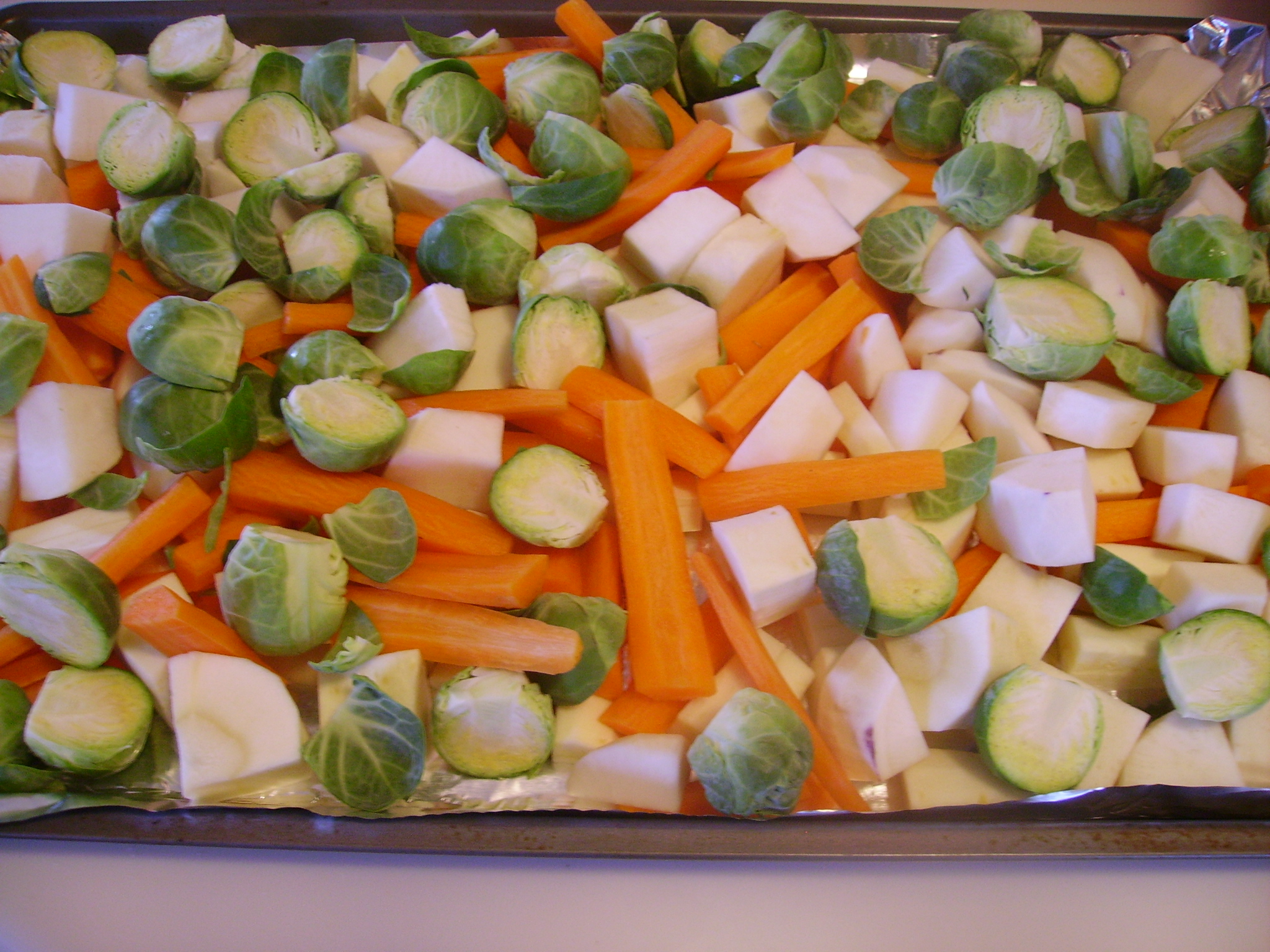 Start by peeling the carrots, parsnips, and turnips. Cut them into small chunks, pieces that you could fit into your mouth without any further chopping. For me, this ended up meaning some long, skinny pieces and some chunkier blocks, depending on the shape of the vegetable I had to work with.
Toss the veggies in a few tbsp. olive oil and transfer to a very large, rimmed cookie sheet. Sprinkle with salt and pepper.
Roast the vegetables for 1 hour in a 425° oven. Every 15 minutes, remove the tray from the oven and turn the vegetables over to promote a more even roast. (To be honest, I was a little short on time, so I roasted my veggies for 45 minutes at 450°. This cooked the vegetables through until tender, but didn't give them a nice crispy bit at the edges.)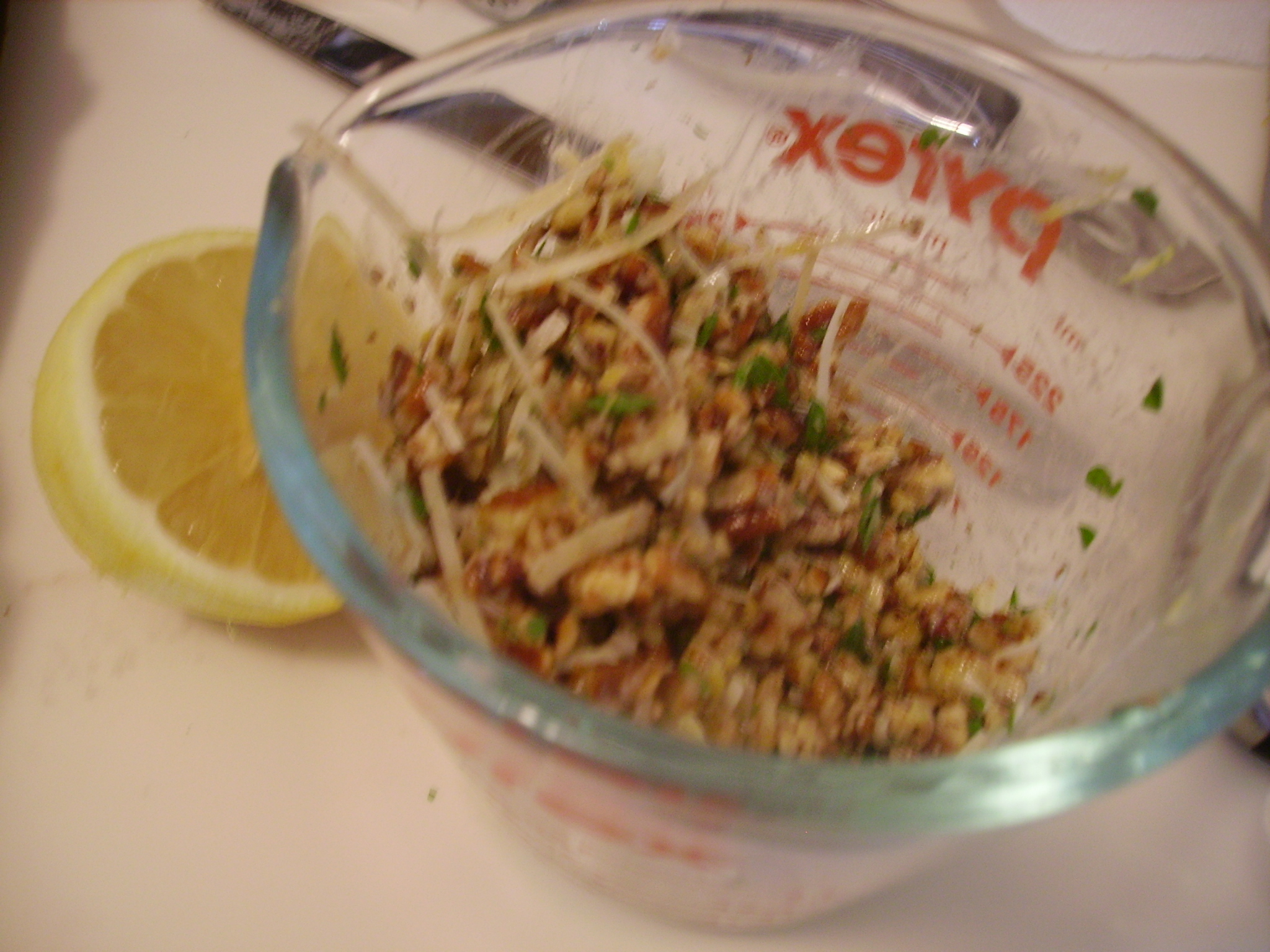 While the vegetables are roasting, make the gremolata (a gremolata is basically a chopped herb and lemon condiment, chunkier than a salad dressing). Combine the chopped nuts, parmesan, minced parsley, garlic, 1 tbsp. olive oil, lemon zest, and 1 tbsp. lemon juice in a small bowl.
When the veggies are done roasting, transfer them to a large serving dish. I used a 2½ qt. shallow bowl, but a platter works just as well. Drizzle with the remaining 2 tbsp. olive oil and 1 tbsp. lemon juice.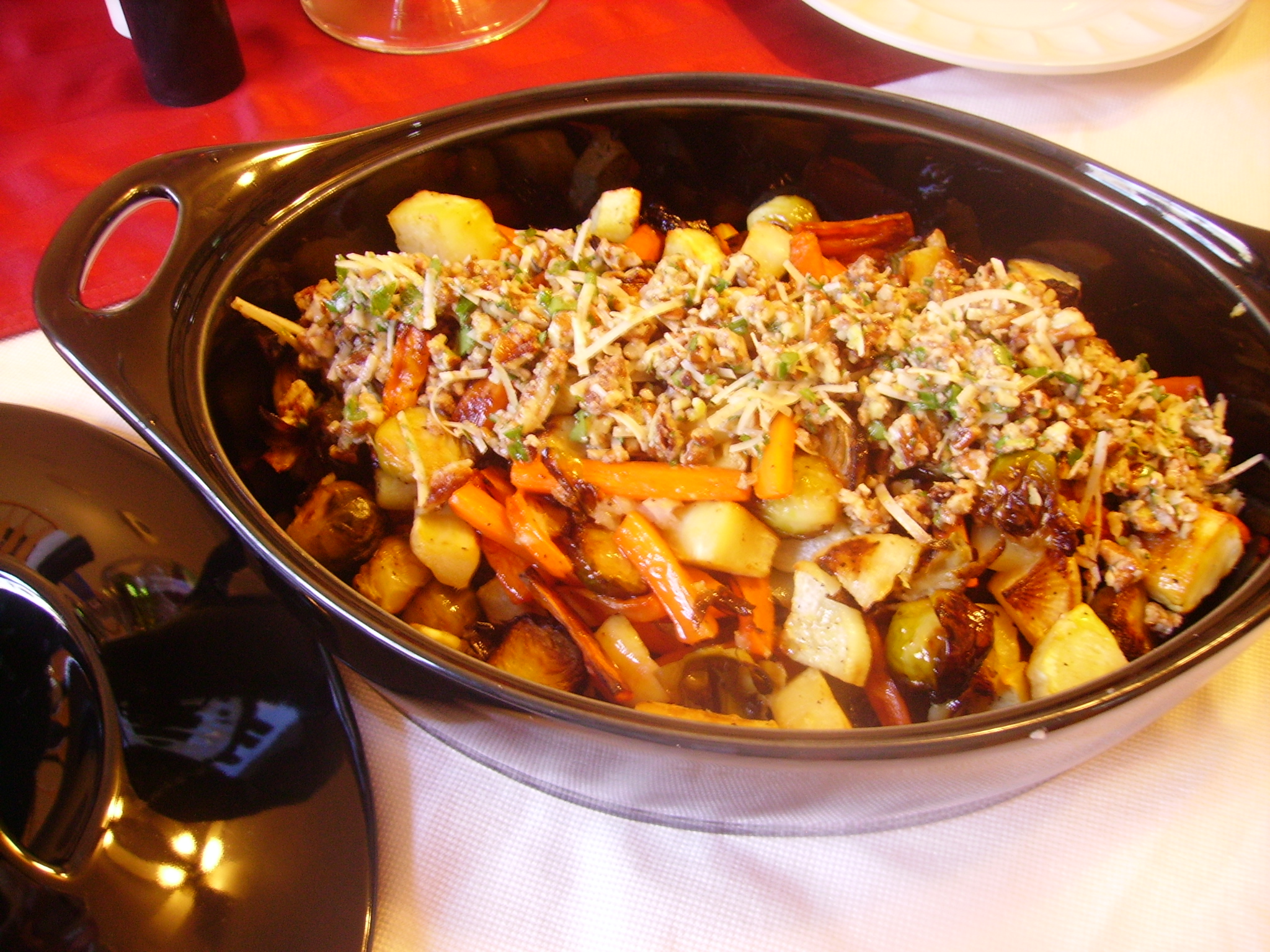 Just before serving, sprinkle the veggies with the pecan gremolata. Toss to ensure the nuts and seasonings are evenly distributed throughout the dish.
Roasted Winter Vegetables with Pecan Gremolata
from Epicurious
serves 8
Ingredients:
1 lb. medium carrots, peeled and quartered lengthwise
1 lb. medium parsnips, peeled and quartered lengthwise
1 lb. turnips, peeled
1¼ lbs. brussels sprouts, trimmed and halved
6 tbsp. olive oil, divided
salt and black pepper
¾ cup pecans
¼ cup shredded parmesan
2–3 tbsp. finely chopped fresh parsley
1 small clove garlic, minced
1 tbsp. finely grated lemon zest
2 tbsp. fresh lemon juice, divided
Directions:
Preheat oven to 425°.
Chop up the vegetables into large chunks, approximately 1″.
Toss carrots, parsnips, turnips, and brussels sprouts in large bowl with 3 tbsp. olive oil. Transfer to rimmed baking sheet lined with foil; sprinkle with salt and pepper.
Roast about 1 hour, turning often so they will cook evenly, until the vegetables are tender with slightly crisp edges. Transfer vegetables to large serving dish.
Pulse the pecans in a food processor until coarsely ground. Transfer to a small bowl; stir in grated cheese, parsley, garlic, lemon zest, 1 tbsp. lemon juice, and 1 tbsp. olive oil. Season the gremolata to taste with salt.
Drizzle the cooling vegetables with remaining 2 tbsp. oil and remaining 1 tbsp. lemon juice.
Sprinkle gremolata over vegetables just before serving.
*Note: If time is tight, roast the vegetables at 450° for 45 minutes.
Enjoy!