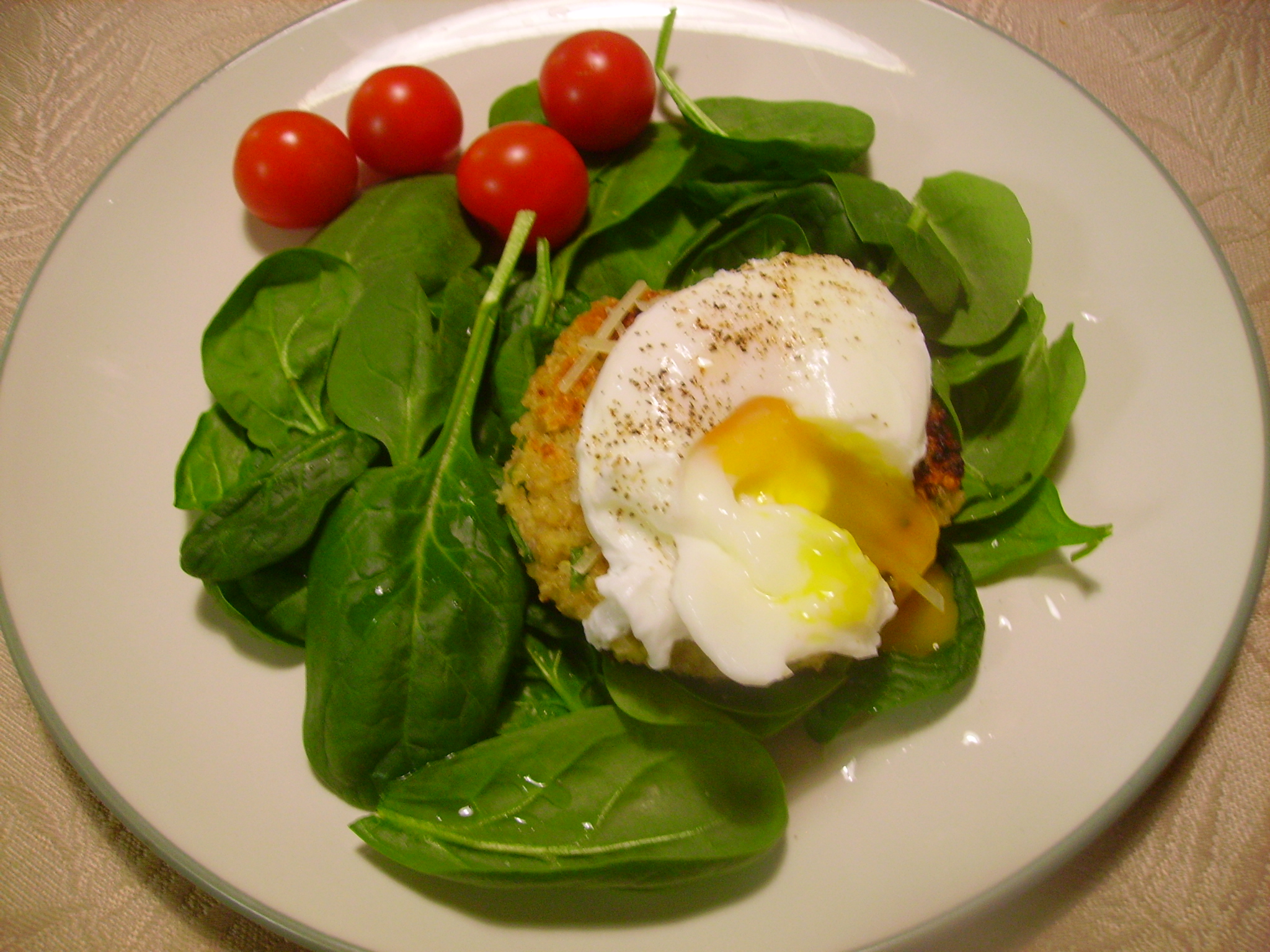 Okay. I have become a little obsessed with quinoa. I love the idea of a grain that is also a protein! I mean seriously, as a vegetarian, I probably am protein deficient most days, but I often overload myself with carbs. So eating quinoa helps me make my carb-heavy diet work a little better for me!
I saw this recipe several months ago in Super Natural Every Day, a cookbook I adore, and I knew I had to make it. But as often happens, I pick out too many recipes and some of them get shuffled to the bottom of my list so I can focus on…oh, let's say a month of making cookies (ahem). So then about a month ago, I stumbled across several variations of this recipe floating through the blogosphere, most notably this one from Annie's Eats, and my interest was piqued once again. I mean, who doesn't love poached eggs!? (If you are thinking to yourself something like, "I've never tried to poach an egg," let me just say that it's pretty easy and you won't regret it!)
So the saga continued when a few weeks ago, some of my girlfriends planned a ladies-only movie night. Cue me realizing that a meatless "burger" and salad might just be the perfect prelude to too the loads of sweets that tend to accidentally fall into my mouth during movie nights (thank you Stacy for the irresistible peanut butter blossoms)…and voilà! It was decided.
These little patties are delicious. If you are afraid of poaching eggs or want something a little more low-key, you could also serve them as sandwiches! I, personally, broke my patty apart into bite-size chunks and ate the meal like a salad, with the runny egg yolk as my a salad dressing. Yum.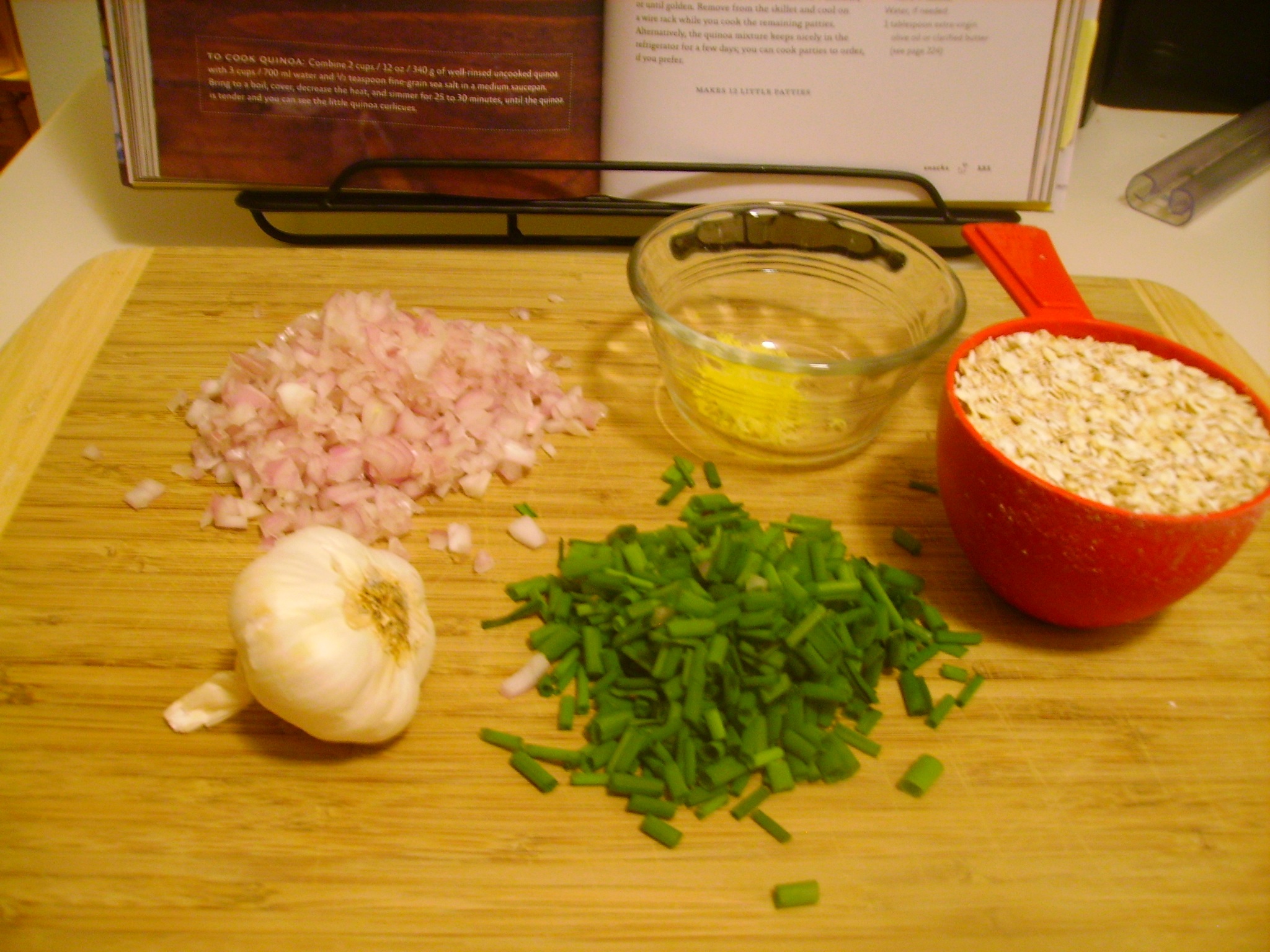 Start by cooking the quinoa. This should take about 15 minutes, but make sure not to cook the quinoa too quickly, or else the little curlicues will not pop out.
Meanwhile, prepare the mix-ins: 2 shallots, a bunch of chives, garlic, lemon zest, oats, and a few eggs.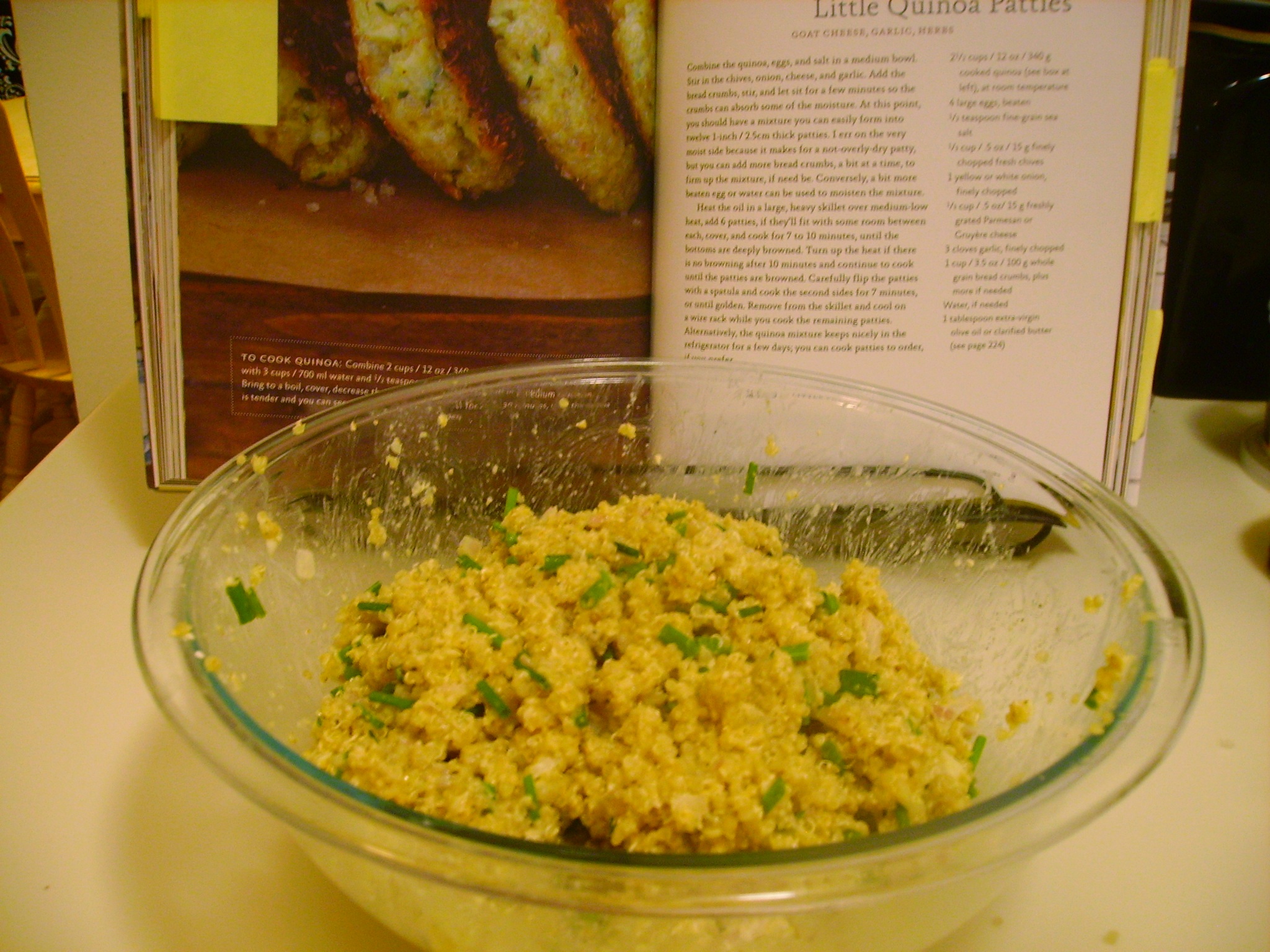 When the quinoa is cooked, mix everything together with your hands. Yes, quinoa tends to be really sticky…so your hands will indeed be covered in gunk before all is said and done. Don't forget to season it!
Shape into 8 patties. At this point in my cooking process, I wrapped the raw patties up and took them to my friend's house. You definitely want the patties to be freshly seared when you eat them, so only cook those which you intend to eat right away.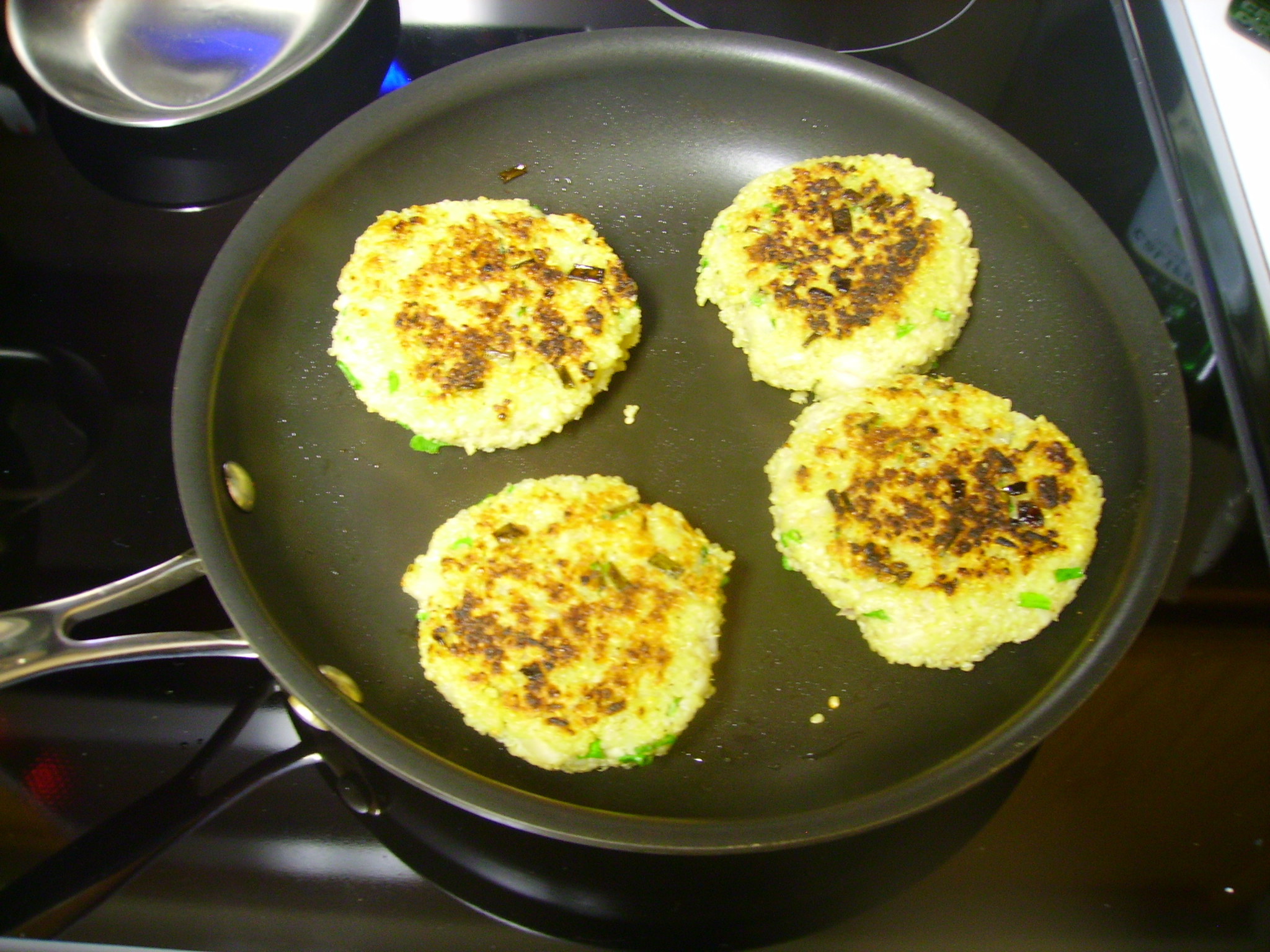 Heat up a skillet drizzled with oil over medium heat. Gently set the patties into the warm oil and cook for 6–8 minutes on each side.
Meanwhile, lay some baby spinach and cherry tomatoes down on the plates. Also, poach your eggs.
I don't have a picture of this, but poaching an egg is something that requires just a little bit of practice in order to figure out what you're doing. I do them one at a time, because I am a chicken and I don't have any egg poacher cups, but maybe you have more confidence in being able to separate the eggs later and you like to do a few at once.
Start with simmering (not boiling) water. Crack an egg into the water. It will look like it's going all over the place…I used spoons to kind of gather some of the wisps back up to the egg. Gradually the white will turn opaque. The water will begin to boil, and eventually the top will become a bit foamy, which is just the little bits of egg white that did separate and do their own thing. Scoop the egg and the little fluffy bits out of the water with a slotted spoon. The white should be completely cooked, but the egg should still be a bit wiggly and soft, indicating that the yolk inside is runny.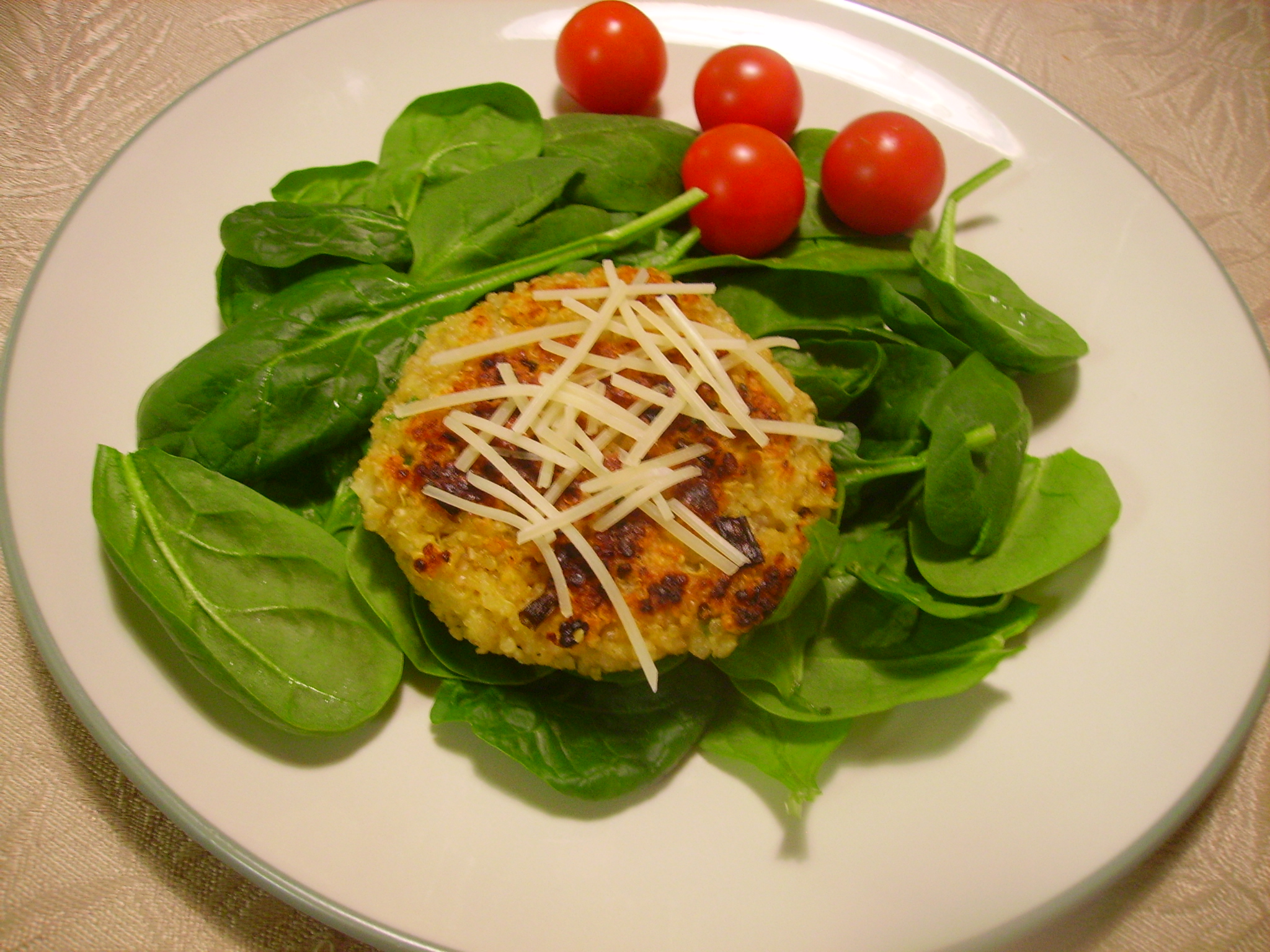 Top the salad with a quinoa patty, and top the quinoa patty with the freshly poached egg. Season to taste with salt and pepper. Cut into the yolk and let it run onto the patty and the spinach. Mmm.
Quinoa Patties with Poached Eggs
adapted from Super Natural Every Day and Annie's Eats
serves 8
Ingredients:
2½ cups cooked quinoa
3 eggs, beaten
½ tsp. fine grain sea salt, plus extra as needed
½ tsp. black pepper, plus extra as needed
⅓ cup roughly chopped chives
2 shallots, finely chopped
⅓ cup grated parmesan
1 tsp. lemon zest
3 cloves garlic, minced
1 cup ground oats
½ cup water
1 tbsp. olive oil
10 oz. fresh baby spinach
1 pint cherry tomatoes
8 eggs, poached
juice of 1 lemon (optional)
Directions:
Combine the quinoa, eggs, salt and pepper, chives, lemon zest, garlic, oats, and water in a large bowl.
Form the quinoa mixture into 8 large patties.
Heat the olive oil in a large skillet and carefully set 4 patties into the skillet. Cook for 6 minutes and then check for brownness. If it is still a bit pale, leave it on the heat for another few minutes, but if it is nicely browned, flip over and cook for another 6 minutes.
Serve the quinoa patties over spinach and tomato salad, each topped with a poached egg and an extra sprinkle of parmesan. Drizzle with lemon juice, if desired.
Enjoy!