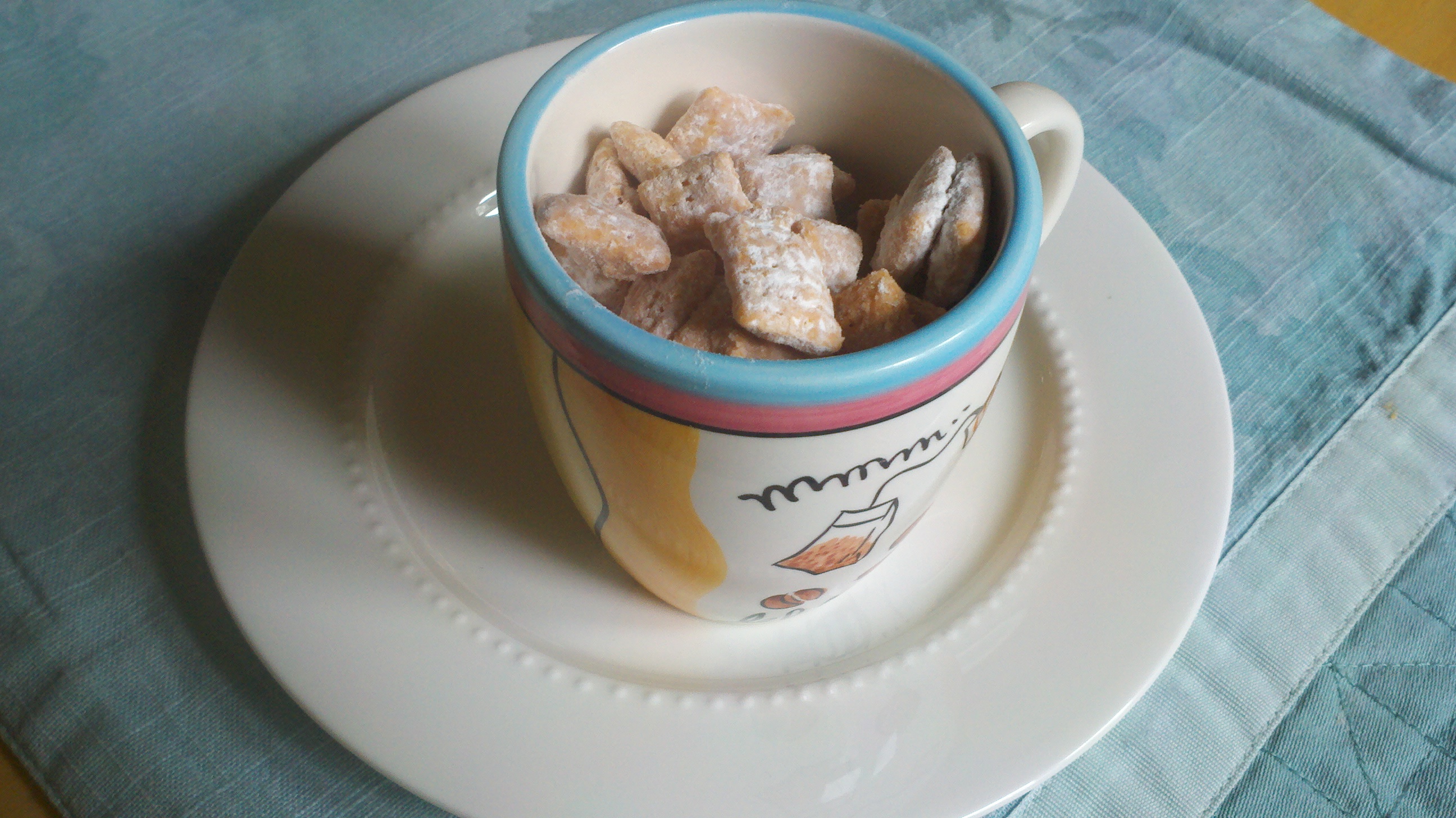 My husband and I recently took a mini vacation in the Shenandoahs. By the way, if you have never done that, it's beautiful! The views are just incredible, and if you get a clear night the stars will take your breath away. We had a room with no TV and no internet, which may sound like torture, but it was actually kind of a relief to be screen-free for the weekend. We took hikes and read books and played games…
And suddenly I was transported back to childhood camping trips that my family took. We would pack our old brown Caravan full of gear and coolers and snacks and drive for about a thousand pages (er…hours…) down to Florida where, unlike in the rest of the eastern seaboard, it was warm.
My mom always made these great snacks for us, and chief among the camping delights I found myself craving during our weekend in the Shenandoahs was butter buddies.
Butter Buddies are much like Muddy Buddies…except they are even more awesome. Instead of chocolate and peanut butter, which is definitely a strong combination, my mom made her confectioner's-sugar-covered Chex with butterscotch and peanut butter. Believe me, that combination is amazing! Sweet and salty at the same time, but a much lighter and brighter flavor than the choco-peanut butter mix. I love it.
So when we returned home, literally the first thing I did was buy a box of Chex so I could make myself some butter buddies. These take about 10 minutes to make, and they are basically irresistible. You know you want some…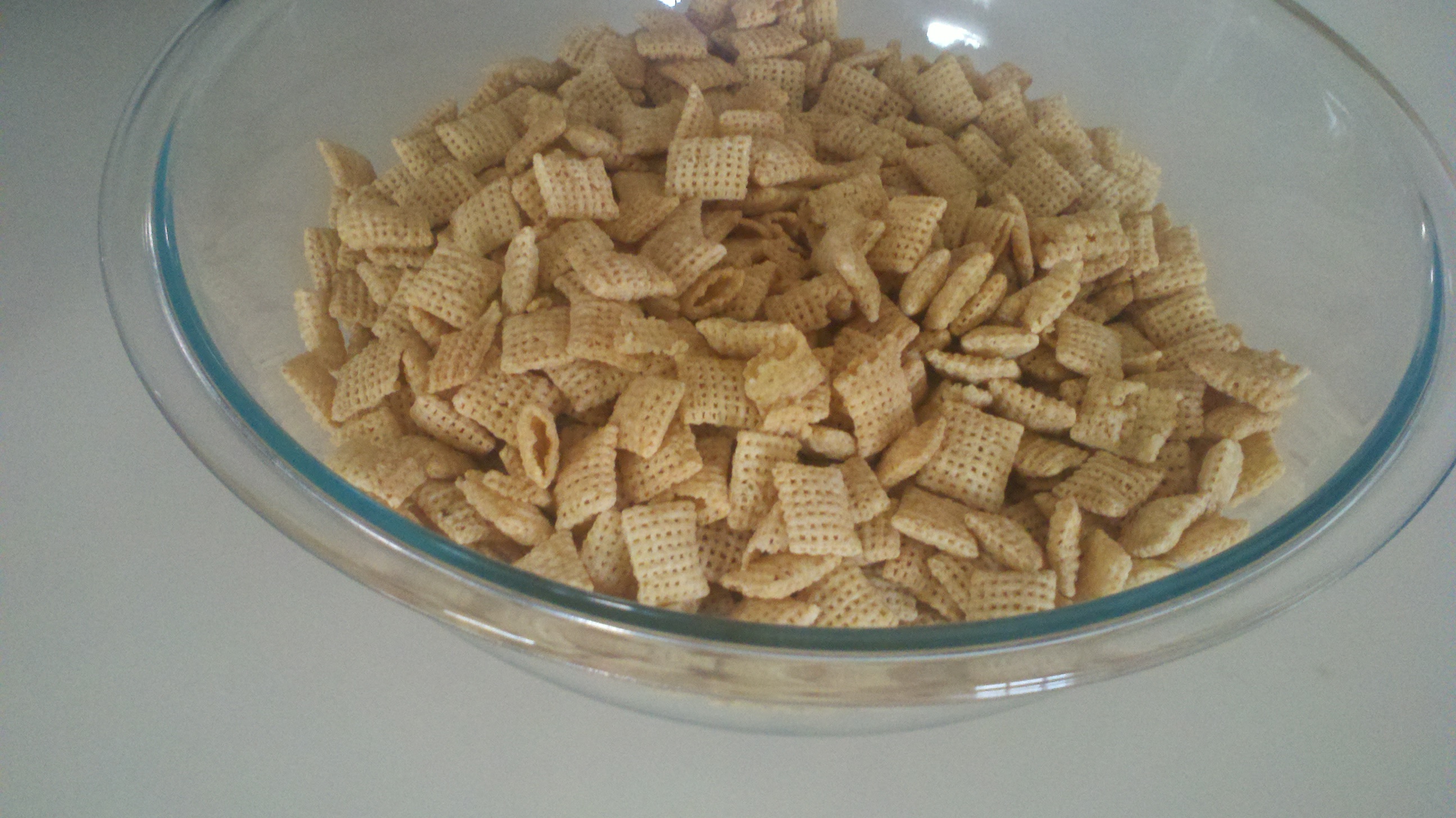 Find the largest bowl you have. Dump almost the whole box of Chex into the bowl. (Just kidding, you should actually measure out the 9 cups.) You can use whatever variety of Chex you prefer; I went with Rice Chex.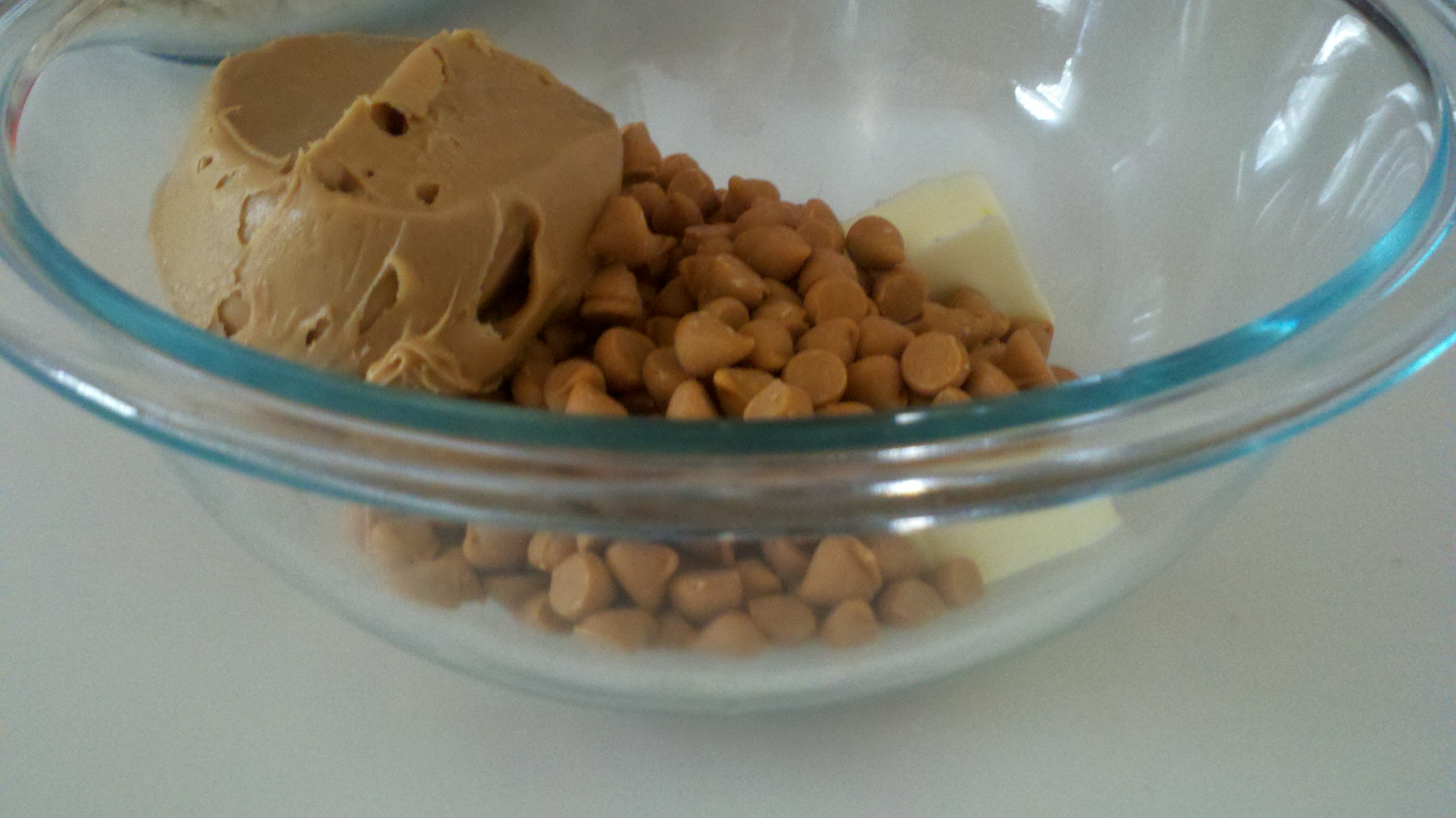 In a separate bowl, combine butterscotch chips, peanut butter, and butter. Melt them, stirring at regular intervals, until smooth and well combined. Mix in the vanilla extract.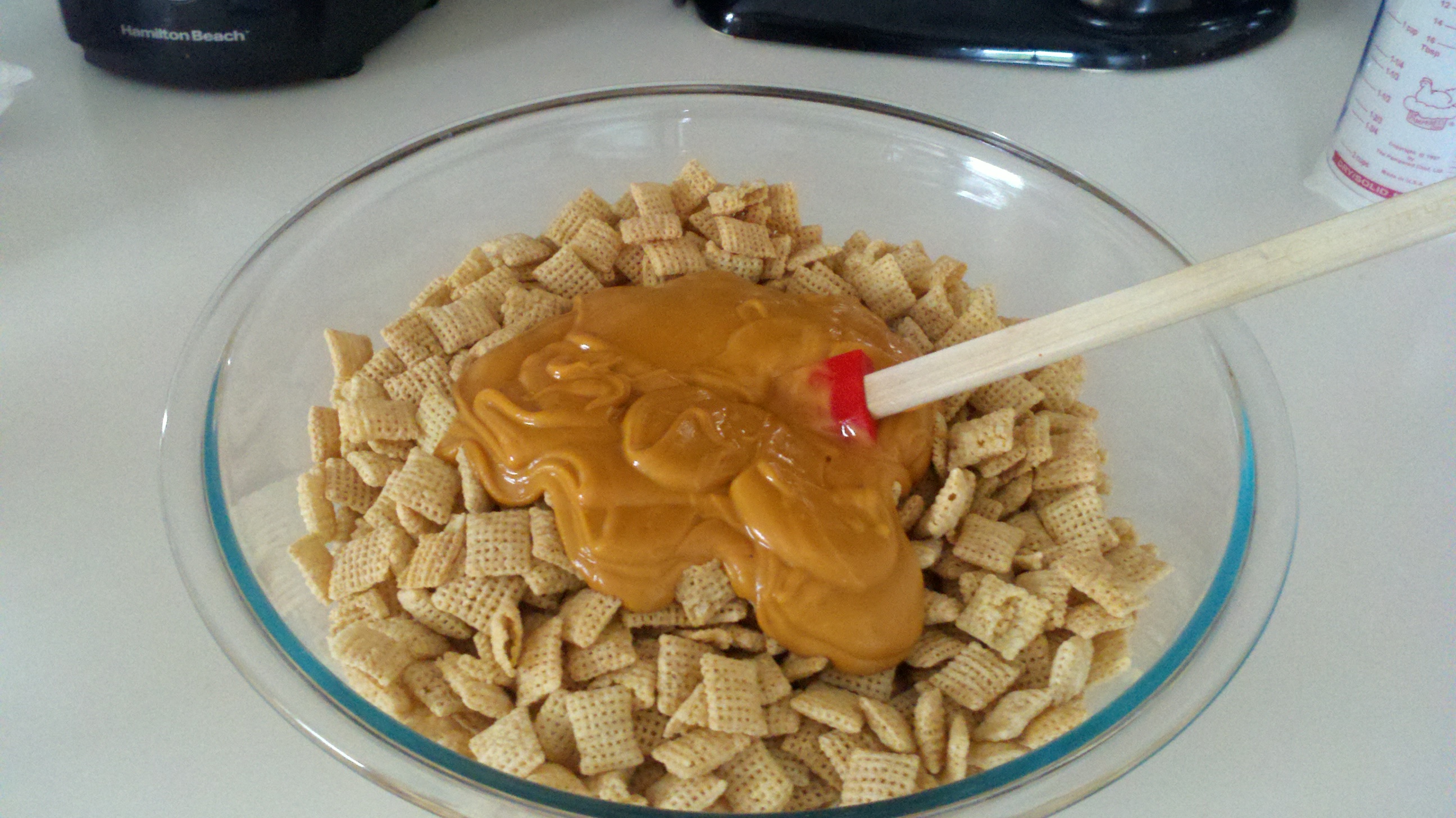 Stir the butterscotch-peanut butter mixture into the Chex. This is the hardest part, and it will probably take about 5 minutes to get the Chex fairly evenly coated with the melted candy.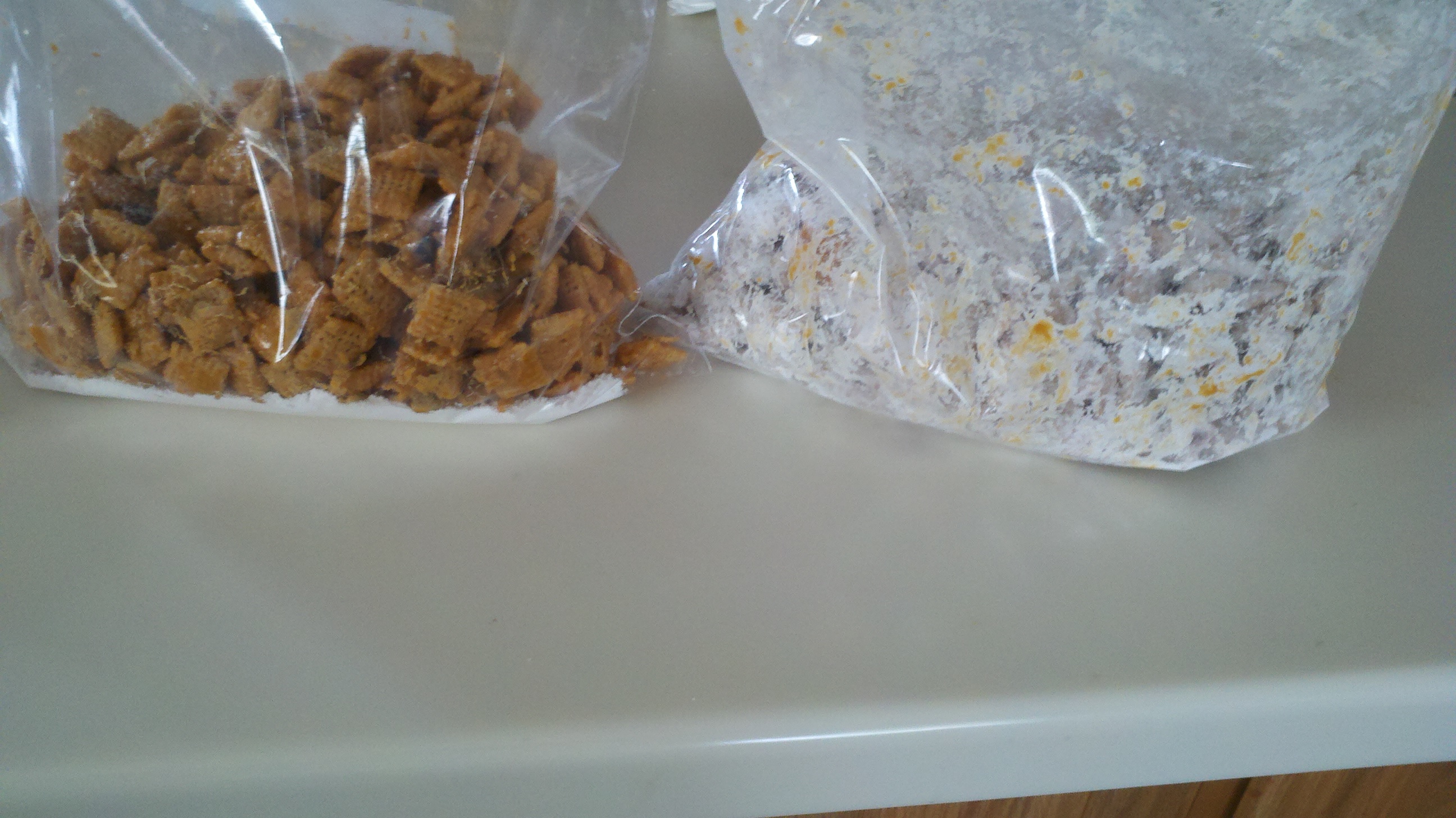 When you are satisfied with the Chex mixture, prepare one 2-gallon or two 1-gallon Ziploc bags by filling with confectioner's sugar (I didn't have a 2-gallon bag, so I divided the sugar between two 1-gallon bags and that worked just fine). Scoop the sticky Chex into the bag(s) and zip shut. Shake, shake, shake, until the Chex are evenly coated with sugar!
Try not to eat more than about ½ cup at once. 🙂
Butter Buddies
adapted from Chex
makes 9 cups/18 servings
Ingredients:
9 cups Chex cereal of your choice
1 cup butterscotch chips
½ cup creamy peanut butter (low-fat is fine)
¼ cup butter
1 tsp. vanilla extract
1½ cups confectioner's sugar
Directions:
Measure the cereal into a large bowl and set aside.
In a separate, smaller bowl, combine the butterscotch chips, peanut butter, and butter. Microwave for 1 minute, then stir. If the mixture is still lumpy, microwave for another 30 seconds, then stir. Once the mixture is completely smooth, add in the vanilla.
Mix the candy coating into the Chex cereal. Make sure to stir well until all the cereal is evenly coated.
Fill a 2-gallon Ziploc bag with confectioner's sugar (or use two 1-gallon bags and divide the sugar and Chex in half for each bag). Scoop the candy-coated Chex into the bag and zip it shut. Shake to coat the cereal with sugar.
Enjoy!