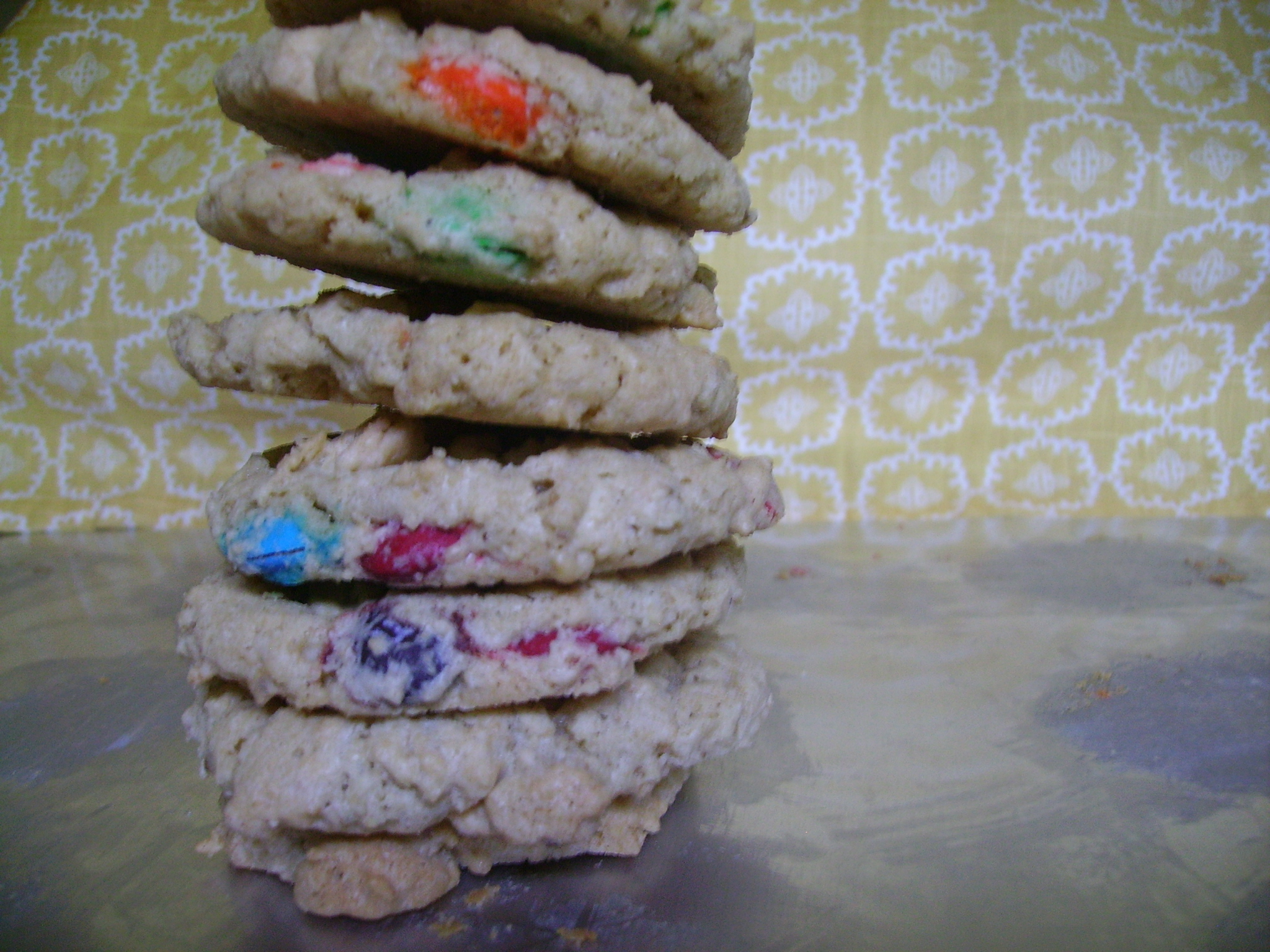 So. I've been completely AWOL lately. I've been a bit distracted, what with starting a part-time job as a German teacher, finishing up my semester at grad school, and BEING FOUR AND A HALF MONTHS PREGNANT!
Thought I'd slip that in there 🙂
My pregnancy so far has been rather delightful. I fell into that lucky group of women who didn't suffer from morning sickness or any other major pregnancy maladies. Now I'm into my second trimester, and none of my clothes fit. Less delightful.
The one setback I've had is a complete lack of interest in spending any time in the kitchen. Of course, I still want to eat all the time, but cooking and baking have seemed like a hassle…especially since I just want to eat the same things all the time (not really conducive to blogging, right?). I'm particularly obsessed with sandwiches…preferably ones that come in Subway wrappers.
But here I am, ready to step back into blogging! And today I come bearing cookies that are semi-healthy and super delicious: trail mix cookies, adapted from the Joy the Baker cookbook.
When I was growing up, trail mix was something reserved only for car trips down to Florida. I think my dad made his own mix from the bulk bins at Ukrops, and it usually emphasized things like pretzels and yogurt-covered raisins. Much to my parents' dismay, I hate raisins but love yogurt covering…and on most of these car trips I picked all of the yogurt-covered raisins out of the trail mix and left a little pile of dead raisins on the seat next to me. Kind of gross, yes. But who really likes raisins, anyway?
For these cookies, I wanted to de-emphasize peanuts, which I think are completely overrepresented in most varieties of trail mix (okay, you can't really call something a "mix" if it consists entirely of peanuts and about 7 m&ms…). I also wanted to pay homage to the raisins I destroyed as a child, without actually putting raisins into the cookies. Thus, I went with white chocolate chips, m&ms, and just a handful of roasted peanuts. I wanted to add in some broken pretzels, but I forgot to get them at the store. Regardless, I thought these cookies tasted like a perfect handful of trail mix surrounded by a sweet oatmeal cookie.
You will love it. And the best part is that you can really tailor the add-ins to suit you!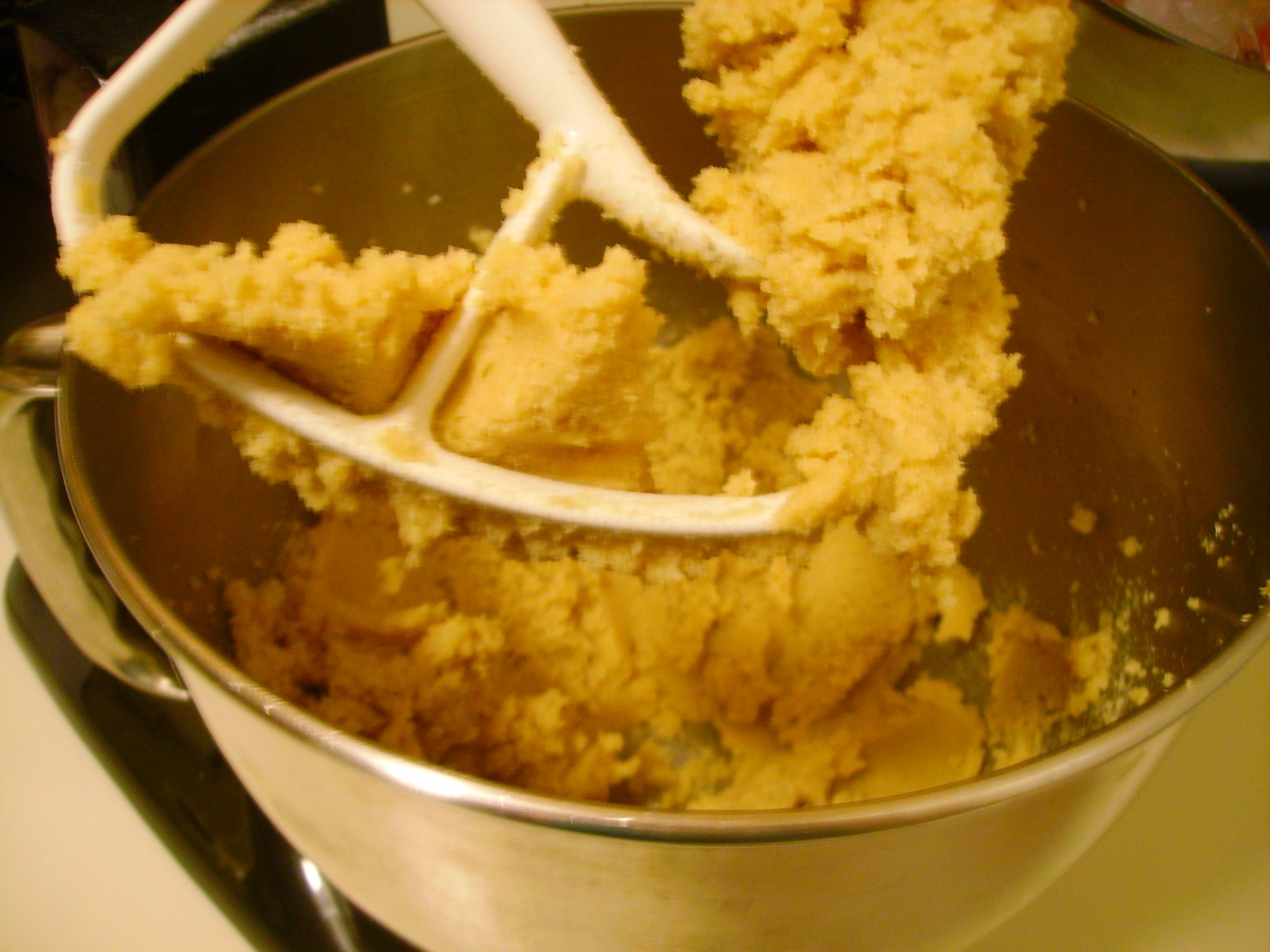 Cream together the butter and sugars.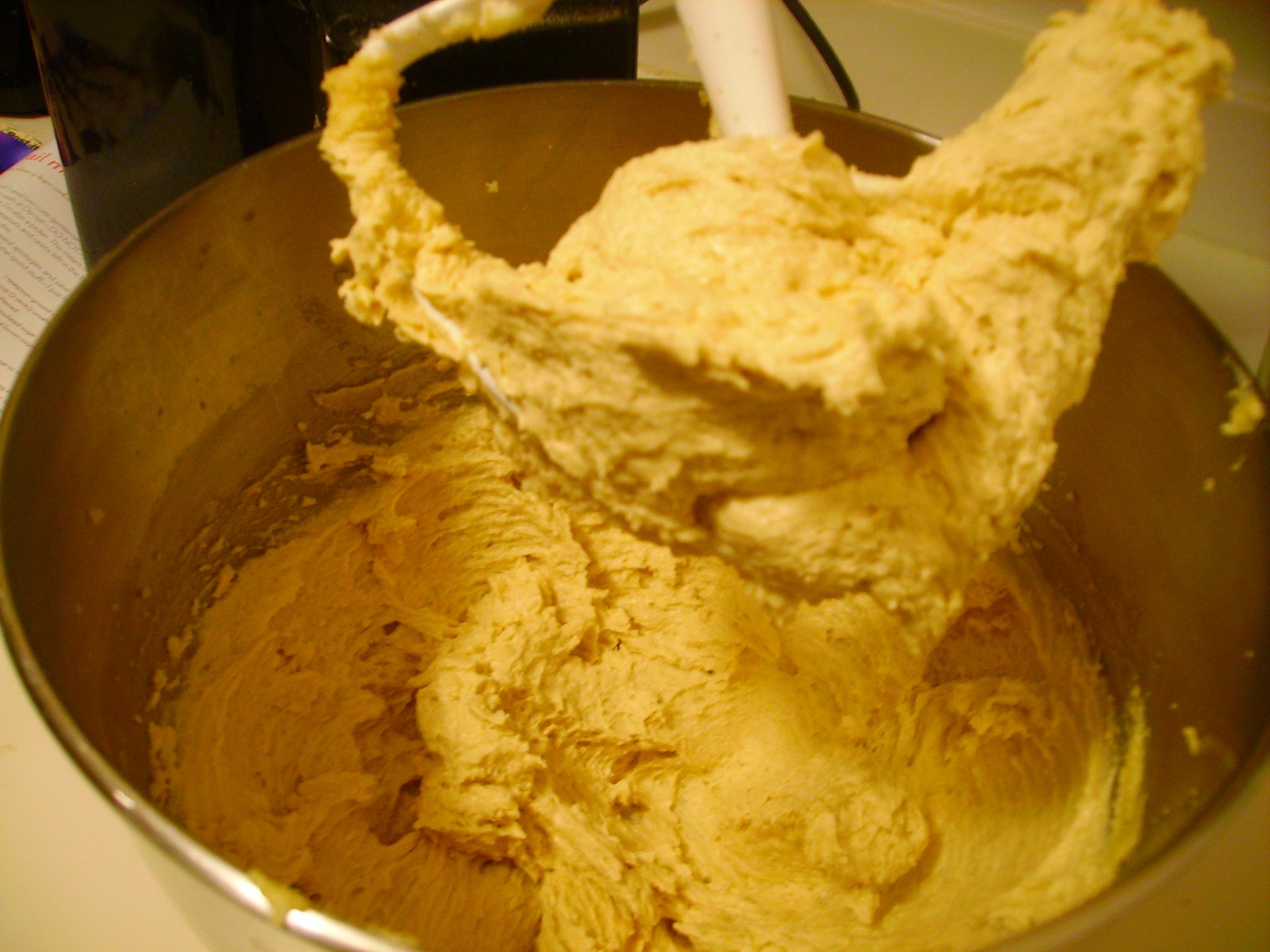 Add in the eggs, one at a time, beating and scraping between each addition. Mix in the vanilla.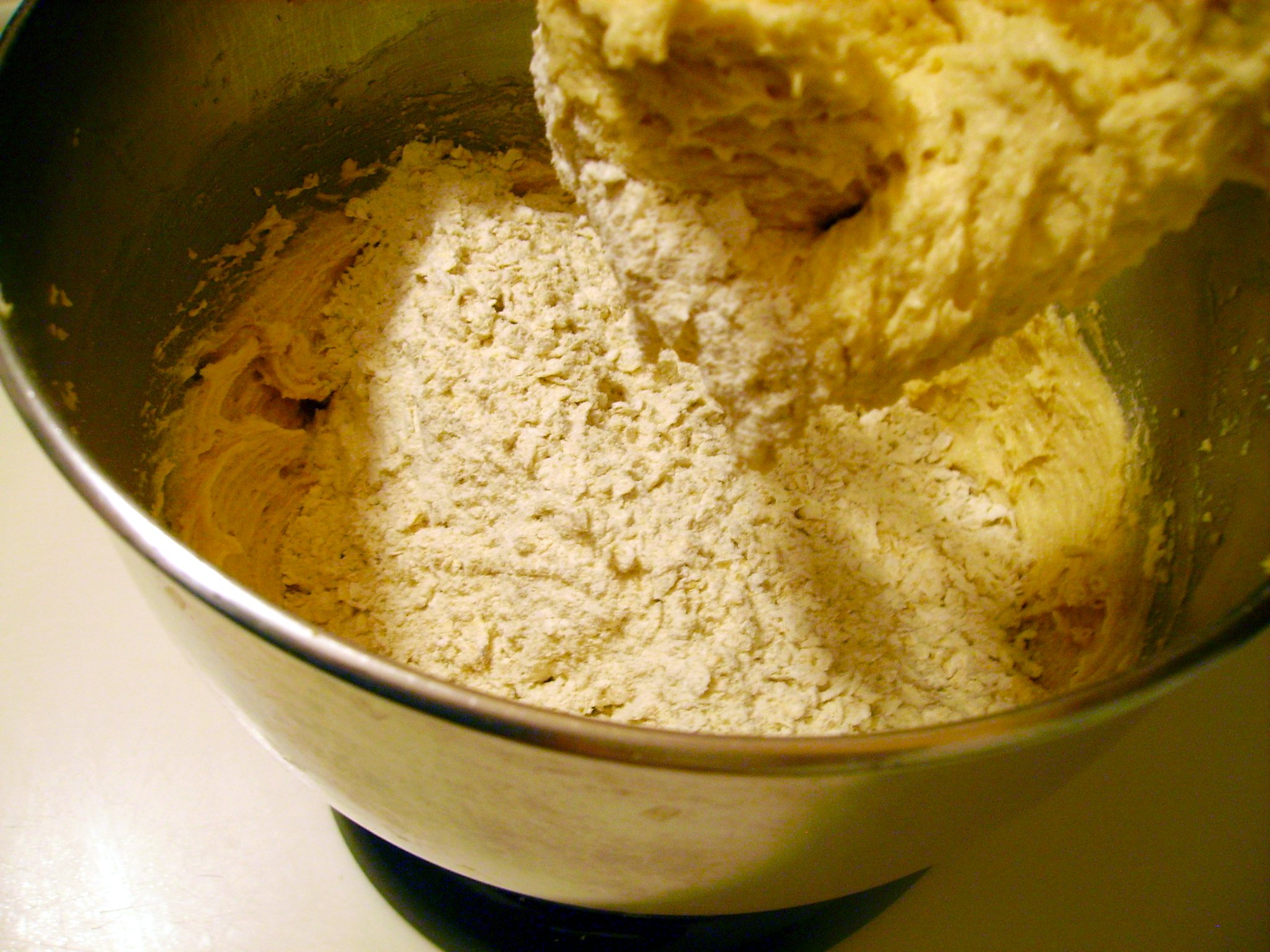 In a separate bowl, stir together the oats (I used quick-cooking, because that's all I had, but Joy called for old-fashioned oats…it's up to you!), regular flour, whole wheat pastry flour, baking soda, baking powder, and salt.
Add all of the oat-flour mixture into the creamy mixture and stir until well combined.
Add in the m&ms, white chocolate chips, and peanuts. If you are keen on raisins or craisins or other dried fruits and want to add those in, too, I won't hold that against you.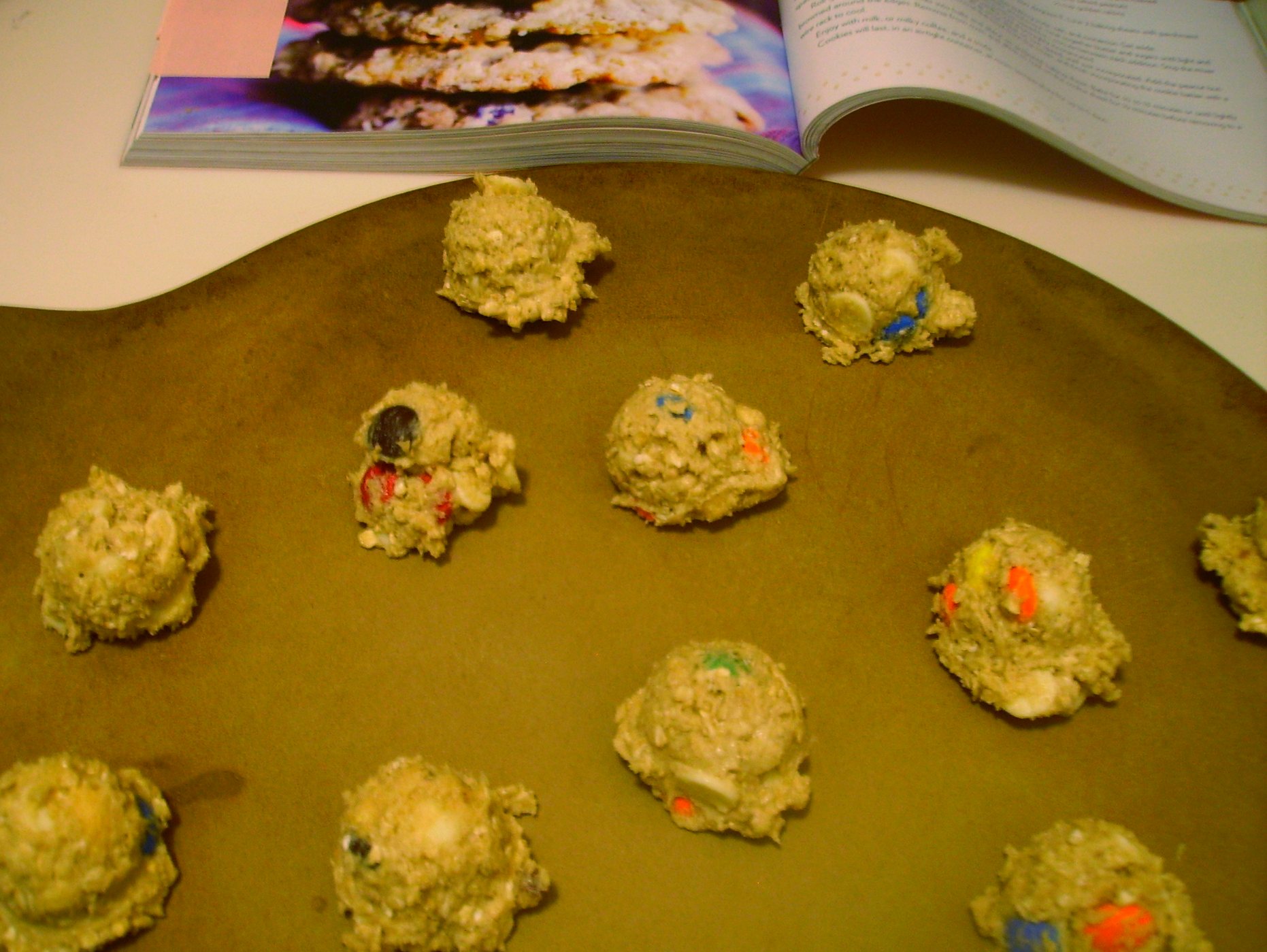 Line two cookie sheets with parchment paper. Seriously. Do it. As you can see from my picture here, I also tried baking the cookies on a non-stick baking stone, thinking that would be enough…it wasn't. Without the parchment, the cookies will basically fall apart when you remove them from the baking sheet.
Scoop the dough into medium size balls and drop onto the parchment.
Bake the cookies for about 12 minutes at 350°. Allow them to cool on the parchment paper at least 10 minutes.
Trail Mix Cookies
adapted from the Joy the Baker Cookbook
makes about 4 dozen
Ingredients:
1 cup unsalted butter, softened
1 cup sugar
1 cup brown sugar
2 eggs
2 tsp. vanilla extract
2½ cups oats
1 cup flour
1 cup whole wheat pastry flour
1 tsp. baking soda
1 tsp. baking powder
1 tsp. salt
1 cup m&ms
1 cup white chocolate chips
½ cup roasted peanuts (I used unsalted)
Directions:
Preheat oven to 350°. Line two baking sheets with parchment paper.
Beat together butter and sugars in a mixer bowl until light and fluffy, about 3 minutes. Add eggs one at a time, beating on medium speed for 1 minute between each addition. Scrape down the bowl as necessary. Beat in the vanilla until thoroughly incorporated.
In a medium bowl, whisk together the oats, flours, baking soda, baking powder, and salt.
Add the flour mixture to the mixer bowl all at once. Beat on low speed until just incorporated. Add the m&ms, white chocolate chips, and peanuts.  Stir slowly until everything is well mixed.
Scoop generous tablespoons onto the prepared baking sheets.
Bake for 11–13 minutes, or until lightly browned around the edges. Allow to cool on the sheet for 10 minutes before removing to a wire rack to finish cooling.
Enjoy!