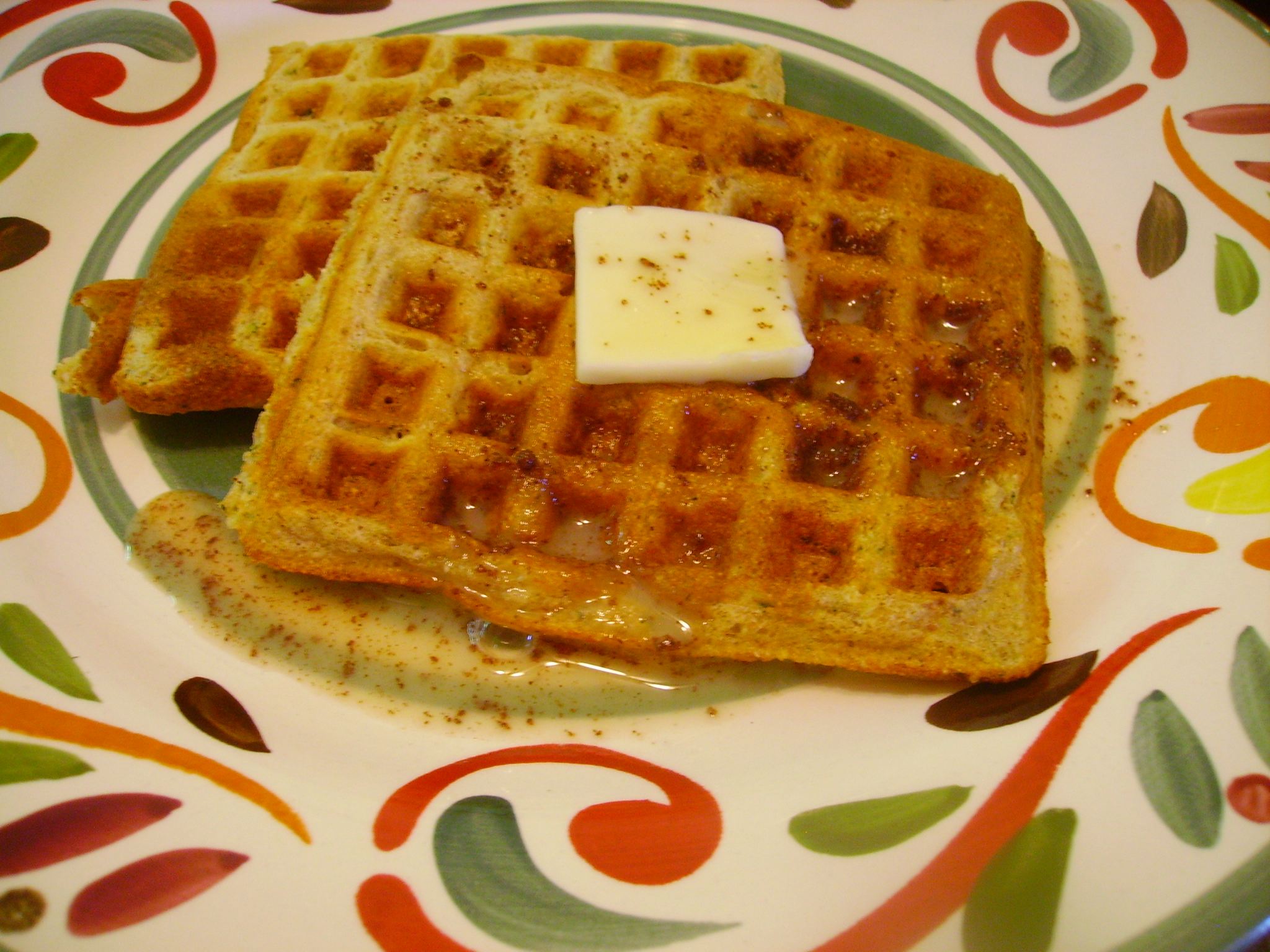 This month for the Secret Recipe Club, I was assigned a great blog: Amy's Cooking Adventures. She has so many delicious recipes that I really had a hard time deciding what to make! So many of Amy's dishes looked yummy, from her Avocado and Egg Grilled Cheese to her Balsamic Pasta Salad. I am definitely looking forward to making several of the recipes from her blog, but I could only choose one to post for the Secret Recipe Club challenge.
When I asked my husband to weigh in on what I should make, he voted for these waffles…probably because I have been promising to make him French toast for ages and he figured this was the next best thing. I was only too happy to seize an opportunity to make a whole grain, veggie-filled breakfast for him! (Of course, the syrup kind of negates the healthiness, but we can still count this as a wholesome breakfast, right?)
The flavor of these waffles is fantastic, a little nutty from the whole wheat, but still light because of the zucchini. Not too sweet, with a hint of cinnamon. While waffles aren't exactly the quickest breakfast treat to make, I will definitely be making this recipe again in weekends to come!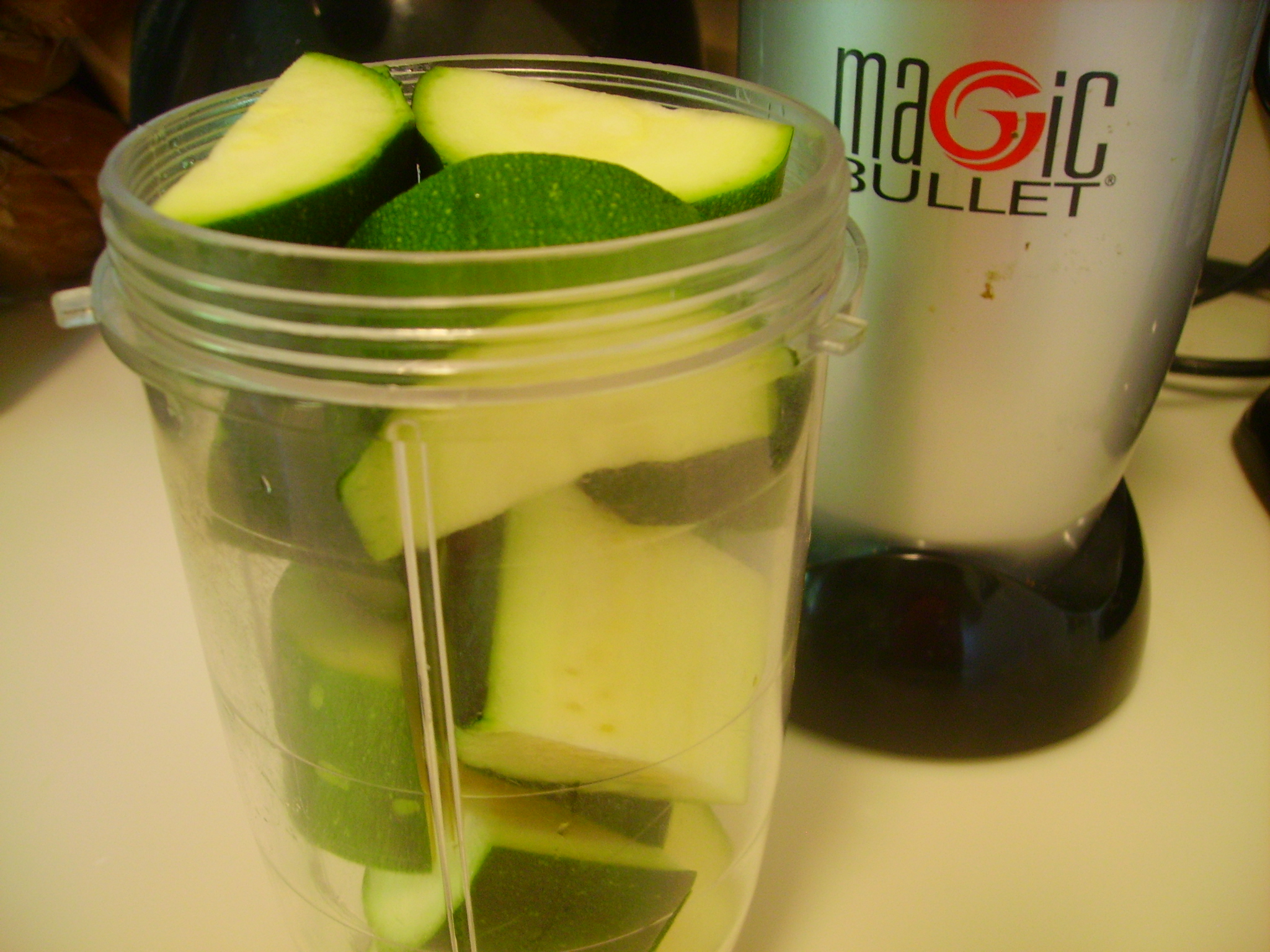 Start by pureeing a large zucchini in a food processor. As you can see here, I attempted to do this in a Magic Bullet…because I repeatedly demonstrate that I am incapable of properly estimating a container's capacity. Oops. I switched to a food processor. Save yourself a dish and start there 🙂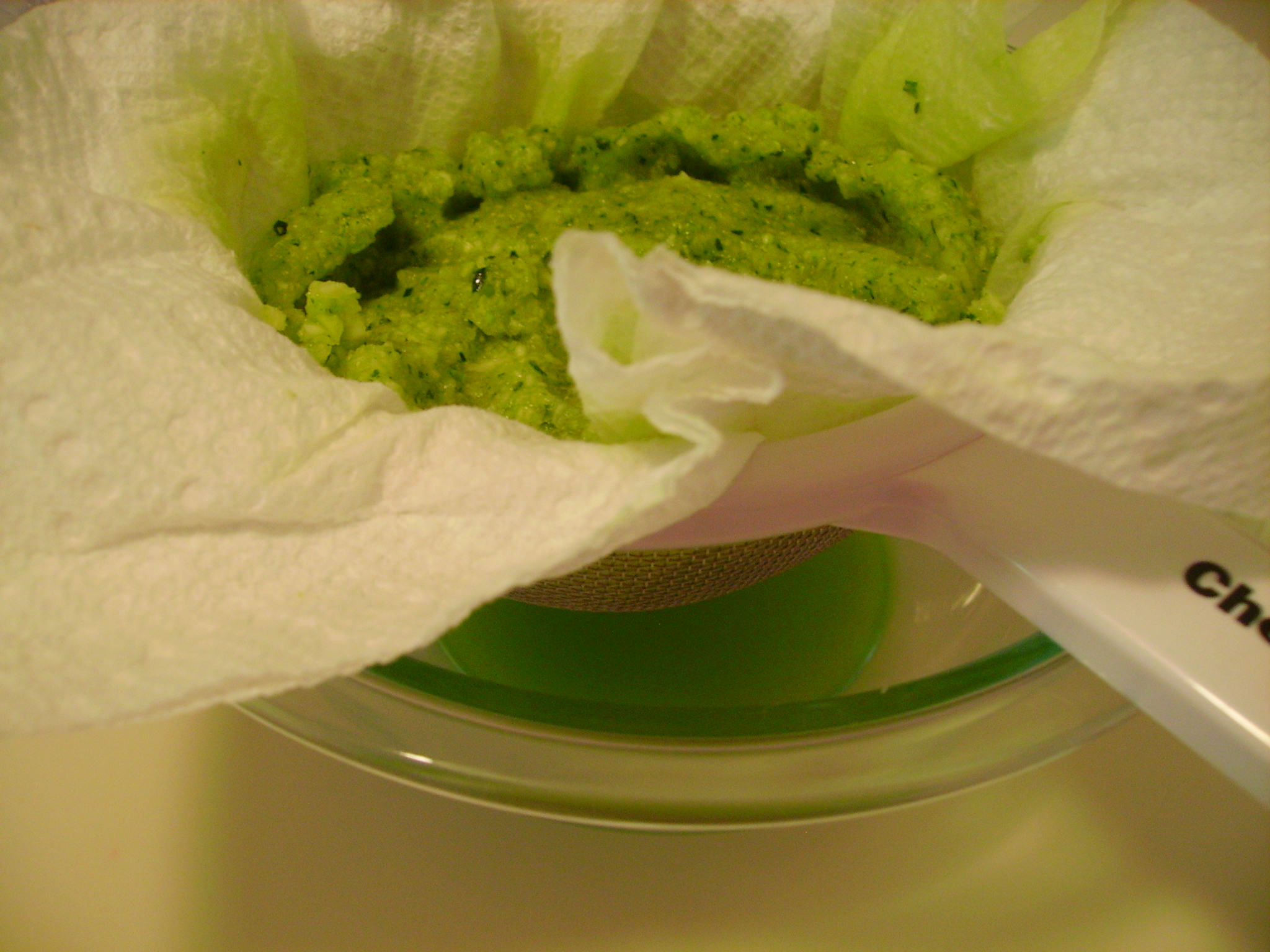 Set the pureed zucchini in a paper-towel lined mesh strainer and let it sit for 10 minutes to drain the excess liquid.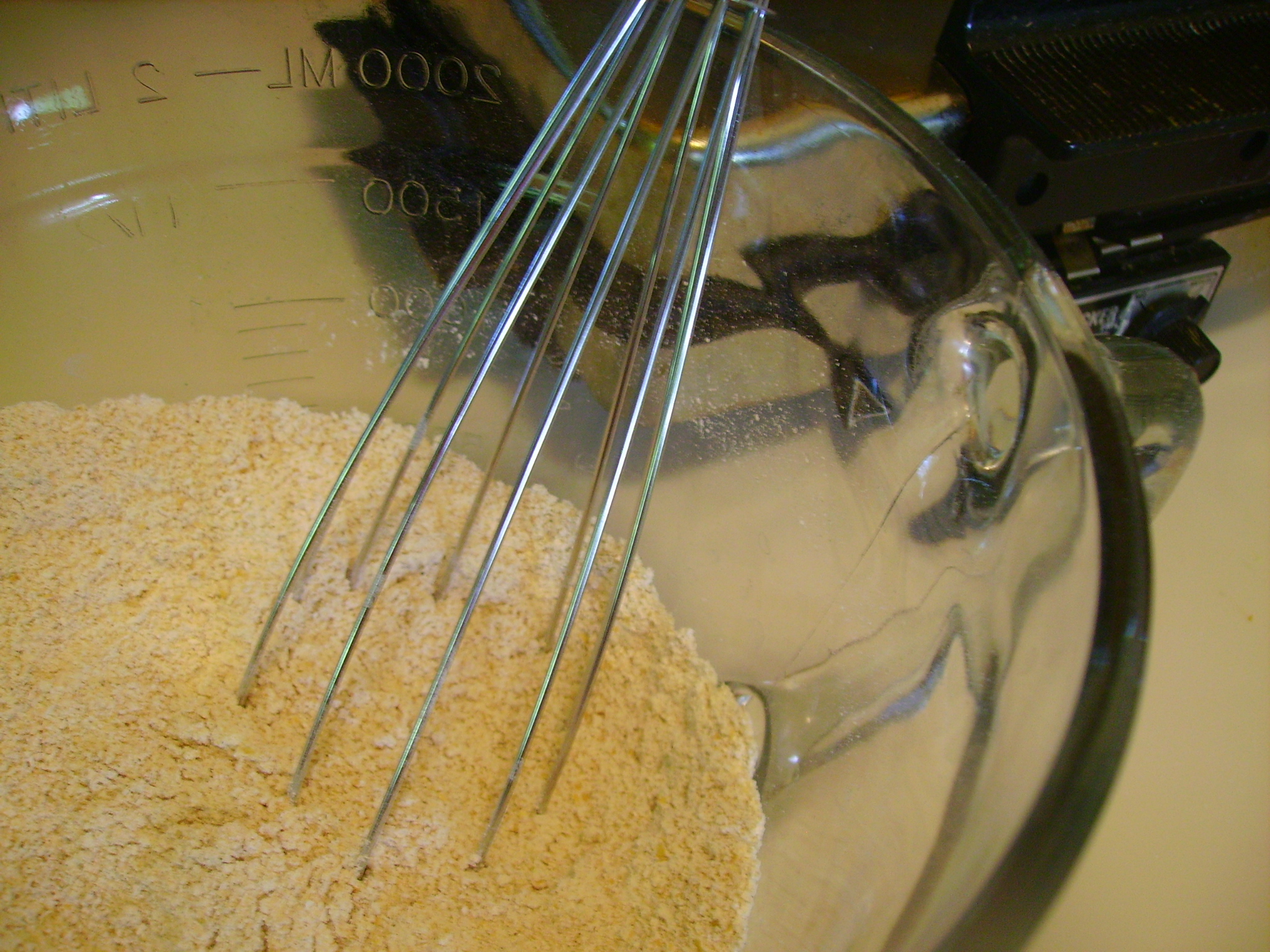 Meanwhile, whisk together the whole wheat pastry flour, sugar, salt, cinnamon, and baking powder. I suppose you could exchange the sugar for honey (mixed in with the wet ingredients, of course), and I was really tempted to do so given that honey complements whole wheat so well, but I think the sugar actually worked perfectly.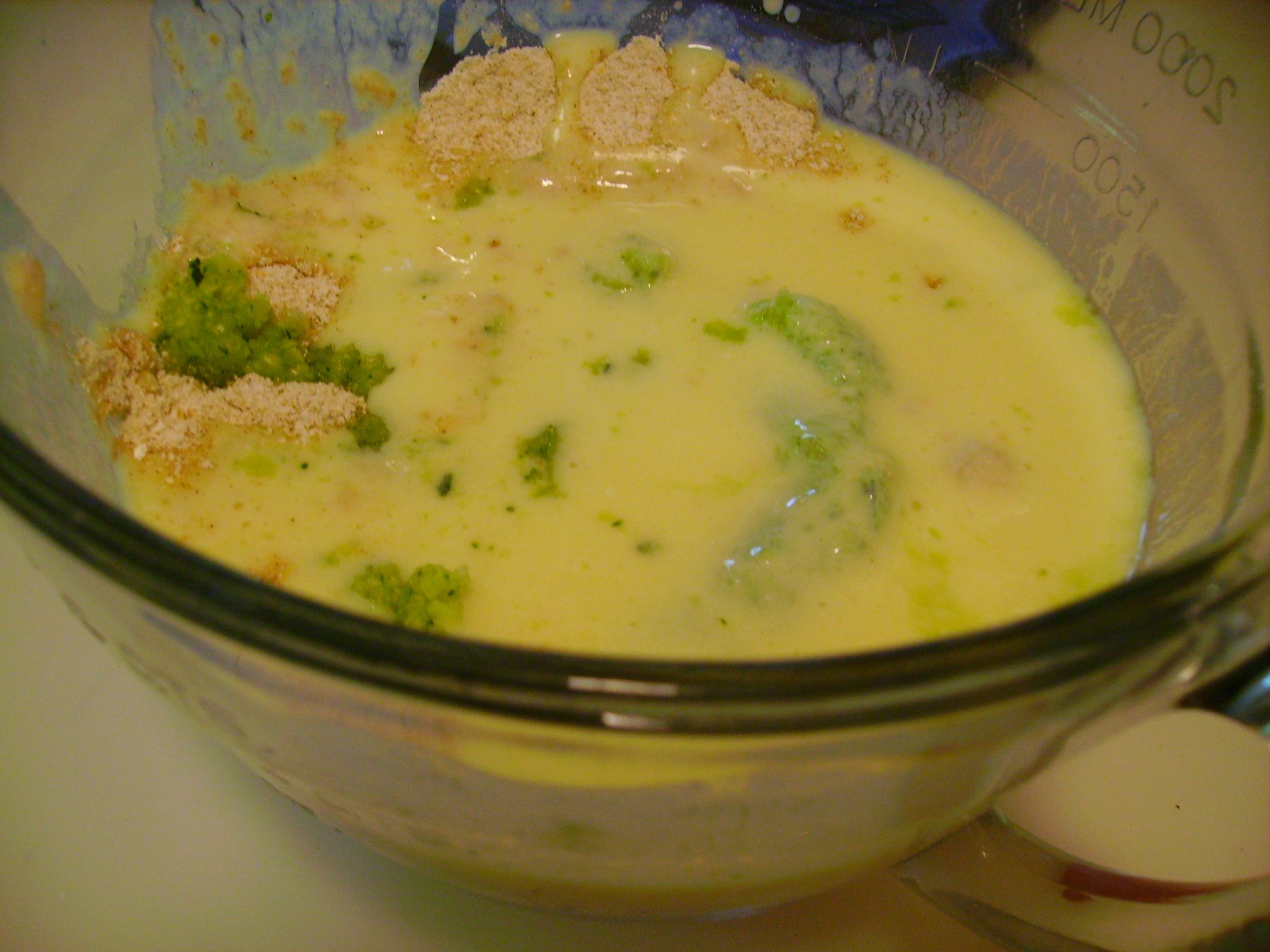 In a separate bowl, whisk together the buttermilk, eggs, and vanilla until well combined.
Add the buttermilk mixture to the flour mixture. Dump in the drained zucchini and stir everything until well mixed.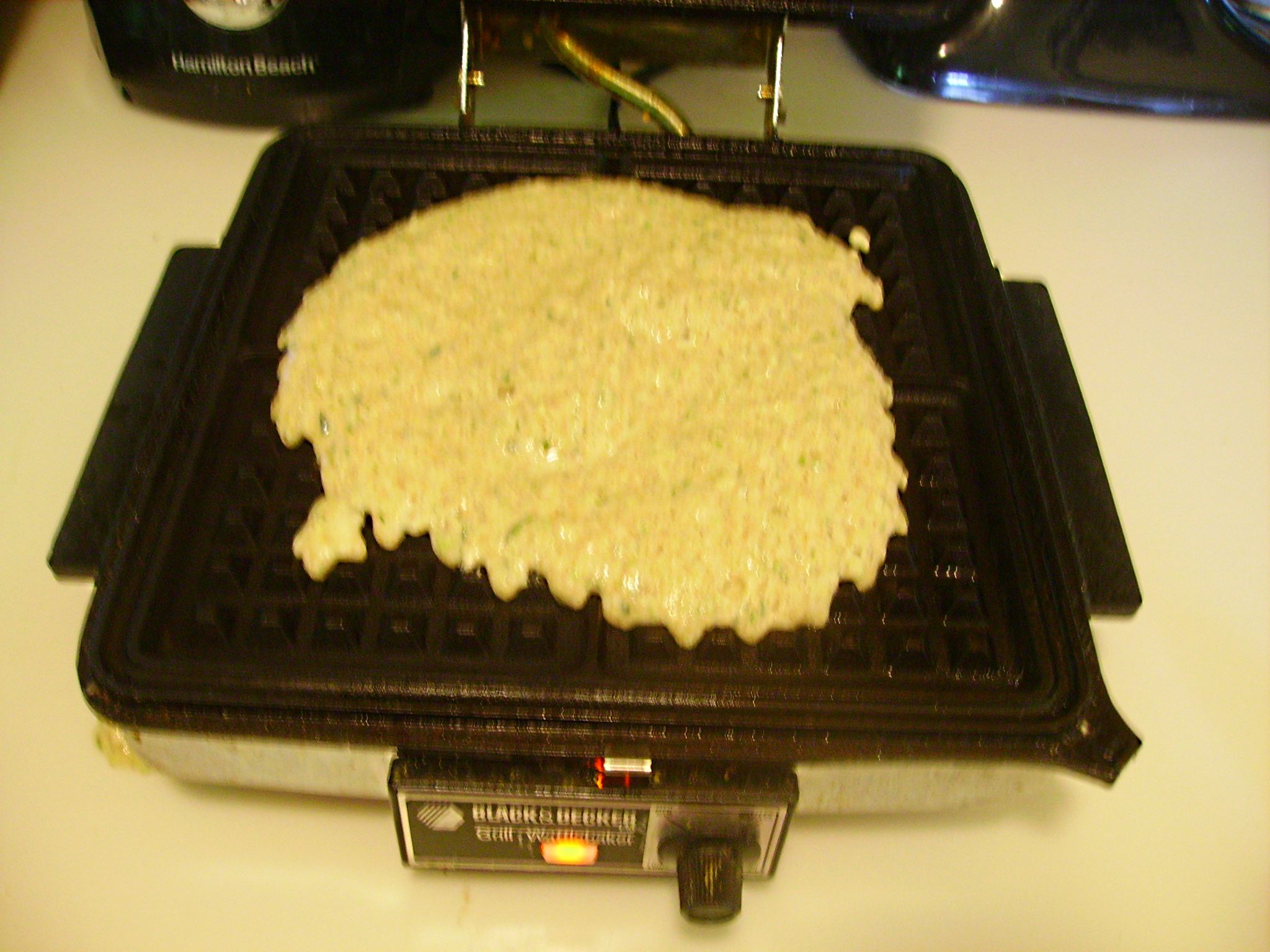 Thoroughly grease your waffle iron, then spoon a very large ladle of waffle batter onto the hot iron. Spread it around a little bit. My waffle iron makes 4 at a time, and I had just the right amount of batter to make 4 batches of waffles (16 total).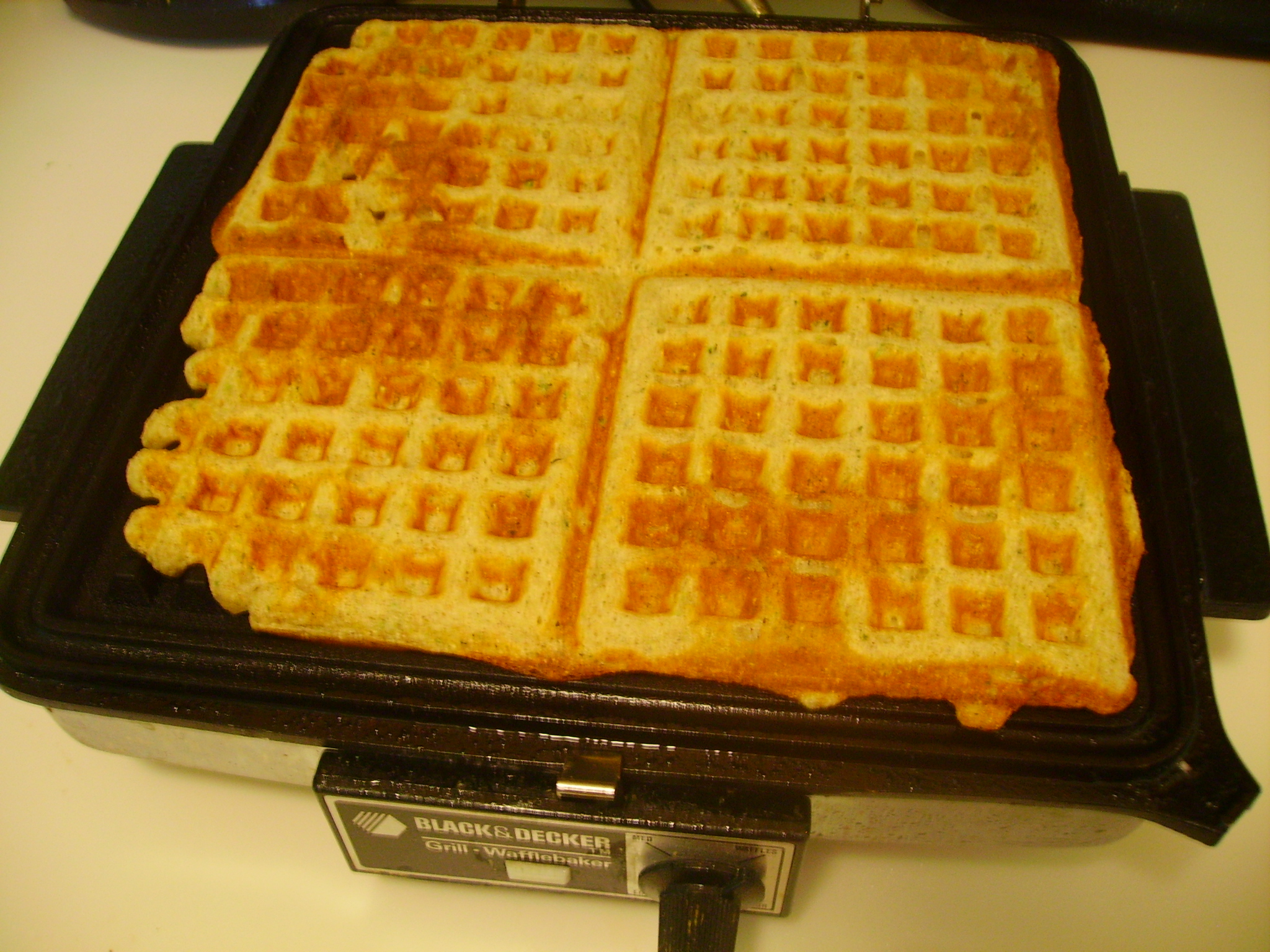 Let the waffles cook for about 10 minutes, depending on how hot your waffle iron gets. Avoid the mistake I made on the first batch of lifting the top of the waffle iron to check on them… This will probably result in the waffles peeling off the top of the iron and rumpling…and then they won't be able to cook evenly. Oops. Just let them cook for 10 minutes, until you they really begin to smell done. After all, you want them to get crispy!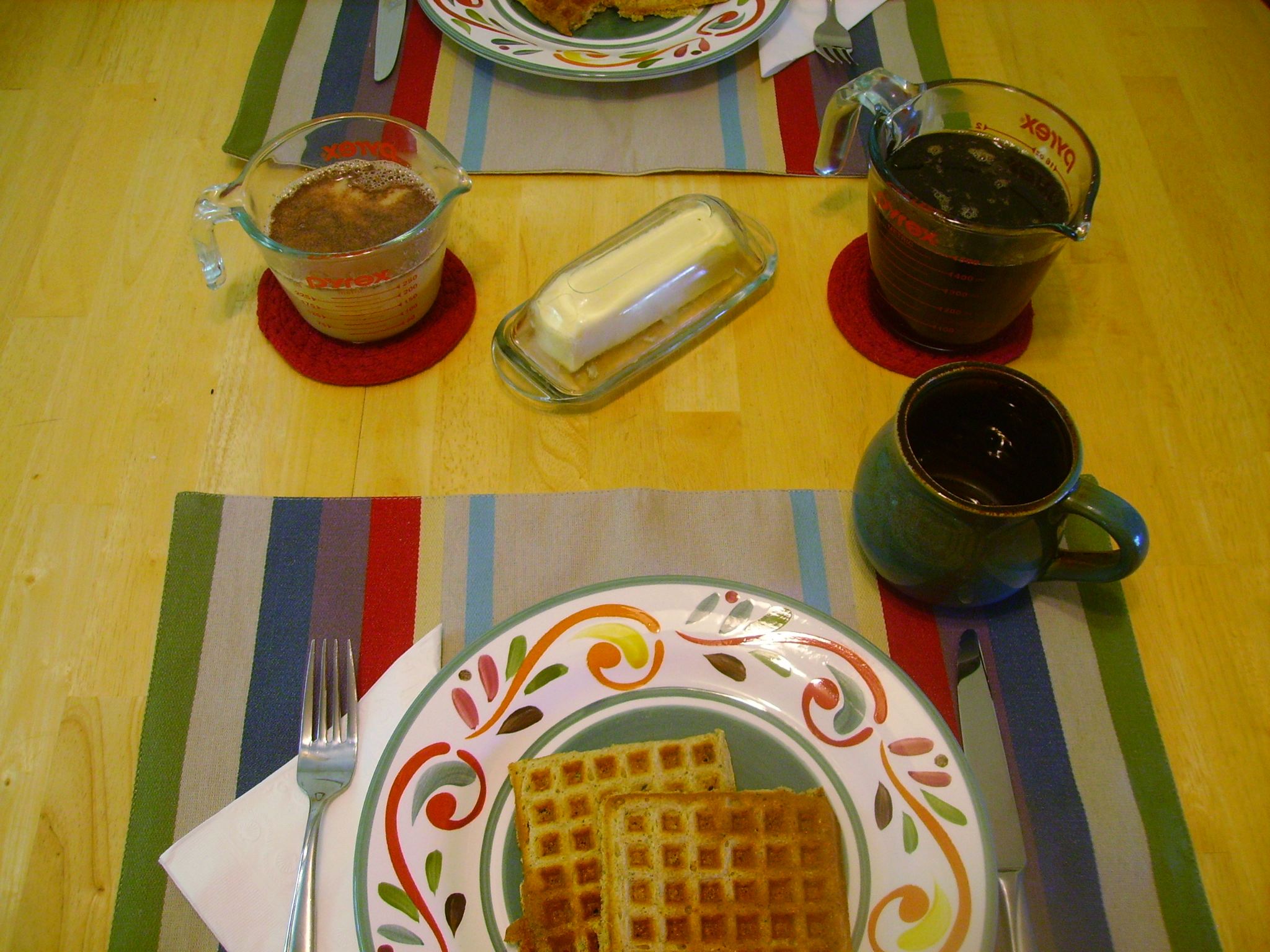 Serve with butter and hot syrup. I went with a family favorite, Vanilla Cream Syrup, because the cinnamon in that syrup augmented the cinnamon in the waffles. Yum.
Whole Wheat Zucchini Waffles
lightly adapted from Amy's Cooking Adventures
makes 16 waffles/serves 4–6
Ingredients:
1 large zucchini
1½ cups whole wheat pastry flour
⅓ cup sugar
1 tbsp. baking powder
1 tsp. cinnamon
¾ tsp. salt
1½ cups low-fat buttermilk
2 eggs
1 tsp. vanilla extract
Directions:
Preheat the waffle iron.
Clean the zucchini thoroughly and trim off the ends. Cut into large chunks and pulse in a food processor until very smooth. Line a small colander with paper towel and set it over a bowl. Pour the pureed zucchini into the colander to drain off the excess liquid. Let drain for about 10 minutes.
In a large mixing bowl, whisk together the flour, sugar, baking powder, cinnamon, and salt.
In another bowl, whisk together the buttermilk, eggs, and vanilla.
Pour the liquid ingredients over the dry ingredients and fold in the zucchini. Make sure everything is very well mixed together.
Spray the waffle iron with cooking spray. Pour batter over the waffle iron and cook according to your waffle iron's instructions.
Serve hot with butter and syrup.
Enjoy!