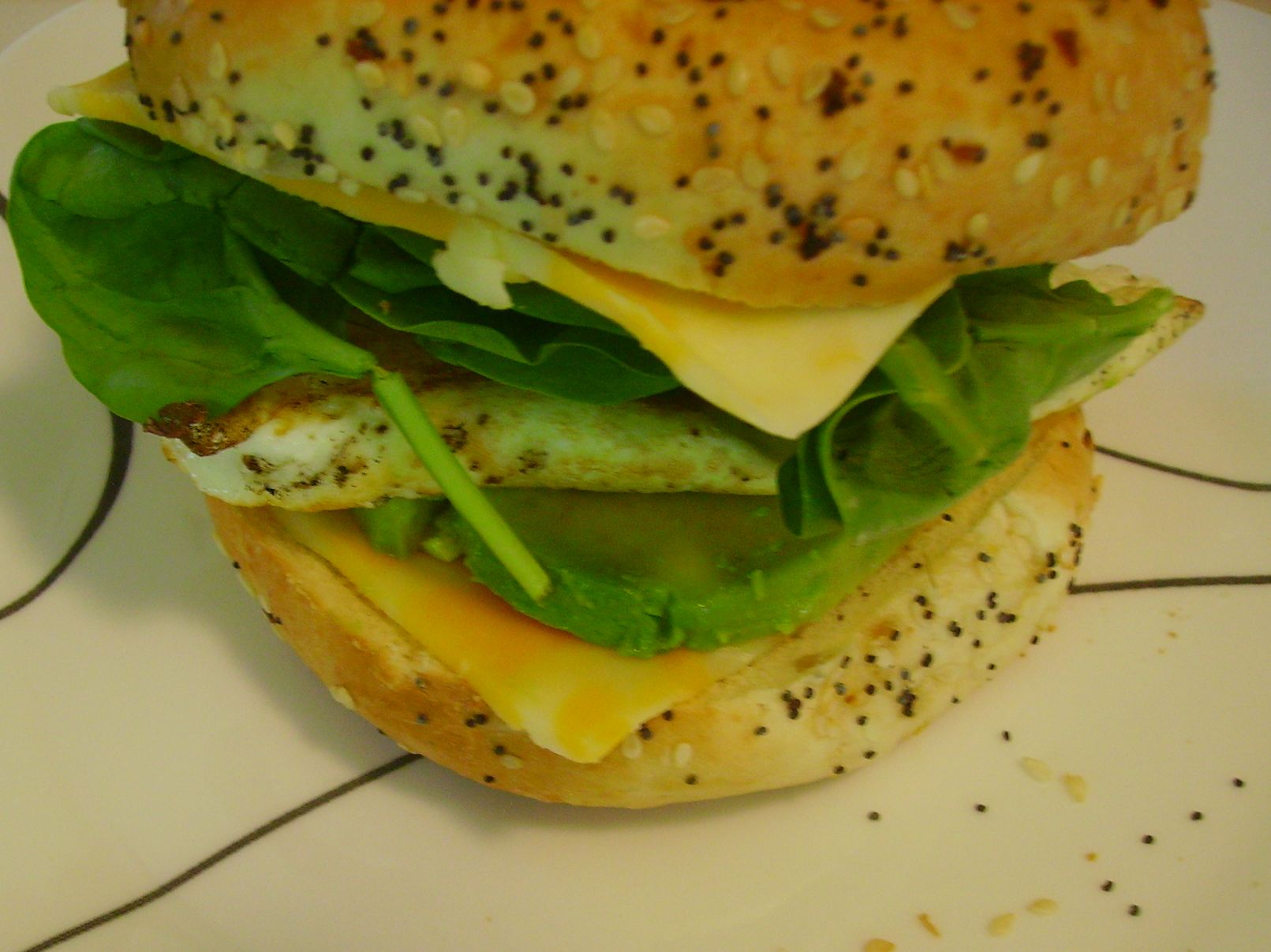 Okay. I may have mentioned earlier that one of the things I have truly been loving during this pregnancy (aside from ice cream) is sandwiches. I have been taking note of interesting veggie sandwiches and wraps—you know what I mean, the ones that aren't basically melted cheese with one mushroom or something like that.
Not that I don't like cheese. Last week when I was hanging out with my sister-in-law, she made herself an egg and cheese sandwich, and I kind of drooled on her a little bit. And then I spotted a delicious-looking egg and avocado sandwich in a coffee shop with a friend. And maybe you see the trend here.
I added spinach to the above mix, inspired again by last month's Secret Recipe Club blogger, Amy of Amy's Cooking Adventures. Plus an everything bagel, and voilà! The best sandwich ever. The toasty bagel warms the colby jack just slightly, the ripe avocado and spinach provide a rich butteriness and a crisp crunch, and the over-easy egg…oh my, the over-easy egg. When you bite into the sandwich, the yolk breaks and drips all over everywhere, but it also douses the sandwich in amazingness. I ask you, is there anything better than a runny egg yolk? mixed with cheese and my favorite green veggies? I think not.
(P.S., if you have never had an everything bagel, you really should rethink that decision, because they are great!)
I was originally holding off on sharing this sandwich with you until I could also bring you a great bagel recipe, but honestly I am just too tired to knead bagel dough for 10 minutes, so you will have to settle for bakery bagels for now. Maybe I will regain my bagel-making fervor in a week or two. Of course, you can change elements of this sandwich to suit you. For example, if you are nuts and don't like runny egg yolks (er…but no judgment!), you could fry or scramble your egg. You could pick a different cheese, or a different bagel. But I seriously recommend you do just what I did, because I can't get enough of this green, egg, and cheese.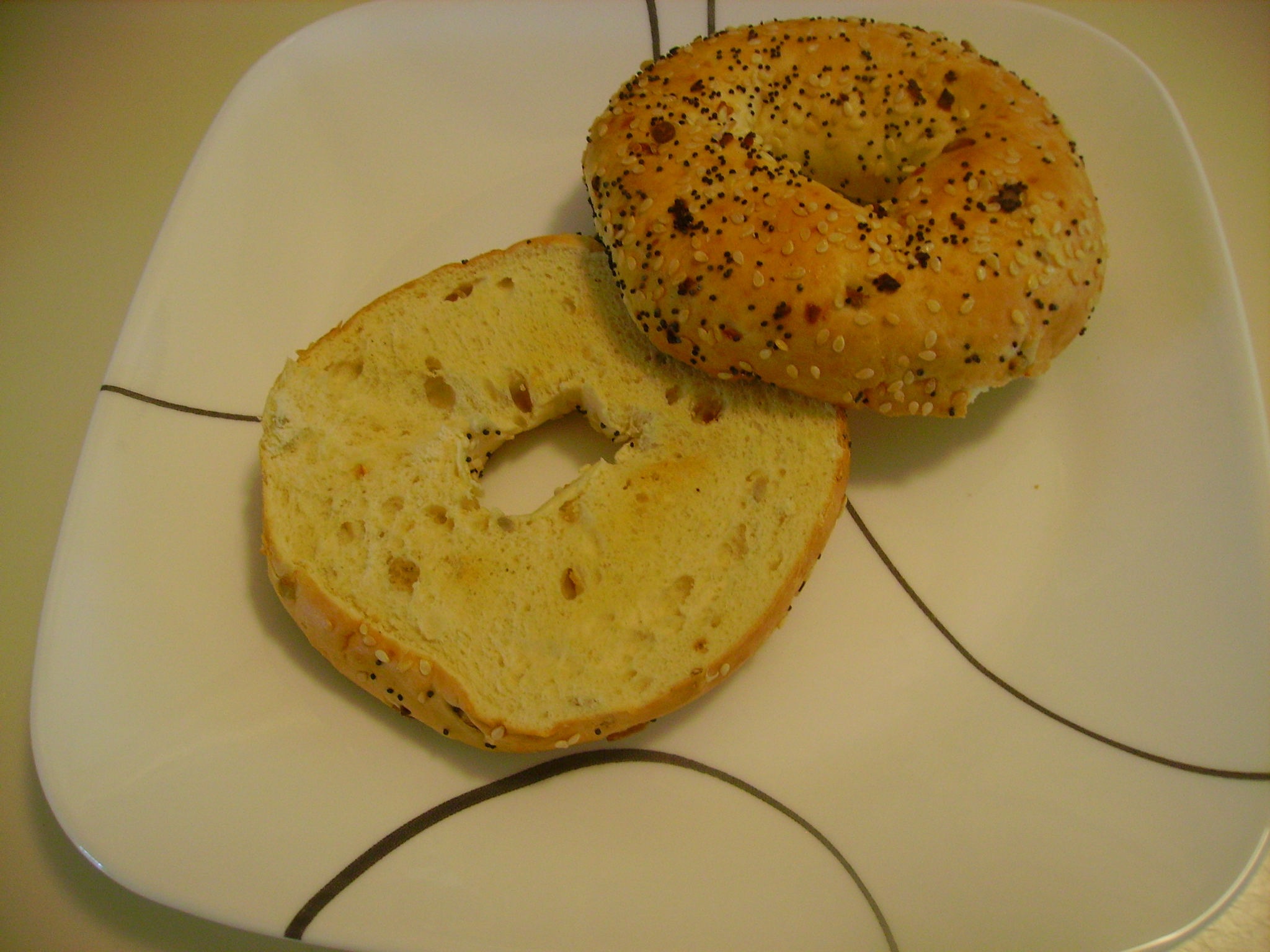 Start by toasting your bagel. As soon as it comes out of the toaster, lay a slice of colby jack cheese on each open half, so they can warm a melt slightly.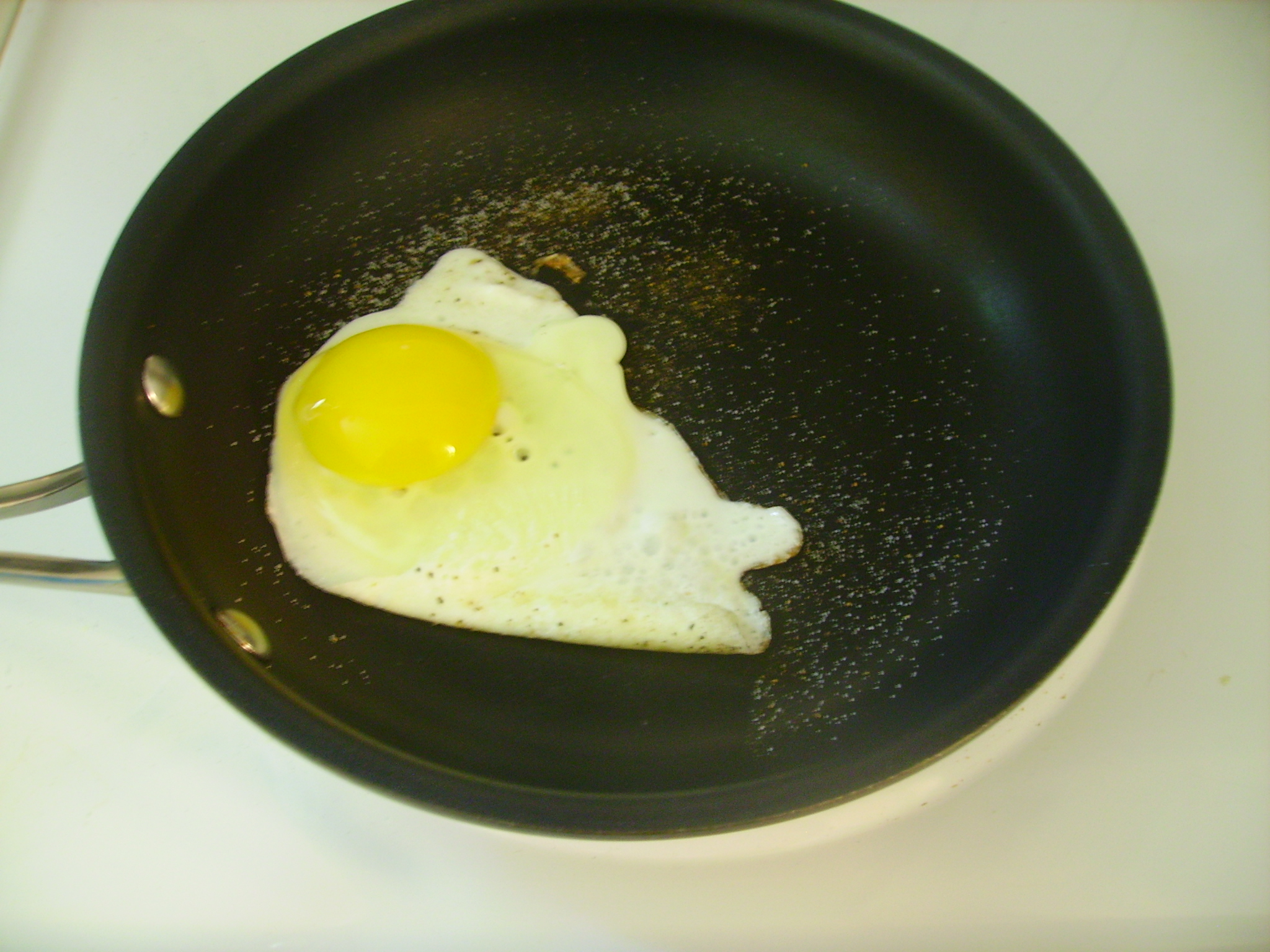 Meanwhile, cook your egg. As I said, I prefer mine over easy. If you are a novice egg-fryer, I explain how to do this below.
Also, slice up half an avocado. I like to make pretty thin slices, otherwise they are really prone to skirting out the sides of the sandwich when you bite into it. Lay the avocado slices on the bottom half of the bagel.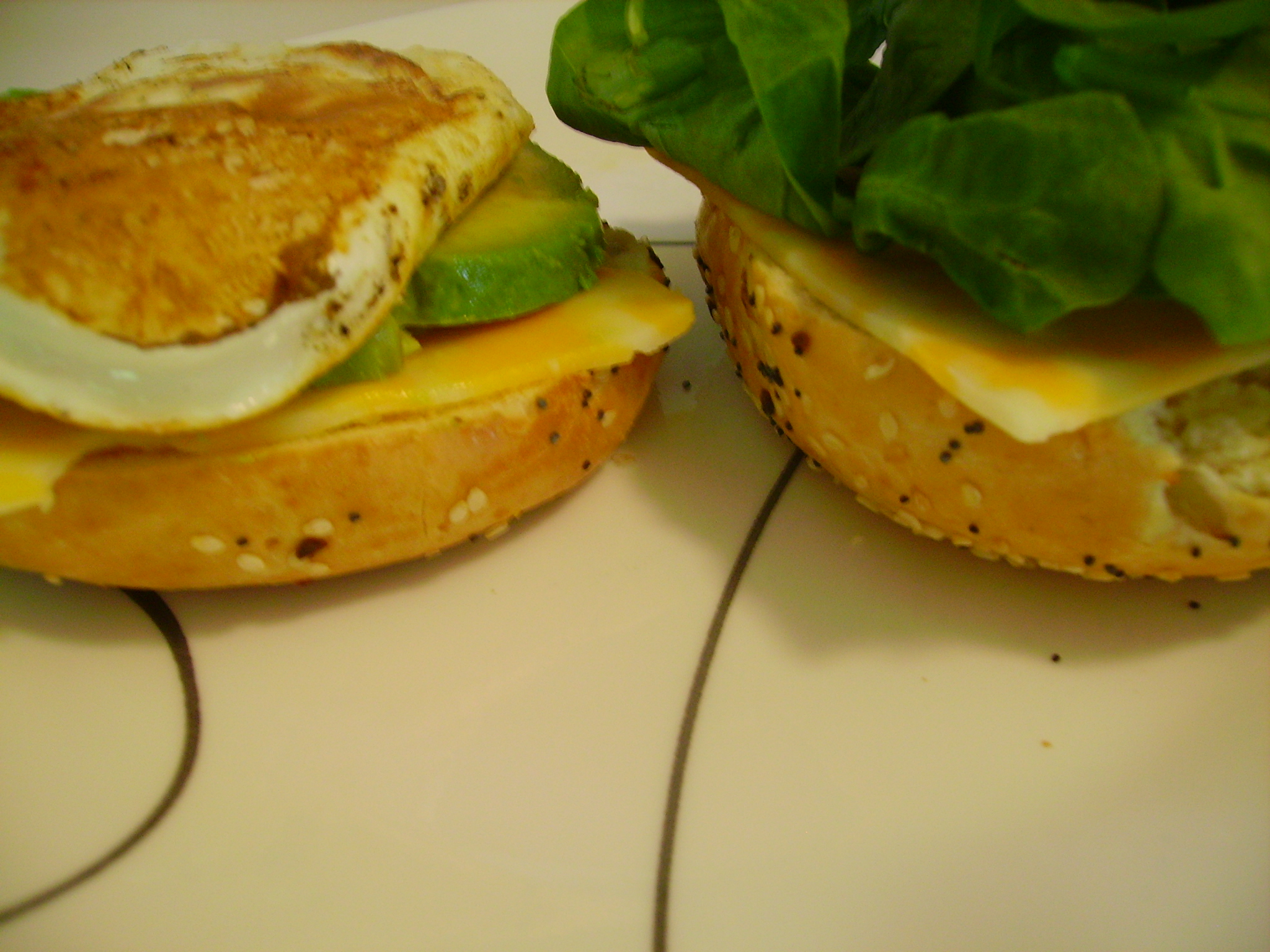 When the egg is done cooking, layer it over the avocado, followed by a handful of baby spinach leaves. Mmm.
Grab several napkins and chow down 🙂
Green, Egg, and Cheese Sandwich
makes 1
Ingredients:
1 everything bagel, toasted
2 slices colby jack cheese
½ ripe avocado, sliced
1 egg
salt and black pepper
loose ½ cup fresh baby spinach, stems trimmed
Directions:
Lay the cheese on the toasted bagel halves.
Top the bottom half with the avocado slices.
Meanwhile, cook the egg over easy. Start by lightly oiling the pan (otherwise it will probably be impossible to flip…even if you have a nonstick pan), then sprinkle salt and pepper over the bottom of the pan. Heat the pan to medium-high heat and crack the egg in. Try not to let it expand too wide, or the edges will cook too fast and burn. When the edges begin to peel up on their own, and only the very center of the egg white around the yolk is still runny, carefully flip the egg over using a spoonula or a sturdy spatula. Be careful not to break the yolk! Allow the egg to cook on the second side for about 15 seconds, enough to cook through the rest of the white but not enough to harden the yolk.
Flip the egg onto the bagel, layering it atop the avocado slices. Top with spinach.
Close up the sandwich. As the yolk breaks and runs, it can make its own dipping sauce for the sandwich!
Enjoy!