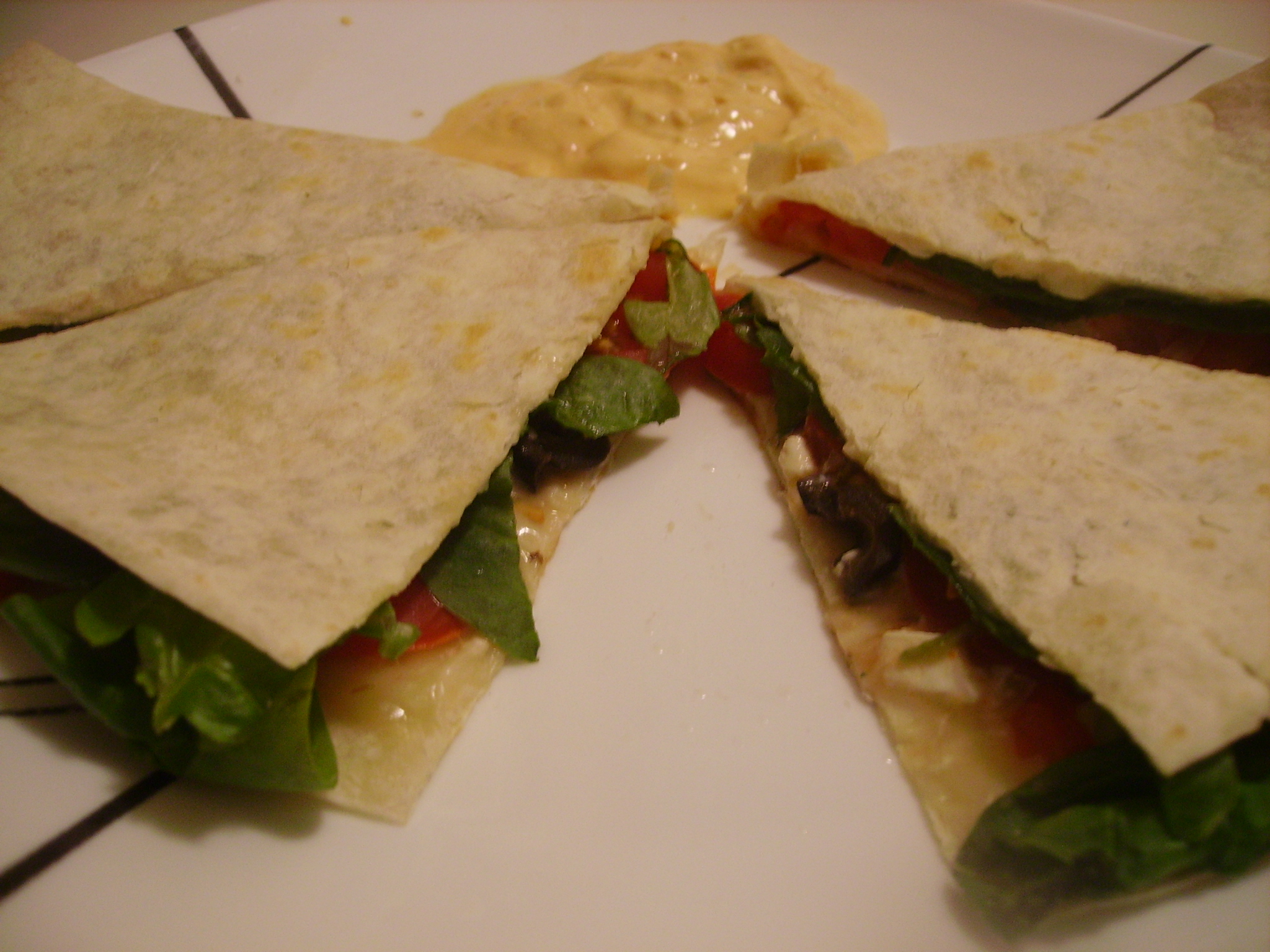 You know what I need? More 10-minute dinner recipes.
You know why? I am about to become a mother. And infants + complex meals = crazy, worn out mommies. Or so I've heard from every single mother of young children I know.
With some trepidation, I have begun gearing up for the first few weeks after the baby arrives. This has not been an easy task, given that we are also having MAJOR, emergency construction done in our house to fix some broken pipes underneath our foundation (booo!). Anyway, I am trying to listen to the advice of my friends, who tell me to do any cooking I want to do now, before my son makes his grand debut, because I won't be able to spend any time cooking or baking for several months after he is born.
Honestly, even though part of me sees great wisdom in this advice, part of me is incredibly discouraged every time someone tells me to say goodbye to my kitchen.
But you know what makes me incredibly happy? These quesadillas! Not only does my husband love them, but they are super fast and easy…and unlike most quesadillas, actually pretty good for you! I feel quite confident that these babies can remain in the rotation, even after my little one enters the fray!
This is the kind of meal you can throw together and alter to fit whatever ingredients you forgot to buy at the grocery store (ahem…red onions)! You can serve it family style (with all of the wedges piled high on a plate so your happy eaters can grab what they'd like), or as individual meals. Either way, this meal is all assembly: no fuss, no muss, done in about 10 minutes.
Start by brushing about a penny size squirt of olive oil on one side of each tortilla. Get it evenly coated so that the outside of your quesadilla will crisp up evenly.
With the oiled side down, layer the whole tortilla with shredded mozzarella and crumbled feta. Layer one half of the cheesy tortilla with sliced tomatoes, chopped roasted red pepper, chopped red onion, sliced black olives, and baby spinach leaves. Don't forget to season with dried oregano and crushed red pepper!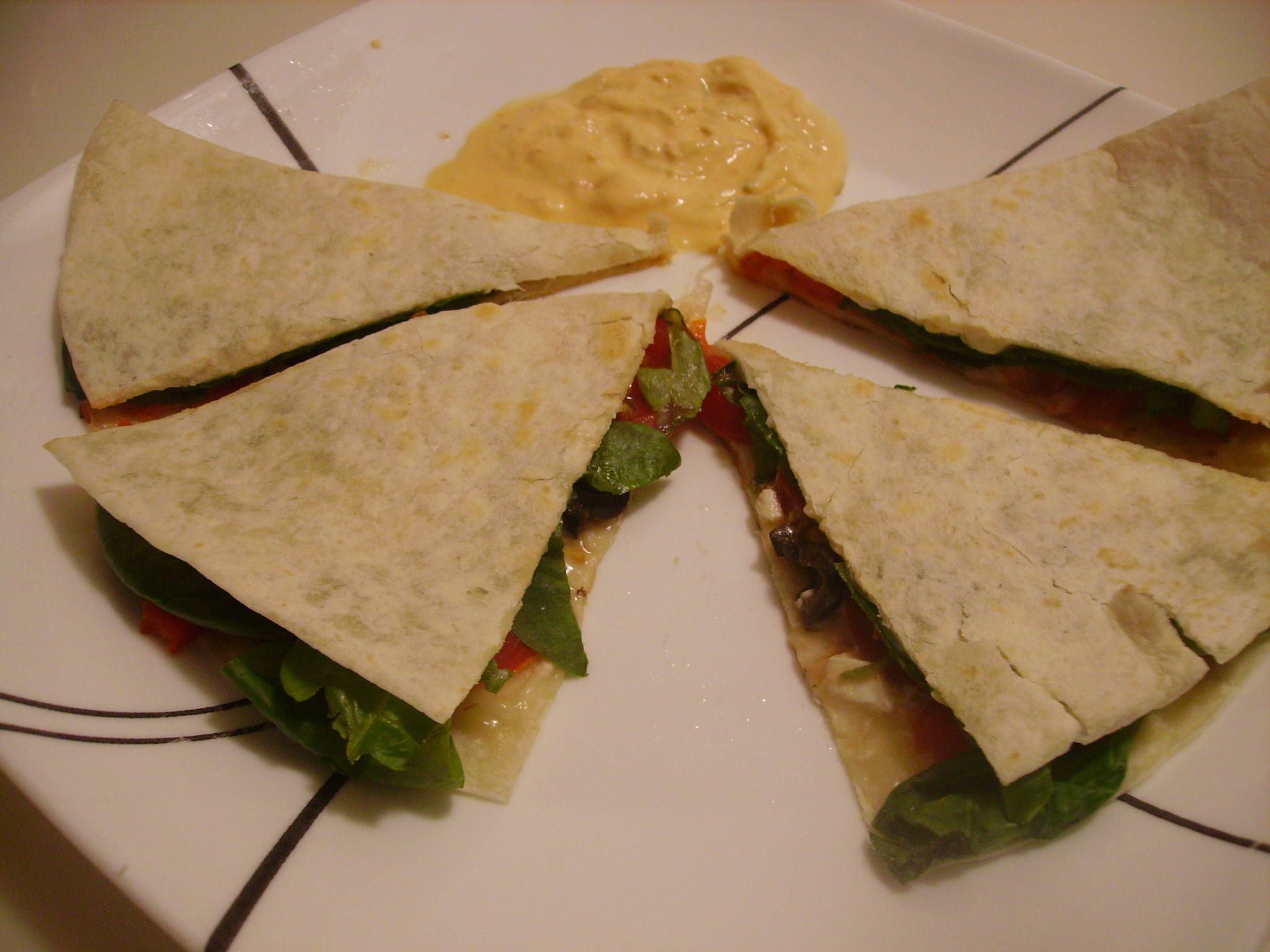 Geez, how easy is that? I didn't even feel like it was worth taking extra pictures of this, because honestly, it's about as simple as can be, and you can alter the amounts or re-order the layers to suit what you like! Thus…the amounts below, which make 4 quesadillas, are really just approximate.
Serve with spicy tzatziki (a yogurt-cucumber sauce) for dipping. I don't really like cucumbers, so I prefer the spicy because it mutes the cucumber flavor, but you could also go with plain tzatziki if you wish. In keeping with the spirit of the super simple, 10-minute meal, I buy prepared tzatziki in the produce section of my grocery store (you will likely find it right near the feta cheese!), but you could also make your own if you want to be especially awesome.
Greek Quesadillas
from Annie's Eats
serves 4
Ingredients:
4 large tortillas
2–4 tbsp. olive oil
1 cup shredded mozzarella
1 cup crumbled feta
2 cups roughly chopped spinach
1 small red onion, diced
⅔ cup chopped roasted red pepper
2 medium sliced or chopped tomatoes, seeds discarded
⅓ cup sliced black olives
oregano
crushed red pepper
½ cup spicy tzatziki
Directions:
Brush one side of each tortilla with olive oil and place the oiled side down on each plate.
Top the tortillas with a layer of mozzarella and feta. On one half of the tortilla, layer spinach, red onion, roasted red pepper, tomato, and olives. Season to taste.
Heat up a large skillet. One at a time, toast each open-face quesadilla until the cheese begins to melt. Fold the cheesy half over the half topped with vegetables and press down. Continue to cook, flipping if necessary, as long as desired.
Slice the quesadillas into wedges. Serve with spicy tzatziki for dipping.
Enjoy!